How to Stop a Cantilever Umbrella from Swaying? (Complete Guide!)
I can imagine your frustration seeing the patio umbrella sway away with the wind, as I've been through the same. It can easily get the umbrella damaged, and can also get someone standing nearby hurt seriously.
So, how to stop a cantilever umbrella from swaying? The easiest way to keep the umbrella in place is by strengthening the base using concrete weights. Also, you can use a bungee cord to secure the umbrella and prevent it from swaying with the wind.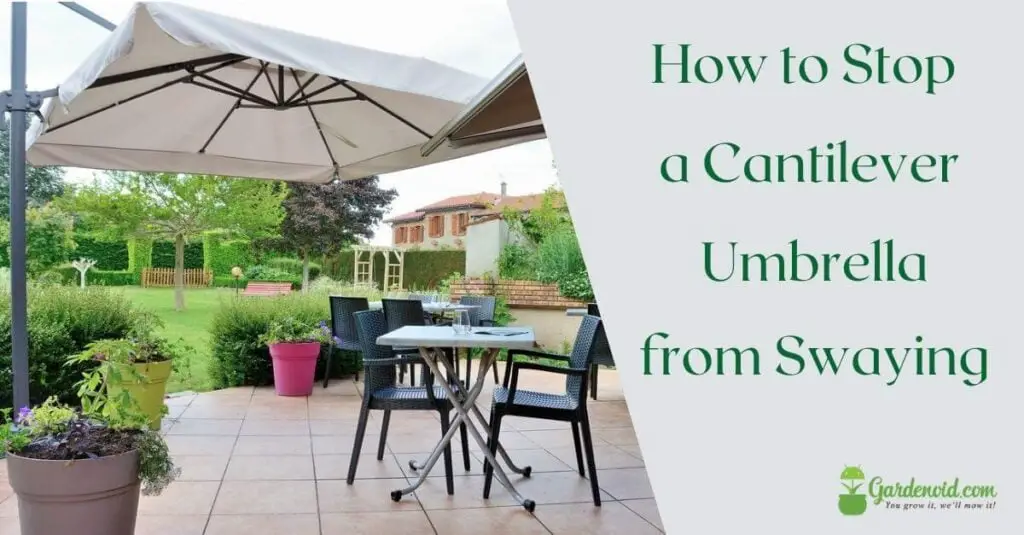 In this article, I have listed some quick ways that I've used to keep the cantilever umbrella stable.
No more swaying!
No more spinning!
And you can relax under the umbrella having a good time.
Is A Cantilever Umbrella Supposed to Sway?
Yes, cantilever umbrellas sway away with the wind, and there is nothing to worry about. The bigger the umbrella's canopy is, the more are the chances of it swaying away. It's just like your regular umbrella swaying in strong winds.
How to Stop a Cantilever Umbrella from Swaying in the Wind?
Below-listed are some tried-and-tested cantilever umbrella troubleshooting ways that will surely help you keep the umbrella secure, and it won't fall over even during strong winds. In addition, most of these ways are super cheap, and you don't have to buy anything separately for them.
1. Choose an Appropriate Cantilever Umbrella Base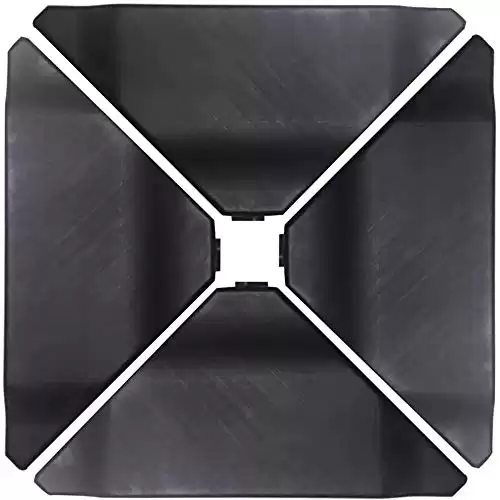 While some of the best cantilever umbrellas come with a weighted base, most brands do not offer a base in order to cut costs. Look for a wider base especially made using metal, so that it can withstand strong winds while offering a decent lifespan.
I use a round iron base, and it does an amazing job. Round bases are better as compared to the boxy ones, as they offer more stability. However, each base has a different weight and is designed for a different umbrella size.
Here's a table to help you determine the right base weight according to the diameter of the umbrella's canopy.
| Canopy Diameter (in feet) | Recommended Base Weight |
| --- | --- |
| 5 feet or less | 30 lbs |
| Between 5 to 7.5 feet | 40-45 lbs |
| Between 7.5 to 11 feet | 70-80 lbs |
| Between 11 to 12 feet | 90 lbs |
| Above 12 feet | More than 150 lbs |
2. Add Some Extra Weight to the Base
Heavy cantilever umbrella weights will keep the umbrella in place and prevent it from swaying away with strong winds. But adding more weight to the base will enhance the stability while reducing the chances of the umbrella falling over.
Here are some popular options homeowners consider to add weight to the umbrella's base.
(i) Use Wet Sandbags
Stacking wet sandbags around the umbrella's base is the easiest and cheapest way to prevent the umbrella from swaying. Place around 2-4 bags and cover the entire base so that it does not move from its place.
However, these bags may occupy some space, so you can skip to the next recommendation that offers good support and occupies less space.
(ii) Stack Lead Boxes
Much smaller than wet sandbags, the lead boxes are perfect for keeping the base stable. Get some tube-shaped lead boxes and arrange them around the umbrella's base for more stability.
(iii) A Cinder Block Could Be a Permanent Solution
So you don't want the sandbags or lead boxes to ruin the umbrella's appeal? You can use a cinder block instead and keep the umbrella upright at all times.
These blocks are heavy, so you cannot move them, unlike lead boxes. Put the umbrella's shaft inside the block, and you are good to go.
(iv) Get the Base Fixed by Professionals
If you have no plans of moving the umbrella from its place, it's better to get it fixed. Call professionals and ask them to fix the base inside the concrete floor. Make sure to get metal tubing with a screw so that you can remove the umbrella if required or switch it with a new one.
3. Install a Cone Wedge
Done strengthening the base? Get a cone wedge and ensure the patio umbrella does not sway and fall over in the winds. A cone wedge or acone is a rubber sheath that secures the umbrella with the patio table.
Install the cone on the umbrella's shaft and put it inside the umbrella hole of the table. Make sure the cone wedge properly fits so that it does not move. The biggest benefit of using an acone is that it prevents the umbrella from spinning, so it's a win-win.
However, you can only use it with cantilever umbrellas designed to fit between a table and not with any cantilever umbrella.
4. Use Bungee Cords for More Security
Strong winds during a storm can easily move even the heaviest of bases, and in this case, bungee cords will help keep your umbrella in place. Get two bungee cords, and tie their one end with the ribs of the umbrella.
You can knot the other end to something robust like the fence or a tree that can retain its position during strong winds. Or you can wrap the cord around the umbrella's metal frame.
No doubt, the umbrella will move from its place, but the cords will prevent it from swaying away from your patio.
5. Get Your Umbrella Vented
Ever thought about why those massive billboards have large holes in them? These holes let the air pass and prevent the billboards from tearing apart during strong winds. Most branded cantilever umbrellas come with air vents to let the wind pass.
If your umbrella lacks one, it's time to call a tailor and get the umbrella vented. Or, if you are looking to replace the umbrella, buy one with an air vent.
6. Close the Umbrella When Not Using It
One of the easiest ways to keep your umbrella from falling over due to winds is closing it. Almost all cantilever patio umbrellas come with a crank handle, and you can quickly close them without any hassles.
Closing the umbrella also serves you with some major benefits, like it prolongs the lifespan of the fabric and prevents it from fading away.
7. Smartly Use Available Resources and Block Winds
If nothing works, you can still secure the umbrella and prevent it from falling over. Look for a big wall in your patio or garden, and install the umbrella against it to block winds. You can also install the cantilever umbrella against something that helps block strong winds and keep the umbrella in place.
I've been using this method, along with a strong metal base, and my umbrella hasn't fallen off since then. I often close the umbrella in case of heavy winds and storms.
FAQs
Q1: How do I Stop my Cantilever Parasol from Spinning?
Even if you secure the umbrella using a weighted base, there are chances it will spin during strong winds. So it is important to understand how to secure a cantilever parasol.
The easiest solution to stop the cantilever parasol from spinning is to secure it with bungee cords. Tie the cords to the umbrella ribs, and then tie them to something like a fence.
You can also use a cone wedge to keep the umbrella from spinning.
Q2: What Cantilever Umbrella is Best in the Wind?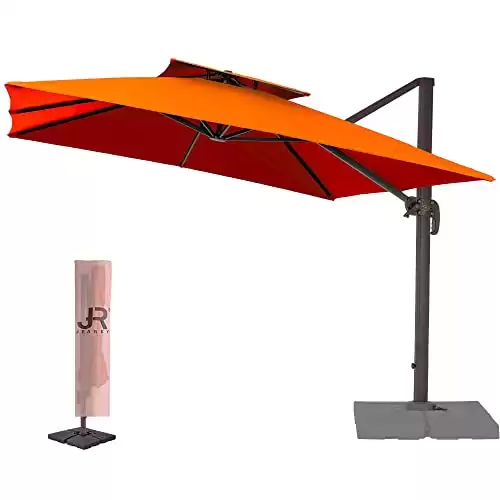 If you live in one of the windiest cities in the United States, you should choose a patio umbrella with a short canopy. Also, the umbrella should feature a bigger air vent for more stability.
As per my experience, umbrellas with tilt adjustment support have lesser chances of falling over if you adjust the canopy properly.
Just understand how to position a cantilever umbrella and you are good to go.
Q3: How do you Anchor an Outdoor Umbrella?
You can use several objects to anchor an outdoor patio umbrella. I've been using concrete blocks with a metal base, and the results are pretty good. Some people even use wet sandbags and lead boxes to anchor the umbrella to the ground.
Q4: Should you Bolt a Cantilever Umbrella to a Deck?
This is one of the best ways to prevent the umbrella from swaying and falling over in the wind. However, if you bolt an umbrella, it becomes immovable, and you cannot change its position.
If you are sure about it, go ahead, but if you live in a leased property and are planning to move out, you should not bolt the umbrella to the deck.
Q5: How much Wind is too much Wind for a Patio Umbrella?
There are some umbrellas that can handle winds of up to 25 MPH, but you need to anchor these umbrellas to the ground using heavyweights. Winds up to 20 MPH can easily sway lightweight patio umbrellas.
Some other factors that affect whether the umbrella will remain still or not include the nearby surroundings, such as a wall, and how you have installed the umbrella.
Final Thoughts
These are the easiest ways to stop a cantilever umbrella from swaying and falling over in the wind. Make sure to get a heavy base to secure the umbrella, as it stabilizes the umbrella more than any other hack and prevents it from falling over.
You can even bolt the umbrella to the deck if required, or you live in an area where strong winds blow regularly.
We are sorry that this information was not useful for you.
Tell us how we can improve.