7 Best Grow Lights For Succulents in 2023
It can be a real problem growing your succulents in winter and rain, especially when there's no natural light available. Light is the primary source plants needed to grow, and the only possible way to grow them is by using grow lights.
With the best grow lights for succulents, you can mimic the conditions offered by natural light so that your plants flourish even when kept indoors.
The question is, do you really need grow lights for your succulents? Well, yes, without grow lights, there's no chance to keep your succulents healthy when they haven't seen natural light for days.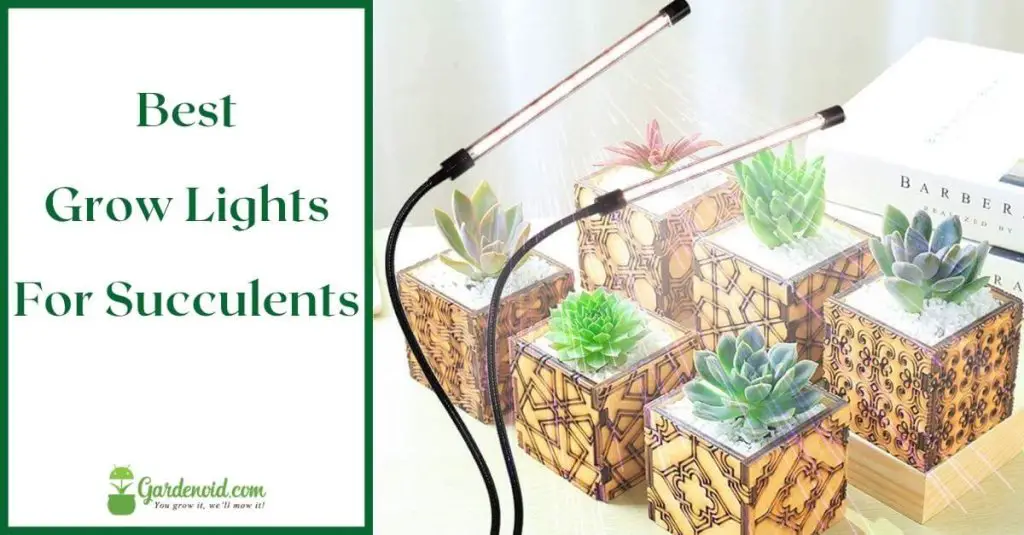 In this article, I've picked the top succulent grow lights available in the market. I am personally using one of these grow lights for succulents, and my plants are healthy and flourishing as they do in the natural light.
Top Rated Grow Lights for Succulents
1. Hydrofarm Agrobrite Fluorescent Grow Light System
This super versatile fluorescent grow light from Hydrofarm is what you need to grow your succulents indoors. The grow light is easy to assemble, and you can install them in three ways for better efficiency. With the four fluorescent tubes, you can grow your plants inside your home irrespective of their growing stage.
The energy consumption of this lighting system is excellent, and it will not put a lot of burden on your monthly energy bills. The best part is that you can connect multiple grow lights together as this system features a daisy chain cable.
The power cord is 10″ in size, which means that you don't need a separate extension cord with it. The four powerful fluorescent tubes have 18,800 lumens rating, so there won't be a problem in growing your succulents efficiently.
Moreover, the powder-coated steel housing adds more durability while making the grow light-resistant to corrosion. There are multiple options available in this grow light; including 6-tubes, 8-tubes, and 12-tubes in case you have a huge indoor garden.
In a nutshell, Hydrofarm Agrobrite is a good grow light ideal for all types of succulents. There are eight tubes available in this fluorescent grow lamp, and the manufacturer offers everything required to assemble the grow light.
Excellent light distribution
Daisy chainable
On/off switch available
No timer feature available
No auto-shutoff
---
2. Relassy Sunlike Full Spectrum Grow Lamp
Are you looking for a compact grow light that works well with your succulents? Well, if this is your preference, then Relassy Sunlike Full Spectrum Grow Lamp is the best light for succulents you can get. This grow light features LED bulbs that have an excellent lifespan and consume minimal power.
The durable c-clamp ensures better stability, and you can set the grow light anywhere based on your requirements. Relassy Sunlike grow light is ideal for succulents that are in seeding, growing, and fruiting phase; in short, it is perfect for all stages from growth to fruiting.
The LED bulbs are replaceable, and you can replace them on the go if you need some other intensity bulbs for certain succulents. The flexible gooseneck makes it an attractive option, and you can adjust the position of the lights on the go.
Also, the heat dissipation unit does its job perfectly and prevents the lighting system from overheating. As it is an LED grow light system, thus you will get optimal energy saving with it. LED bulbs have a right spectrum of light, and that protects the succulents from getting infected while flourishing rapidly.
Assembling Relassy Sunlike grow light is an easy task, and you can mount the light anywhere with its powerful c-clamp. However, this is not a daisy-chainable grow light, so you cannot connect multiple lights together.
Overall, Relassy Sunlike grow light is a value for money device, and you can get it even if you have a packed budget. The Led bulbs will not fill your room with heat just like other bulbs, and you can enjoy some other benefits like less power consumption and the optimal growth of the succulents.
Long-lasting LED bulbs
Easy to set up
Safe to use indoor
Highly efficient color spectrum
Excellent heat dissipation
No built-in timer
No dimming levels
---
3. Roleadro LED Grow Light
With Roleadro LED Grow Light, you can grow your succulents indoors with added safety. This is an LED-based growing light that ensures lesser heat generation. Also, the excellent heat dissipation design of the grow light prevents it from overheating, and it can be used for a prolonged time.
The 60-degree optical lens offers better PAR value for increased brightness and lesser loss of light. In short, Roleadro LED Grow Light is an energy-efficient system that requires less energy to work. Not only succulents this grow light is ideal for growing seedlings, and different varieties of flowers.
The hanging brackets allow easy hanging, and you can hang the grow light system directly on the succulents for better growth. Moreover, Roleadro LED Grow Light comes with ROHS, CE, PSE, and FCC certification, which make it an option worth considering.
It is not an expensive grow light, and the bulbs can last somewhere around 50,000 hours. The different spectrum of lights offers better growing conditions for the succulents while preventing them from drying.
Overall, Roleadro LED Grow Light is an excellent grow light system for indoors.
However, it doesn't have any timer and dimmable features. Also, you cannot connect multiple grow lights together due to missing the daisy chain.
Reasonably priced
Easy to set up and use
Exclusive spectrum for better growth
Not resistant to water
Not daisy-chainable