7 Best Grow Lights For Succulents in 2023
It can be a real problem growing your succulents in winter and rain, especially when there's no natural light available. Light is the primary source plants needed to grow, and the only possible way to grow them is by using grow lights.
With the best grow lights for succulents, you can mimic the conditions offered by natural light so that your plants flourish even when kept indoors.
The question is, do you really need grow lights for your succulents? Well, yes, without grow lights, there's no chance to keep your succulents healthy when they haven't seen natural light for days.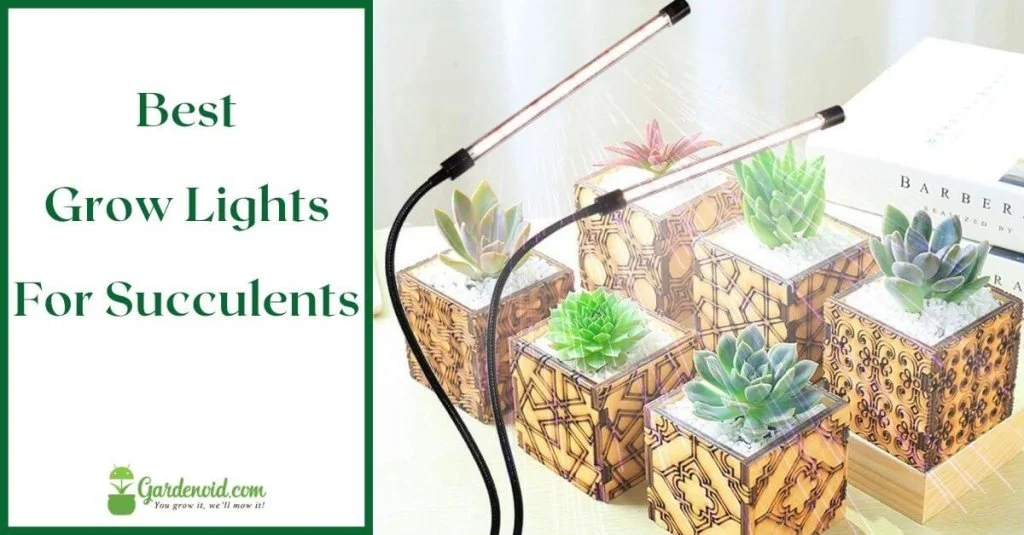 In this article, I've picked the top succulent grow lights available in the market. I am personally using one of these grow lights for succulents, and my plants are healthy and flourishing as they do in the natural light.
Top Rated Grow Lights for Succulents
1. Hydrofarm Agrobrite Fluorescent Grow Light System
This super versatile fluorescent grow light from Hydrofarm is what you need to grow your succulents indoors. The grow light is easy to assemble, and you can install them in three ways for better efficiency. With the four fluorescent tubes, you can grow your plants inside your home irrespective of their growing stage.
The energy consumption of this lighting system is excellent, and it will not put a lot of burden on your monthly energy bills. The best part is that you can connect multiple grow lights together as this system features a daisy chain cable.
The power cord is 10″ in size, which means that you don't need a separate extension cord with it. The four powerful fluorescent tubes have 18,800 lumens rating, so there won't be a problem in growing your succulents efficiently.
Moreover, the powder-coated steel housing adds more durability while making the grow light-resistant to corrosion. There are multiple options available in this grow light; including 6-tubes, 8-tubes, and 12-tubes in case you have a huge indoor garden.
In a nutshell, Hydrofarm Agrobrite is a good grow light ideal for all types of succulents. There are eight tubes available in this fluorescent grow lamp, and the manufacturer offers everything required to assemble the grow light.
Pros
Excellent light distribution
Daisy chainable
On/off switch available
Cons
No timer feature available
No auto-shutoff
---
2. Relassy Sunlike Full Spectrum Grow Lamp
Are you looking for a compact grow light that works well with your succulents? Well, if this is your preference, then Relassy Sunlike Full Spectrum Grow Lamp is the best light for succulents you can get. This grow light features LED bulbs that have an excellent lifespan and consume minimal power.
The durable c-clamp ensures better stability, and you can set the grow light anywhere based on your requirements. Relassy Sunlike grow light is ideal for succulents that are in seeding, growing, and fruiting phase; in short, it is perfect for all stages from growth to fruiting.
The LED bulbs are replaceable, and you can replace them on the go if you need some other intensity bulbs for certain succulents. The flexible gooseneck makes it an attractive option, and you can adjust the position of the lights on the go.
Also, the heat dissipation unit does its job perfectly and prevents the lighting system from overheating. As it is an LED grow light system, thus you will get optimal energy saving with it. LED bulbs have a right spectrum of light, and that protects the succulents from getting infected while flourishing rapidly.
Assembling Relassy Sunlike grow light is an easy task, and you can mount the light anywhere with its powerful c-clamp. However, this is not a daisy-chainable grow light, so you cannot connect multiple lights together.
Overall, Relassy Sunlike grow light is a value for money device, and you can get it even if you have a packed budget. The Led bulbs will not fill your room with heat just like other bulbs, and you can enjoy some other benefits like less power consumption and the optimal growth of the succulents.
Pros
Long-lasting LED bulbs
Easy to set up
Safe to use indoor
Highly efficient color spectrum
Excellent heat dissipation
Cons
No built-in timer
No dimming levels
---
3. Roleadro LED Grow Light
With Roleadro LED Grow Light, you can grow your succulents indoors with added safety. This is an LED-based growing light that ensures lesser heat generation. Also, the excellent heat dissipation design of the grow light prevents it from overheating, and it can be used for a prolonged time.
The 60-degree optical lens offers better PAR value for increased brightness and lesser loss of light. In short, Roleadro LED Grow Light is an energy-efficient system that requires less energy to work. Not only succulents this grow light is ideal for growing seedlings, and different varieties of flowers.
The hanging brackets allow easy hanging, and you can hang the grow light system directly on the succulents for better growth. Moreover, Roleadro LED Grow Light comes with ROHS, CE, PSE, and FCC certification, which make it an option worth considering.
It is not an expensive grow light, and the bulbs can last somewhere around 50,000 hours. The different spectrum of lights offers better growing conditions for the succulents while preventing them from drying.
Overall, Roleadro LED Grow Light is an excellent grow light system for indoors.
However, it doesn't have any timer and dimmable features. Also, you cannot connect multiple grow lights together due to missing the daisy chain.
Pros
Reasonably priced
Easy to set up and use
Exclusive spectrum for better growth
Cons
Not resistant to water
Not daisy-chainable
---
4. November Spring Plant Grow Lamp
The harsh winters can make your plants dull and can even result in the death of some succulents! But with the November Spring Plant Grow Lamp, you can stop this from happening. This grow light system is efficient in all weather and protects your plants from dying, especially in winter.
The grow light features an auto-timer, so you don't have to worry about switching it on and off. Additionally, the availability of ten dimming levels adds more value to this grow light as you can set the ideal intensity depending on the particular phase of the succulents.
You can easily adjust the intensity of light using the button available on the grow light system. Also, the super flexible gooseneck is highly adjustable, and you can change the position of the lights based on your requirements.
November Spring Plant Grow Lamp is perfect for growing plants, herbs, flowers, and other varieties of succulents without the availability of natural light. The approximate lifespan of the bulbs is around 50,000 hours, so you will get a superior return on your investment.
This grow light even has an IP44 rating, which protects it from rain and moisture making it resistant to water. You will get a certified UL adapter with the device to keep it on day and night.
To sum up, the November Spring Plant Grow Lamp is one of the best grow lights for succulents. It comes with an auto timer, conversion spectrum, and ten dimming levels that are hard to find in other grow lights available in this price range. You can set it up without any hassles, as the robust c-clamp promises a firm grip.
Pros
Long-lasting bulbs
Flexible gooseneck with added stability
Auto on/off
Ideal for a variety of succulents
Easy to set up
Cons
You cannot connect multiple grow lights together
Fragile succulents are prone to withering due to high intensity
---
5. Durolux 2-Pack T5 HO Grow Light
DuroLux T5 Grow Light is the easiest to install product on this list. You can even connect two lights together as the manufacturer offers a daisy chain with them. Moreover, the features available with this grow light makes it a decent option for you.
The fluorescent bulb has around 2,500 lumens, and the system comes with two switches so that you can control the inner and outer bulbs separately. Durolux grow light is ideal for succulents that are in the germination phase as it helps in better growth and covers a large area.
You will get a 5-year warranty with this grow light so you can expect excellent longevity from it. Also, the weight of the entire system is less as compared to the standard grow lights, which means installing it would be easier.
The 6-feet long power cord allows you to connect it directly to the wall outlet without using an extension wire. Also, the grow light promotes growth, photosynthesis, and propagation, which are the necessary phases of every plant.
The built-in timer will allow you to keep the grow lights on for a certain time only. Durolux grow light is even resistant to water, and rain splashes cannot harm this system in any way. You can even connect up to 15 grow lights together using the daisy chain, and thus it is ideal for a bigger indoor garden.
Lastly, the grow light system works well with clones too, and growing them won't be a problem anymore. The fluorescent light consumes lesser energy as compared to other grow light types.
Pros
Auto on/off
Resistant to water splashes
Ideal to use indoors
Beneficial in the germinating phase
Cons
Limited light spectrum
No proper ventilation
---
6. Ankace Dual Head Plant Grow Lights
Do you need a portable grow light that is easy to move just like your succulents? If yes, then here is a grow light from Ankace that's perfect for you. This portable grow light has a compact design and comes with a c-clamp so that you can install it anywhere.
Also, the flexible gooseneck allows you to focus on specific succulents so that they grow better and remain protected from infections. The dual-head mechanism covers more area, and you don't need another grow light if you have a small garden.
Ankace Dual Head Grow Lights come with a timer feature, and you can choose the ideal option based on your succulents. Also, this grow light has five dimmable levels, and you can prevent your plants from drying.
The best part about Ankace Grow Lights is the availability of a USB connector. You can connect the grow light from anywhere, even if the wall outlet is not closer to it. Also, this system is scientifically tested in the lab to ensure that the light doesn't harm the succulents in any way.
Overall, Ankace Dual Head Plant Grow Light is what you need if you expect excellent durability and convenience. The succulent grow light system requires less energy to work, and the LED bulbs last longer without getting fused.
Pros
Lightweight and portable
Three switch modes
USB connector available
Robust c-clamp
Built-in timer
Cons
No auto on feature
No replaceable LED bulbs
---
7. YGROW 600W LED Grow Light Full Spectrum
YGROW 600W is an efficient indoor grow light system that will keep your succulents healthy while helping them in growing. The full spectrum LED panel offers suitable conditions required for optimal growth.
Also, you can keep this succulent grow light system on for around 18-hours in a day due to its excellent heat dissipation. The temperature control system makes the grow light even safe for indoor usage. However, there is no timer available, and you have to switch it on/off manually.
It is an easy-to-use grow light system that starts working as soon as you install it. No daisy chain is available with it, and you cannot connect multiple YGROW 600W lighting systems together. The 60-degree reflecting cup ensures lesser consumption of energy with better light absorption.
The power of this grow light is around 3500K, which is higher as compared to HPS, CFL, and LED grow lights. The expected lifespan of the LED panel is around 50,000 hours, so you can set it and forget about any replacement.
YGROW 600W grow light is not resistant to water, so you have to protect it from rains and splashes. Also, you cannot look directly at the panel when it is on due to the excessive brightness that can harm your naked eyes.
The LED panel works efficiently, and the heat management system makes sure that the panel remains protected from overheating and works flawlessly for around 18 hours a day.
Pros
Easy to install
Affordable
Full spectrum of light
Energy efficient
Cons
No dimmable levels
No built-in timer
---
Also Read: How To Propagate Cacti And Succulent Plants
Grow Light for Succulents: Buying Guide
You can't just buy any of the grow lights for your succulents. The light should fit various parameters so that it works well as per your expectations. Here in this buying guide, I have highlighted some factors you need to have in mind before you buy grow light for your succulents.
What are Grow Lights?
Don't know much about what grow lights are? Grow lights are used to replicate the natural light emitted by the sun, which is essential for plants to grow and sustain. These lights are pretty common in areas with less availability of sunlight, especially during winters.
Also, some people use different grow lights for their indoor succulents where sunlight cannot enter. Using a grow light is pretty simple, and it will fulfill the needs of your succulents for growing.
Types of Grow Lights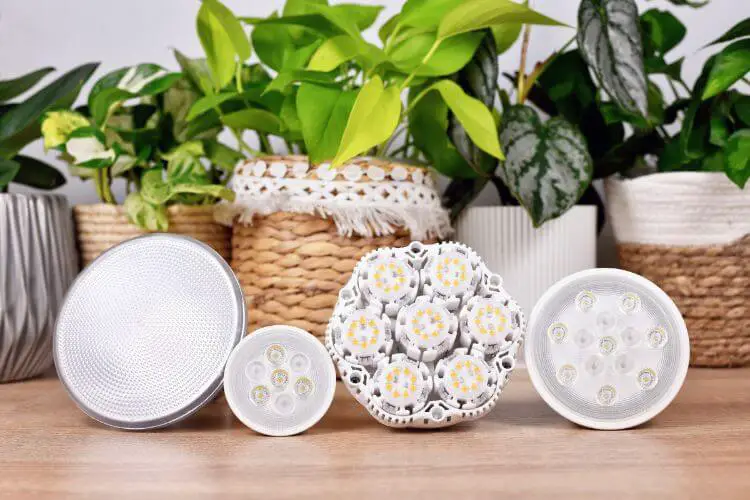 Basically, there are four common types of grow lights available in the market. You can choose the ideal type of grow light based on your needs and budget.
1. Plasma Grow Lights
Plasma lights are pretty expensive, but these have higher efficiency as compared to HID lights. Also, the lamp has a prolonged life, and the grow light depreciates slowly as compared to the other types. You can use plasma grow lights for vegetable growth, as these offer better results.
2. HID (High-Intensity Discharge)
HID is the most commonly found type of grow light, and most users rely on it for its intense beam indoors. HID grow lights include UV (ultraviolet light), and MH (Metal Halide) which offer a spectrum of bluish light ideal for growing vegetables.
Another benefit of HID grow lights is that the UV rays help in containing the pests, so your succulents grow better.
3. Fluorescent
Fluorescent grow lamps are ideal for vegetative growth in the initial stage. Also, the light is good to grow semi-hard plants in winters. These grow lights are available in panels or single strips so that you can set them accordingly.
Moreover, fluorescent lights are not that expensive and can be used inside your house.
4. LED (Light Emitting Diode)
LED grow lamps are gaining popularity due to their excellent longevity. Also, these led lights are easy to use and offer a spectrum of light for growing succulents. If you have fruiting and flowering plants, then LED grow lights can turn out to be a great choice.
Benefits of Using Grow Lights For Succulents
With the best grow lights for succulents, you will get some tremendous benefits. Here are some of the benefits covered for more information.
1. Works in All Weathers
Grow lights work well in all kinds of weather. No matter if it is winter or rainy season, you can use grow lights to fulfill the needs of your succulents. In a nutshell, grow lights aren't dependent on the climatic conditions; you can use them for the whole year if you need them.
2. Safe to Use
This is one of the biggest perks of using grow lights. These are entirely safe to use and will not harm the residents of the home, including pets. Yes, you have to be careful about how you are using them, but these are safe and have no side effects at all.
3. Maintains Plant Health
Grow lights can maintain the health of the plants provided that you are using the right type of light based on the succulents you have. For example, LED grow lights work well with plants that require less heat as they can dry if you use HID lights with an ultraviolet lamp.
If you use an appropriate grow light, then you will notice that the health of your plants is maintained, and they are growing well as they grow in the natural light.
4. Easy to Use
Using grow lights for succulents doesn't require any rocket science. You can install a grow light setup in some minutes based on the light you have purchased. I am using an LED grow light, and installing it was pretty straightforward.
5. Eco-Friendly
Most of the grow lights, including LED and HID, are eco-friendly and have no ill effects on the environment. You can keep growing your succulents with grow lights without harming the environment in any way.
How to Choose the Best Grow Light for Succulents?
Consider these essential factors while buying a grow light for succulents to make the most out of your purchase.
1. Type of Light
Start with choosing the type of grow light that will be beneficial in growing your plants. There are four types of grow lights available, and you can make a selection based on the type. Every grow light has some distinct parameters like growing temperature and power consumption.
2. Material
The grow lights should be durable enough to withstand the test of time. Also, the plants will be surrounded by moisture, so the grow lights should resist corrosion as well. Go for grow lights that are made using stainless steel, or any other sturdy material.
There are some water-resistant grow lights available as well, and you can get them if you have a fair budget.
3. Spectrum of Colors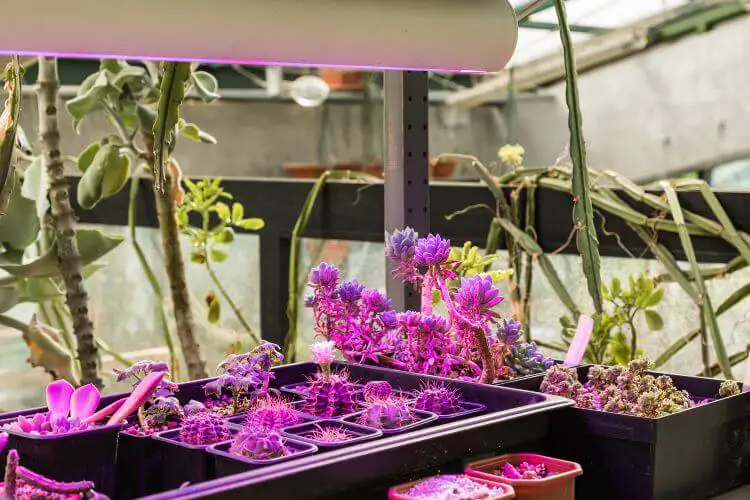 Every plant requires a different spectrum of color in its growing phase so that you can make your decision based on this factor. Also, there are some grow lights available as well that offer a full spectrum of light for efficient growing.
If you have some specific species of plants that require individual light spectrum, then you can make your choice accordingly.
4. Dimming Levels
The availability of dimming levels will help your succulents in growing better as you can adjust the intensity of light based on the conditions and requirements of the plants. Grow lights with dimming features are versatile, and are a good investment as compared to standard grow lights.
Not every grow light allows you to adjust the level of intensity, so make your decision wisely.
5. Easy to Install
Let's admit, you are not a professional, and that's why you need a grow light that is easy to assemble. Also, make sure that the grow light you are planning to buy has the option to connect with daisy chain cables so that you can connect multiple grow lights together.
All the grow lights reviewed in this article are easy to assemble, and you can pick any of these without any worries.
6. Timer
If you are a working professional, then you cannot spend the whole day sitting next to the grow lights to switch them on and off. And in this case, you need a grow light that comes with a timer feature or allows you to connect with a separate timer.
With these grow lights, you can set a specific time like for how many hours you want the light to remain on. Moreover, it will save you energy and will keep the succulents in good shape.
Overall, grow lights with a timer are pretty convenient and are the right investment.
7. Adjustable Position
Every plant requires a different intensity of light and grows better if you place the light source at a certain distance. Grow lights with adjustable position can turn out to be a better option as you can adjust the position based on the types of plants you have.
8. Budget
Lastly, considering your budget is a good idea to avoid overspending. Grow lights are available in a variety of options and different price ranges, so you can get one depending on how much you want to spend. This article contains the best budget, as well as some top-end, grow lights for succulents, so making the right choice will be easier for you.
Also Read: 9 Best Cantilever Umbrella Reviews
FAQs
Q1: Is a Grow Light Necessary for Succulents?
Just like any other plant, succulents also need sunlight to grow. But when placed indoors, they can't get enough sunlight to survive. This is why grow lights are essential. With the best grow lights for succulents, you can create an ideal environment, which is suitable for growing and fruiting.
So grow lights are necessary for succulents that don't get direct sunlight as a source to grow.
Q2: Is too much Light Harmful to the Succulents?
Some types of succulents are prone to withering in more light, and therefore they get dry and dull. But you can avoid this from happening from a grow light system like Ankace Dual Head Plant Grow Lights, as it has a dimmable feature.
You can decrease the intensity of light based on your requirements and protect your succulents.
Q3: Can Fluorescent Grow Lights improve the growth of my Succulents?
Yes, with fluorescent grow lights like Hydrofarm Agrobrite Fluorescent Grow Light, you can grow your succulents efficiently. The lighting system creates an ideal environment for the succulents, which results in better growth even indoors.
Q4: How Close should I position the Grow Lights for better Results?
It depends on the type of succulents you have and the type of grow light you are using. Some grow lights are stationary, and you cannot change their position. On the other hand, some grow lights have a flexible gooseneck, so changing their position is quite easy.
Also, the position of the grow light depends on the growth phase of the succulents. Check this article for more information to place the grow lights on a safe distance.
Q5: Is it Possible to Grow Succulents Without Sunlight?
Yes, you can grow succulents without sunlight provided that you have the best grow lights for succulents. With these light systems, you can create similar conditions that are ideal for growing succulents in winter, and without the availability of sunlight.
So you can follow your passion for growing succulents with these grow lights.
Q6: Which is the Best LED Grow Light for Cactus?
The best LED grow light for cactus is Ankace Dual Head Plant Grow Lights. Also, you can grow different types of succulents, including dudleya, burros tail, ball cactus, and much more with this grow light system.
Q7: What are some other Useful Gadgets for Indoor Growing?
Along with the grow lights, you can get some other useful gadgets as well to ensure the optimum growth of your plants. The list of these gadgets includes automatic plant watering system, plant health monitoring device, light measuring meters, rainy pots, and much more.
All of these gadgets are necessary if you want your plants to remain healthy even when they are indoors.
Final Thoughts
With the best grow lights for succulents, you can create an environment with the natural light required for plant growth. Also, using these lighting systems isn't hard, and you can set it up on the go without any professional assistance. Moreover, most of these grow lights are affordable, so getting them won't create a dent on your monthly budget.
The best succulents grow light on the list is Hydrofarm Agrobrite Fluorescent Grow Light System. It is ideal for covering a huge area, and you can link multiple light systems using the daisy chain.
Sale
However, if you have a packed budget, then you can go with Ankace Dual Head Plant Grow Lights.
Looking for a different kind of lighting? Check out our guide for the best solar lights!