9 Best Garden Hose Reel Reviews for 2023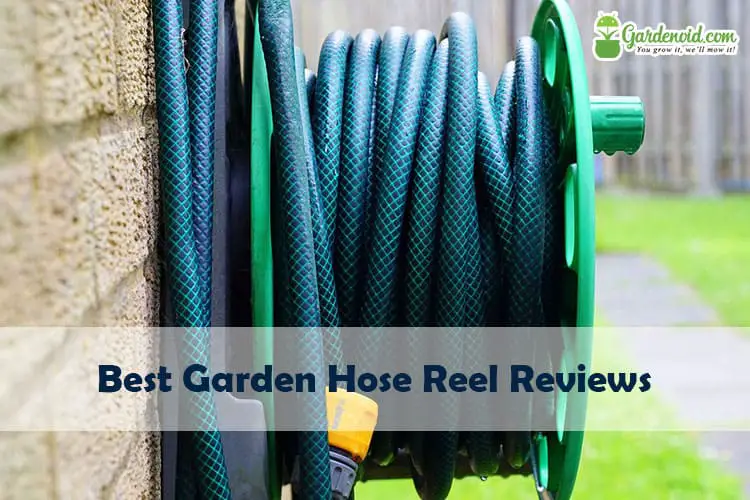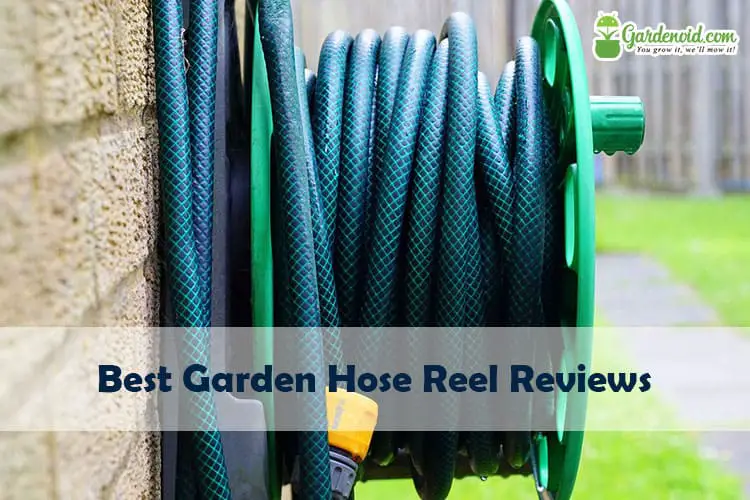 Each summer season reminds you it's a season of watering your garden or filling up your water pool. However, how you store your hose determines if it will be usable or you'll need to repair it to use it. Unfortunately, many don't know the best garden hose reel to use to store their hoses safely.
But we've got you sorted out. Here, you will find garden hose reel reviews that will help you know the best reels available, their pros and cons.
This way, you will make an informed decision on the perfect reel for your garden hose.
9 Best Garden Hose Reel Reviews
1. Liberty Garden Products 703-1
Are you looking for the best garden hose reel that will not only take care of your hose needs but also add some beauty? You just found one right here. This Liberty garden hose reel enhances décor due to its tan coating. Moreover, it is suitable for those looking for a hose reel that they can mount on their sturdy, lawn or even better, seat it on the floor. Plus, it can hold a large size of a hose comfortably.
Key Specifications
Takes up to 200 feet of a garden hose of 5/8 inch
Has an inlet hose that measures 5-feet
Constructed of 13 gauge steel
Finishing coated with sturdy powder
The handle has rubber
Weighs 15.3 lbs
Features tan color
Has a long-lasting crank made of metal
Can be for both commercial and professional use
Suitable for heavy tasks hoses
It's rust and corrosion-free
The rubber on the handle prevents slippage
Ideal for harsh weather
Doesn't come with mounting hardware
Not suitable for moving around since it has no wheels
Our Verdict
Finding a proper place for your hose due to fear of harsh weather can be a bit tricky, and that's one reason why we loved this hose reel; it won't rust due to rainwater. Another reason you should buy this reel is that if you do not want to install it on your wall, you can as well have its rubber boots in place so that you mount it on the non-skid floor.
But that's not all, who doesn't want a reel that will last long before they buy a new one? This reel offers durability due to its 13-gauge construction.
---
Also Read: 31 Gardening Hacks and Tips for your Garden
2. Suncast Aquawinder 125′ Wicker Garden Hose Reel
For your garden hose that measures 125 feet and 5/8 inches, this Suncast garden hose reel will take care of your hose storage needs. Its decorative look makes it easy to hide your hose as you enhance beauty in your home.
Not only so, but you will also be stress-free with winding your hose after use since it has a motor that helps get the hose back into its track.
It comes with a hose reel that is completely assembled. Also, due to any outdoor gardening needs, this reel comes with garden stakes (two), nozzle, leader hose, and a tube for discharge. You definitely need this!
Key Specifications
Features a wood-like texture
Has a plastic casing
Weighs 22.3 pounds
It is powered by water to unroll and wind-up the hose
Doesn't topple over due to its sturdy base
It is light and durable
Offers uniformed hose winding
No power cost or batteries
Resistant to harsh weather
Comes with a reel hose that is completely assembled
Easy to move around
It is automatic
Can be used for domestic or industrial hose storage
Need water to power the motor
Our Verdict
You don't have to 'fight' with your hose as you roll it on your reel while you can use one finger to press the level on this automatic garden hose to have the hose reel – in within seconds! The good thing is that your hose doesn't tangle while winding which eliminates any chances of tearing.
That definitely guarantees long hose life. You don't even have to worry about interfering with your reel as you mount on the wall; this is stand alone.
---
3. Eley / Rapid Hose Reel Model 1041
Looking for a hose reel that is simple and easy to use as well as mount on your wall? Eley garden hose reel is just perfect. Nevertheless, you need to have a good budget to buy this reel, but that should not be an issue if it will save you the trouble of going back to the market after a couple of years. Looking at most garden hose reel reviews, this reel, despite its price satisfied most gardeners.
You can choose to have it around your garden, shop or even the park. Plus, the fact that it allows both parallel and perpendicular installation means that the position of your garden will not be an issue; you just set it accordingly.
Key Specifications
Has an inlet hose measuring 6-feet
Made of brass fittings that are crush-proof
Features bronze finishing
Constructed with aluminium casing
Long lasting brass fittings
Appropriate for both perpendicular or parallel wall mounting
Can hold a hose of up to 150 feet
Suitable for heavy duty
Protects hose from breakage and leaking
Doesn't corrode or rust
Is light and durable
Ideal for both right and left-hand users
Comes with mounting hardware
It is expensive
Needs assembling
Hose not inclusive
Our Verdict
A left-handed person will definitely struggle using a hose reel that favors only right-handed people and vice versa. Thanks to the rapid hose reel. You can use any hand you want since it allows configuration of either left or right side. The fact that it is made of metal eradicates worries of having another since it can last for many seasons. But that's not the only reason you should buy this reel. See, its leader hose is longer than other brands. It is definitely worth each penny.
---
4. Liberty Garden Products 704
If décor comes hand in hand with your hose storing needs, then this is the right hose to go for. It will not only help you store your hose well to avoid tangling, but it will also add beauty on your wall due to its stylish design.
On the other hand, you don't need to use a lot of energy to pull the hose or wind it back since it is easy to pull the hose. Moreover, since it is already assembled, you will only need to mount it on the wall then start using it.
Key Specifications
Comes with a 5-feet hose leader
Has galvanized brass fixtures
Very easy to install
Comes with a shelf
Constructed with heavy gauge aluminum cast
Its coated with powder
Can hold a 125 feet long hose with a 5/8 inch
Fully assembled before shipping
Adds decor to your wall
Easy to use
Resistant to harsh weather conditions
It lasts for many years
Its shelf can hold all the watering and gardening tools
Allows adequate space for hose storage
Does not have mounting hardware
Our Verdict
We bet you know how hard it can be to pull a hose from a reel that has been affected by rust, right? Not only will you lose the reel but also the hose which is a double cost. That's why we like this reel because its material can withstand all weather conditions.
Again, the reason we recommend you buy this hose reel is that it distinguishes itself in that it has a shelf that helps maintain your gardening tools together and away from the ground to prevent mould and rust.
---
5. Goodyear 27527153G Water Hose Reel
Looking for the best retractable garden hose reel that you can mount on your ceiling or wall if you like? The Goodyear garden hose reel, manufactured by the leading hose reel manufacturers in America will offer you many years of service. Plus, it is easy to mount thus saving you time and energy.
You can use it with either water or compressed air. It comes with a hybrid flex polymer hose measuring 50-feet and a diameter of 3/8 inches, to allow you to connect the hose to the reel comfortably. The internally built swivel plus lead hose simplifies the rewinding process of the hose as well as making the functionality of the reel successful.
Key Specifications
Features a bracket for mounting
There's a seal on the hose inlet connection
Offers maximum PSI of 300
Made of high-quality polypropylene that is resistant to crash
Retracts easily without kinking
Inlet seal prevents leakage
Has an upgraded ratcheting
Not heavy
Locks easily
Easy to use and durable
Suitable for industrial, commercial and general purposes
It is slightly expensive
Doesn't come with an air compressor
Our Verdict
There is something unique about this reel that makes us recommend it to you. It allows you to lock or unlock your hose at the desired length depending on how far you want the hose to go. That is fantastic because you won't have to struggle with a long hose length that might in turn cause damage to your plants.
But there is something else users loved this hose reel for, and that is the fact that they could use it when their car tires were flat to refill them with air. That saves you some big challenges, right?
---
6. Suncast Powerwind 12 Volt Automatic Hose Reel
You will definitely like this hose reel. Why? You have two options to rewind the hose. That is; you can either use your foot to step on the pedal to unwind or to use the battery. One thing is clear in all these options; you will not use any effort. Again, a flat battery doesn't make it impossible to rewind your hose!
It is suitable for a 100 feet hose length. If you need a reel for light duties around your home or garden, then this Suncast PW 100 will take care of them.
Key Specifications
Powered by a motor
Has a bin to accommodate the hose reel
Has a hose that is extended
Features a foot pedal for enhancing the rewinding of the hose
Offers smart track features
Its motor is powerful
Offers storage for some gardening tools
Comes with nozzles and the charger
Completely assembled before shipping
You can reuse the battery up to 20 times
Has a handle to ease usage
Automatically winds and rewinds the hose
Comes with a 12 volts battery
Needs to recharge before use
Not appropriate for heavy duties
Our Verdict
Somebody might argue that since this reel is suitable for light tasks; it is not worth it, but we will tell you why you need to buy it. See, you can recharge your battery and keep it charged just in case your other reel is not in order.
Again, once you fully charge the battery; you can use this garden hose reel up to 20 times making it a good choice. Not only that, a person who is not strong enough to roll back the hose can comfortably use this reel.
---
7. REELWORKS Air Hose Reel
This is one of the easiest to use and install hose reels in the market. Also, due to its PSI, you can use it for a variety of tasks such as hydration and cleaning. More so, you can use it with your air compressor. Alternatively, your water compressor is also appropriate.
The ReelWorks comes with a hybrid flex polymer hose measuring 50-feet with a diameter of 3/8 inches. The hose, which is a hybrid polymer and which comes with an upgraded bend radius; helps maintain the quality of the hose since it does not have memory.
Key Specifications
Offers a maximum PSI of 300
Comes in black and sleek red designs
Features a hose inlet plus a swivel
Made of plastic
Easy to maintain and long lasting
Installation process is easy
Ability to compress air
Comes in two different designs
It is affordable
Can rotate up to 180°
Free of rust and corrosion
Can be used in harsh weather conditions
May be mounted on the ceiling or wall
Doesn't need any batteries
Fully retracting the hose makes it hard to retract it
Our Verdict
We loved this reel for a few things. One is that it is affordable to most people with slightly small budgets. Again, while it can automatically rewind the hose; it is designed to prevent kinking which makes it possible for your hose to last long. Not only so, but the fact that it is comes with a crash resistant polypropylene of high-quality makes it worth possessing.
---
8. Eley / Rapid Reel Two Wheel Garden Hose Reel
At times, as a human, you may not be available all the times to do the gardening tasks. Again, even when you are available, teamwork is always the best and motivates you to work even harder. With that in mind, it is good to buy a hose reel that is easy to use for both women and teenagers and this hose reel qualifies for that. It comes with a supply hose that measures 5/8 inches which is attached to a fitting reel of ¾ inches.
Key Specifications
Has an inlet that measures 6½ feet
Its tires measure 10 inches each
Made of die-cast aluminum
Has a brass swivel
Features grip handles that are comfy to handle
Easy to wind and unwind
Has wheels to ease mobility and portability
It is tall enough to ease usage
Suitable for heavy duties
Prevents leakage and breakage of hose
It is long lasting
Offers comfortability even in daily usage
Quite stable due to its wide wheels and strong frame
Doesn't rust
Doesn't come with the nozzles and hose
Considerably expensive
Needs enough space for storage since it is wide
Needs to assemble
Our Verdict
If you have back issues and can't bend a lot, you should definitely consider purchasing this reel since its height makes it easy to maintain an upright posture as you work. Not only that, we also liked the fact that its wheels allow you to use it on almost all terrain roads. However, due to its high quality, you need to have a good budget to purchase it.
Though there is some irritating odour from this hose reel due to its wheels, it lasts only a couple of weeks then disappears.
---
9. Suncast Resin Swivel Hose Hideaway with Hose Guide
When looking for a compact garden hose reel; this one is worth considering because it does not take much space, it is convenient to use and operates really fast. Not only that; but it also precisely tracks the hose on the reel due to its hideaway smart trak feature. It can take a hose measuring 225-feet with a diameter of 5/8 inches.
Key Specifications
Offers high hose storage capacity of up to 225-feet
Features a patented easy-link system
Not much effort needed when rolling and winding the hose
Comes with the hose reel and leader hose
Also comes with stakes for a firm grounding
Has a motor
Lasts for many years
The smart trak guide prevents the hose from kinking when winding
Its tight seal ensures a tight connection between the hose and the reel
Considering the bin-type family of reels, it is light
Due to its base, it seats firmly on the ground
Has a long-lasting outer cover
Protects the hose from the UltraViolet sunrays
Has a stylish design
Not too expensive
Needs some effort to roll and unroll the hose
Nozzles not included
Our Verdict
Do you need at least one reason why you should buy this reel? We'll definitely give you. You don't have to kill yourself by using a lot of energy since it has a motor that makes winding of the hose easy and fast thus saving your time. We also like it since it is not overpriced; therefore most people can afford it. Even so, it increases décor of your yard.
Also Read: 7 Best Cantilever Umbrella Reviews
Best Garden Hose Reel Buying Guide
What is a Garden Hose Reel?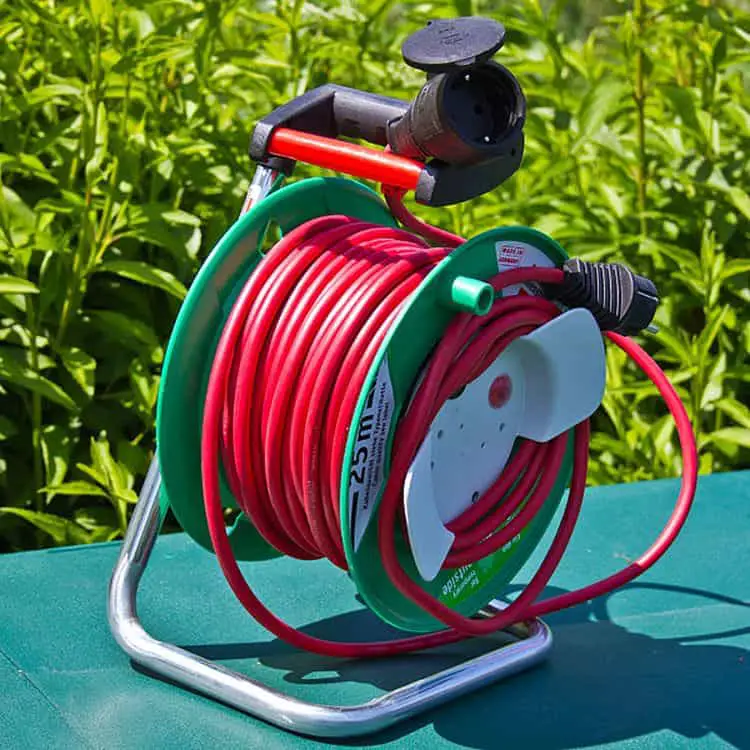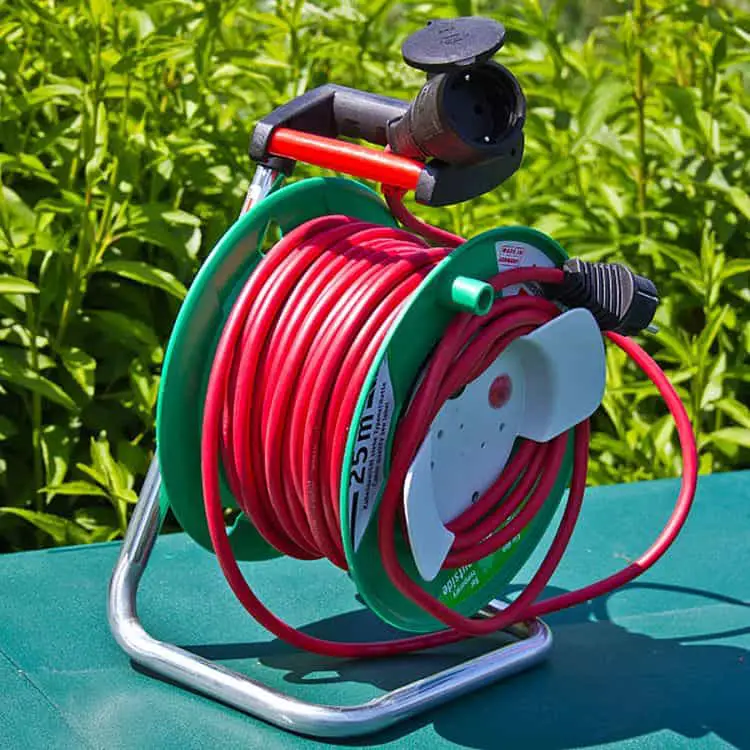 A hose reel is a spindle that is used to store a hose thus preventing it from kinking. You can easily coil or uncoil when stored in the reel. They are classified according to the rewind method, the diameter, pressure rating and their length. It can come in different materials such as plastic, metal, or fiberglass depending on your preferences.
Also, depending on where you are using your hose reel, you can attach it to a cart, truck, and trailer. Alternatively, you can have it in a permanent place.
Types of Garden Hose Reels
1. Wall Mounted Hose Reel
If you want to have your reel in one place then, this type of reel is best for you. Nevertheless, you will have to consider the direction by which you want to unroll the hose. That is, do you want to unwind along the wall, away from the wall or in both dimensions? That will determine how to mount your reel.
2. Hose Reel Cart
If you have a nursery, or need a hose for commercial purposes or a variety of tasks, a hose reel cart is what you will need to ease movement. Also, ensure that the wheels are pneumatic to allow ease of movement even in the garden.
3. Retractable Hose Reel
Though retractable hose reels are easy to work with, you will need to apply some energy pulling them out. Again, working with a long hose may not be as easier as it is with a shorter one. So, be sure you are ready to use the energy needed all the time when buying these reels.
4. Metal Hose Reel
If you are looking for a garden hose reel that can last for years, a metal garden hose reel should be your option. Nevertheless, it comes with some cons, too. That is, it may be cumbersome to either move or mount.
5. Heavy Duty Hose Reel
A heavy garden hose will definitely go hand in hand with a heavy duty hose reel. It is good for commercial purposes due to heavy use or large gardens. It will help preserve your hose for long.
6. Garden Hose Box
Do you plan to have a big hose and don't want to have trouble storing it? Think of a garden hose box. It will not only help you store your large hose, but it will also give you the privilege to paint any color of your choice so as to look alike with other areas. That makes it possible to hide your hose easily.
7. Decorative Hose Holder
Are you the type of people who are concerned about the beauty and color of everything you bring to your home? If yes, consider buying a decorative water hose holder. You will not only love the beauty on it, but you'll also have an option to choose your perfect size and style.
8. Portable Hose Reels
These reels allow you to move around with them to any areas you intend to use your hose. The good thing with them is that the size of your garden doesn't matter, you will move to as far as you wish. Again, even after dividing your garden into a number of sections; you can water the sections comfortably without interfering with other young plants.
9. Hideaway Hose Reel
They mostly use a detachable hand crank that makes it possible to unroll the hose, remove them as well as store them. You can have them stand free or mount them on the wall. As their name implies, they allow you to hide your hose in the box line.
Factors to consider while Buying an Excellent Hose Reel for your Garden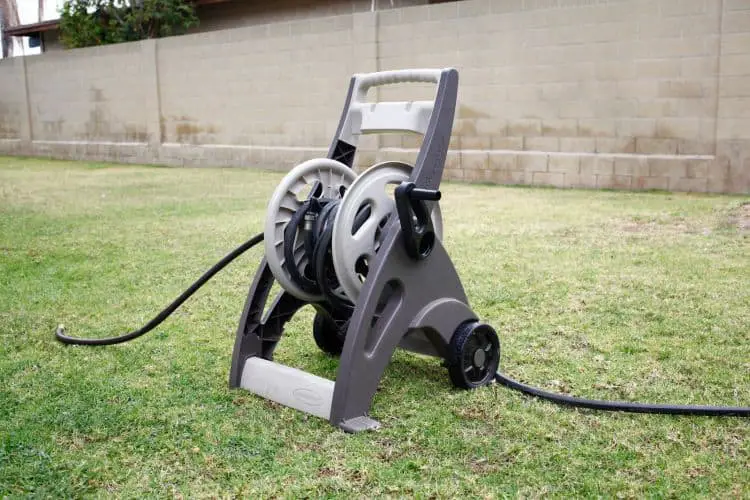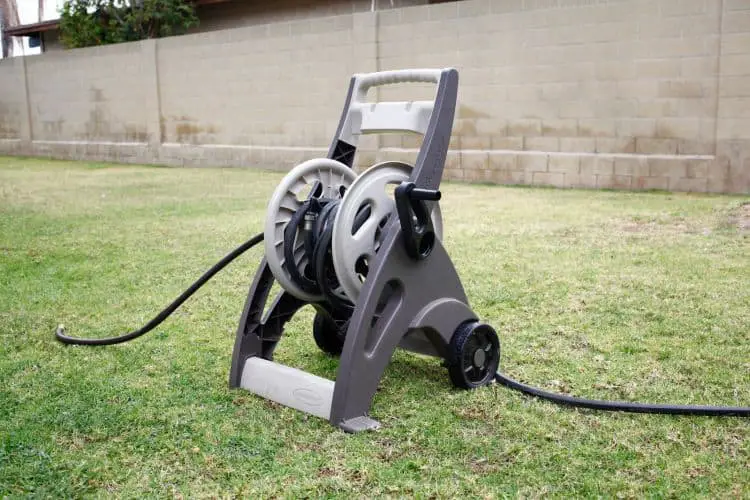 1. Material and Design
Garden Hose reels come in a variety of designs with some allowing you to see the hose while others hide it so that you only access it when you unroll your hose.
When we talk about the material, you can get a hose reel made of plastic, metal or wood.
2. Durable Construction
The construction of the hose reel and its material directly affect its durability. For instance; if you are looking for a hose reel that will last for years, then consider steel, aluminum and stainless steel. Nevertheless, you must be committed to taking care of them. Otherwise, they will rust.
3. Mobility and Space
How large your garden is and the need to move around with your garden hose determines if you need a mobile or permanently fixed garden hose reel. If you have a spacious garden and want to move around to any area to ensure that your plants get enough water, then, you need a hose reel cart. It will make mobility easy for you and ease the burden of watering your garden. Nevertheless, mobility comes with an extra cost, too.
4. Size and Capacity
How long is your garden hose? If it is a short hose for basic work, then, you will need a small hose reel as well. Otherwise, if yours is a heavy duty hose, you will as well require a heavy duty garden hose reel.
That is, you will need a hose reel that is capable of holding the big size hose without stressing it so that it doesn't kink.
However, it is advisable not to buy a reel that is of the exact size with your hose. You could consider purchasing a slightly larger one. This helps when the hose contracts and enlarges itself due to weather changes.
5. Different Styles
A few things need to be put into consideration when buying a hose reel. For example; you need to consider where you will be storing the reel, whether you want an automatic or manual reel. Plus, some reels are decorative. Therefore, decide on the style most suitable for you.
6. Wall Mount or Cart
A wall mount, just as the name is, is one that you mount permanently on the wall. A garden hose reel cart, on the other hand, allows you to move your hose to any area of your garden. This could be ideal if your yard is just next to your wall and the hose is long enough to reach the farthest end. When going for a wall mount, consider its material since rainwater may cause it to rust and interfere with its effectiveness. Alternatively, let there be some shelter over it.
Nevertheless, if you have divided your yard into various sections, or you use your hose for a different task such as watering your animals and cleaning your car, a cart would be a perfect choice. It makes you store your reel anywhere you deem right and move it wherever you want.
7. Manual or Automatic
Automatic hose reels save you the energy and trouble of rolling and pulling the hose from the reel. They depend on water, motor or power. The electrical ones need a 12 volt power supply to electrically roll or stretch out your hose. Automatic hose reels are best for commercial hoses.
Manual, on the other hand, calls for your energy to roll and unroll the hose. They may be ideal if your hose is not too large and the size of your garden is relatively small.
8. Hose Reel with Hose
Some hose reels come assembled with a hose. This is especially ideal for those who have a problem installing a hose reel. Nevertheless, they are available at a higher cost than those without a hose because they are two in one. You will need to take care of these reels so that they give you a long term service.
9. Accessories
The best hose reels come with extra accessories. That is; a nozzle and extra fitting to make it possible for you to connect to the water outlet as well as manage the water flow. So, consider if the hose reel has any extra accessories.
10. Ease of Use
Ease of use depends on how you operate the reel. Is it manual or electrical? If it is electrical, you will only need to press the button, and it either rolls or unwinds. That makes them easy to use and saves you time and energy.
On the other hand, if they are manual, you will need your energy to wind or unwind the hose.
Benefits of Using a Garden Hose Reel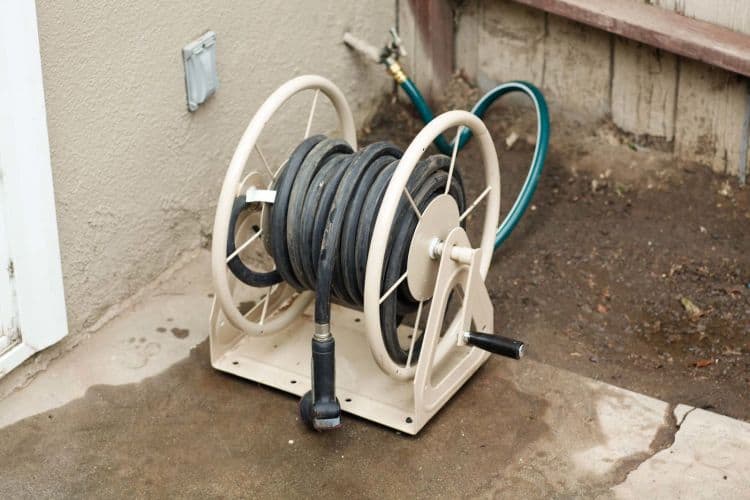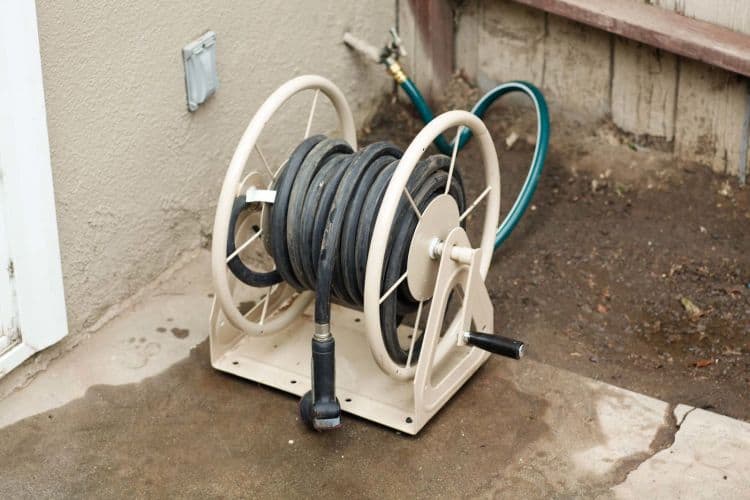 Having a garden hose reel comes with a variety of advantages. Let's look at the most common ones.
1. Versatility
Do you want to move around with your hose to the car wash area, to water the animals as well as your crops? Well, this privilege can only be possible with a hose reel. It makes it easy for your hose to be used for a number of purposes comfortably without any strain.
2. Safety
However careful you may be to store your hose carefully; it may be inevitable to step on it or your children to do the same while they walk around the garden. Not only that but also, it may cause your children to fall if especially it is green in color thus making it hard to notice it on your garden. A hose reel will prevent such cases.
3. Longevity
Storing a hose on the floor or just coiling it will cause the hose to wear sooner than it should. Nevertheless, a hose reel makes it possible to prevent wearing and tearing of the hose to ensure that it lasts long enough.
4. Prevention of Kinks and Knots
Kinks and knots mainly occur due to poor storage of the hose. Ensure that there is no water remaining in the hose then carefully wind the hose on your reel for storage.
5. Prevention of Leaks
Leaks will occur when, for example, a lawn mower has accidentally run over the hose without your knowledge. However, this depends on the material of the hose. Such cases are only avoidable by use of a hose reel.
6. Convenience
It is easy to unwind or wind a hose when you store it on a reel. It becomes convenient and saves much energy. Not only so, but also (if it is a mobile reel), it becomes easy for you to move around with your hose.
7. Decoration
Some reels, even though they are not meant to decorate but to ease the hose's storage are just too beautiful not to buy. Their design and color are charming enough to make you want to store your hose on them, and you bet it makes the hose to look neat and smart.
Frequently Asked Questions about Garden Hose Reels
Q1: How to Put a Hose on a Hose Reel?
If you care about your money as well as your hose; you will need to put your hose on the reel. Here's how to do it;
If the hose is connected to any gardening tool disconnect it then completely straighten it from one end to the other so that you eliminate all the kinks.
Depending on the hand you use to operate the reel carefully start operating the crank (either right or left handed model) as you push the hose on the reel. Nevertheless, remember to use the other free hand to maintain balance on the reel by moving the hose on both left and right sides as you crank.
As you continue to use the other hand to guide the hose on both left and right side, keep turning the reel until you have the entire hose rolled well on the reel.
Q2: How to Install Garden Hose Reel?
Installing a garden hose is not as much difficult as some may consider it, but you will definitely need some guidance in doing it. To ensure you don't have to hire anyone to do it for you, we will give you a step by step guide on how to install a hose reel.
Firstly, decide on the most appropriate place to install it on your wall depending on where you want the hose to be. Hoping you already got your garden hose, and reel as well as concrete anchors or screws. Next is to arm yourself with a few gardening tools that will make the installation process a success:
a. Pliers
b. Drill
c. A set of screwdrivers
To install, start by lining up your reel to ensure it is in level.
Using a pencil or any clear marker, mark the holes for drilling.
Carefully drill the holes to the required size.
Take your reel and bolt it on the holes.
Ensure it is firm before using it.
Q3: What are Automatic Hose Reels?
These are hose reels that automatically do the winding up of the hose for you. They also untangle the hose so that it is kink-free to ensure that it doesn't get damaged. Being automatic means that you are not going to be involved in this whole process; the automatic hose reel takes care of this!
Q4: Which is the Best Heavy Duty Garden Hose Reel?
Best heavy duty garden hose reel is Eley / Rapid Hose Reel Model 1041.
Q5: Which is the Best Decorative Water Hose Holder?
Best decorative water hose holder is Liberty Garden Products 704.
Q6: Which is the Best Wall Mounted Hose Reel?
Best wall mounted hose reel is Eley / Rapid Hose Reel Model 1041.
Q7: Which is the Best Retractable Garden Hose Reel?
Best retractable garden hose reel is Goodyear 27527153G Water Hose Reel.
Q8: Which is the Best Hose Reel Cart with Wheels?
Best hose reel cart with wheels is Eley / Rapid Reel Two Wheel Garden Hose Reel.
Final Thoughts
Well, we firmly believe that this review will be incomplete if we do not tell you which is the cheapest and which is the best garden hose reel to go for.
In a nutshell, from the best garden hose reel reviews above, we highly recommend Suncast Resin Swivel Hose Hideaway to anyone looking for a cheap garden hose reel. On the other hand, if you are looking for the best wall mounted hose reel, don't settle for any other reel other than the Eley / Rapid Hose Reel Model 1041.
While there are other cheap hose reels we have not discussed like the Ames garden hose reel, the suncast outshines them all due to its features. As for the Eley hose reel; it is a heavy duty reel that favors both right and left-handed users. More so, it is durable and protects the hose from leaking and breaking. Simply said; worth every penny!
Now over to you – Which garden hose reels have you used? What did you like? Not like? Let us know in the comments section below!
We are sorry that this information was not useful for you.
Tell us how we can improve.