Best Lightweight Garden Hose Reviews 2023 – Our Top 7 Picks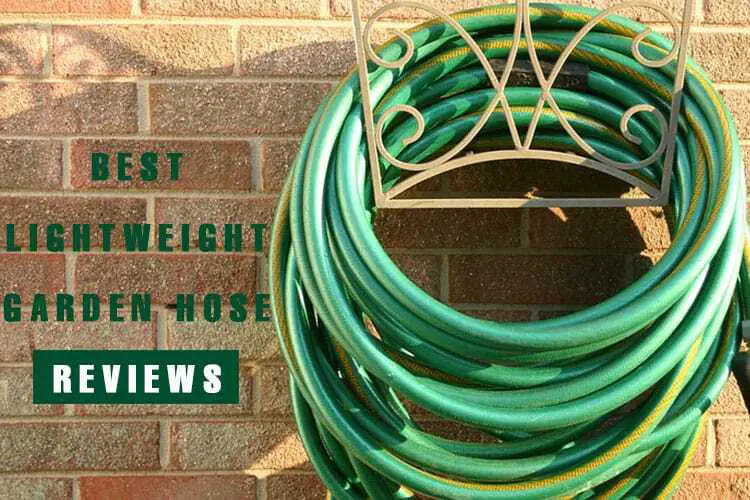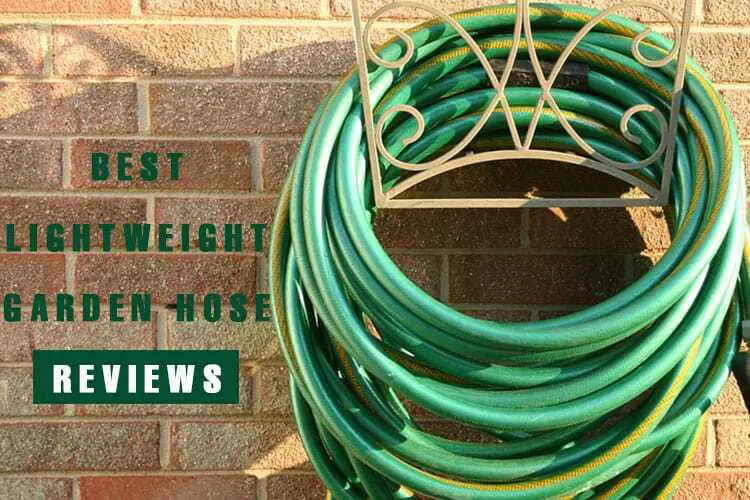 It takes considerable time to find the best lightweight garden hose for your garden needs. While this is the case, the time and patience may not be available. That's why; we have taken the trouble off your shoulders by coming up with the lightweight hose reviews.
In these reviews, you'll get to know our best top 7 garden hoses, the reasons we loved them, and their cons as well as pros. That way, you'll make an informed decision that'll help you buy a lightweight garden hose that won't frustrate you with your garden purposes. Let's dive right in.
7 Best Lightweight Garden Hose Reviews for 2023
1. Tuff-Guard Perfect Garden Hose
Are you in search of a lightweight durable garden hose? We got you covered. This garden hose measures 5/8 inch and has the ability to hold up to 100 pounds of pressurized water for every square inch. It distinguishes itself from other hoses because of its unique ability to allow water through even when it is twisted. What more? Stepping or driving your car on it doesn't affect it either.
More so, you don't have to be a gardener to buy it. Why? You can use it for your car wash services, cleaning the hose stall and the like. Again, it is easy to move around with while still in use due to its high flexibility.
Key Specifications
Built with a thermoplastic elastomer and polyester core
Expanded internally
Coils effortlessly
Features a double helix
Allows maximum pressure of 100 psi
Offers connection for male and female hose
Maximum burst pressure of 300 psi
Has a 3 layered fiber core that is woven
Firm brass fittings that are easy to fit and loosen
It is durable and light
Available in a variety of sizes (25, 50, 100)
Applicable for domestic and commercial purposes
Resistant to harsh weather
Easy to use it
Does not age nor discolor
Allows maximum flow
It's kink-proof
It is portable
Can be buried underground in the garden
It is expandable
Suitable for light and heavy duties
A variety of colors to chose from for the 50-foot length
Slightly costly due to its unbeatable features
A length of more than 50-foot comes only in blue color
May leak in heavy usage
Our Verdict
There is something we love about this lightweight garden hose, and that is why we recommend you to buy it. Despite its kick-proof ability, you can increase or decrease its size to whatever length you want. Why? It is a lightweight expandable garden hose.
That means; you will not have to worry about the size of your yard; you are all sorted. Plus, expanding it doesn't compromise with its quality and pressure.
---
Also Read: DIY Drip Irrigation System for Potted Plants
2. Flexzilla Garden Hose
We all know how garden work can be overwhelming, and the desire to drink water especially when it is at your disposal may be uncontrollable. However, not all garden hoses can be suitable for humans to drink water passing through them since they are highly toxic.
Fortunately, Flexzilla garden hose allows you to drink its water. Why? It is not harmful in any way to your health. Not only that; but its light weight, ability to last long, and kink-free features are what most gardeners strive to have. Plus, due to its zero memory characteristic, this is classified as a flat lightweight garden hose.
Key Specifications
Made of flexible Hybrid polymer
Allows a maximum water pressure of 150 PSI
Free of lead
Resistant to kink
Entirely lies flat on the garden
O-ring connections
Features an outer cover that is resistant to abrasion
Resistant to crush
Has aluminum aircraft ends that are anodized
A 50 feet hose weighs 9 lbs
Comes in two colors – ZillaGreen and BrownMulch
Has both male and female Swivel grip fittings
Comes in a variety of sizes
Super flexible and durable
Water doesn't leak in between connections
Resistant to bad weather
Its connectors are made of metal
Coils and uncoils easily
Produces a high water pressure
Couplers are easy to turn
Safe to use for drinking water
Easy to attach the sprinklers and hose nozzles
Added anodizing averts corrosion
Suitable for use even in low temperatures
Incorrectly fitting the faucet may cause water leakage
The longest size you can get is 100 feet
Exposure to poor storage may cause mold to grow inside
Our Verdict
The reason we liked this hose though it may not be as durable as our first choice is that you can use its water for drinking as well as watering your animals. This is why you should buy this lightweight garden hose even if the season for gardening is not yet come.
And, using it on your crops doesn't affect you in the future after consuming the foodstuff.
Again, its high water pressure and ability to withstand harsh weather is a big plus. After all, that is what makes a garden hose a perfect choice.
---
3. Zero-G Garden Hose
If you are a frequent gardener, then the Zero-G garden hose is the most suitable choice for you. You can use it for your green-house watering needs, filling containers, concrete mixing, lawn purposes, and any other commercial purposes since it is strong enough. What's more? See, you can use Zero-G with almost any standard hose reels.
Not only that, but it has a burst rating of more than 600 PSI which makes it the most ideal choice for your commercial purposes. Nevertheless, consider the temperatures of your area since it will not work perfectly well in areas that freeze a lot since extreme cold may lower its effectiveness.
Key Specifications
Has an aluminum fitting
Made of polymer and a covering of nylon fiber
It is lead-free
Has an ergonomic design
Does not enlarge or retract
Resistant to puncture
It's crush resistant
Weighs 7.7 lbs
Comes in black color
50 feet length
Measures 5.8 inches
It's flexible
Its water is safe for human consumption
Offers a high rate of water flow
Suitable for rigorous tasks
Patented crushproof couplings
Thick and long-lasting couplings
It is light and easy to maneuver
Highly durable
Suitable for both home use and commercial purposes
Does not slip off your hands during usage
Durable fittings
It's not 100% resistant to kink
Not easy to roll up for storage
May leak in special cases
Our Verdict
We definitely liked this garden hose and rated it as one of the best lightweight garden hoses because it is able to withstand heat which makes it a good choice for the hot weather conditions.
Not only so, but this, too, is free of lead thus it's safe to use its water for your household purposes such as drinking, watering your crops as well as animals. You definitely need to buy this garden hose for your gardening duties. However, remember not to use freezing water on it or to leave it on extremely wet floors so as to retain its quality.
---
4. Water Right 400 Series Hose
Are you worried about the best lightweight garden hose to buy for your gardening during the freezing temperatures? This water hose can withstand all manner of weather. I bet you so badly need such a garden hose, right? Plus, it is durable and incredibly light.
Not only so, but you can use it for your greenhouse purposes, car or boat wash, and horse stalls.
More so, per every minute flow rate of water, there are around 4 to 5 water gallons. You can get it in any color you want like cranberry, olive green, espresso, and eggplant. That's quite a handful of benefits from this hose. Isn't that so?
Key Specifications
It is made of Polyurethane
Lead-free
A 50-foot length weighs 3 pounds
Has a burst pressure of 400 PSI
Its fittings are long lasting
Comes in a variety of colors
Lightweight and flexible
Safe for human water use
Suitable for any weather conditions
Comes in brass or stainless steel fittings
Various hose dimensions and sizes to choose from
Can be used for a variety of home and garden tasks
Kink-free
Resistant to leakage and cracking
Ease of hooking up with the water spigot
Has a weaker rate of water flow
Does not uncoil easily
Our Verdict
We definitely loved this hose as well. And here is why. Its super light weight and ability to withstand harsh weather conditions. Yes, even snow and heat waves. However, the product is way too expensive for most gardeners to afford. More so, you can use it for drinking water and watering your domestic animals since its water is odorless, tasteless and non-toxic.
So, if you are not looking for a commercial purpose hose, but a home use hose, then the water right 400 series will definitely take care of your needs.
---
Also Read: 10 Best Solar Lights for your Garden
5. 100ft Garden Hose
Have you been looking for a lightweight expandable garden Hose? Well, you just landed on one right here. The 100ft garden hose is expandable and long-lasting. This saves you the trouble of having to buy too many garden hoses to have them reach to the farthest end of your garden. And we all know without doubt how that can be frustrating, right?
On the other hand, if you want a garden hose that will handle tough garden tasks, then this one is just great. And what else would you be looking for other than a hose with a long life like the 100ft Garden hose?
It also comes with a nozzle and a hose and has ability to shrink up to 33-feet from 100 feet thus allowing you to use a small space for its storage.
Key Specifications
Weighs 5 lbs
The minimum working temperature is 14°F
Comes with a cuff made of brass
Measures 100 feet
Spray nozzle with 8 patterns
Made of polyester
Manufactured with a triple latex core layer
Has an inbuilt shut-off valve
Does not crush or break
Suitable for both light and heavy duties
Rust free connections
Ability to withstand high pressure
Comes with a storage bag of high-quality
Can work at a maximum temperature of 114°F
Can expand three times very rapidly
Coils super fast
Contract when not in use to allow trouble-free storage
Last for many years
You can connect to pressure washers
Has no storage hook
Slightly expensive
Our Verdict
If you have a tough gardening task or a big garden, then, you need to buy the 100 feet garden hose. Its ability to handle tough tasks for long duration is every gardener's priority. But again, how many hoses can expand? Very few, right? This hose has the ability to expand up to three times, and that is why we liked it.
We can, therefore, confidently declare that you can spend on this hose without worrying since it will pay back through its amazing features.
---
6. Gilmour Flexogen Premium Garden Hose
Do you feel fed up because of using heavy garden hoses regularly that ends up making you incredibly tired or worn out? Well, we got you sorted right here. Gilmour Flexogen premium garden hose will sort out these issues for good.
Also, it is long-lasting and will handle your garden tasks for many years. If the size of your garden is 100ft, then you can opt for 100 feet model. By the way, did I tell you that this hose comes with fittings and couplings of very high quality? However, it may leak if you use it for heavy tasks. But there's something you can do to stop your hose from leaking. So, you've got no excuse for not buying it.
Key Specifications
Patented layer
Has a stainless-steel spring
Hose diameter of ½ inches
Has a PSI of 600
Weighs 5.4 lbs for 50 feet length
Comes with spiral nylon-wrap
Available in different materials
Easy to handle and carry around
Very flexible and light
Doesn't leak water
Doesn't kink at the spigot
Resistant to crush
Brass connections are resistant to corrosion
Remains intact at freezing weather conditions
Has a friendly design for easy grabbing
Can be used for long hours since it's light
Isn't appropriate for heavy duties as may leak
Hot weather makes it deteriorate
Our Verdict
The most outstanding thing that we like about this hose is that it is available in a variety of materials. And that is in no doubt crucial. Why? You have the privilege to decide the best gilmour flexogen premium garden hose that best fits your needs. If you are concerned about your health, durability, weight, and strength, there is nothing to stop you from buying this hose. You can either buy one made of foam, rubber, or a combination of nylon layers.
---
7. Miracle Gro Ultra-Lite Hose
Do you live in California and are worried about your children using or playing around with your garden hose? This is the best lightweight garden hose for you since it meets the phthalate content standards set by the government of California for the children's toys.
Not only that, you will not have to worry if they will drink its water while playing around with it. You don't have to keep an eye on them either. Why? This hose meets the standard set by the Federal Safe Drinking Water Act (SDWA). Plus, you can use it for your watering and irrigation duties.
Key Specifications
It is lead-free
Manufactured in the USA
Comes in green color
Patented female coupling
Has a burst strength of 400 psi
Hose diameter of 1-2 inches
Long-lasting couplings made of air-craft aluminum
Kink-free
Unwinds easily and fast
Uses little space during storage
It is super light
Offers maximum burst protection
Lays flat on the ground to prevent twisting
Not suitable for heavy tasks
Our Verdict
Even though it comes in small sizes, there is something we like about this hose. That is; even children can use it. Not only so, you will not be worried about their health just in case they drink its water. Again, it is incredibly cheap so that you won't have to blow your pocket to buy it.
If you do not have a big garden, then this should be your perfect garden hose.
Also Read: 7 Best Cantilever Umbrella Reviews
Light-Weight Garden Hose Buyers Guide
What is a Lightweight Garden Hose?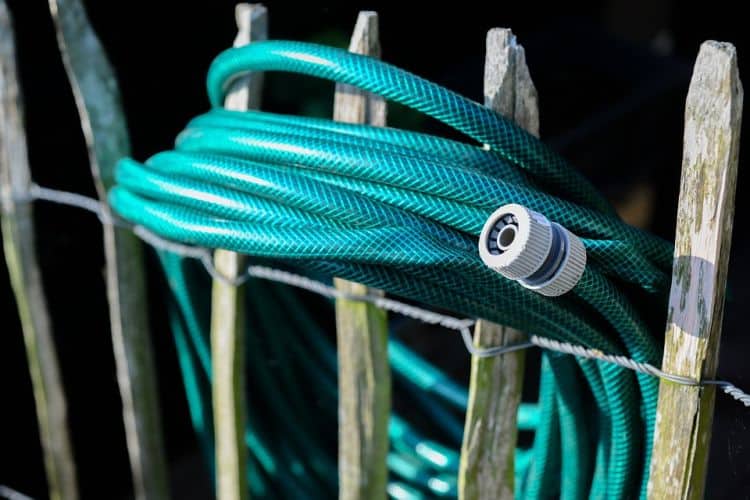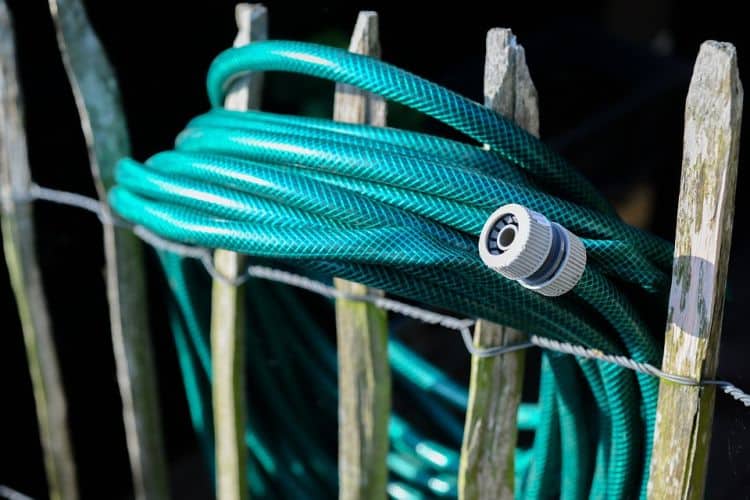 A lightweight garden hose is a hollow light tube that allows water to pass through. It is known as "lightweight" because it's light. It comes in a variety of sizes, pressure rating, and length. It's mostly designed to cater for garden watering needs, but it's not limited to such tasks. You can use it for multiple purposes depending on your needs. All you need is to install a lightweight garden hose professionally and you'll be good to go.
Features to look for in the Best Lightweight Garden Hose
Anytime you are looking at the garden hose reviews to determine the right garden hose to buy, there are certain features you should look for. And as a new buyer or having too many garden hoses at your disposal can confuse a lot.
But I got you sorted. Here's what to consider:
1. Length
Consider the length of your garden and add a few more inches to the total length. That way; even in case of a kink, you will still have no trouble reaching the farthest end of your garden. Also, consider the size of your storage area. Will the garden hose you settle for fit well in your storage area? In case you have a small storage area, does it have a hook to hang on the wall?
2. Hose Diameter
The hose diameter refers to the internal diameter which determines the amount of water it can handle as well pressure it can accommodate. When deciding the right hose diameter, consider if it is for a commercial purpose or for home use. Still, when talking of home use, consider if it is for heavy duties or minor.
If it's a small garden with not much pressure needed, 1/2″ will be fine. Otherwise, slightly higher tasks will need 3/8″. Next is 5/8″ that can handle tougher jobs than the former. For commercial purposes, consider a ¾" hose diameter.
3. Material
The better the material the more durable the garden hose is, and the more expensive it is. Again, the material will directly affect the weight of the hose. For example, rubber, which is considered the best material is slightly heavier but very durable and of high quality.
If you need a lightweight hose pipe, vinyl is a perfect choice for you since it is not too heavy. Nylon, on the other hand, is flexible and cheaper than the former. In contrast, if you want a material that is free of lead, polyurethane is the best.
4. Strength
The pressure of the garden hose determines highly the amount of water it is bound to burst. And, the amount of pressure you need is determined by the amount of work load the hose will handle.
Let's give you an idea.
A burst pressure that is above 350 psi is suitable for hose nozzles or lawn sprinkling duties. So, take your time and look at the descriptions to determine the pressure of the hose before buying.
5. Couplings
At the end of each hose there's a piece that connects the hose to the spigots, nozzles or the sprinklers. What you need to know is that they are made of either plastic or metal material. If you do not want one that will last a short while then crack and cause water leakage, avoid plastic couplings. On the other hand, metal can either be chrome or brass plated.
To avoid leakage due to harsh weather or being lose, buy a cast-brass coupling.
6. Nozzle Options
The worst you can do when buying a garden hose is to forget to look at the nozzles. Why? Some nozzles, due to the material used to make them can rust due to water thus making it difficult for water to flow. Secondly, since water or unavoidable particles may cause blockage of the nozzles, consider a hose with at least 4 spray jets.
Also, consider the strength of the nozzles since they should not crack when stepped on.
Advantages of Having a Lightweight Hose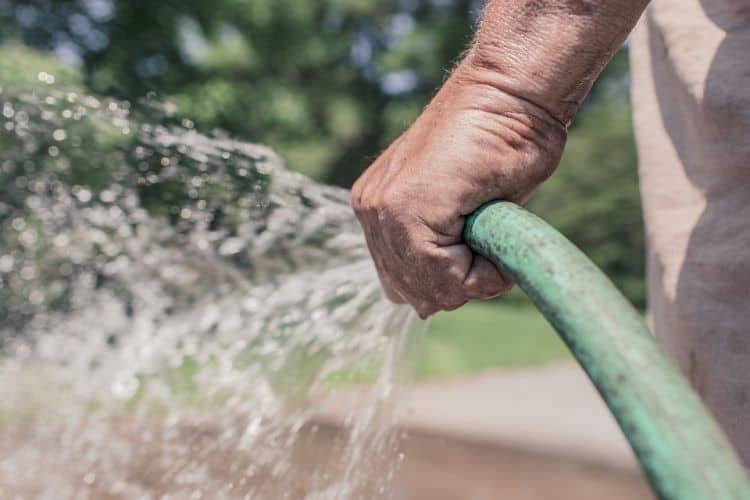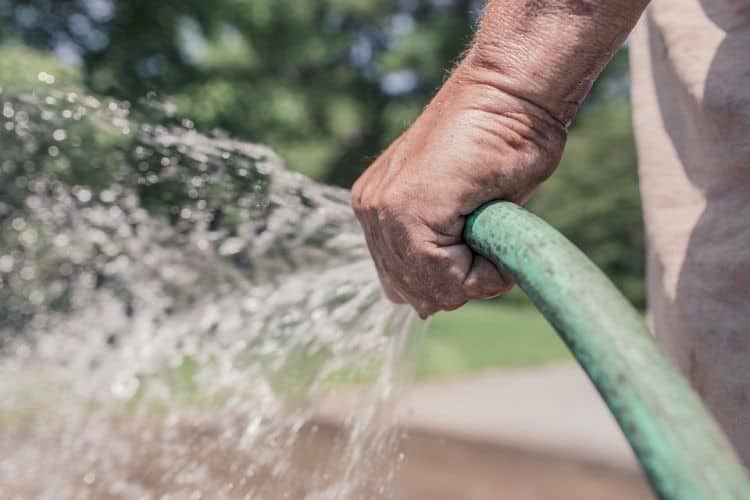 Here are the advantages of using a Lightweight Garden Hose:
1. Light, Regardless of the Material
Just as their name implies, they are lightweight garden hose. That makes it possible for any person of any age to use them comfortably. Another advantage that comes with lightweight is that you can use it for a long time thus giving you enough time to finish your work comfortably.
2. They are Affordable
Price, too, is different depending on the type of lightweight hose you are looking for. However, even the most expensive ones cannot be considered expensive because of their quality and lifespan. That is why we concluded that they are affordable.
3. Are Long Lasting
You may not need to look at the warranty of lightweight hoses because they are durable. Whether they are made of vinyl or not, the lifespan of these hoses is considerably long. This saves you the trouble of buying a new hose after every few years. However, remember to follow the storage instructions from the manufacturer to preserve its life.
4. Allows Flexibility
From storage to carrying around when in use; lightweight hoses are flexible. That means; you do not have to use extra energy when moving the hose. Again, since most lightweight hoses are kink-free, they save you the time to keep on uncoiling them so as to allow water to pass through freely.
5. Multipurpose
You don't have to be a gardener or a frequent gardener to buy a lightweight hose. You can use them to wash your cars, cleaning conference halls, watering your lames and the like.
Also Read: 11 Best Garden Tools that make Gardening Easy
Best Lightweight Garden Hose FAQs
Q1: How should you Maintain your Lightweight Hose?
Never use more than the recommended pressure rate. Also, avoid exceeding the rated temperatures. Plus, store away from direct sunlight. A room with a humidity of between 50 to 75 degrees is appropriate.
Cut off water supply when storing the hose. When coiling it for storage, stick to the manufacturer's guidelines on right radius when bending.
Q2: Is my Hose Safe for Drinking Water?
If it is non-PVC, yes. However, if it is a PVC hose, then you may be exposed to dangerous chemicals such as antimony, lead, phthalates, and bromine. If you are not sure how to confirm if your hose is safe, consider if it is made of natural rubber. Natural rubber is very safe for drinking water.
In case you need more info on the chemicals found in garden hoses, here's a video you can watch for clarification.
However, if you do not have a rubber hose yet it is of high quality, no need to worry. Here's what to do;
i. Allow the water to run through it for a while before spraying plants, drinking or watering your animals.
ii. Avoid exposing it to direct sunlight.
iii. Evade taking water near the fixtures. Why? The fixture material is not the same as that of the lightweight hose pipe thus making it unsafe. So, avoid water near the fixtures but still ensure that the water has run for a while before sipping it.
Q3: What do I have to know about the PSI and Burst Rating of my Hose?
PSI means pounds per square inch. The higher the PSI of your garden hose (depending on its purpose and use), the higher the burst rating. And if the burst rating is high, that hose will pass water through at a high speed.
Q4: What are the most Crucial Features to look for in Lightweight Garden Hoses?
We would be unjust if we told you to look out for a hose with a good pressure without considering the hose material. You see, the material, the strength of the hose, nozzle options, couplings, hose length, and hose diameter are all crucial if you do not want to count losses after purchase.
Q5: Which is the Best Lightweight Garden Hose for Elderly?
Elderly people definitely need lightweight garden hoses. With that in mind, a hose with a material that is not heavy will be the most appropriate choice for them. Miracle Gro ultra-lite hose is an example of a hose that is light and small for the elderly to use.
Final Thoughts
Though the garden hose may have a good price tag, a color of your choice, and ability to coil easily, don't rush to buy it before you consider its features as well as pros and cons. From our research, we conclude that the best lightweight garden hose from our list is Water Right 400 Series. However, if you cannot afford it, no need to worry. Why? This is because we got an affordable yet good quality hose; the Miracle gro ultra-lite hose.
Which lightweight garden hose have you used out of the above and which one is your favorite? Let us know in the comments section below!
Happy Gardening!
We are sorry that this information was not useful for you.
Tell us how we can improve.