11 Best Solar Lights for Garden – Our Top Picks and Reviews for 2023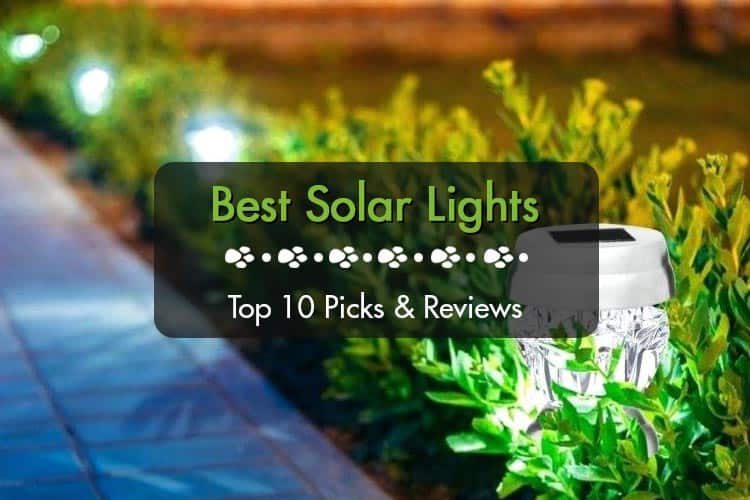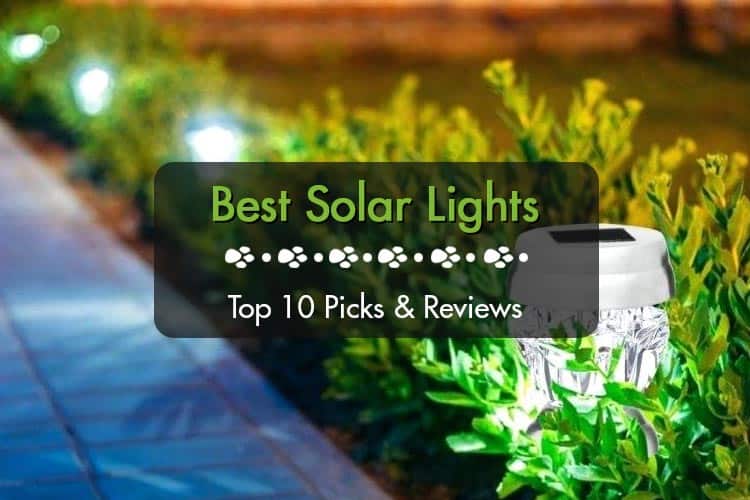 Today, we will discuss these solar light equipment in order to make your garden look more beautiful and eco-friendly.
Before you choose any solar equipment for your lighting system to be placed in your garden, you need to know its features and functions to assess its value being appropriate to the price you pay.
Best Solar Lights 2023 – Comparison Chart
In the chart below, you will find our top 10 best solar lights for garden and outdoors. You will find the chart below useful when you want to compare top rated solar lights in the market.
Image
Name
Material
Rating
ArMax-Tech Solar
Pathway Lights
Plastic
4.4

Check Price

Kaleep Bright Solar
Lawn Light
Glass
4.6

Check Price

Solar Powered
Crackle Glass Ball
Glass
4.6

Check Price

GardenBliss Outdoor
Solar Garden Lights
Plastic
4.1

Check Price

DrawGreen Solar
Flood Lights
Aluminum
4.0

Check Price

SolarGlow Solar
Garden Lights
Plastic
3.9

Check Price

Litom Solar Lights
High-strength ABS
4.5

Check Price

URPOWER Waterproof
LED Solar Spotlight

(Editor's Choice)
Plastic
4.3

Check Price

Ohuhu Garden Lights
Plastic
4.2

Check Price

OPERNEE Motion Sensor
Solar Lights
Plastic
4.8

Check Price
Why Solar Lights?
The first question that rises to your and my mind at the same time is, why solar lights?
You need to know what a solar light is to understand its need better.
The most generic version is to convert the solar energy to power an equipment, which has an LED lamp, solar panels, battery, charge controller and a few models have an inverter too.
The battery stores energy that is absorbed by the photovoltaic cells from the solar panel and it is used during the night.
Free renewable energy on a daily basis helps you save money via low electricity bills and a perfect walk to your front door without slipping and falling.
Benefits of Using Outdoor Solar Lights
There are a lot of benefits for both us and the environment when you start using solar-powered machines.
Some of the most notable benefits are:
Renewable source of energy, which never runs out and is free.
Green meaning clean energy, which doesn't come at the cost of burning fossil fuels.
The equipment is very sturdy and durable made to withstand any weather throughout the year.
Saving a lot of money on electricity since it is not a cheap resource.
Installation is very easy with some basic wiring with proper space required for the solar panels.
It runs on a very low Voltage of 12 to 24V DC, which is much safer comparatively.
It also saves energy since the LED used for the lamp doesn't consume much energy.
This device stands alone and can be mounted anywhere.
How Do Solar Powered Lights Work?
Now, we know what it is made of and we also know what the benefits are; however, the working principle will certainly put you at ease and I assure you that you will buy one of the best solar lights for garden, yard and more.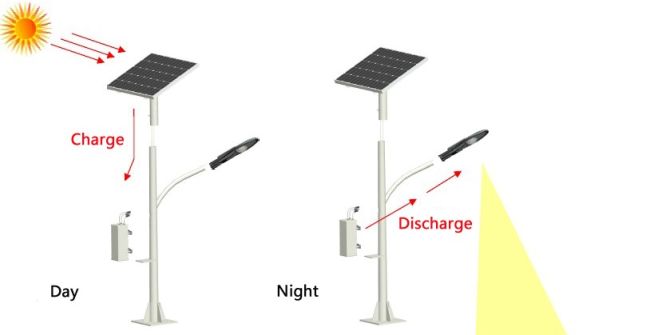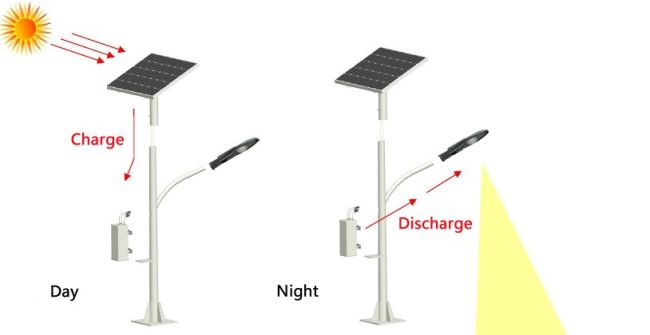 It is a very simple concept, just convert solar energy into electricity and store it in batteries for later use.
The working principle begins at the solar panels when the photovoltaic cells absorb sunlight and start converting them to electricity.
Once the conversion is complete, the generated electricity needs a place to be stored, so the batteries fulfill this purpose.
The storage capacity is provided to support for a minimum of 3 days to light all the solar lamps; however, some of the best solar light equipment offer up to 5 days back up.
With the automated system, the lamp will be on and off at a set time every day.
Types of Solar Lights
There are different types of lighting equipment developed to be fixed outside your house.
Knowing this information will help you assess and select the best outdoor solar lights that suit your style.
The most common types of outdoor solar lights available are:
1. Solar Spotlights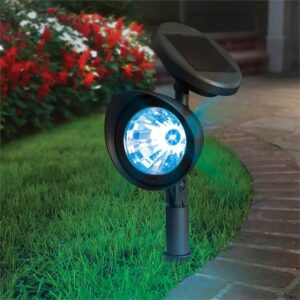 If you are looking for something bright and powerful for your yard, solar spotlights could be the solution. This equipment is being improved over the years with powerful LED giving out the excellent vision and consumes less energy.
2. Solar Pathway Lights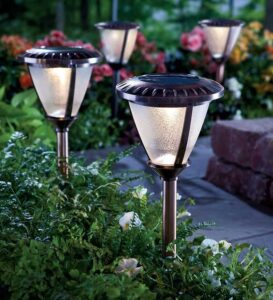 This setup is more suited for a landscape front yard since the equipment can be mounted anywhere and it indicates the actual path to walk for all. In order to avoid trenching, people prefer these types of lights since it is an easy fix.
3. Solar Landscape Lights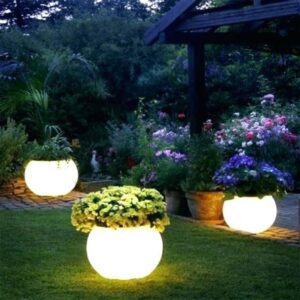 A huge yard needs lighting system, and this is your best option. Solar Landscape lights need no wiring and can be placed in positions where there is proper sunlight. It is a little expensive but certainly removes the hectic wiring work.
4. Solar Security Lights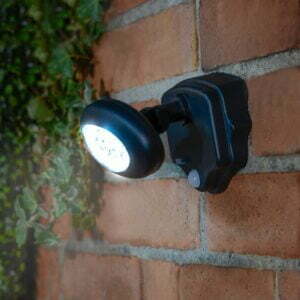 The working principle of this solar equipment is still the same with an added motion sensor. As soon as motion is detected, the lights turn on, which helps in case of a security breach or unauthorized entry.
5. Solar Powered Lamp Posts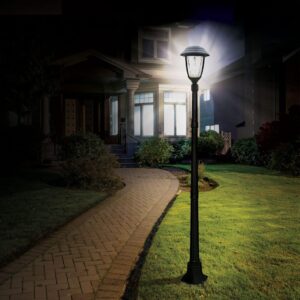 Simple yet best solar lights for a yard with LED lamps, this system is highly efficient and saves a lot of money for you. Lamp posts can be placed anywhere with proper sunlight reaching the post.
6. Ambient and Decorative Solar lights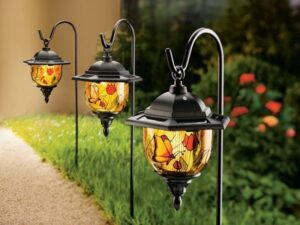 If you are looking for something elegant with a beautiful design for lighting equipment, these are the top rated solar lights due to its price as well as its design. It provides a new look to your garden.
7. Solar Flag Lights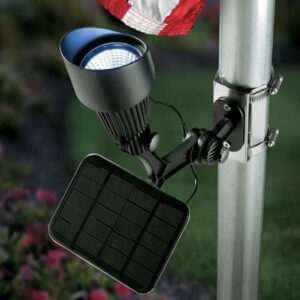 Solar powered flagpole lights are a common occurrence these days since it is highly efficient and low maintenance. With ultra-high LED lights for focused lighting, these are best suited for the very purpose of lighting the flagpoles.
8. Solar Wall Lights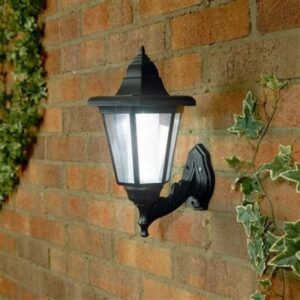 If you are looking for a lighting system which needs to be mounted on walls, these best outdoor solar lights will do the trick. These wall mounted solar lights are bright and cover a wide area during the dark.
9. Solar String Lights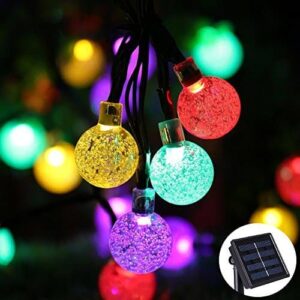 Solar string lights are often used in case of occasions like a party or a function. These string lights are attractive and can be used in different ways to decorate your lawn or the front yard.
10. Solar Deck Lights
The name is self-explanatory, these are used in the deck, patios, and steps outside your front door. These solar deck lights can just fit in almost anywhere depending on the model or the design you choose.
Top Rated Solar Light Reviews – 11 Best Solar Lights to Buy in 2023
With the market being very volatile, there are numerous manufacturers with numerous designs. It is really confusing to choose the best and reasonable solar light system for your garden.
The following list will help you with a fewer number yet excellent options to choose from.
1. Vont 16 LEDs Outdoor Solar Lights – Editor's Choice
Illuminate your beautiful garden with this powerful solar light from Vont. It is a fully water-resistant lamp that comes with IPX7 certification, so stop worrying about heavy downpours.
Designed to withstand every weather, this is a super-durable light with 16 LEDs that's perfect to use in the garden, patio, driveway, and more.
Let's check out some of the amazing features of this versatile device:

The battery lasts around 12 hours on a single charge, so you get illumination throughout the night.
You can mount these versatile lamps in the garden or on the wall.
The combination of 16 LEDs offers a powerful throw covering more area.
These lights turn on/off automatically, but there is a manual switch as well for added convenience.
Vont offers a lifetime warranty on these solar lamps.
Just install and forget the Vont Outdoor Solar Lights, as the encasing is highly durable. Furthermore, the lights work fine in any weather, provided your city has some decent sunlight.
This lamp has 100 lumens for a superb throw of light.
The manual switch helps you turn it on/off conveniently.
Designed to withstand harsh conditions.
Built-in low and high light modes.
Available in one color only.
The dirt on the solar panel can limit the runtime, so clean it regularly.
---
2. ArMax-Tech Solar Pathway Lights
With a set of 4 LED lamps, solar panel, and supporting battery equipment, this is one of the best solar pathway lights.
Depending on the geography of the location, you could ensure maximum use of these lamps during the darker hours with excellent brightness.
To talk about the device, it has excellent features like:
Powerful solar panel to absorb sunlight and generate power.
Autonomous 25 hours back up with a fully charged battery.
The brightness of the LED has been enhanced further in this equipment to provide maximum brightness.
These products clear all quality tests with aces.
We know that the product comes with some promising features, but we also need to know both the advantages and disadvantages of the product to make a firm decision.
Energy consumption by these lamps are minimal and can run for longer hours.
Lamp Shelf Life is incredible with as much as 20,000 hours.
Eco-friendly since the materials used to manufacture do not contain any hazardous chemicals.
Due to the durability and excellent features, LED is quite expensive.
You will not be able to choose colors like you did with the traditional incandescent bulbs since the options are very limited here.
At higher temperatures, LED is known to overdrive, which leads to the faulty lamp.
---
3. Kaleep Bright Solar Lawn Light
Kaleep has provided an innovative and elegant product, which runs on solar power.
These decorative outdoor lights are used on rare occasions or you could use it on a regular basis too.
Some of the amazing features of this creative product are:
No wiring or installation needed since it resembles a crystal ball.
Replaceable batteries and each battery gives up to 8 hours if fully charged.
Sturdy in all weathers including rain since the device is waterproof.
Best outdoor solar light for decorative purposes.
The automated system turns on and off at dusk and dawn respectively.
2 modes of color changing that is the regular RGB mode and the single-color mode.
We now know all the wonderful features of this product, we just need a few points on the good and bad side (if any) of this product to make the smart decision.

What we Like
Eco-friendly since the energy is renewable.
Green energy since we are not burning fossil fuels.
This device acts as an excellent outdoor toy for any occasion.
The hazards of AC current shocks are avoided since solar panel works on low voltage.

What we Don't Like
Mosaic glass can be sturdy but still a bit dangerous outside, especially with kids around.
Geographical location may not be ideal to extract solar power and the machine will not function efficiently.
---
4. Solar Powered Crackle Glass Ball
Yet another elegant and beautiful design to utilize the solar energy to light up your garden or your front lawn, this is one of the top rated solar lights used for decorative purposes.
Let's check out its features to understand why it is top rated and also know if it's really worth its value.
The colors are beautiful and bring a nice ambiance to the place.
Iron along with glass has been used to make the outer structure of the lamp.
An automated system which turns on and off at dusk and dawn respectively.
Multiple colors cycle will be followed once it is on.
Starting from yellow to red, all the colors in between that spectrum are lighted.
Low Voltage and low consumption of free energy results in saving money.
The equipment is quite durable since rust-proof iron along with glass has been used.
Weatherproof since it has been tested for all weathers.
After the features, let's learn the pros and cons of this product.

What we Like
Multiple colors lighten and brighten up your garden during dusk.
Automated System.
Highly durable.
Long stems help for almost any lawn or landscape locations.
Wireless and a one-time installation.

What we Don't Like
LED's are sensitive to high temperatures and cannot guarantee an optimal working condition especially during hot summers.
---
5. GardenBliss Outdoor Solar Garden Lights
GardenBliss has come up with a product suitable to their name, one of the best solar powered garden lights with a 10-set pack.
If you have a larger area to cover, these solar lights are worth a shot. With 10 solar powered LED lamps, you should be at ease with the electricity bill hitting the roof.
Let's check out the exclusive features of this product:
No hassle of wiring since all these lamps are wireless .
8 hours of bright light for your lawn or garden.
Survives in all weather conditions without any issues since it has been tested.
Flexible poles to adjust the height of the device, which makes it multipurpose.
The dark plastic material has been used in the manufacturing of the poles.
Highly durable and a long shelf life for LED.
Money back guarantee for 365 days shows the product value.
These excellent features backed up with a year-long money back guarantee sounds like a sweet deal.
However, don't rush yourself. Check out the advantages and disadvantages of these lamps before you decide to buy them.

What we Like
Free and clean energy.
Eco-friendly.
Saves you a lot of money on electricity.
One time investment.
Long shelf life of LED.

What we Don't Like
Plastic is not always reliable.
---
6. DrawGreen Solar Flood Lights
Earlier, we talked a bit about the best solar security lights and here they are. DrawGreen has introduced an excellent product that fulfills that very purpose.
Let's check out the features that DrawGreen has in store:
30 hours of full illumination post full charge of the batteries.
High-grade aluminum alloy has been used to manufacture this device.
Options like waterproof and replaceable batteries are available.
Built-in photocell sensor which helps save energy.
PIR motion sensor has been installed for security purposes with a range of 20-26 feet distance and 120-degree angle.
360-degree rotation is available and the panels adjust accordingly.
This is a patented device owned by Drawgreen.
A powerful and versatile lighting security system for any desired spot on your property.
It can be used as any normal solar light and still have the security functions active.
You would need to invest on a regular basis to hire security, however, these solar flood lights are a one-time investment that provides free lighting solutions as well as security.
Let's check out the good and bad side of these solar garden lights to assist you to make a smart choice.

What we Like
Similar to other products, it is eco-friendly and free-green energy.
Saves money on both porch or deck lights and security system.
One-time installation process and you are set.

What we Don't Like
Dim lighting may not be satisfactory to some.
It is not feasible for the entire year due to climatic conditions.
---
7. SolarGlow Solar Garden Lights
SolarGlow is another veteran in the solar powerhouse industry, which creates a simple yet powerful product to light your front yard at no additional electricity charges. The best solar walkway lights can be described showcasing this product as an example.
Let's look at the simple yet powerful features of this product:
Wireless system which results in a onetime hassle-free installation.
100% powered only by solar energy, which is a huge money saver.
With sufficient sunlight reaching the solar panels, they are pretty much autonomous.
Brightness is something to be reckoned with since LED are no joke in terms of brightness.
An attractive 100% replacement guarantee for a lifetime is quite an offer to deny.
A money-back guarantee without any questions with a full refund is promised for this product.
6 LED set should be sufficient for a medium sized front yard or a garden.
With these features, who wouldn't want to try out the product at the very least. With the guaranteed money back and lifetime replacement warranty, one-time investment is a jackpot.
However, don't jump to conclusions too soon. There is still the good and bad that we need to learn about this product.

What we Like
Eco-friendly.
Cost Saver.
One time investment.
Lifetime replacement.

What we Don't Like
Expensive.
Faulty LED might cause trouble.
---
8. Litom Solar Lights
One of the best solar patio lights with its stylish design, Litom has introduced this 4-garden pack, which runs solely on solar energy.
It is also termed as the best solar deck lights too with its inbuilt security system, this device is mainly installed on a patio or a deck.
Let's check out the excellent features of this stylish device:
With a sleek and stylish design, Litom has outdone itself with this model.
Strong Long Light, Dim Light Sensor, and Strong Light Sensor modes are available.
Each lamp has 8 LEDs embedded in the circuit.
The design shows a ball, which is the actual sensor with a 25 feet length range.
Weather and waterproof with options to wall mount the device.
Due to 8 LEDs, the brightness is higher than normal lights.
This is a device made to define perfection. The black design looks simple yet powerful with those 8 LEDs pointing towards you.
Lastly, check out the pros and cons of this product to see if the value is right.

What we Like
The sleek and stylish design doesn't consume much wall space.
It will be mostly invisible during the day guarding your front deck or patio.
Excellent light output.
Eco-friendly and money saver for consumers.

What we Don't Like
Expensive, even with a one-time investment.
The opaque cover of the sensor is not durable.
---
9. URPOWER Waterproof LED Solar Spotlight
URPOWER came up with a set-up anywhere solar powered garden lights concept and built this excellent device. Technology invested in this device explains its features well enough.
The Black adjustable solar light can pretty much be used at any place with no restrictions.
Let's check out the amazing features of this versatile device:
The company calls this device as the 3rd generation solar patio or deck or garden light.
Full flexibility with both light and solar panels to adjust accordingly.
2 in 1, stick to the ground or mount them.
With 2 modes high and low, they are automated to on and off at dusk and dawn respectively.
High durability from the materials used to manufacture the device.
Energy savers are lifesavers these days and it is quite true.
These solar conversion devices will certainly help us for a better future, as you could start your pollution free journey with these devices.
However, moving to the pros and cons of this device:

What we Like
Excellent compact design.
Both ground and wall mount options.
4 bright LEDs provide excellent brightness.
Excellent back up with the 2200 mAh capacity.
Flexible panel and light helps for maneuverability.
Waterproof and weatherproof.

What we Don't Like
Cannot sustain shock or fall damage.
Fades faster during winter and it is much difficult to charge.
---
10. Ohuhu Garden Lights
Solar deck lights, solar patio lights, solar garden lights, and so many types for every other purpose. To avoid this confusion, Ohuhu came up with these multiple purpose solar garden lights.
This 8 pack solar lights that we are talking about has a very simple build-up yet provides bright light converting solar energy.
Let's check out the features of this product to better understand the device's worth:
Wireless, one-time easy set-up with a simple push into the ground or soil.
Tested under all weather conditions, performs with optimum capacity.
8 hours of illumination with a fully charged battery.
A uniform look for your yard or garden with the black poles.
Provides excellent visibility throughout the night.
These simple features save you money for a long time. You just need to know when and where to invest in these things.
Before you decide on buying this product, you need to know its good and bad side too.

What we Like
One-time investment and installation.
Provides clean and free lighting.
Eco-friendly.
Cost savings and relief from high electricity bills.

What we Don't Like
Poles tend to break easily.
Brightness is a bit on the lower side.
---
11. OPERNEE Motion Sensor Solar Lights
OPERNEE has come up with the 6 LED security lamps for your outdoor visibility and security.
Various features have been upgraded to the latest technology to provide excellent security services to the host.
Let's check out these upgraded features to understand the product better:
There are two modes, DIM mode, and bright mode.
Upgraded motion sensors with excellent range and high alert sensors.
A 60 second bright light will be turned on in case of the sensor detecting anyone.
Mount it to the wall or stick into the soil.
The bottom part of the device is a spike, which is detachable.
12 hours of guaranteed back up.
60 days money back guarantee and a yearlong warranty from the manufacturer.
With these excellent features, you should be on your toes to buy the product.
However, I would like to provide a few more crucial points, the advantages and disadvantages of these devices.

What we Like
Adjustable height and detachable spikes are handy.
300 lumens per light provides excellent brightness.
4 to 5 hours of charging required.
Tested for all weather conditions.

What we Don't Like
The device is manufactured from plastic.
Not much useful in DIM mode.
Tips for Choosing the Best Solar Lights for your Garden
Now, that we have learned what solar lights are, why are they used, their benefits, how these lights work, types of solar lights and more.
And, also, we had a brief look at the reviews of some of the best solar lights for 2019.
Let's move to the next important part, which is how to choose the best solar lights for your garden.
You need to have a proper idea to choose the ideal solar garden lighting system based on the below given criteria.
This will certainly help you crack an excellent deal to save a little more money, and no one can say no to saving more money.
1. Brightness
The solar light that is absorbed and converted by these devices is then used during the night as lawn or deck lights.
However, they should be able to pass a certain level of brightness, which is measured in Lumens. Every type of solar garden light has different lumens specified.
For example, a flood and security type of solar light equipment has to have 700-1300 lumens, solar outdoor pathway lights can be as little as 100 lumens.
Lumens Conversion Chart
| Brightness in Lumens | 220+ | 400+ | 700+ | 900+ | 1300+ |
| --- | --- | --- | --- | --- | --- |
| Standard | 25W | 40W | 60W | 75W | 100W |
| Halogen | 18W | 28W | 42W | 53W | 70W |
| CFL | 6W | 9W | 12W | 15W | 20W |
| LED | 4W | 6W | 10W | 13W | 18W |
2. Batteries
A regular Lithium-Ion battery will be installed on every device to store the energy gathered during the day. These batteries should be 2200 mAh and above for proper energy displacement. Anything less will not support the system to the optimum level.
Some solar lights come with non removable / non replaceable batteries like this SolarGlow solar garden light. These solar lights are exceptionally convenient and has 100% lifetime replacement guarantee. They have positive reviews from many buyers on Amazon.
3. Type of Light
The type of light is defined by the geographical location; the brightness needs to be as bright as 1300 lumens or as less as 100 lumens.
This is more of a personal choice and you should be able to figure it out with ease.
4. Settings with control switches
All of these devices are automated, just a one-time set up during the installation and you are done.
Every device will have an on/off switch, which can be used in case you are not available at your home due to vacation or anything else.
5. Home's Architecture
This aspect plays a major role in selecting the solar garden lights.
Where do you need it? If you know the answer to that question, most of your issues are solved. The only thing left is to find that one device that meets your needs.
6. Weather-Climate Resistance
These devices are a one-time and long-term investment.
You need to know how it will fare against different climatic conditions. Check out the weather resistance along with the materials used in the manufacturing process to figure out the durability of the device.
7. Efficiency
Efficiency can be defined in terms of profit here since the only investment that you would make is the one-time device purchase.
And, then you are entitled to free pathway lighting for the near future and it will save a lot of money on electricity too.
8. Quantity and Lighting Range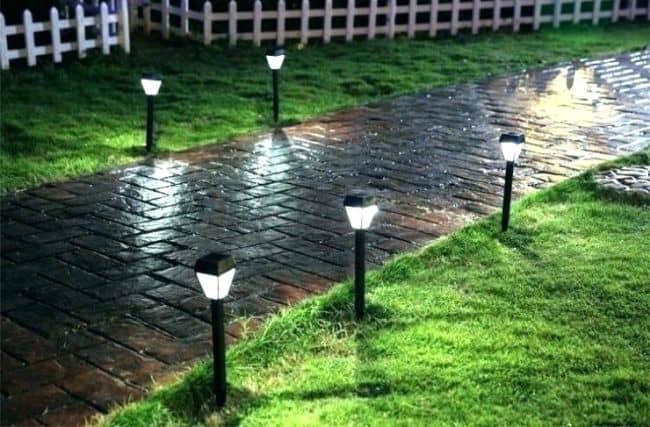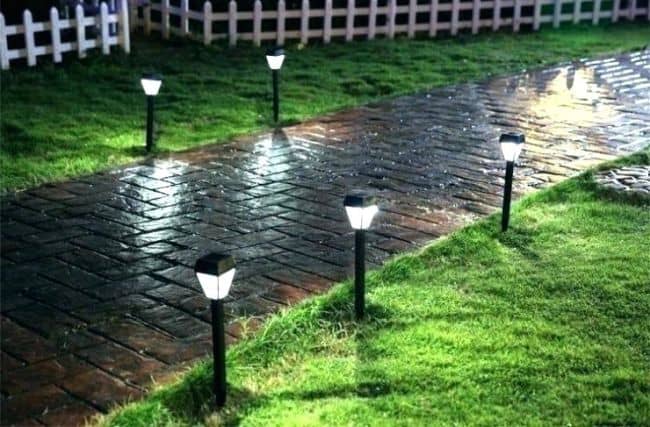 The lighting range from a powerful LED in these solar garden lights should be 26 feet for security type and it lessens based on the lumens produced by the LED. Only you could decide this factor since you know the location and range the light has to reach.
9. Style
This is more of a personal choice. There are quite a few exotic designs available in the market. Keep in mind that the more exotic the design is, the pricier it will be.
Also Read: Gardening Trends for 2018
Final Thoughts: Which are the Best Solar Lights?
The list that we discussed here showcases some of the best solar lights that are dominating the market with their own charms and features.
You being the consumer, should have a better idea now to choose a device that suits your needs.
A personal opinion here is that, since this is a one-time investment and a healthy one at that, preserve the environment to whatever extent possible.
Personally, I would say, the best product is the URPOWER 2 in 1 Solar Security Lights. The sleek design and sturdy built of this product made it all the way to the top.
If you are looking for cheaper options, then the cheapest ones out of the list are the Kaleep Bright Solar Lawn Light and Solar Powered Crackle Glass Ball.
So, basically, it all depends on your needs and likes. Choose the one that suits your requirements the best and let your garden shine.
I hope that this guide helps you to find the perfect outdoor solar lights suitable for your garden and yard. If you have used these lights or any other brand in the past, do share your experience with us in the comments section below. Thanks!
We are sorry that this information was not useful for you.
Tell us how we can improve.