25 DIY Pea Trellis Ideas For Your Garden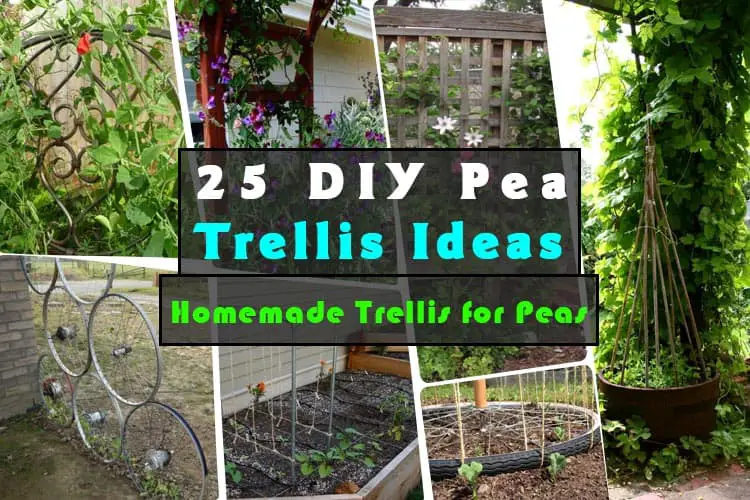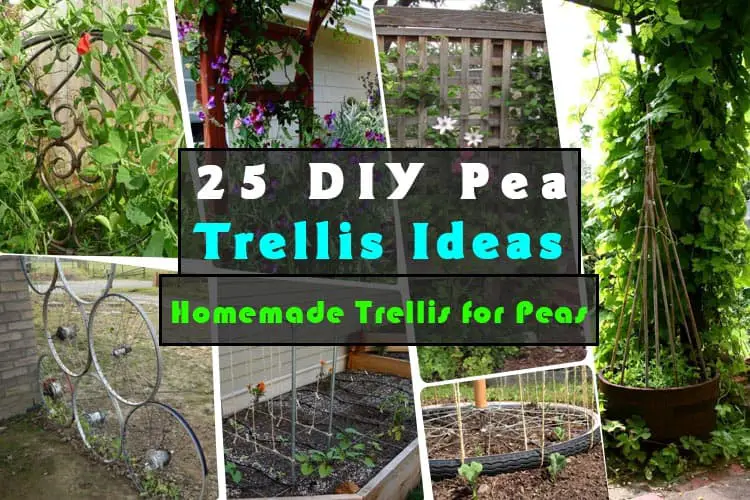 Since vertical gardening is the 'in thing' in gardening these days, we must mention about using trellises or supports that are tools for growing vines and veggies like cucumbers, beans, and sweet peas.
A trellis can come as a blessing for such gardens that are cramped up for space, and enable gardeners to grow their favorite vegetables such as peas.
Peas are vines and can grow comfortably, provided you offer some kind of support. You can use various kinds of trellises for this purpose. Today, we are going to throw some light on stunning DIY pea trellis ideas that are easy and affordable. All of these can be made at home.
1. DIY Pea Trellis with Chicken Wire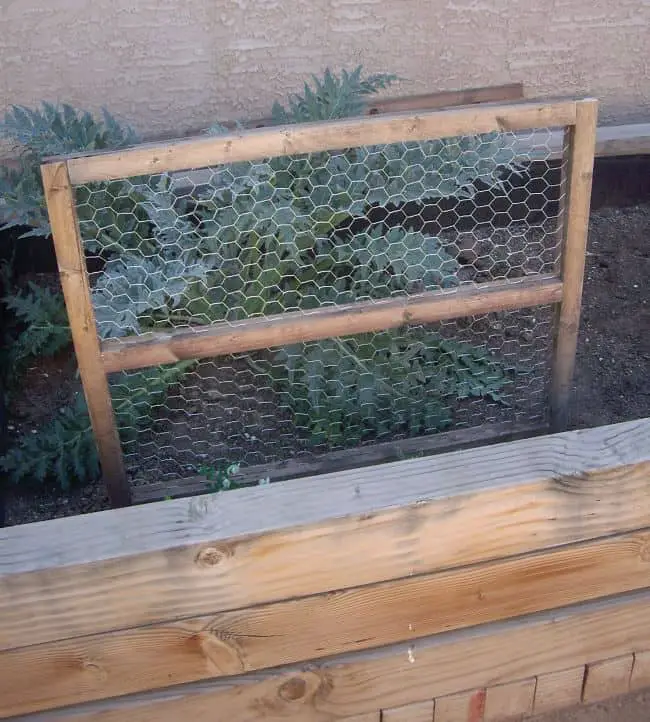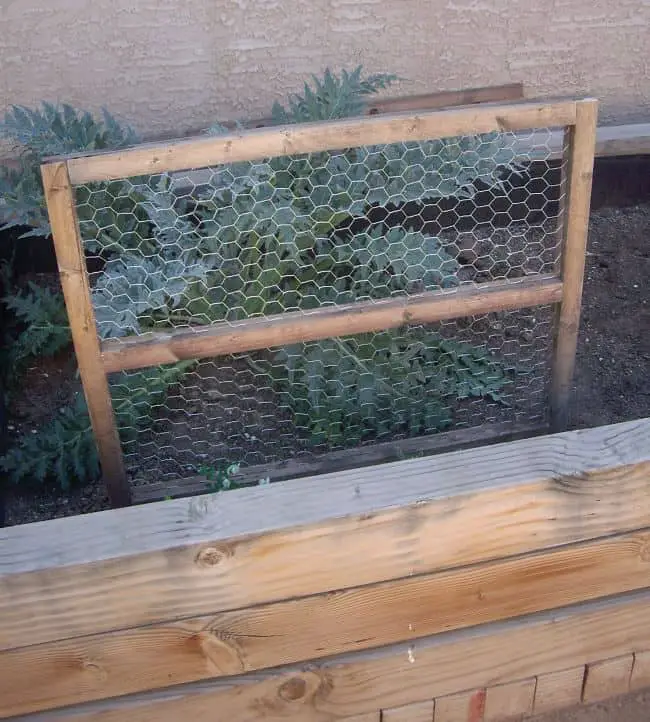 Image Credit: patiocoversplace
A chicken wire trellis is one among the most amazing DIY pea trellis ideas that all must try. Such trellises are very easy to find and are very cheap. You need to have a few wooden legs and some scrap chicken wire to make this easy DIY trellis. You can use untreated cedar or any other wood as per your wish. The width can be adjusted as per your requirement, and can be used for a long time. This chicken wire trellis is perfect for growing short beans and peas.
2. DIY Bamboo Pea Trellis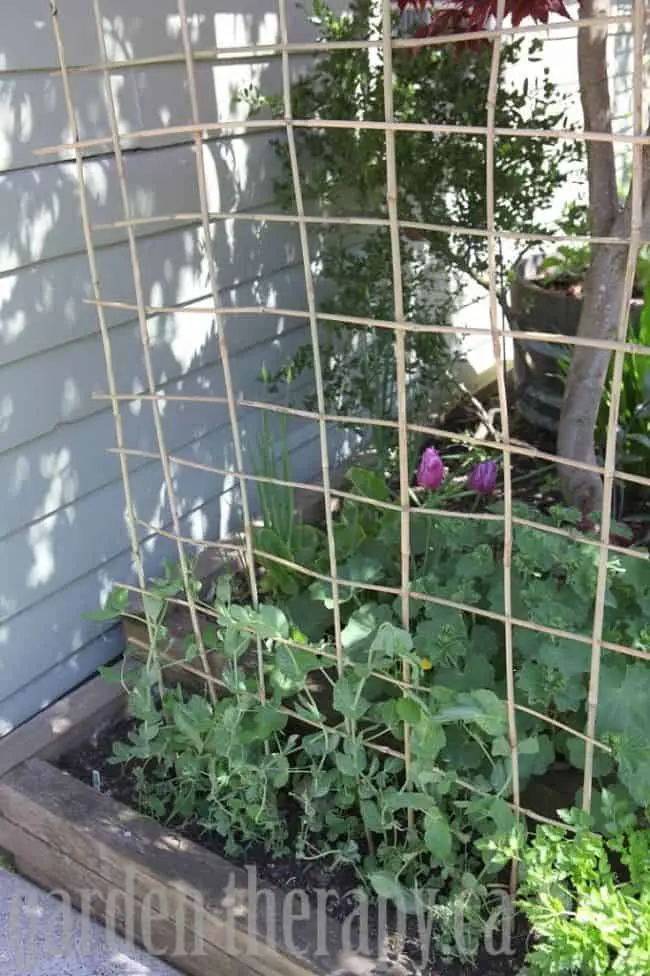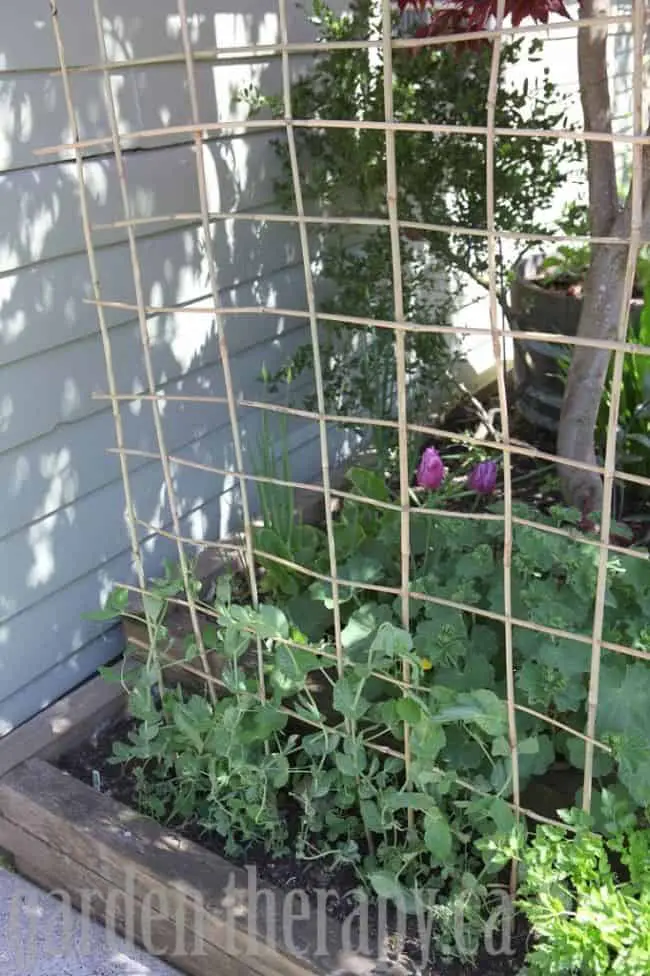 Image Credit: gardentherapy
Bamboo can be used for making a trellis for supporting beans and other vines such as peas. As soon as you spot pea seedlings growing, its time that you offer them some kind of support in the form of a trellis. Bamboo trellis offers a strong support and helps strong pea stalks to stand erect and grow upwards. This project is easy as all you need is bamboo and nothing else. This trellis in the picture is made of bamboo twine and can fit a large number of peas in a cramped up space.
3. Homemade Pea Trellis with Bamboo and Twine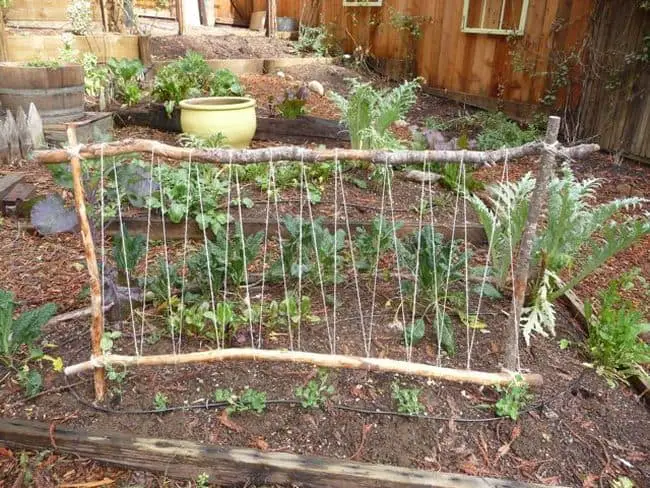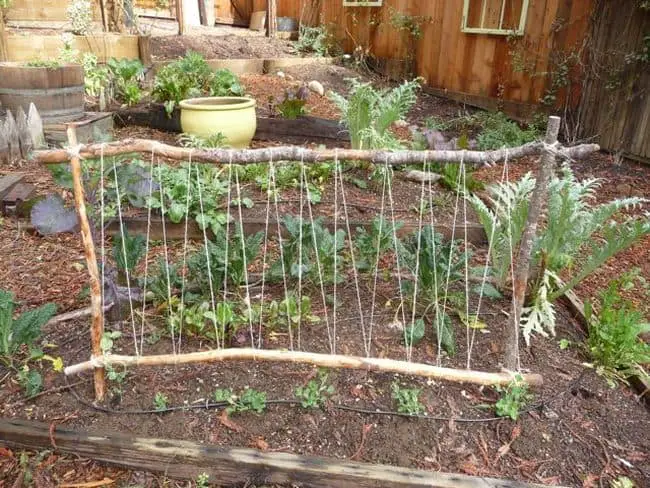 Image Credit: pinterest
How to make a trellis for peas at home? Well, you can take help from this trellis project that is shown in the picture above. The project makes use of bamboo and twine to be made into a horizontal trellis for supporting peas and and vines. For this, you would require a spool of twine, some bamboo poles of varying lengths and some tools. Simply, place two bamboo poles of at least 5 or 6 inches on either side. Then, attach other two poles to create a frame. Now, tie the twine around the frame, and then tuck the pea plant tips to the twine. This will soon result in the tendrils of your pea vines to tangle nicely around the frame.
4. DIY Pea Trellis idea with Repurposed Bicycle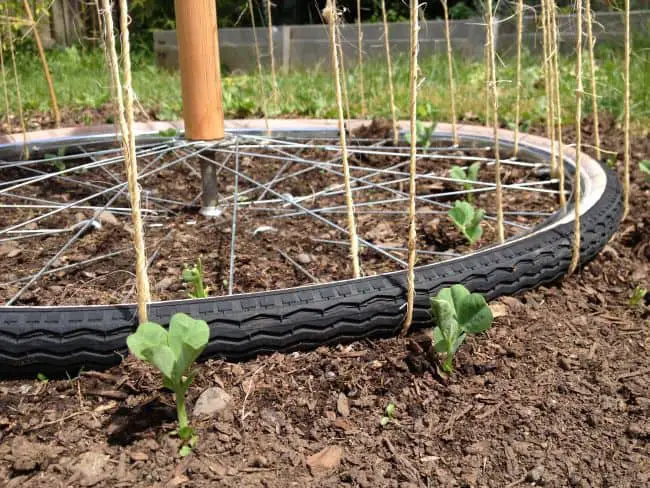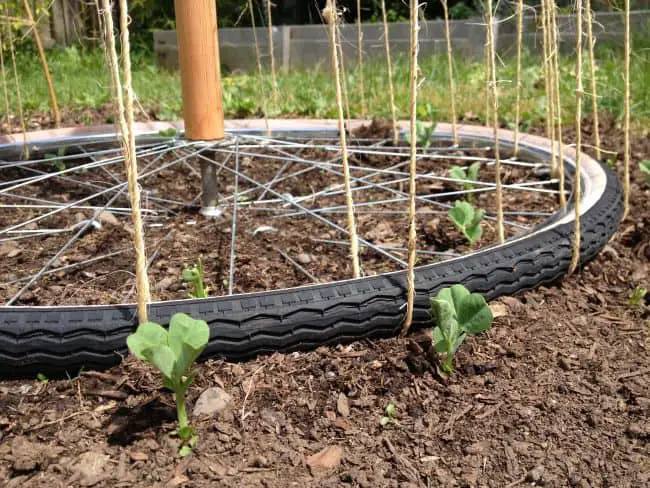 Image Credit: fromsprout
Old and recycled stuff can very much be used in making pea trellises such as this one that has been made with a wooden pole, twine and bicycle wheel. In the image, the wheel is used for offering the primary support at the base where the pea seedlings are planted. The wooden pole is erected at the center and holds the trellis. The vines of the pea plant will tangle around the twine attached with the wheel as and when they grow. This is a simple DIY project anyone can do at home.
5. DIY Stick Tee-pee Pea Trellis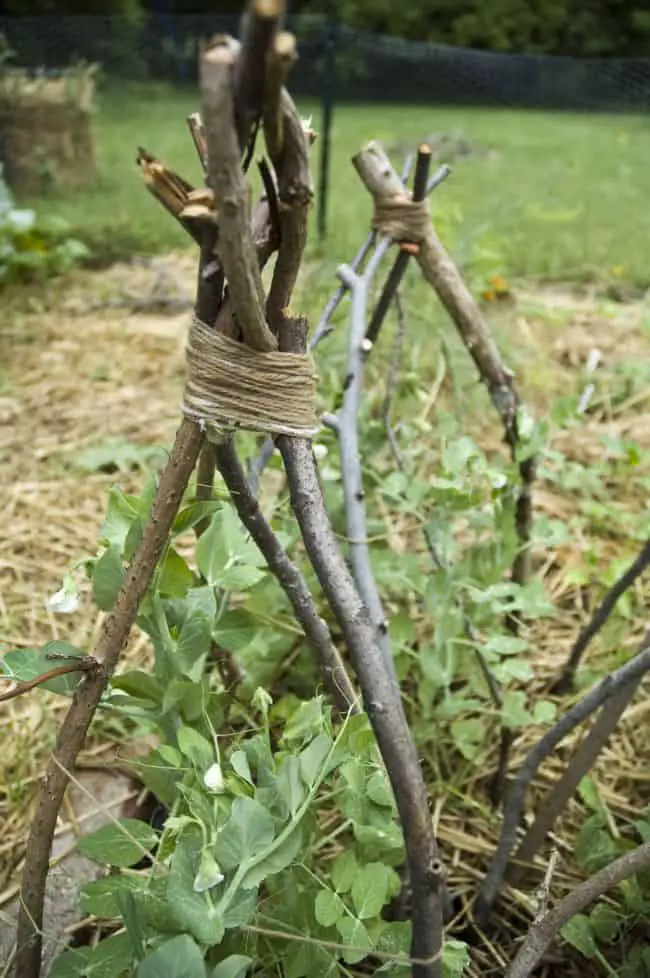 Image Credit: picmia
This is an incredible homemade pea trellis idea that has used wooden sticks to be formed into a tee-pee trellis for the growing pea climbers. This is a simple structure made with sticks and is quite economical. All you need are a few wooden sticks or branches from the garden, and some twine to hold the tee pee structure, and to wrap it all around. The pea climbers grow fast. You can easily carry this trellis from one spot to another. However, you can make complex tee pee structures depending upon your needs.
6. DIY Tree Branch Pea Trellis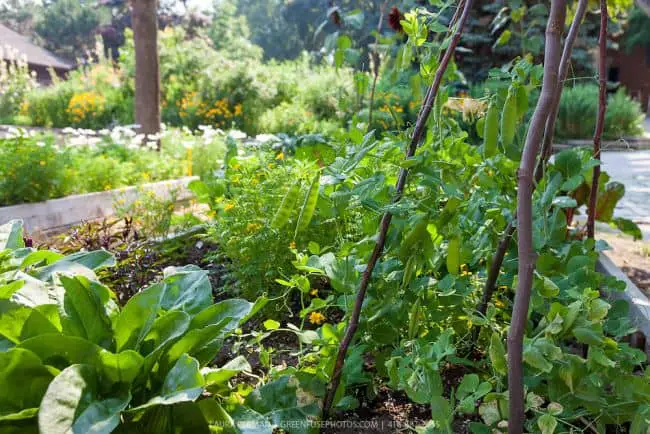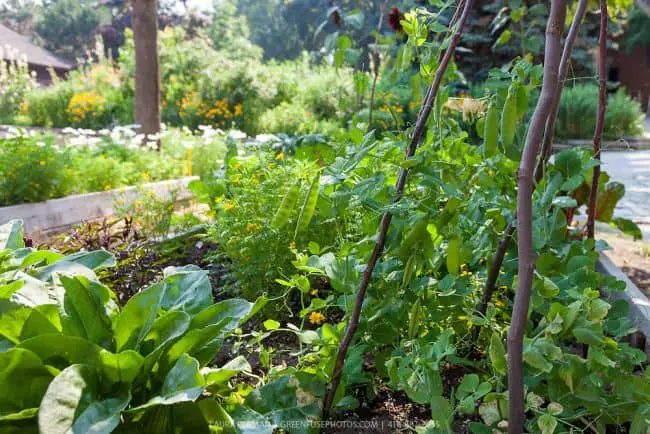 Image Credit: photoshelter
The above pea trellis is very simple to make, and will also prove to be much less costly than metal. This trellis offers a sturdy support to the growing vines and is made from branches of a tree. You can use any tree branches for this purpose. Just collect a few branches, trim these, and then form these into a trellis structure. Then, wrap the structure with twine or wire as you please.
7. DIY Aluminium Pole used as Pea Trellis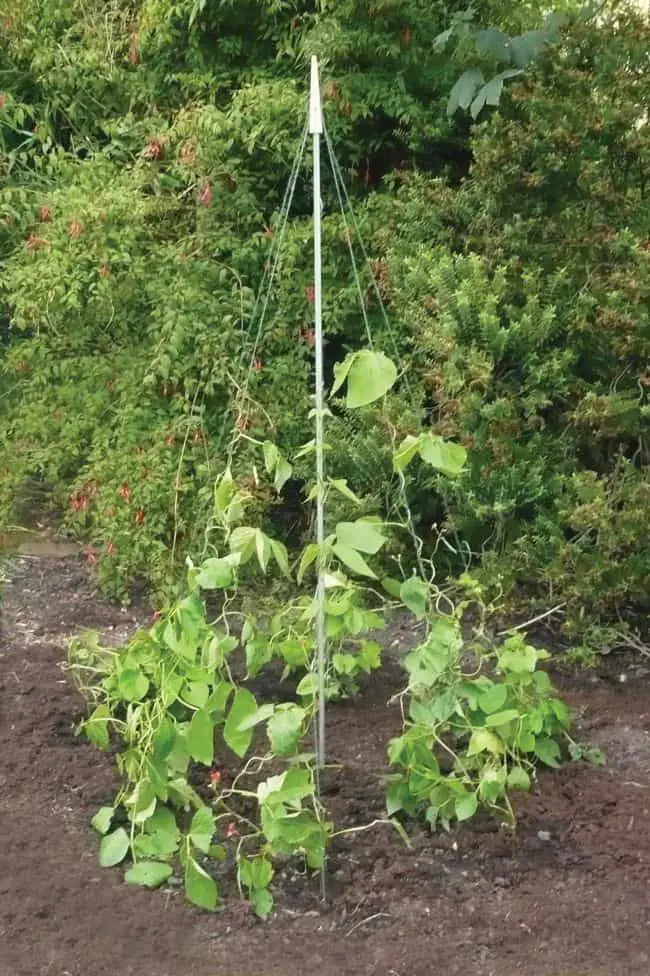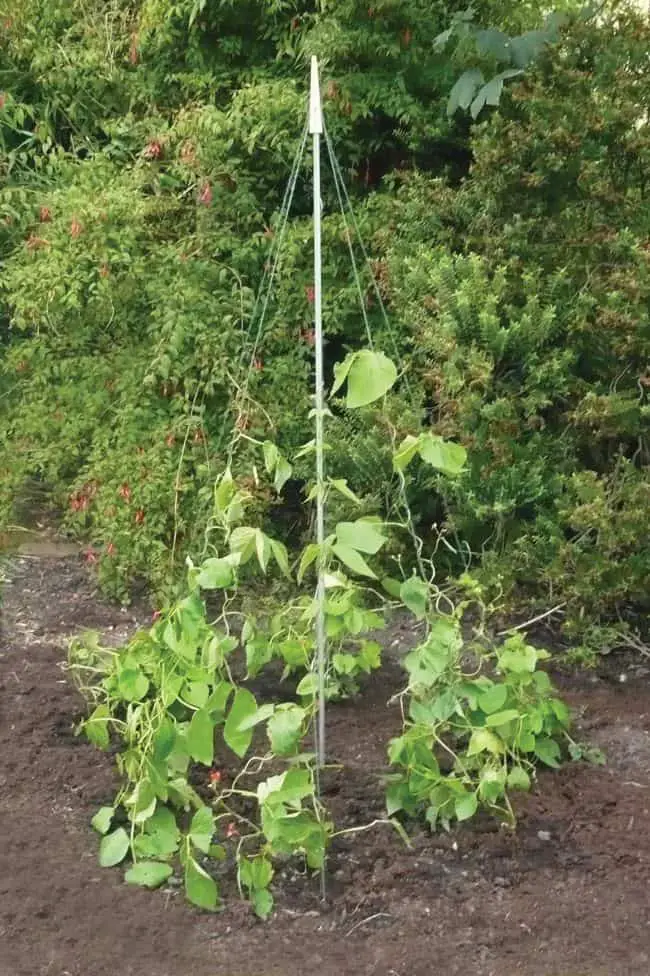 Image Credit: hayesgardenworld
This conical shaped trellis helps in offering a strong support for the growing vines of pea plant. It boasts of a simple architectural design that makes use of a 1.7 m aluminium pole and jute which can be seen supporting the pole structure. This is a very sturdy structure and is resistant to weather.
8. DIY Pea Trellis idea with Sleek Twigs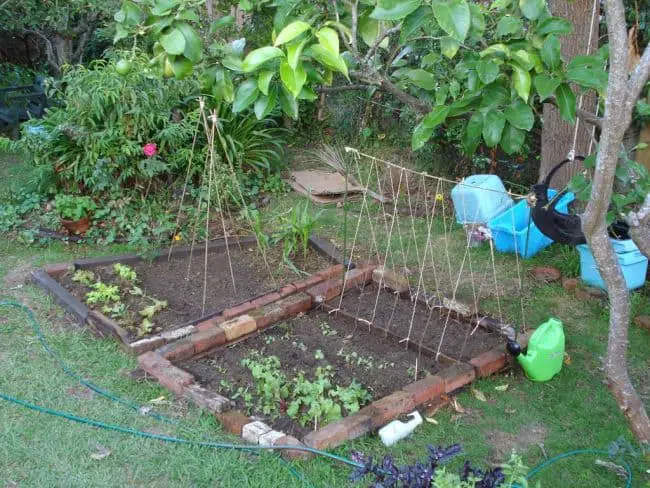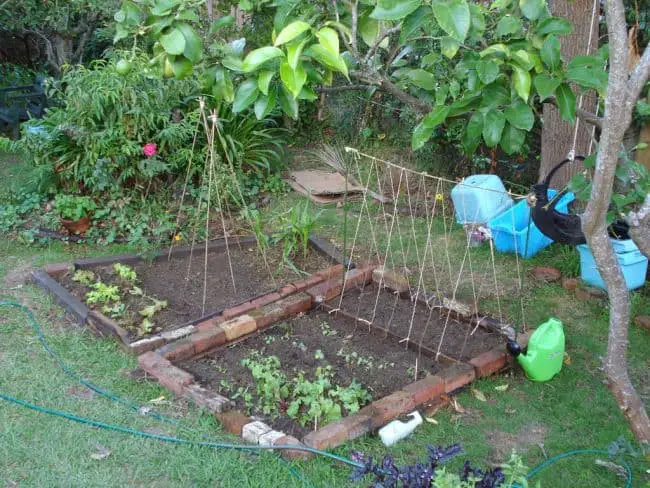 Image Credit: blogspot
Twigs and twine are used widely in most DIY pea trellis ideas. The reason being the affordability factor. You can gather varying kinds of branches, twigs, and sticks for making a trellis for your garden without spending anything. Also, these lend a more natural look to your garden. The above trellises look very simple and can be made by amateur gardeners as well. On a garden bed, stick two wooden twigs on either side and then attach twine in the shape of an A on either side of the base. Keep doing it till you get the whole, structure formed. The pea vines will tangle their tendrils around the twine and grow on these.
Also Read: 21 Best Crops to Grow In A Survival Garden
9. DIY Pea Trellis made of Old Pipes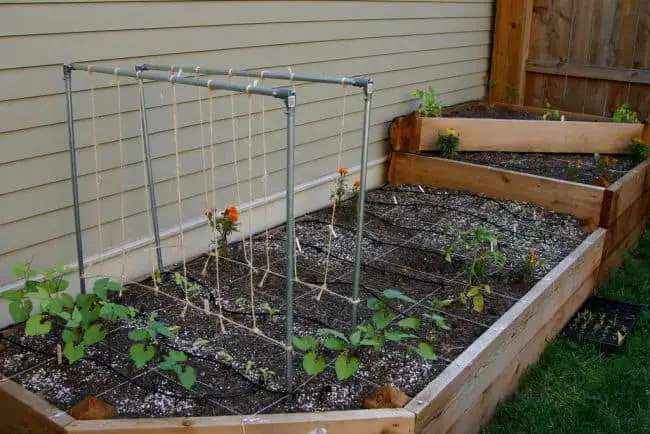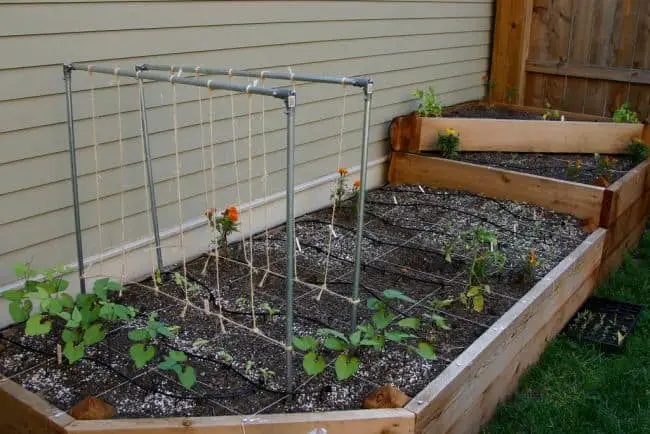 Image Credit: nastrojowyogrod
The garden bed in the picture above has been utilized for growing vines and peas on PVC pipes. The pipes offer the main or primary base for the trellis while the attached twine is used for helping the vines tangle themselves for an upward growth.
10. DIY Potted Pea Trellis Idea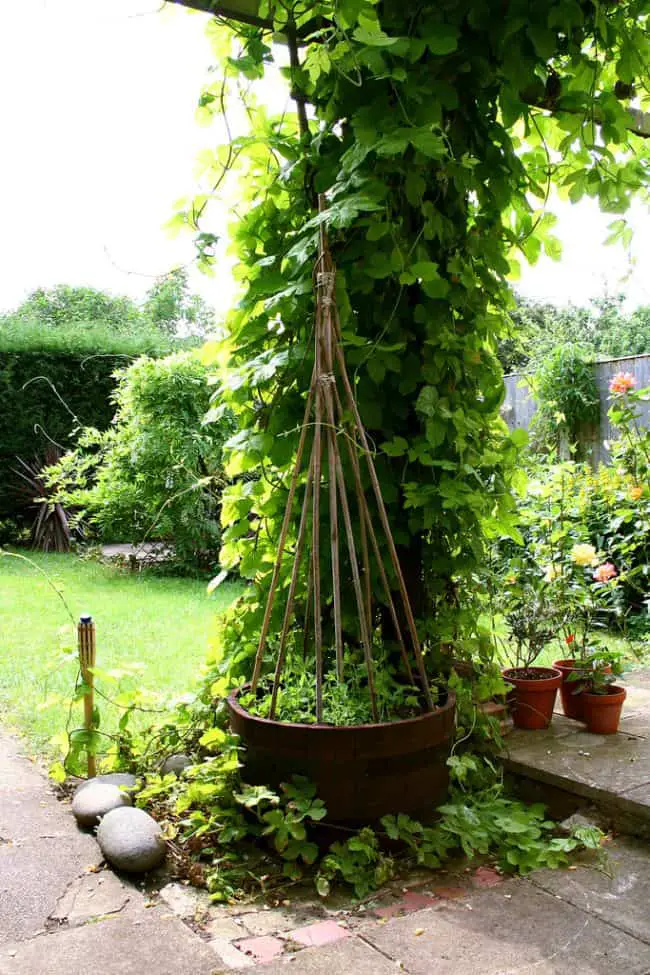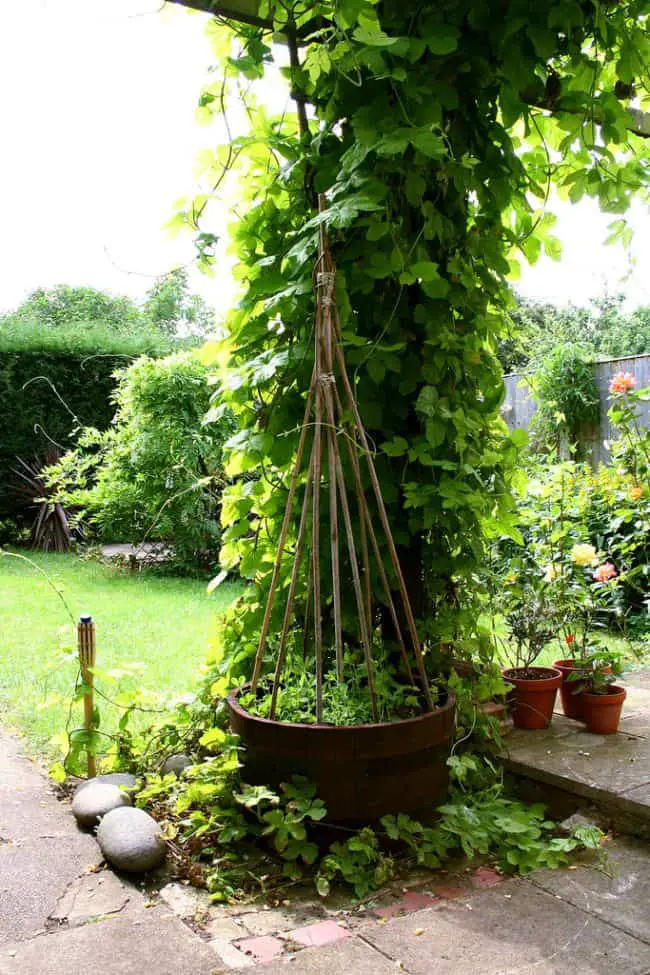 Image Credit: nastrojowyogrod
If you don't have much of garden space to grow your peas, simply plant them in a big pot with the help of a trellis, just as in the image. The pea vines planted in the pot will slowly tangle themselves on the tee pee structure built inside. You can use any type of wood for this purpose, like cedar or teak or bamboo. Use some twine or jute to hold the tee pee together. This project is an excellent example of an easy homemade trellis for peas.
11. DIY Hazel Arched Peas Trellis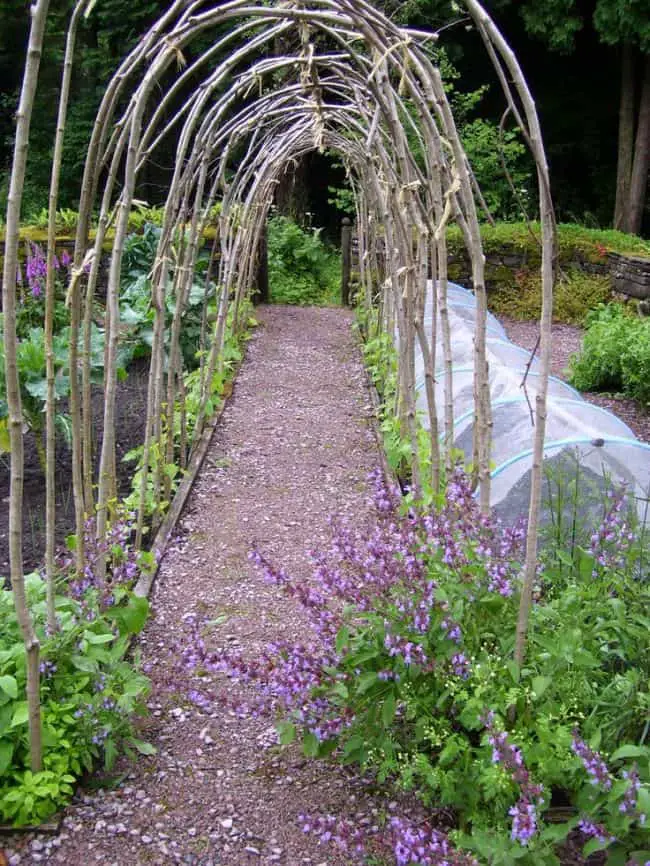 Image Credit: pinterest
You do not need to restrict yourself to tee pee or conical type trellis ideas. You can also try experimenting with arched trellis ideas as well. The picture above shows how one can make use of the arched trellis to grow vines and climbers. The wood chosen for this project is Hazel. You need to collect lot of hazel branches and then place them on either side of your garden pathway in an arched way. Then, using some twine, wrap the joints to keep them together. The vines will grow vertically on and around these wooden poles.
12. DIY Cedar and Wire Pea Trellis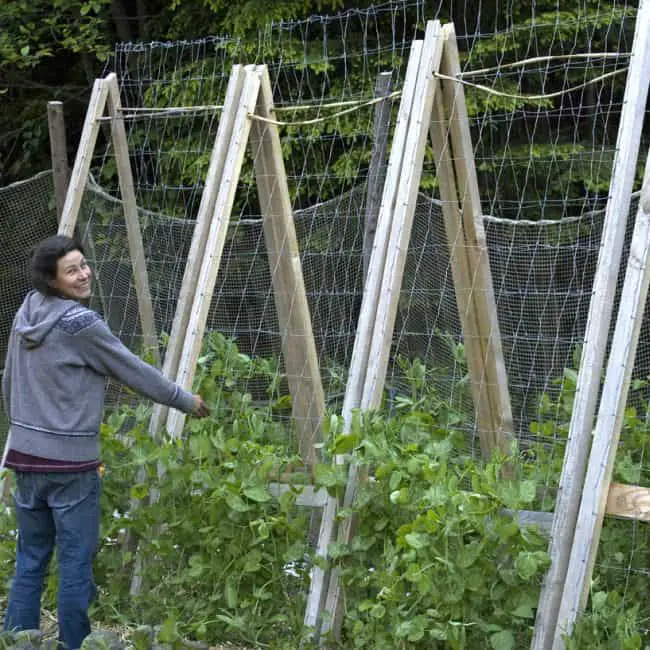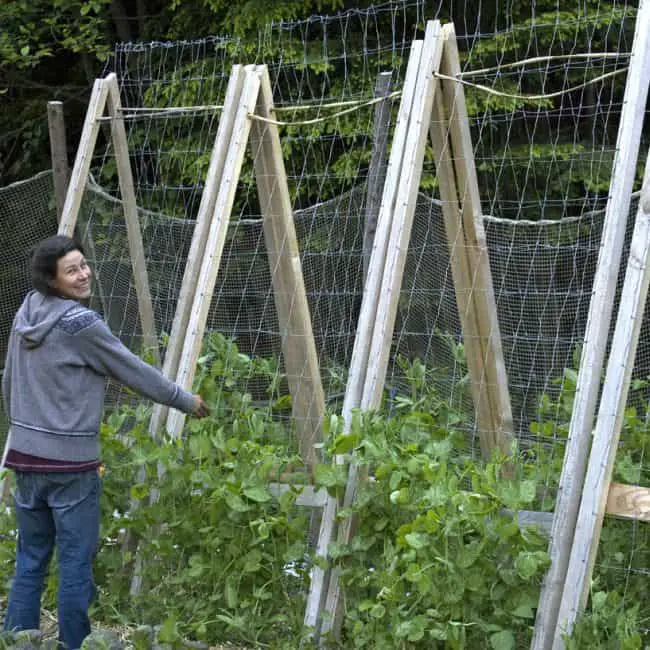 Image Credit: sustainyourself
This is a strong trellis that will go on for years. The trellis is made of cedar stakes that are fixed in the ground in 'A' shape. Fencing wire is attached on the frame to help pea vines to grow on them. This trellis can be shortened further if you don't need it to be so tall. You can also remove it when your pea harvesting is done, and place it somewhere else to grow other veggies like the cucumber. This 7 feet tall trellis is definitely a very good DIY idea for your pea plant.
13. DIY Twin Mattress Frame used as Peas Trellis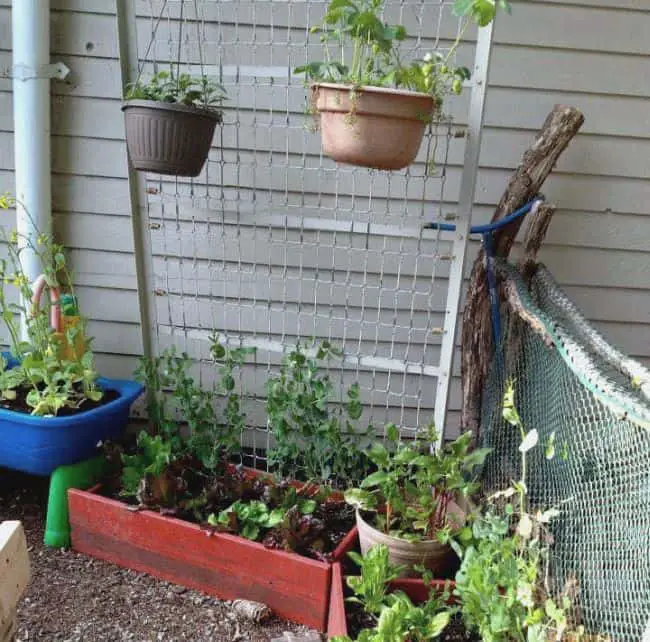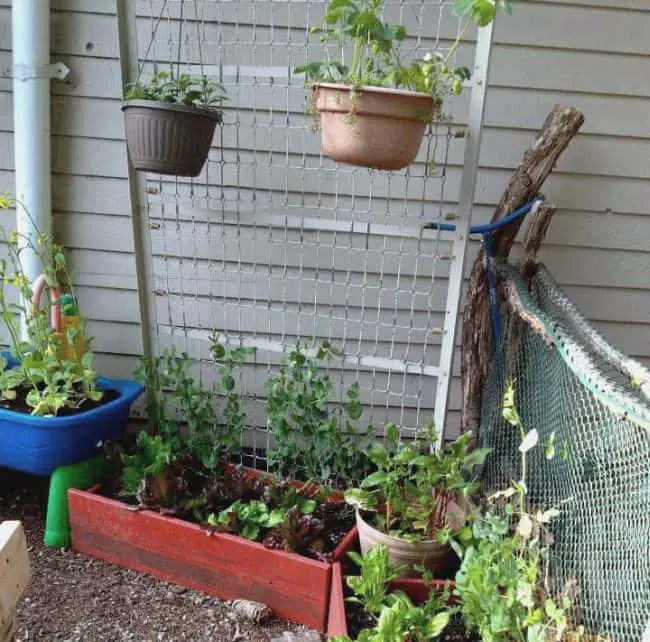 Image Credit: afarmgirlinthemaking
Old and discarded things can also be used for making trellises, such as this innovative and stylish trellis made with an old twin mattress metal frame. The metal frame needs to be stripped from your old mattress, and then be used as it is for supporting vines like cucumbers, beans and peas. This structure provides enough space for the peas to climb upwards and grow to their fullest.
14. DIY Blue Wooden Ladder Peas Trellis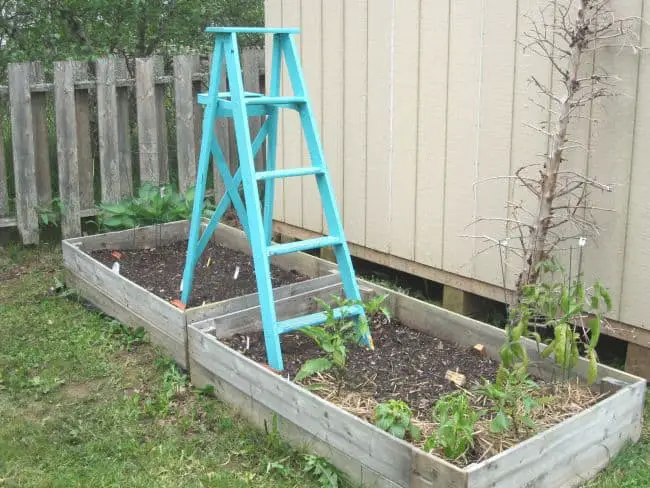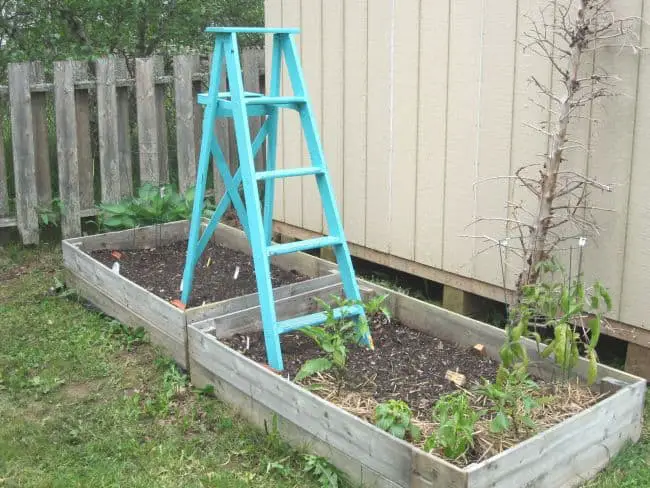 Image Credit: hobbyjunkies
Now, old and re-purposed ladders too can be put to use in your gardens. Peas and climbers do not need anything too exorbitant or unique for making a climb upwards. You can make use of anything to offer the vines good support. The ladder seen here offers your peas to tangle themselves properly and grow vertically. You can use any type of ladder for growing your pea vines.
15. Simple DIY Peas Wooden Trellis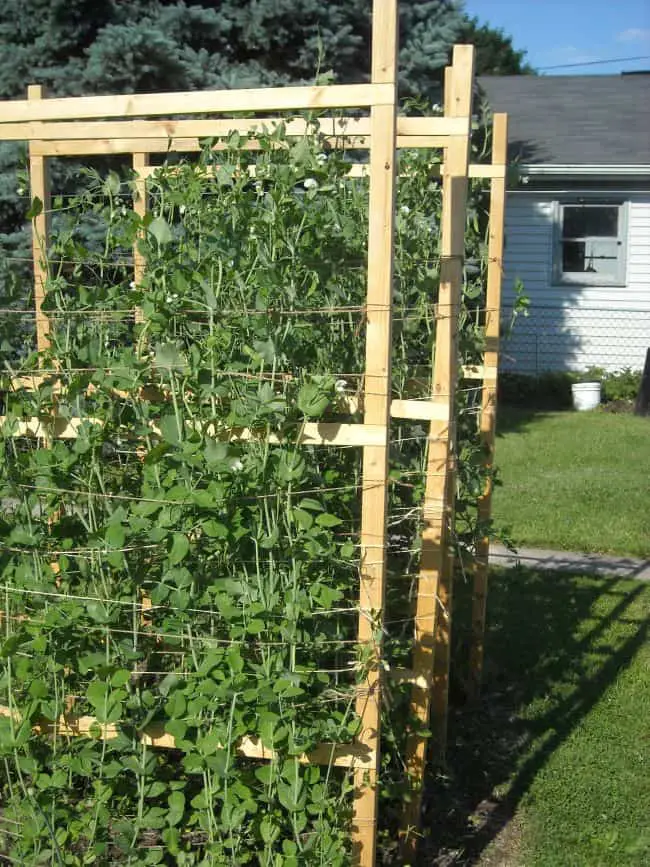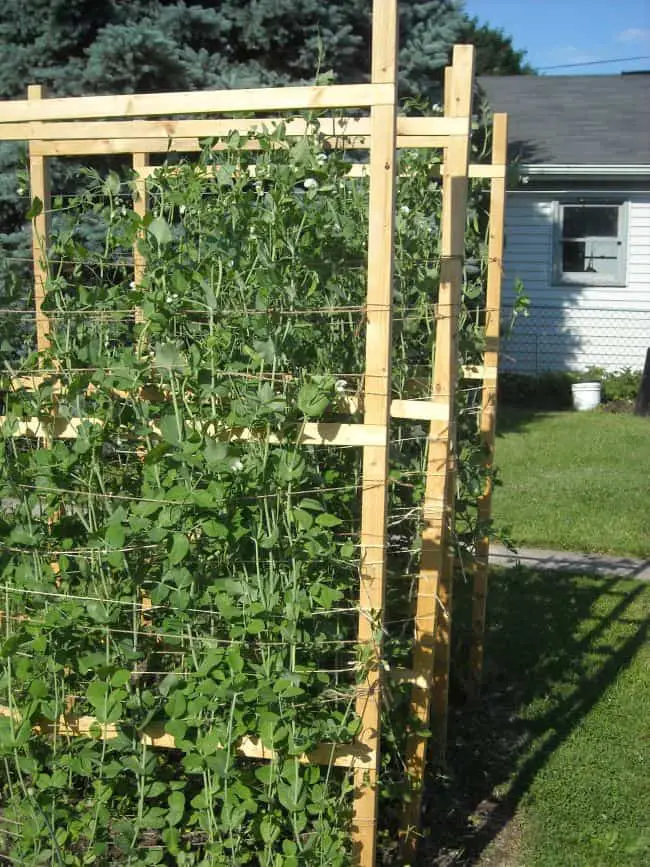 Image Credit: yearroundharvest
If you are keen to know how to make a trellis for peas, then, take a look at this DIY wooden trellis idea showcased below. Wooden frames, logs, stakes, or poles are all effective in helping pea vines to climb and grow. This project requires you to gather a couple of wooden stakes, drills, nails, and wire. You have to first, make wooden frames by joining stakes together as shown. Then, attach the wire or mesh so as to offer base for climbing vines. The height of the frames can be adjusted to suit one's needs.
16. DIY Brown Wooden Peas Trellis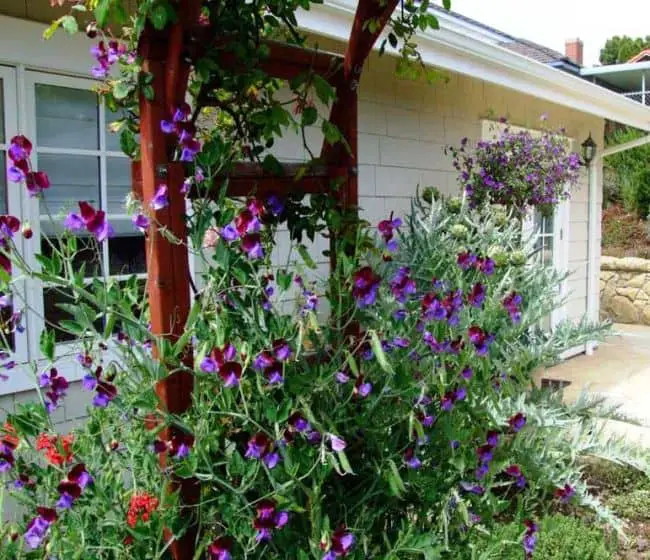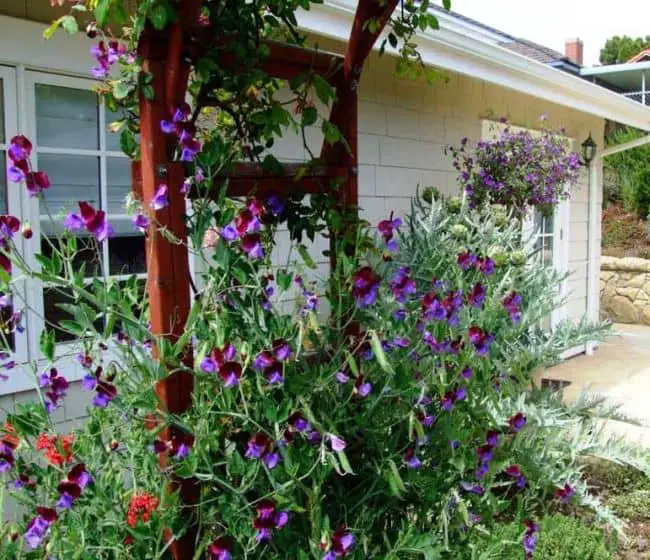 Image Credit: prescottenews
The blooms of pea plants look adorably colorful and must feature in your garden beds. These vines are fragile but grow nicely when not damaged by pests and rodents. In the picture above, the gardener has utilized the wooden arbor as a trellis to grow these stunning vines and blooms. The best part about using this arbor is that it offers permanent support for your climbers and lasts for a long time.
Also Read: How to Grow Cucumbers Vertically to Maximize Space
17. DIY Decorative Peas Trellis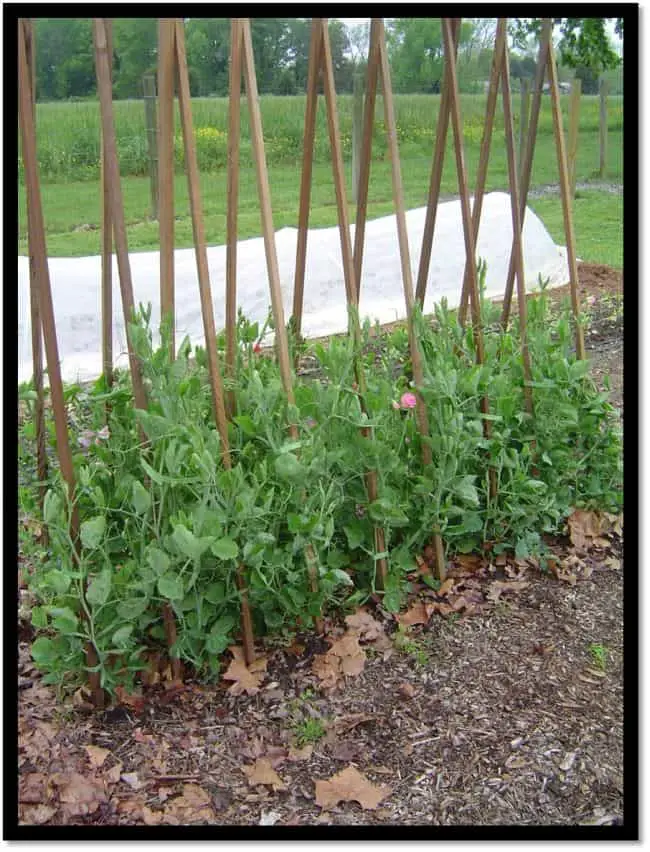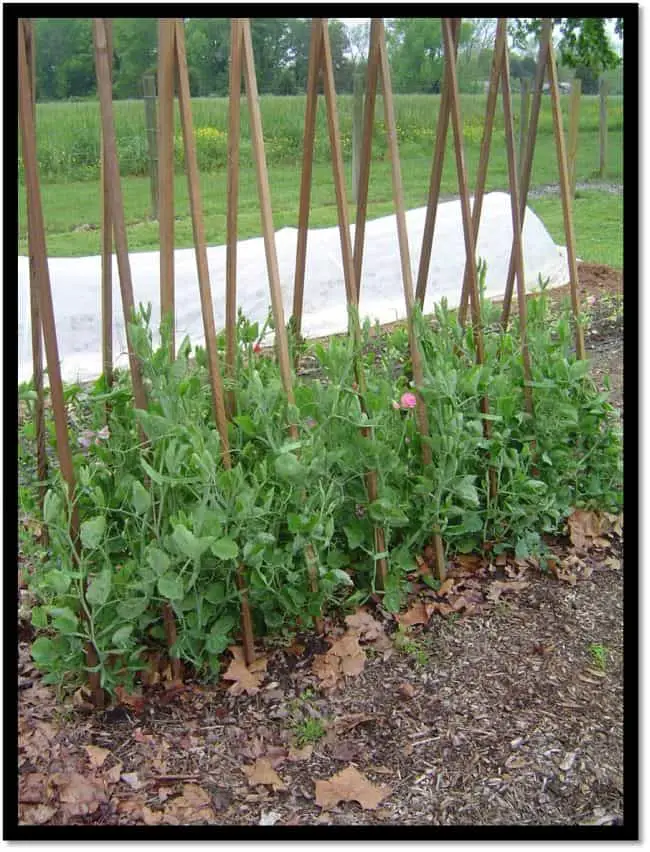 Image Credit: thegardenersworkshop
This is a decorative trellis that can be used for supporting pea vines from both sides. The frame is built of wooden stakes and fixed in A shape. The vines, as they grow, will tangle themselves on the stakes and climb upwards easily. You can also use bamboo for this purpose.
18. DIY Lattice Panel Peas Trellis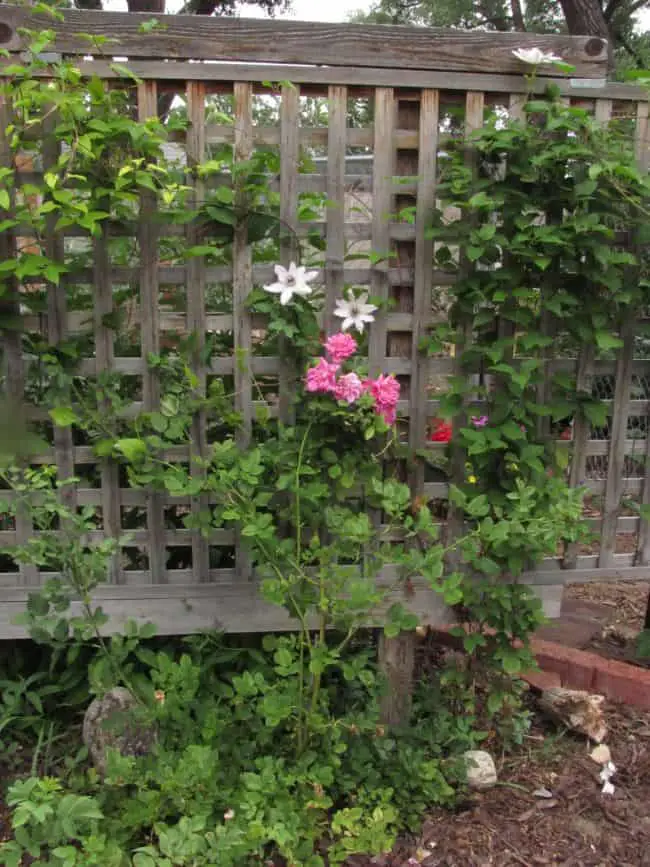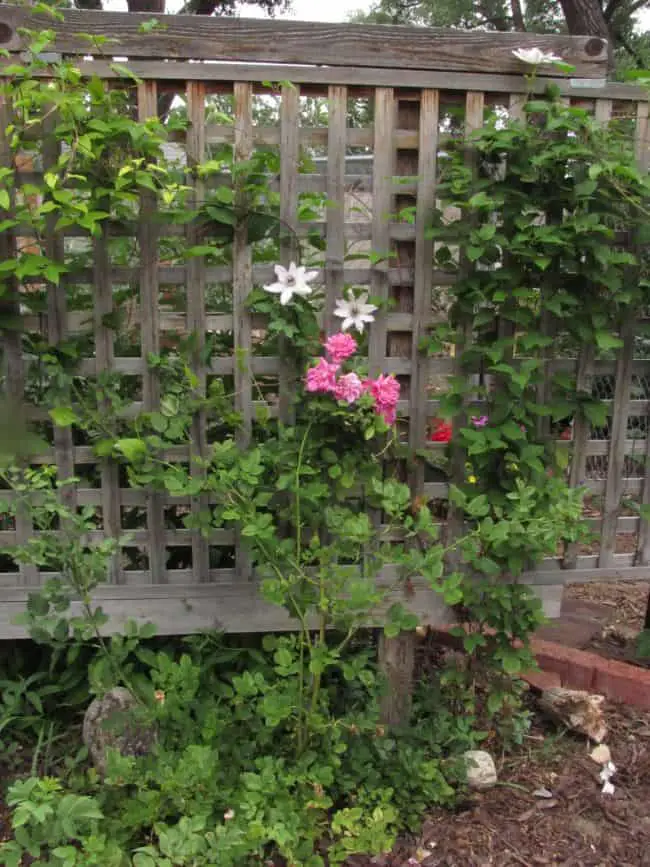 Image Credit:loversiq
Lattice panels are widely used as garden trellises or wall screens. If you have a vacant spot on your garden wall that could be converted into a green heaven, then, you can fix a wooden lattice panel or trellis to grow vines of different varieties. Since, pea vines grow nicely when supported, use a lattice trellis. This trellis is sturdy and can be used as a permanent feature in your garden. It also offers a big space for growing many kinds of vines and climbers.
19. DIY Iron Headboard Peas Trellis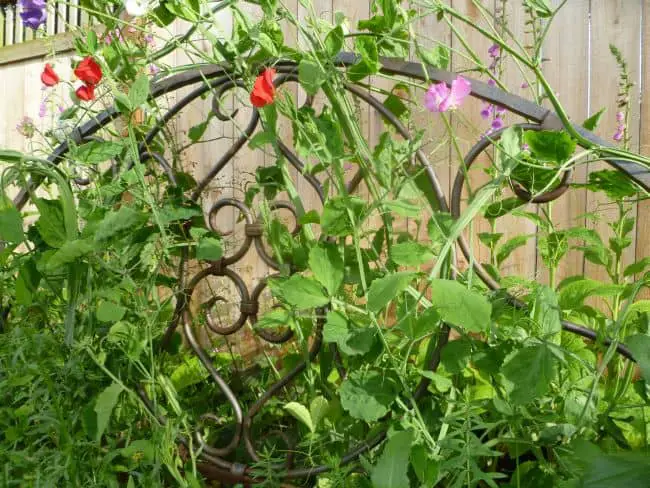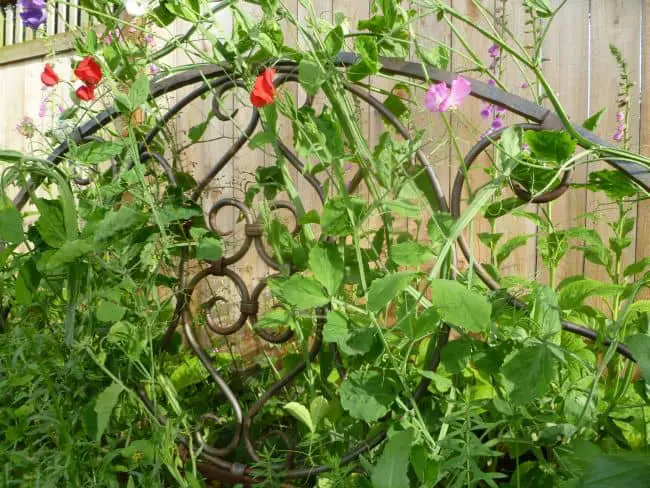 Image Credit: idolza
Discarded things like headboards can come to your aid when you are thinking of making garden trellises. The picture above shows a stunning example of an old metal headboard that has been converted into a trellis for growing peas. The headboard trellis is made of iron with its stands or legs fixed in the garden bed where pea plants are grown. The tendrils of these plants grow fast and will soon find a good support in the form of this stunning trellis.
20. DIY Bicycle Frame and Mesh Peas Trellis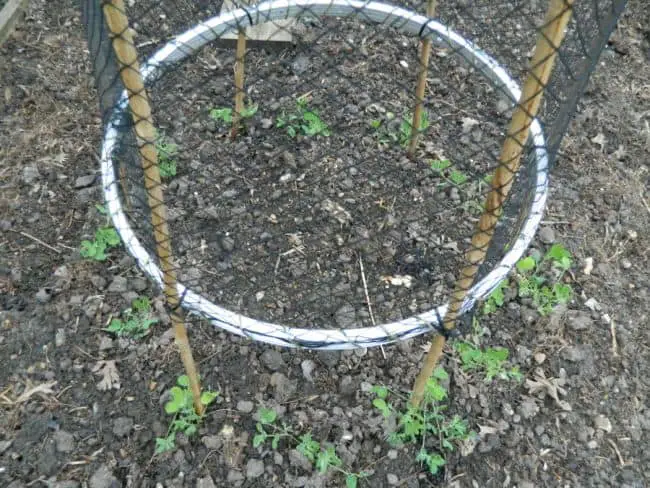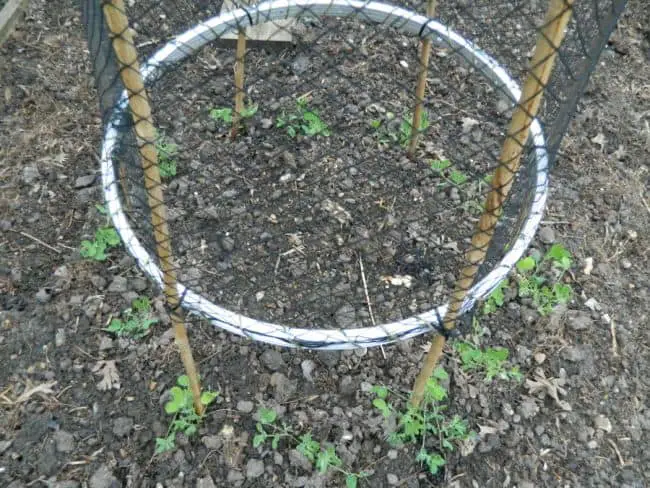 Image Credit: sowandso
This is a fun DIY project that makes use of old and discarded bicycle wheels and wire mesh for growing pea vines. The picture shows only a part of the whole trellis, but, it actually is a three layered structure comprising of three wheels. You have to first anchor four wooden poles or stakes in the garden bed. Then, fix the wheels to these poles from inside. Once, you have fixed all three wheels vertically on top of each other, you need to wrap the whole structure with wire mesh from the outside. Now, grow your pea plants on the circumference of the trellis. Soon, they will entangle themselves on to the trellis and grow upwards.
21. DIY Bicycle Wheel Peas Trellis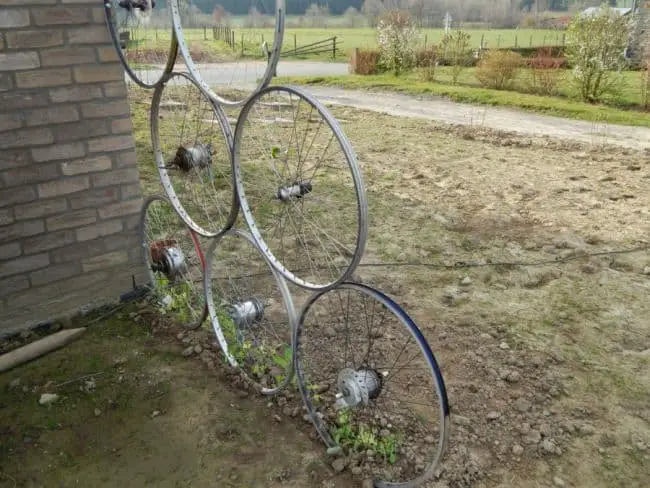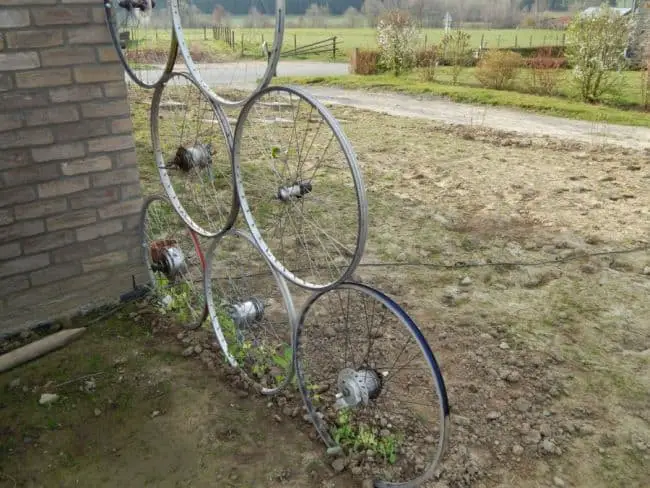 Image Credit: sowandso
This is relatively a simpler trellis project to be done, and it requires you to gather a few bicycle wheels for getting the structure built. The gardener has not used any other thing except for a few old wheels with their spokes intact. The structure is fixed together with the help of drills and screws. After it's fixed, you can plant your pea plants at the base. The trellis also acts as a boundary wall for the garden.
22. DIY Pea Trellis made with an Old Window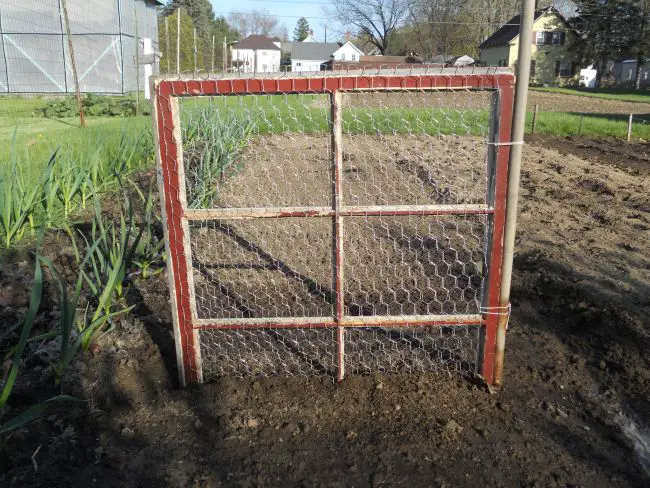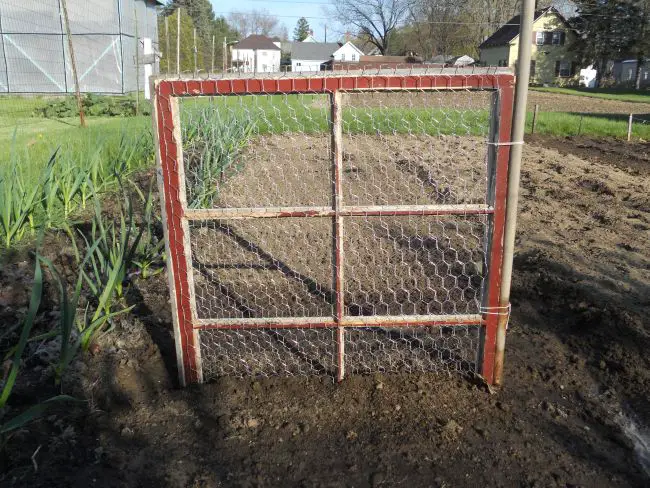 Image Credit: trellispictures
Here is another very innovative homemade trellis for peas that looks not just stunning, but also helps you grow loads of vines and climbers together. The project involves the use of an old window that has been stripped of its glass and stapled with chicken wire. The trellis looks sturdy and offers a big space for your peas. You can get this project on ground at no time and at very little cost.
23. DIY Pea Trellis made with Old Baby Crib Rails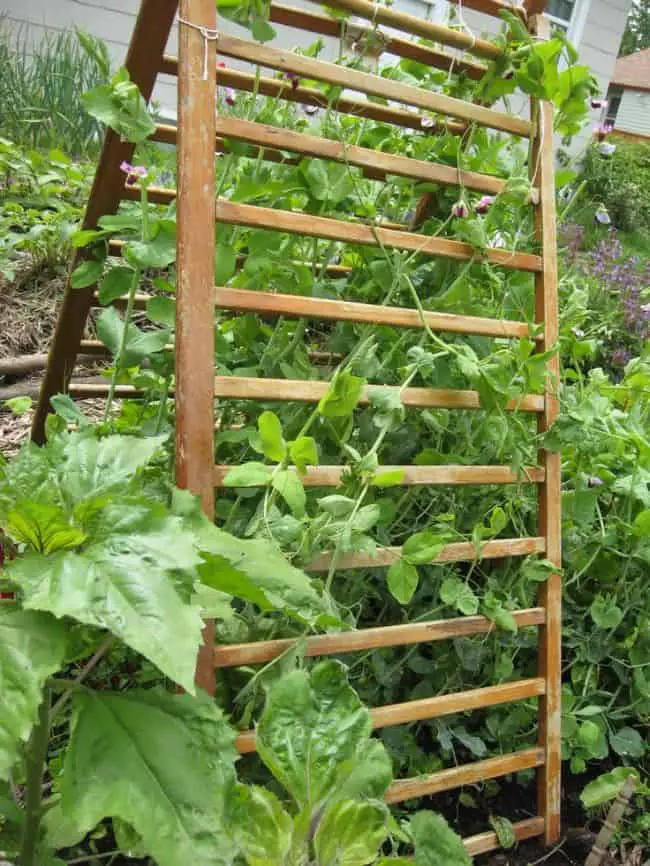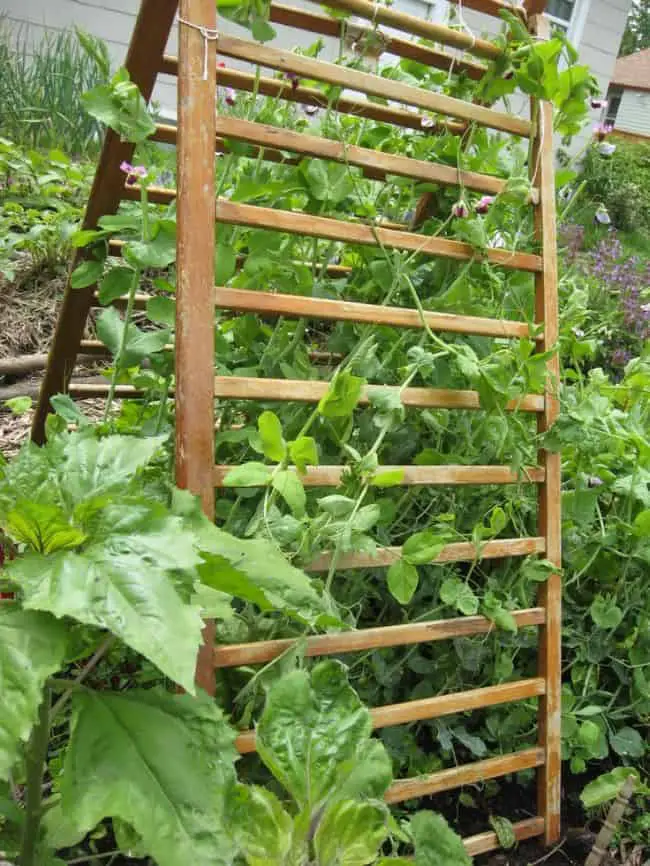 Image Credit: pinterest
There are umpteen DIY pea trellis ideas to help you out when you are planning to make your own garden trellis. This trellis in the picture above has been made using wooden rails from an old baby crib. It is a simple project and is pretty economical too. The pea vines will grow nicely with the support of the wooden railings of the trellis.
24. DIY Wooden Pea Trellis on a Raised Garden Bed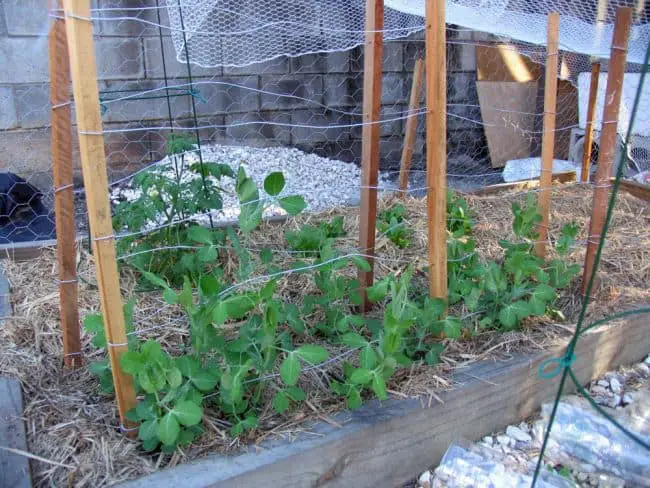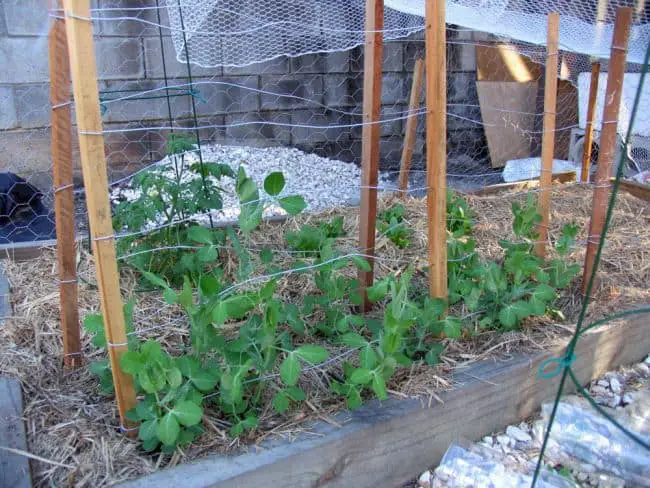 Image Credit: blogspot
Wooden trellises are very commonly used in gardens for growing tomatoes and vines like cucumbers, beans and peas. The trellis in the image is made using wooden stakes that are anchored on a raised garden bed. You can wrap a wire mesh on its frame or single wire strings for the pea vines to climb above.
Also Read: 25 Best Veggies to Grow in Pots
25. Easy and cheap DIY Pea Trellis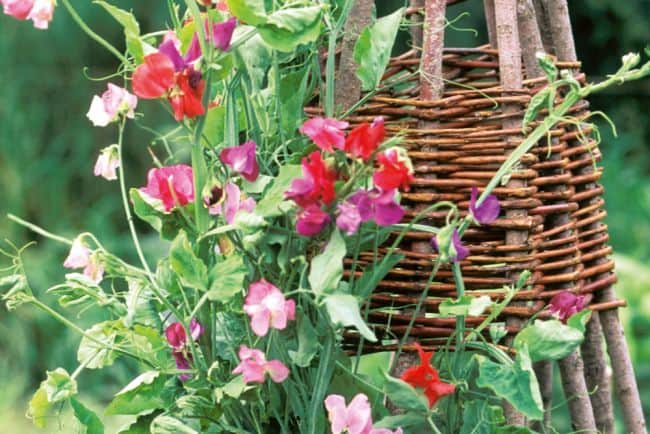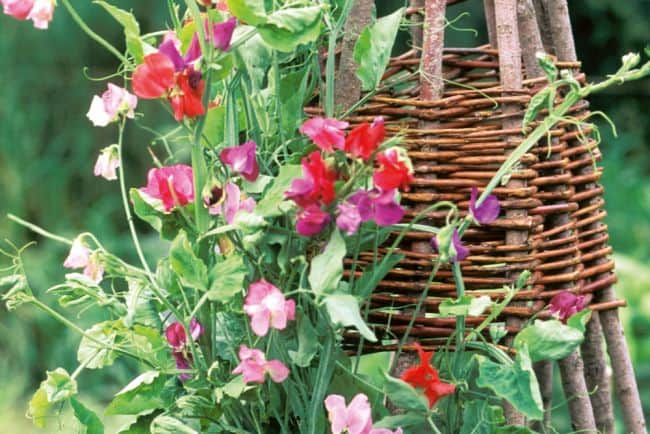 Image Credit: handyman
The above trellis looks simple but very colorful with pea blooms growing all over its wooden frame. The trellis is made using sticks or branches collected from the garden. The sticks are joined together using sturdy wooden twine that also lends it a natural look. You simply have to direct the tendrils of the pea vines and attach them to the trellis. Soon, these will latch onto the structure and grow upwards.
Final Thoughts
All these DIY pea trellis ideas are economical and have made use of natural and old things like wood, old pipes, sticks, twigs, twine, iron headboard, bicycle wheels, baby crib rails, and so on. These are perfect for offering support to your ever growing pea vines. So, pick one idea soon!
We are sorry that this information was not useful for you.
Tell us how we can improve.