18 Creative DIY Jeans Uses In The Garden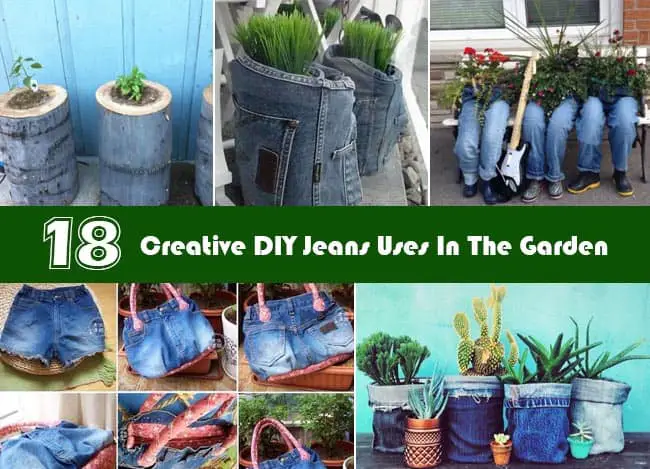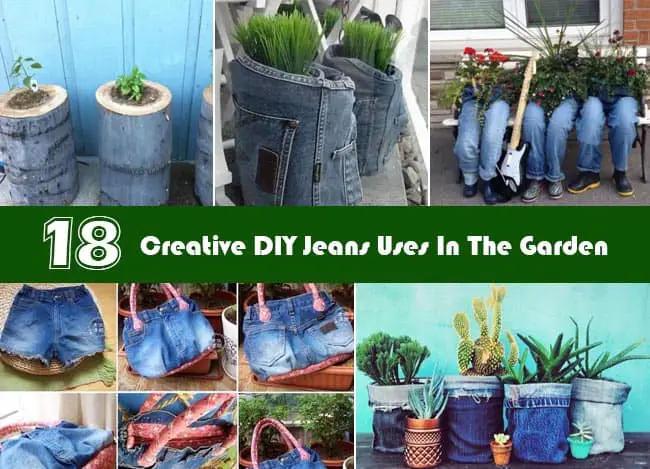 Recycling and up-cycling are the newest trends in decorating homes and landscaping. In gardening too, one can see the trend of using loads of creative ideas with old things. How would you feel if we showed you ways of using your old pair of denims in your garden? Old jeans need not be thrown away as now you can make good use of them with the help of these creative 18 DIY jeans uses in the garden that are about to be presented below.
1. DIY denim storage box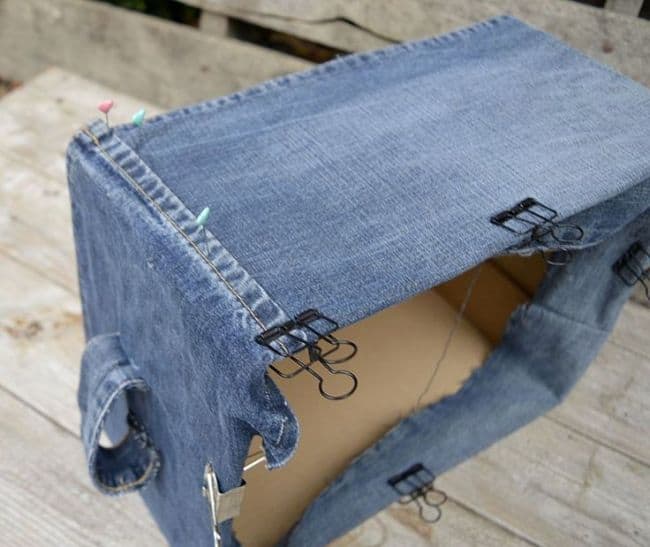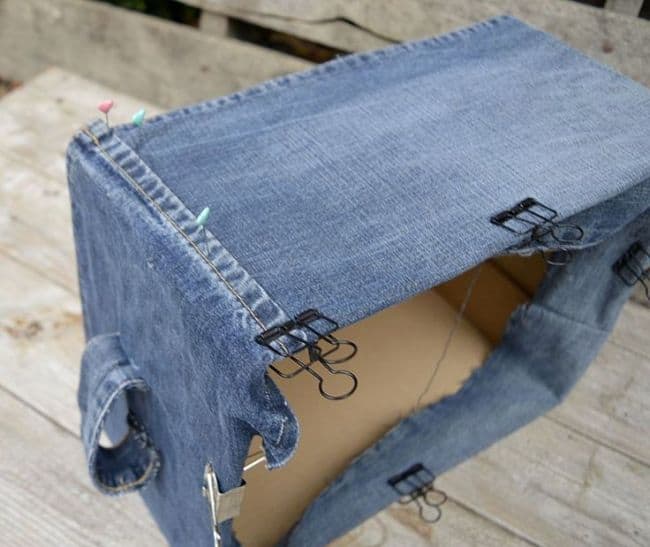 Image Credit: pinimg
There are umpteen jeans uses in a garden. All you have to do is open up your creative minds and think of ideas that are a little unique. One such unique idea is to craft a storage box made of an old pair of denim shorts or pants. The storage box shown in the image above is just the right piece for storing plant seeds or plucked flowers. The DIYer has wrapped a carton with an old denim cloth to make it appear attractive. Its a simple DIY craft suitable for any age.
2. No sew gardening belt made of old pair of jeans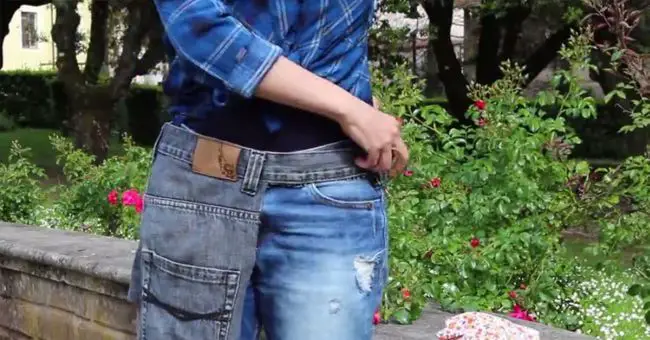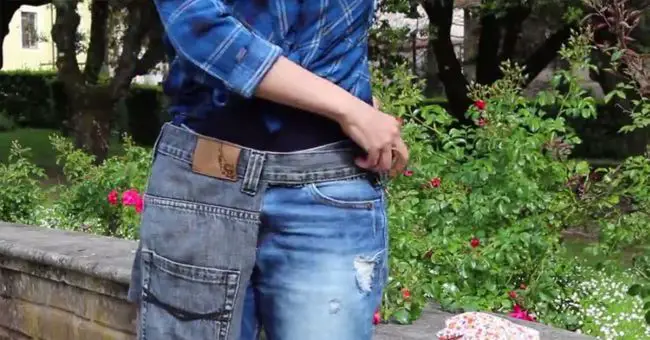 Image Credit: jumblejoy
If you happen to own a pair of old jeans, and are not sure as to what to do with it, then follow this idea that is shown in the image above. You can now transform your old pair of jeans into a garden belt that needs no stitching at all. The garden DIY belt seen is made of old jeans and needs no needles, and no thread. You can wear it comfortably and store small gardening tools.
3. DIY denim tote garden bag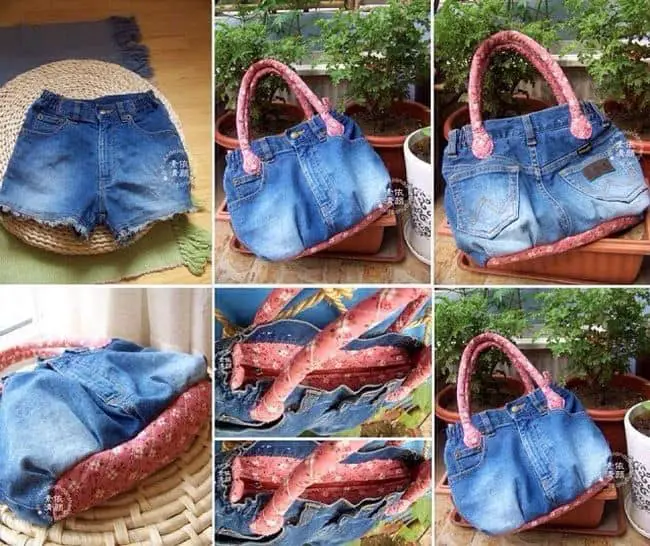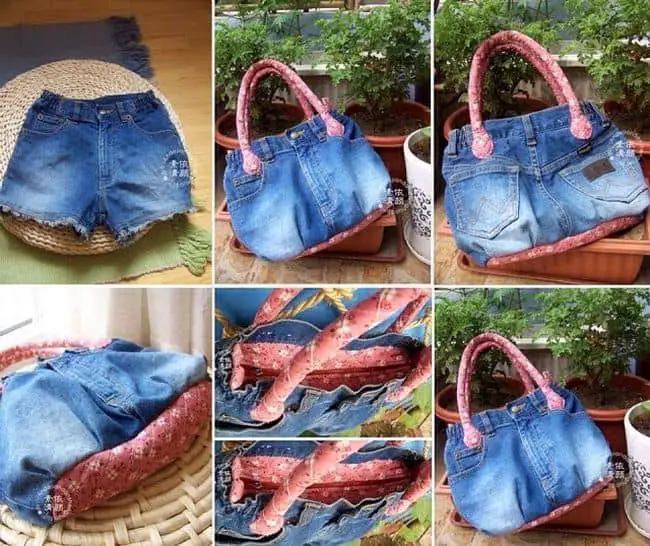 Image Credit: kinsta
If you are looking for creative DIY jeans uses in gardens, then you must try this idea for sure as its simple. This project is a perfect way to give a second lease of life to your old pair of denims. The DIY tote bag is made from old jeans and has been put together with the help of scissors, sewing thread, machine, needle, pins and some pink fabric. The bag is functional as you can put a lot of gardening stuff into it and carry it along with style.
4. DIY garden chair made with old denim straps and belts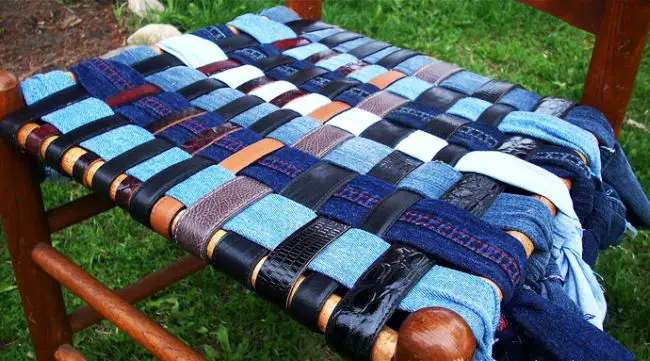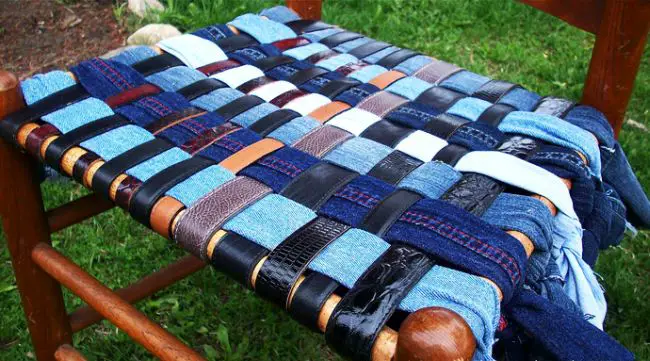 Image Credit: designrulz
Gardens can wear a chic DIY look with awesome chairs made with old belts and pieces of old denim. If you have an old chair that has lost its sheen and you are about to throw it in the junkyard, then stop, think and then take steps to craft out a whole new garden chair using old belts from your dad's closet and a pair of old jean. The seat of the chair is woven with an eclectic combo of belts and jean straps.
5. Cute DIY blue jean planter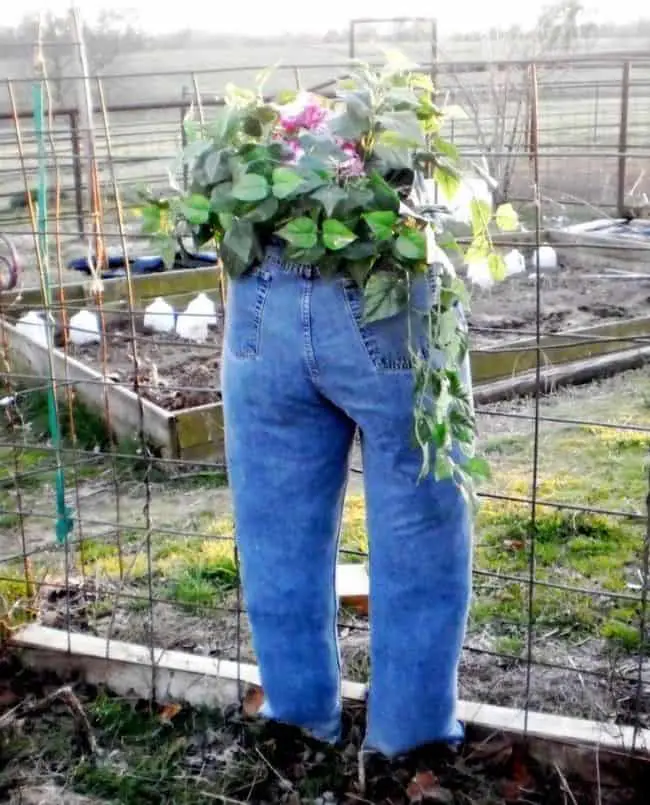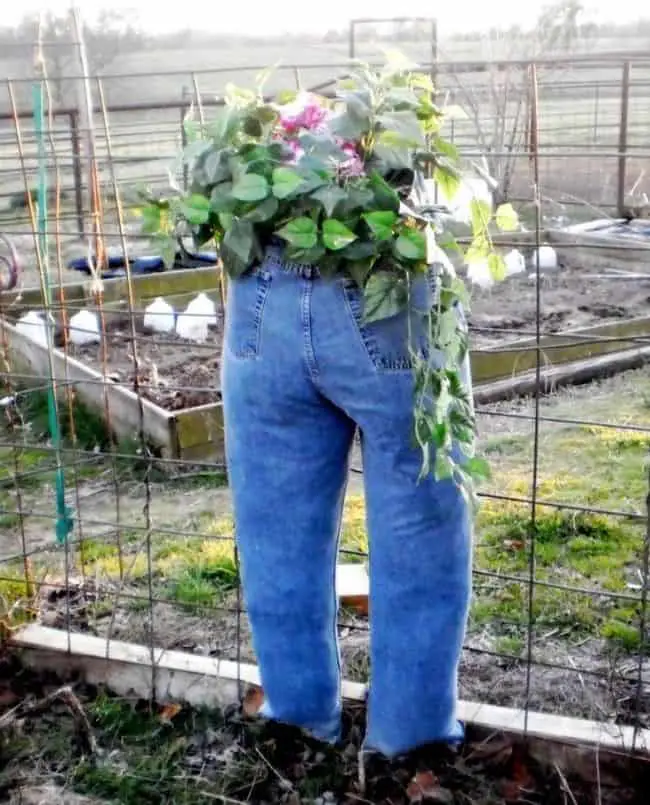 Image Credit: pinimg
Jean planters look very stylish and chic, and are increasingly being used to deck up landscapes. The jean planter shown here is tall and has been crafted out of a pair of used denims. Its not cut, and its leggings are filled with small pots inside to give it shape. The plant is planted inside using a bigger sized pot that rests inside the jeans.
6. DIY interesting jean planters with guitar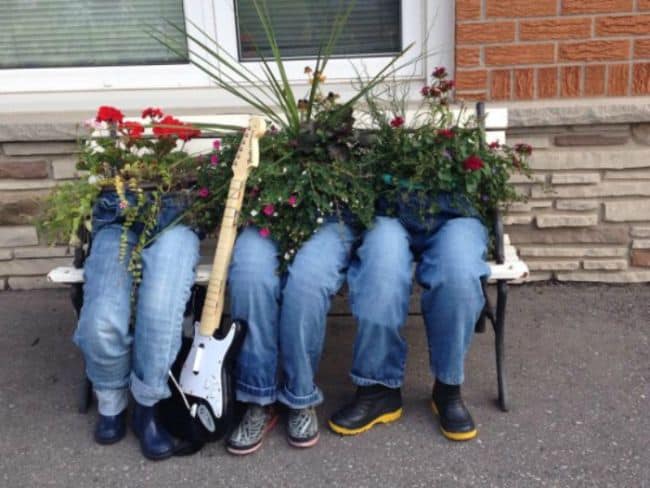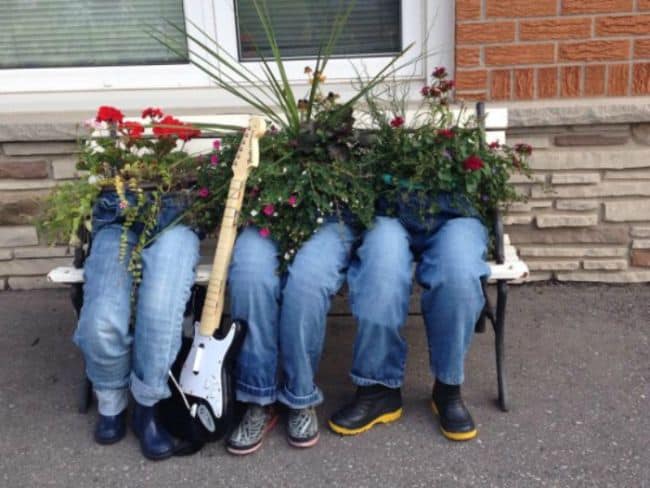 Image Credit: novate
Blue jean planters are always in fashion as there are umpteen ways to stylize them. From crafting a simple denim planter to a more flamboyant variant, the choices are wide. Such a cool example can be seen here in which the gardener has used three pairs of jeans plus another three pairs to make planters. The seating nook looks musical with the help of a guitar that is placed near the leg of one jean planter.
Also Read: 15 Natural Ways to Kill Weeds in your Garden
7. Fun DIY light and dark denim planters placed on a garden bench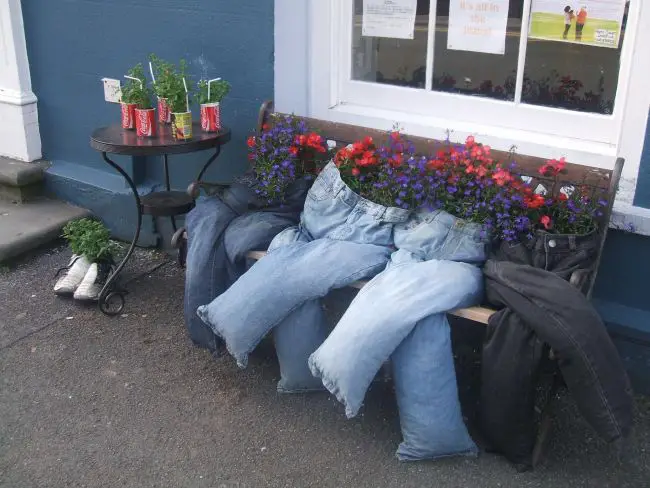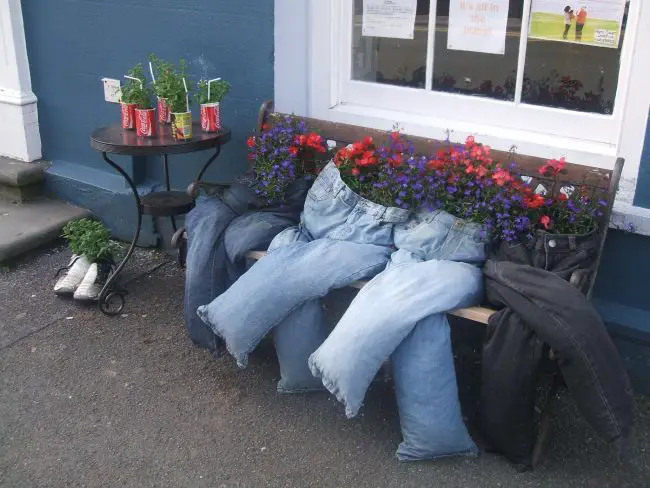 Image Credit: pinimg
Recycled jeans planters are a new age craze among DIY gardeners as the whole concept of using old pairs of denim is unique and costs nothing. Plus, denim has a universal appeal that never dies down. The jean planters seen in the image look quite impressive and have been crafted to resemble youngsters sitting cross legged over a garden bench, and having an informal chit chat with one another….very unique! The gardener has planted colorful flowers in these planters and has made use of both light as well as dark colored denims.
8. DIY jeans back pocket hanging planter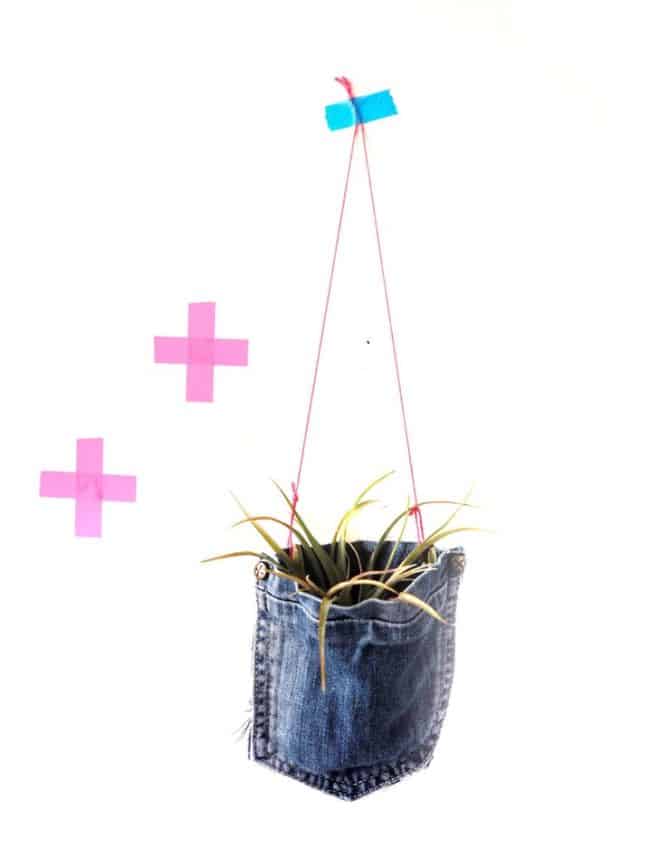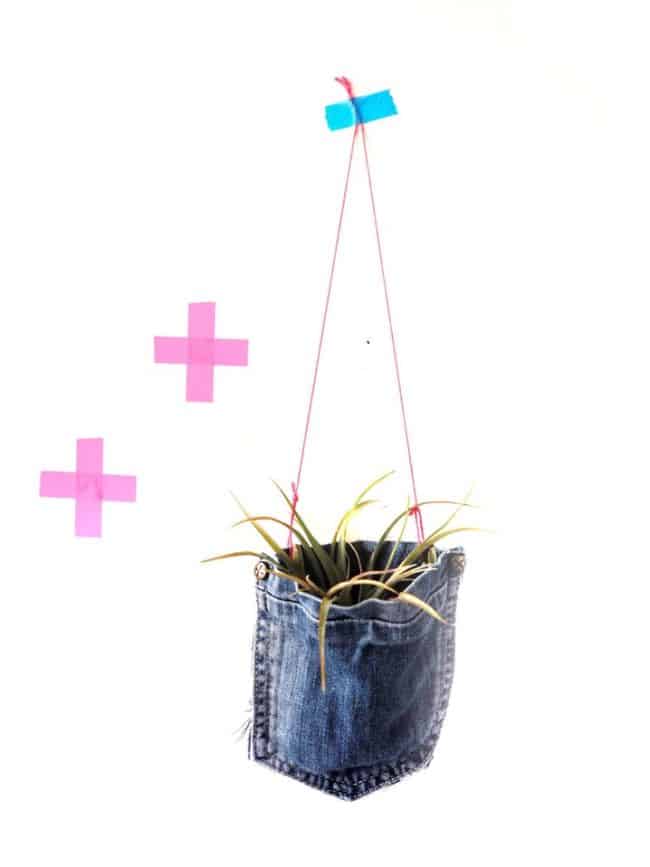 Image Credit: atmine
Whoever said that you can use only full length jeans to be transformed into lovely planters? There are many other DIY jeans uses that are truly inspiring. One such inspiring idea is to make use of the back pockets of your old denim pants or shorts, and covert these into hanging planers. The image shown here follows the same concept. The compact hanging planter looks adorable and can be hung anywhere, both inside as well as outside in the garden or patio.
9. DIY denim succulent pot cover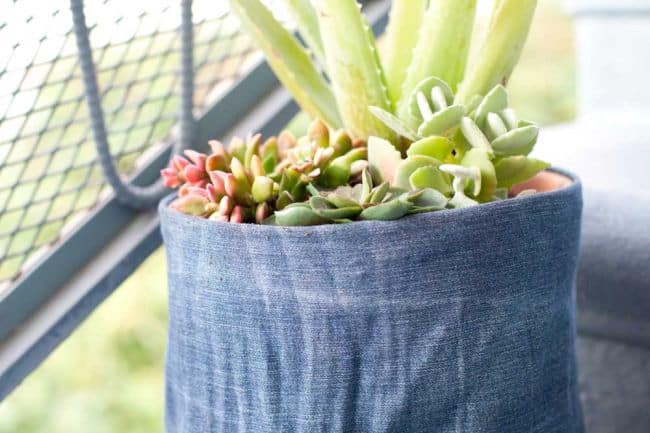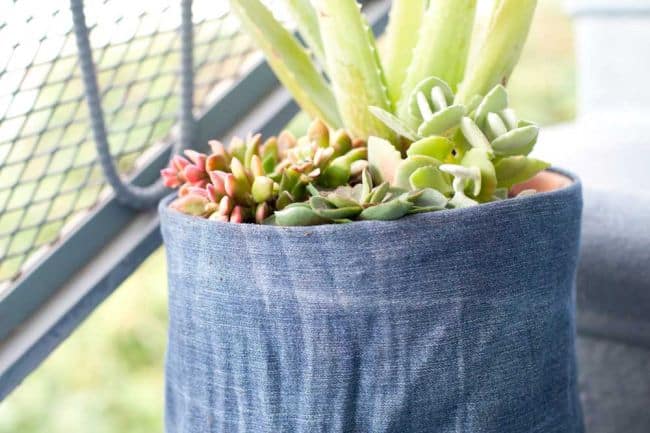 Image Credit: oubly
Pot covers can be of different styles and textures. These are very helpful when you are trying to protect the expensive pots from getting damaged due to cold or heat. Also, pot covers are used to make the potted plants appear more funky. If you think you need to reuse your old pair of denim pants or shorts, then do look at this amazing DIY idea that has used denim as a pot cover for growing succulents. This is a cool upgrade for your old pair of jeans!
10. Adorable DIY denim potted plants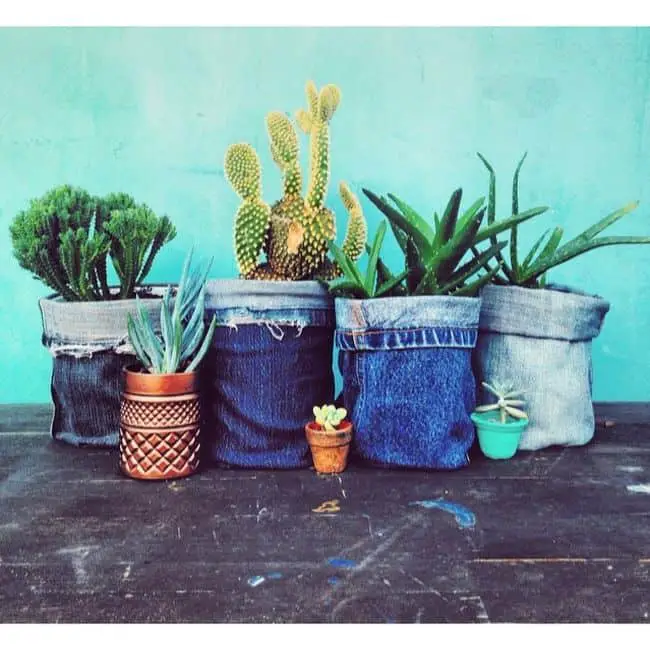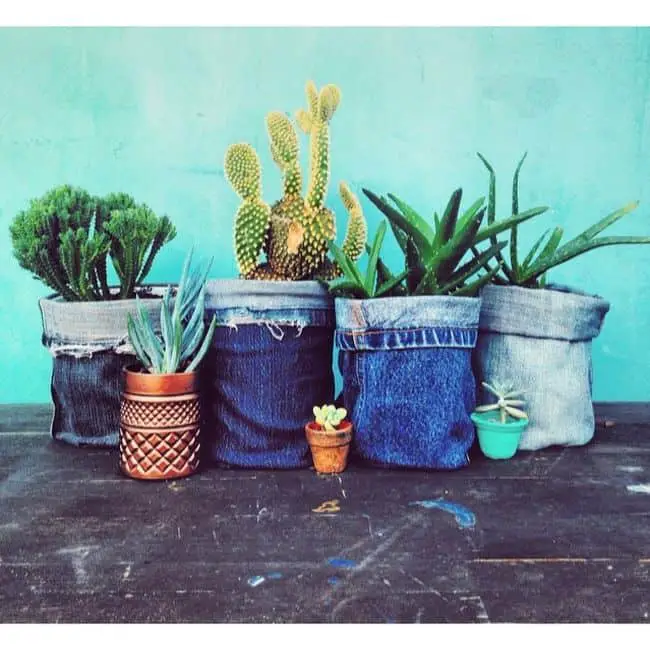 Image Credit: frayedlanguage
Blue jean planters such as the ones seen above not only increase the style quotient of any spot, but are pretty easy on the pocket too. The DIY planters are made with old pairs of jeans and are used as planters for succulents and cactus. You can mix and match dark blue with lighter shades of it if you like. These can act as pot covers or as planters for any type of plant or flower.
11. Awesome recycled jeans planters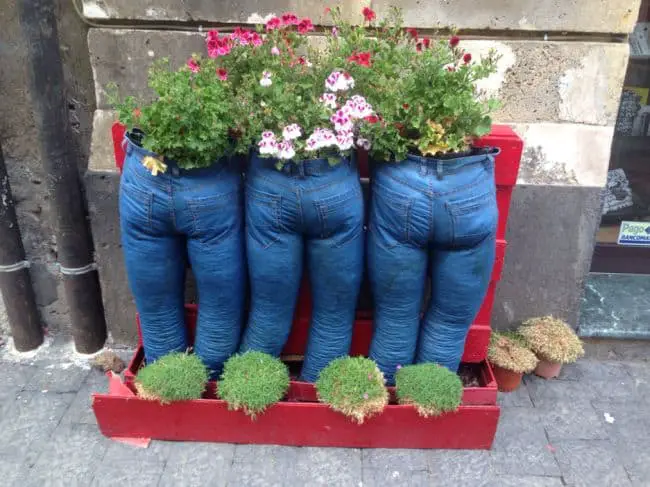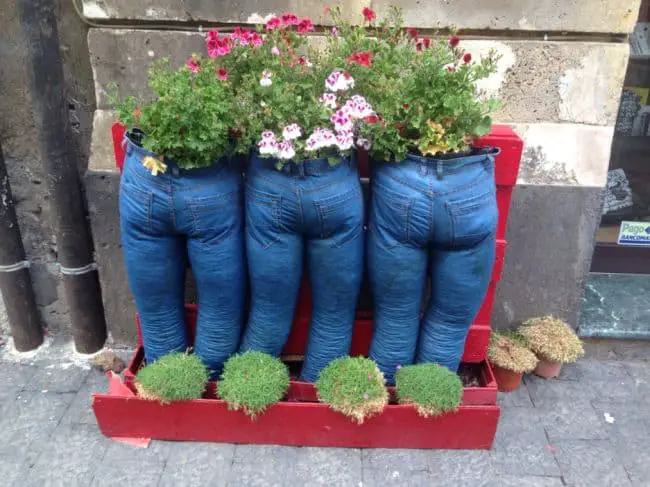 Image Credit: over-blog-kiwi
These jean planters look cute and are placed in a standing fashion inside one of the shelves of a DIY desk planter. These jean planters are filled with pots so as to add volume inside, and are then filled with all kinds of fresh flowers.
12. DIY jeans garden apron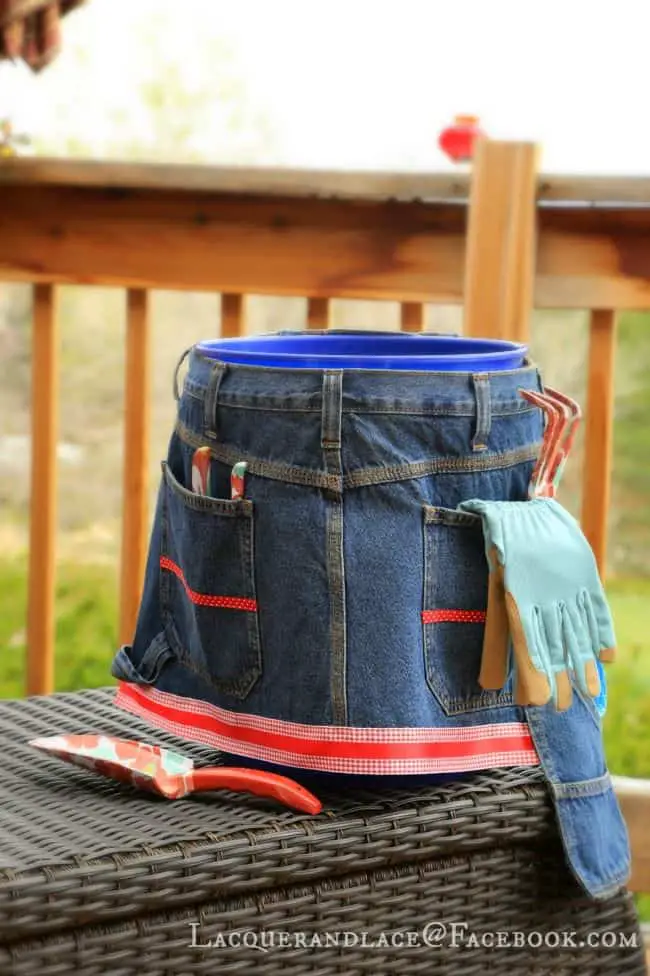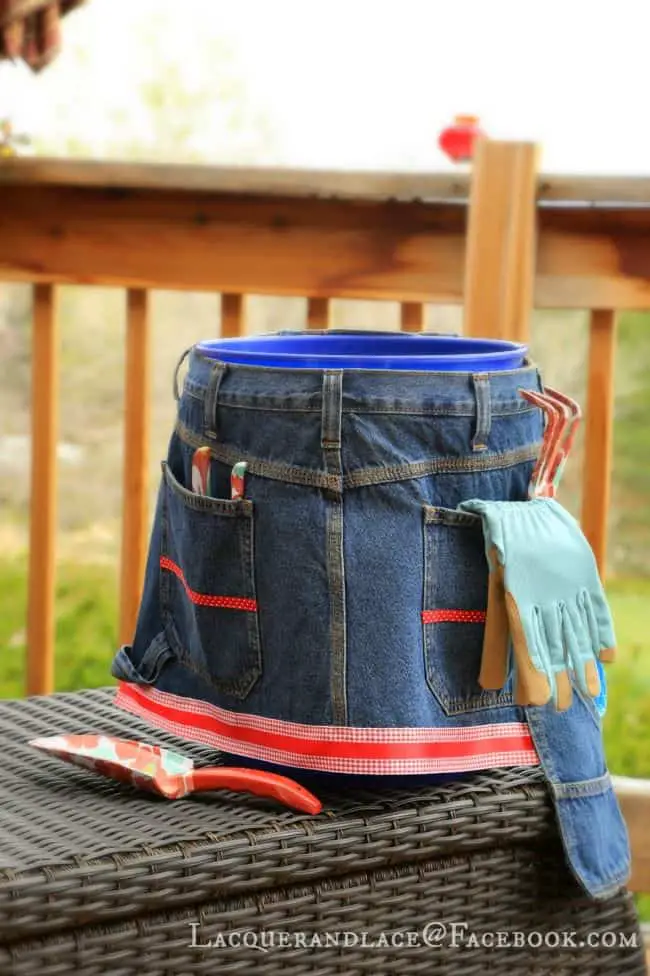 Image Credit: blogspot
Now, you can make your very own garden apron using old denim. Aprons are a necessity when you are out handling dirt and soil. But, its a waste of money to go in for expensive aprons as these will wither away sooner or later. So, in order to save money and to create stylish aprons, you can try using your old pair of jeans. The apron shown here needs no sewing and can withstand hard use.
Also Read: 31 DIY Awesome Ideas with Pots and Rocks
13. DIY denim knee pads for gardening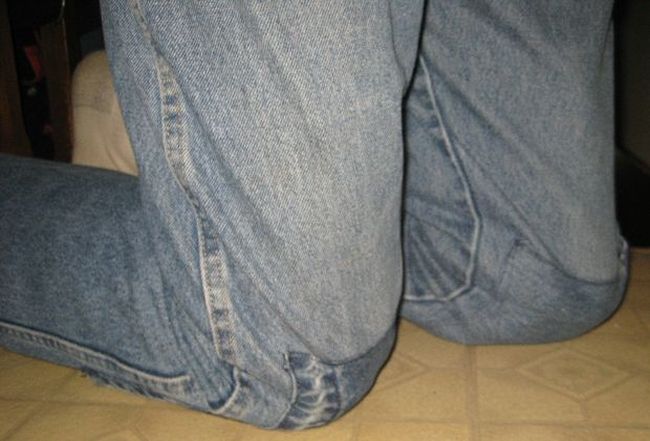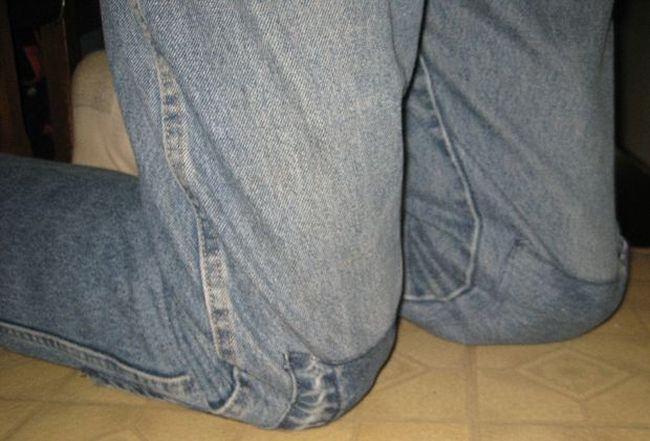 Image Credit: instructables
Denim can be used in plenty of unique ways – ways to spruce up your interiors as well as exteriors. One clever idea to use old denim is to convert these into knee pads for gardening. Gardening is a strenuous job and needs a lot of kneeling to do various jobs like digging, planting and maintenance. Instead of buying costly knee pads from stores, you can use your old jeans to be crafted into comfy knee pads. All you have to do is cut off the long cuffs for making knee pockets, then, cut the pad material out of anything, and afterwards, sew it in the pockets.
14. DIY denim covered stump planter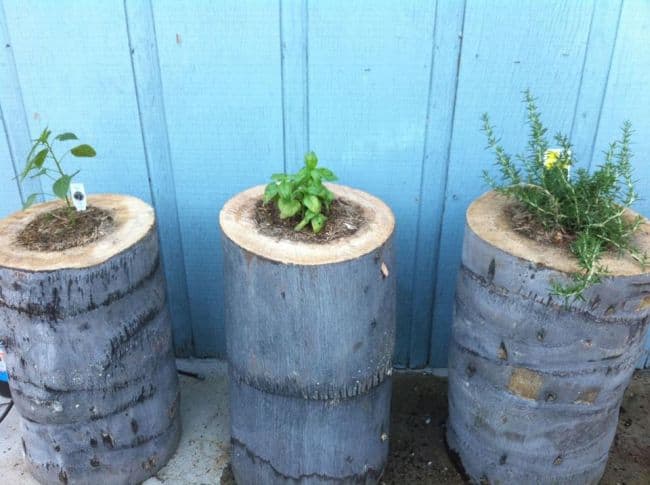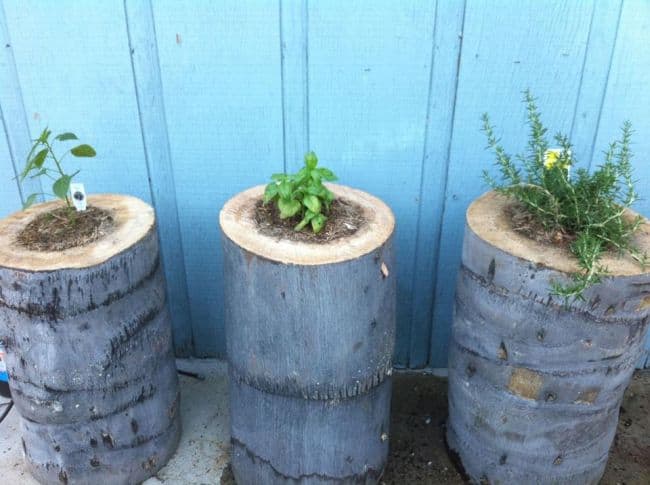 Image Credit: decorhacks
Tree stumps make stylish planters specially when you wrap them up with trendy fabric, including old denim. This is what is seen done to these stump planters that look quite funky in jean wrapping. If your jeans have faded, don't throw them away. Instead, layer these up around tree stumps and start planting. Here is the tutorial.
15. DIY recycled denim frost cover for plants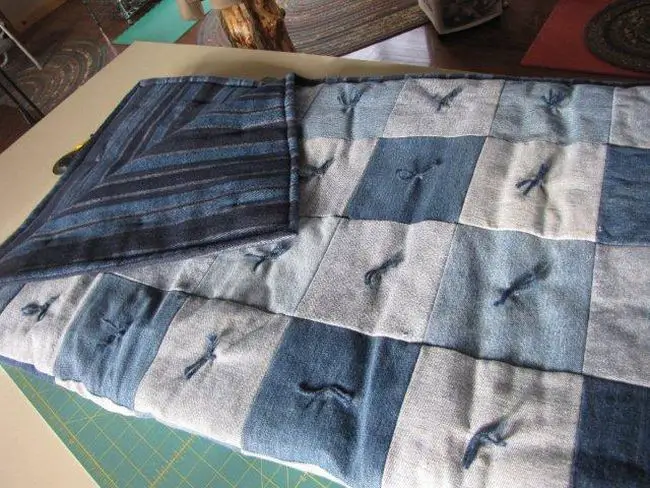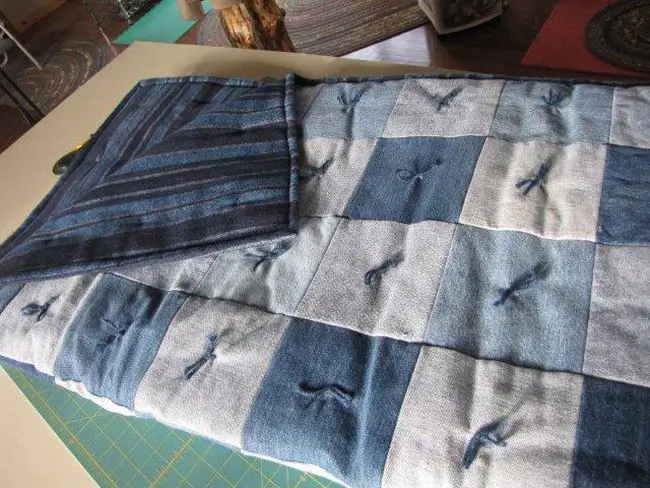 Image Credit: blogspot
Stop investing in costly frost covers for your precious plants and choose DIY covers that will not only save you lots of money, but will also lend more funkiness to how your gardens look. Old jeans can come to your aid when thinking of crafting DIY frost covers. The image here shows a quilt made of old denims. This quilt can be used as a frost cover for plants.
16. DIY jeans pot covers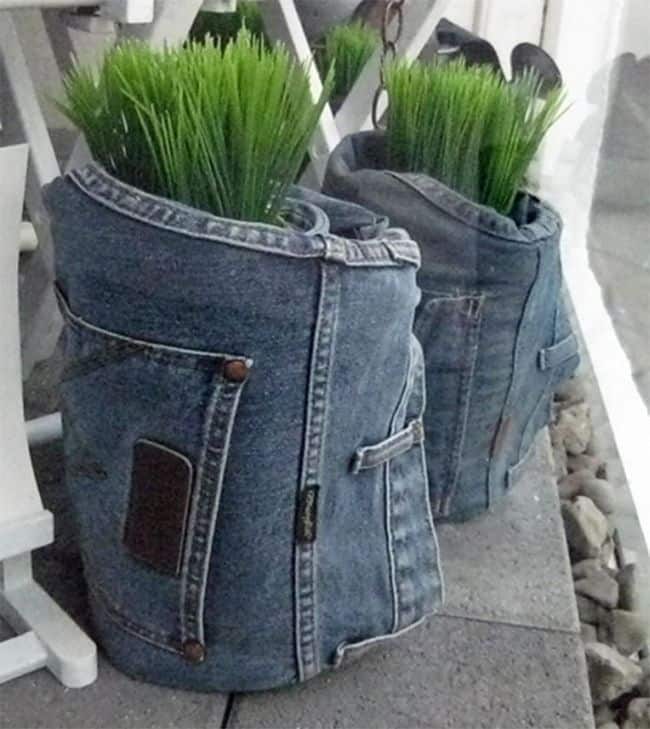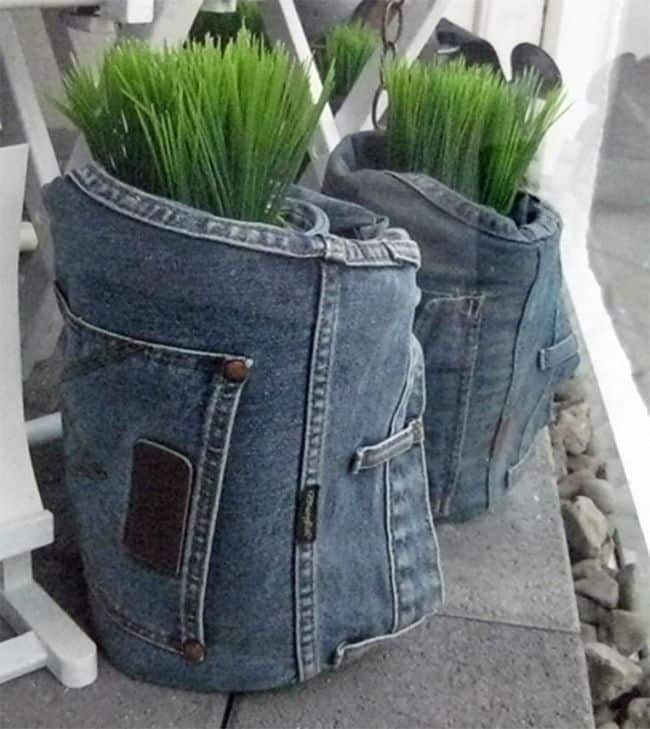 Image Credit: recreoviral
Denim planter covers like the one shown here look quite appealing, and these are pretty easy to make. You don't have to always cut bits and pieces of your old denims to make pot covers. You can also use an entire jean pant or trouser to be converted into a stylish pot cover. The pot covers above are folded using full length jeans. You can wrap your pots with various styled jean covers to reflect the varying moods and seasons.
17. DIY old jean garden quilt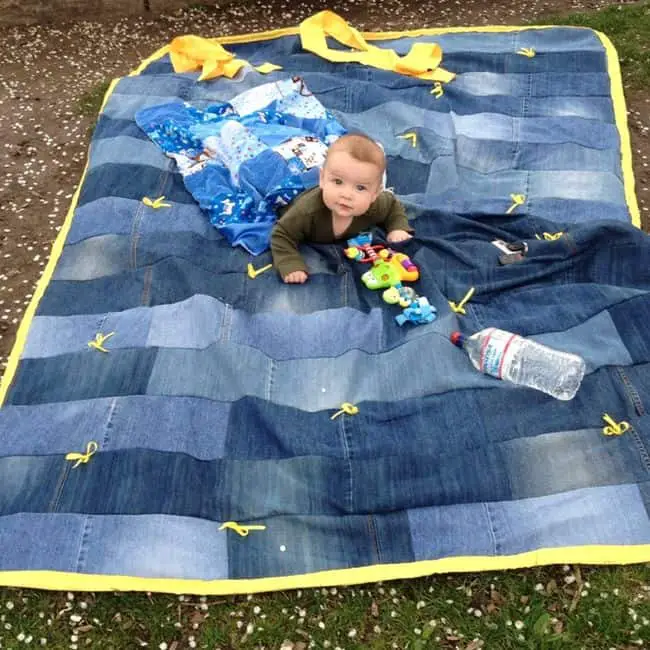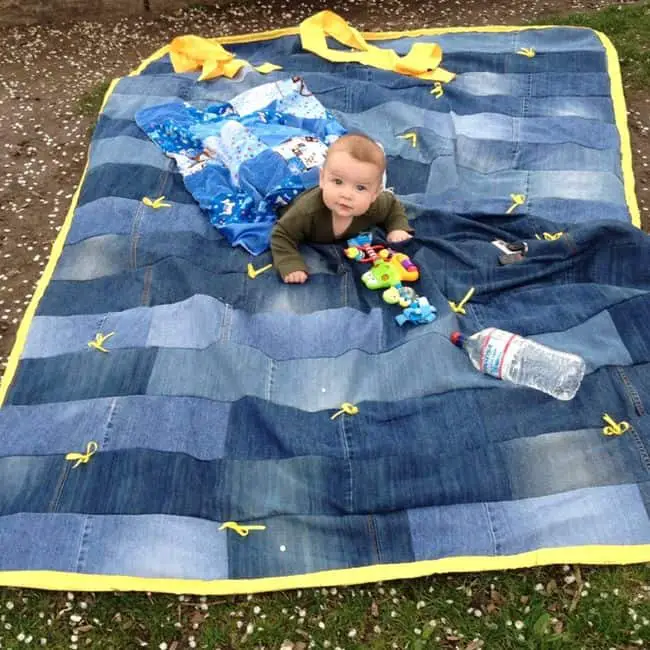 Image Credit: pinimg
Have you had enough of jean planters and covers? Well then, how about using your old jeans or denims to craft beautiful garden picnic quilt? You can use your old denims to make lovely looking picnic quilts or rugs such as the one shown above. You can buy vinyl tablecloth lining from Walmart or any other store at a reasonable price, then, sew it to make the quilt water and moisture resistant. Thereafter, use ribbons in satin to craft lovely looking bows all over.
Also Read: 21 Fantastic Vintage Garden Decorations
18. DIY balcony garden with jeans planters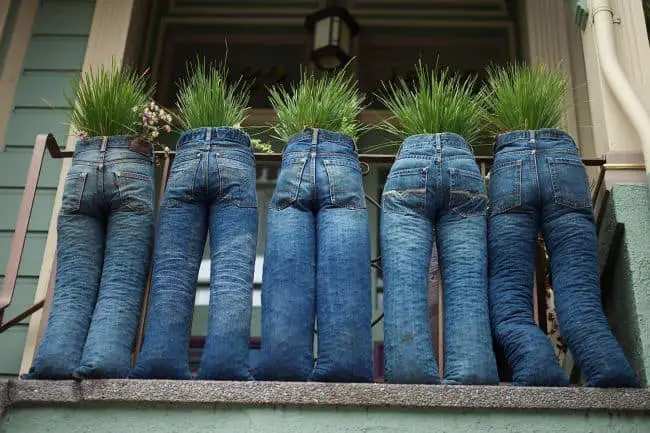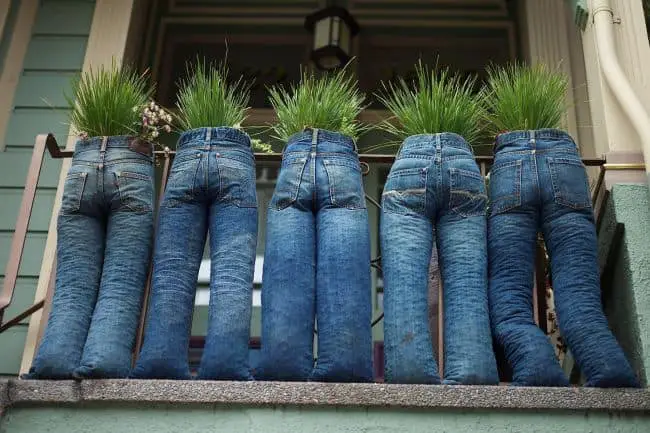 Image Credit: hizliresim
The cute denim planters seen here not only act as planters for your flowers, but also offer privacy, when arranged systematically outside the rails of your balcony. Simple to make, these planters are must to include feature in your garden if you are a firm believer in doing things your way. Here is the tutorial.
Final Thoughts
Hope this article on awesome DIY jeans uses has been successful in inspiring you to think out of the box, and make good use of your old pair of jeans. If you have some other ideas to contribute, kindly ping us soon!
We are sorry that this information was not useful for you.
Tell us how we can improve.