31 Fascinating Homemade Flower Pots Ideas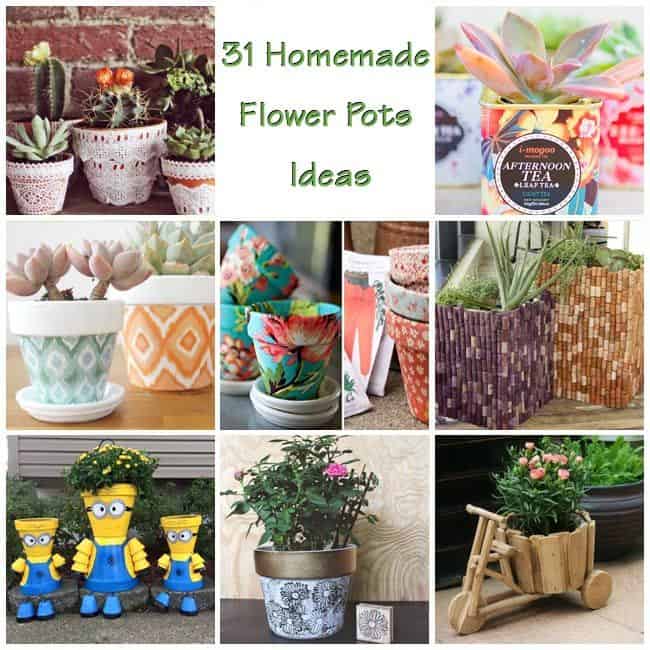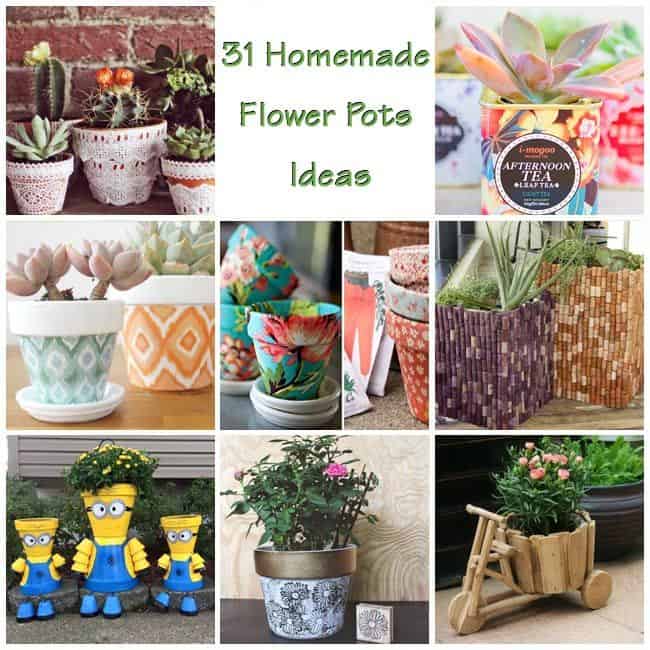 The pleasure that one gets when they see the fruits of their labour being appreciated by others is extraordinary. DIY is the new mantra in gardening. And with these awesome homemade flower pots ideas, you are bound to get loaded with accolades and praises! If you have some free time at disposal and are looking for utilizing that time to craft natty and artistic flower pots and planters, then do take a look at these unique DIY flower pots that we have rounded for you all. All these DIY gardening ideas are quiet easy and bring out the 'artist' in you.
1. DIY ceramics flower pot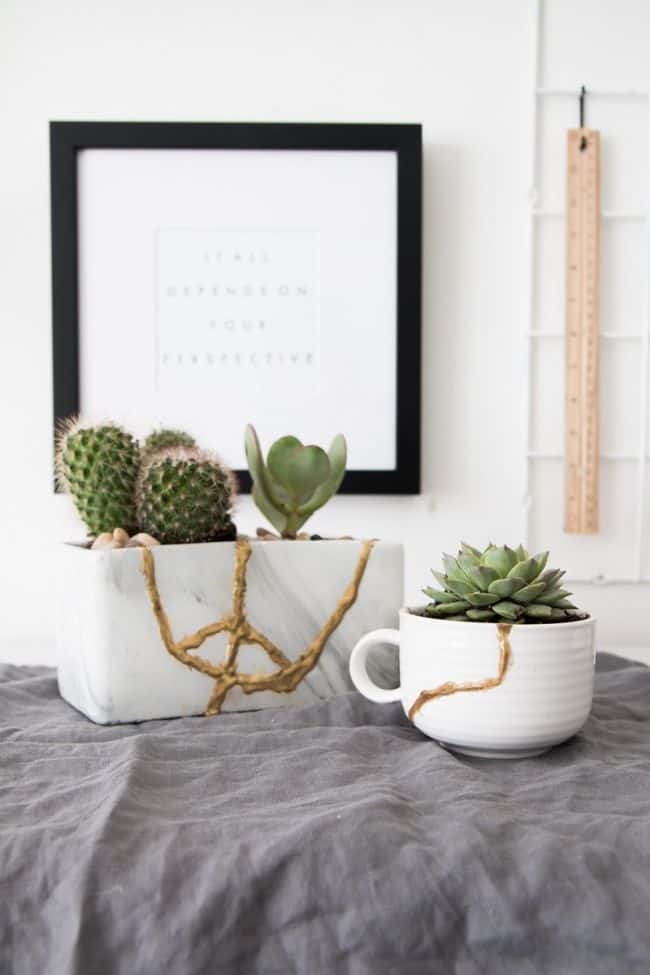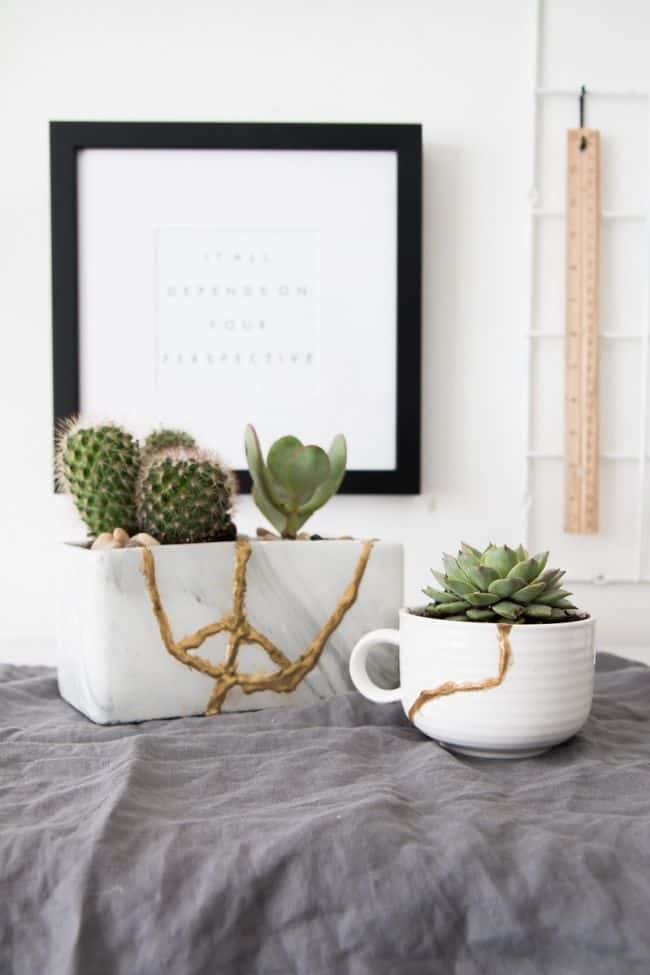 Image Credit: thebeautydojo
If you have stacked away your broken ceramic vases or cups, its time you took these out and gave a whole new twist by making these transform into stylish flower pots. The ceramic flower pot is a DIY project and has been repaired with the help of gold fillers. This is an old Japanese restoration technique used for repairing broken ceramic pieces. You can craft out various designs using this technique.
2. DIY flower pot made with tin and moss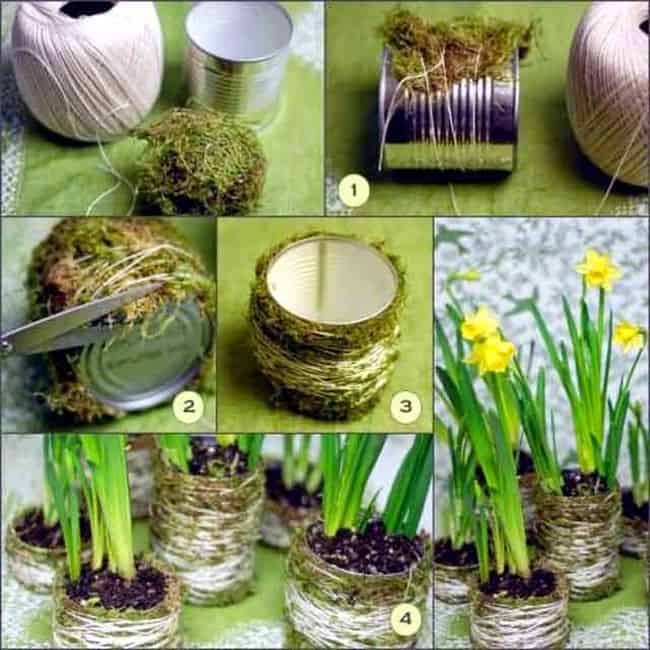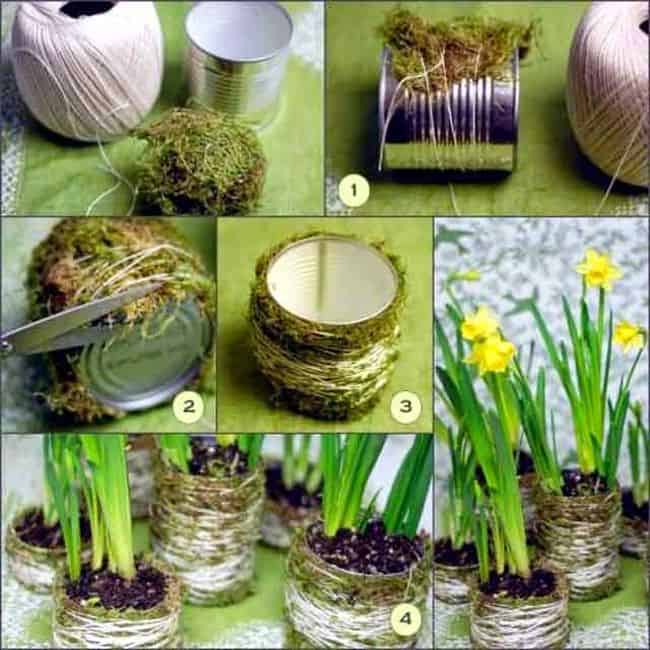 Image Credit: britcdn
Homemade flower pots ideas with old tins is quite in demand every season. This is because tins are easy to be converted into flower planters or pots and can be given different kinds of look to suit one's taste and liking. Here is a unique DIY flower pot idea that uses old tins and moss to be converted into amazing looking flower pots. Simply place moss over a tin and wrap it using a string. Once done, fill the tin with soil and pebbles and plant your flower plant.
3. Stylish DIY wooden strip flower pot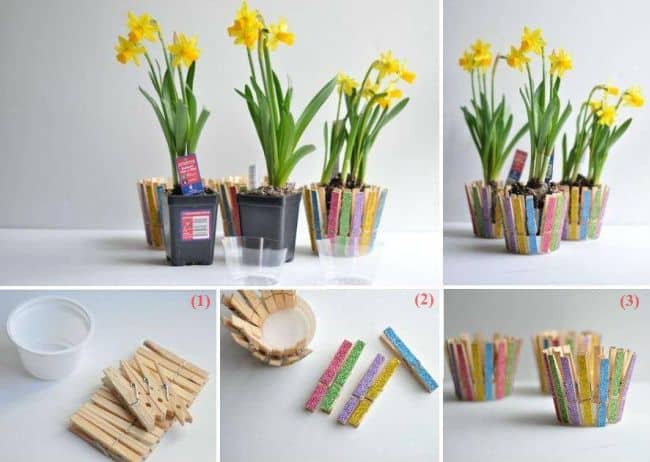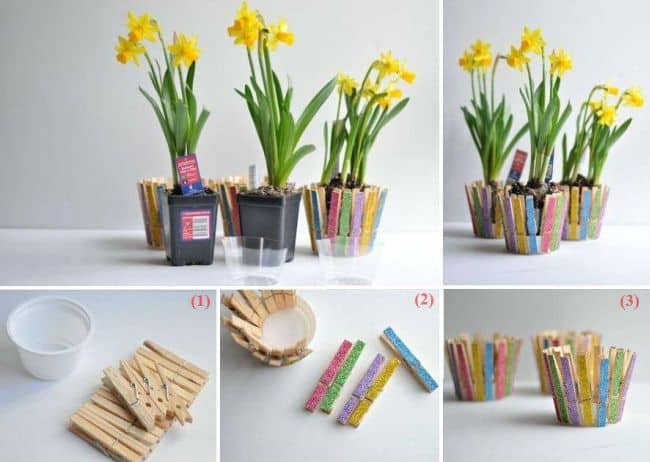 Image Credit: topdreamer
This is a colorful flower pot idea that you can craft out easily using wooden strips of varying colors and sparkles. The flower pots are made using wooden strips that have been painted in different shimmering shades and then fixed on the circumference of the plastic cups. Alternately, you can also use wooden clips, paint them, and then stick these on the body of the cup. The pots can add a million dollar look to your interiors.
4. DIY lace flower pots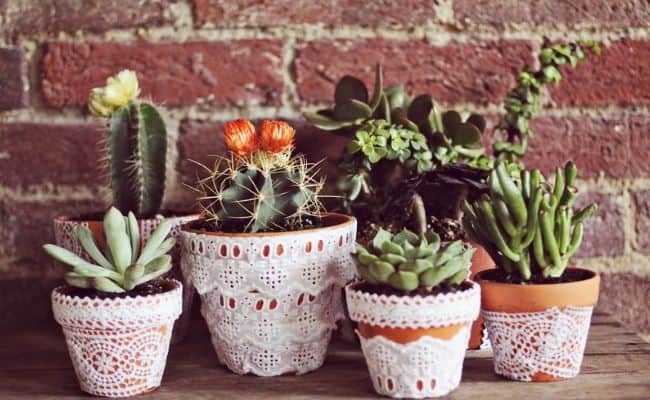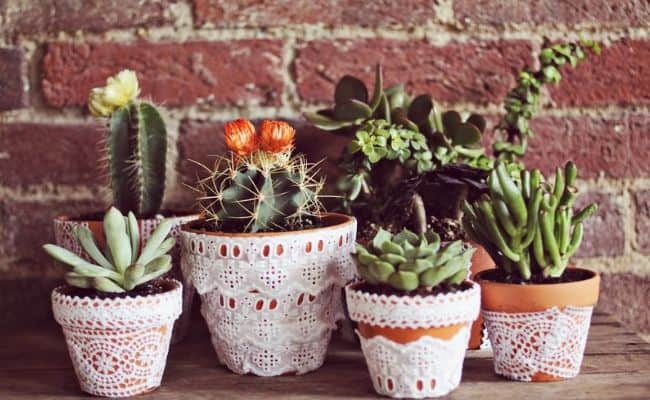 Image Credit: diyhomelife
How to make flower pots at home using readily available things at home? Well, you could use many stuff like lace for adding a DIY touch to your pots. The image shows how normal terracotta pots can be decorated using lace. Cut out any pattern in white or colored lace like black and paste it all around your pots in ways that you like. This is a very easy DIY project everyone can do at home.
5. Simple DIY faux wooden flower pot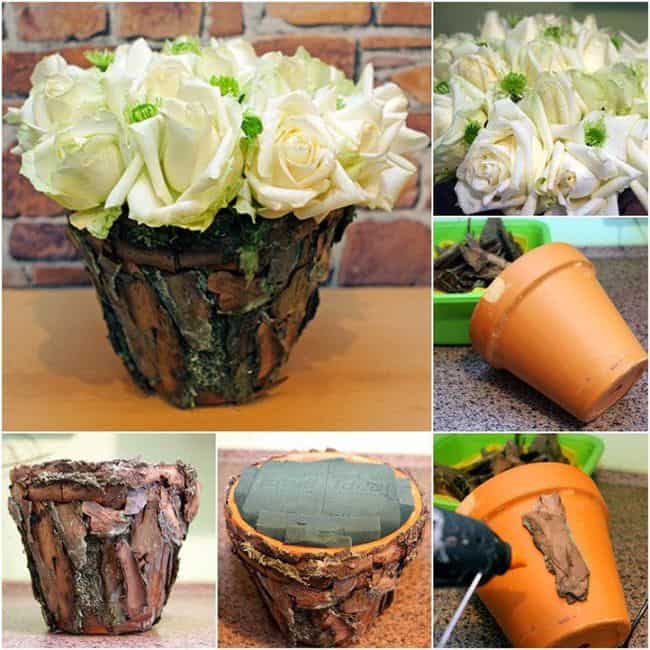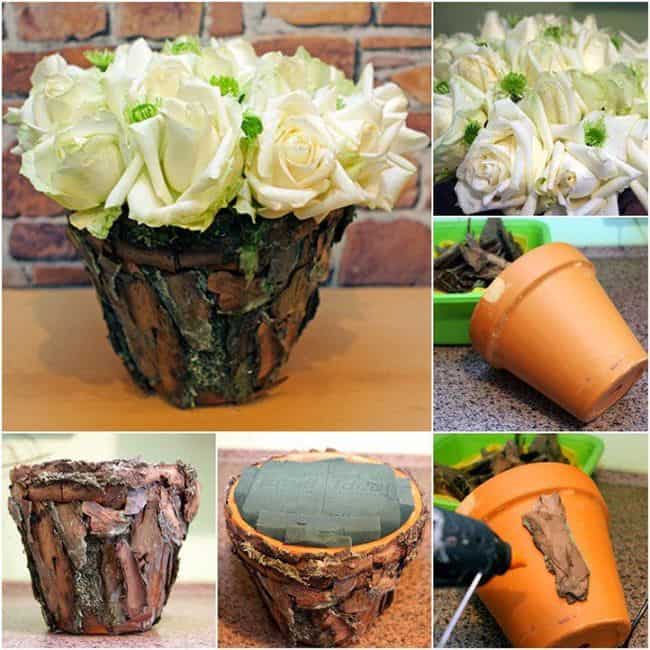 Image Credit: architectureartdesigns
Its not necessary to have real wooden pots when you can camouflage plastic ones with faux wooden covering. This is what has been done to the flower pot in the picture. Just buy an usual plastic flower pot and then stick pieces of wooden bark all over the body of the pot. The design can be different and as per your liking. A very innovative DIY project it is…so try it!
6. DIY vintage tea tin planter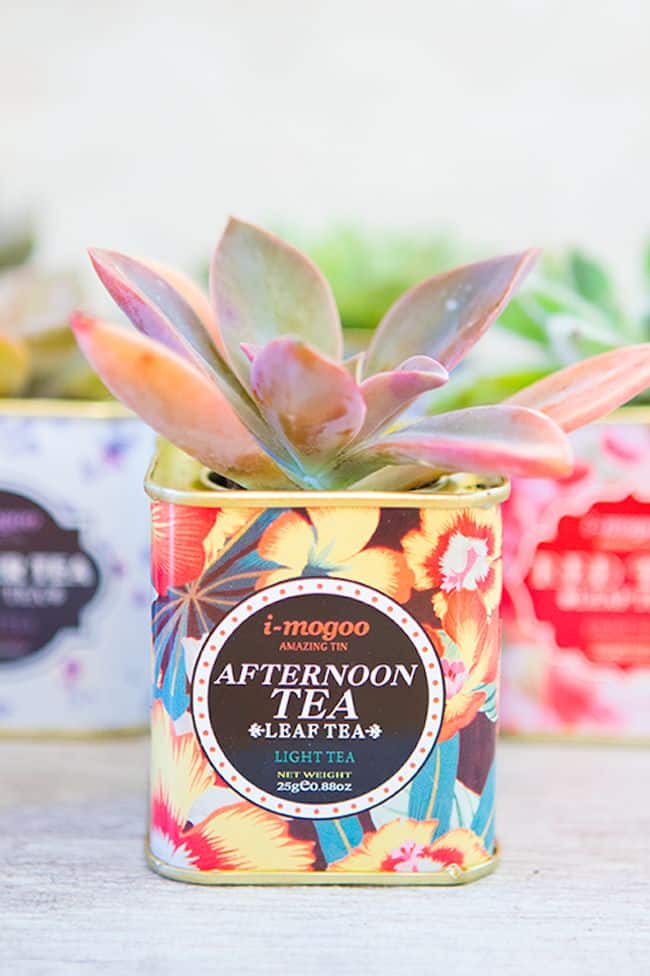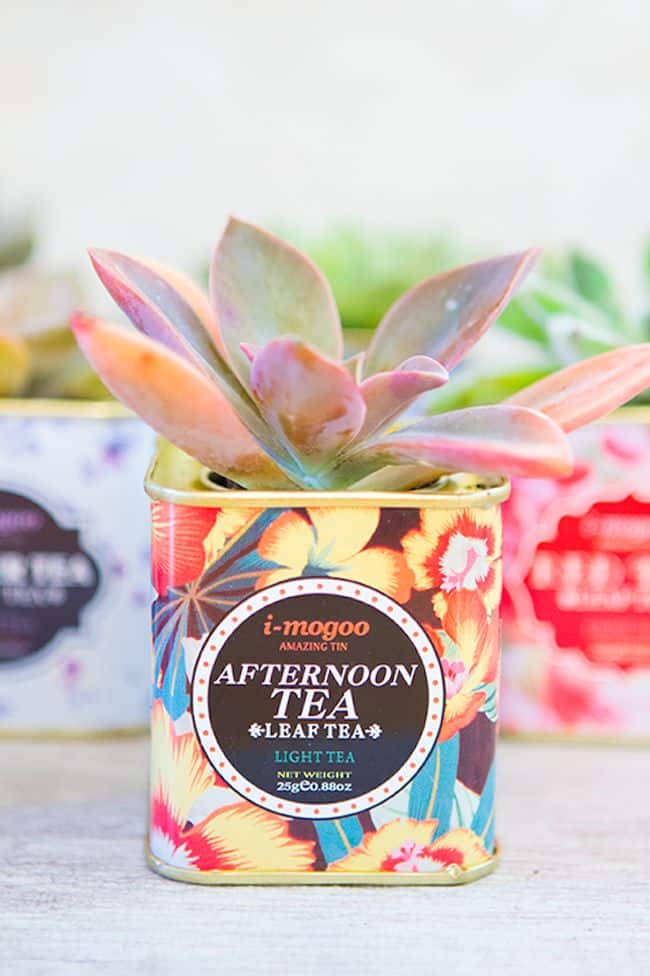 Image Credit: googleusercontent
DIY flower pots with old tea tins can lend a vintage look to your interiors as well as exteriors. Making flower pots using old tea tins is not difficult at all. Simply choose a few good looking vintage tea tins and make holes at the bottom. Paint the exterior with any paint as you like or just use these as pots in their original form. Fill with potting soil. Then plant your flowers.
7. Hand decorated confetti flower pot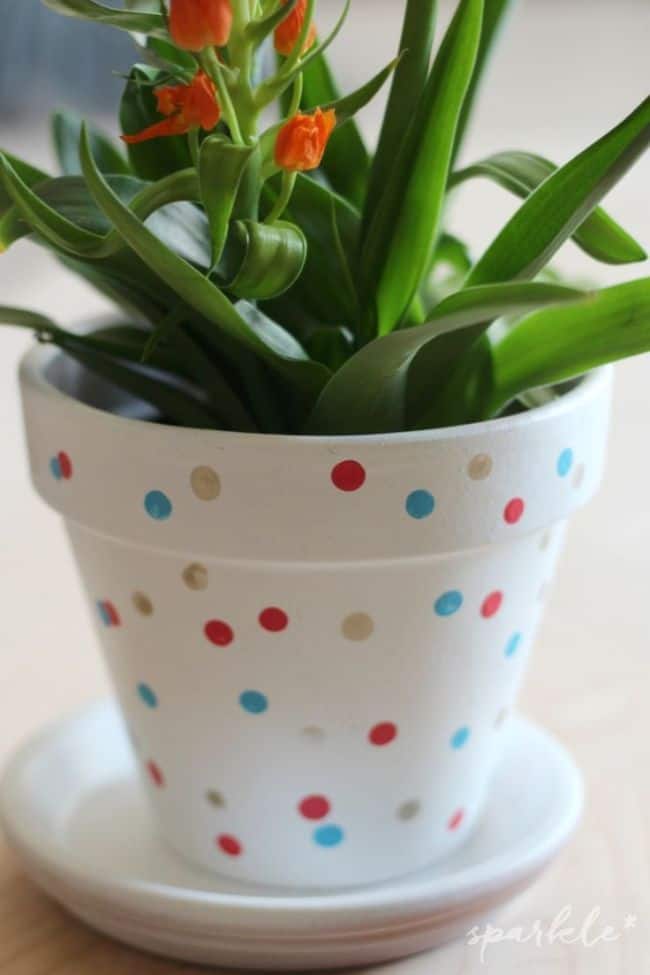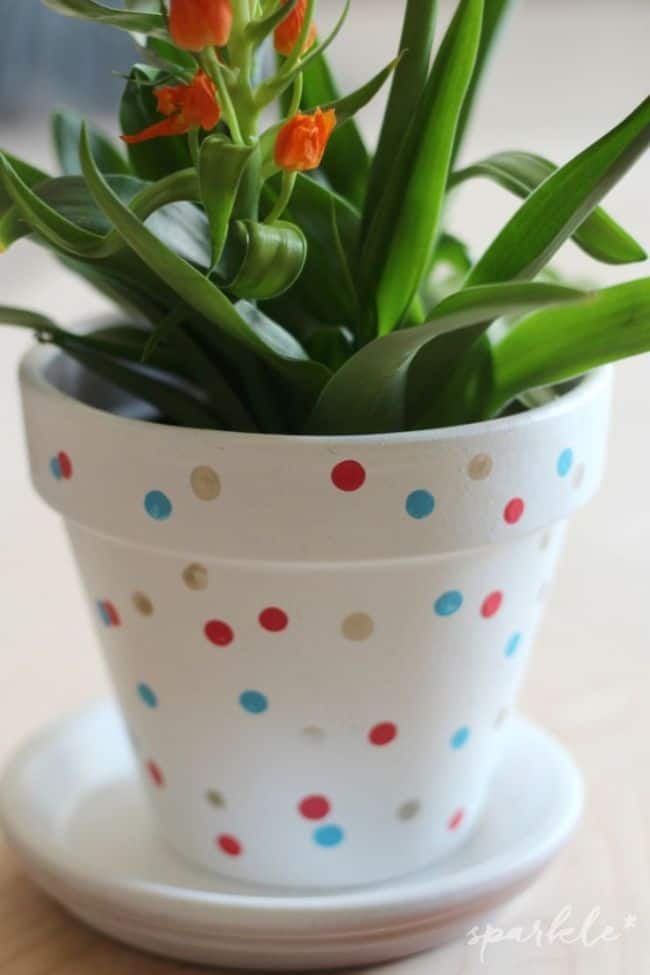 Image Credit: pinterest
Summer is all about showcasing your inner most creativity, and what better way than to think of crafting your own flower pots! You can use confetti to deck up the exterior of usual plastic pots and see how everyone notices the uniqueness. Choose any sized confetti and match it along with the color of your flower pot or planter.
8. Stylish DIY wooden planter boxes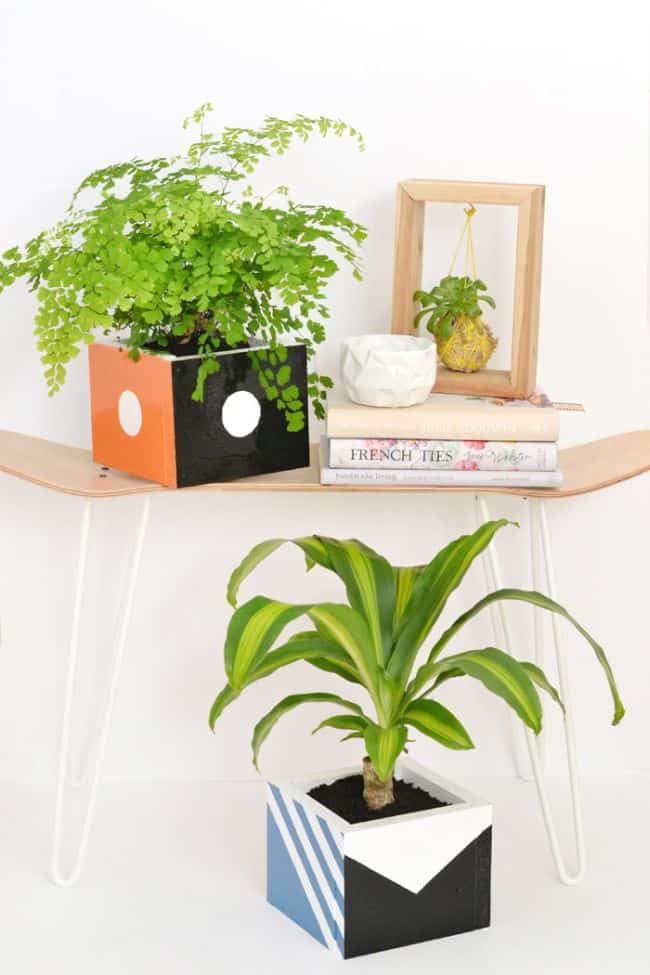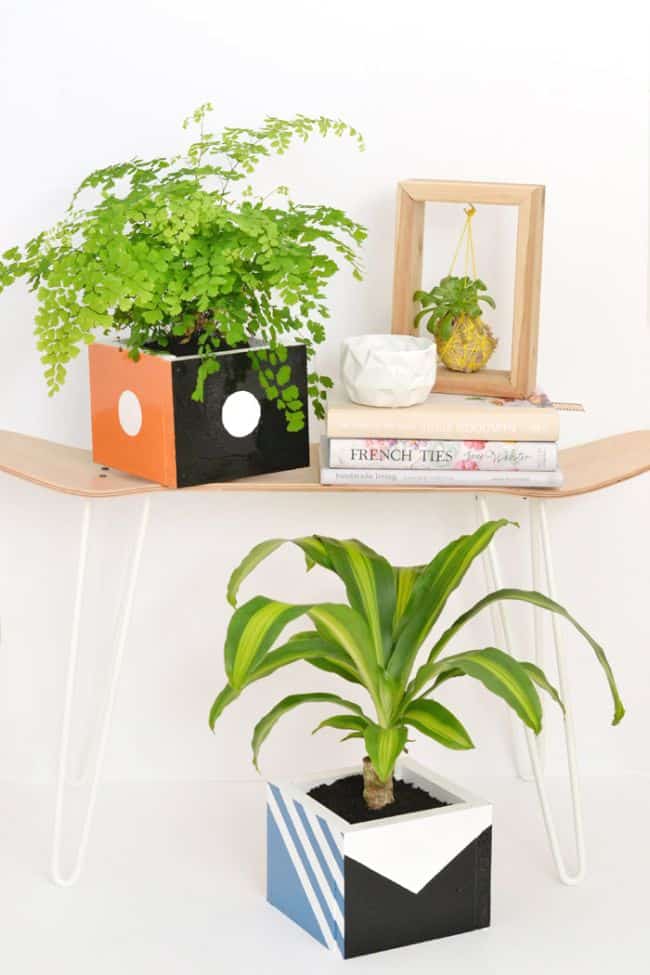 Image Credit: designsponge
For crafting these stylish wooden flower pots, you would need wooden square pieces, paint, nails and glue. Paint using any acrylic or water paint of various shades. Then, nail the pieces together to form into pots. Fill these up with soil and plant your flowers.
Also Read: 31 Amazing Plants that Grow in Shade Easily
9. DIY Ikat painted flower pots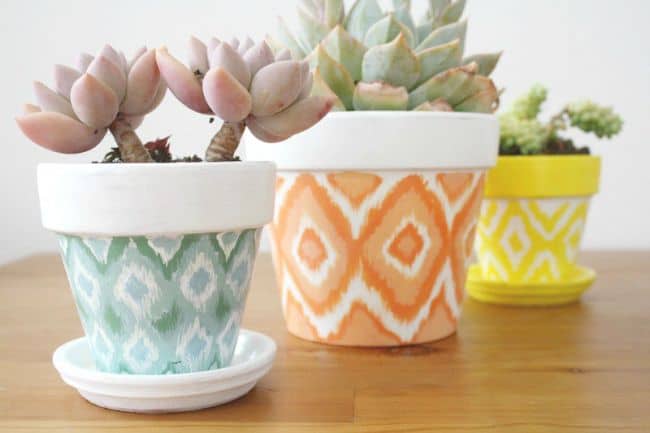 Image Credit: makeit-loveit
Ikat is in vogue these days and you will often spot Ikat prints decorating your sofa cushions, wall paintings as well as flower pots. The idea is unique and lends a charming touch to your decor. Paint the pots using a base coat of white paint. The Ikat design has to be painted using any color of your choice like yellow, red or pink. Then spray lacquer all over the pots.
10. Cute DIY fabric covered flower pots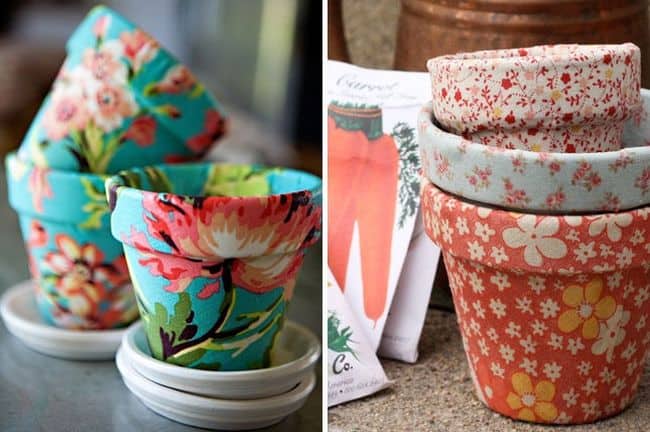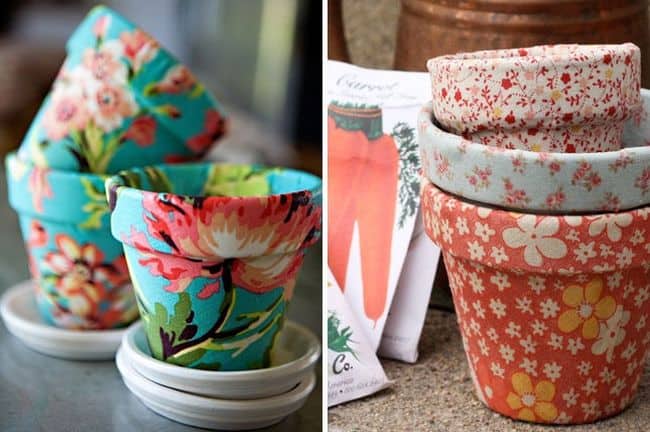 Image Credit: britcdn
Now is your chance to turn old and boring looking pots into something sassy and chic! Yes, with these fabric pots as shown above, you can take your decor style to another level. After you have selected the fabric designs to be used on the pots, its time to cut them. After spraying adhesive on the pots, you need to paste the fabric over them. Voila…you are done and ready to flaunt!
11. Creative DIY flower pots decorated with stones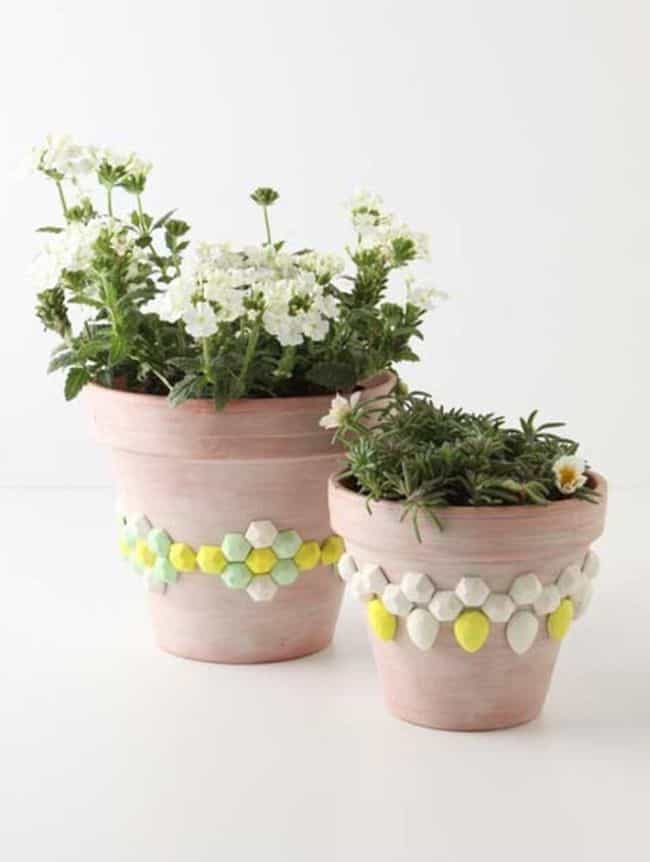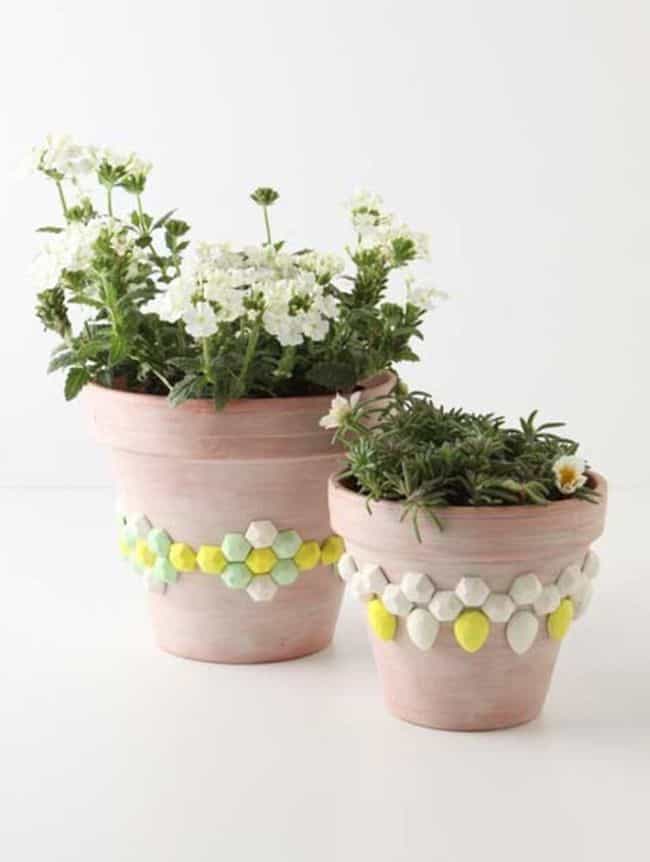 Image Credit: sketchysloth
This is a very simple and refreshing flower pot idea to do by yourselves. All you need are pots in terracotta and some stones or rocks of any shape or design. Then spray adhesive and paste the stones in any design as you like. Even kids can do this project easily.
12. DIY dip dye flower pots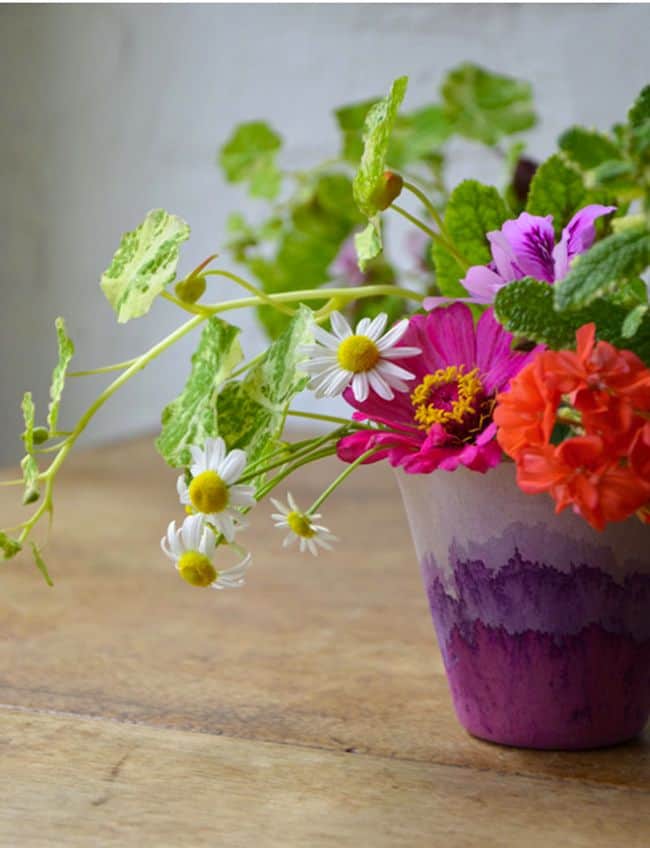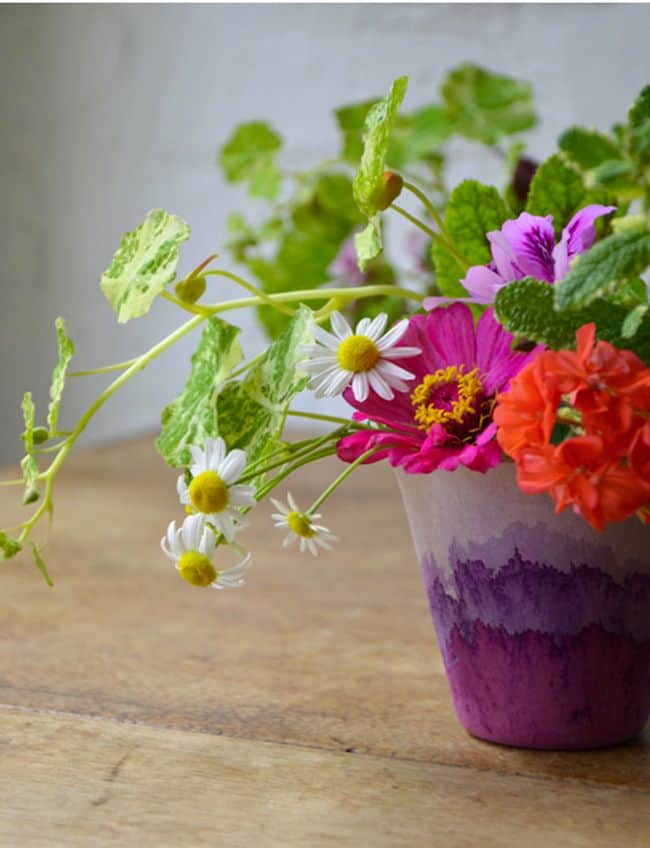 Image Credit: elementeden
For this DIY dip dye flower pot idea, you would need some plants or herbs to be used for extracting dye color. Boil the chopped plants or herbs and then strain the liquid to get the dye. You can make any colored dye you like. Now, take the cups and dip these one by one in separate bowls filled with the dye liquid of various shades. Let the dye drip off the body to create an uneven look. Repeat the step with other colors.
13. Large DIY wine cork flower pots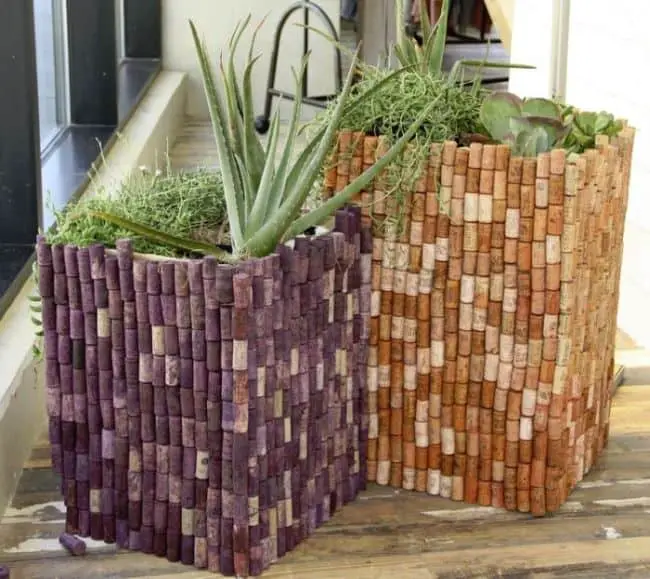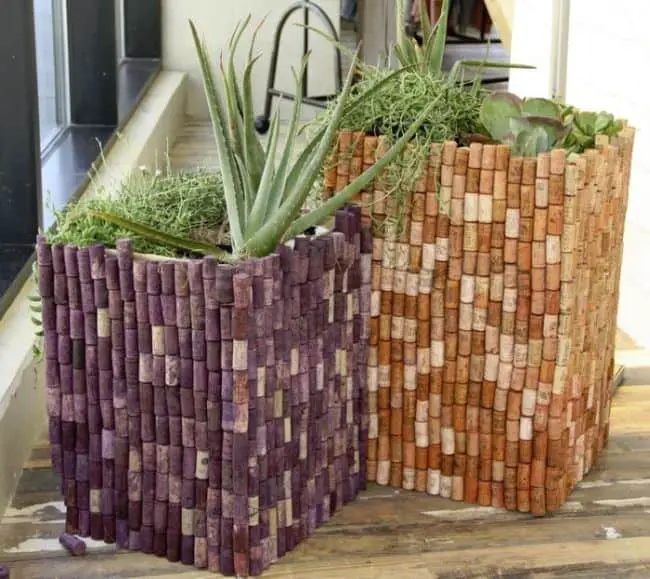 Image Credit: diyforlife
Wine corks can come into use after you have consumed the wine and stacked away the bottles along with their corks. Just arrange corks in such a manner that you can craft out flower pots with these. If you are looking for DIY large planters, then collect a huge number of corks. Now, using nails, join all the corks together to form into pots. Or else, you can also decorate normal plastic pots with corks decking up the exterior. For this purpose, you will use adhesive to paste the corks. Fill with soil and then plant your succulents or flowers in these pots.
14. DIY Minion flower pot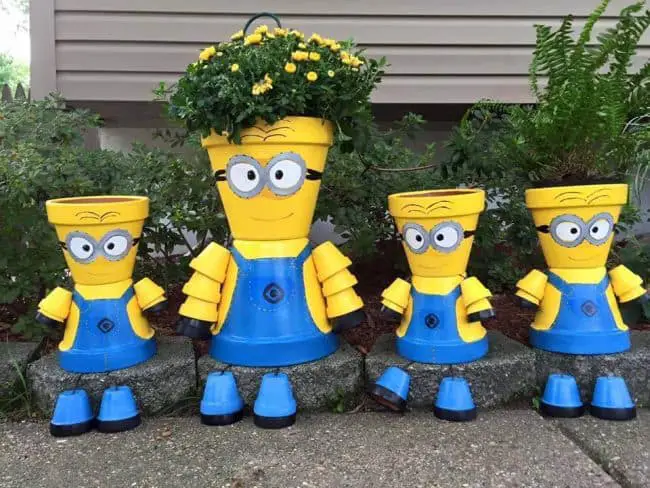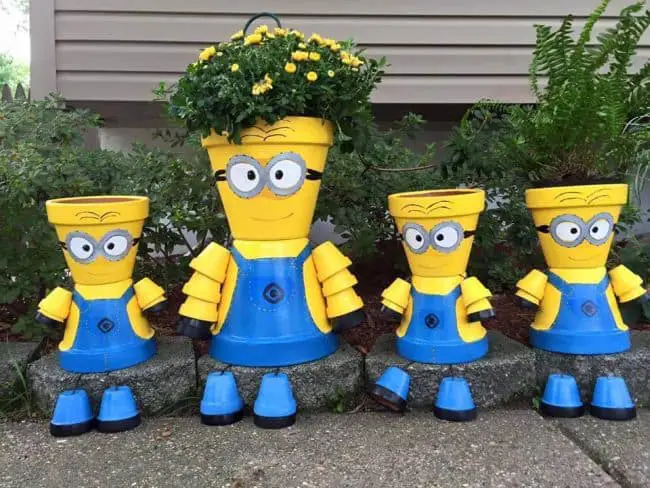 Image Credit: homebnc
How to make flower pots at home with readily available paint and some bit of creative imagination? If you are fan of the Minions, then you must try making flower pots themed on these adorable little yellow creatures from the movie Despicable Me. All you need are a few pots of different sizes and some paints in yellow and blue. Make a 'pot man' using two pots with hands and legs also made out of smaller sized pots. Paint the features of the minions on the pot that resembles the head. Once your painting is done and all the fixing of limbs and legs is over, fill the pots with soil and plant.
15. DIY flower pot decorated with beans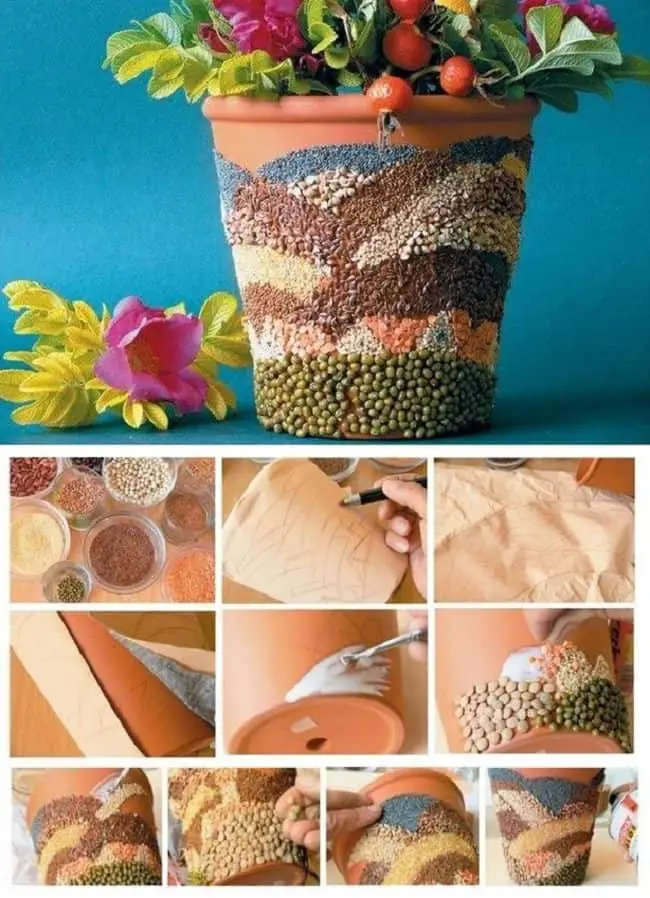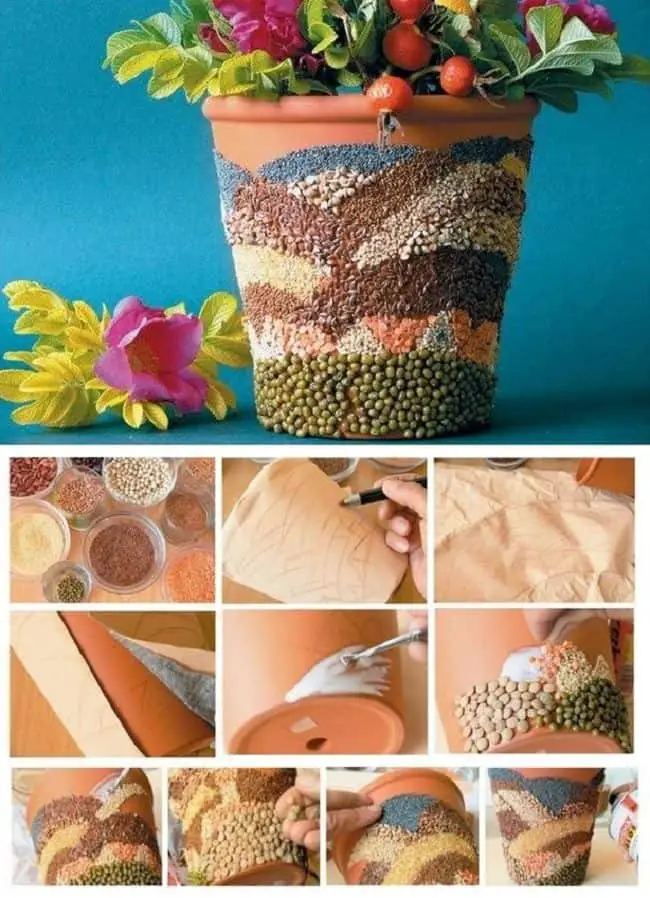 Image Credit: bcdn
Homemade flower pots ideas with eatables is no new concept, except, here we are going to make use of beans and pulses. Yes…your kitchen can come handy when you want some pulses and beans to deck up your flower pots. The pot in the picture has been crafted using beans and pulses of various kinds and formed into a unique design. Its a simple DIY project.
16. Creative handmade wooden cart flower pot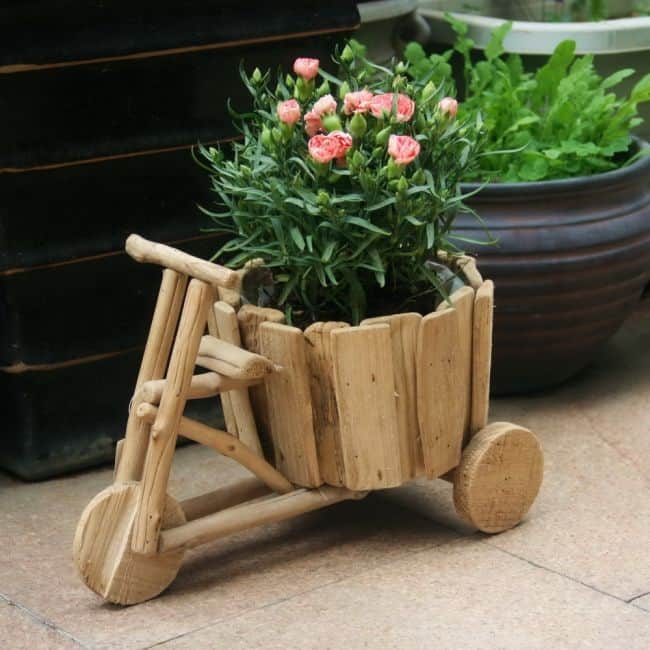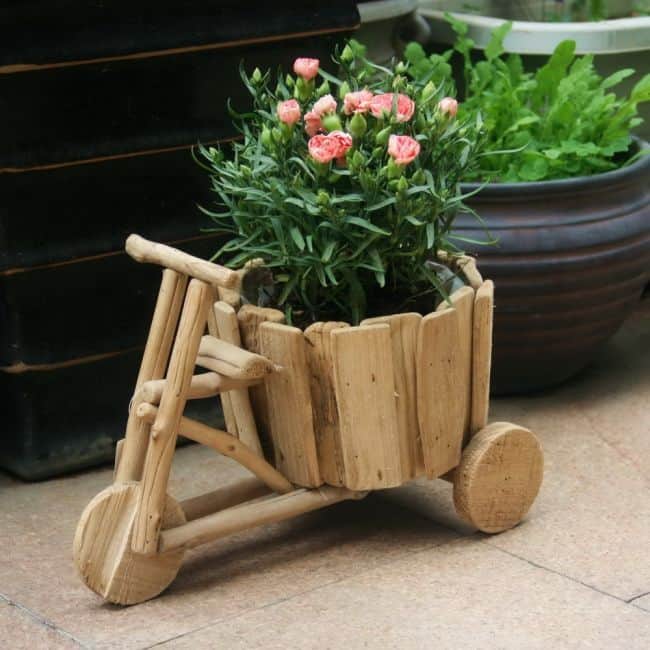 Image Credit: rseapt
This is a cute DIY flower pot idea and is made out of wood. You would need to collect a few wooden pieces in different shapes to craft out a cart themed pot. Once you have got your pieces, nail each part together and then form the cart shape. Fill soil and then plant your flower.
Also Read: 25 Best Plants for Summer Season
17. Innovative homemade flower pot decorated with wooden pieces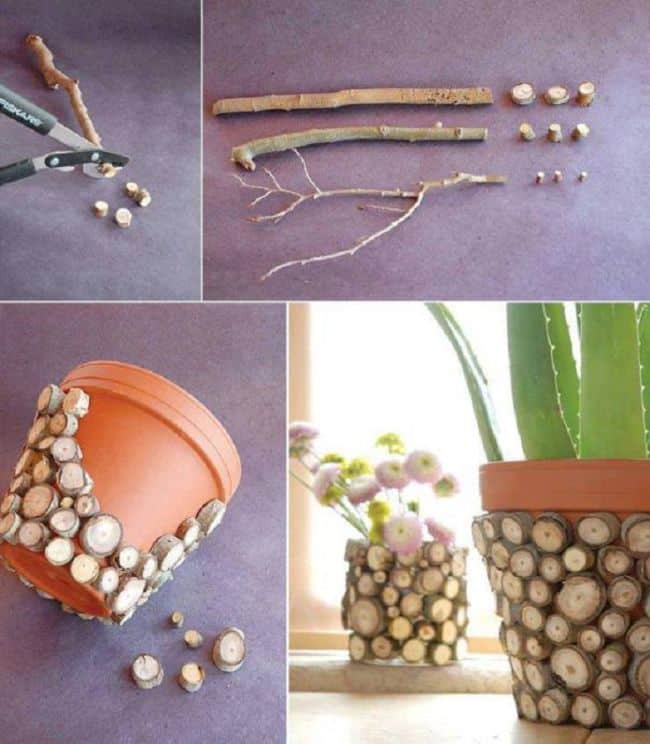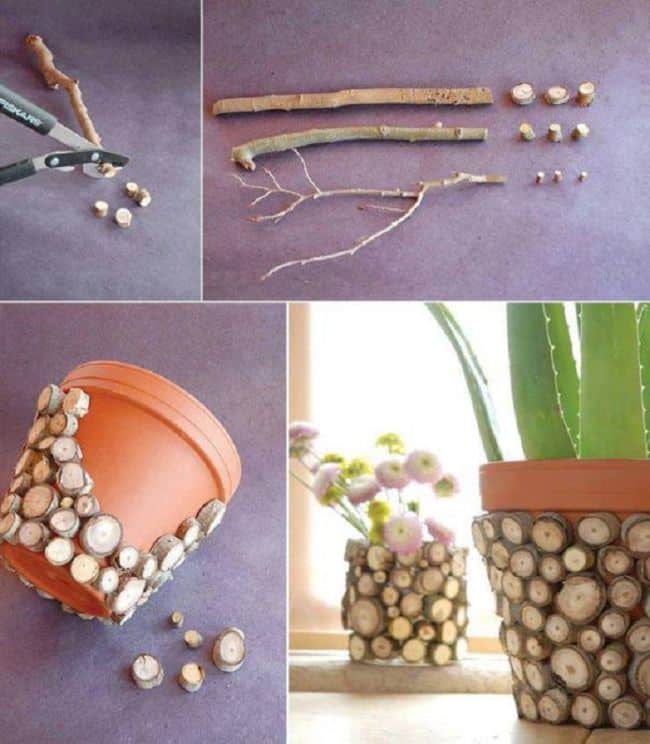 Image Credit: homesthetics
Wood decorations have always been loved by DIY lovers because these are readily available and are pretty cheap. For this DIY project, you would need pots, wooden twigs and branches and saw. Once you have gathered your wooden pieces, its time to cut them up in roundel shape using saw or some smaller cutting tool. Using an adhesive, paste all these pieces over the pots in designs that you like.
18. DIY vintage tea cups used as flower pots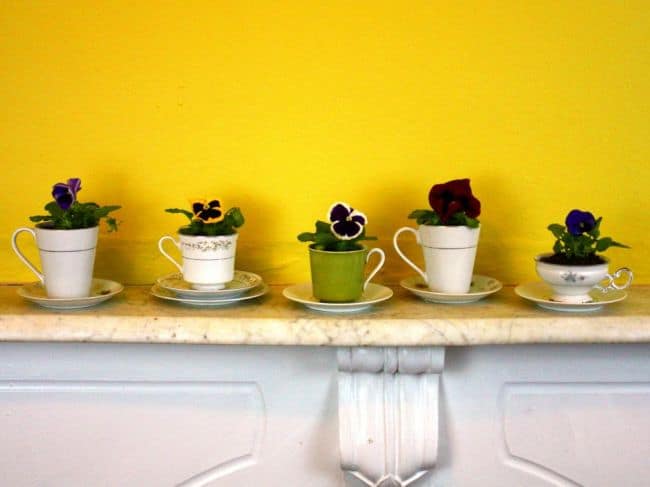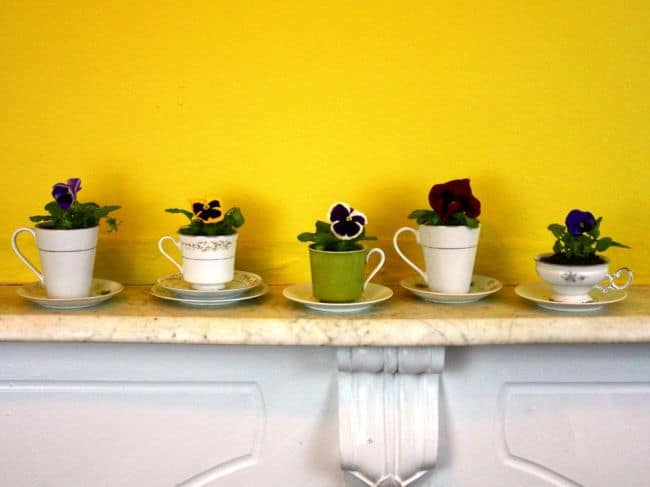 Image Credit: hgtv
Homemade flower pots ideas using vintage and old tea cups is not a new DIY idea. Its been in practice for a long time but nevertheless looks charming and always in demand. Collect your old cups and saucers and then fill these up with potting soil. If you want, dig holes at the bottom of each cup and plant your flowers.
19. DIY disco ball planter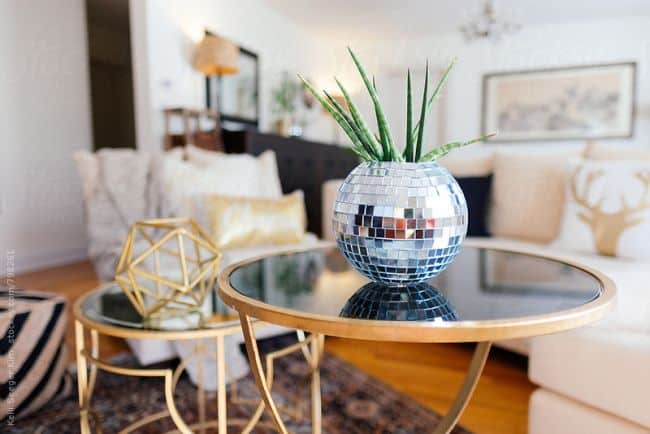 Image Credit: stocksy
This DIY flower pot idea is most attractive to look and pretty easy to be made. You can buy a plastic pot of any shape and then paste silver or mirror pieces on the body of the pot after applying adhesive or glue. Here the disco ball planter has been made using silver pieces that make the whole ambiance look disco like.
20. DIY flower pot with a marbled look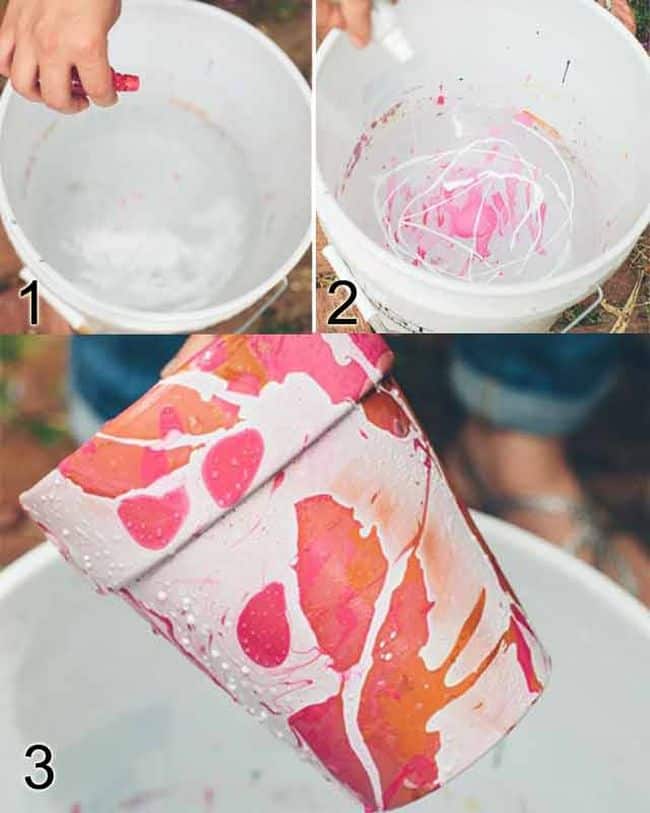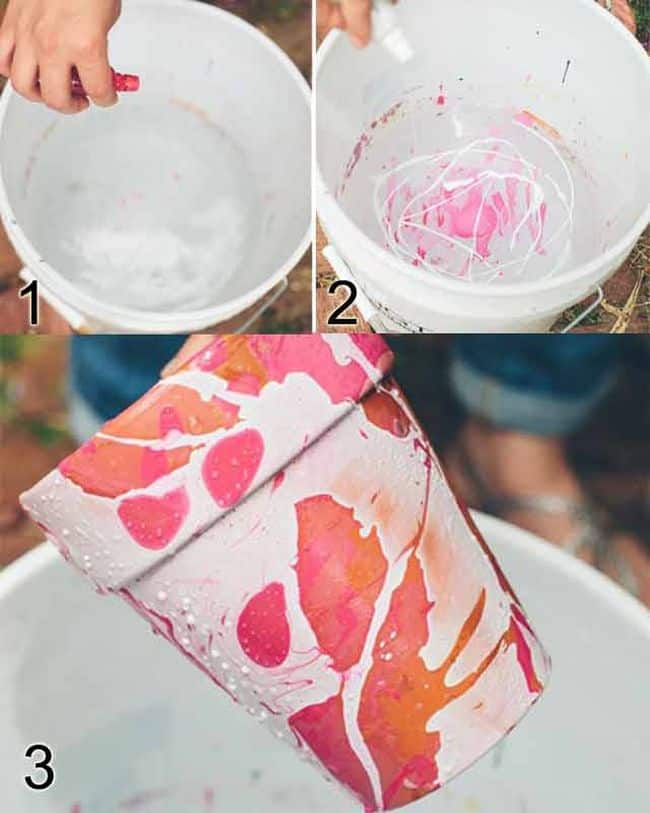 Image Credit: bridgman
The marbled effect can make any feature look stylish and charming just like the pot in the given image. You would need nail paints, and old plastic pots. Take a flower pot and fill water in it. Now, pour a few drops of first nail paint into it. Now, dip the flower pot's bottom into the nail paint mixture. Dry. Now, dip the top of the pot in the mixture. Dry and repeat once you get all the colors and prints of your choice.
21. DIY gold dipped flower pots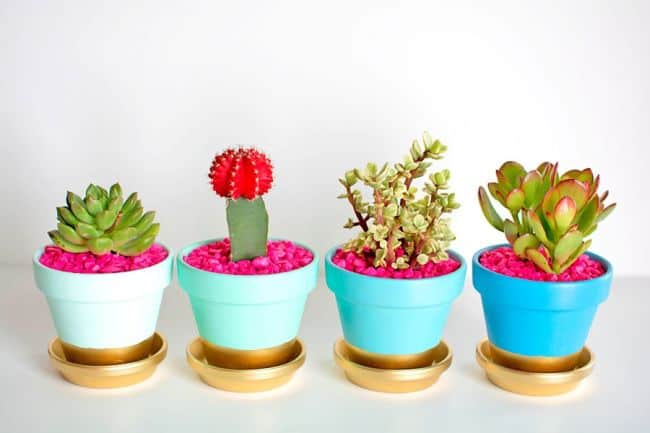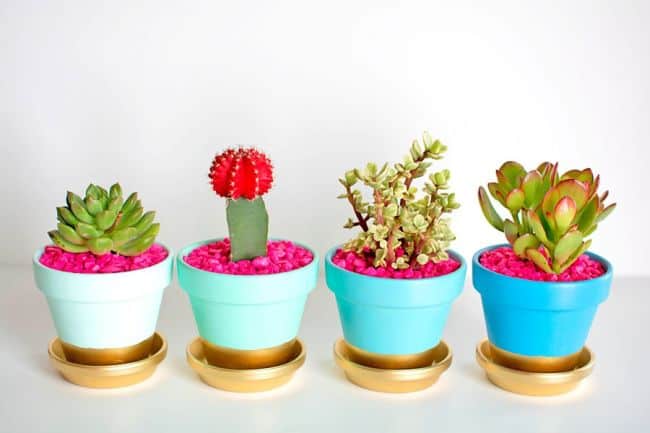 Image Credit: makeit-loveit
Golden painted flower pots can create a sophisticated look and therefore you must try this DIY project. All you need are a few flower pots of light shades like blue and white. Now, take a brush and paint the base of each pot with golden metallic paint. The golden and light color offers a contrasting effect. Now, fill the insides with colored pebbles and soil, and then plant any flower or succulent as you desire.
22. Cute DIY floppy disk planters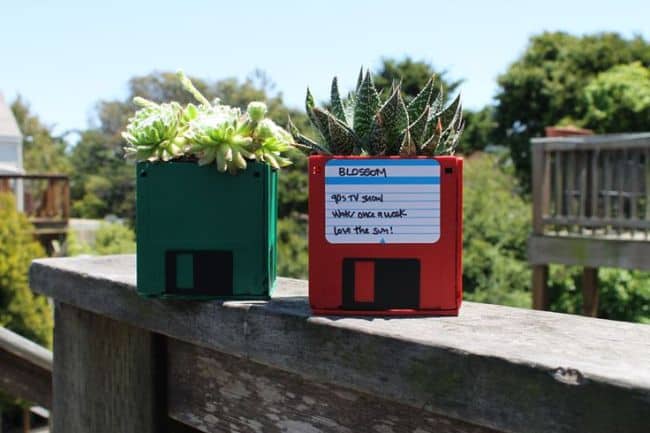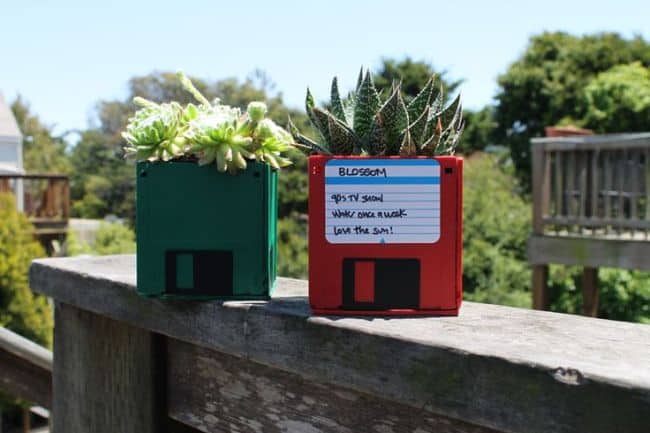 Image Credit: pinterest
Who knew that old floppy disks could come to help when crafting DIY crafts such as flower pots? Well, take a look at these amazing pots that are made with disks. Glue together the edges of the four pieces of disks. You can team with any color of your choice. After attaching them, fill the floppy disk planters with soil and flowers or succulents.
23. DIY painted cans as flower pots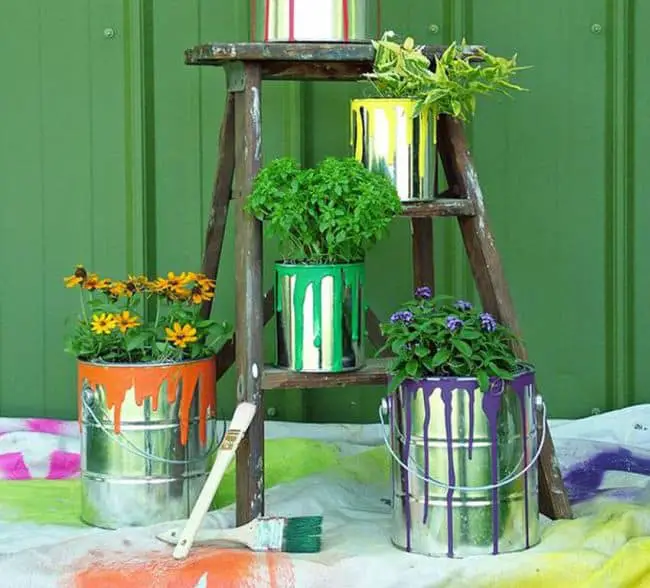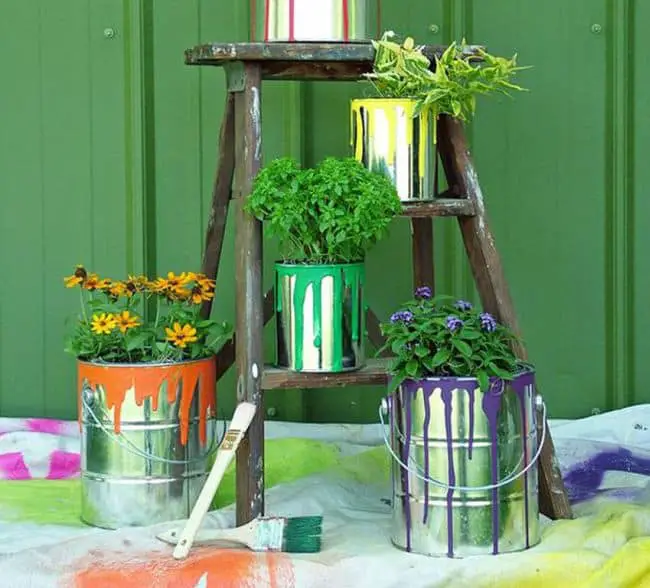 Image Credit: patrasevents
For those of you that have old cans, crafting flower pots using these isn't a tough job. Just choose any metallic paint and then using a brush and freehand, drizzle some paint over the rims of each can so that it gives a dripping effect. Dry and see how good these cans look!
24. DIY paper flower pot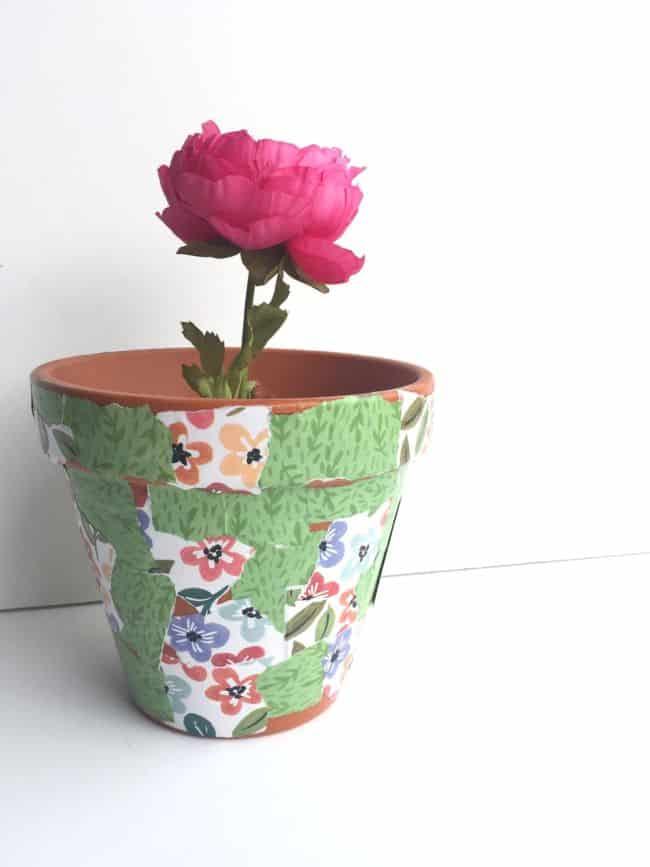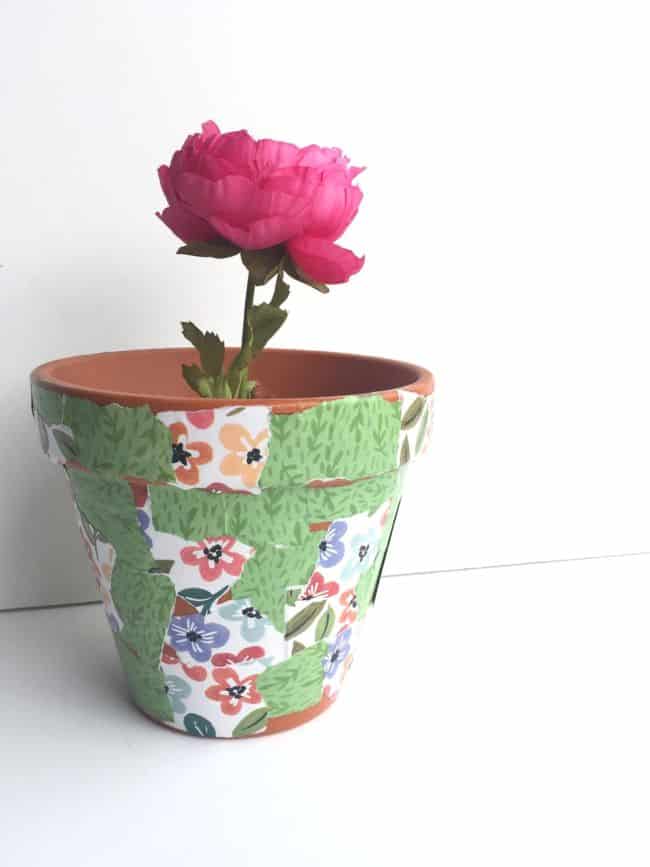 Image Credit: squarespace
This DIY flower pot idea has made use of paper cuttings and is pretty simple for all. All you need are a few stylish looking paper sheets of different designs and then paste onto your pots using glue or adhesive. The design seen here is floral and it looks absolutely stunning and ready for spring!
Also Read: 21 Amazing Uses of Epsom Salt for Gardening
25. DIY gold crushed can flower pot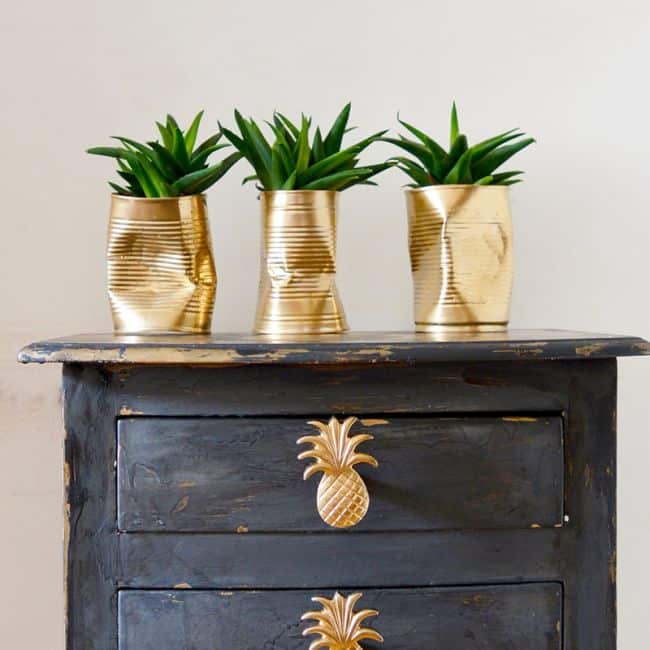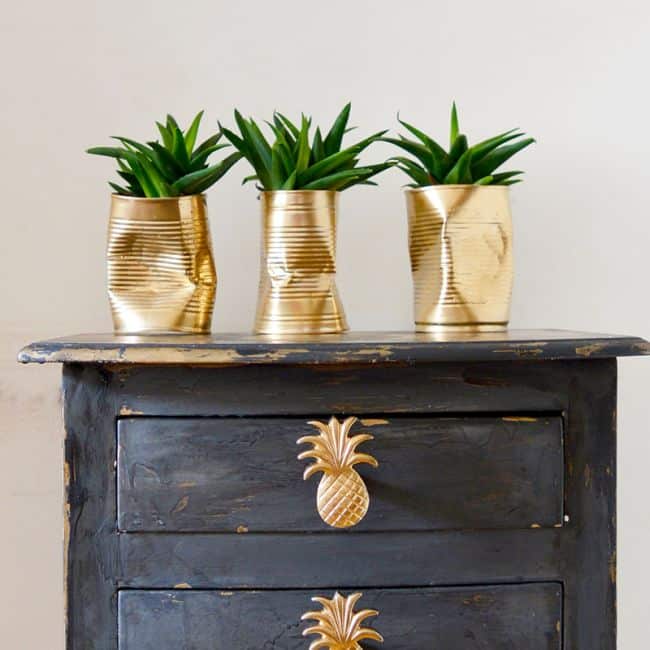 Image Credit: pillarboxblue
If you have old cans with you that you no longer use, then you can give them a whole new twist and put them to new use in the form of flower pots. Simply crush the body of the tin cans to give them a crushed look. Then, spray paint these cans using gold. For crushing, you can use a hammer. Once you have painted, let these dry and then fill the cans with soil.
26. DIY stamped flower pot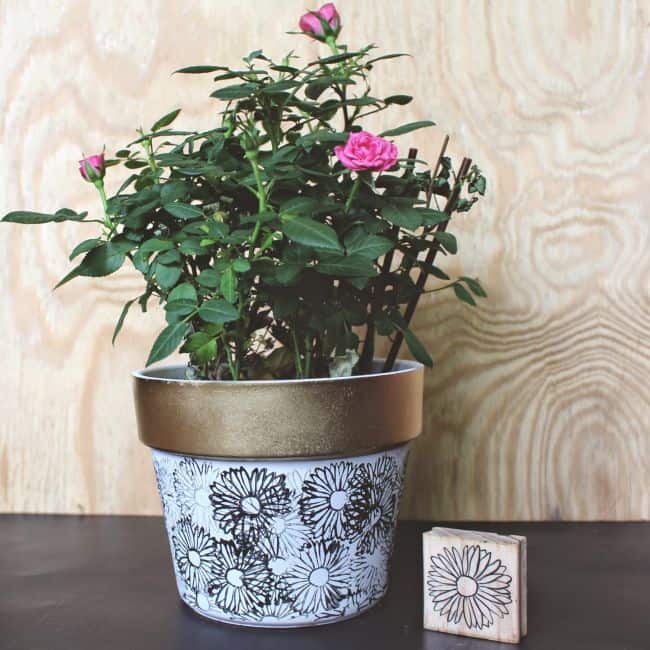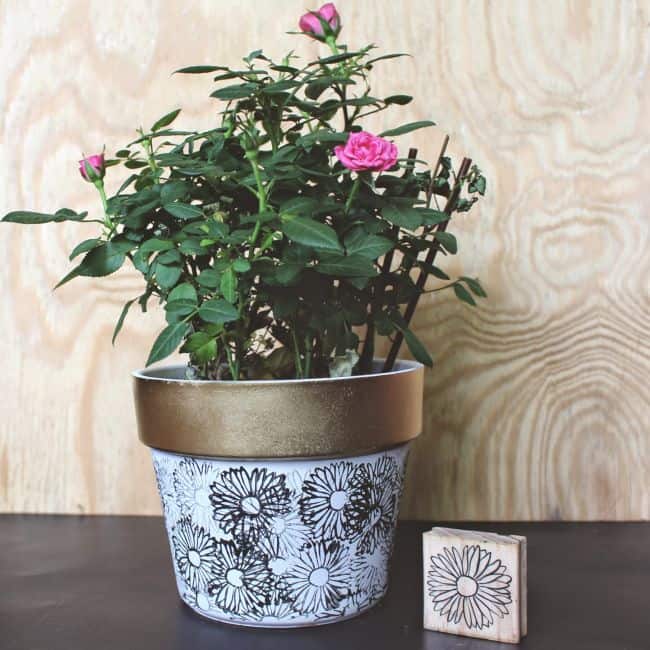 Image Credit: blogspot
Stamp art is adored by DIY lovers as this art lends a distinct look to any feature like pots and vases. If you have silver metal paint, use it to get the top rim of the pot painted. For the rest of the pot, use a stamp of any design and paste it over the body. Here, the stamp art in floral looks good in black.
27. DIY fabric planter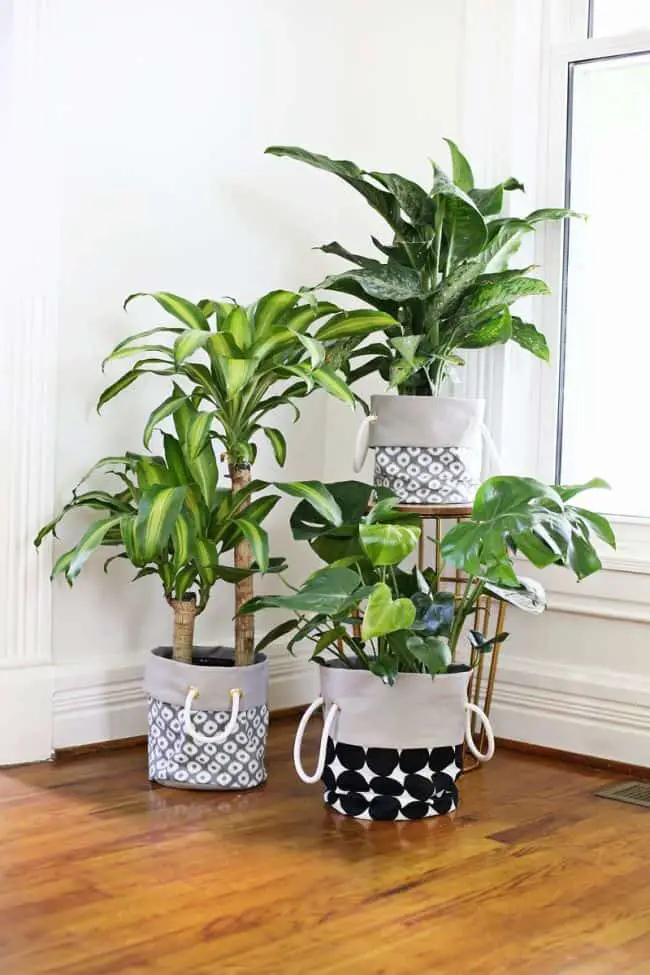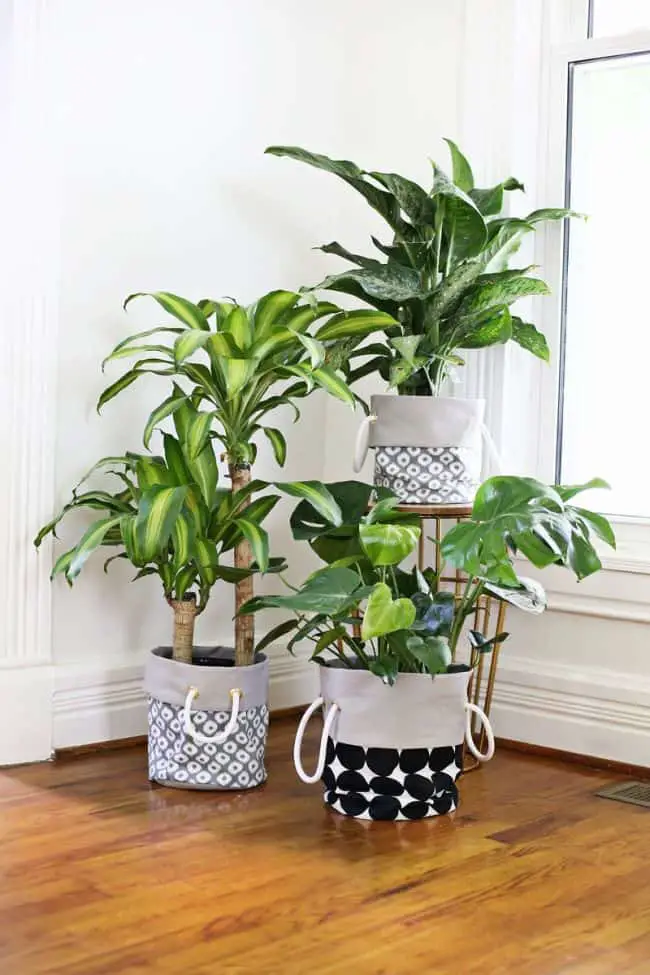 Image Credit: abeautifulmess
Who knew that fabric too could be used for making something as unique as a flower pot? Well, you have the idea below and you must use it soon! Cut a fabric of your choice, and then water proof it with a spray. Now, paste and stitch the fabric into the shape of a pot. Then, line the fabric with plastic. Fill soil and plant. You can use old jeans as flower pots as well. Try DIY garden ideas with Jeans and help environment with recycling as well.
28. DIY chalkboard herb planter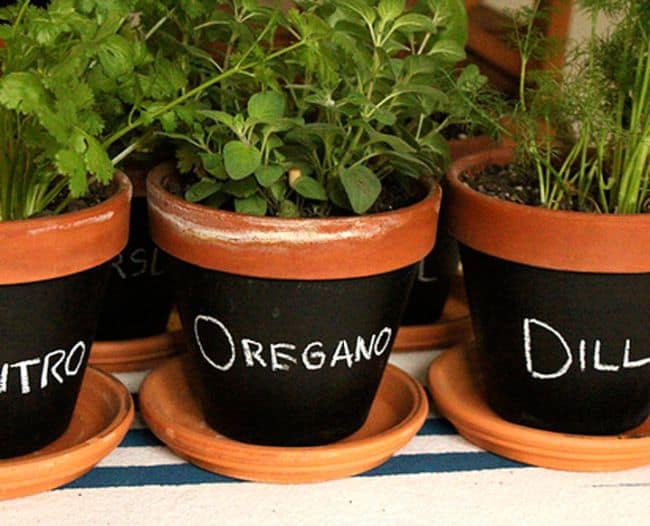 Image Credit: thechalkboardmag
Chalkboard paint looks chic and your flower pots too can get a chalkboard design from the idea presented above. Choose terracotta pots and then using chalkboard paint and brush, paint the body and make any design you like.
29. Homemade sea shell flower pot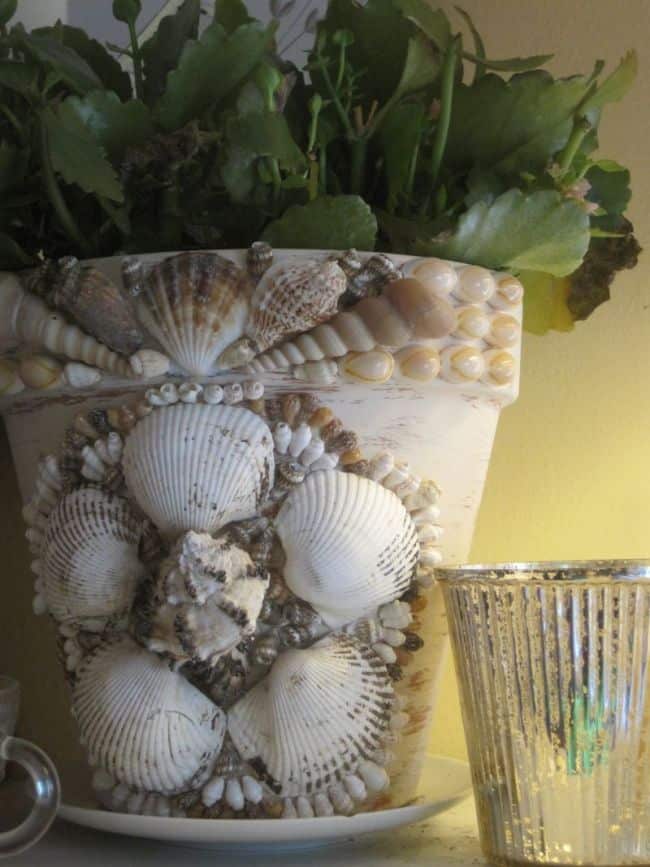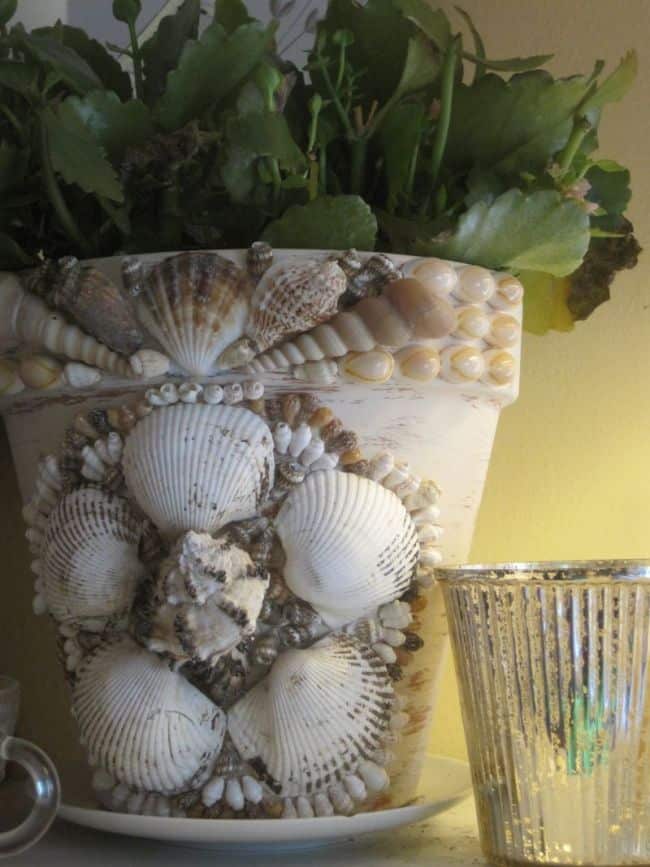 Image Credit: coastalvirginiamag
For a beach themed decor, you can get your flower pots decked up with seashells of varying shapes and sizes. Either paste shells all over, or merely at the bottom. You can decide on any design like floral, tribal or chevron.
30. Homemade flower pot wrapped with twine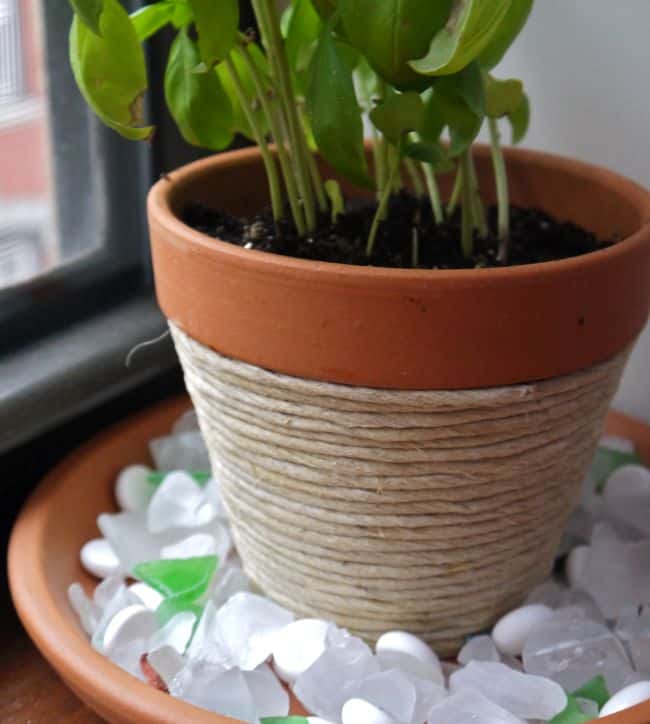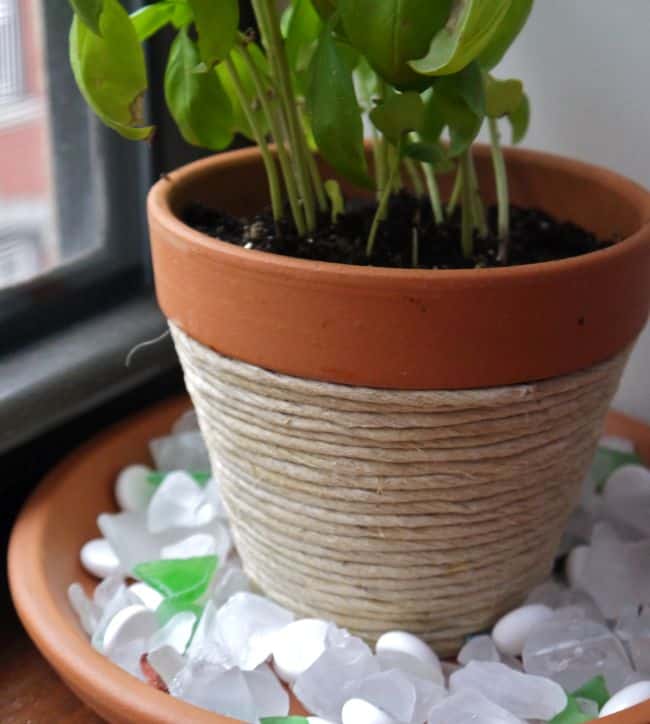 Image Credit: rseapt
This is a very easy DIY craft idea that uses usual plastic pots and twine. You don't need to do anything but simply wrap the body of the pot with twine. That's it! The look is rustic and anyone with little or no money can craft such a lovely pot.
Also Read: DIY Garden Ideas Using Kitchen Items
31. DIY decoupage flower pots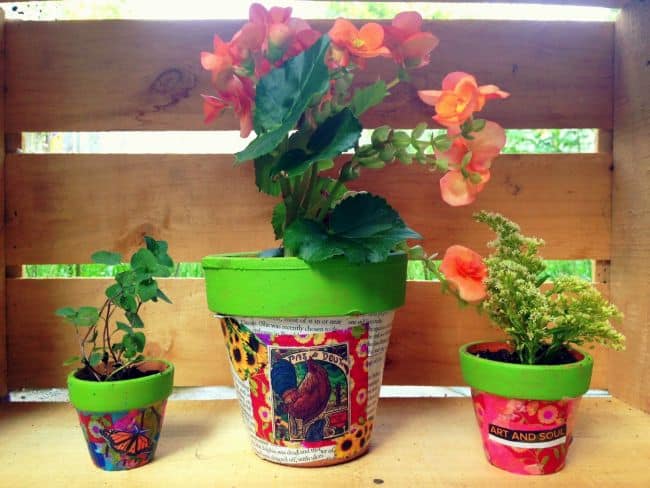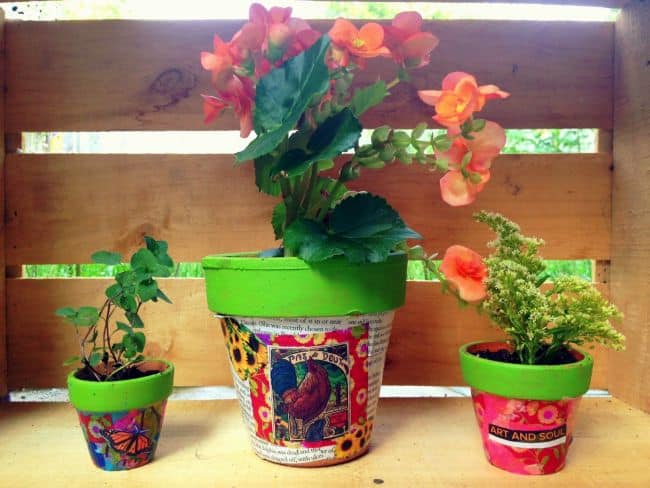 Image Credit: artterro
Once your pots are ready, use a thin layer of Artterro glaze all over them. Now, paste the paper pieces that you have cut from newspapers and magazines all over the pots. Remove creases. Then, paste another set of tissue paper cuttings on various spots that you like. Once done, apply the glaze once again. Your decoupage art is finished. Now, plant the flowers.
Final Thoughts
Hope you all loved our awesome collection of homemade flower pots ideas showcased above. All these DIY ideas are unique and can be done without denting your pockets.
We are sorry that this information was not useful for you.
Tell us how we can improve.