How To Reuse Buckets in Your Garden : 18 Bucket Gardening Ideas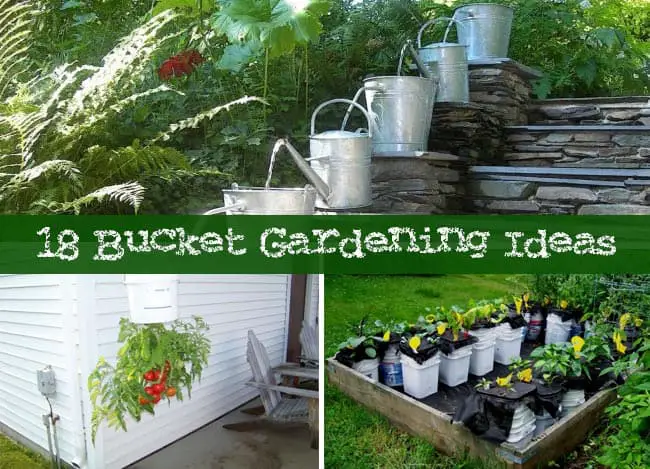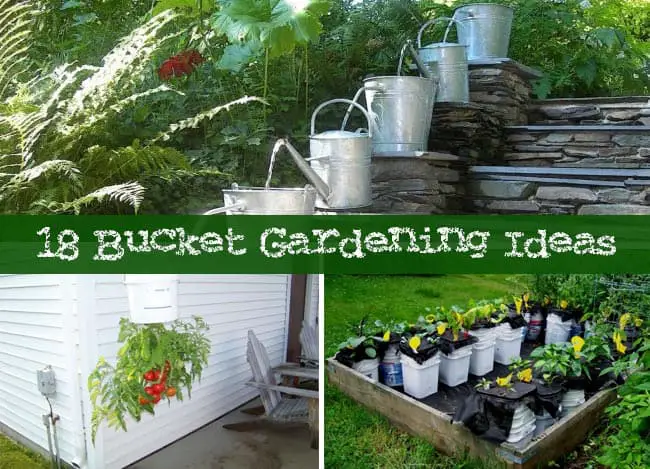 Unused and old buckets can play an important part in gardening. There are many ways to use them. The best part is that you can make creative DIY tools to help you in your gardening chores at reasonable prices. Here are 18 bucket gardening ideas that are worth your try as these ideas are cost effective and very simple.
1. Growing Mushroom Farm in a Bucket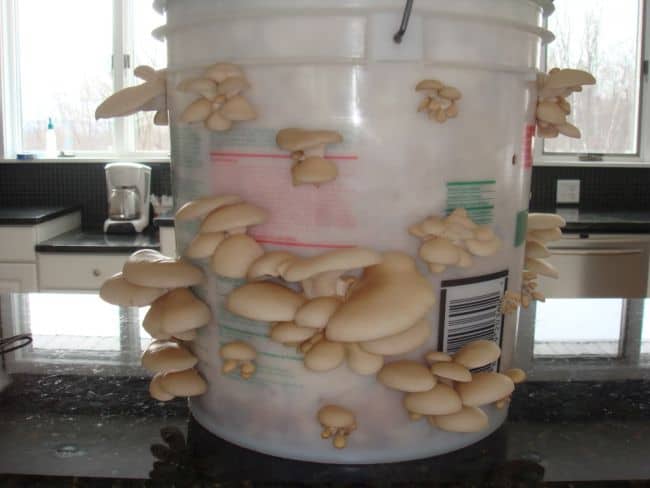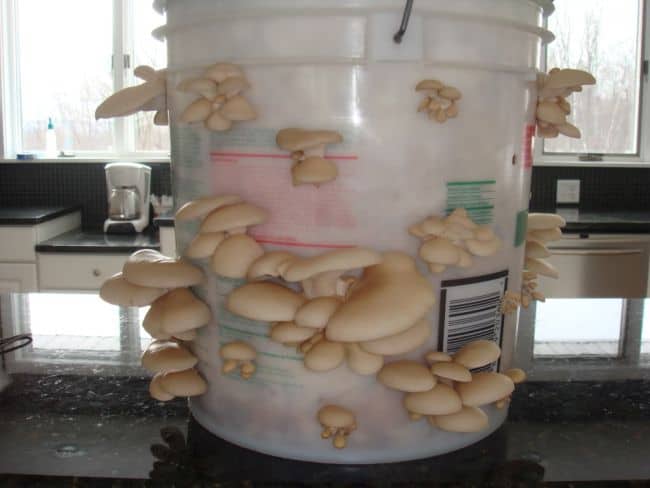 Image Credit: fivegallonideas
Now growing mushrooms in a limited space is not a non achievable dream. You can grow these and go on producing yield after yield when you make use of old buckets for this purpose. Among all the things available, like plastic and metal containers, buckets are probably the cheapest option. These, apart from being cost effective are also long lasting as well as portable. In this image, the cultivator has grown oyster mushrooms on buckets that offer just the right kind of atmosphere for mushroom growth. The mushrooms are sensitive and these buckets offer the correct environment for their propagation.
2. 5 Gallon Buckets Wrapped in Burlap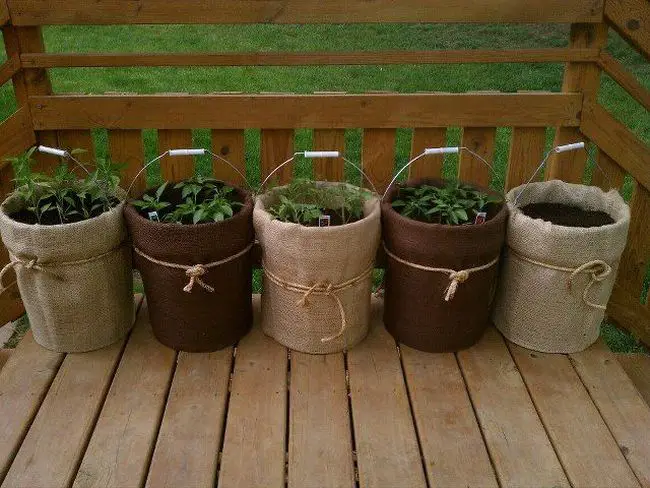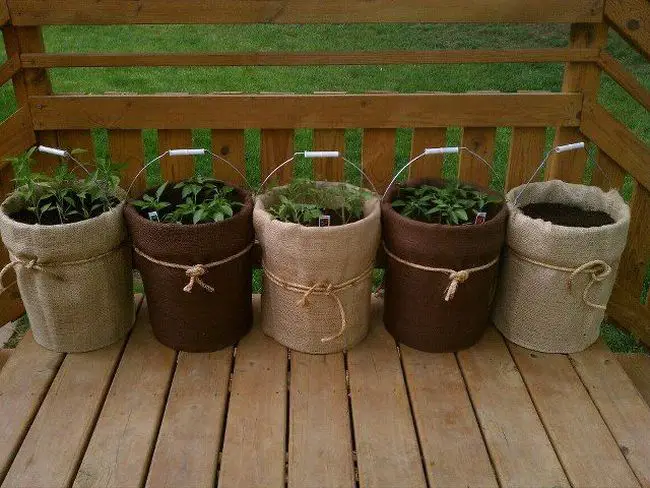 Image Credit: pinimg
Bucket gardening is the latest fad this year and will be for a long time as buckets are cheaper alternatives to plastic and metal, and most of us have these at home. You can use your old five gallon buckets to grow herbs and veggies, or flowering plants in buckets. If your backyards or patios are vacant and you want to reuse your old buckets, then transform these into planters as seen in the image above. The buckets are neatly wrapped in burlap and look very gorgeous. You can plant as many herbs as you want in these cute looking five gallon buckets. If you think you have liked this 5 gallon bucket gardening idea, do use it soon!
3. Potato Bucket Gardening Idea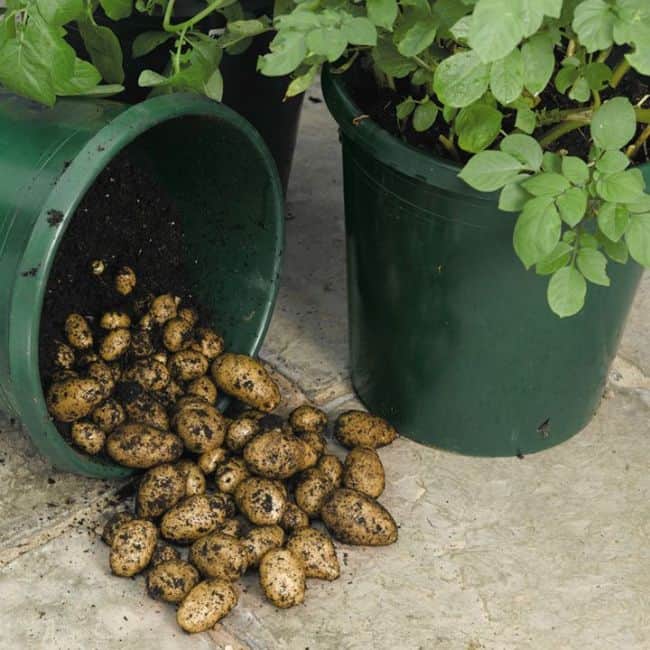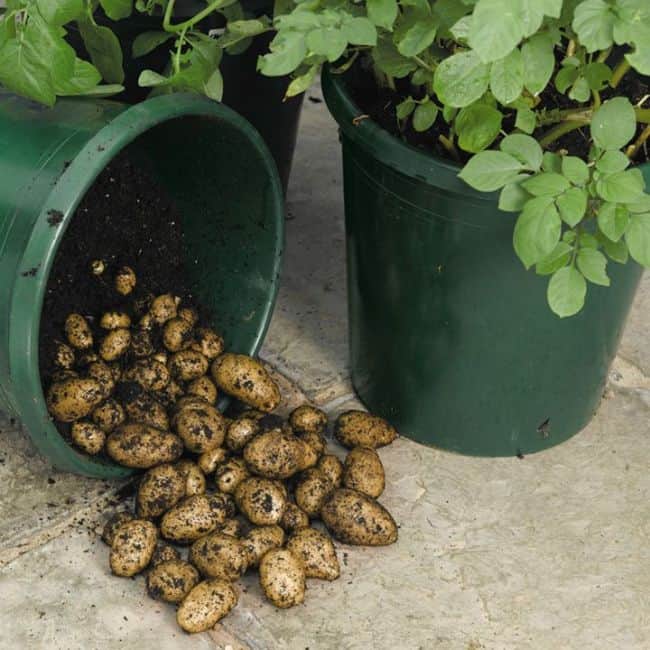 Image Credit: pinimg
Growing potatoes in buckets will now appear easy with the help of this idea shown above. If your buckets are lying uselessly in the garage, then use these to plant potatoes. Anyone can plant potatoes in buckets as growing these is not at all difficult. For all of you who have small spaces and are always keen to grow veggies, these buckets can help them to a large extent. You can grow your potatoes in these buckets that offer them a perfect environment of growth. These can be carried from one place to another easily. Not only can you harvest potatoes easily, but you no longer have to waste time in digging to get these.
4. Cute DIY Painted Bucket for Growing Plants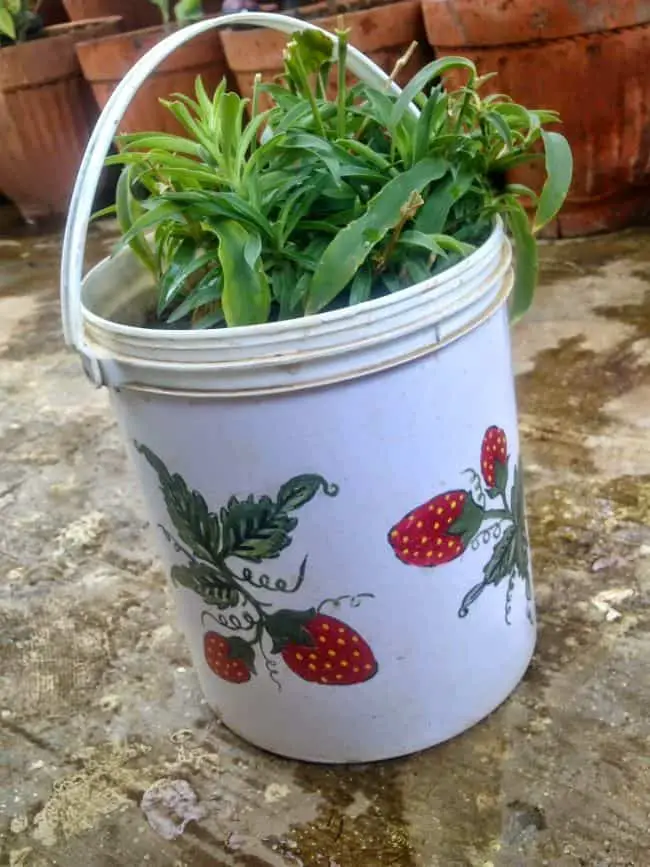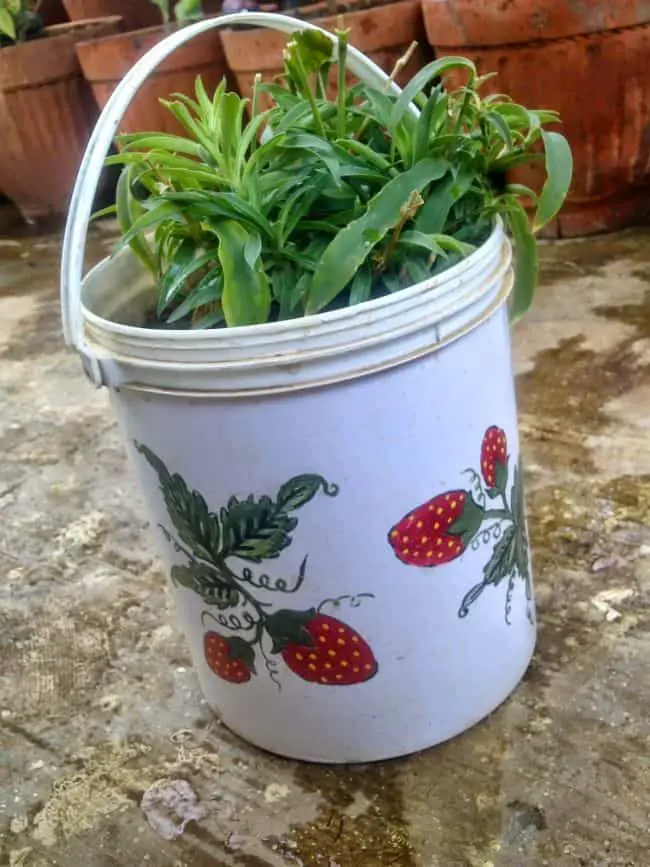 Image Credit: blogspot
Buckets can help a great deal when you want to grow plants but have less space for doing this. Old buckets look plain and dull. So, before you may start planting in these, make sure you give them a new and fresh look by painting and polishing. The plastic bucket seen in the image above can be converted into a gorgeous planter after you paint it. All you would need to do is to drill holes inside for better water drainage. You can use any type of acrylic paint for this purpose.
5. Rice Plantation in a Bucket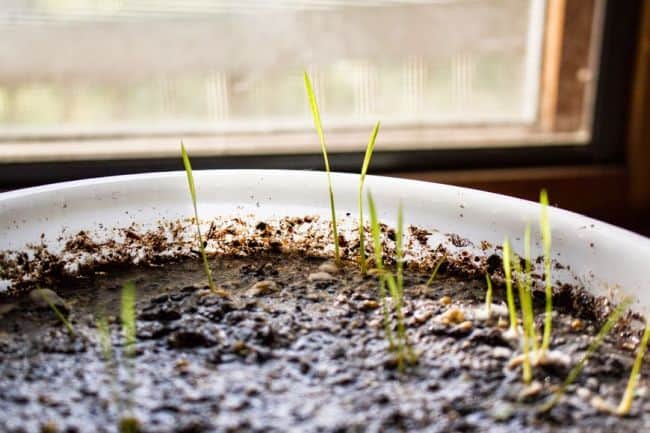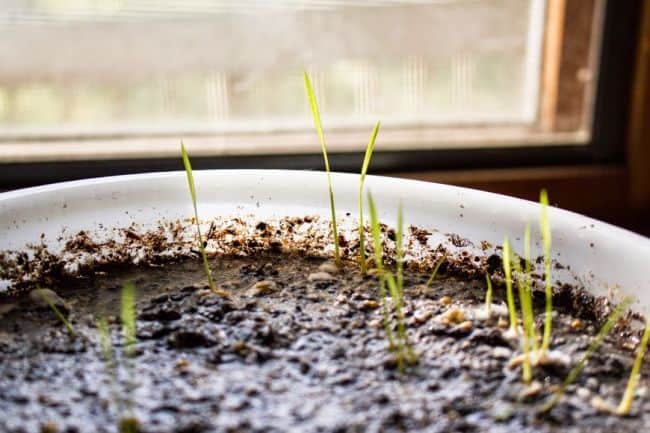 Image Credit: blogspot
Rice is a staple crop eaten almost in every household. Mostly we would imagine large green and open fields where large scale production of rice takes place. But, now you can grow this crop right indoors! Yes, you would laugh…but now its a possibility! Old plastic buckets can play a vital role here. If you have an old plastic bucket, converting it into a rice planter isn't tough. The bucket serves as the right place for growing rice on a small scale.
6. DIY Bucket Rain Barrel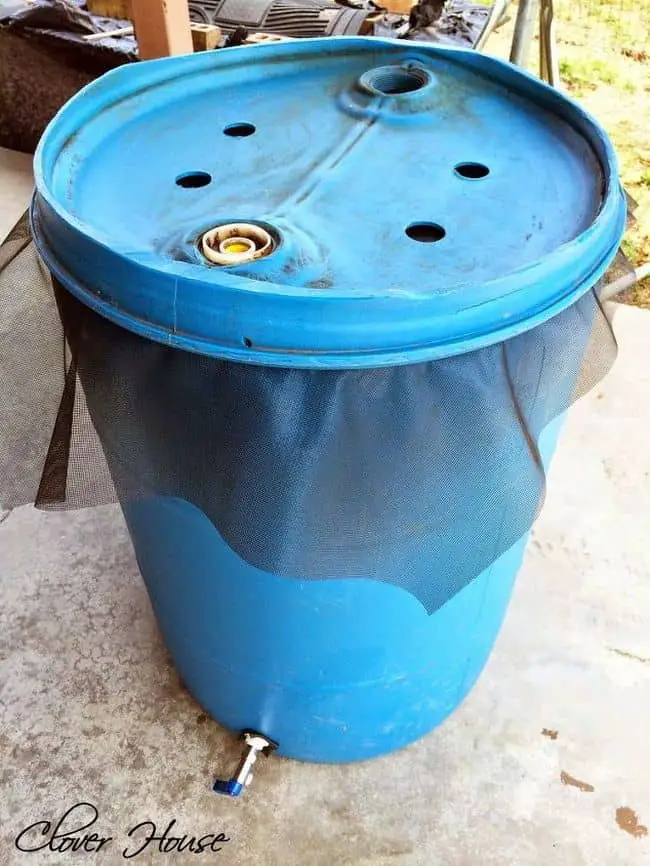 Image Credit: hometalk
Collecting rain water is a very novel idea these days considering how badly the world is facing a water crisis. Now, you can help in this regard by using old buckets and trashcans to be converted into rain collectors. If you want to use this idea, you simply need a few old buckets, and some hardware tools and you are good to go. The bucket barrel can be carried anywhere and can be placed in such spots in your garden that need a constant supply of water.
Also Read: 21 Natural Pesticides for Houseplants
7. DIY Flower Bucket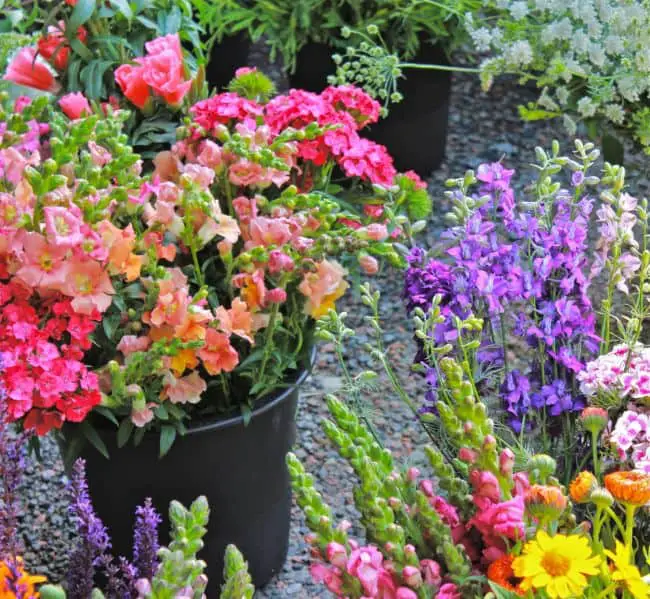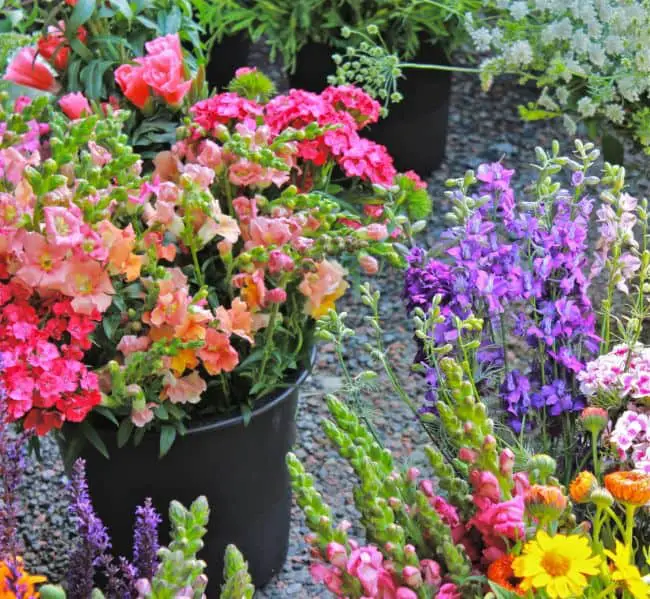 Image Credit: blogspot
One can easily craft a gorgeous looking flower container out of an old bucket, just like in the image above. The black plastic bucket looks adorable with colorful flowers that are seen planted. It's not just this type of plastic bucket that you can use as a planter, but you can use tin buckets as well for this purpose. The size can be different depending on what you want. These buckets are budget friendly and portable. If you think the buckets are very shabby, paint them up in colors of various pops.
8. Buckets used as Crop Protection Device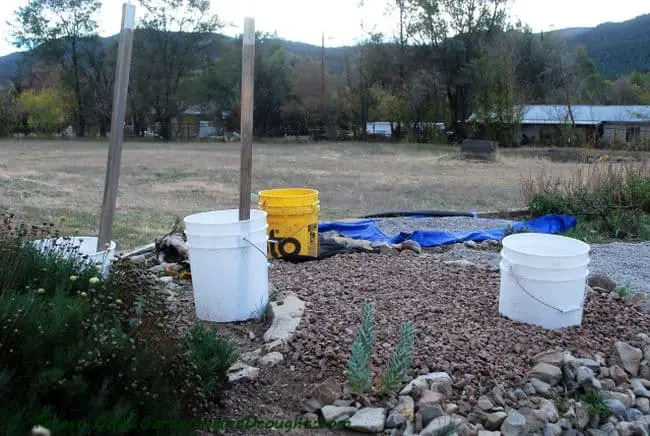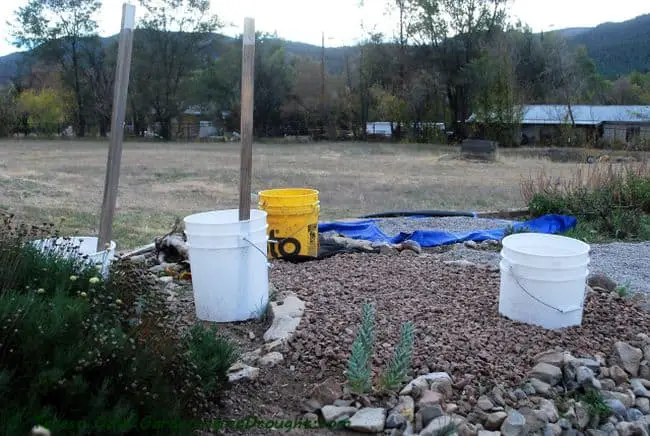 Image Credit: gardeninginadrought
The internet is flooded with many cool and creative bucket gardening ideas that ought to be tried if you believe in doing things your way. The idea that we are going to write about is the usage of old buckets to protect crops from insects, cold, dust, and various other factors that may harm their growth. Crops in gardens are never fully protected unless you place devices that offer protection. Moles, rats, insects, and weather calamities often mar the growth of plants and this makes it essential to offer them a protective cover. Now, you can transform your unused buckets into protective devices just like in the image shown above. These buckets are used as coverings over plants and protect them from hail and frost.
9. DIY Stunning Bucket Fountain in a Garden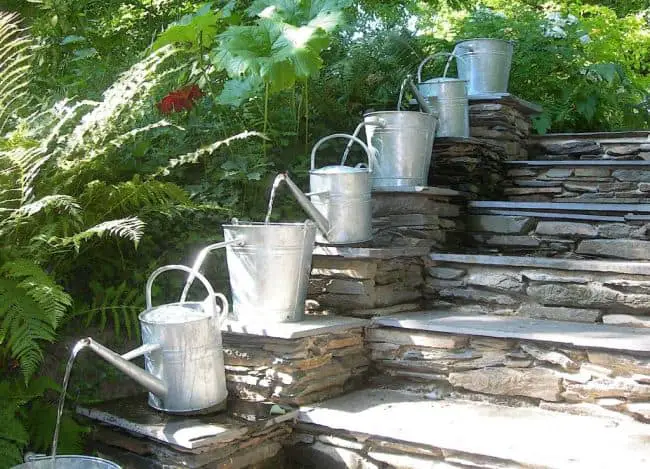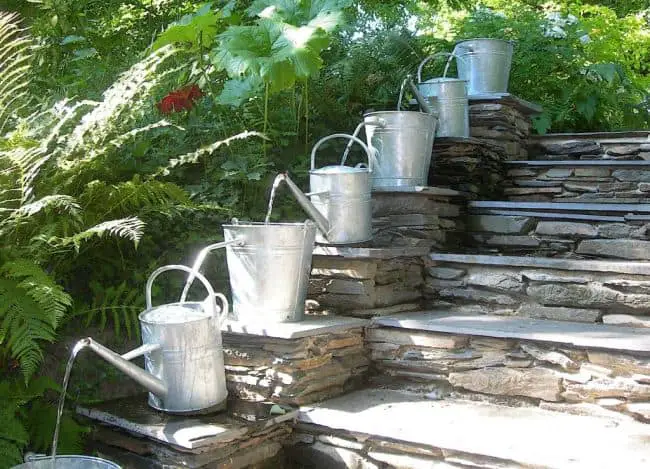 Image Credit: faithtap
A garden's look can get a stylish makeover with a creative fountain. With this DIY bucket fountain idea showcased above, we are sure you will be able to transform your garden into a verdant heaven! The stainless steel buckets seen above are arranged and gathered together with steel water cans to form a row fountain. These look stylish and are very easy to gather or assemble. You can have this fountain in the backyard or in the garden.
10. Self Watering Container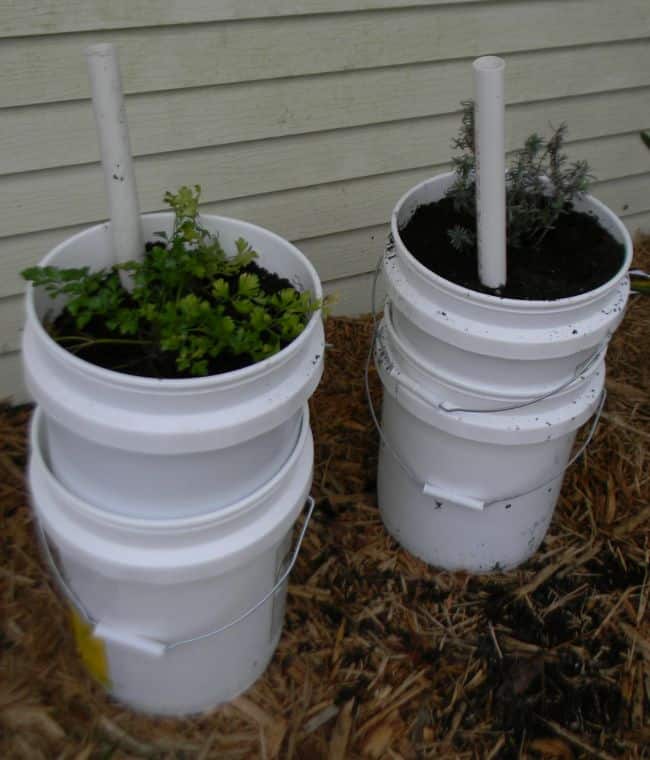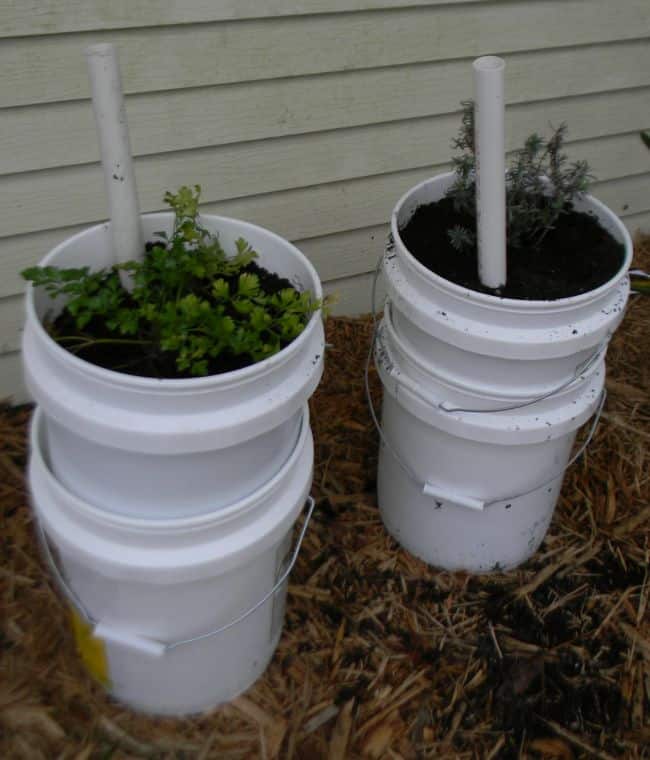 Image Credit: lifewithkeo
The image shown above is a great example of 5 gallon bucket gardening where ordinary food grade buckets are transformed into self watering containers for plants. These buckets are not only easy to make, but are also portable. Instead of using bins, use these five gallon buckets that last longer than bins as these are thicker. A self watering container helps in solving water problems and is perfect for apartment gardening. It would usually take about an hour for you to assemble the accessories like PVC pipe, food grade 5 gallon buckets, drill, gloves, goggles and garden soil.
11. Buckets used as Upside Down Tomato Planter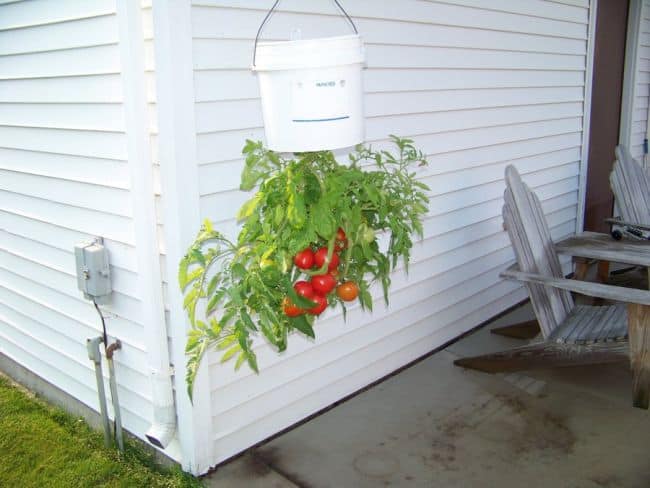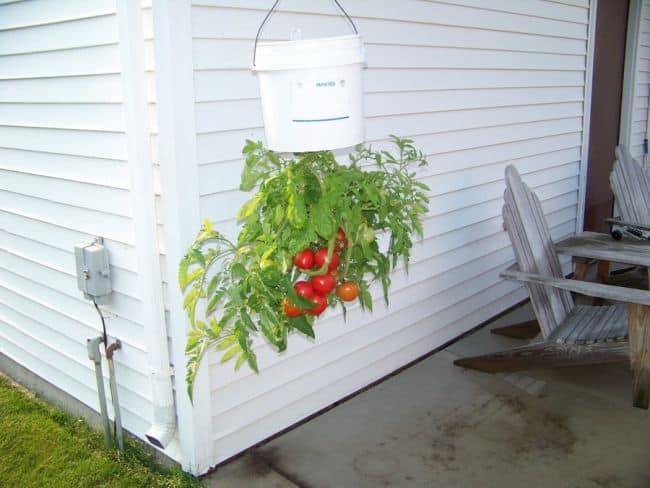 Image Credit: gardentenders
Here is a very unique bucket gardening idea that shows us how we can make use of old buckets to be used to grow tomato planters. There is a reason why many people grow tomatoes in upside down buckets or containers and that reason is related to saving space. When you grow tomatoes upside down, you tend to save space and you can access the plant easily. If you want to try out this idea, buy 5 gallon buckets made of plastic and put a foam rubber disc at the bottom. Drill holes and then plant your tomatoes after filling with potting soil. This idea is relatively easier to adopt than others.
12. DIY Vertical Bucket Garden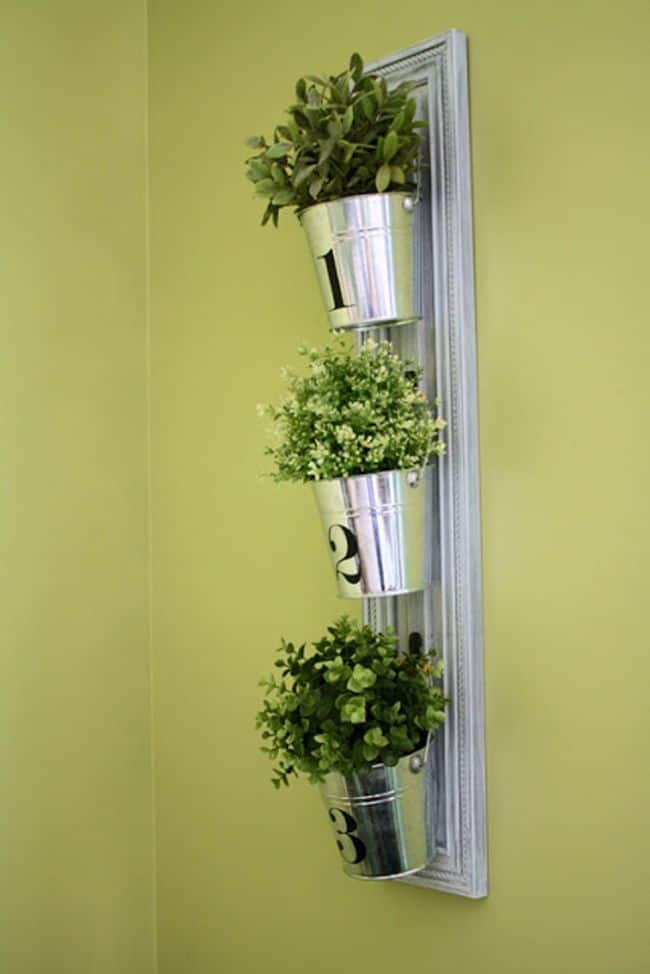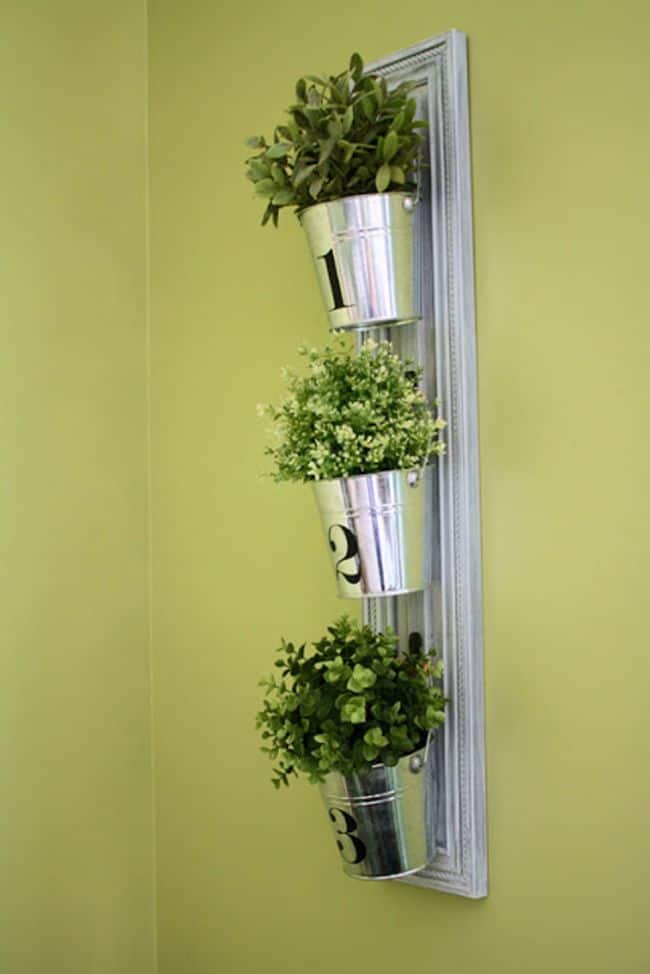 Image Credit: h-cdn
This idea suits such people that live in small apartments but love to garden. Choose stainless steel buckets and then plant these in rows to grow any type of herb or veggies that you like. The picture here shows how buckets have been arranged on an indoor vacant wall to grow plants. For this awesome indoor vertical bucket garden, you would need a few steel buckets, a cabinet door, a saw tooth hanger, and hooks. The look is compact and is best suited for small walls.
Also Read: 21 Easy DIY Garden Trellis Ideas
13. Bucket Used as Garden Tool Storage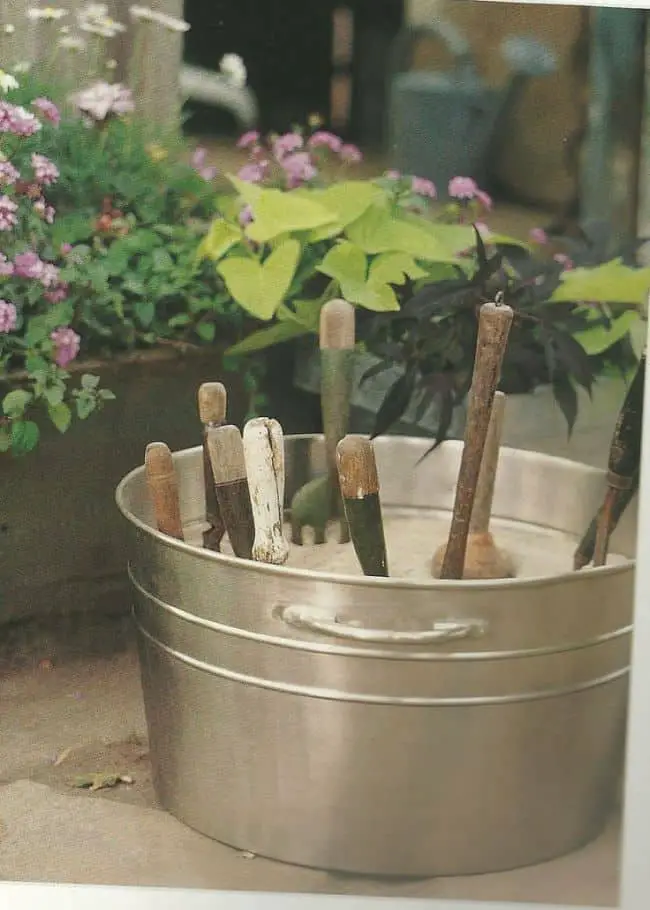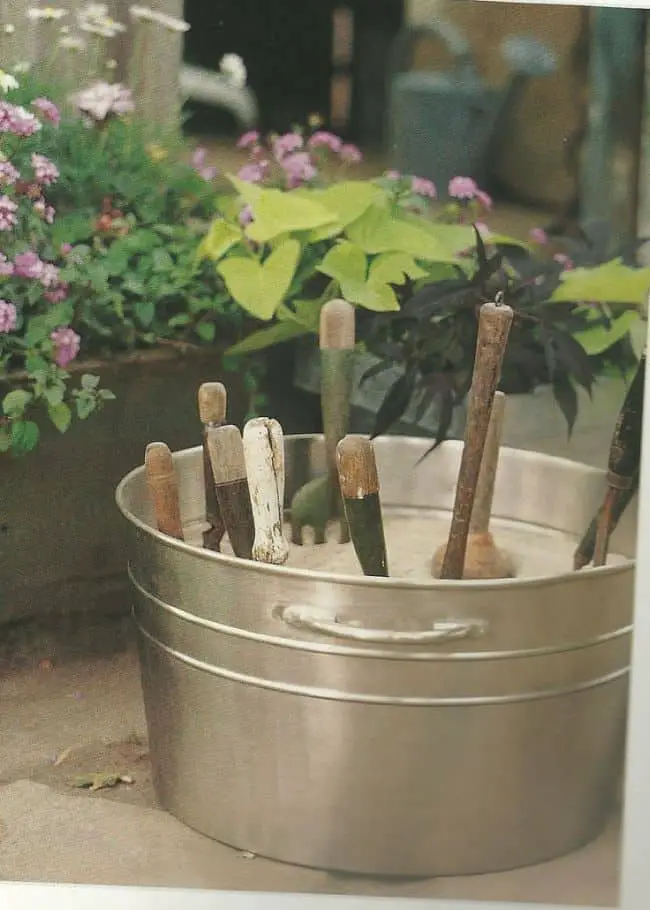 Image Credit: pinimg
Another use of old and unused buckets is to utilize these as storage for garden tools. Usually its seen that our garden tools like axes and pipes have no proper place for storage. Instead these are seen spread at various places that creates a dirty look. Now, you can use your old buckets to be turned into a garden tool storage device. These offer many advantages, like, easy carriage from one place to another and easy accessibility.
14. Dutch Bucket Aquaponics System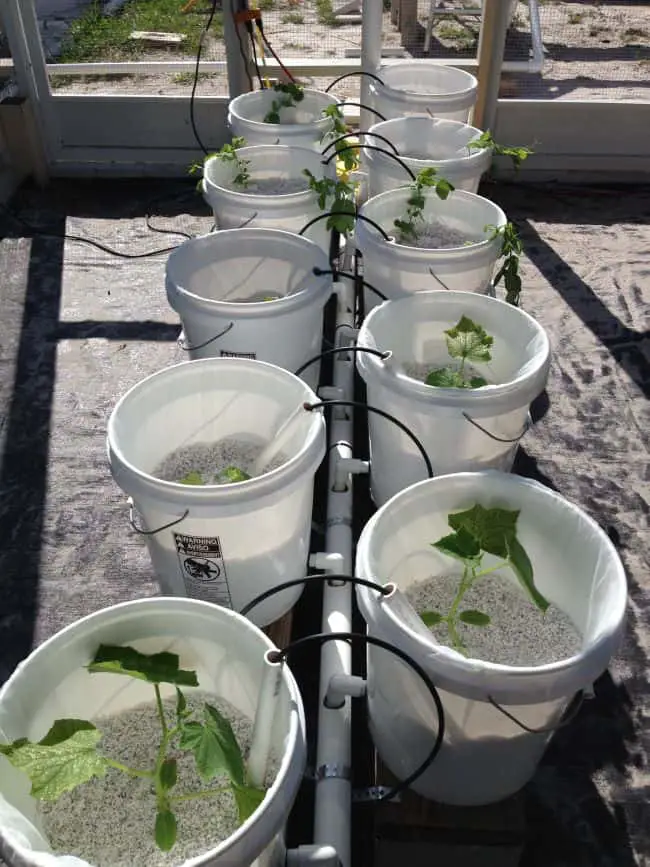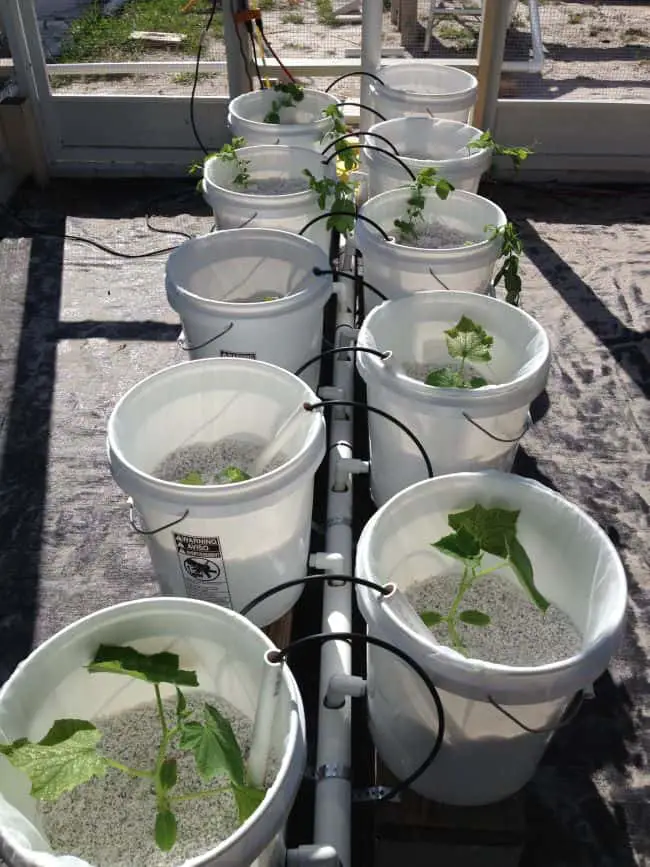 Image Credit: greenviewaquaponics
Bucket aquaponics system is one of the most unique new age bucket gardening ideas to adopt. Aquaponics is a food production technique that combines hydroponics and aquaculture. This system allows you to grow water plants in addition to raising fish in a bucket or a container. With these plastic buckets, you can create your own aquaponics system at lesser cost. Also, these buckets are perfect places for growing plants by allowing proper passage of water.
15. Buckets Used as Raised Beds in Garden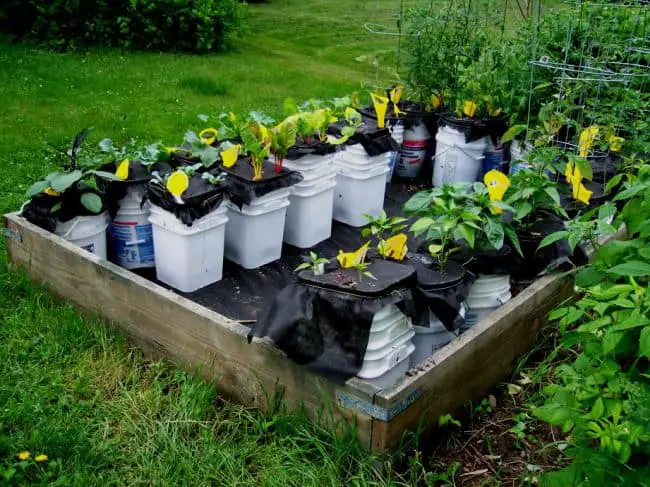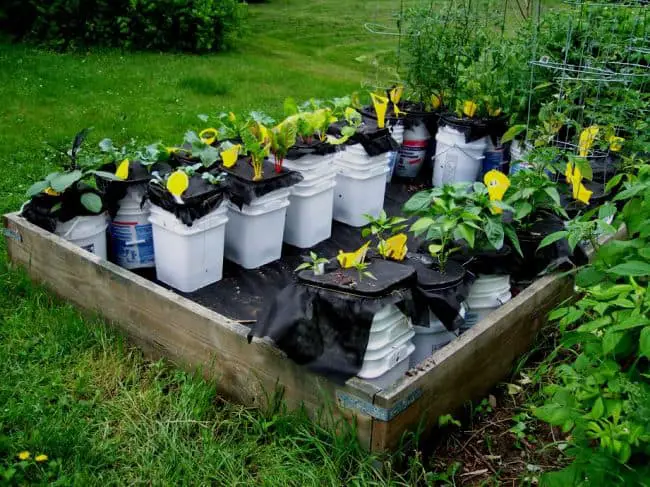 Image Credit: theselfsufficientliving
Old buckets, either plastic or metal can be used to grow plants and flowers, not merely in vertical way, but also in a raised manner. A raised garden can be created by planting your herbs, veggies and flowers in buckets over some stepping stones or wooden frame to lend a stylish look. You can have similar buckets arranged systematically or else go in for colored buckets to have a verdant spot that looks stunning.
16. DIY Worm Composting Bucket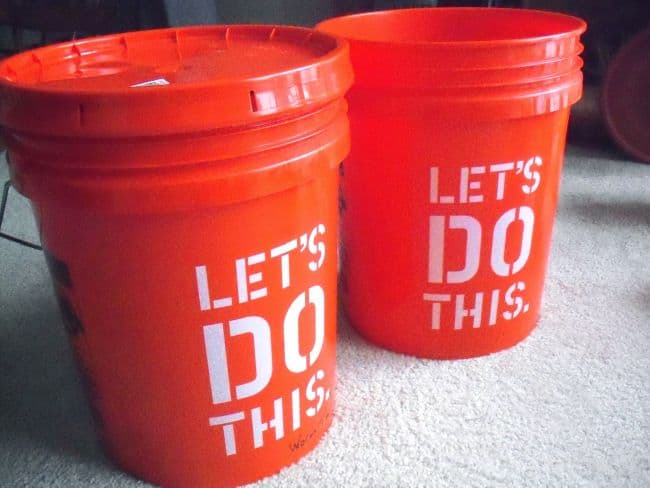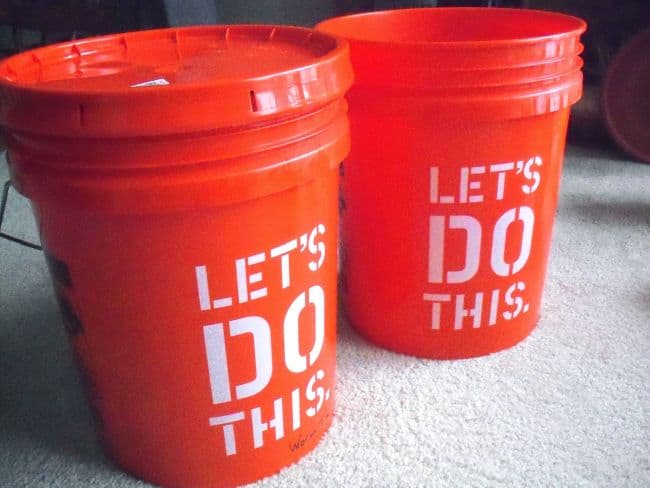 Image Credit: blogspot
Buckets can come to use when you want to make compost using worms. Instead of going the traditional way of composting in larger areas, its easier when you do worm composting in smaller areas like buckets. Compost adds nourishment to your plants and helps these to grow abundantly. If you have 5 gallon buckets at home, then you can make worm compost in these. Arranging the tools like drill and lids takes less time. You can use any number of buckets as you need.
17. DIY Hanging Bucket Garden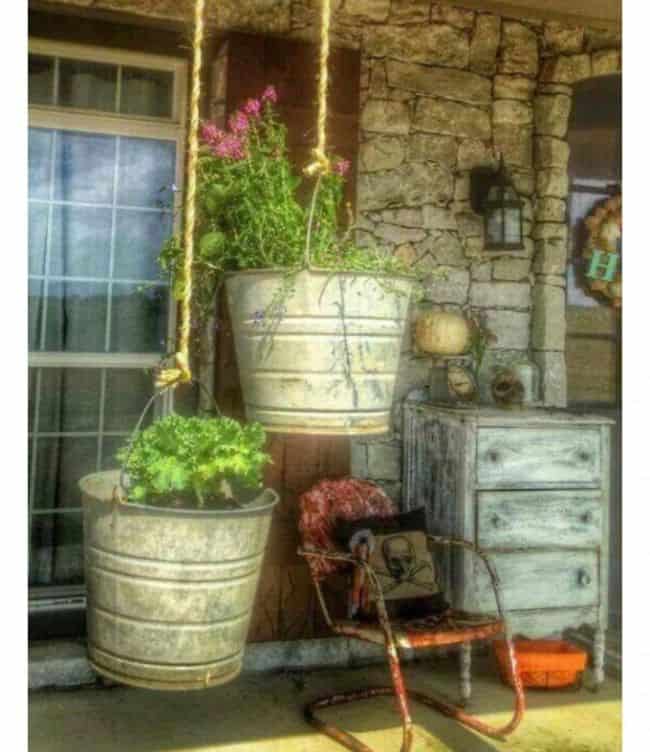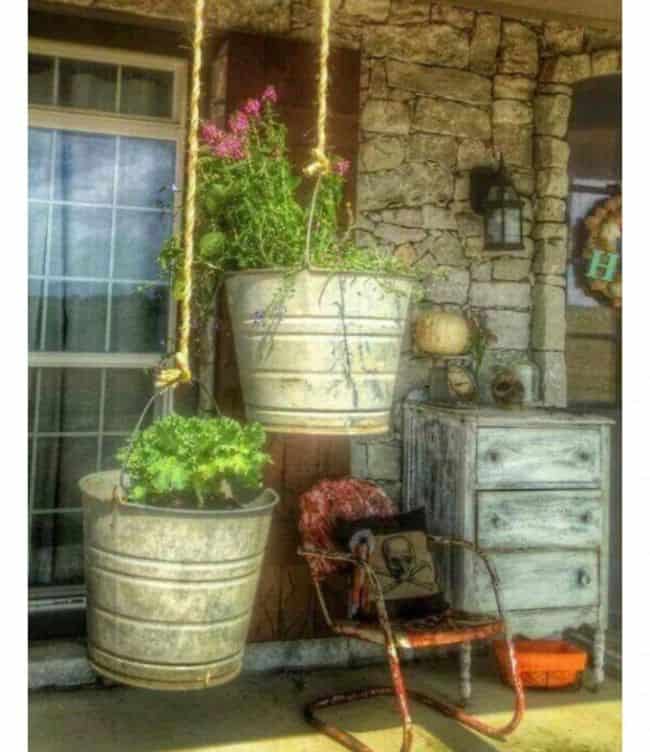 Image Credit: kitchenfunwithmy3sons
If you have a corner in your balconies or backyards that can be used for gardening, then you can go in for a hanging garden where you can put to use your old buckets. In this image, hanging buckets have been used for growing veggies. This is a very popular concept wherein you don't grow plants in the soil. Instead, you grow these vertically and over the grounds. The project is simple and you can get a garden such as this in less cost.
Also Read: 15 Ways for using Eggshells in the Garden
18. DIY bucket drip irrigation system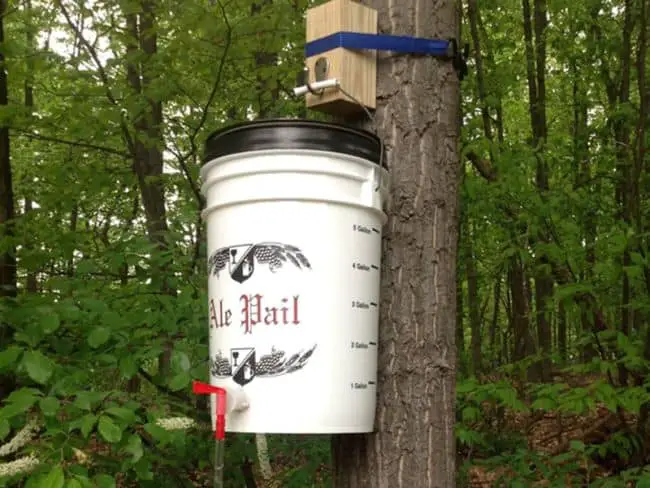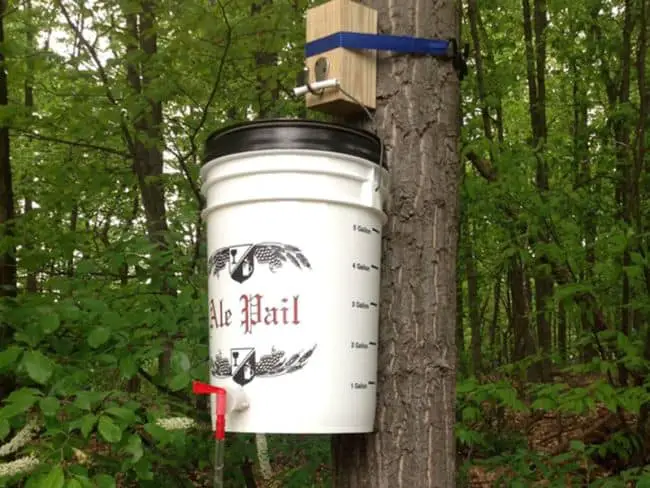 Image Credit: amazonaws
The concept of drip irrigation is not a new one and has been in practice for quite some time. The concept allows you to water the bases of plants directly and slowly. If you have old buckets, you can use it to water plants like shown in the picture. Here, a bottling bucket has been bought at cheap price and then attached to the trunk of a tree. The bucket releases water from its tap slowly to reach every part of the plant in a constant manner, allowing in further growth and propagation.
Final Thoughts
Using old things like buckets are increasingly becoming poplar in growing gardens these days. If you have liked reading today's post on 18 bucket gardening ideas, then ping back! Your suggestions and comments are valuable to us!
We are sorry that this information was not useful for you.
Tell us how we can improve.