31 Fantastic Small Balcony Wall Planter Ideas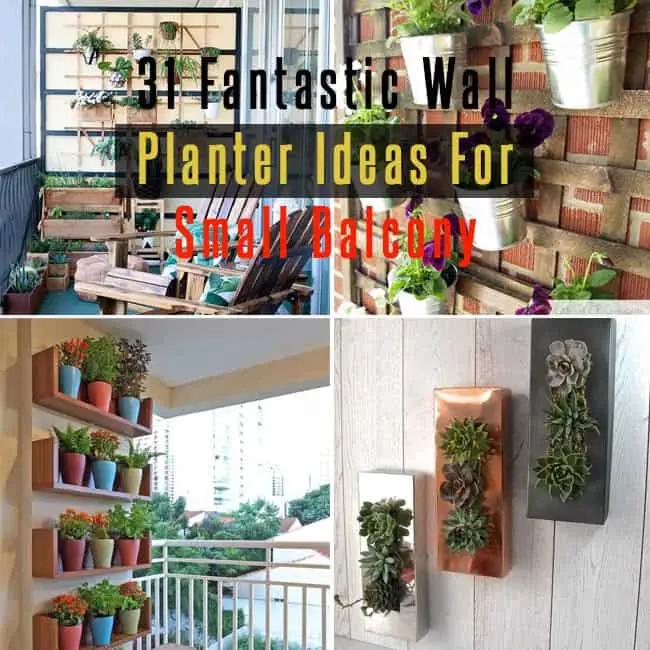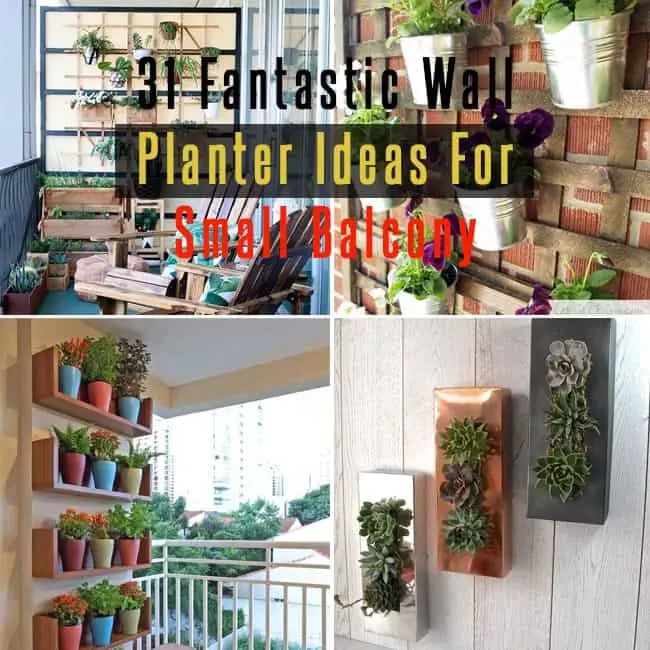 Do you have a small balcony but wish to convert it into a nice verdant spot? Well, here is a terrific idea that you all can use, and that would be making good of the vacant walls. Yes, with these fantastic small balcony wall planter ideas that are about to be presented, you can achieve your very own mini garden. Walls are often found to be utilized in balconies, but, with some creativity and imagination, you can transform these into stunning spots. Below, you will find a delightful array of wall planter ideas, some of which have made use of DIY and are pretty affordable. Do have a look to know more!
1. Charming small balcony wall planter idea with pots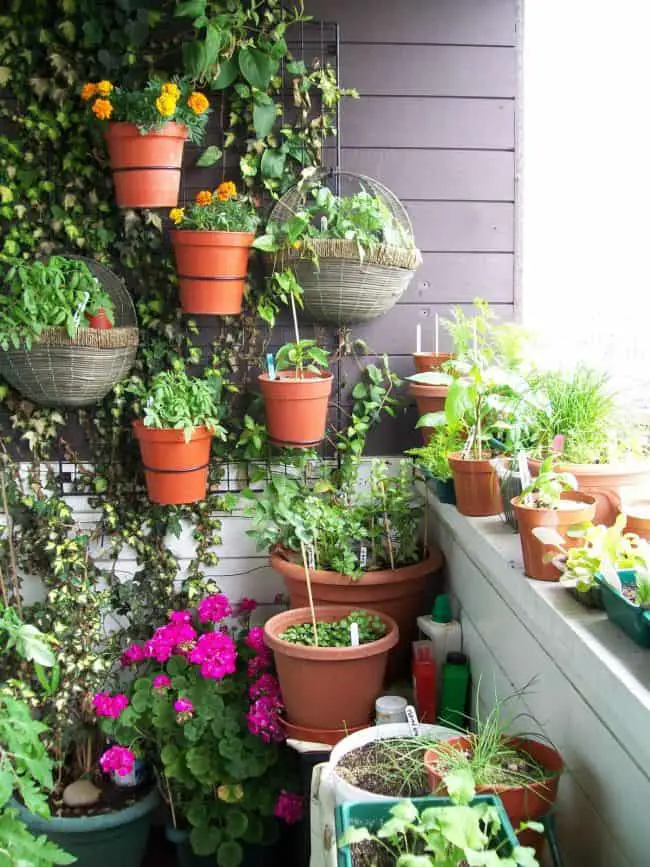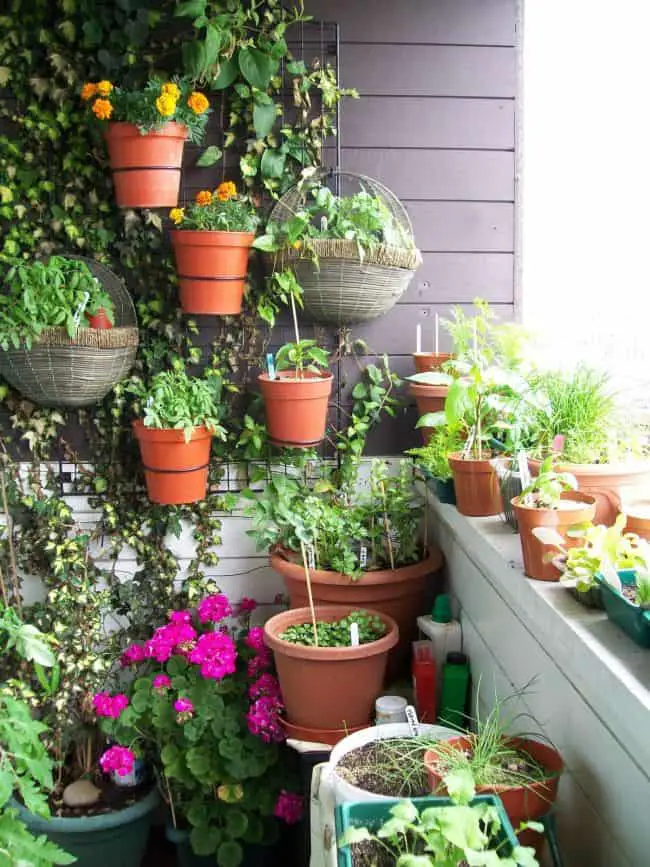 Image Credit: pinimg
If you wish to create a relaxing green nook in your balcony, then here is this awesome idea which makes use of a number of potted plants hung over a metal wall frame. The metal frame can be wrought iron or stainless steel, and pots can also be of various shapes and sizes. The wall planters in the picture look very refreshing and are perfect for a small spaced balcony.
2. Gorgeous pallet wall with potted plants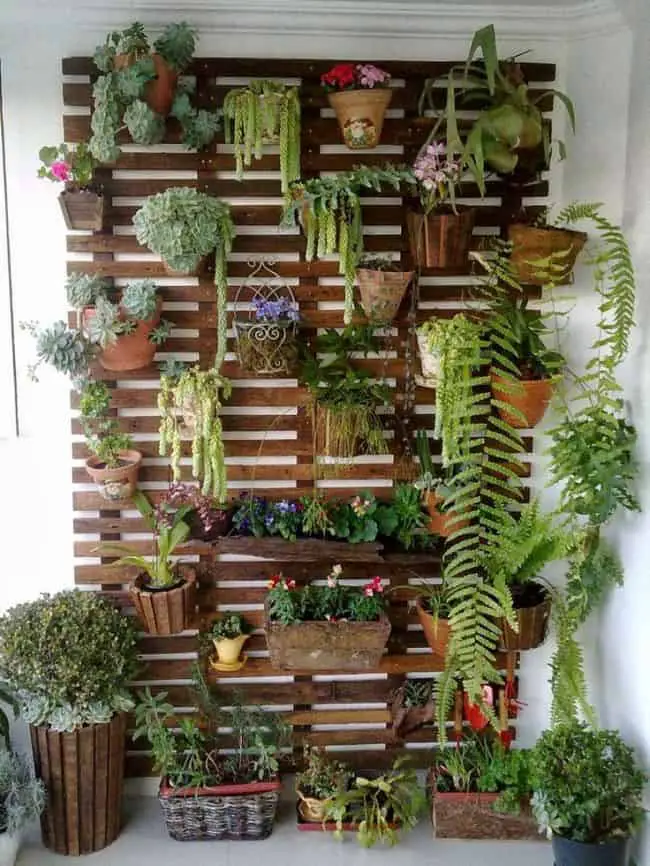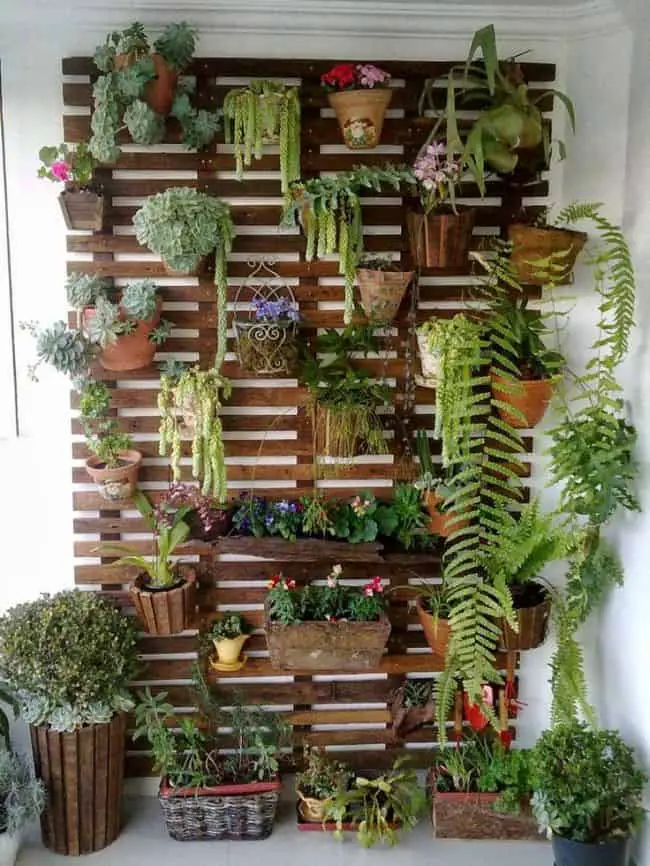 Image Credit: ihome108
If you are looking for affordable DIY wall planters, do take a look at the picture above that shows how one can give a whole new look to his or her small balcony. The wooden wall frame is made of pallets and bears a rustic look. Over it are hung wall planters made of wood and terracotta. The owner of the house has also planted lot of different types of plants to lend variety.
3. Succulent frame wall planter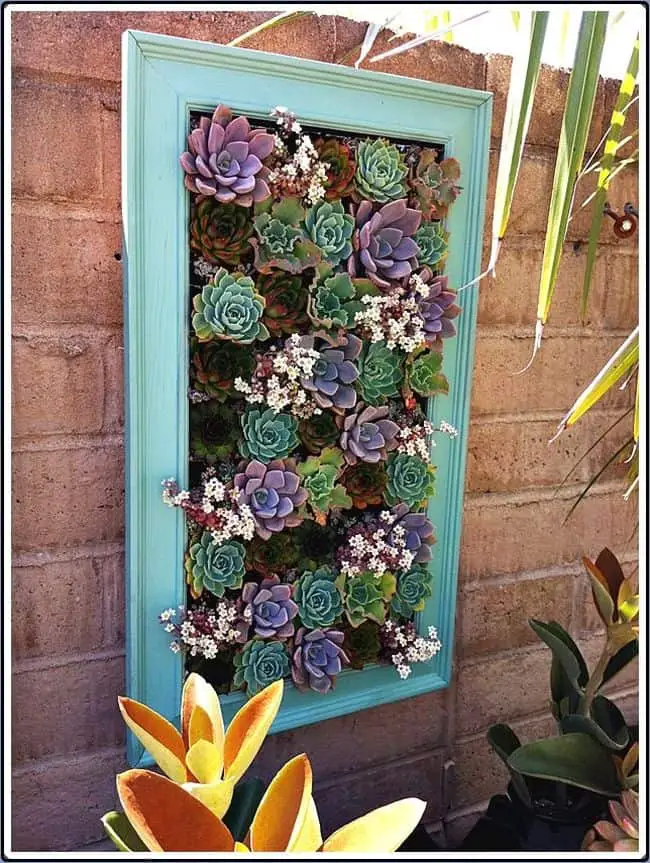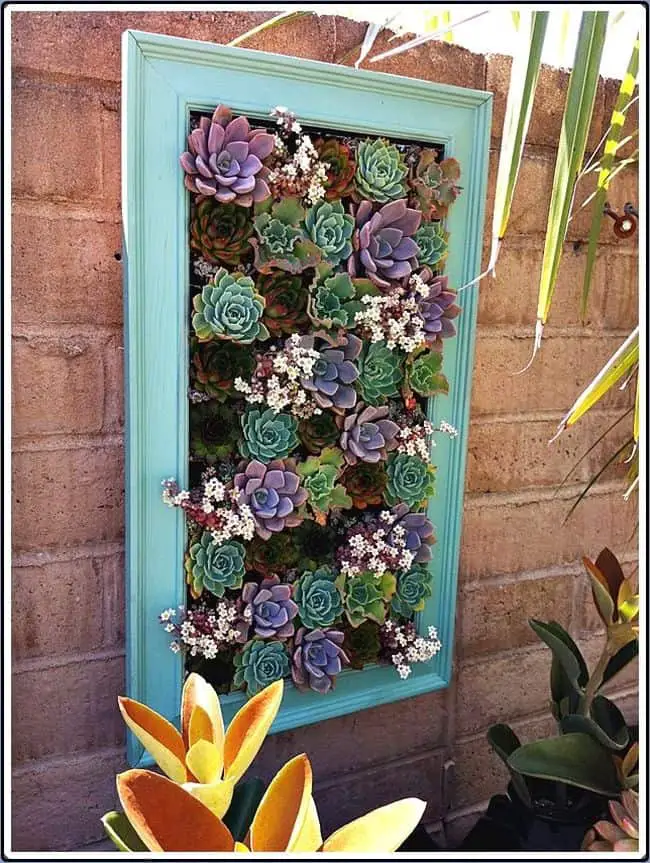 Image Credit: pinimg
Any vacant spot on a wall can be best put to use when you adorn it with plants and greens. How about planting some succulents? If you want an affordable DIY idea, then look at the image above where the wall has been decked up with an old window frame in blue. The space is filled with gorgeous succulents. This is a simple DIY project and anyone can do this easily.
4. Potted plants on a decorative metal wall frame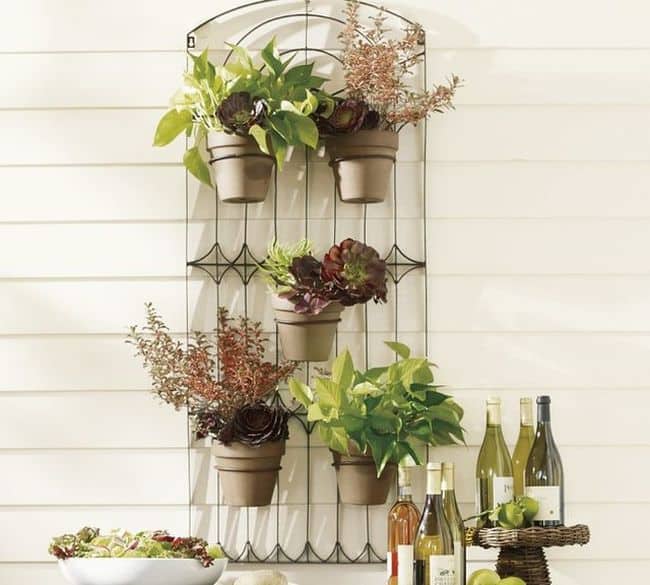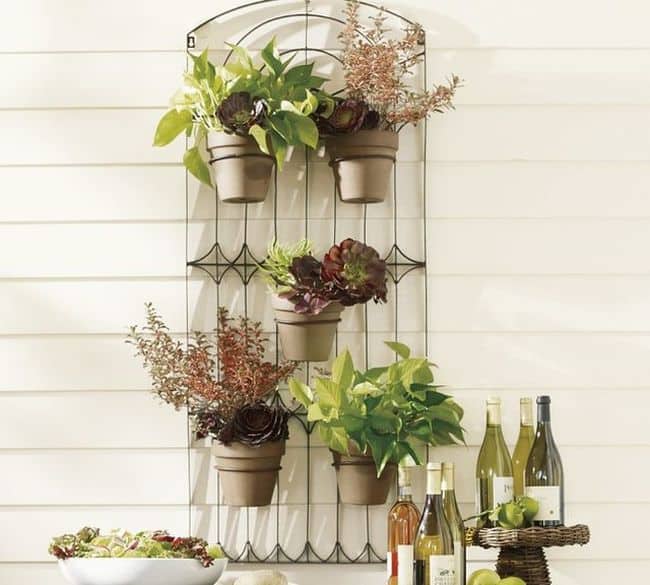 Image Credit: ingeniousassetgroup
Metal wall planters can enhance the look of your bare balcony walls, just like the decorative metallic wall frame shown in the image above. The frame is used for hanging potted plants in a systematic manner. The wall planters look very elegant and contemporary in style. You can use any kind of pots as you like, and arrange them in any order. This metal wall frame looks sleek and will last for a long time.
5. Vertical wall planter on a small balcony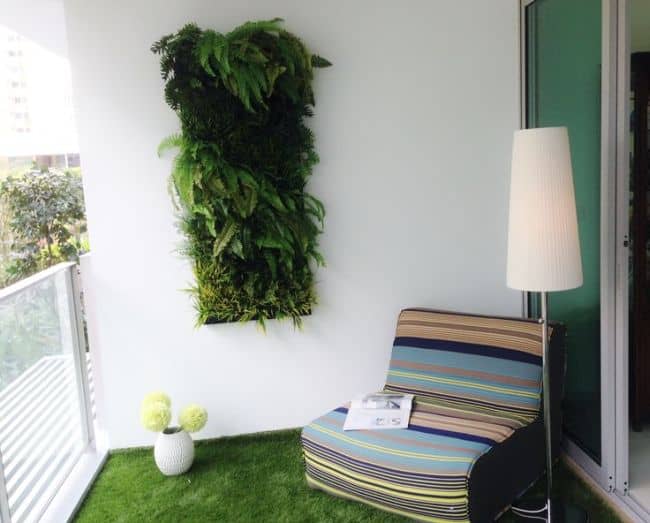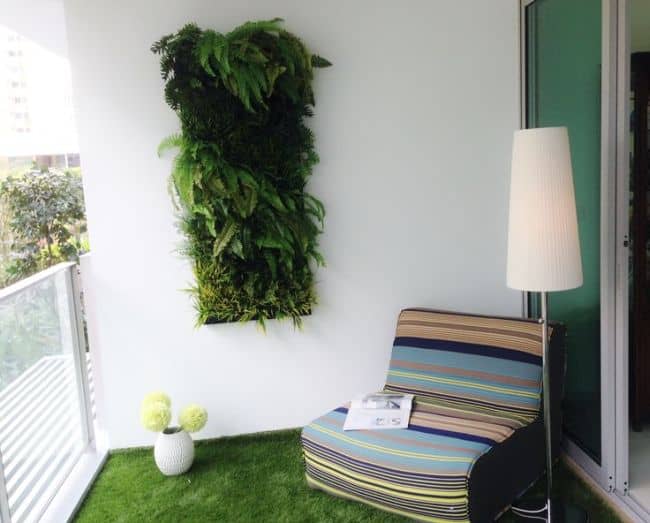 Image Credit: pinimg
This idea works well where the space is limited, such as in the image above. The white walls seem to appear larger with this awesome wall planter fixed on it. You can grow either fresh flowers, ferns, or herbs as you like. The frame chosen can be wooden, wire or metal. The sleek wall planter looks stylish and adds to the verdant look of the balcony.
6. Terracotta planters on vertical wooden wall frames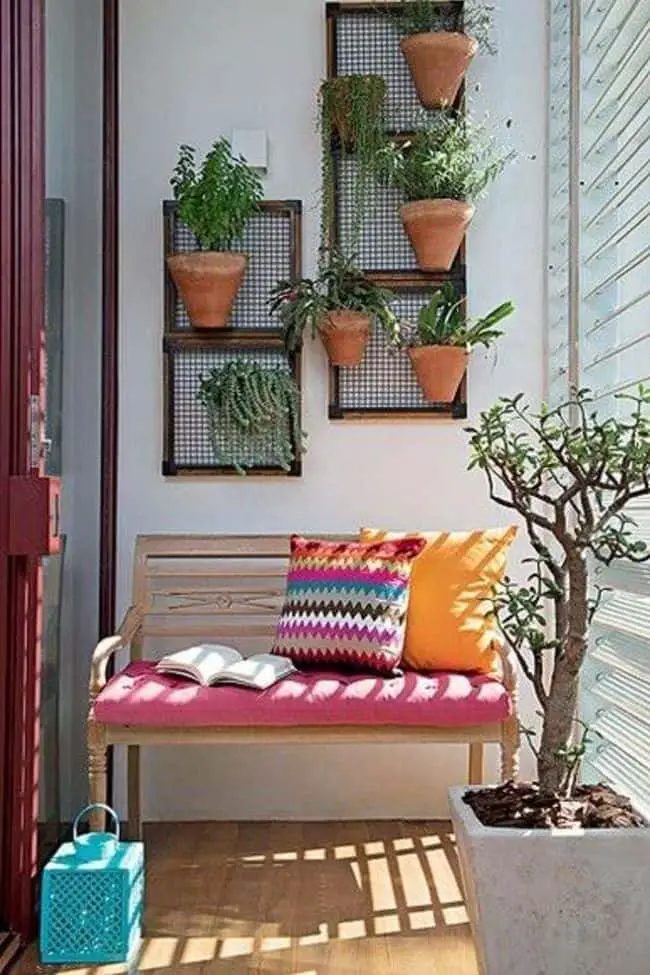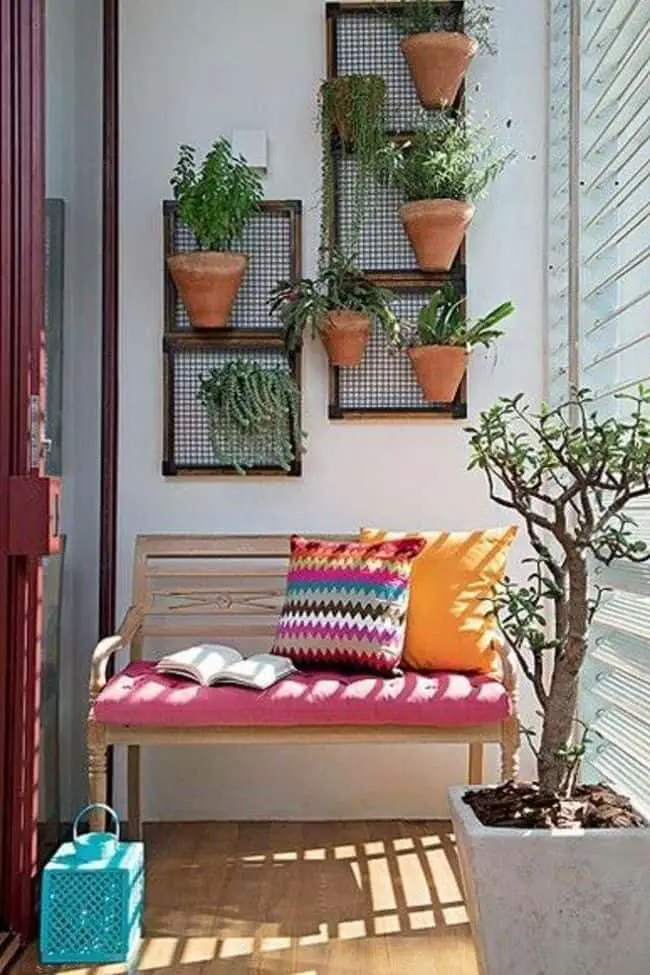 Image Credit: 0zz0
This small balcony appears to be quite a refreshing spot for relaxation as it features not only a chic seating area, but also a green spot. Since, there is not enough floor space here, the owner has opted to go the vertical way and has got two vertical wooden frames fixed on the wall. Terracotta pots have been hung after screwing these with special pot clips attached on the frames.
7. Stylish double wooden wall frame with potted planters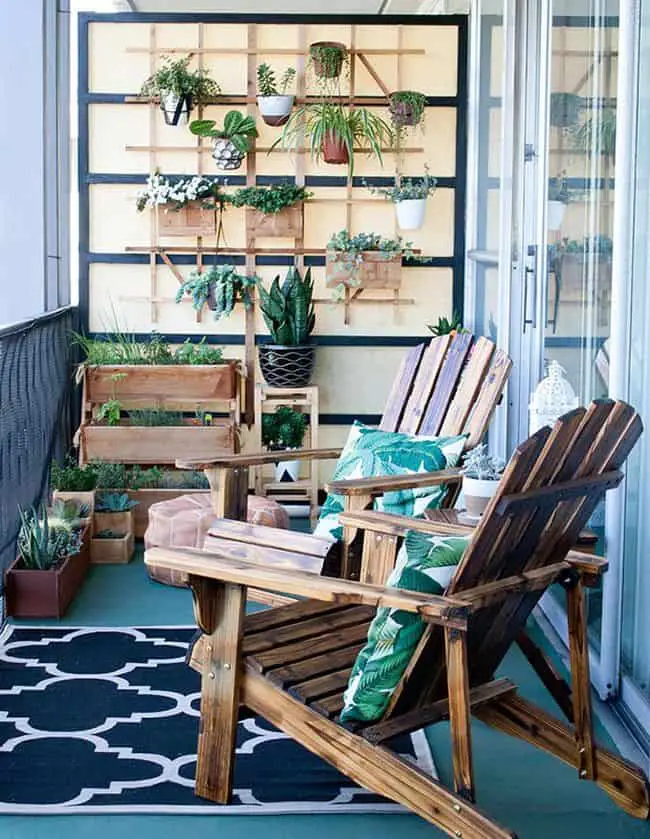 Image Credit: zixundingzhi
Create a beautiful vertical wall garden with this double wooden frame trellis with hanging potted plants. The balcony belongs to a stylist based in San Francisco, and is beautifully bedecked with palm printed pillows, green floor, and above all – a double wooden frame featuring planters made of pure cedar wood. This eclectic mix of planters with sculptural succulents and trailing vines makes the whole balcony appear romantic and the idea suits such balconies that have limited floor space.
8. Plastic wall planter with terracotta look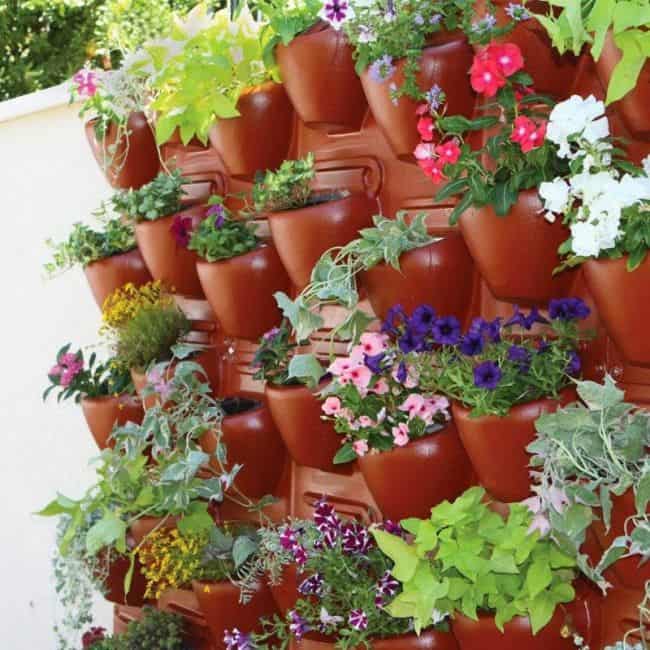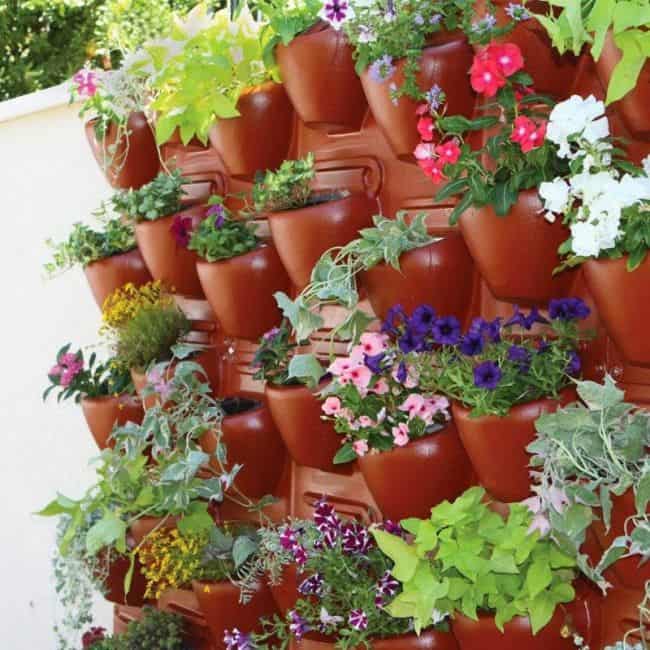 Image Credit: blogspot
The wall planter in the image is made up of plastic and resembles terracotta. This is an attractive add-on to any landscape such as a patio or a garden or a balcony. You can hang as many panels as possible on the walls and plant different kinds of plants and flowers. The wall planter is designed by PlantScape and is quite impressive.
9. DIY colorful wall planters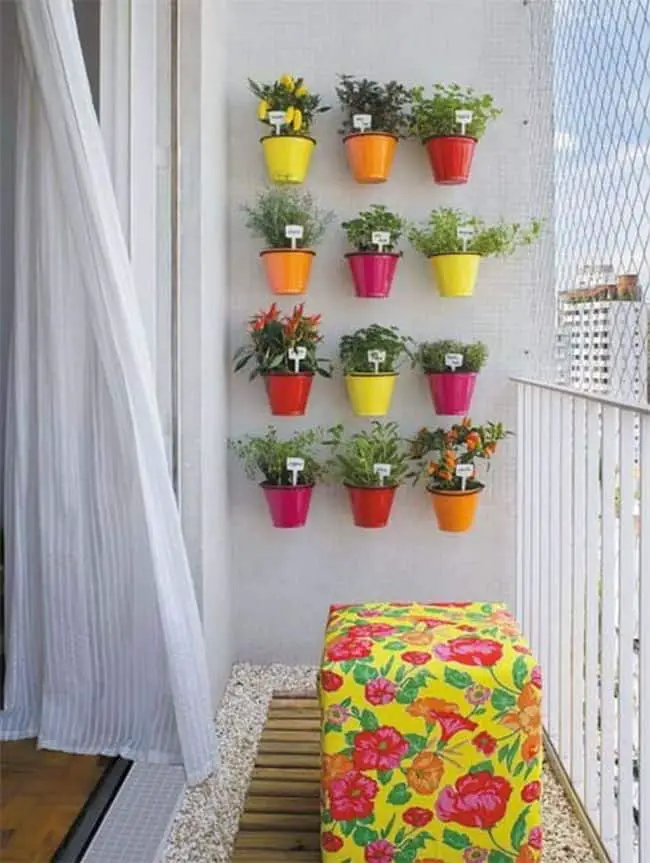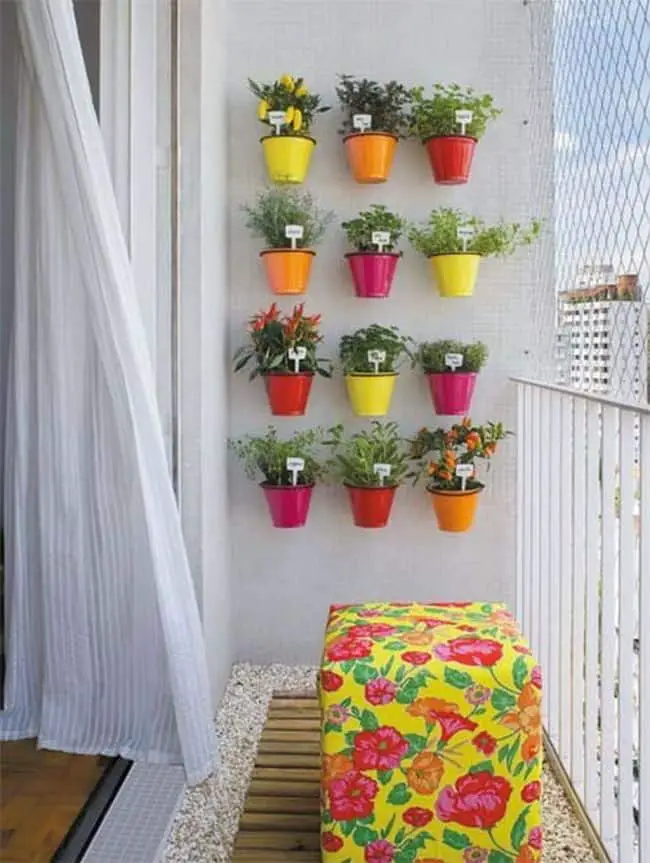 Image Credit: homebnc
DIY wall planters come in various styles and these are in-fact quite easy to assemble. If you have a small balcony that has no space for gardening, but, you still want to plant greens and fresh seasonal flowers, you can build your very own DIY wall planter using old and recycled stuff like old door and window frames, wooden pallets and even old buckets. In the picture above, the owner has created a very colorful spot on the balcony by painting small pots or containers in various colors and hanging these on the wall. The pots are hung all by themselves, but you can also put up a frame of wood or metal if you want to.
10. Cute DIY wall basket planters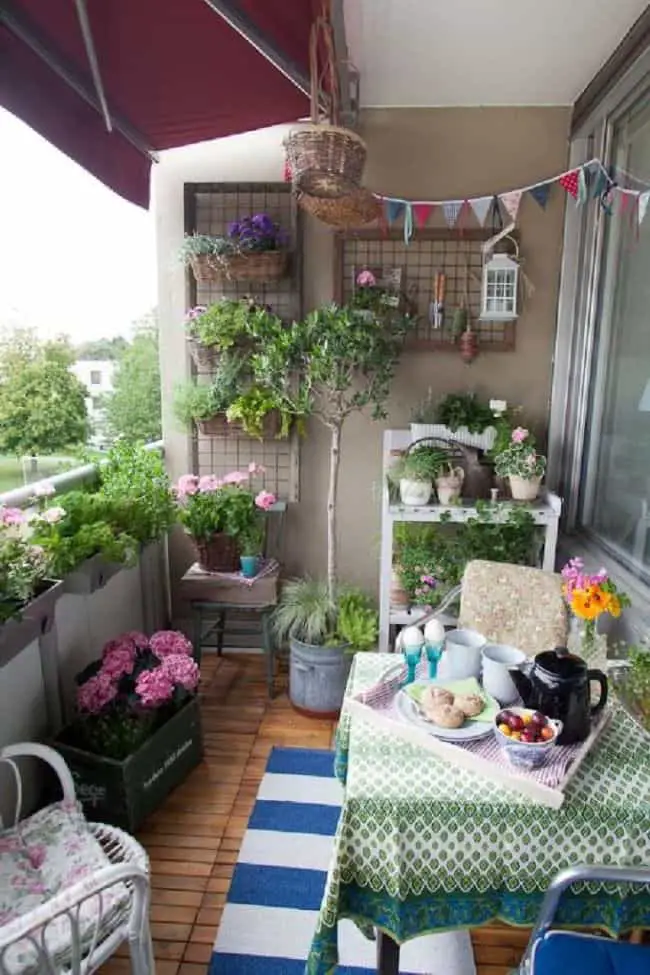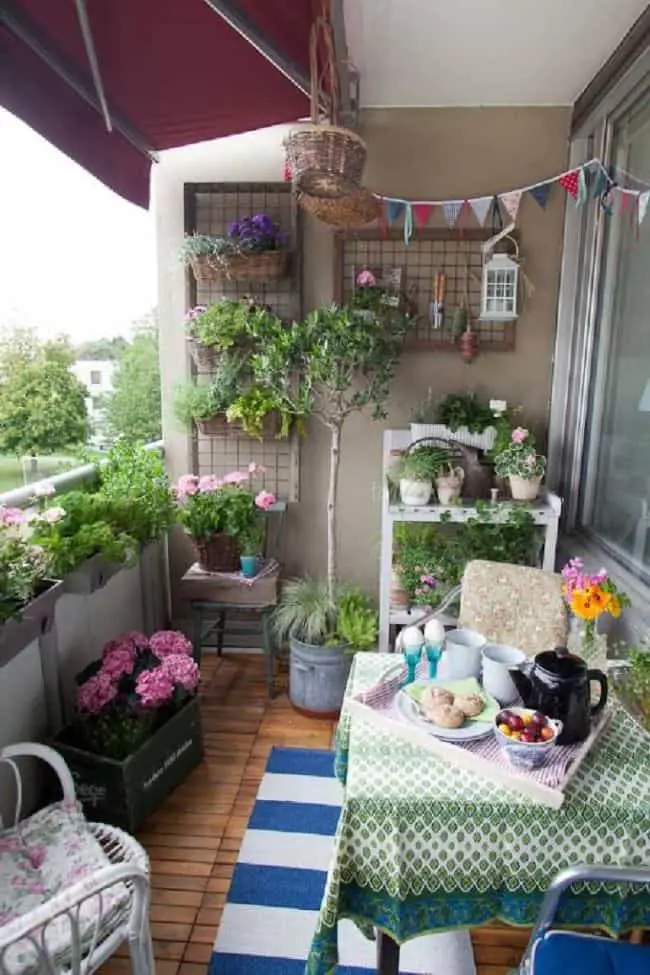 Image Credit: homebnc
Are you searching for creative and easy to make DIY wall planter ideas? If yes, you are about to get a very cool idea using baskets and wood. This project has made use of old baskets that have been converted into planters. The wooden frame too can be made using wooden pieces or pallets. In this case, the frame is made of wood and bears a mesh kind of look.
Also Read: 75 Types of Flowers you can Eat
11. Hanging buckets wall planter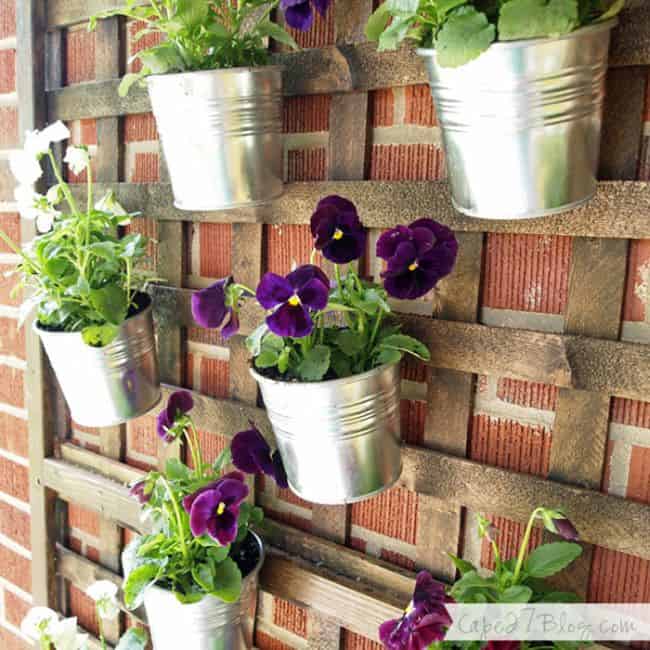 Image Credit: andreasnotebook
The project is pretty simple and you can all try doing this at home. You would need a lattice as a frame and a few galvanized bucket planters to hang on the lattice. The wooden lattice in the image is pressure treated and the planters are designed by Ikea. All you need to do is assemble and put together the lattice. Then drill hooks to hang the bucket planters on it. The look is very stylish and is perfect for a small balcony wall.
12. Hanging cloth wall planter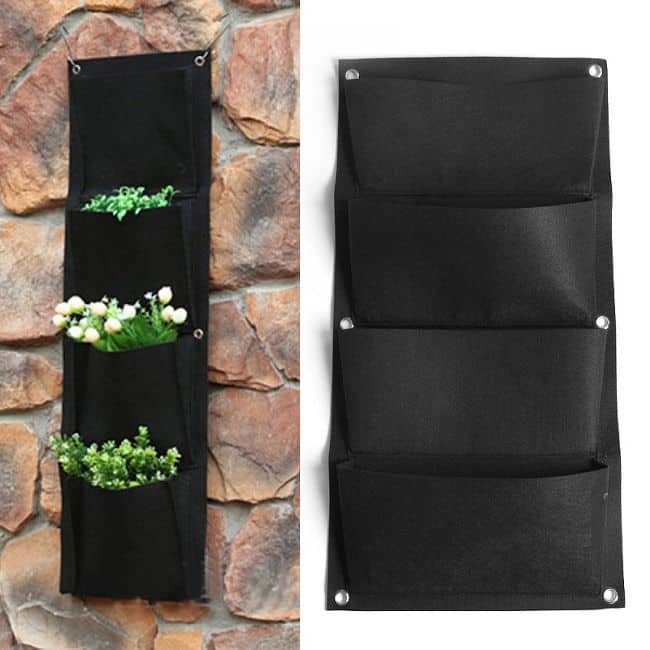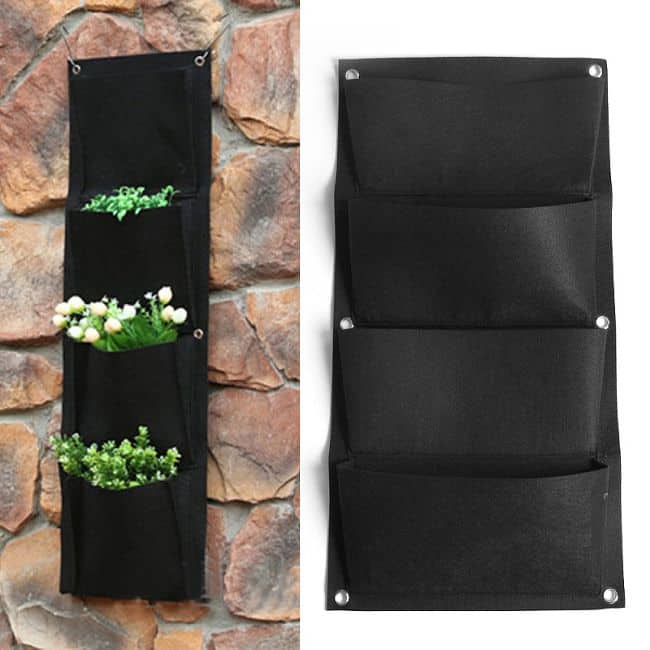 Image Credit: alicdn
This beautiful wall planter can be used both indoors as well as outdoors. The planter is made of breathable cloth which is also good at absorbing water. It looks not merely stylish but an art piece that can add a striking touch to any spot. It is resistant to corrosion and can be used for planting herbs as well as veggies.
13. Recycled Tyre wall planter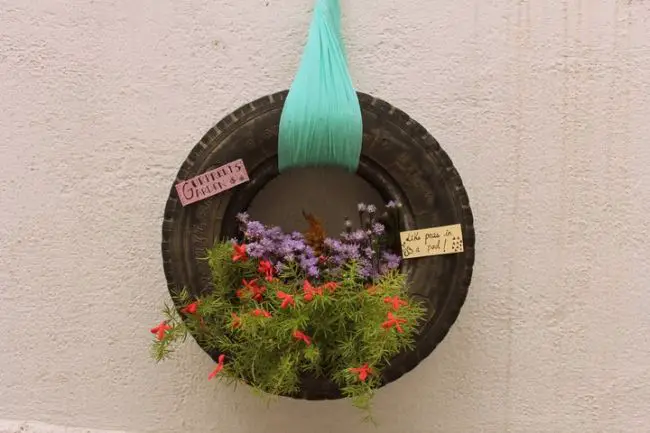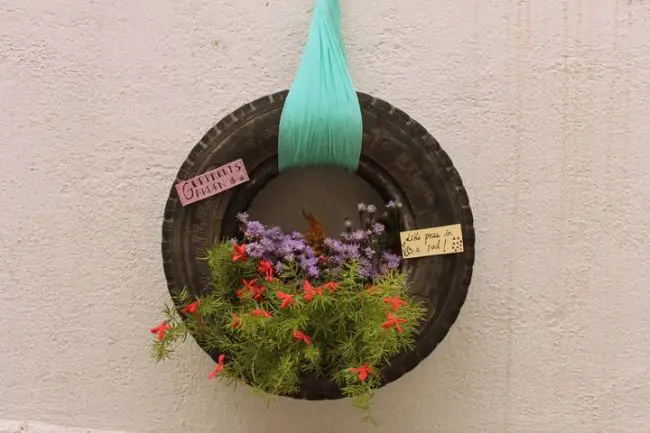 Image Credit: thealternative
Old and recycled stuff are an all time favorite of DIYers as these are easy to gather and can be easily assembled into creative ideas that keep germinating in our minds from time to time. Old tyres never go out of fashion, specially when you are planning to deck up your home. Tyres can be used as wall planters to grow veggies as well as flowers. Simply fill these with soil and manure, then plant creepers or flowers as you wish. Tyre planters look gorgeous and are long lasting. With this project, you can create your very own garden anywhere.
14. A hanging shoe organizer wall planter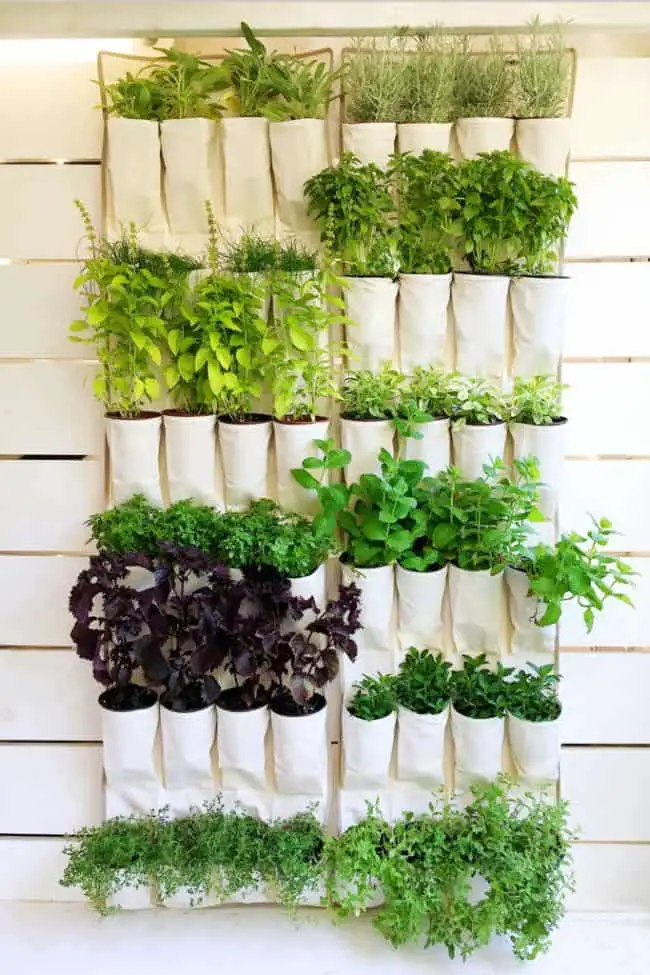 Image Credit: farmandfoundry
The above showcased idea works fantastically for a small balcony that has no space for gardening, but has vacant walls that can be put to maximum use when you hang planters. The above wall planter is actually a show organizer which has been converted into a planter for growing plants of various types. Its a DIY project anyone can do easily at home. You can use a wooden lattice as a frame and hang or fix the shoe organizer planter on it. The whole idea is cheap and functional and best suited for small apartment balconies.
15. DIY wall planters stacked on old shelves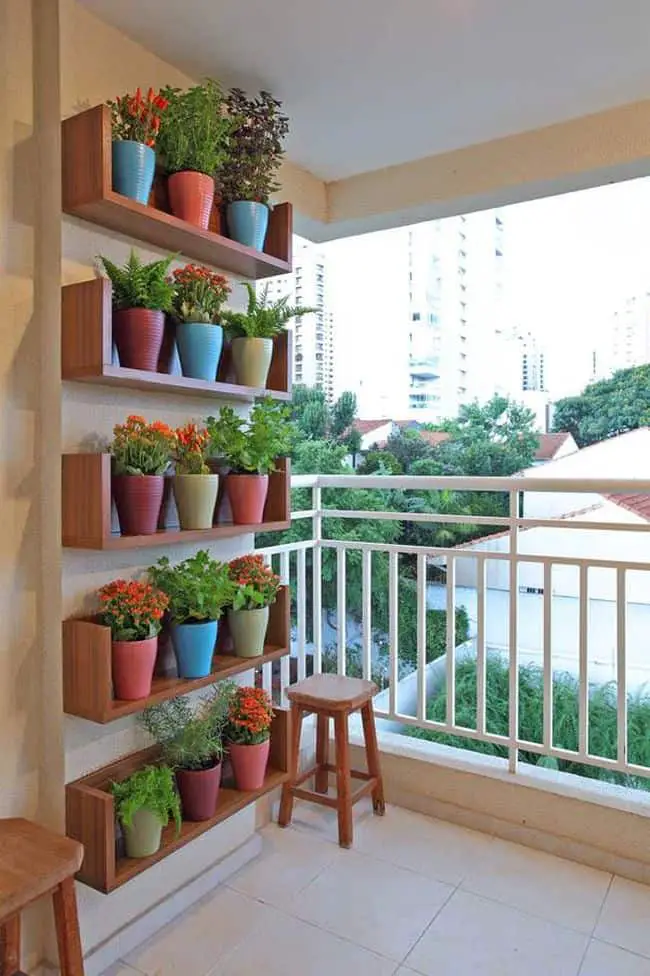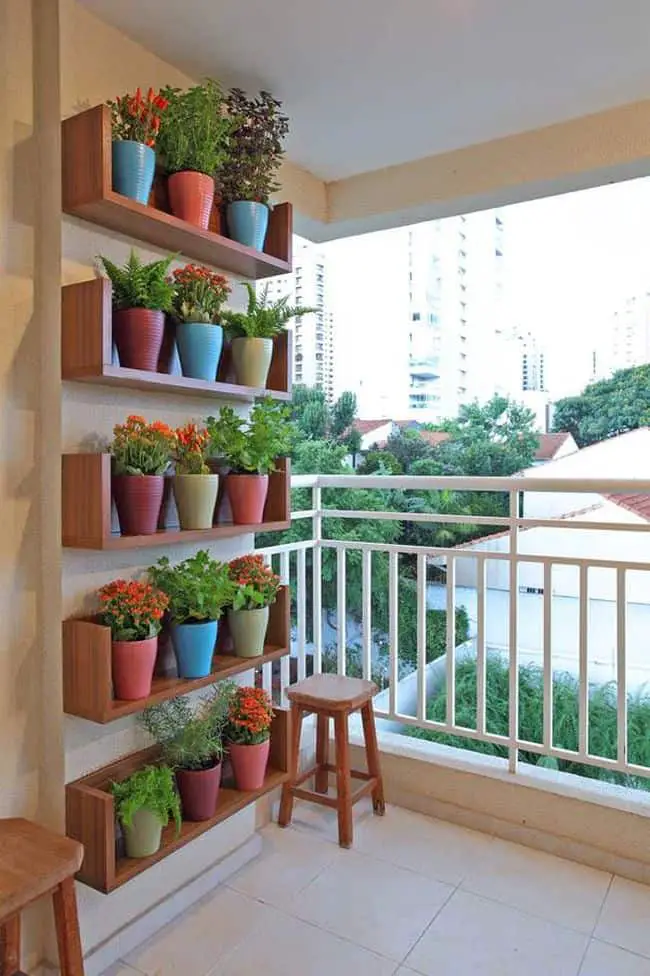 Image Credit: topdreamer
In this list of awesome wall planter outdoor ideas, we must mention about how one can use old wooden shelves as wall frames and then hang potted plants for creating a verdant spot. The above picture shows a small balcony where the wall has been effectively utilized to create a tiny garden. The owner has made use of wooden shelves and then planted seasonal flowers in pastel shaded pots. The whole decor looks pleasing and helps in adding a chic touch to the balcony's look.
16. Potted plants on a wooden wall trellis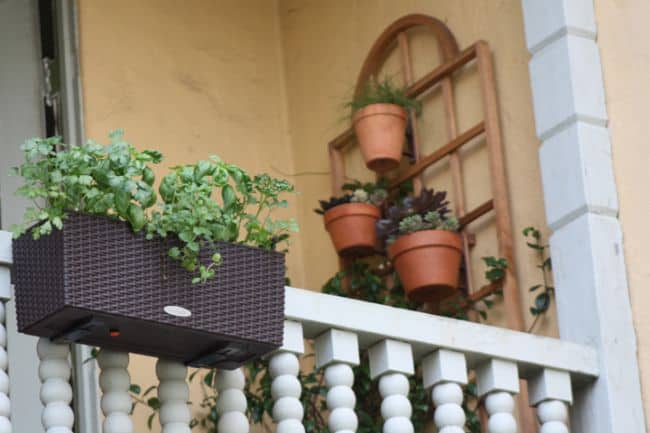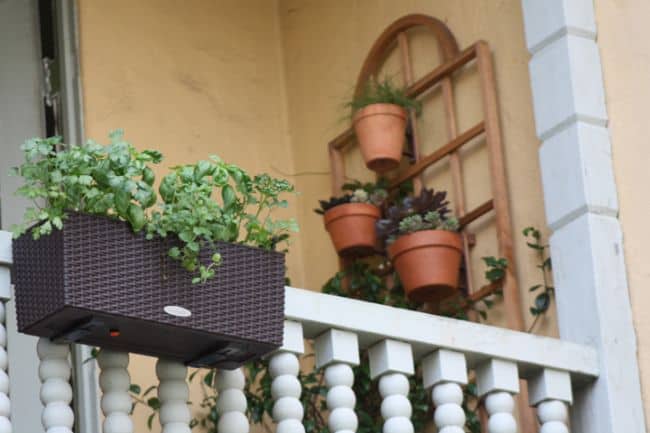 Image Credit: timberpress
Do you need any more fantastic ideas to include more greens into your teeny tiny spaced balcony? If yes, do have a look at the image showcased here which shows how you can use your limited space to the best of your ability. If you are thinking of going the vertical way for gardening, then craft your own trellis using wood, just as in the image. You can grow a climber or a creeper on the trellis, and can even place potted plants. For this, you will need to buy pot clips that are sold for such purposes and can be screwed directly on your trellis.
17. Blue metal wall planters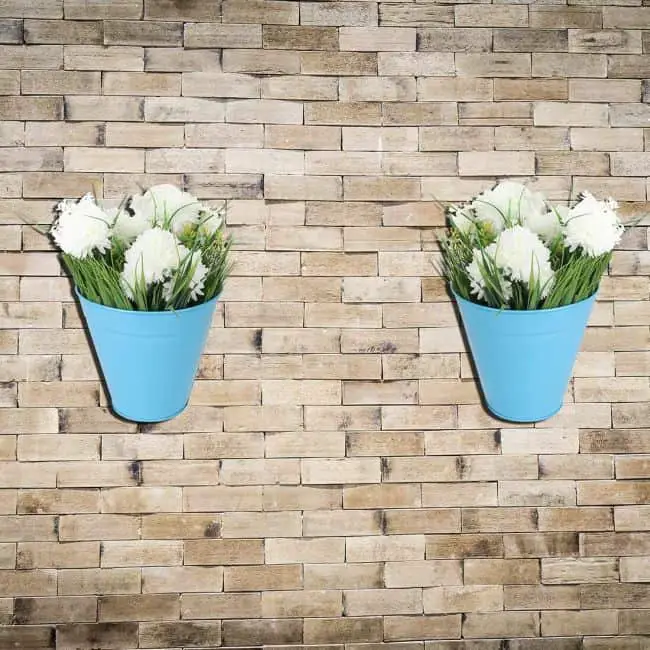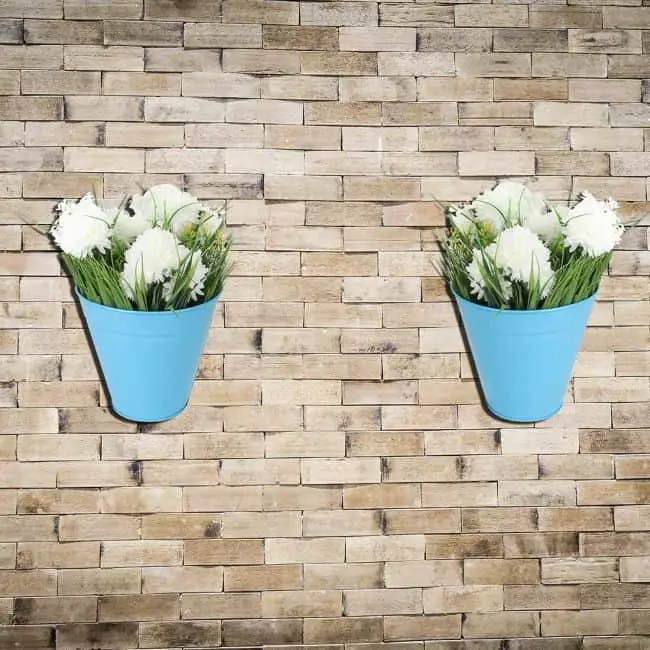 Image Credit: wonderlandgarden
There is no reason why you should rush to your nearest store and buy expensive buckets or containers for planting flowers at home. Now, you can take charge by taking things in your hands. So, start collecting metal buckets and some cool paints for doing this project. The metal wall planters can be painted using any color. Here, the owner has used blue that looks charming and very soothing to the eyes. You can then hang these painted planters on a wooden trellis or iron frame as you like. Holes have to be drilled for water drainage, and then you can start filling up with potting soil and flowers of your choice. The containers above have been coated with special weather resistant paint to make them long lasting and resistant to corrosion as well.
18. Colorful stainless steel wall planters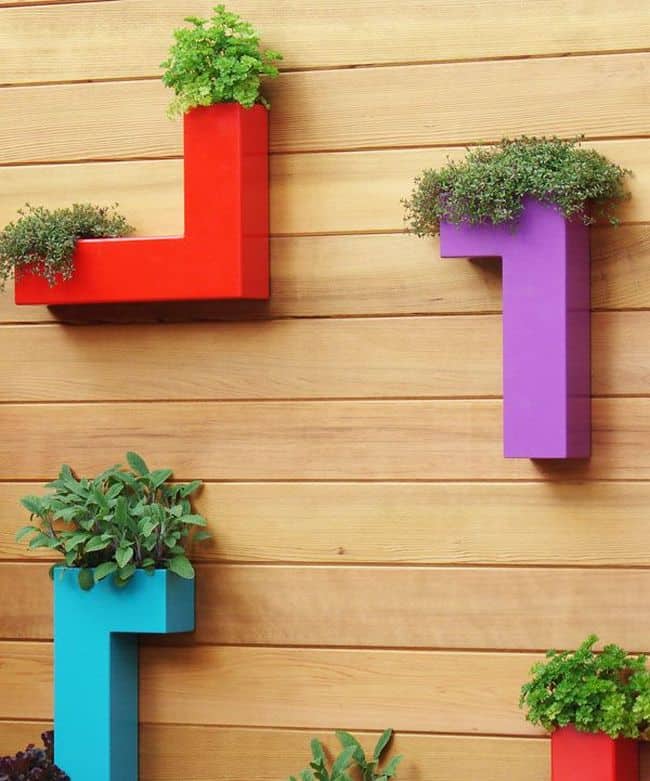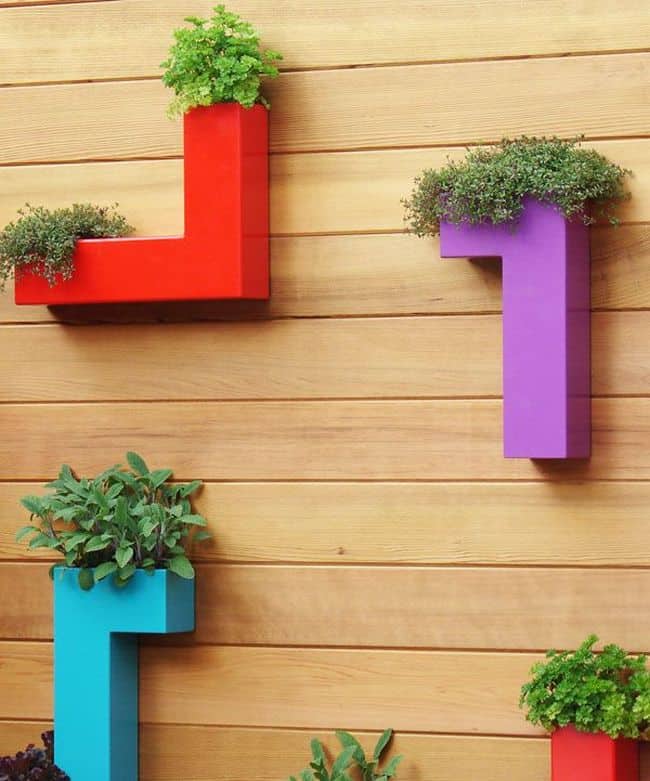 Image Credit: highviewart
Wall planter ideas like the ones shown today are not only eye candies, but functional as well as pocket friendly too. The L shaped wall planters are made of stainless steel and painted in bright colors of red, blue and purple. These containers can enhance the look of any dull spot in the house, both indoors as well as outdoors. These are available in the market at reasonable prices. If you wish to create your own L shaped planters, you can do so with the help of wood. In every case, the result achieved will be more than satisfactory!
19. Stunning metallic wall planter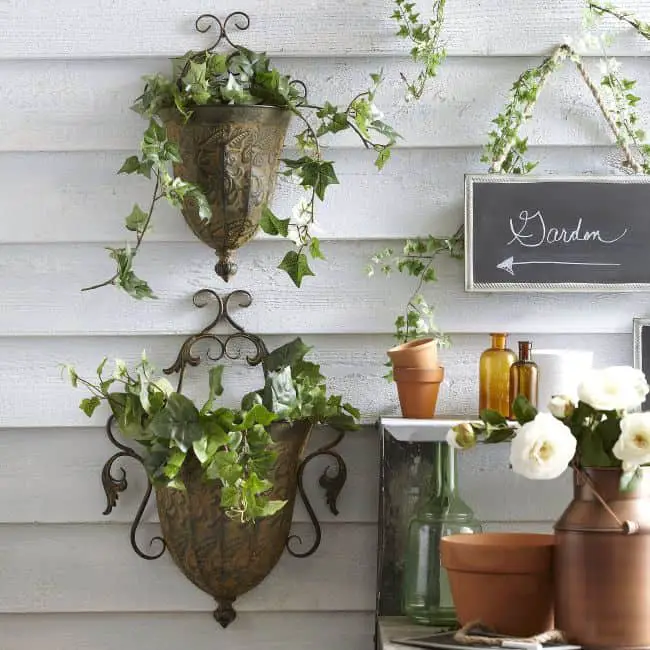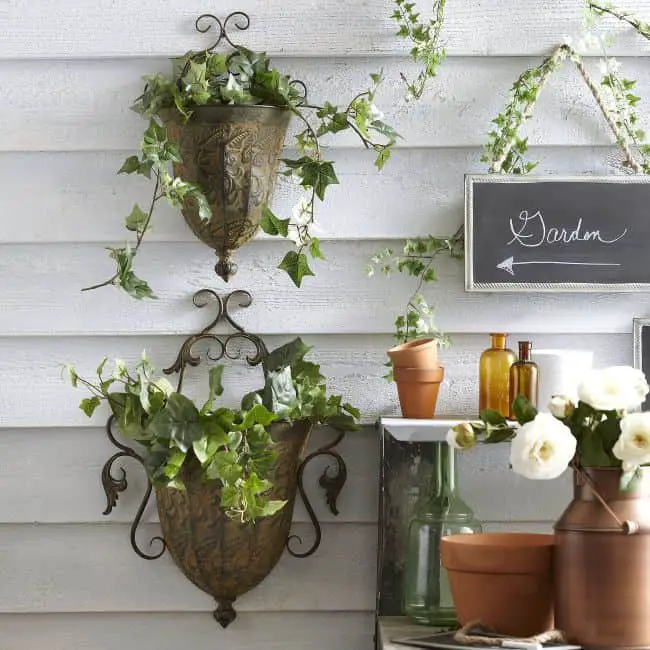 Image Credit: wfcdn
Metal wall planters have a unique style of their own and this is why they are popular with most homemakers when decking up indoor as well as outdoor walls of their houses. Metallic planters not only are easier to maintain, but also last for a long time as compared to cloth or other material. In the image, the balcony wall is decked up with ornamental looking metal planters that bear an intricate design. These can be used for growing creepers or flowers. You can check the internet for more metal planter ideas like this one.
20. Wooden planters for a small balcony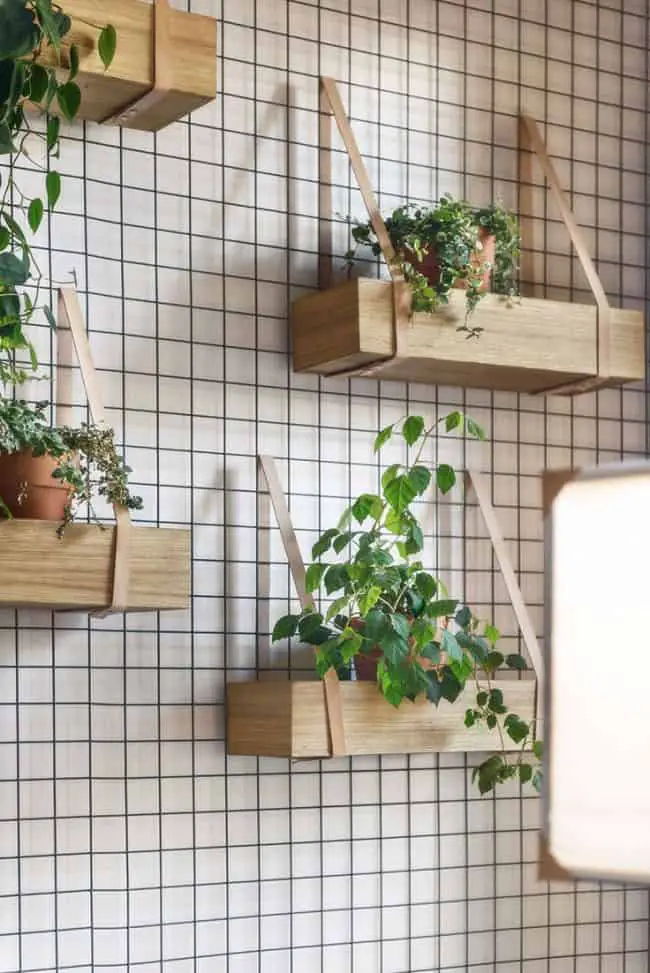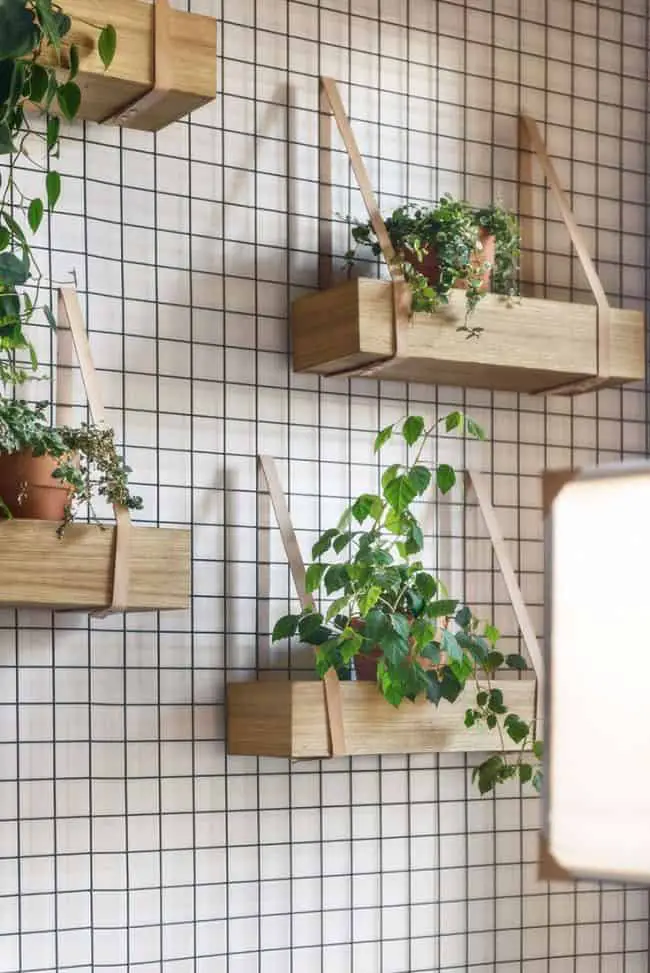 Here, the balcony wall has been bedecked with stylish wooden box wall planters that are attached to the wire mesh frame with the help of buckles. The wooden boxes have been used for keeping potted plants that help in adding a lively touch to the wall. You can also grow creepers or climbers in such pots.
Also Read: 21 Easy DIY Garden Trellis Ideas
21. Upcycled paint container wall planters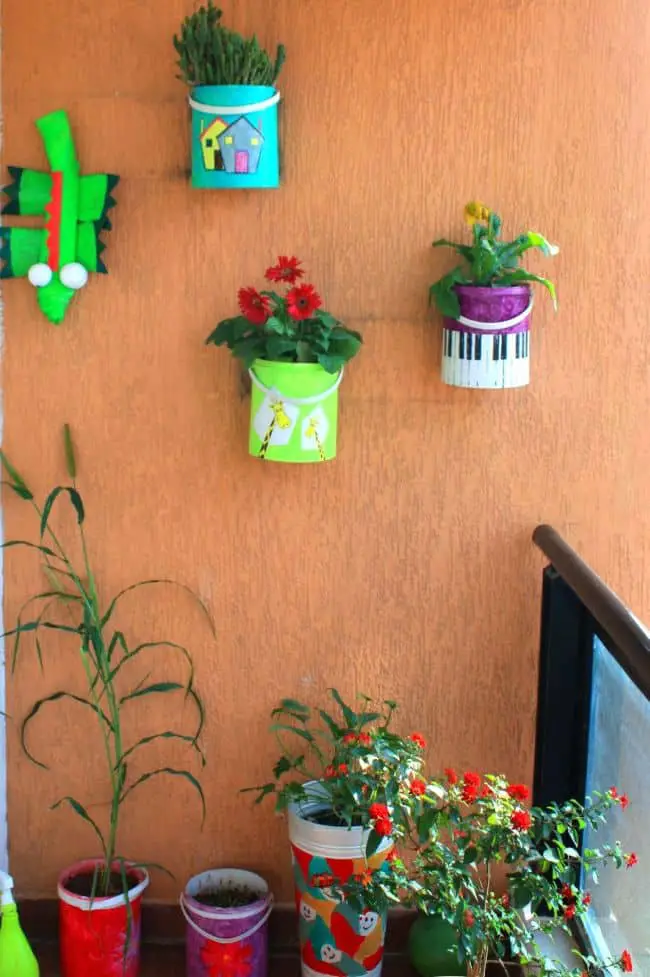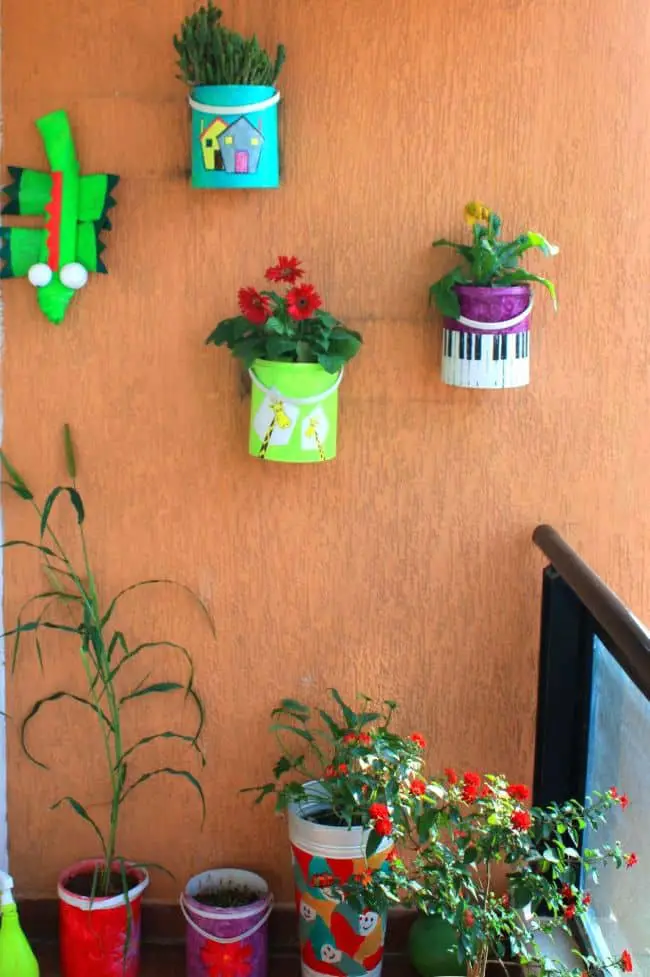 Image Credit: blogspot
If you want to involve your kiddos in creating a green space in your small balcony, please don't think twice as the idea shown above will definitely be loved by them! The project is simple and allows you to use paint containers to grow plants and flowers. All you need are a few old paint buckets and some fresh paints. Paint the containers in any color as you like and then drill holes. Afterwards, fill these up with potting soil and manure. Then plant your flowers or greens. You need to use acrylic primer before you start painting. For a cheaper variant, use wall primer as it is less expensive.
22. Cloud themed wall planters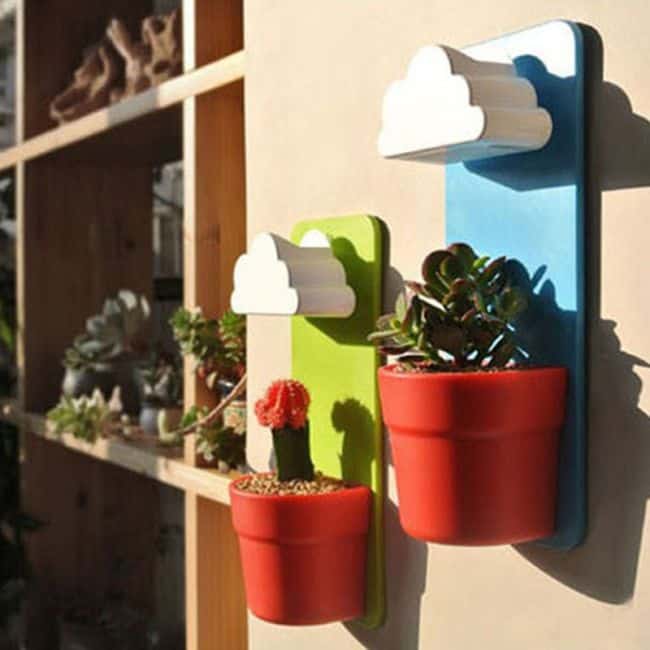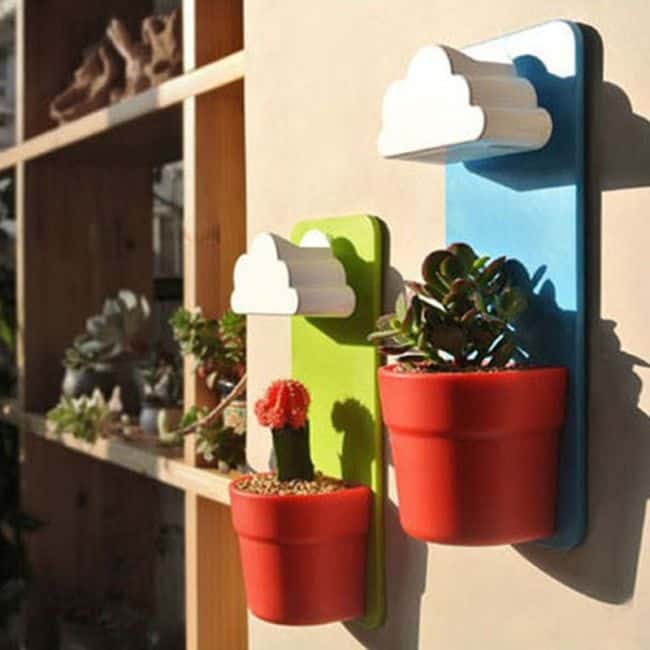 Image Credit: alicdn
Whoever said that you could only use terracotta and plain looking pots for creating a garden in your home? Now a days, people are opting to buy decorative and stylish pieces for growing plants and flowers. The cloud themed wall planters shown above are sold at many shops and are not that expensive. These can bring a dash of color and cheerfulness to any corner or spot in your home, such as a vacant balcony wall. You can use these to grow succulents like cactus or any flower.
23. Creative wooden wall planters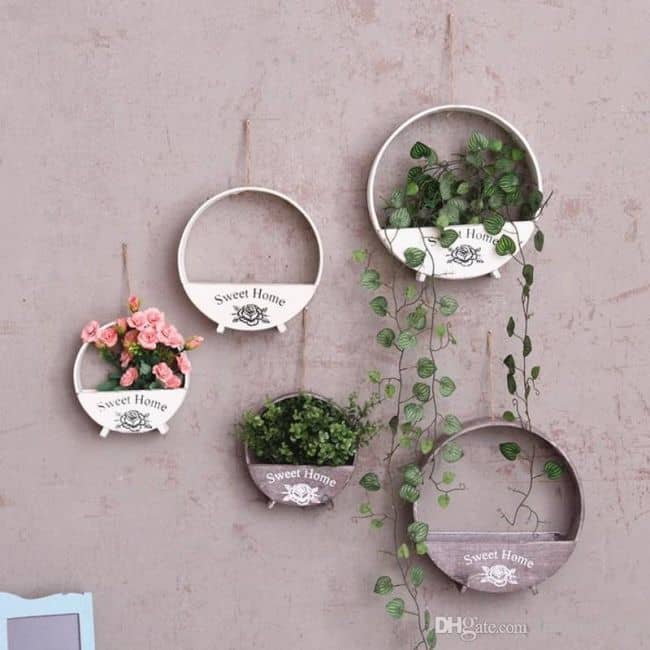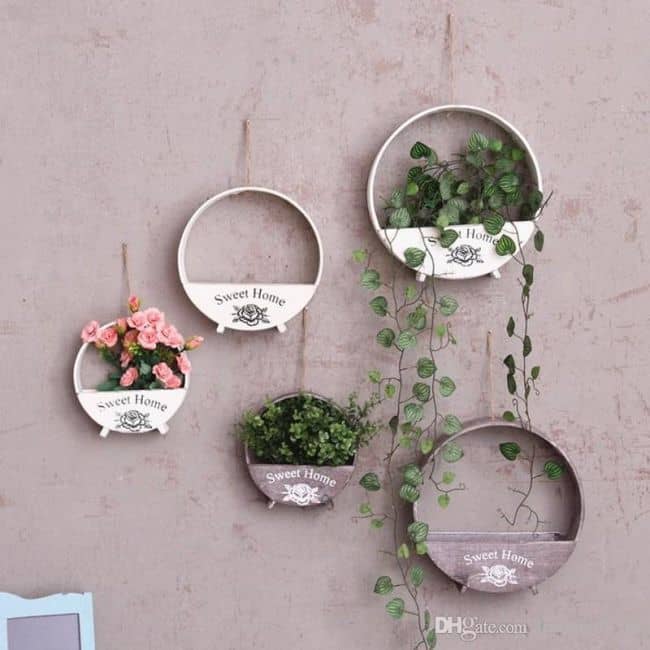 Image Credit: dhresource
These wooden wall planters are a necessary feature if you wish to enhance the decor of your outdoors. These pots are made from wood and are helpful in creating tiny verdant spaces on your balcony walls. These wooden pots can be hung anywhere, and used for growing strawberries, herbs, peppers as well as fresh flowers. Get these planters in different colors if you wish to add more vibrancy to your balconies.
24. DIY vertical wall hanging planter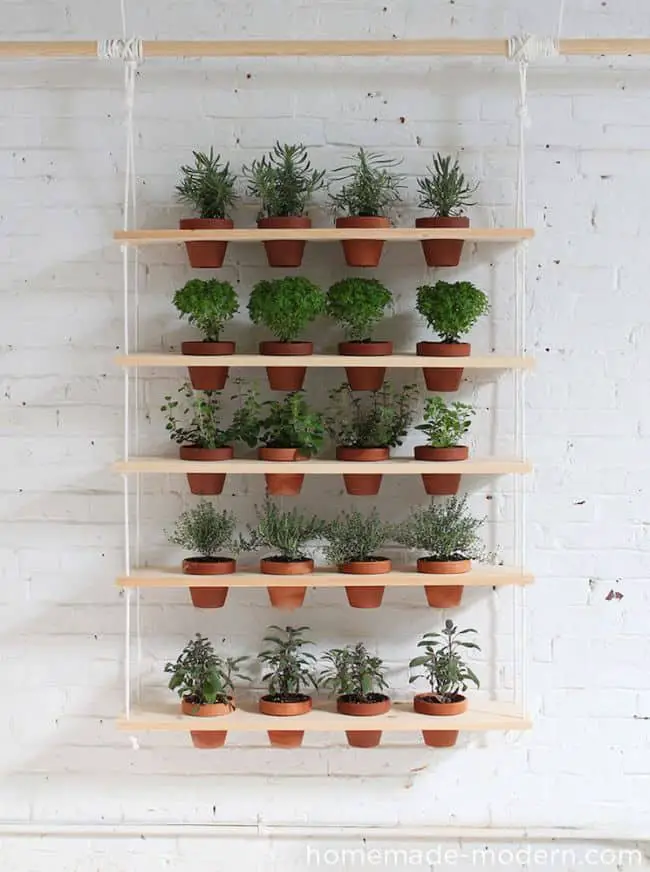 Image Credit: bobvila
Have a small balcony that is killing your gardening dreams? If so, don't worry as now you can grow your greens vertically! The hanging potted plants as seen above help in creating a green spot and can be used for growing any type of herbs or flowers. You can get a few wooden shelves and then drill holes to put pots through. Then, using durable strings, you can attach each layer together with the main hanger (here, the hanger is made of wood). This way, you can create as many layers of planters as you need.
25. Tray wall planters for the balcony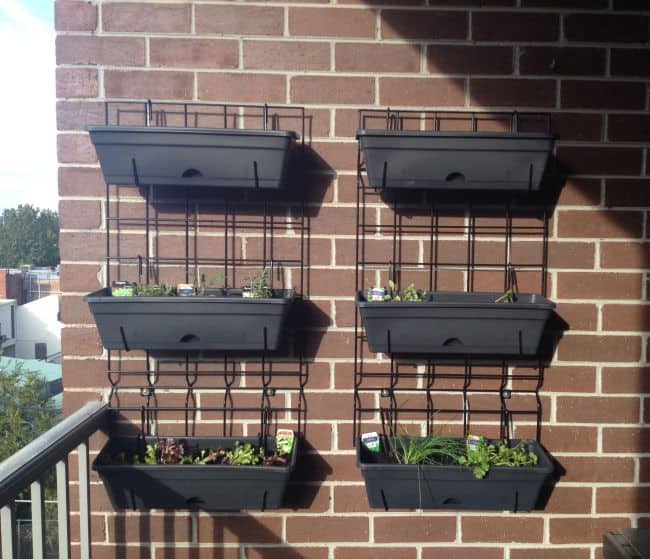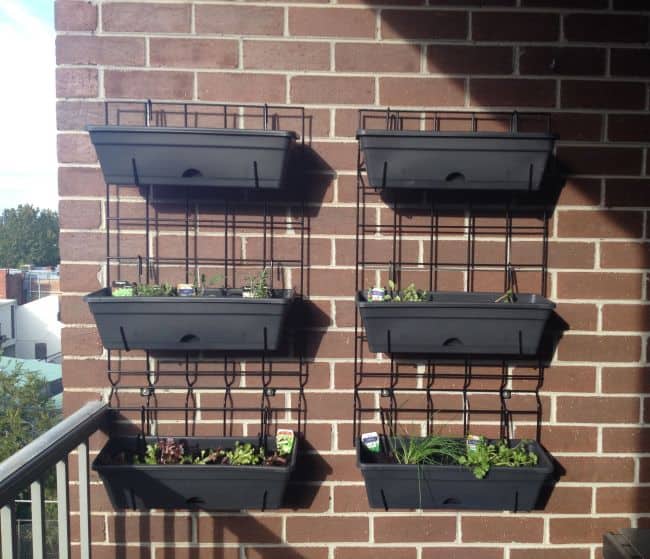 Image Credit: ispyplumpie
The wall planter idea shown above solves many of your gardening woes in small balconies. This is a vertical garden idea used by the owner of the house in which he has made use of large black colored trays for growing plants and herbs. Each tray is hooked on to the main iron frame or trellis attached on the wall. The six trays offer a uniform look and create a clean verdant space on this small balcony.
26. Adorable rattan wall planters on a wooden panel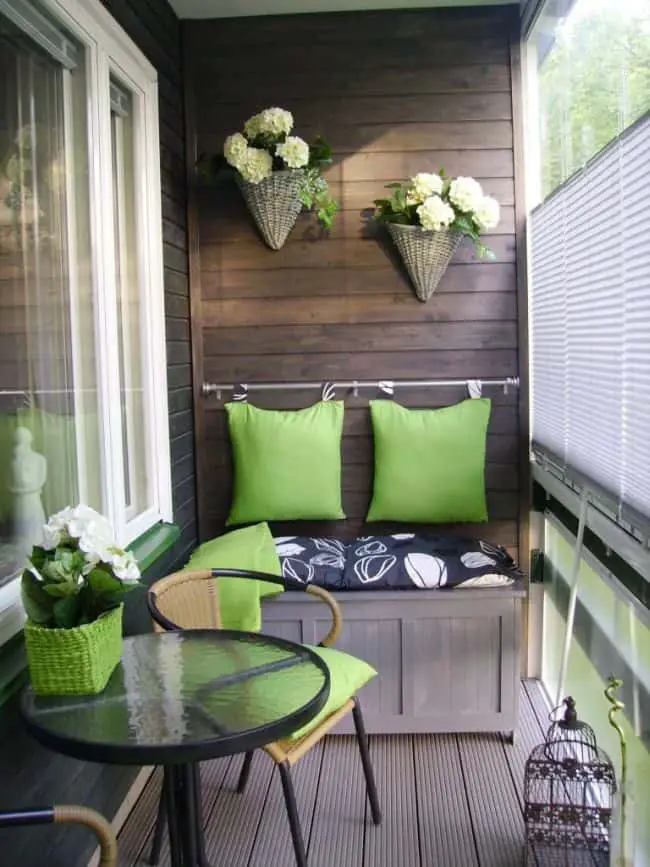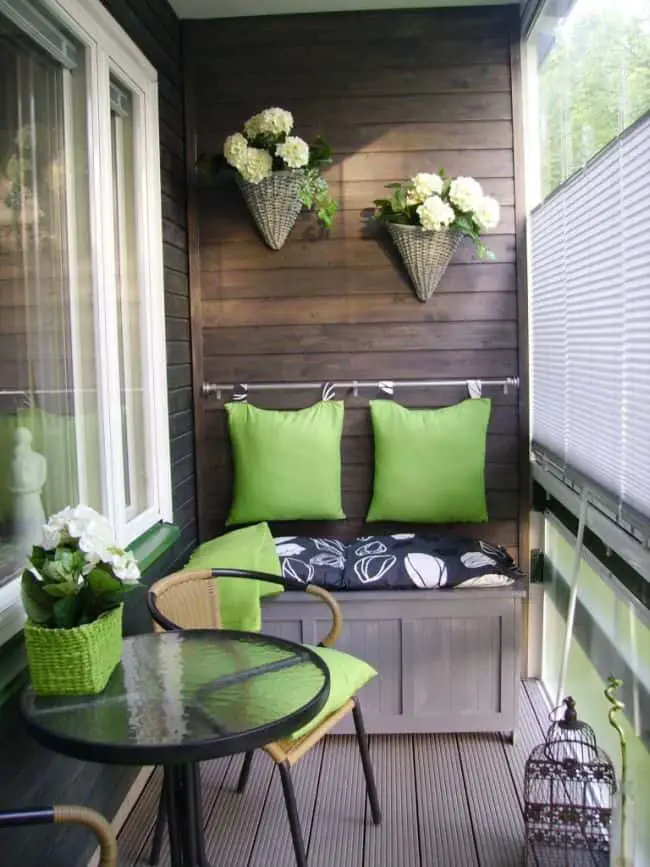 Image Credit: topdreamer
With this awesome idea, anyone can transform their boring balconies into lovely spots to spend precious private moments. The owner has not only created a seating nook despite having a small space, but has also added a touch of greenery to the decor. The background of the seating nook features a wooden pallet frame which has been used for hanging two beautiful Eco-friendly rattan basket planters. The flowers grown in these baskets match the color theme.
27. Wooden lattice holder and plastic wall planters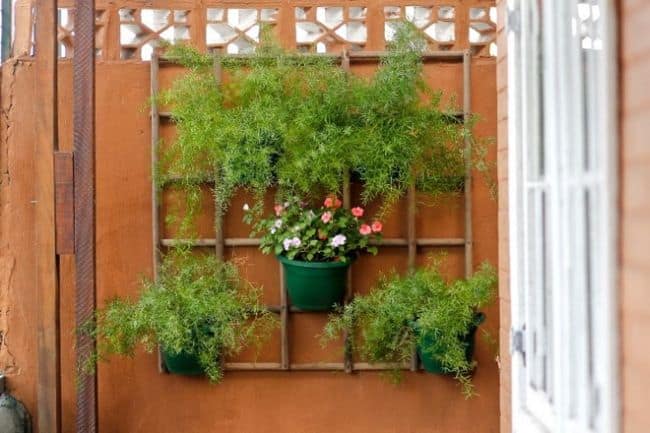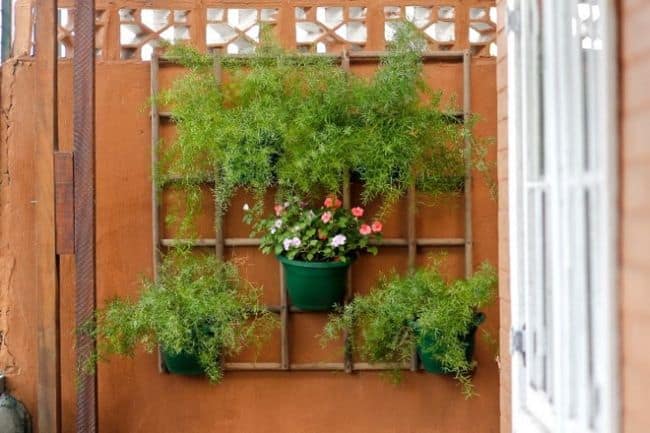 Image Credit: diy-enthusiasts
Wood plays an important part wherever gardening is concerned. The above image shows you how to build your own lattice on which to hang potted planters. The lattice has been crafted out of broom sticks and then fixed together using screws. Once, the lattice has been assembled, you can fix special pot clips on it to hang plastic pots. Here, pots have been used for growing plants as well as flowers.
28. Copper wall succulent planters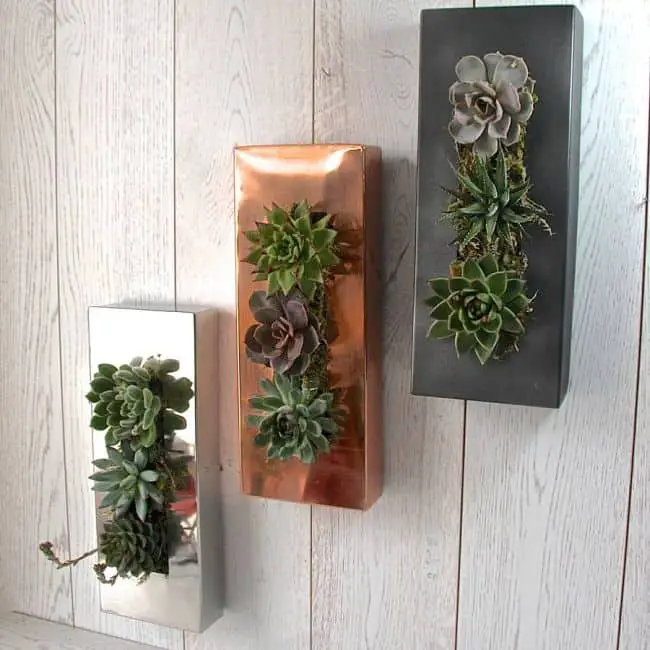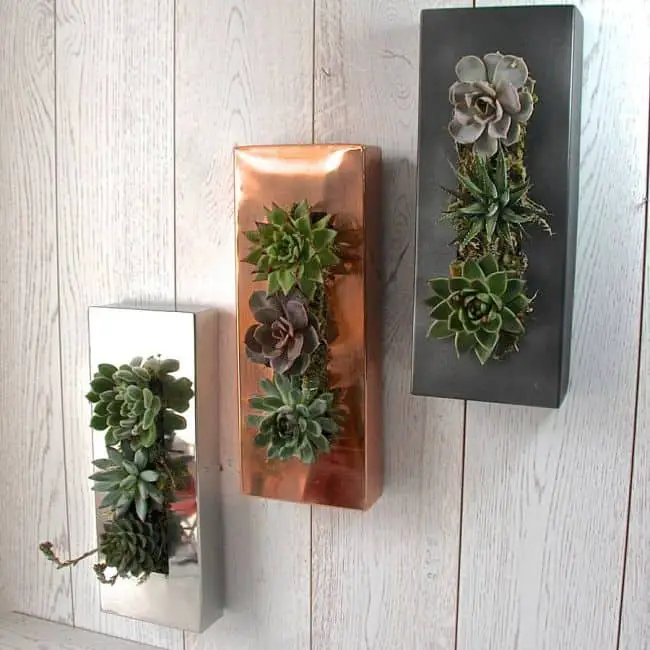 Image Credit: casaydiseno
If you are keen to add an artsy spot on your balcony, then try these copper wall planters to grow your succulents. These box planters are designed by London Garden Trading Co., and bear a very artistic appearance. The shiny exterior of these planters helps in catching attention. You can create a living wall of succulents with their help.
29. White metal bicycle basket wall planter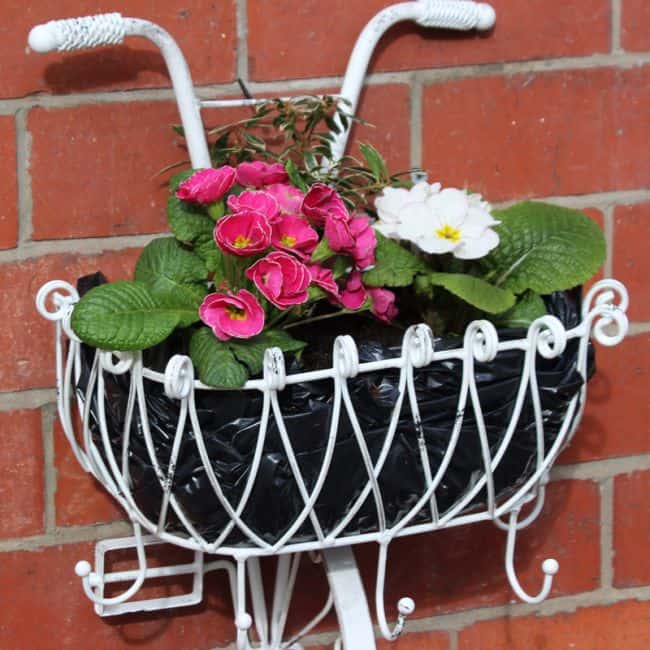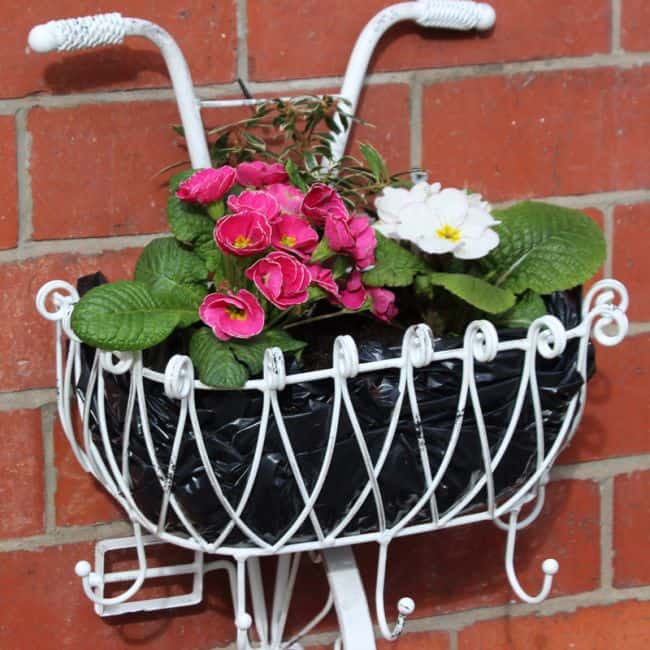 Image Credit: melodymaison
This too is a very creative wall planter idea in which the front basket of a bicycle is used as a planter for growing fresh flowers and plants. The planter as well as the body of the bicycle is made of metal. It is painted with a distressed white finish which lends it a charming vintage like appearance. This idea works best for springtime as well as summer time.
30. DIY wooden wall planter box and pots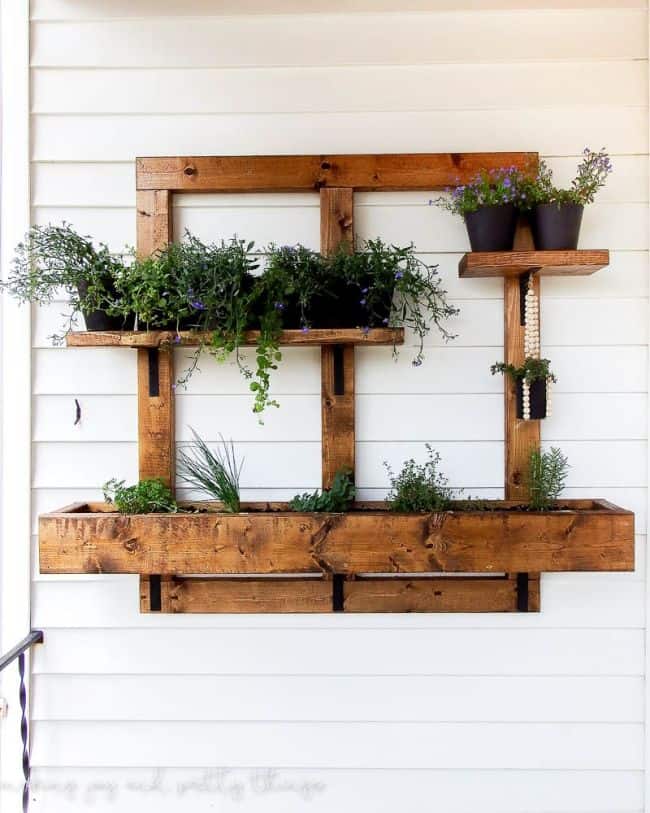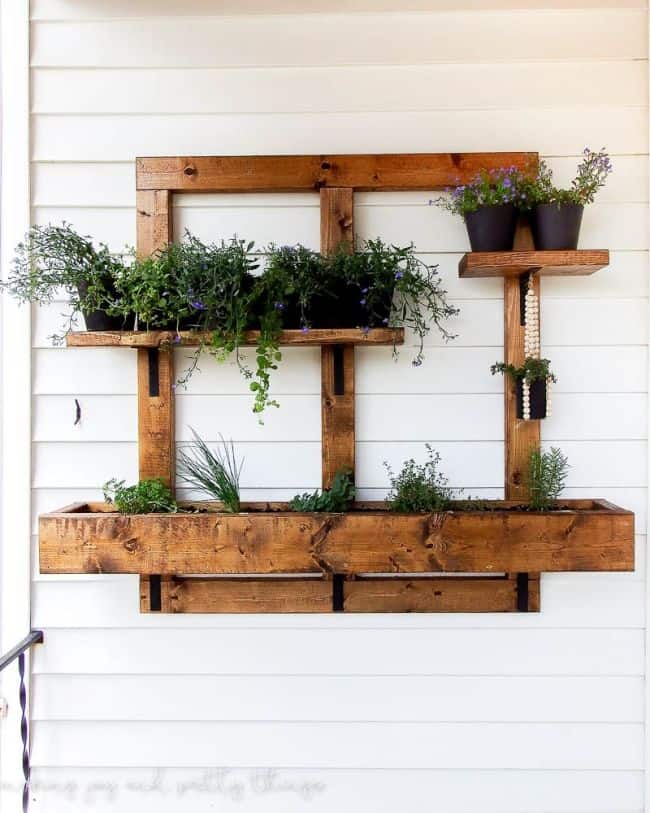 Image Credit: makingjoyandprettythings
The whole wall planter is made with the most commonly available thing – lumber. For this project, 2×2 lumber has been used. The look is rustic and it is a perfect way to grow a vertical garden in small spaces like a balcony. You can use both lumbar boxes as well as plastic pots for growing flowers, herbs and other greens.
Also Read: 18 Bucket Gardening Ideas
31. Potted plants hung on an iron wall frame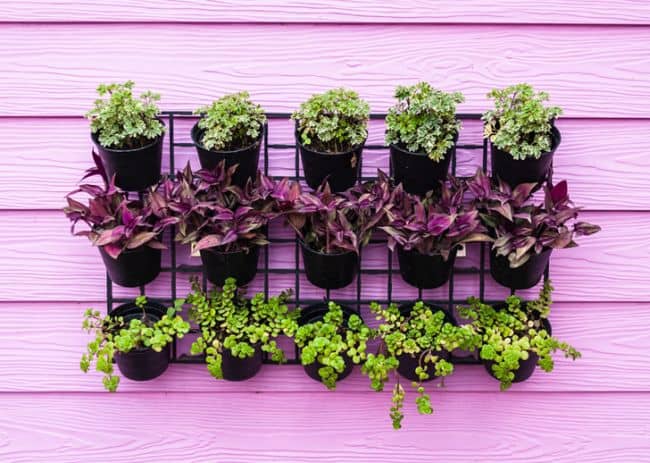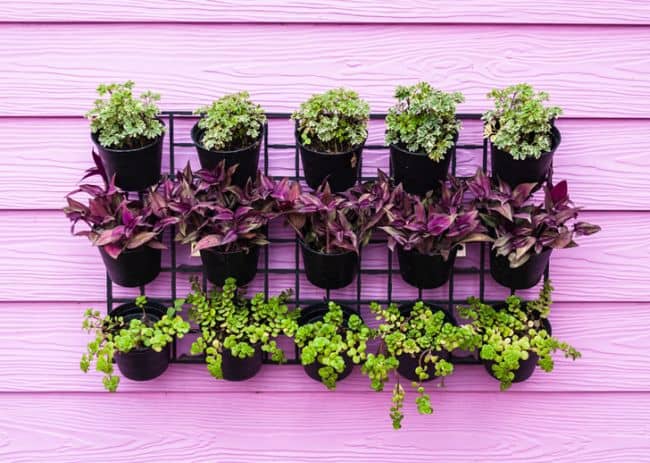 Image Credit: decoist
The concept of wall planters helps those that have less or no space for gardening. Such people usually live in small cramped up apartments that have teeny tiny balconies. Let your gardening dreams come true with these cool planter ideas such as this one. The wall planter frame is made of iron and is used for hanging potted plants. The best part is that you can hang these on any wall. Here, the potted plants match the light purple color of the wall, thereby creating an attractive spot!
Final Thoughts
A garden is an unattainable dream if you happen to live in small apartments with even smaller balconies. But, with these fantastic wall planter ideas, we are sure you will face no hindrance in building your vertical green spots. Do try a few of these for sure!
We are sorry that this information was not useful for you.
Tell us how we can improve.