31 Incredible Small Garden Design Ideas on a Budget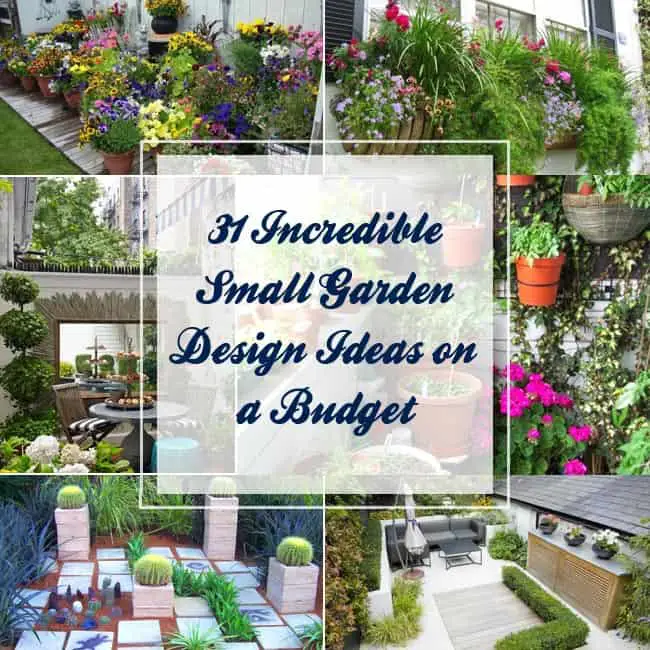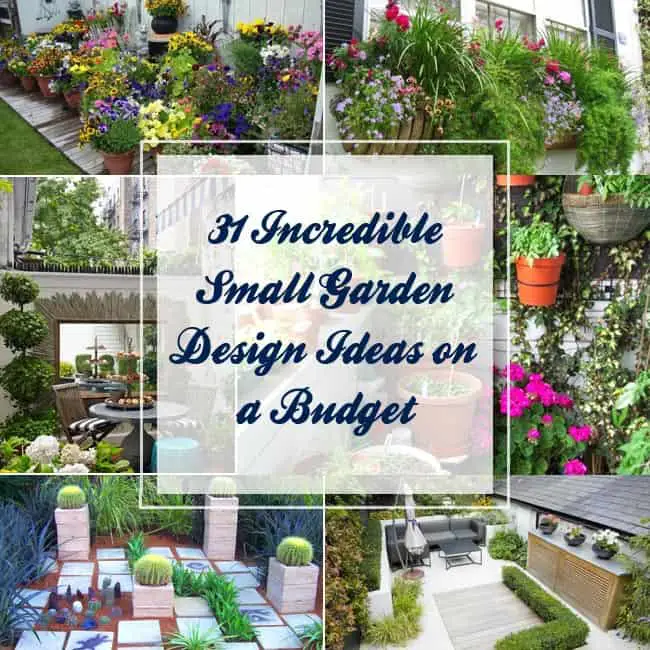 With these incredible 31 small garden design ideas on a budget, we are sure you would achieve your dream to own gorgeous gardens even if you live in a cramped up space. All the garden design ideas shown here are unique and can be implemented by anyone that aspires to build a charming green patch in their backyards, patios or balconies. The most striking thing about all these ideas is the cost factor that will make you drool and would motivate to try them when you renovate your outdoors this time. The ideas have made use of many innovative elements like wood, pots, garden furniture and pergolas. The list is pretty interesting, so go ahead!
1. Low budget bag and purse garden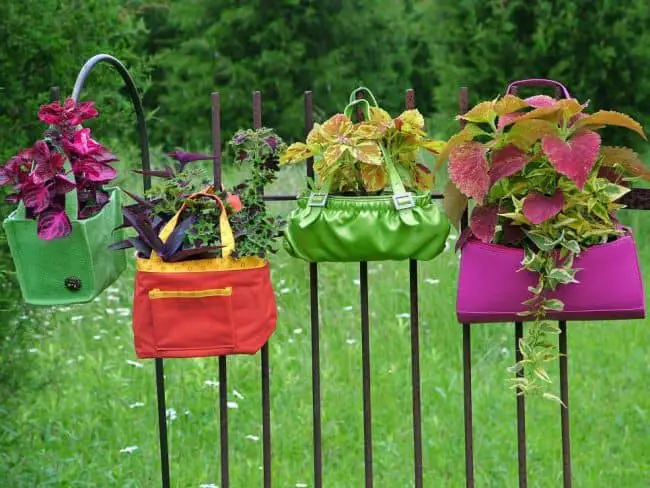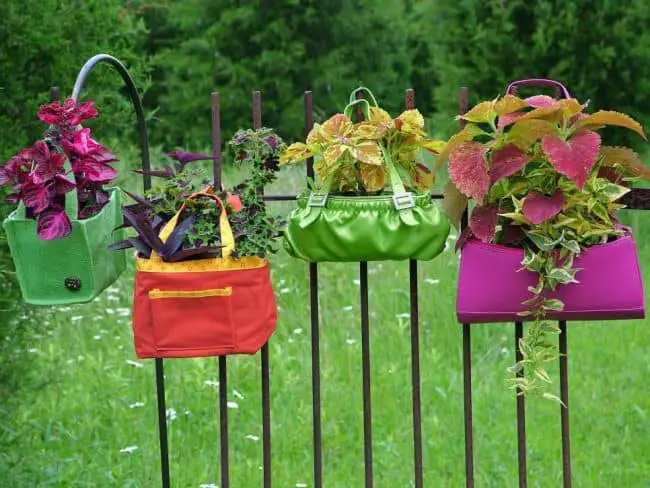 Image Credit: hgtv
Some garden design ideas of today lay stress on using old and re-purposed stuff to build and decorate gardens. One among these is the idea that making use of old bags and purses to plant flowers and herbs. You can use your own colorful purses to plant various kind of flowers and not discard them when these get damaged. A hanging garden looks great and saves a lot of space as shown above.
2. A low budget walled city garden design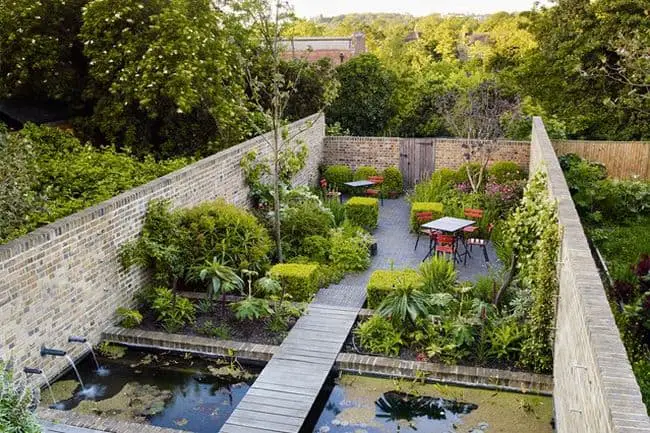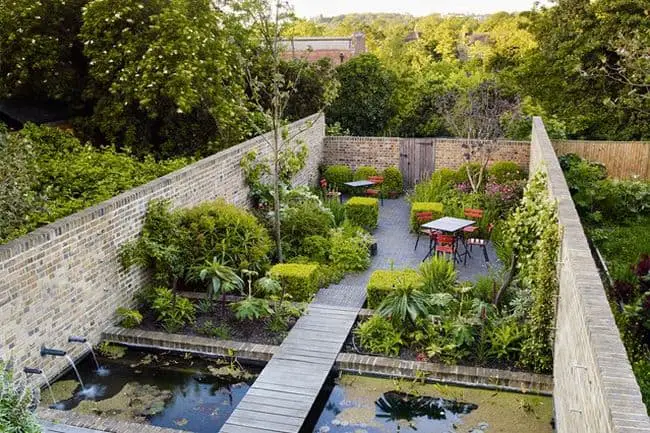 Image Credit: condenast
The above small garden design looks alluring with a fortified kind of look that's offered by the walled fencing. Along with it are seen two water bodies adding an ethereal touch to the greenery all around in the form of square shaped clipped cubical hedges and exotic plants. The whole design looks spacious because of meticulous landscaping.
3. Small garden design with terracotta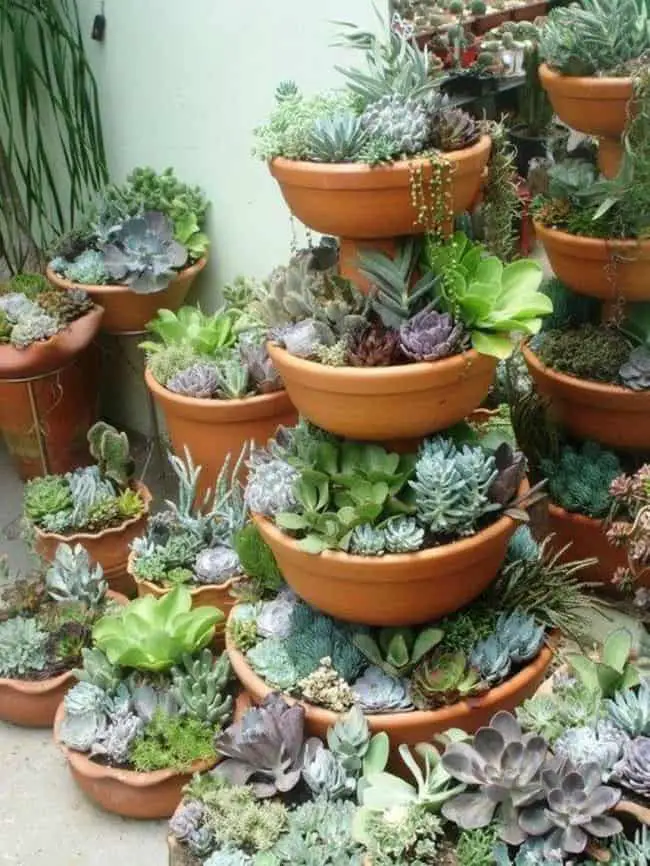 Image Credit: homebnc
Terracotta is a popular choice when decking up the interiors as well as exteriors of houses. Gardens too can look extremely beautiful and artistic with an ample use of terracotta in any form. The above idea is perfectly suited for small gardens on a budget as terracotta pots are available at low costs and lend quite a bit of style to the landscape. You can arrange these pots vertically to save on space.
4. Small garden design with inexpensive pergola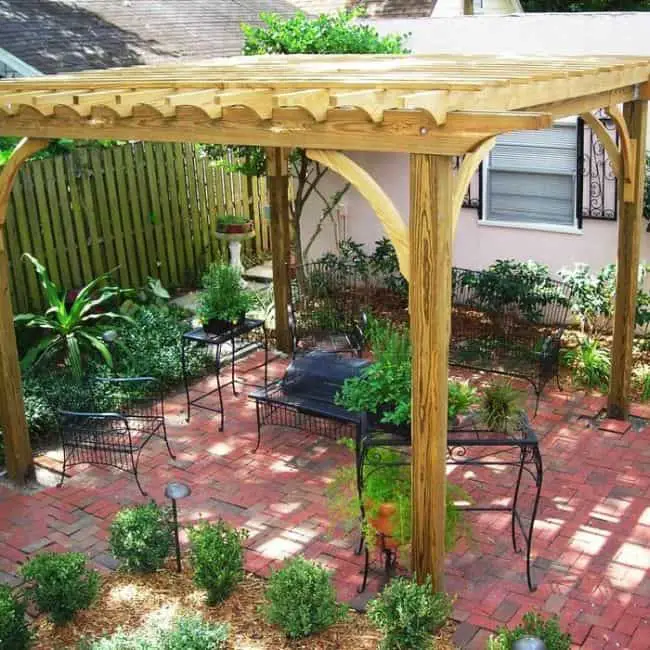 Image Credit: pinimg
Here is a stunning idea that you ought to try! Pergola such as the one shown above adds not just style but is also available at an affordable price. You can erect such a type of pergola in your backyard garden. The enclosed look offered by the pergola helps in creating the feel of a bigger space. Choose such small garden design ideas on a budget and see your outdoors transform into artistic spots.
5. Small cottage styled garden design with potted table top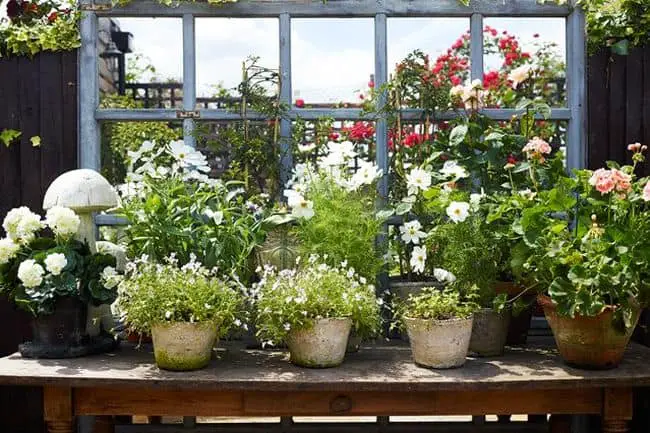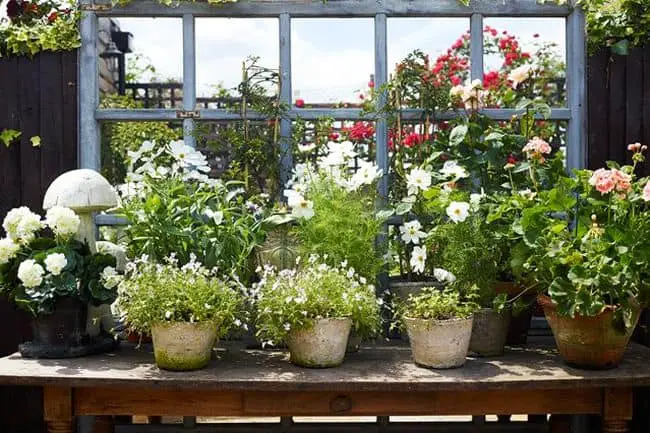 Image Credit: condenast
If you wish to add a cottage style to your garden, try this design idea as it looks unique. The designer has placed a wooden table and has arranged potted plants over it to enhance the countryside feel of the whole decor. You can arrange such pots at a height so as to lend space.
6. Low budget small garden design with pebbles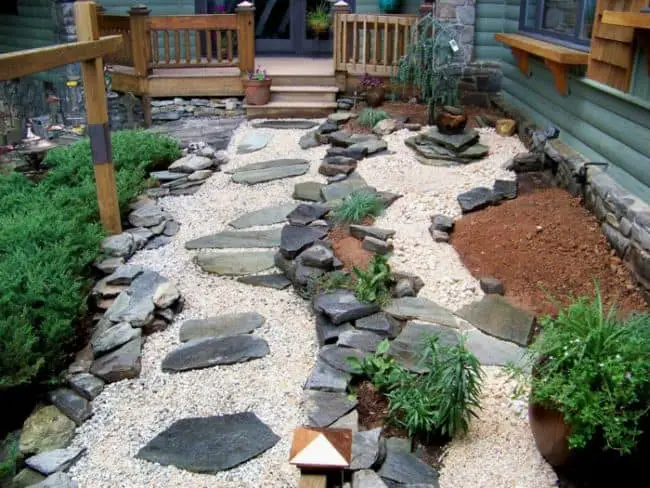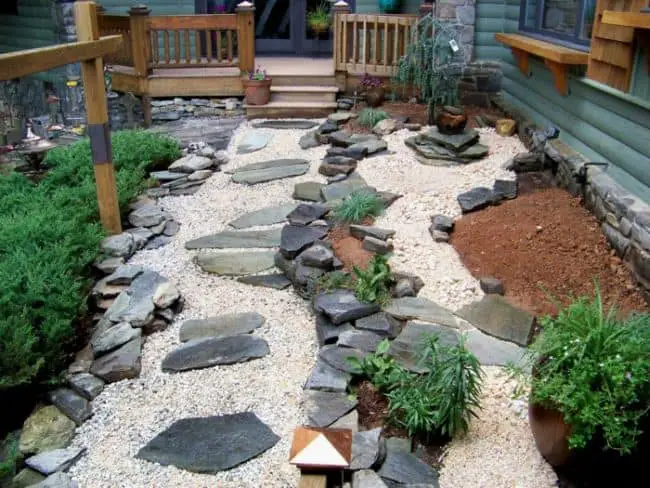 Image Credit: freshdesignpedia
Small pebbles and rocks are commonly used in landscaping of gardens. The above picture shows how you can easily use commonly available pebbles and rocks to beautify gardens. Pebbled pathways with rocky formations lend a clean look to the garden and make it appear spacious. You can plant shrubs or flowers on the corners.
7. Inexpensive small garden design with gravel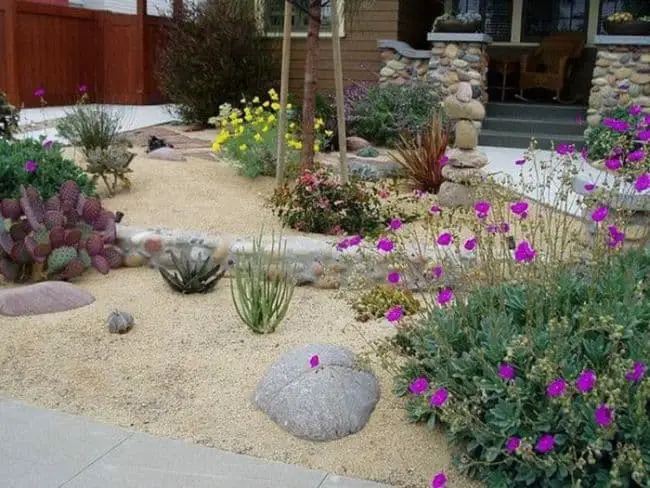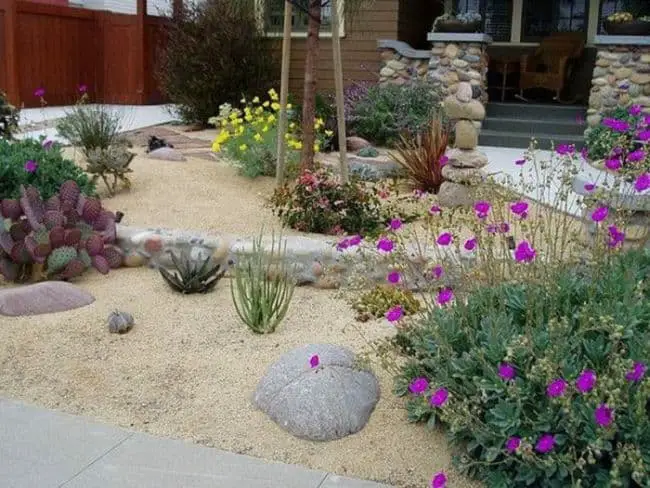 Image Credit: humideas
Gravel is a cheap option when you want to utilize it in your garden. In the picture showcased above, the small garden area has gravel beds in which succulents and cactus are seen planted. The idea suits such garden designs that do not need a load of money to be spent.
8. Low budget small garden design with pond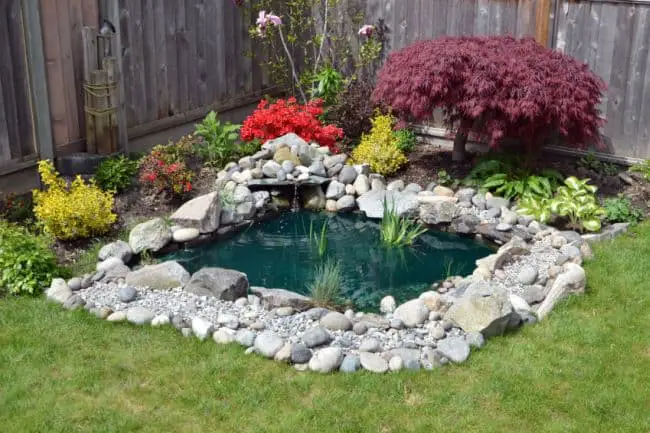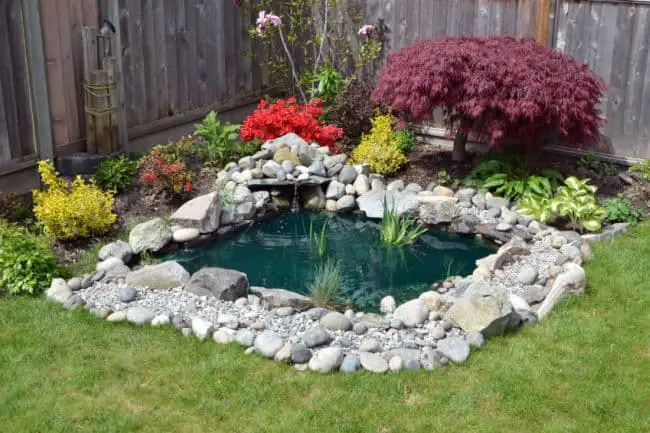 Image Credit: googleusercontent
Among the many ideas for small gardens that are and will be shown in this post, this one particular idea looks most stunning as it uses a water body for beautification. The miniature pond looks beautiful, bordered with stones that are low cost or are available free. The plants are grown all around the pond and this creates a sense of a bigger space. The look is that of an oasis.
9. Small garden design idea with window boxes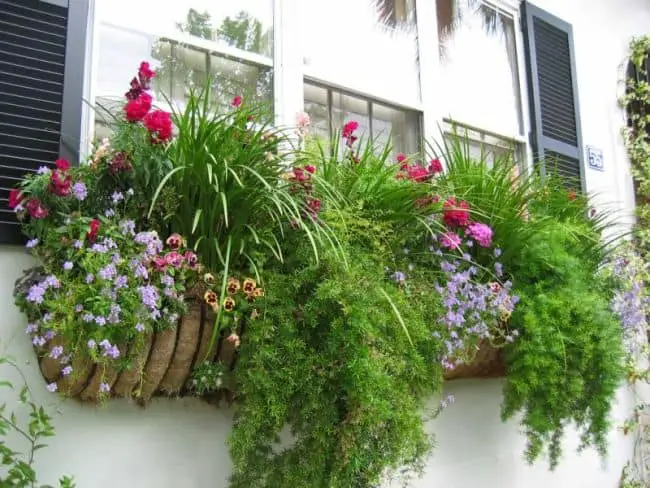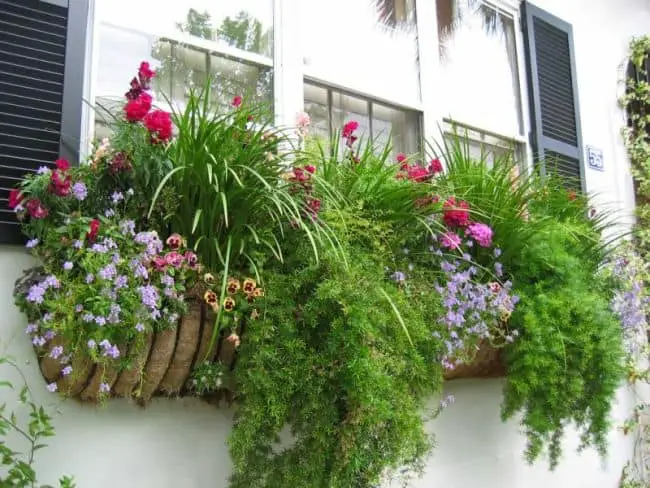 Image Credit: blogspot
Window boxes are most popular with apartments that do not have any space for gardening. If you live in a cramped up space, but, still want to build a garden, then you have the option to use window boxes hanging from the window sills of your bedroom or living area. Such boxes can be used for planting various kinds of flowers and herbs.
10. Small garden design with potted flowers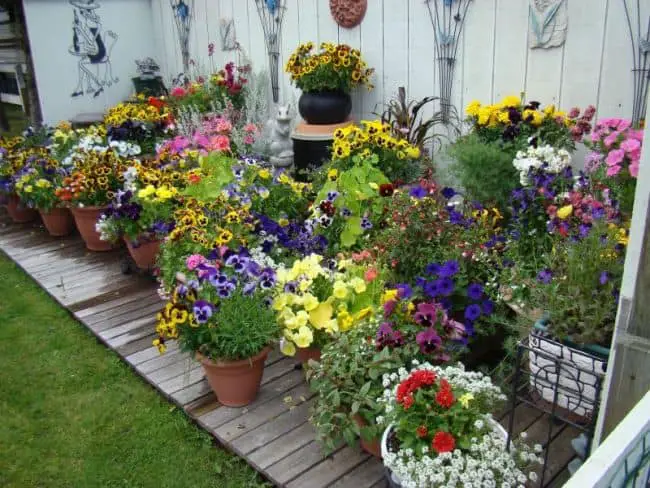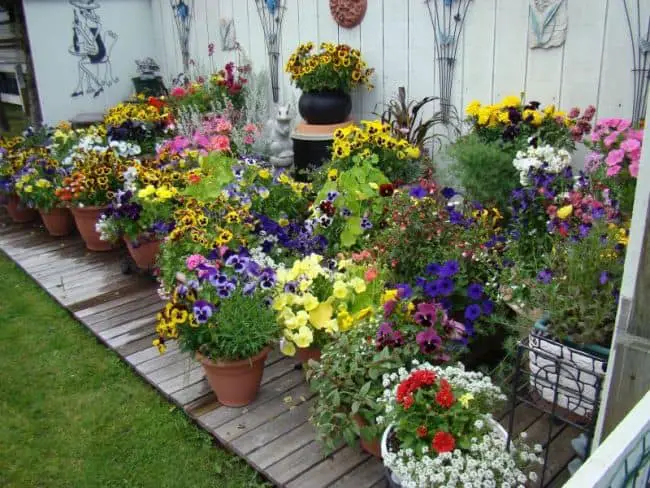 Image Credit: huffpost
Potted flowers in different colors and types can be arranged uniformly all over the garden, just like in the picture showcased above. You can use terracotta or plastic pots for planting flowers. The uniform look seen above makes the space appear neat and very big.
Also Read: 21 Amazing uses of Epsom Salt for Gardening
11. Low cost small garden design in circle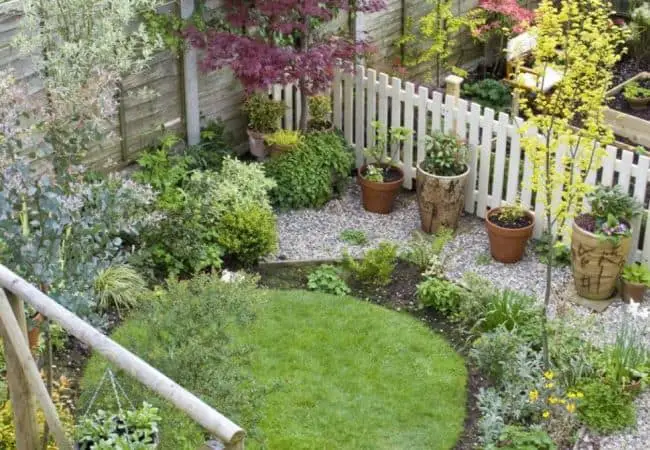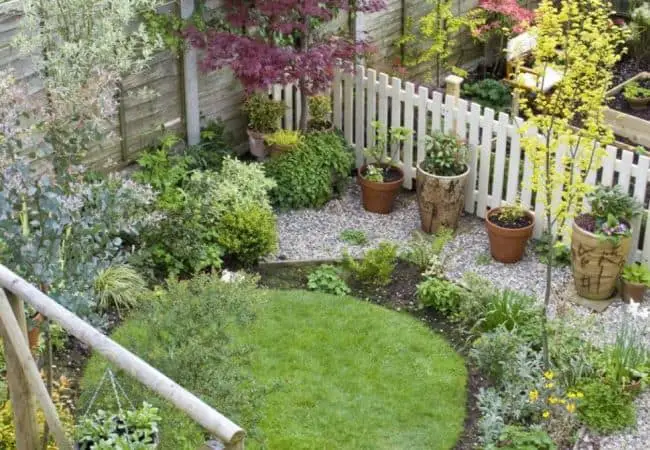 Image Credit: housebeautiful
Here is a low cost garden design for small gardens that you will all love to incorporate. The idea that it promotes lays stress on shaping up the patch in your garden that you think will add on to the look. If you like geometric patterns, then shape up a patch in a circular or rectangular manner and then plant flowers all around it.
12. Stylish low budget garden design with trellis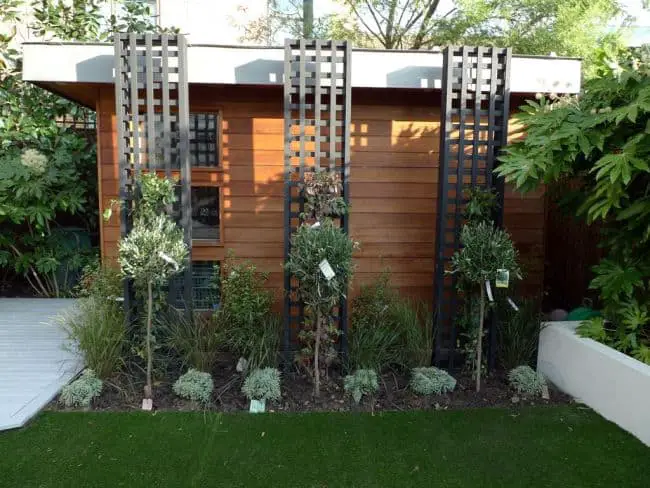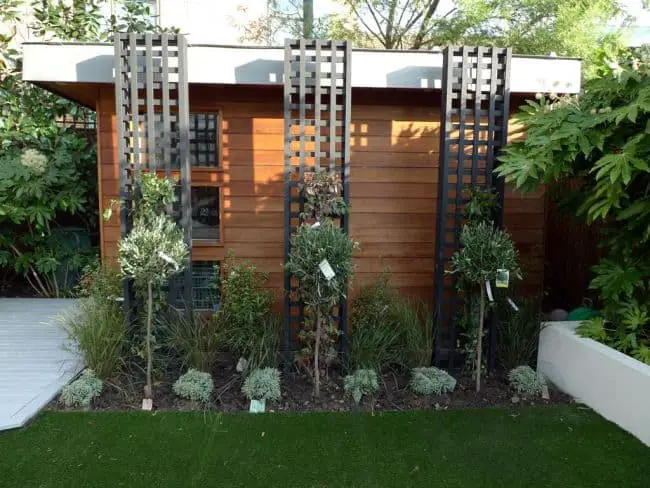 Image Credit: paylessresorts
Small gardens are limited in space, and hence using trellises can solve all your space issues in an instant. Build trellises just at the back of the main plants that you have grown on the garden bed. This way you can grow more flowers and veggies in your small gardens.
13. Low budget small garden design with decking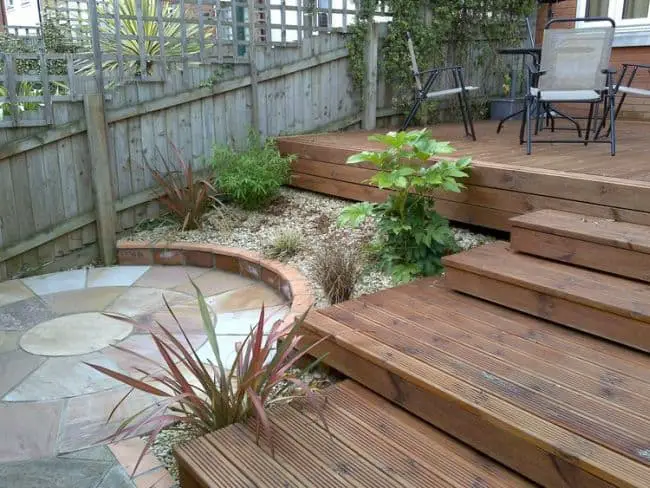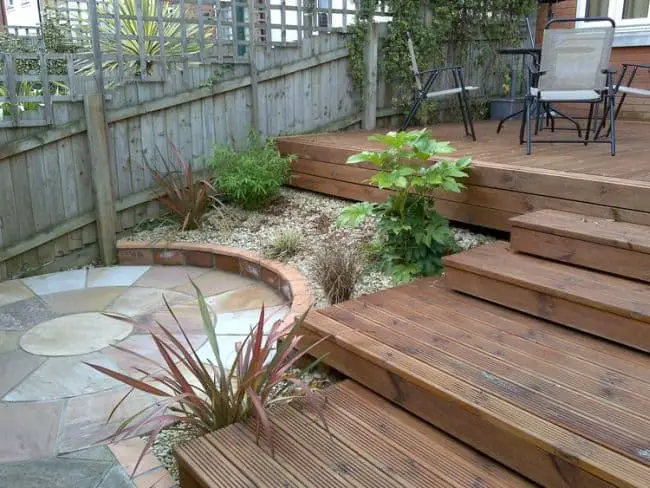 Image Credit: squarespace
Decks in small gardens can come as a blessing as these help in creating space. The wooden decks seen in the picture above are cheap and one can easily place these themselves.
14. Low budget small garden design with potted railing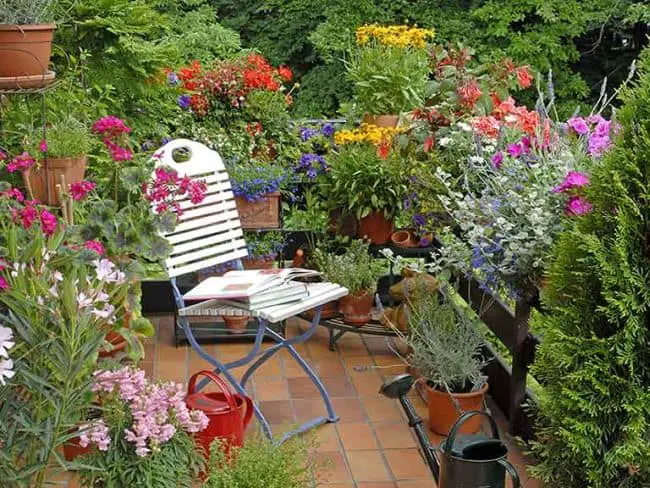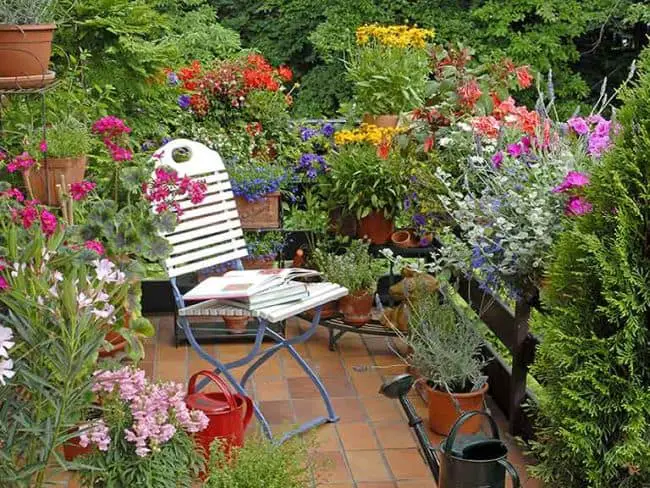 Image Credit: saga
If you are cramped for space, there is no need to fret anymore as with this idea, you can grow beautiful plants and add a green touch all around. The railing of the fence can be used for hanging planters. This saves space and you can grow any kind of flowers or herbs this way.
15. Low budget geometric styled small garden design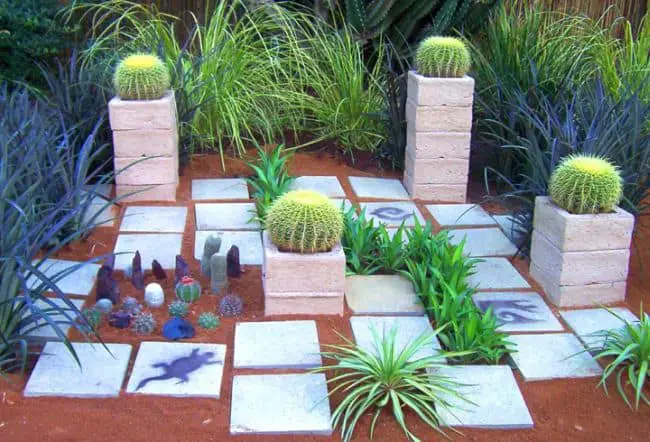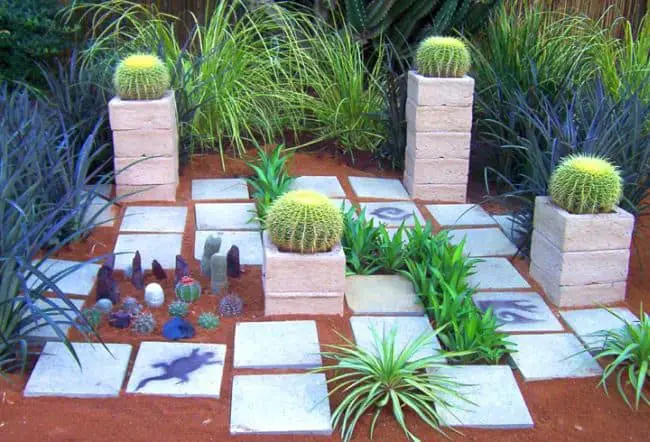 Image Credit: pinimg
For an incredible looking small garden space, utilize your imagination and use geometric shapes to beautify the landscape. The squarish stone towers look very stylish with cactus planted inside them. Apart from these, there are square blocks with creative motifs painted over them.
16. Cheap small garden design with trendy garden table and chairs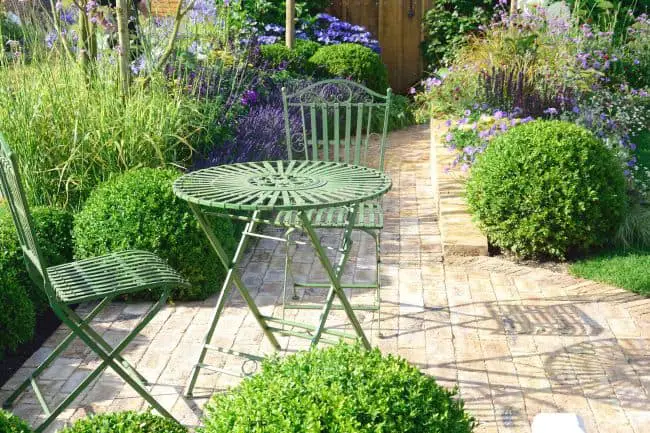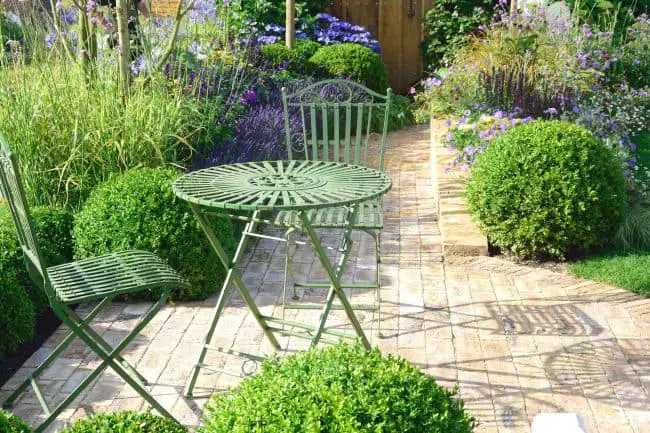 Image Credit: irpmi
One can get pavements built out of gravel or brick and place trendy furniture to create a sitting nook in their garden. The image shown above is that of a small garden that's been beautified with green garden chairs and table. The whole look is sleek and is low cost. You can pot flowering plants in the surrounding areas.
17. Innovative small garden design with raised flower bed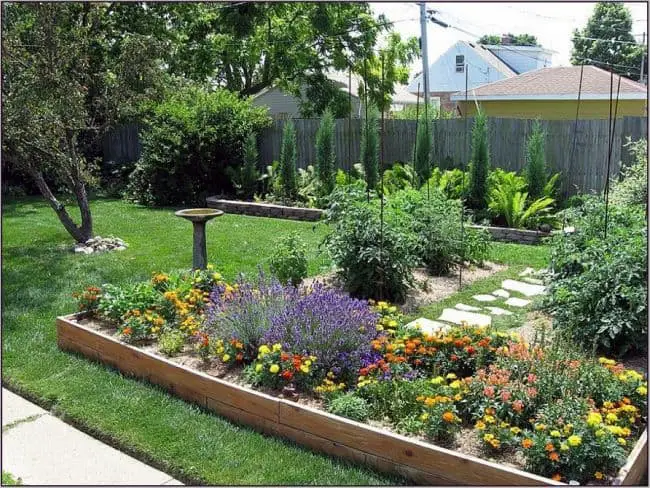 Image Credit: hostelgarden
If you are stressed about the fact that you have a small and tiny garden, and cannot grow ample flowers and plants, do not worry as the above listed idea can solve all your space problems. Flower beds like the one shown above comes cheap and can help you in planting lots of veggies or flowers of your choice without eating on space.
18. Small garden design with a wooden sit out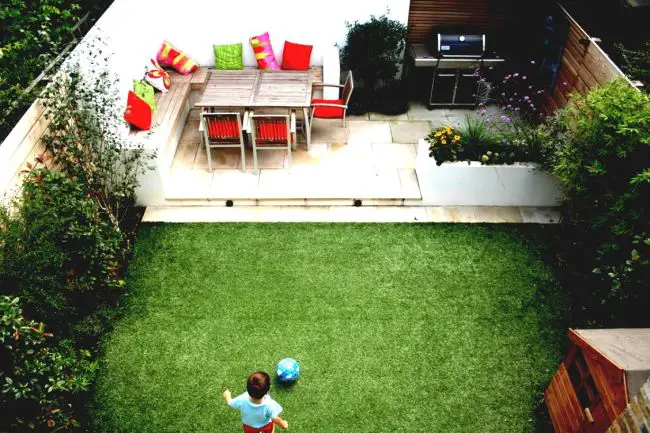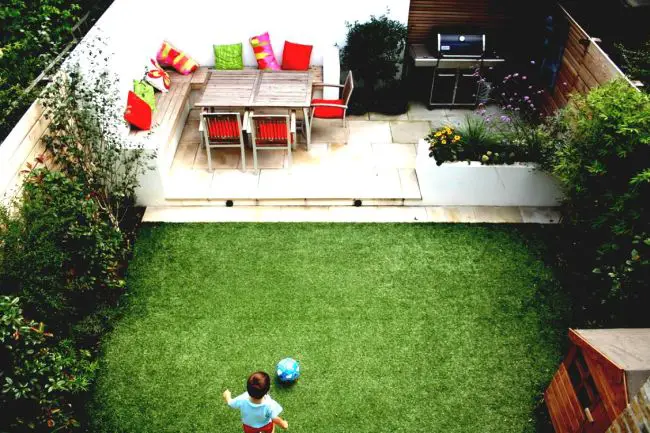 Image Credit: gardenabc
There are umpteen ideas for small gardens that are low cost just like the one listed here. The backyard garden has a patch of green along with a comfortable sitting deck where one can socialize and have fun. The sitting nook is made out of planks, a cheaper option than using other kinds of furniture. The platform too is made of wood and lends a chic look to the garden.
19. Beautiful small garden design with a little bridge and a rocky layout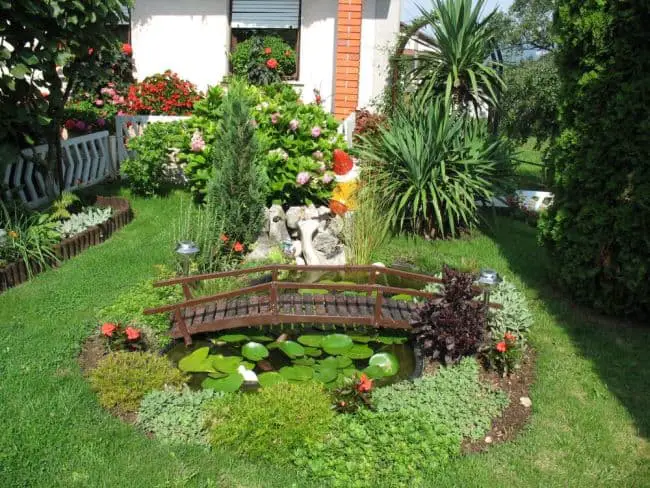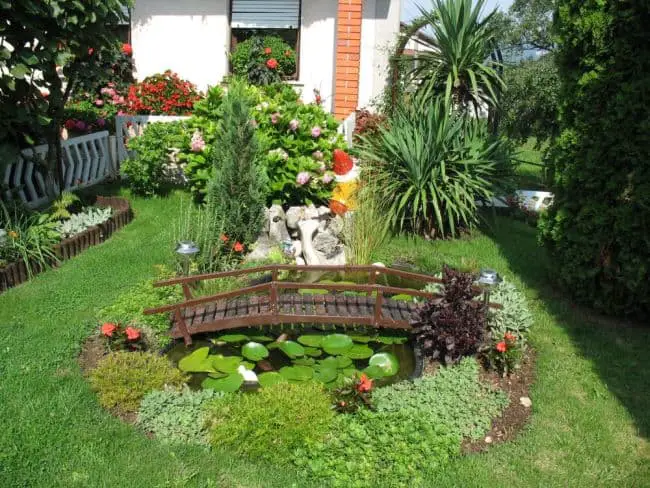 Image Credit: peaceroom
No matter how limited your garden space is, you can always have an artistic landscape built right in your garden. Rocks and bridges lend a feel of calmness and serenity, just like the garden shown in the image above. With a little wooden bridge built over a tiny pond, and rocky formation, the garden looks terrific!
20. Charming small garden design with a tropical setting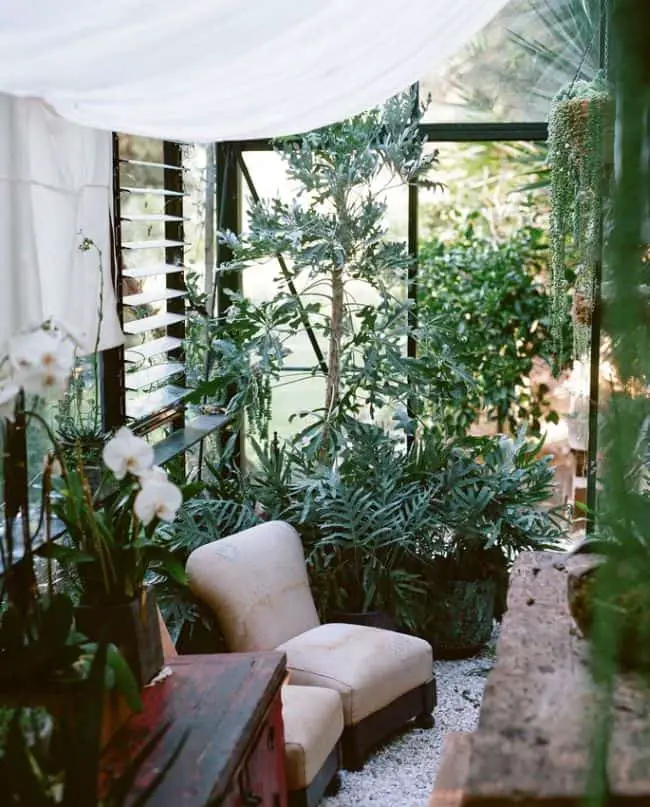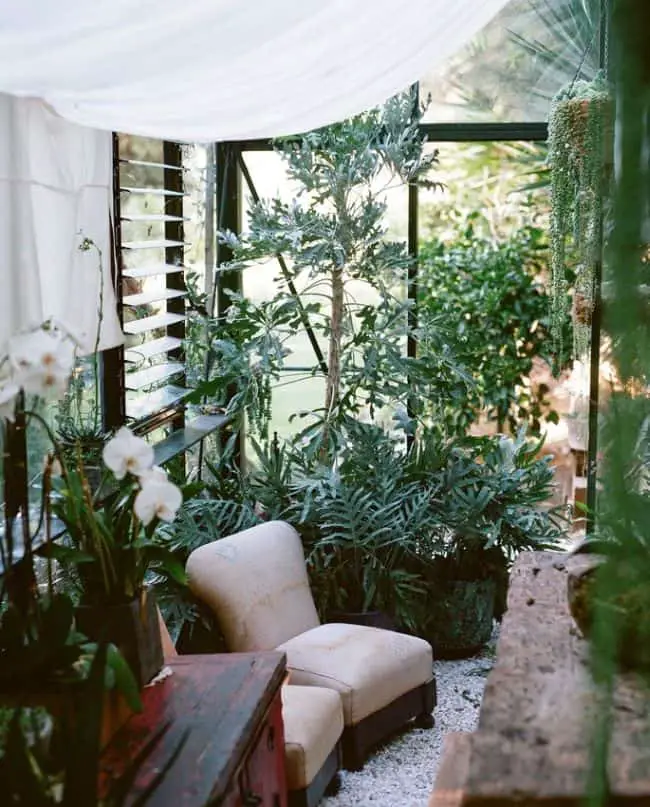 Image Credit: britcdn
Ugly looking yards can now be transformed beautifully into lush gardens with the help of this idea. You can build a small greenhouse in an unused yard to grow exotic plants and herbs even when you are cramped for space. The garden in the image exudes a tropical feel and has a comfy sit out along with potted plants of various kinds.
Also Read: 25 Best Plants for Summer Season
21. Small garden design with mirror decor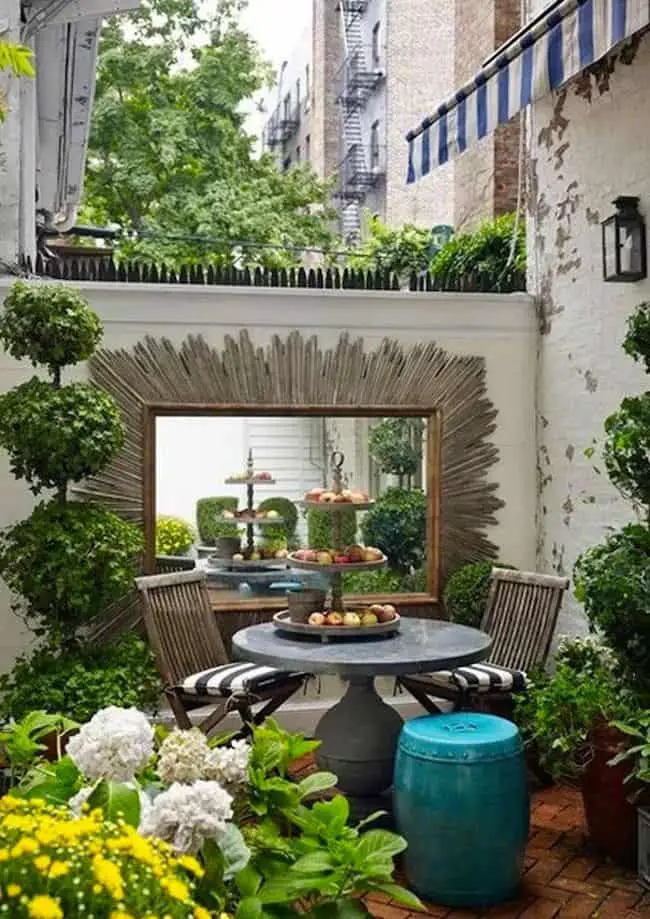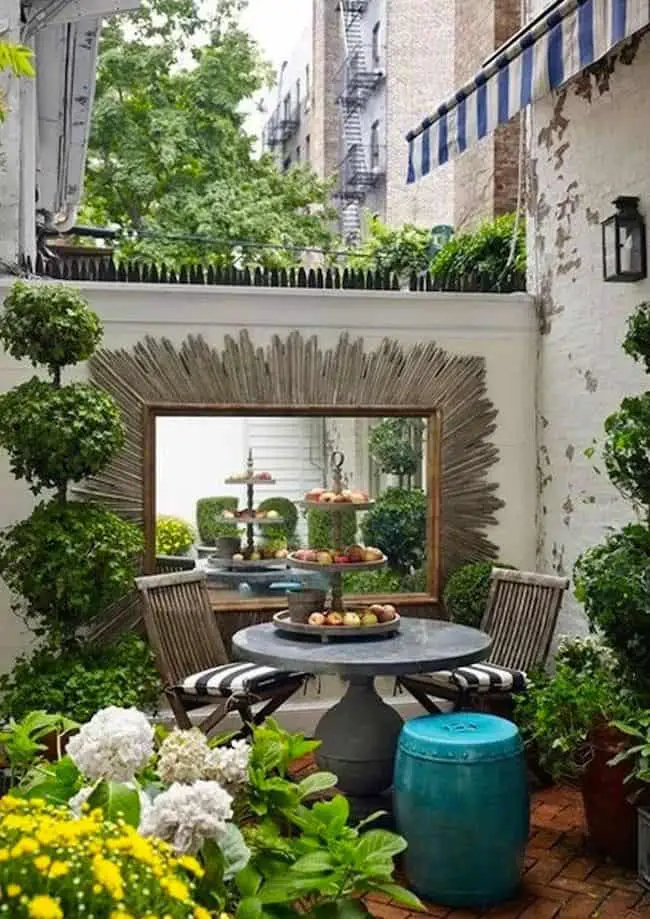 Image Credit: britcdn
Mirrors are placed for decking up interiors to add on to the space. Now, you can use these outdoors as well. If you live in a tiny apartment but wish to have a garden, using a mirror at any corner will surely help you get a bigger look. In the image, the apartment garden features a big mirror with wooden decorations, a comfortable sit out and potted plants arranged neatly to save on space.
22. Low cost small garden design with wooden fence and rustic decor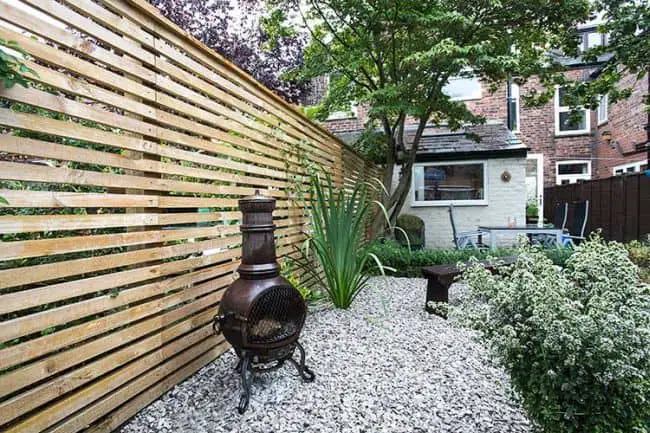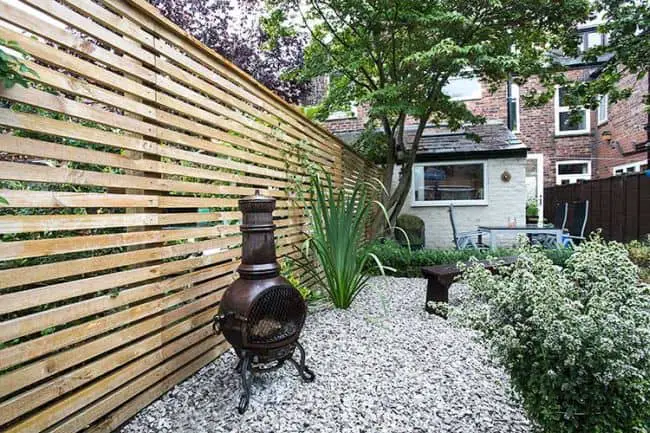 Image Credit: greendesigns
The small garden design ideas on a budget like the one shown here suits such houses that have less space for gardening. The wooden fencing looks stylish together with rustic pieces that are placed on the pebbled pavement. The garden doesn't look overcrowded with too many plants. Its simple and low cost.
23. Small garden design with a wooden hut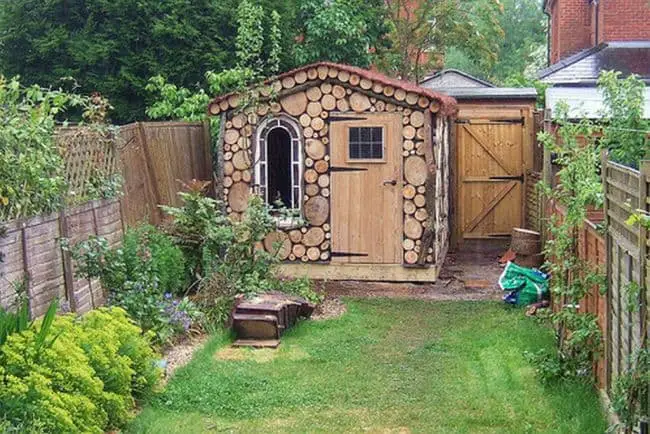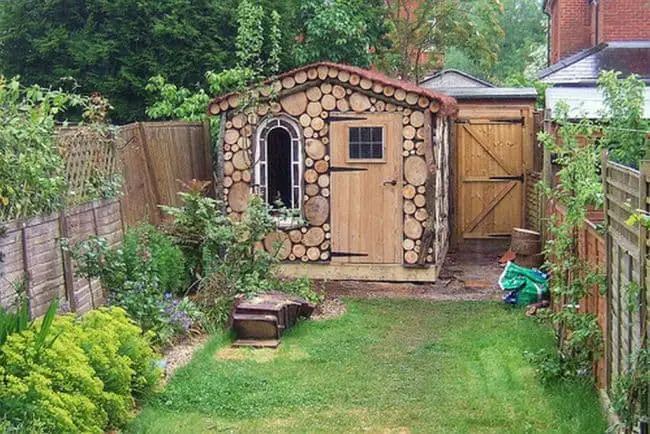 Image Credit: jobbind
A backyard garden such as the one shown above is small but nevertheless beautiful with neatly arranged plants at one corner together with a tiny wooden hut. The hut is made of wooden logs and is definitely low cost and a must to include feature when you wish to own a nice looking garden.
24. Small low budget balcony garden design with pots arranged in vertical manner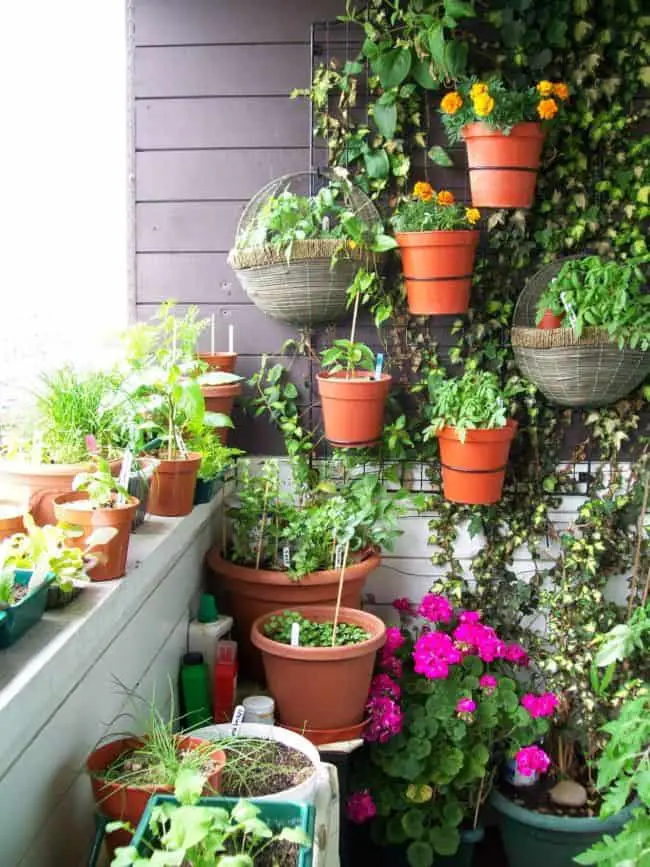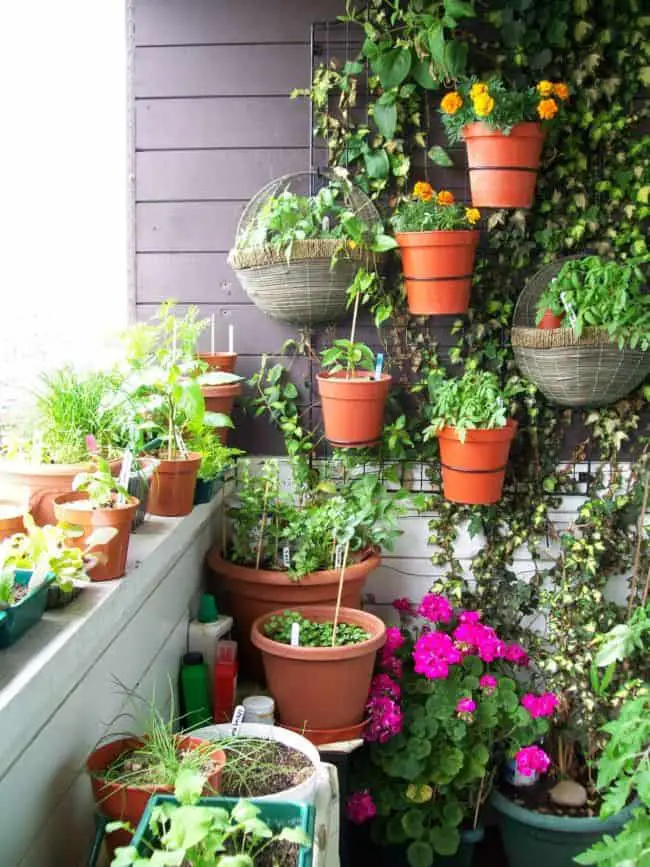 Image Credit: sqvgroup
If you love DIY, then this idea will work wonders for you. For balcony gardens that are space crunched, you can plant potted flowers vertically on a rack such as the one shown here. Its made of wood and is used for holding different kinds of pots. Vertical gardening is a boon for tiny gardens which you must try.
25. Small garden design with neatly planted flowers and a pathway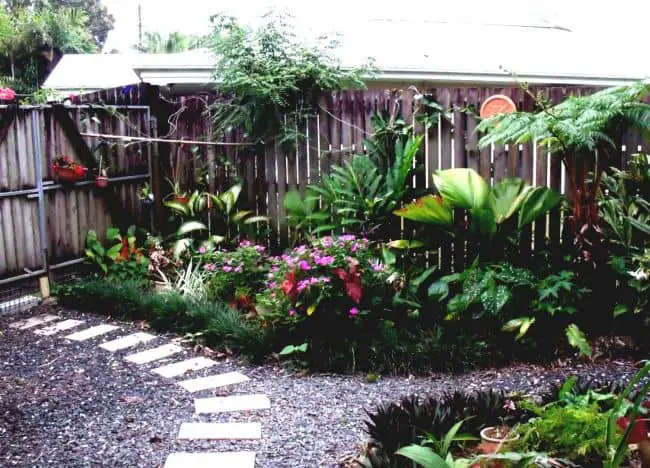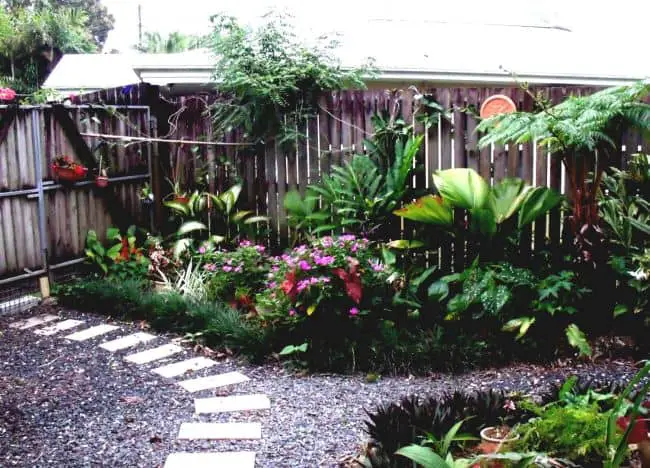 Image Credit: miogarden
The garden looks ethereal with plants and flowers arranged neatly in corners with a pathway and a low cost fencing. Most small garden design ideas on a budget will always use wooden fencing made of planks as it is a cheaper option than using other materials.
26. Low budget small garden design with unique looking garden bed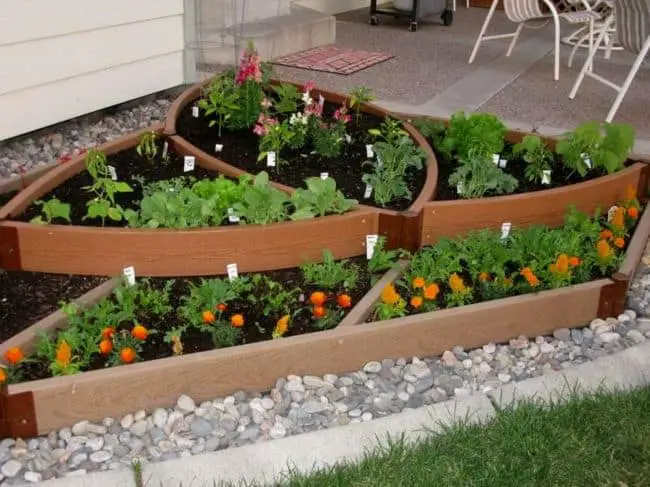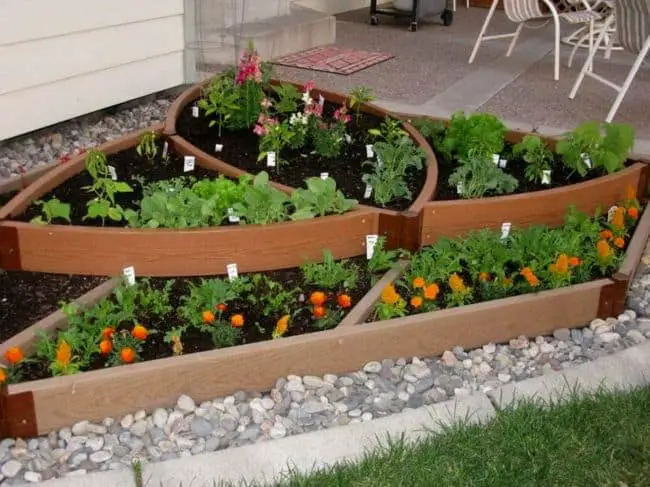 Image Credit: blioaho
The layered garden bed in wood looks stunning and rather unique. This is a DIY project that can be undertaken by anyone at home and is pretty affordable. The garden bed fits small spaces fantastically and allows you to grow different kinds of flowers and herbs in sections. You can place such a type of bed at one corner of your outdoor and create a green patch without much difficulty.
27. Low cost vertical small garden design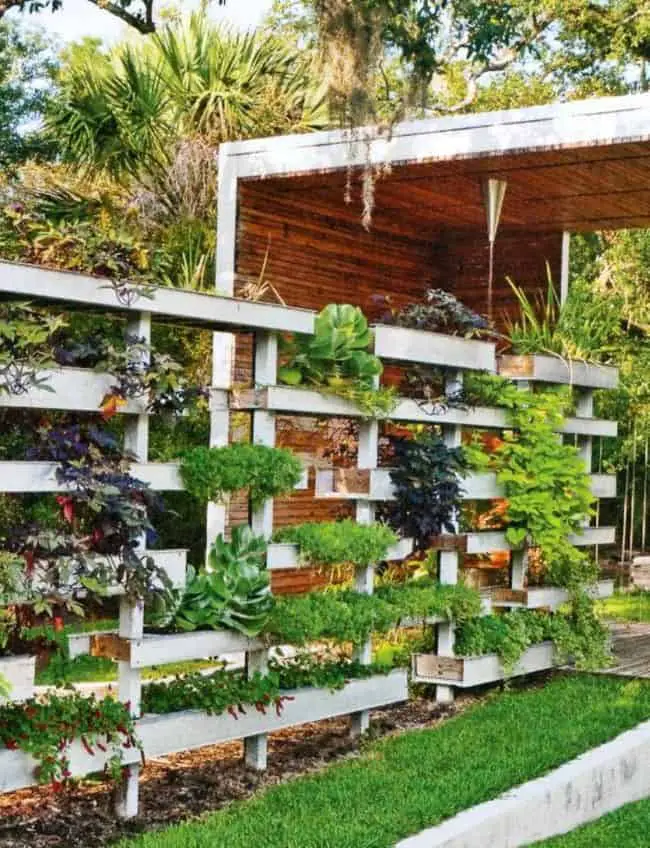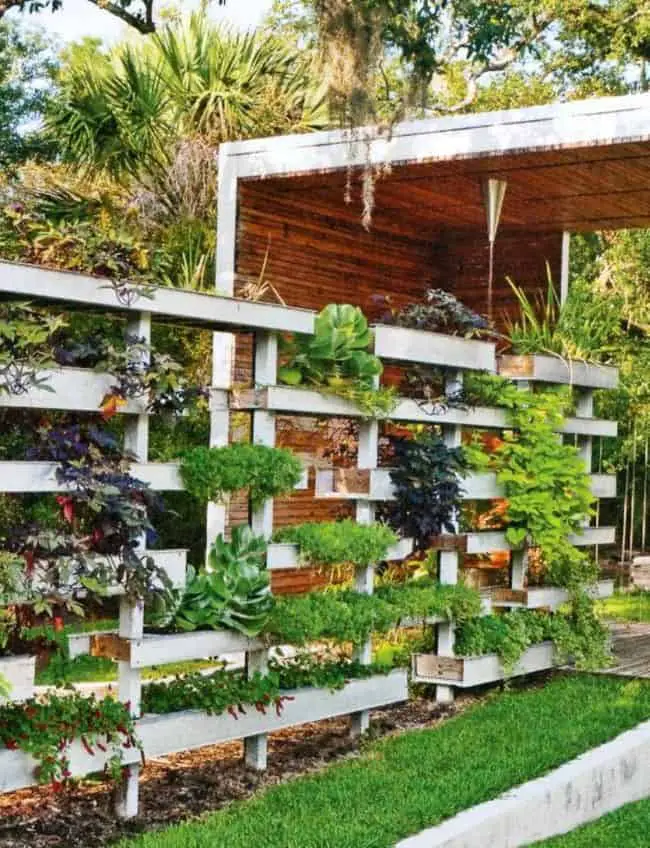 Image Credit: carolinacouture
Vertical gardening is a new age gardening phenomenon to have revolutionized small space gardening. This concept allows you to grow veggies, herbs and flowers vertically without gobbling up the ground space. Invest in a rack, just like in the picture, and then plant succulents, cactus or any kind of flower that you wish.
28. Small garden design with hanging planters and uniform looking pots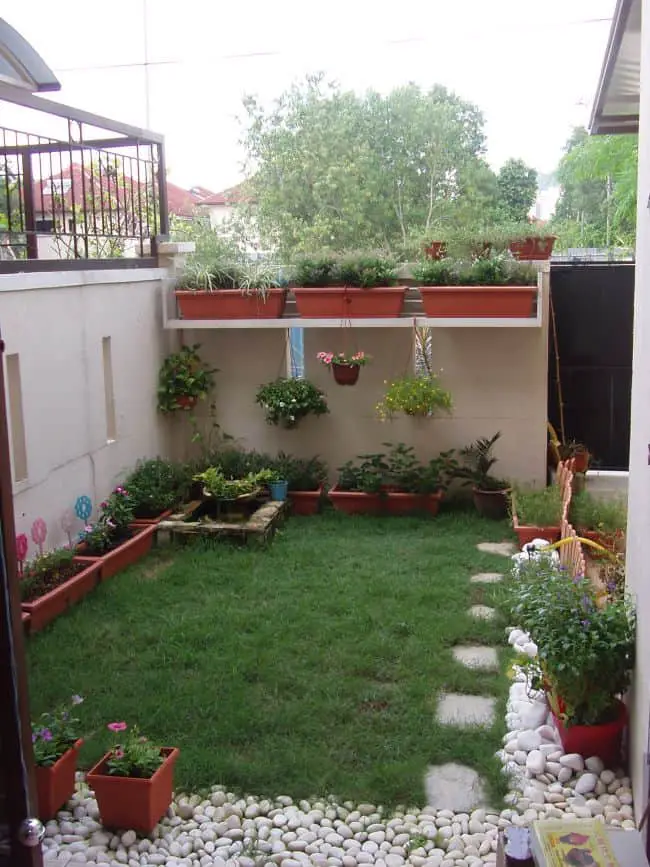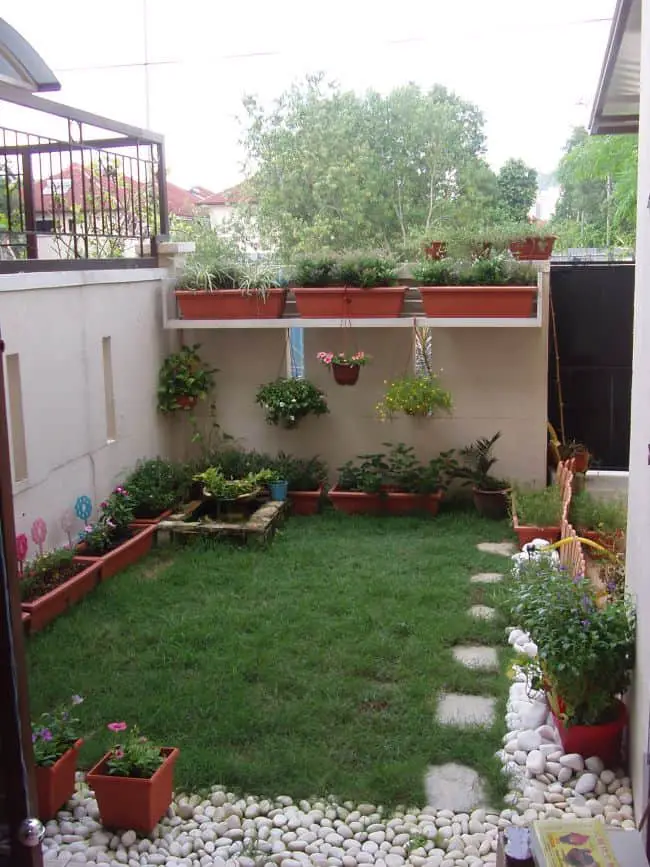 Image Credit: russwittmann
The front yard of this house is limited on space but has a lovely garden decked up with hanging planters on the front wall, pots arranged over the wall along with a little fencing to give an enclosed look. The grass looks neat and the space can be utilized nicely for sitting and spending private time.
29. Small garden design with L shaped hedge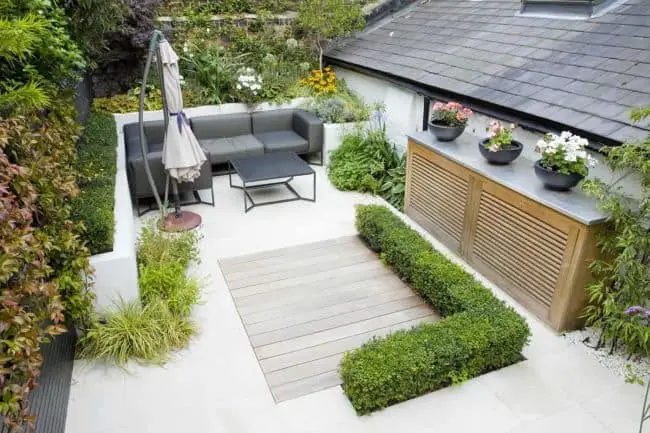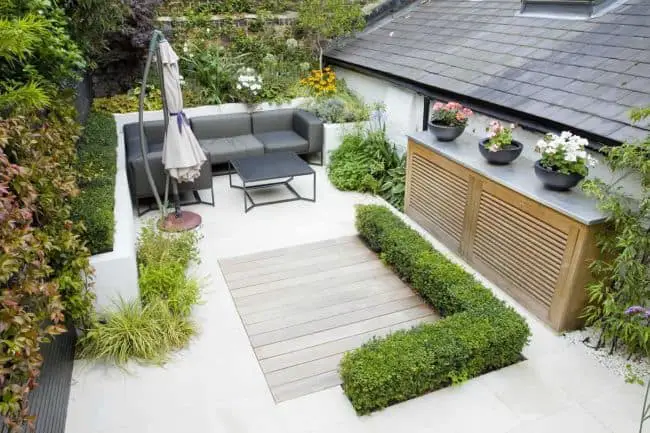 Image Credit: constantcarems
The idea incorporated above makes use of no grass in the garden. Some attractive features seen here are a concrete cum wooden floor, a nice seating nook, an L shaped hedge and a wooden island with potted flowers. The idea suits small gardens as every element here is assigned a specific place or spot. The space usage is maximum with no clutter.
30. Compact low budget garden design with white fencing and no grass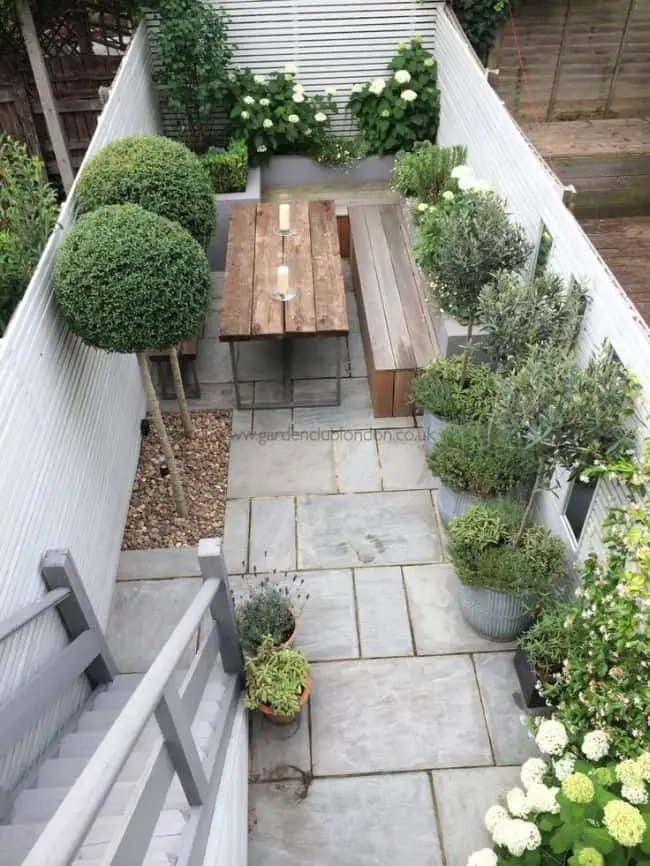 Image Credit: pinimg
The white fencing lends an enclosed look to this small sized garden which is decked up with topiary, stone flooring with no grass and a rustic wooden pallet seating comprising a table and a bench.
Also Read: 25 Low Maintenance House Plants that can grow Anywhere
31. DIY small garden design on a budget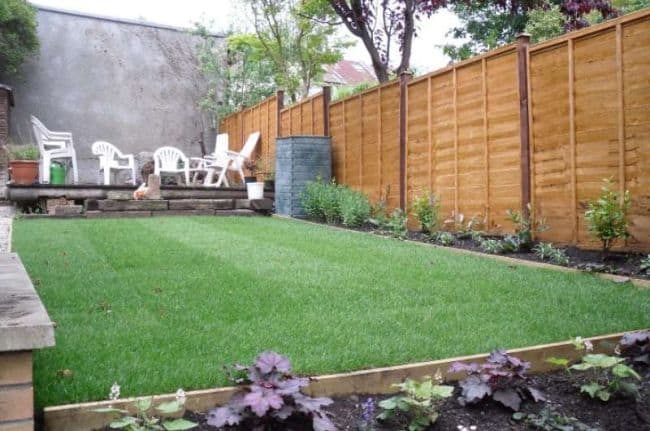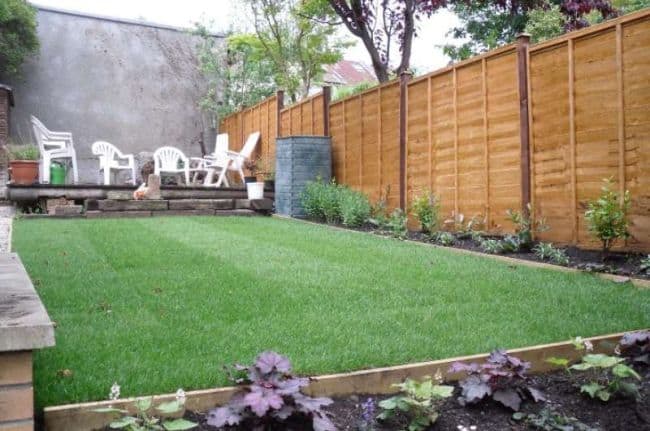 Image Credit: thinweasel
This garden design is affordable as it uses a wooden fencing, wooden flower beds and a rustic looking deck. The patch of grass looks green and well maintained. The deck is utilized for sitting and enjoying the serenity of the garden. Its a minimalist idea incorporated in the garden.
Final Thoughts
You need not be a king to own a beautiful garden. Even if you live in a tiny apartment or house and don't have enough space to plant your greens, you still have the freedom to build your green patch with these amazing small garden design ideas on a budget. Do try any one of these and enjoy the sereneness that comes along!
We are sorry that this information was not useful for you.
Tell us how we can improve.