51 Fantastic And Stylish New Year Garden Decor Ideas for 2023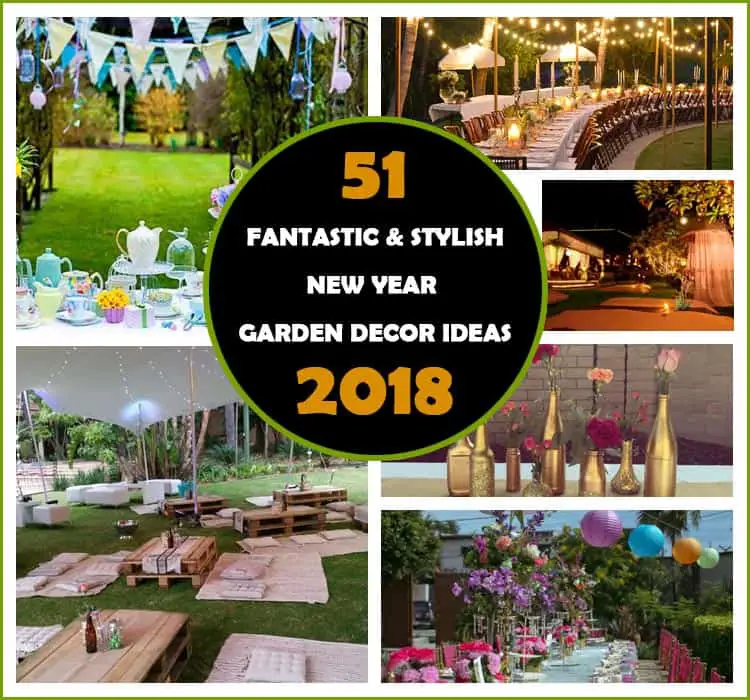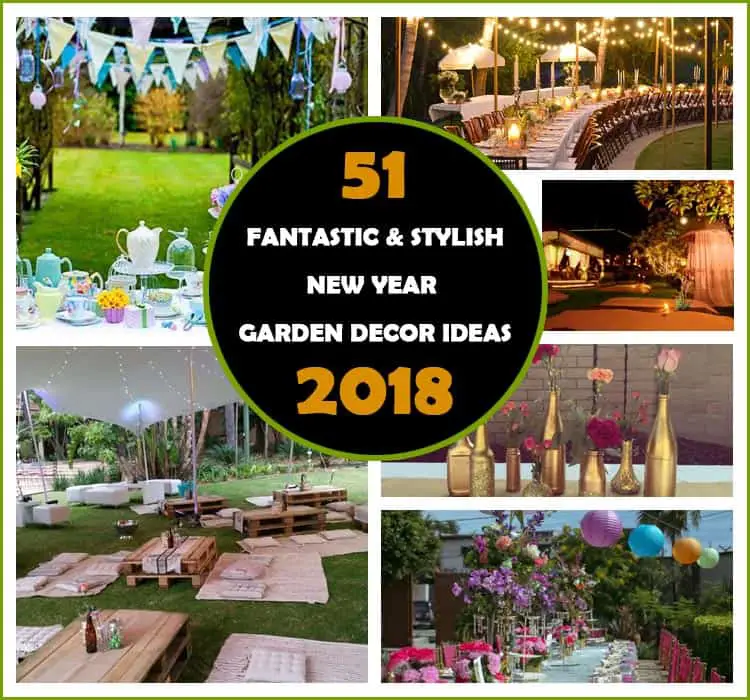 New Year is just around the corner and it's time to ring it with a blast by inviting friends and family for a fab New Year party. How about throwing this year's party outside in your garden?
Gardens are perfect for hosting any kind of event, especially the New Year Eves party. There are plenty of decoration ideas that you can try to make your garden dazzle. Make use of accessories like lampions, string and fairy lights, mason jars, rustic tables, lanterns, and floral bouquets to light up your festive garden.
Today, we are offering you a gorgeous collection of 51 fantastic New Year garden decor ideas for 2023 that will make everyone happy and cheerful.
1. Garden styled with multicolored lights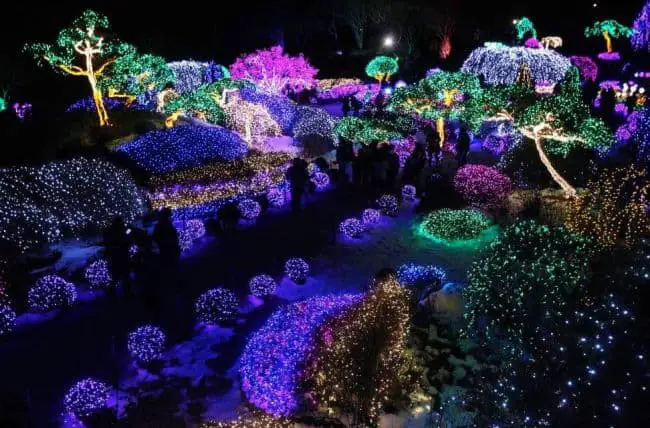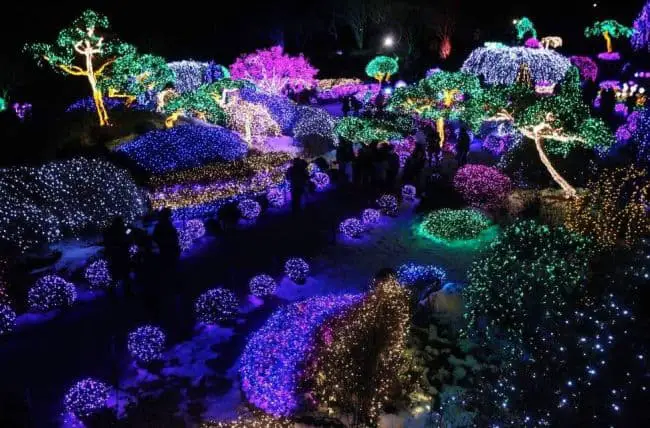 Image Credit: bipbap
If you have a huge garden and wish to stylize it for the upcoming New Year Eves party, then deck its nooks and corners with plenty of string lights of various shades and shapes. The garden here is decorated with multiple colored lights that bring life to its borders, flower beds, and trees.
2. Creative New Year party paper decorations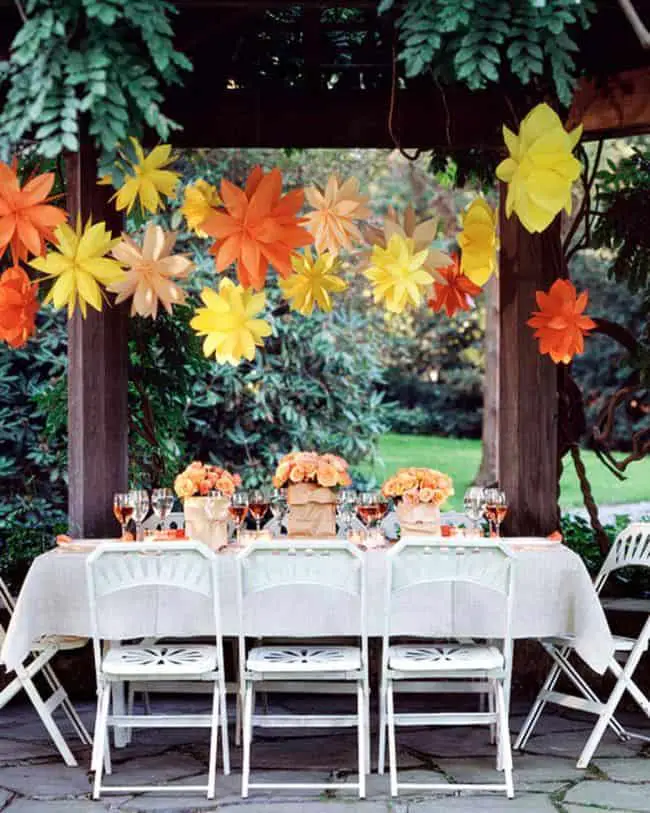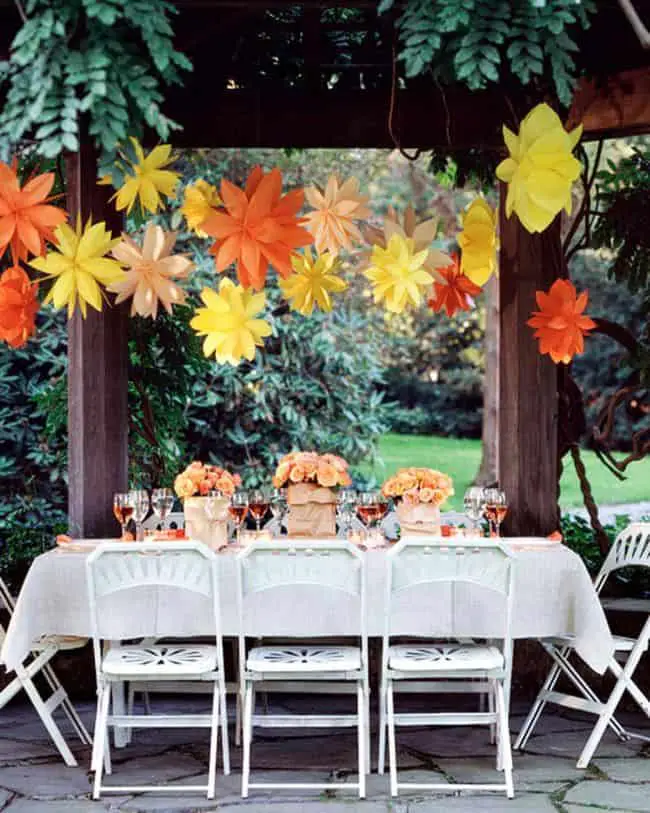 Image Credit: marthastewart
Paper craft is ever popular when adorning party venues. In the image above, the decorator has used paper flower hangings to deck up the New Year party table. These orange and yellow flowers match the floral arrangements featured on the tablescape.
3. Pastel themed garden table decor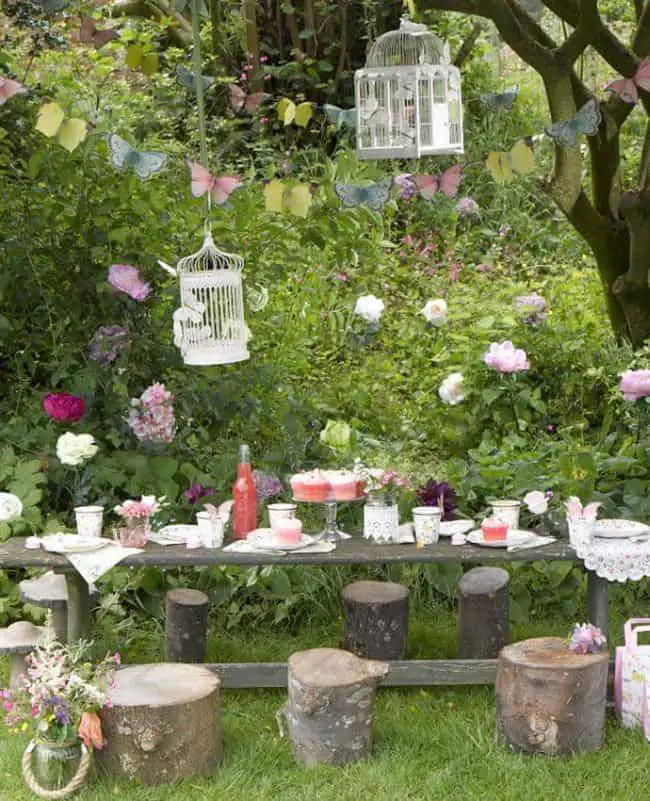 Image Credit: partydelights
New Year garden decor ideas 2018 feature pastels in a big way. This theme with colorful butterflies hanging from strings looks cute and is perfect for hosting kids New Year parties.
4. Geometric patterned light decor in New Year garden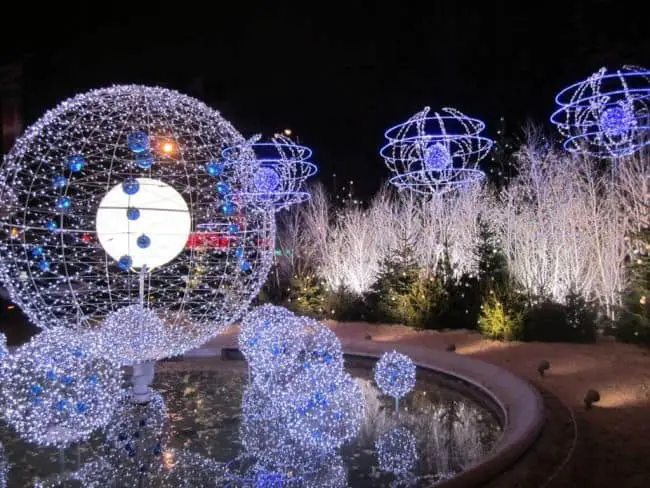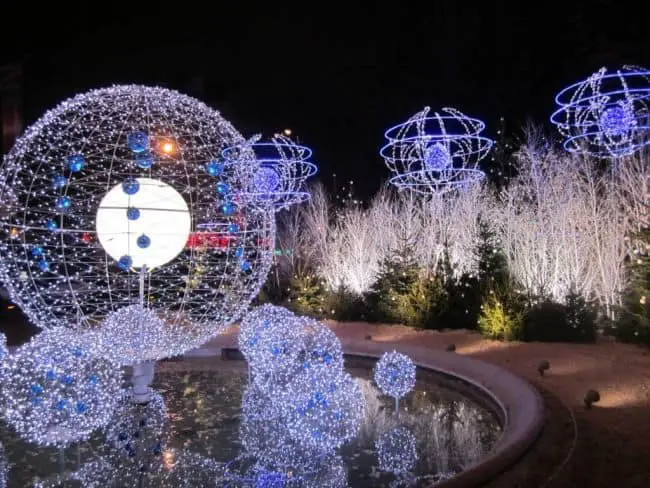 Image Credit: pinotagebook
No New Year party is complete unless you use a string of lit up accessories to dress up your party venue. Seen here is a beautifully decorated garden with geometric patterned light fixtures. These light fixtures can be installed on top of the trees, or in the middle of a garden pond.
5. Garden party idea with pretty blues, pinks and whites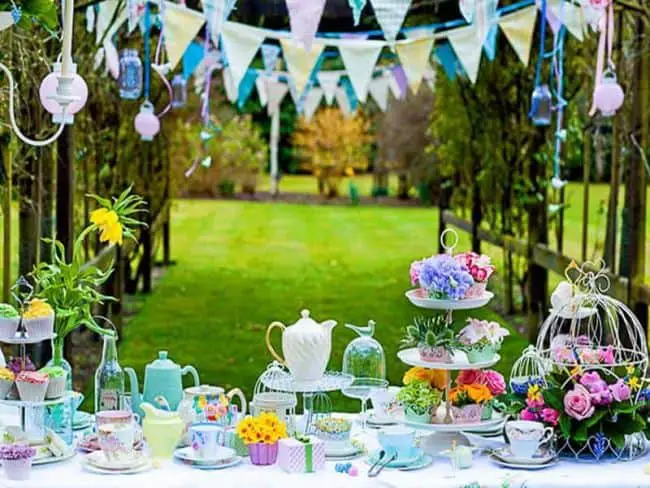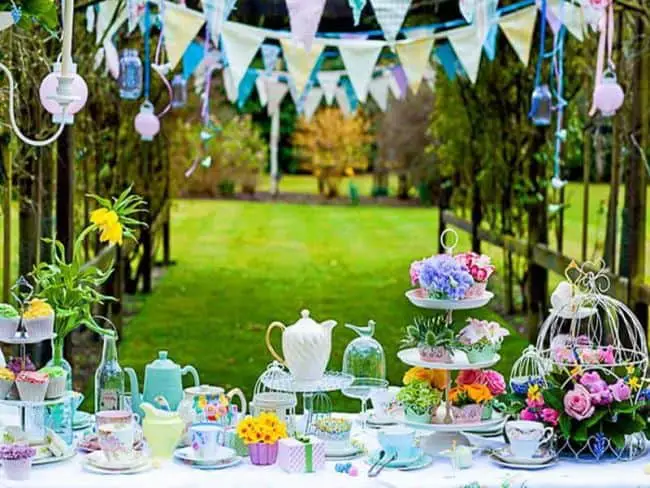 Image Credit: lighthousegaragedoors
Why not make use of this adorable garden table decoration that involves using a soft color palette of blue, pink and white? You can dress your table with caged floral arrangements and complement these with pastel tea pots and teacups. The top of the table can be decorated with pastel themed buntings.
6. Gorgeous tent decor style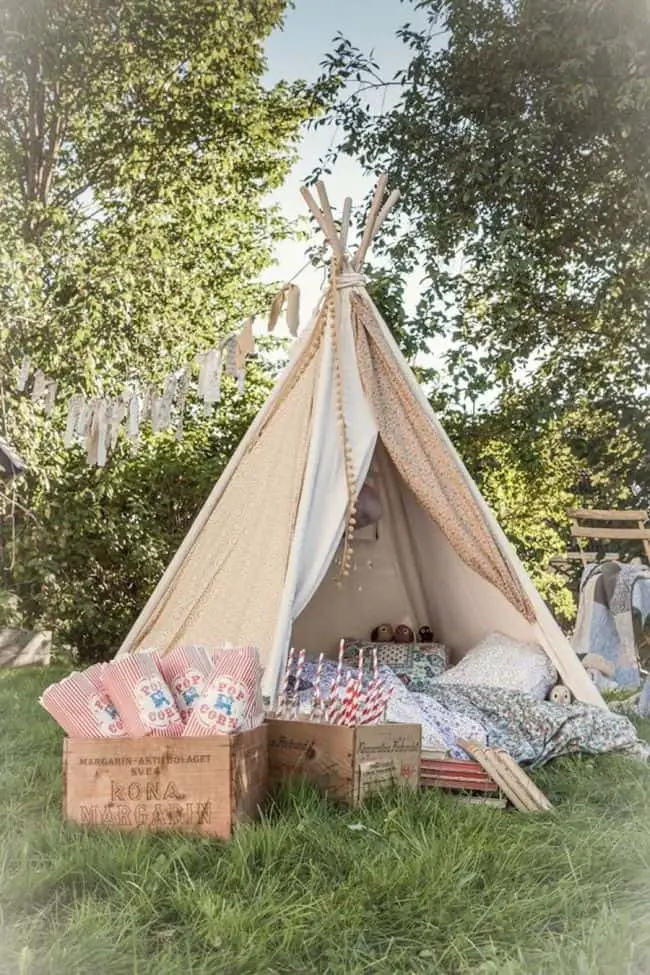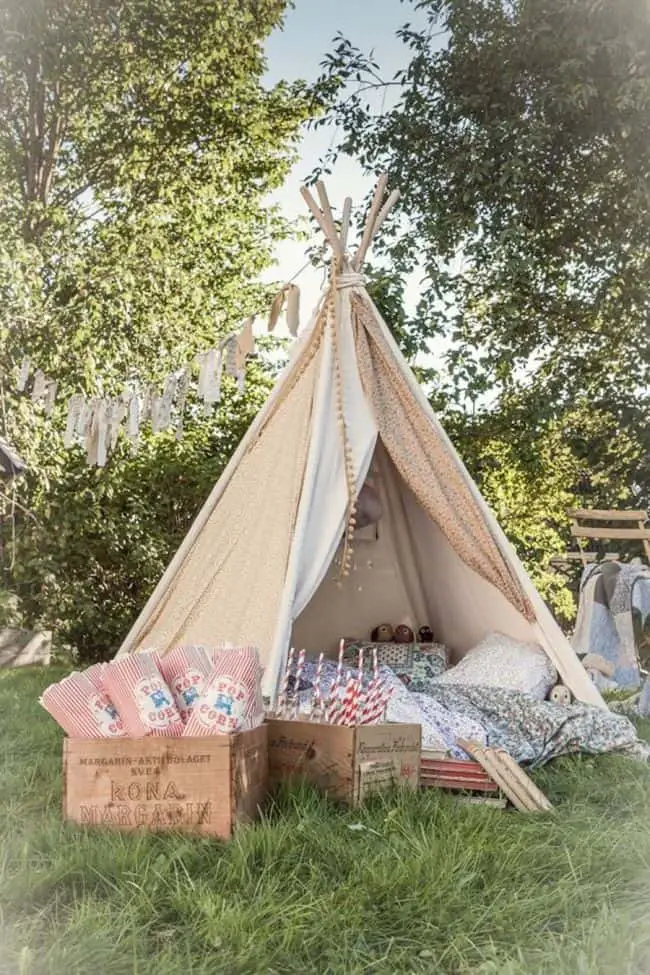 Image Credit: luciasecasa
The tent decoration seen in the garden image above suits families with kids. On New Year, you can host a picnic party for children. Dress up the garden with small tents as shown and create a picnic like ambiance by placing crates filled with popcorn and candies. Just keep the decor very simple and fun.
7. Garden party tablescape with lights and candles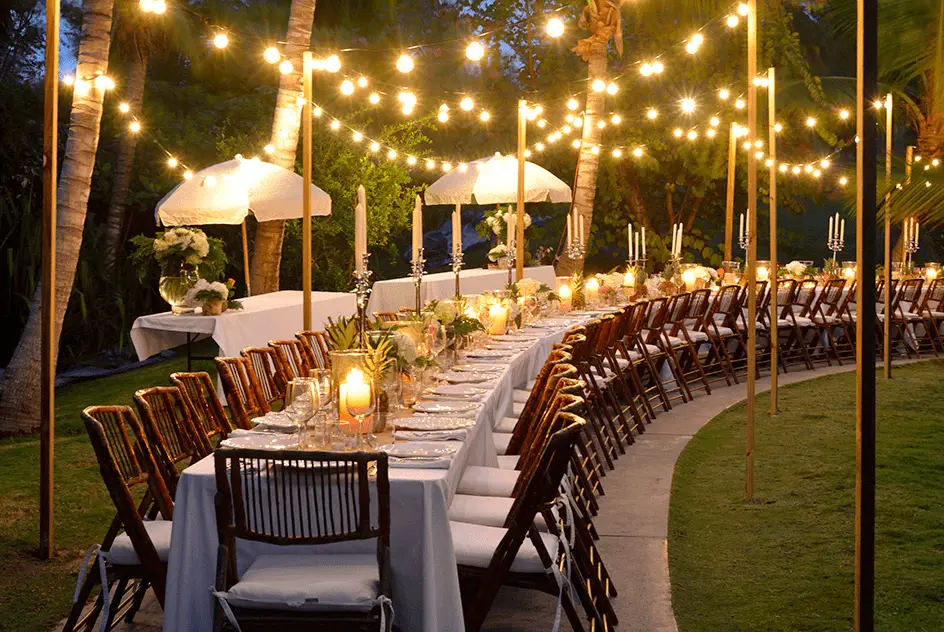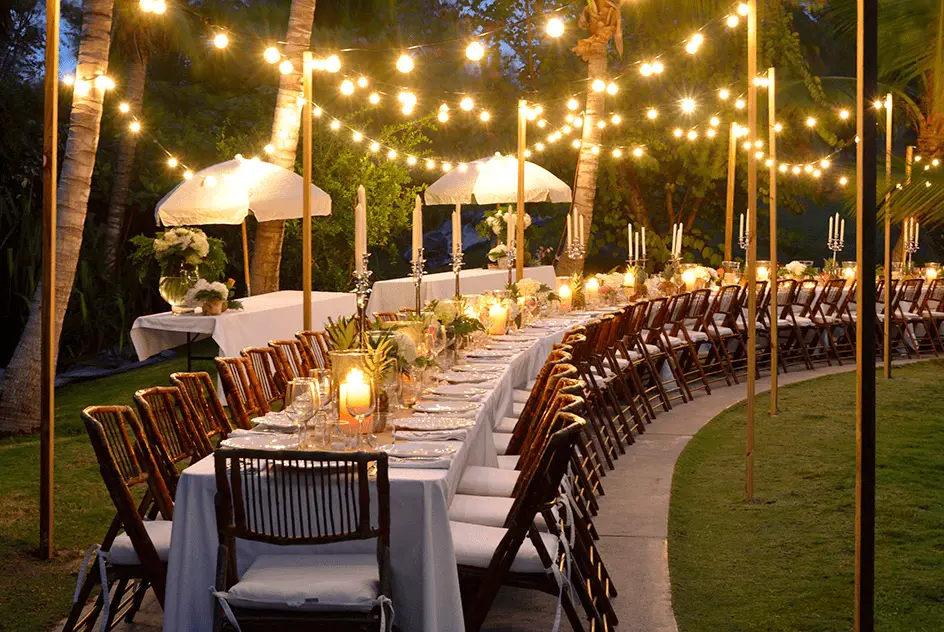 Image Credit: medium
How about using lots of string lights and candles for dressing up New Year party table? The party tablescape featured above has been embellished with stylish display of candles and greens. The top is decked up with string lights that glow warmly and spread a festive cheer among all.
8. New Year party table decor with flowers and firepieces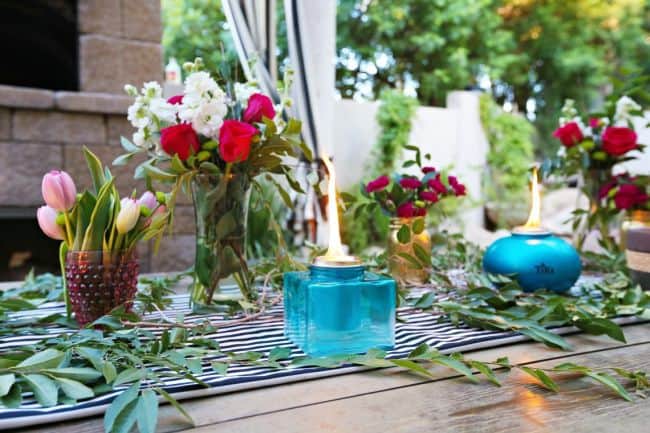 Image Credit: classyclutter
Flowers and firepieces feature majorly in 2018's New Years Eve party theme ideas. If you are having a dinner party in your garden, then you ought to make it look glamorous by dressing the table with fresh colorful flowers and complement them with firepieces. These firepieces in square and round shapes look striking against the charming flowers and the blue and white striped table runner.
9. Icey garden decor with string lights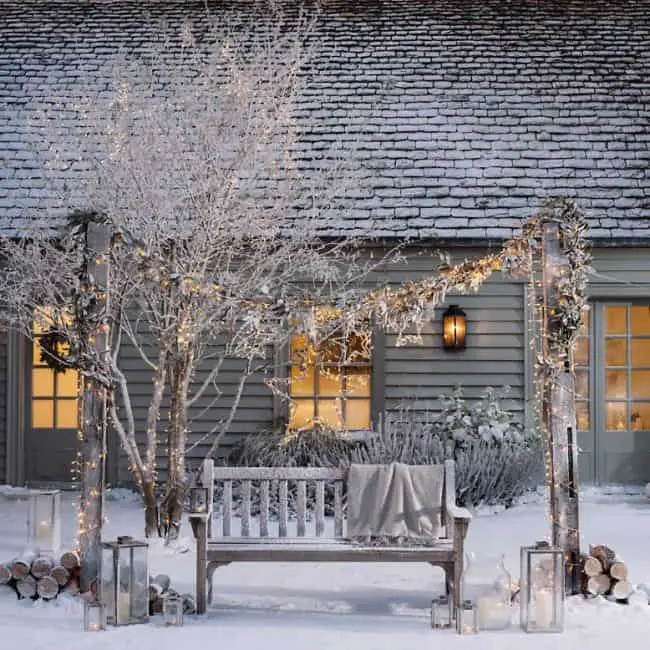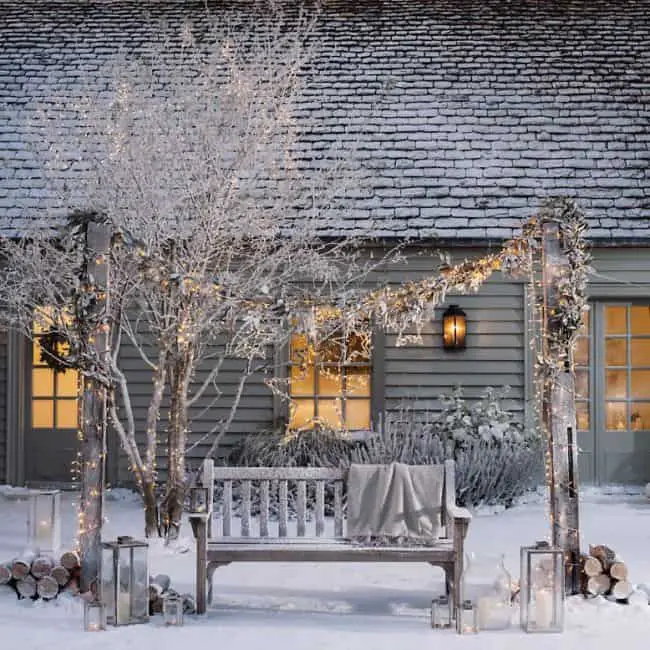 Image Credit: blogspot
Add loads of sparkle to your garden by embellishing it with string lights, lanterns and rustic themed furniture. In the image above, the snow covered garden exudes warmth and is lit up beautifully.
10. Blue and red lit up trees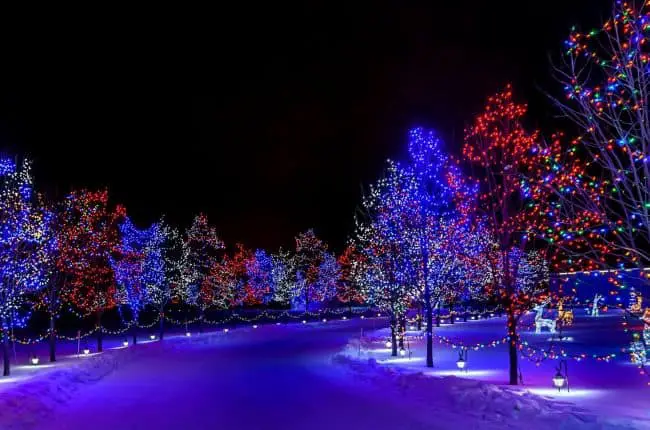 Image Credit: idolza
On either sides of the garden, there are trees that have been lit up using red and blue string lights. The whole decor looks dreamy and is perfect for hosting New Year or Christmas party for a large gathering. You can also install sledge and reindeer figures, and light them up too.
Also Read: Gardening Trends 2018
11. Pink and white balloons decor for New Year party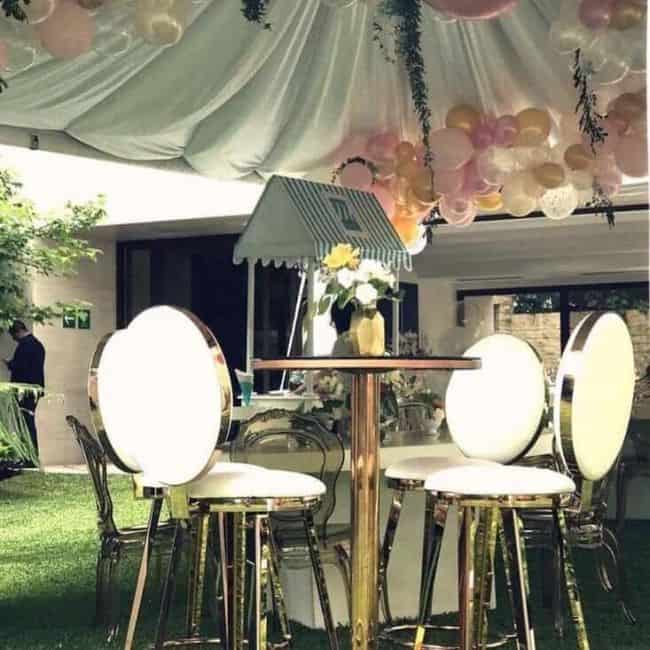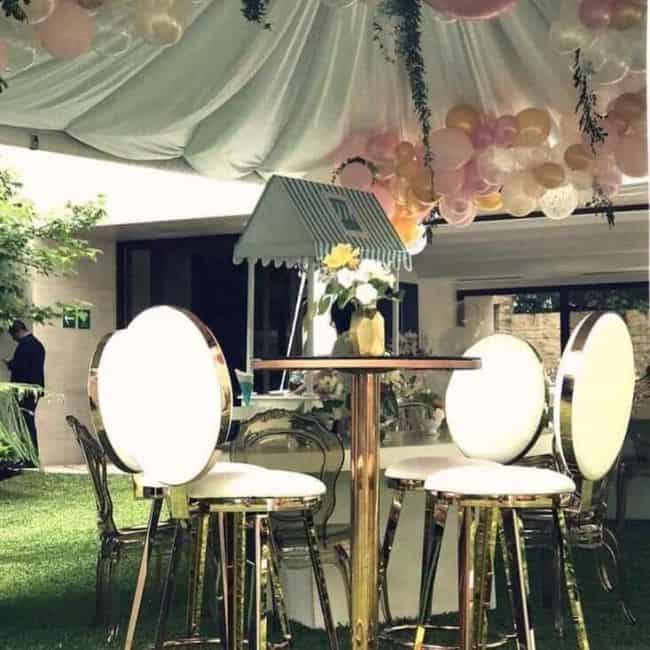 Image Credit: pinterest
Balloons in pink and white lend a soft touch to any party decor. In the picture above, the decorator has put up canopies for seating guests. The top of the canopies are dressed up with pink and white balloons. The tabletops are decked with floral arrangements.
12. Bohemian garden New Year party decor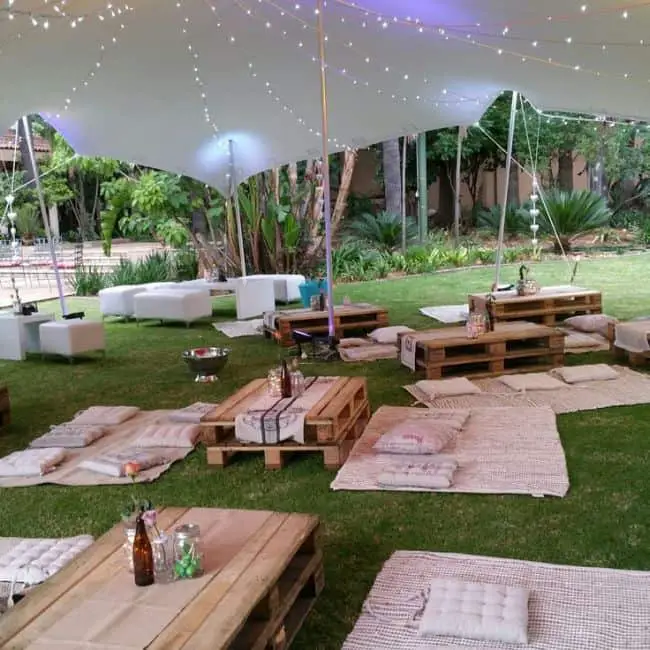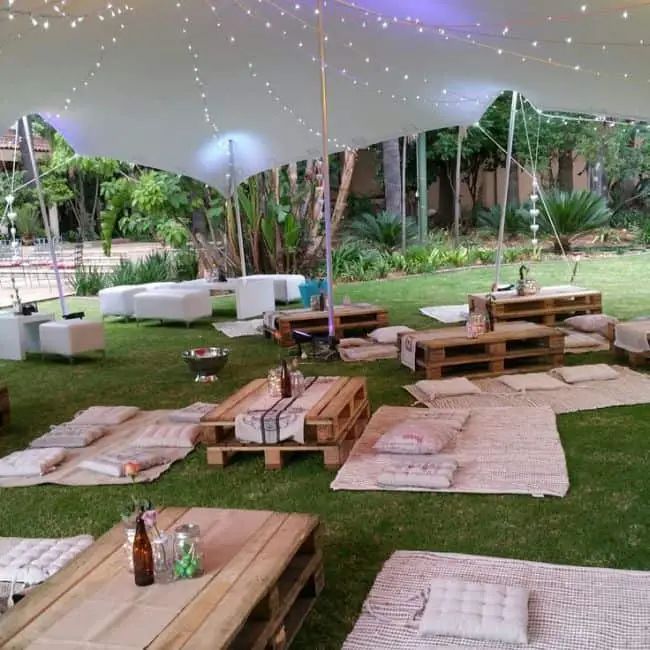 Image Credit: iliannloeb
Among the many themes for this year's New Year party is the glam Bohemian theme that makes use of low tables, rugs, and cushions as decor accessories. The canopy installed for this theme must be well lit up using fairy or string lights as seen in the image above. This theme is fit for an informal gathering.
13. Golden glittery bottle decor on New Year party table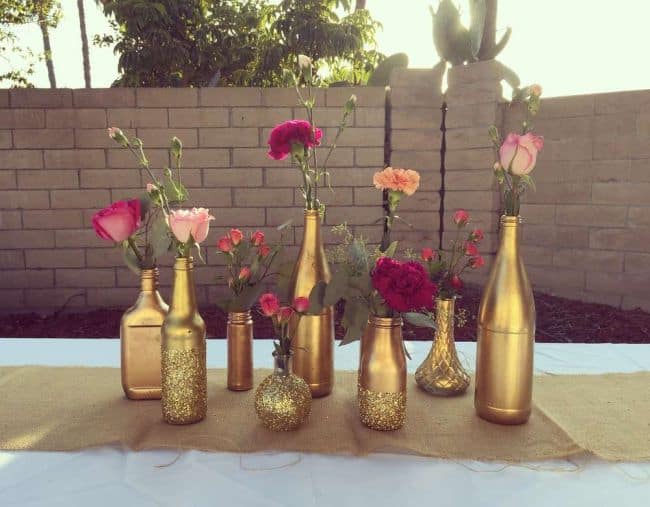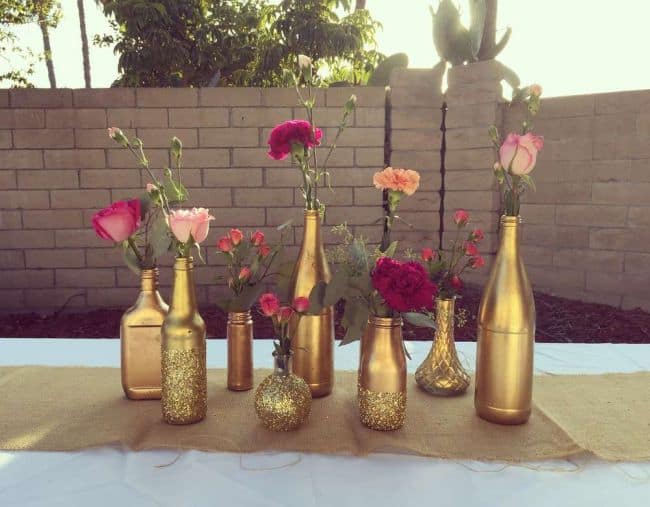 Image Credit: blogspot
Glittery bottles in golden accents can make any tabletop look gorgeous. For this New Year Eve party, paint old wine bottles in golden glitter and then fill these up with fresh seasonal flowers.
14. A garden vase with fresh flowers and string lights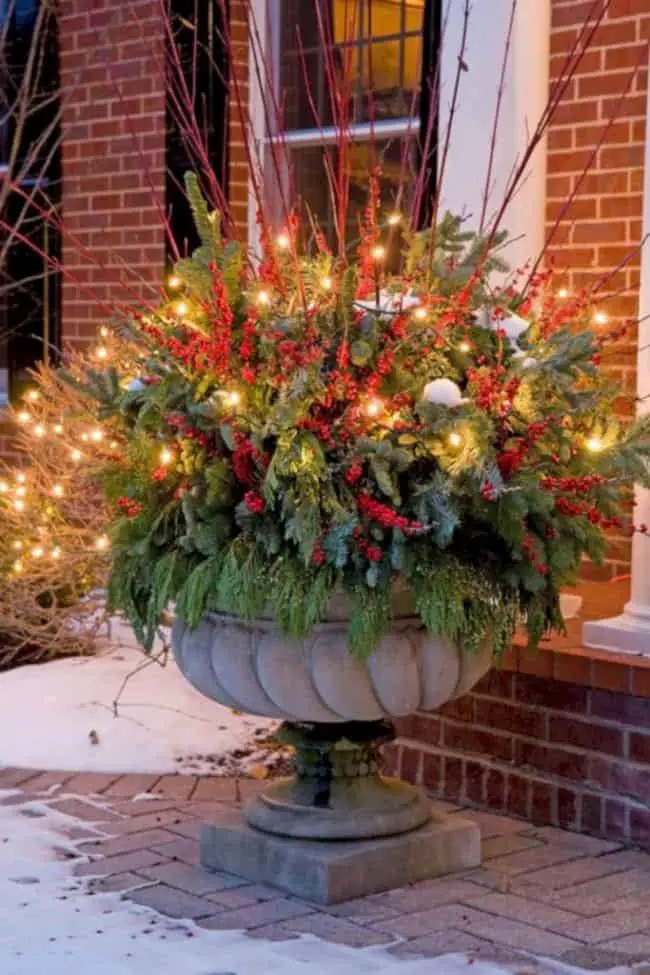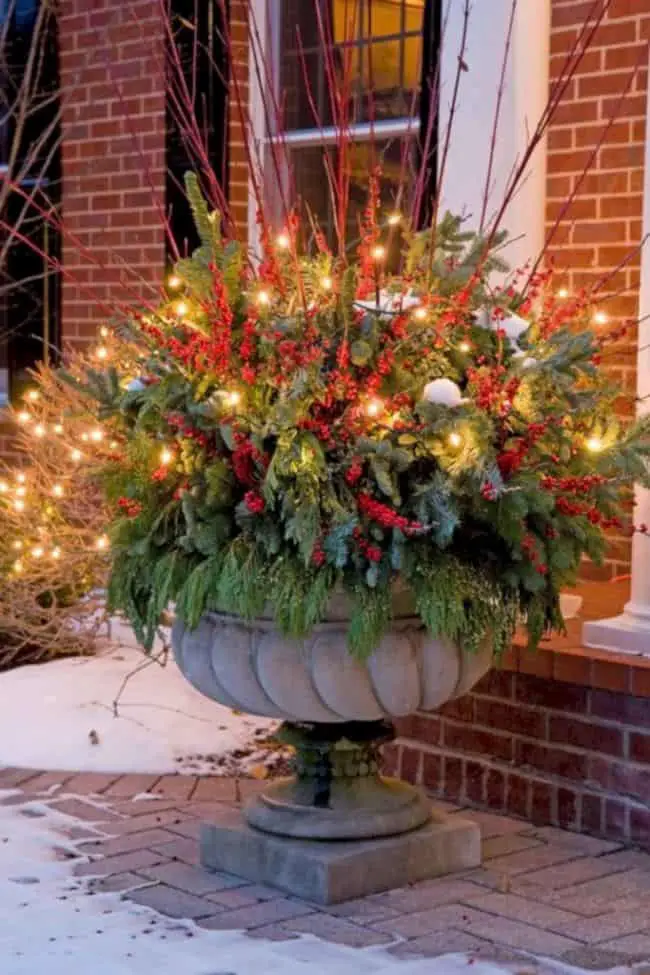 Image Credit: 24spaces
Use all your Xmas ornaments and string lights to light up your garden pots this holiday season. The picture shows how the decorator has used a planter as a decor element for a New Year Eves party in his garden. He has dressed up the planter with lights and it looks awesome!
15. Stunning string lights decor on the garden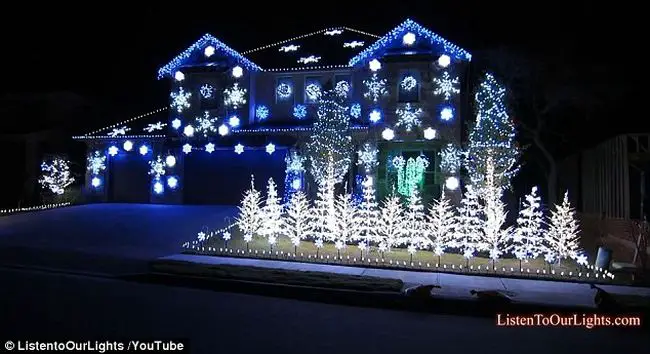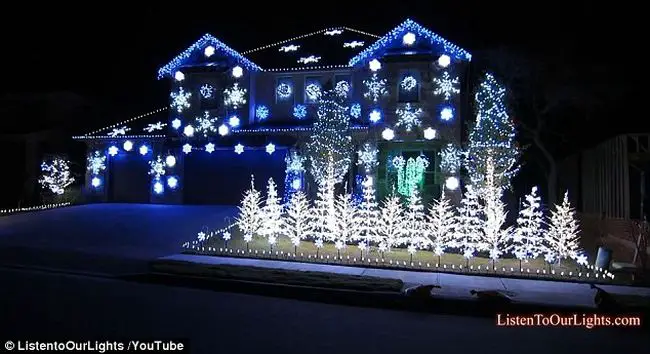 Image Credit: decorreport
Are you planning to ring in 2018 with awesomely decorated gardens? If so, then try this idea that makes use of multiple string lights to shine up the front garden of this house. The lit up trees look fantastic against the lit up house.
16. Succulent fountain decoration with lights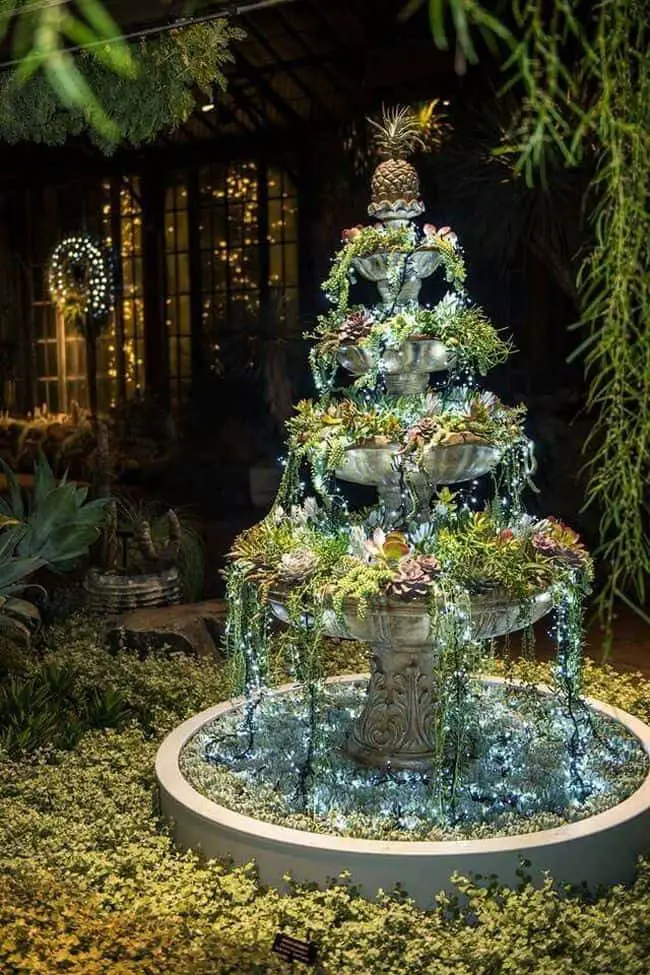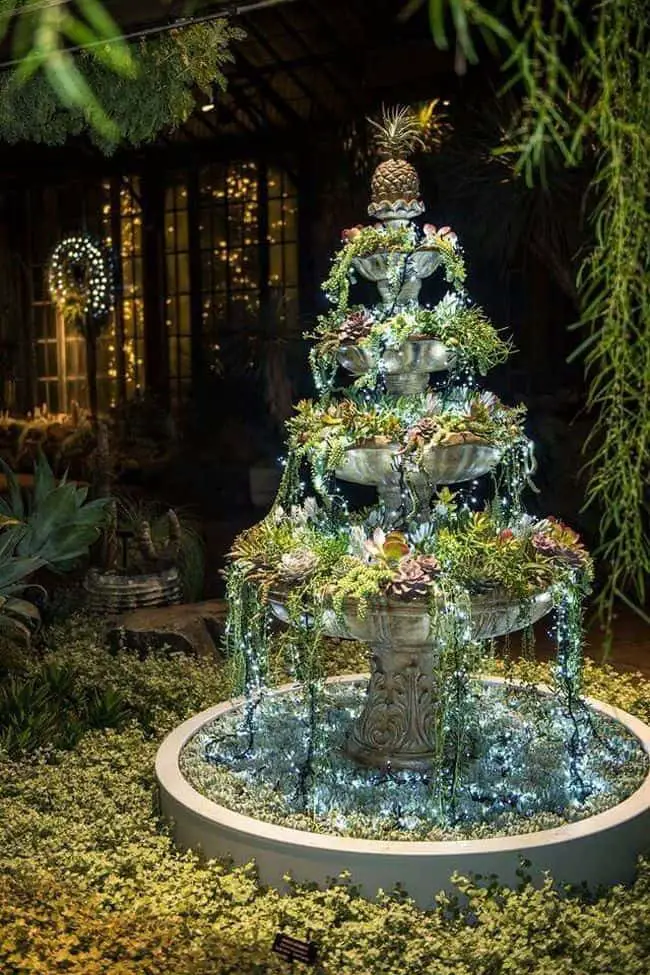 Image Credit: pinterest
Garden decor ideas like the one shown above must be tried as it lends a shimmering touch to your outdoors. If you have a fountain in your garden, fill it up with succulents and drape it up with multiple string of lights.
17. New Year party garden tablescape with umbrellas and mason jars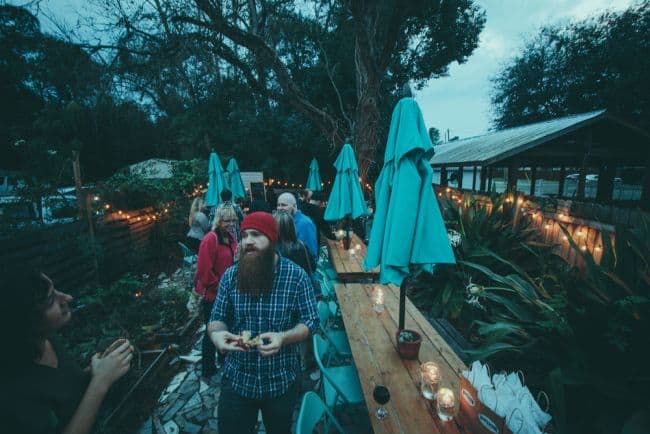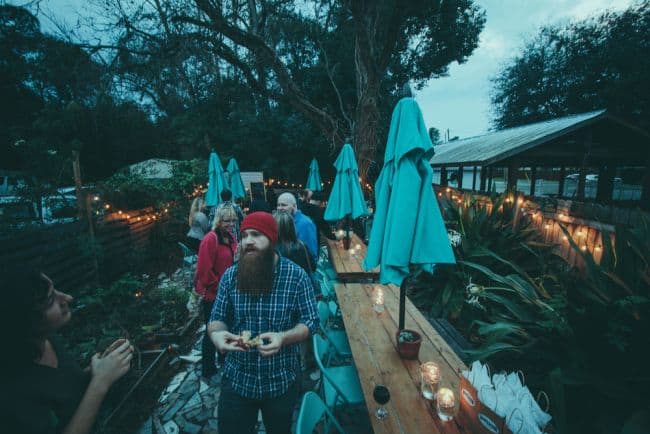 Image Credit: squarespace
In this beautiful compact garden, the owner has created a very warm party atmosphere by setting wooden tables that he has dressed up with lit mason jars and blue umbrellas on top. The warm ambiance of the garden party looks attractive.
18. Tree stem lighting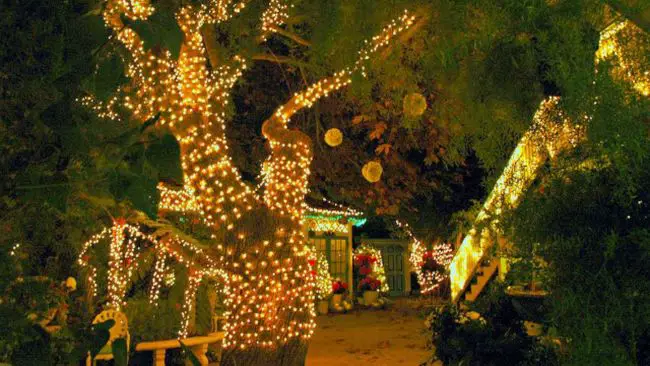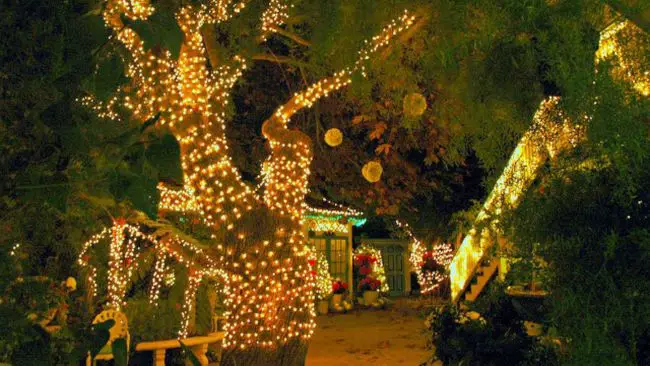 Image Credit: californiasodcenter
Tree decorations form an integral part in any New Year party celebration. Seen here is a garden of a house that features a huge tree whose stem has been lit up with string lights. The rest of the decor also features lights in warm tones.
19. Garden New Year party decor with lampions and fresh flowers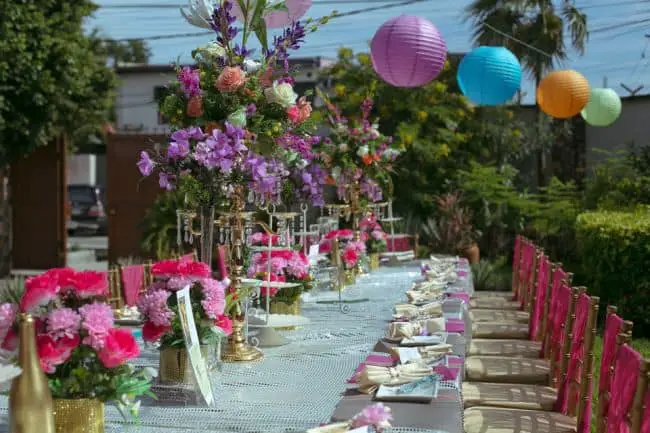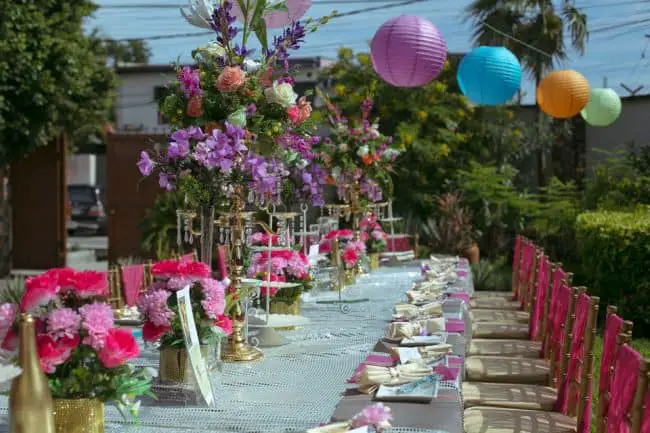 Image Credit: blogspot
The main highlights of this New Year party table are the colorful lampion strings, the tall floral arrangements and golden accented floral vases. The spring look of the tablescape is simply perfect to ring in the New Year with a bang. Garden decor ideas with lampions will remain popular in 2018 too.
20. Table decor with candles, flowers and chandelier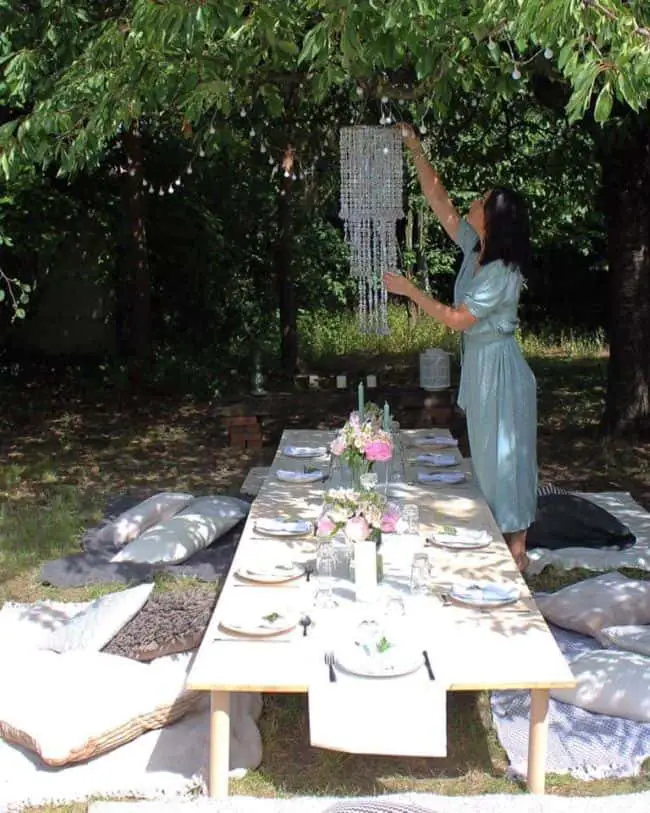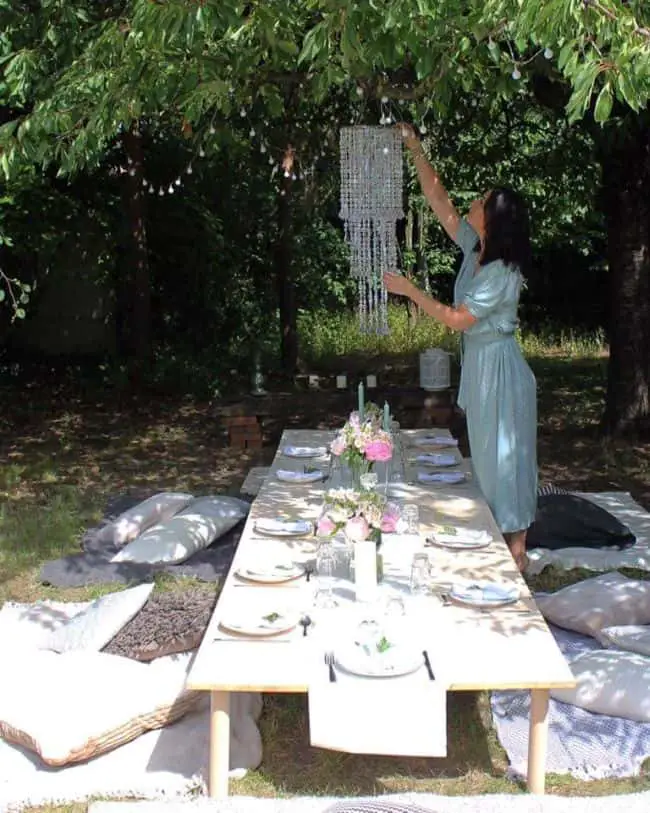 Image Credit: fashionizm
The low height wooden table looks appropriate to host a New Year party for a few people. The decorator has dressed the entire party scene with a stunning chandelier, candles and flowers in pink and white.
Also Read: 31 DIY Outdoor Christmas Lawn Decorations
21. Cozy New Year party table decor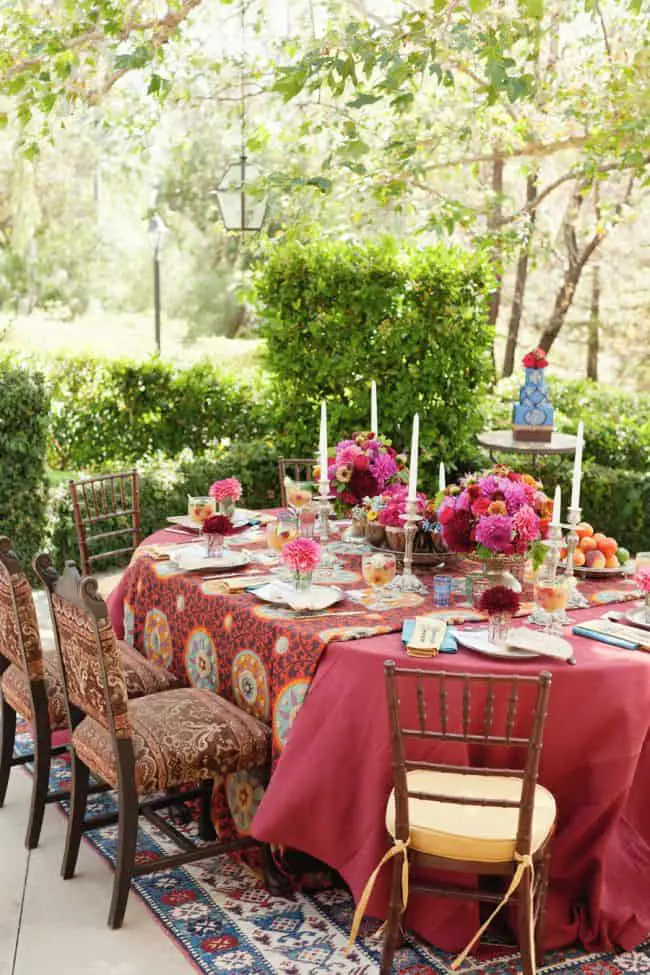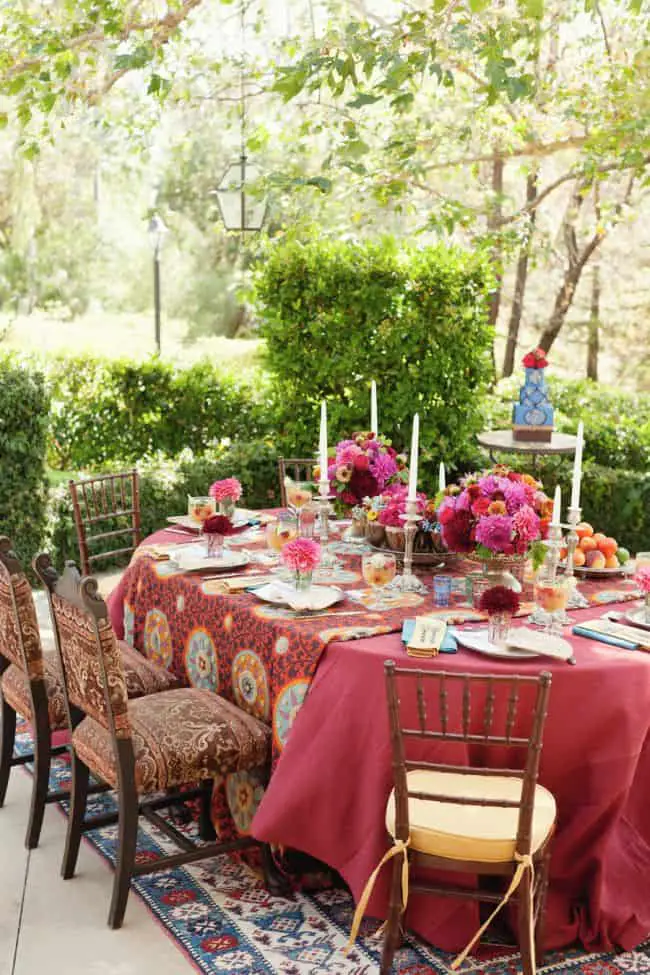 Image Credit: pinterest
This pink themed party table has incorporated all the elements listed in New Year decorations 2018. The lovely pink themed flowers match perfectly with the pink patterned tablecloth and table runner. To add a striking touch to the tablescape, the decorator has also used white candles.
22. Exotic New Year party table with hanging flowers and candle jars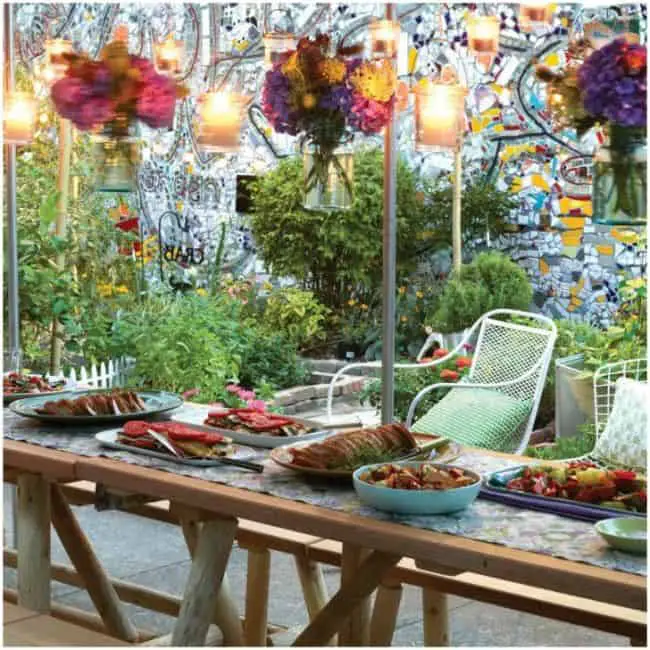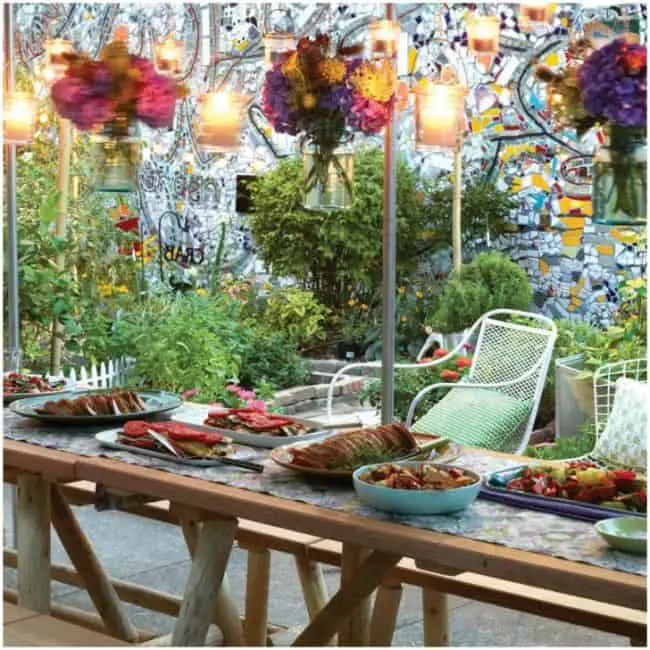 Image Credit: serenavittorianitti
Who said that you can not use flowers on top of the tablescape? Well, look at the table decor here where floral vases and candle jars hang above the table and offer ambient lighting. The light illuminated from these candle jars helps to create a romantic atmosphere.
23. White party table decor with blue and pink accents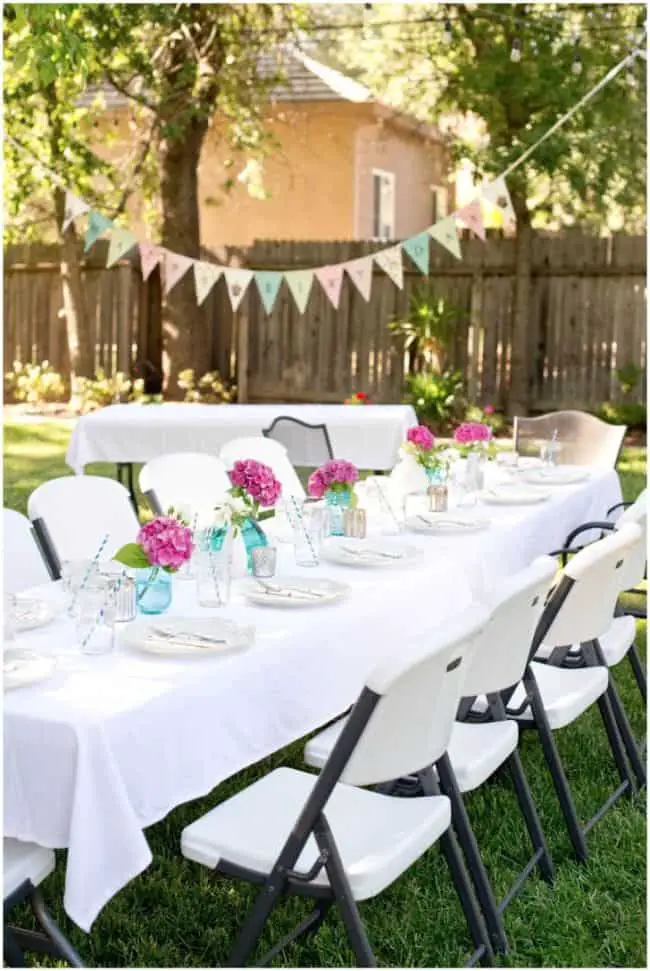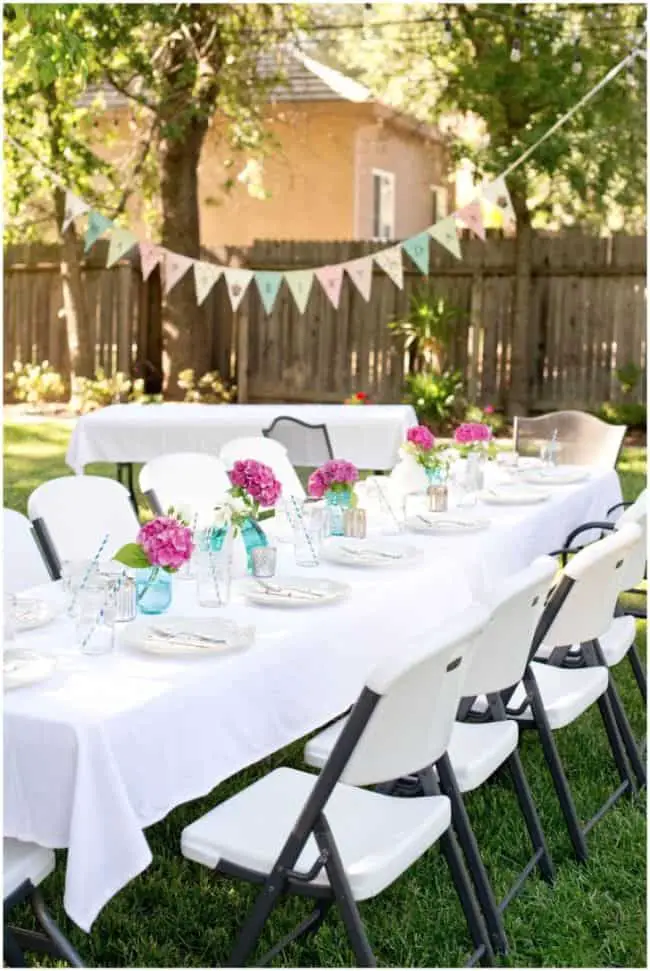 Image Credit: serenavittorianitti
This white themed New Year decorations 2018 party table appears eye grabbing with its pink accented flowers arranged in blue jars. The buntings hung above lend a cheery look to the whole atmosphere. This theme works best for such places that receive lots of sunshine in winter months.
24. Red and yellow accented garden decor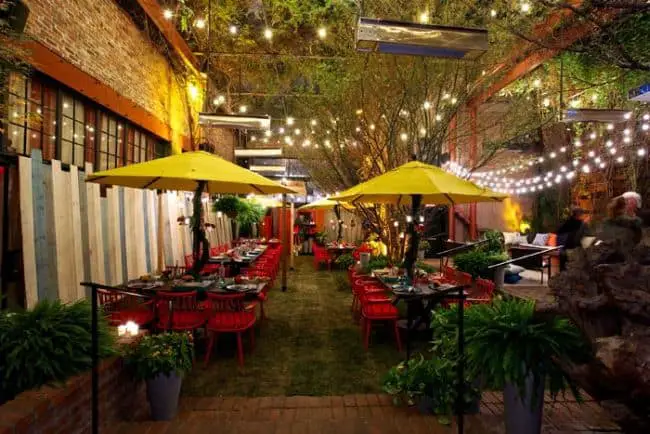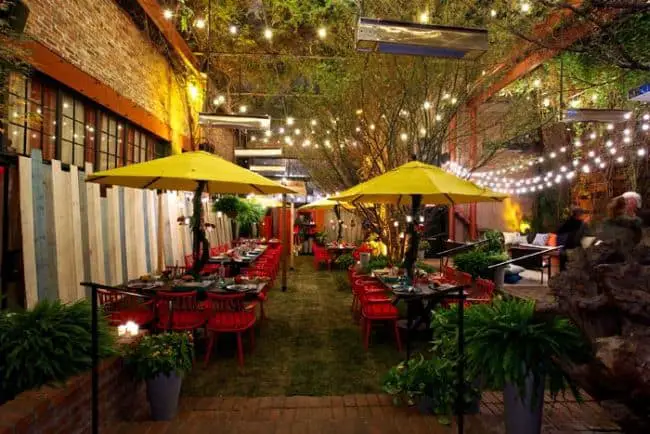 Image Credit: cmd-ks
This small garden has become a heaven, courtesy, the string lights that are illuminating the whole area, plus the yellow toned umbrellas that are hosted to top the red party tables. There is also a string of lights seen next to the garden.
25. Gorgeous tree decoration with fairy lights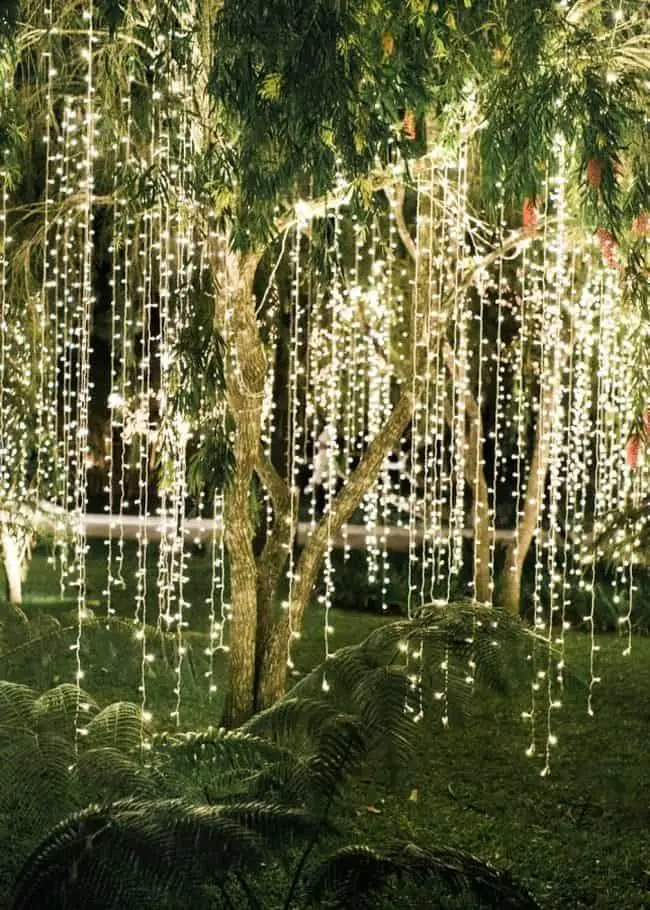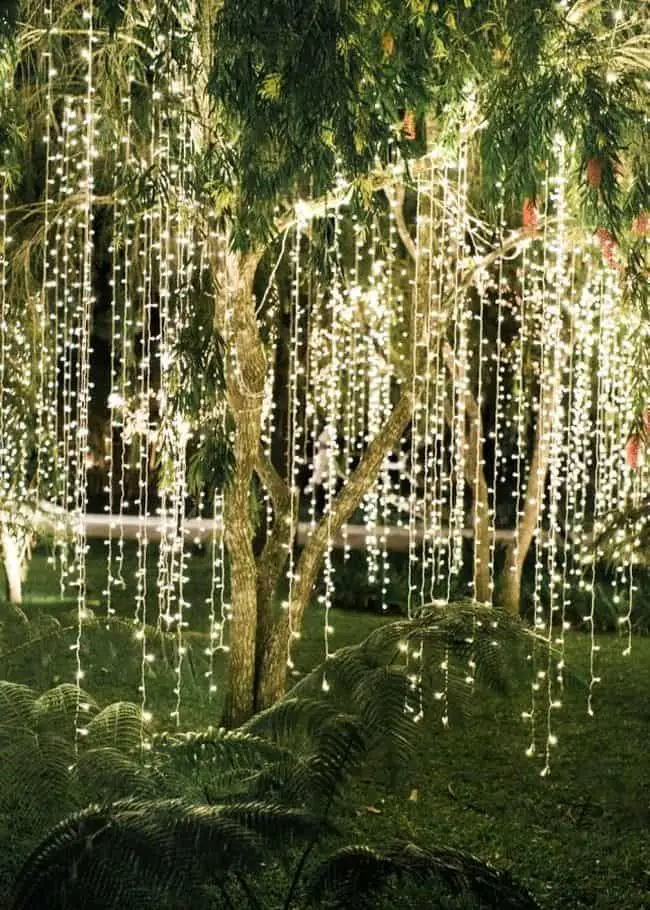 Image Credit: pinterest
Tree decoration ideas for New Year parties are all about celebrating the night with glamour and pomp. The tree shown in the image above has been decorated with strings of warm fairy lights seen hanging from its many branches.
26. Cozy seating under canopy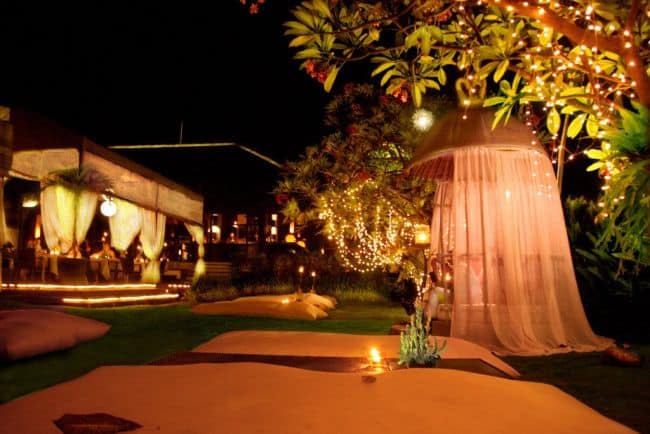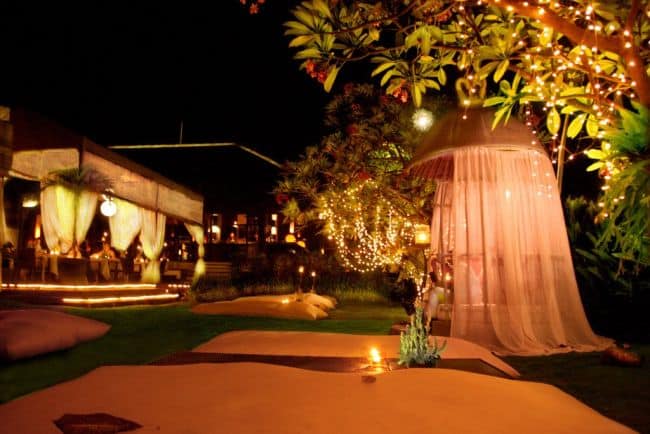 Image Credit: theeastendcafe
The entire gardenscape looks romantic with string lights illuminating various nooks, while, the canopy hangs stylishly over the seating area for entertaining guests. There are big pillows scattered all over the garden for additional seating. This decor idea makes the whole atmosphere informal and casual.
27. Rustic themed New Year garden decor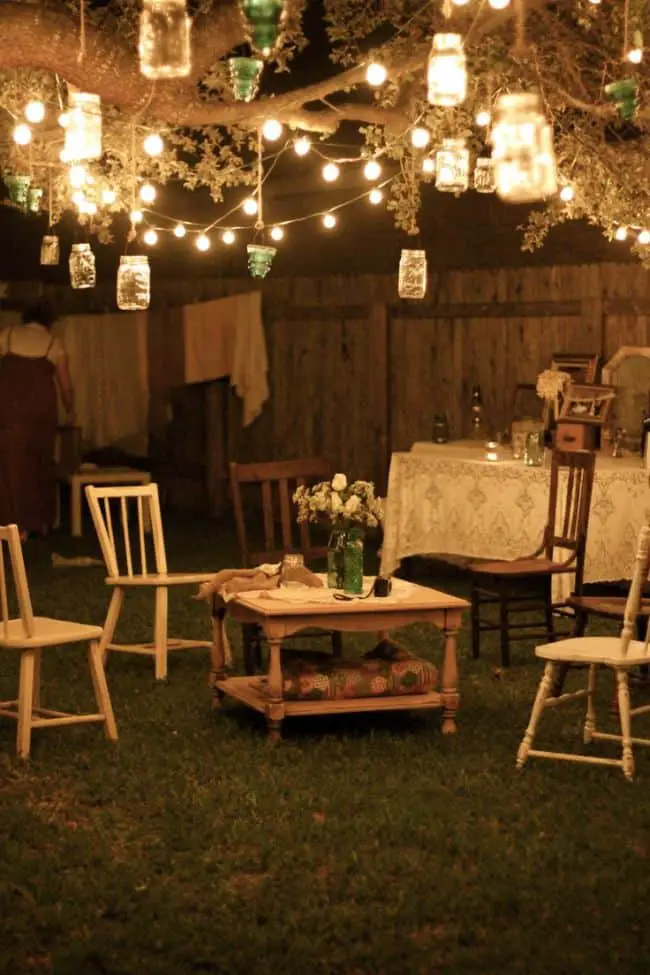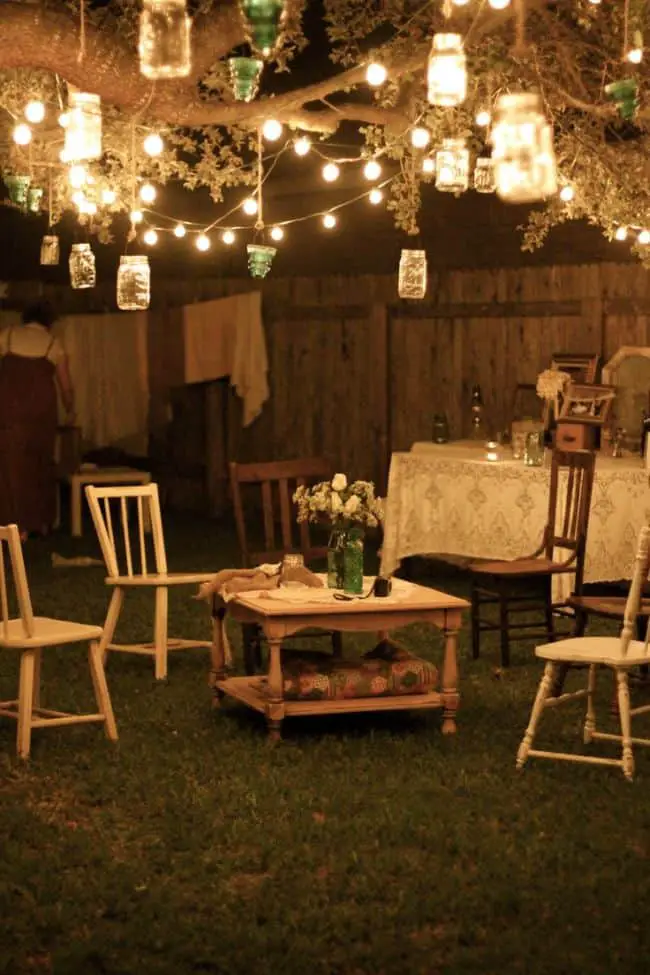 Image Credit: momentimg
This small and compact garden has been transformed into a warm and lit up heaven for starting the New Year party for a small group of friends. The tree branches hold mason jar and bulb lights that are hanging and are illuminating soft glow all around. The table and chairs are arranged very informally.
28. New Year party table decor with wood and votives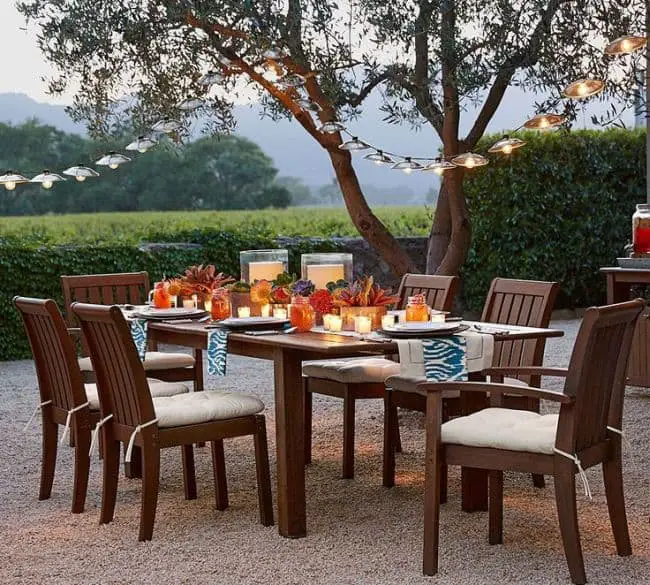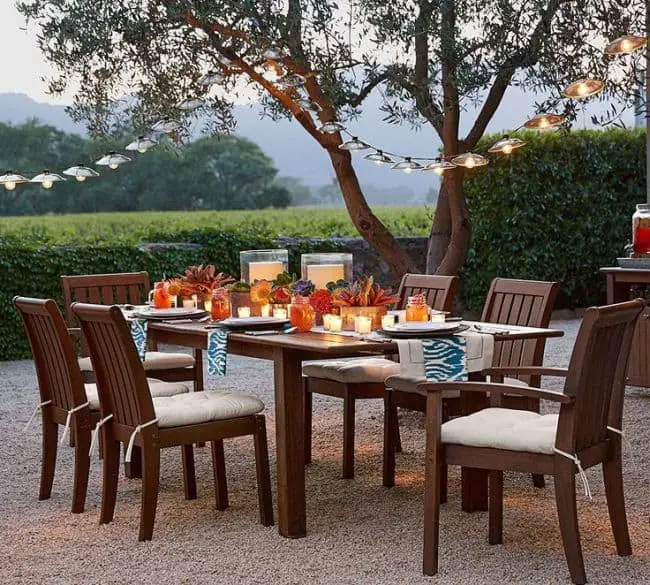 Image Credit: potterybarn
A very ethereal looking tablescape can be seen here. The decorator has used wooden vases for displaying succulents and has placed flickering votives to add warmth to the whole table decor. Apart from these elements, there are two pillar candle lanterns in glass seen on the table. The top of the table is dressed with a stylish string of warm lights.
29. Gold and floral decor on New Year garden table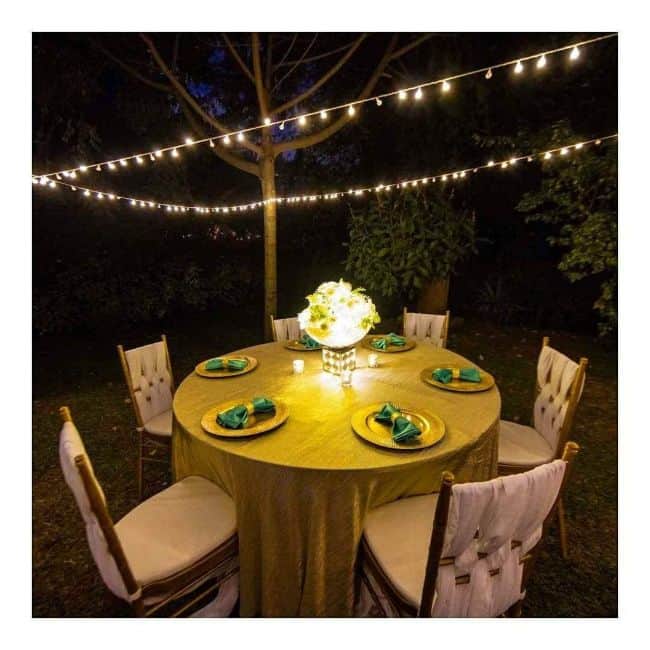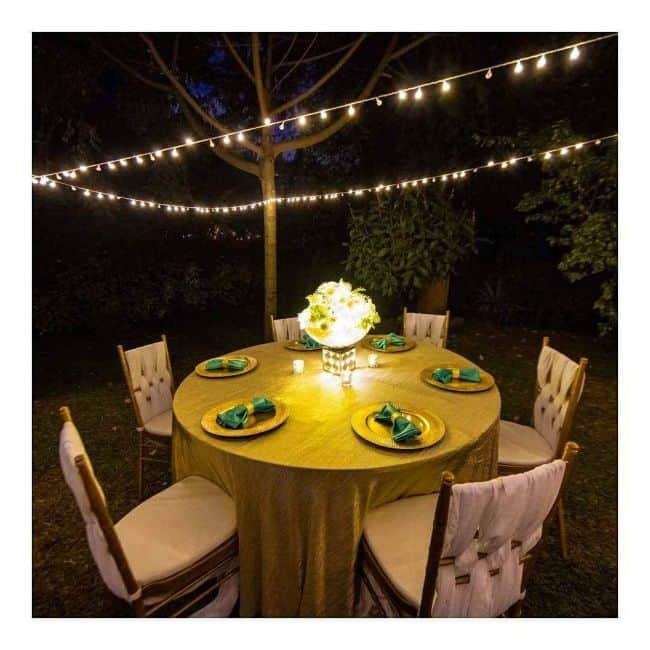 Image Credit: fashionizm
The round table arranged in the garden has been decorated with a golden toned tablecloth and matching dishware. To complement its look, the decorator has used a lit up floral arrangement on a vase. Hanging over the table are beautiful string of lights.
30. Purple themed New Year garden party table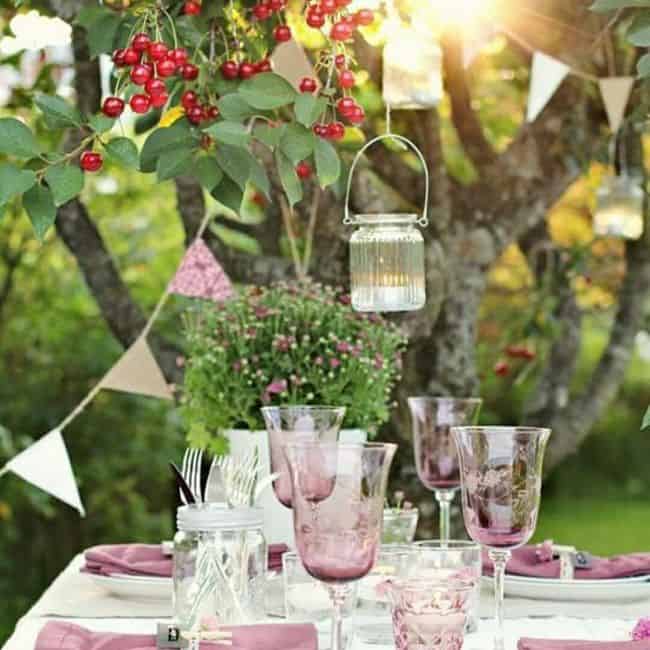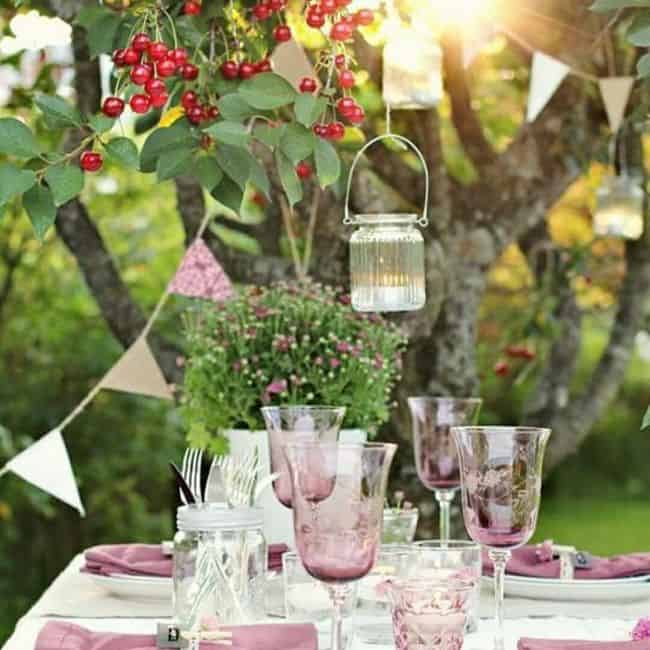 Image Credit: fashionizm
You will get loads of New Years Eve house party ideas for adults, and you have to select one depending on many factors. One such factor is the color scheme you will want to use in your decor. Seen here is a purple accented table decor with a purple wine glass display and flowers. Matching with it are the table napkins. Mason jars are seen hanging and act as lanterns to illuminate the whole area.
Also Read: 55 Eye Catching Air Plant Display Ideas
31. Informal New Year garden party decor with lanterns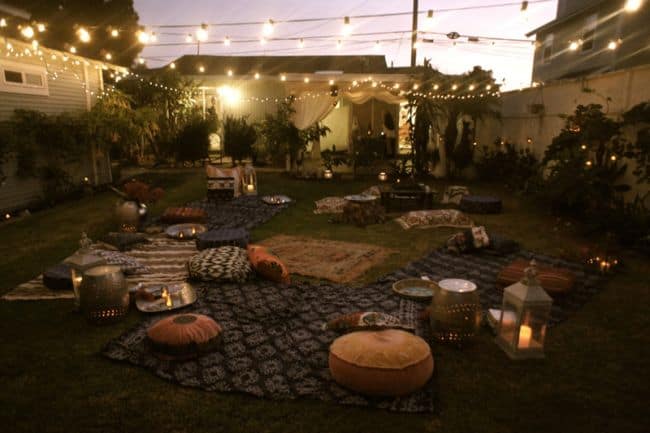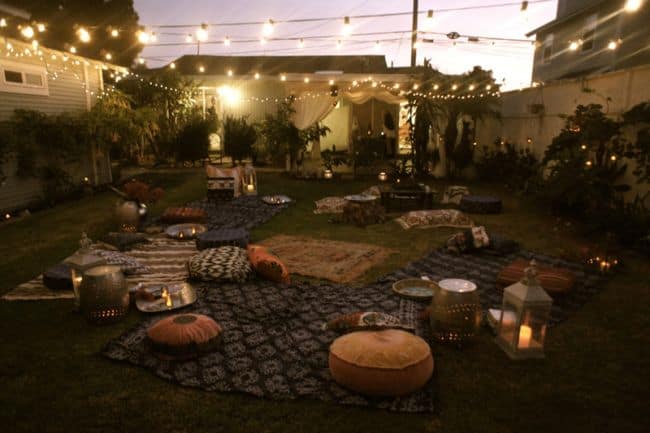 Image Credit: akamaized
For an informal New Year party that you are planning to host in your garden, you need to combine elements that mix and match easily with the rest of the decor features. Seen above is a garden that has been decorated with metallic lanterns and cushions spread all over to create a welcoming space.
32. Bright bunting and fairy lights decor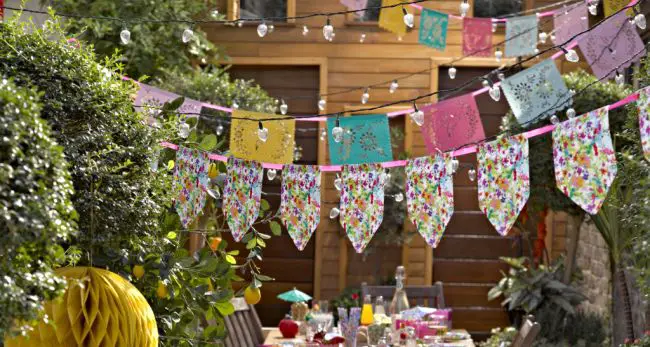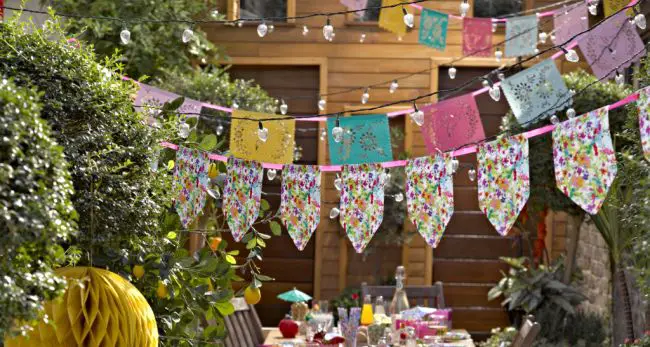 Image Credit: partypieces
Buntings and lampions combine perfectly with fairy lights when using them for decorating party venues and tables. Set the atmosphere of your party with these colorful buntings and string lights that are seen hanging over the table.
33. Bottle decorations with flowers on New Year party table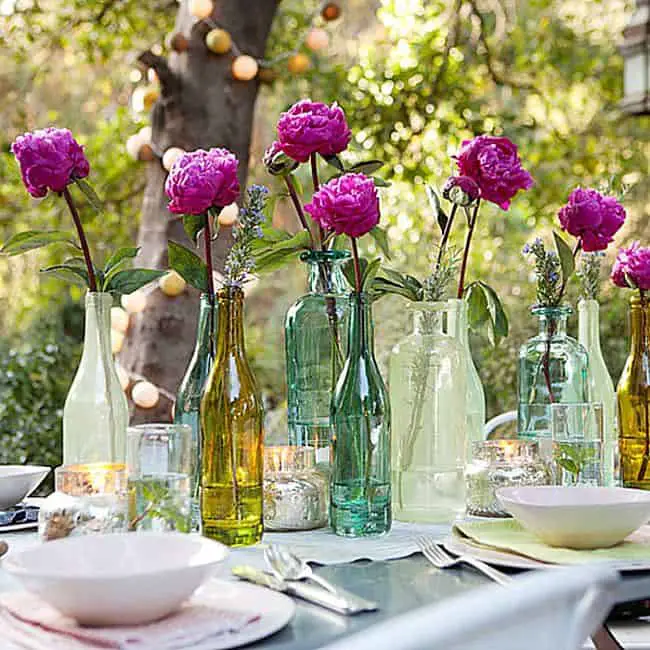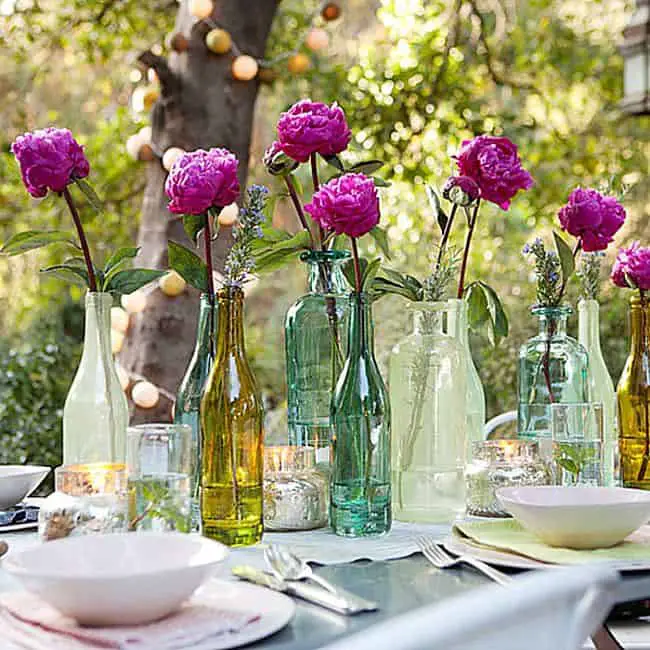 Image Credit: itugek
Bottles, votives, and flowers are those elements that always set the motion for a fun party. Seen here are decorative bottles filled with magenta-colored flowers. These are complemented with the help of silver accented votives that flicker warm light.
34. Snow covered New Year party garden table decor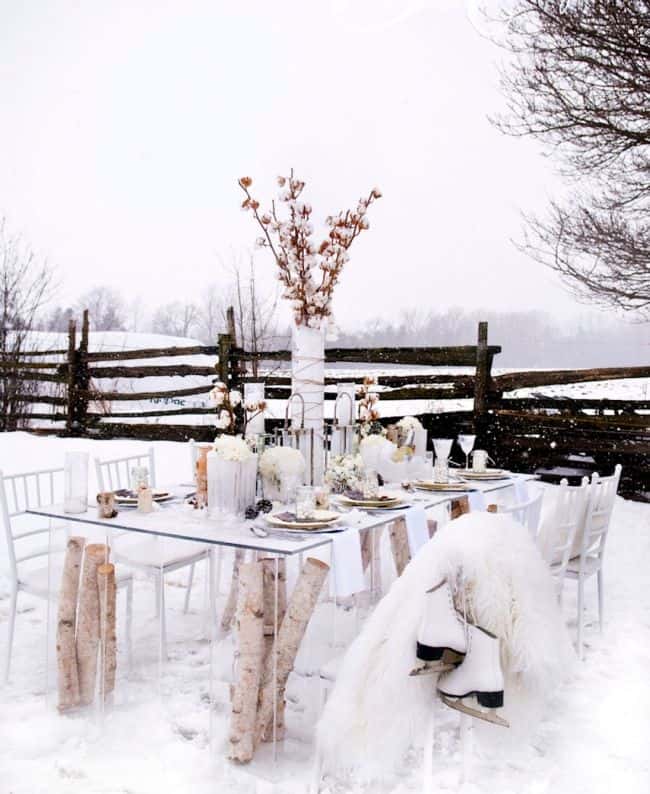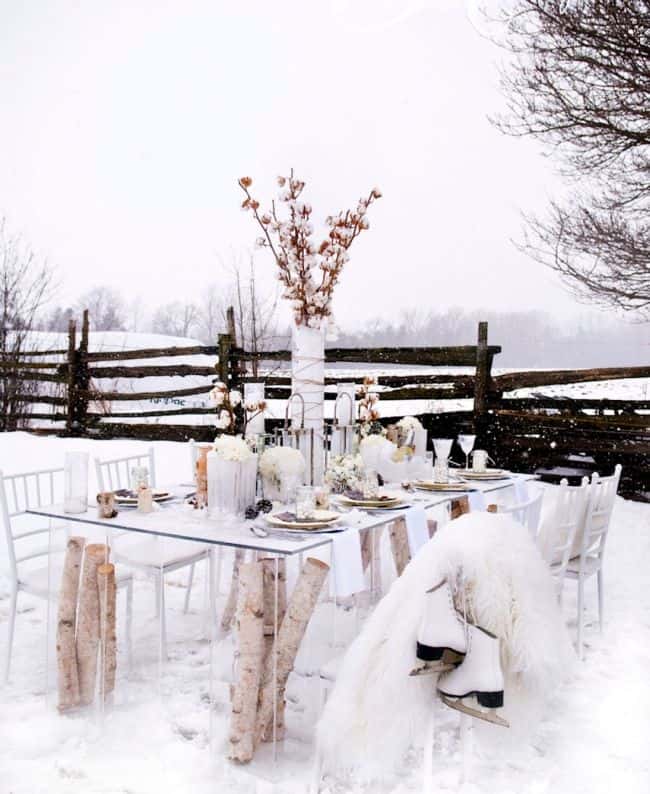 Image Credit: freshpatio
This New Year party table looks apt for celebrating the biggest event of the year. It is a cozy little setting dominated by the whiteness of the snow. The main centerpiece stealing the attention is the tall white snow filled vase with snow covered foliage. Complementing it are lanterns and fresh white floral arrangements.
35. White New Year garden party table decor with lots of candles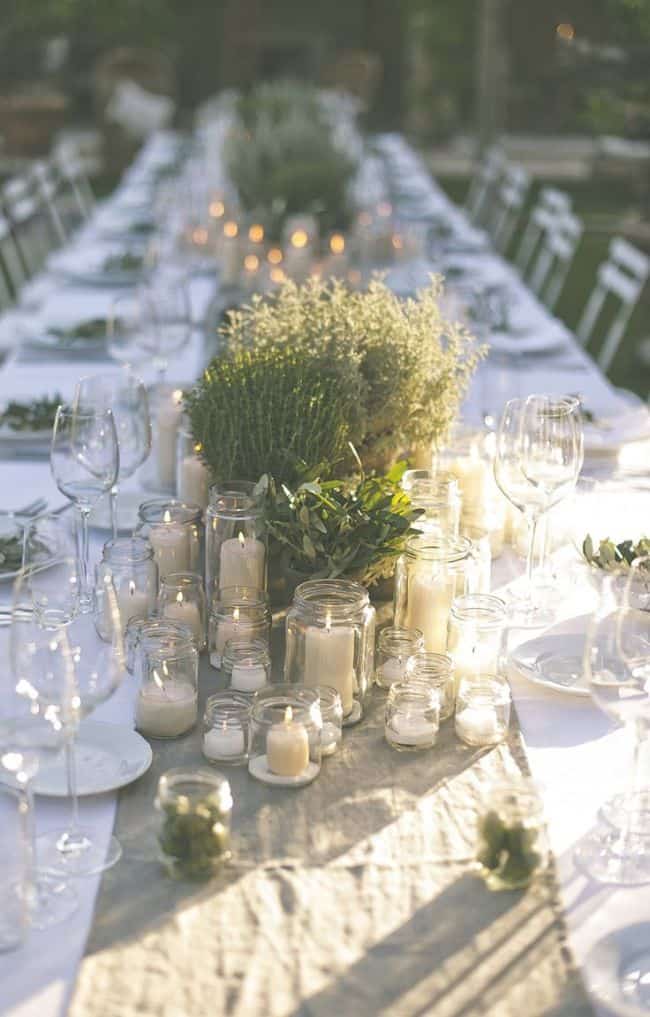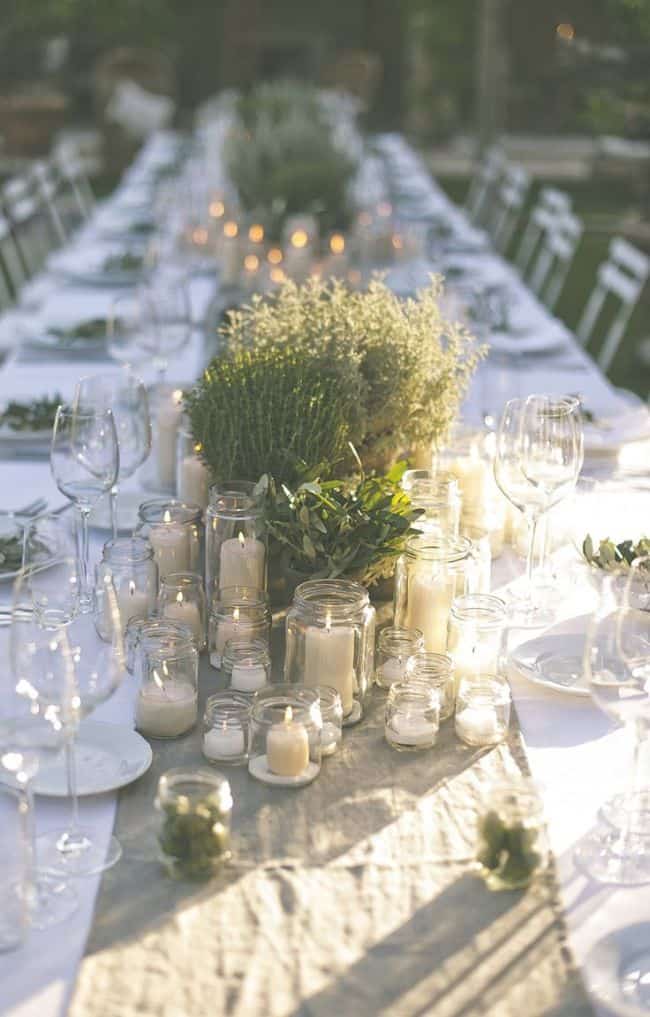 Image Credit: designlisticle
What's the one thing on this table that attracts your attention instantly? Well, its not one, but many of these white candles filled inside mason jars that take your breath away. The different sized candles are filled inside mason jars, also of varying sizes, and glow warmly. The whole tablescape looks very intimate and celebratory.
36. LED string lights decorating the New Year garden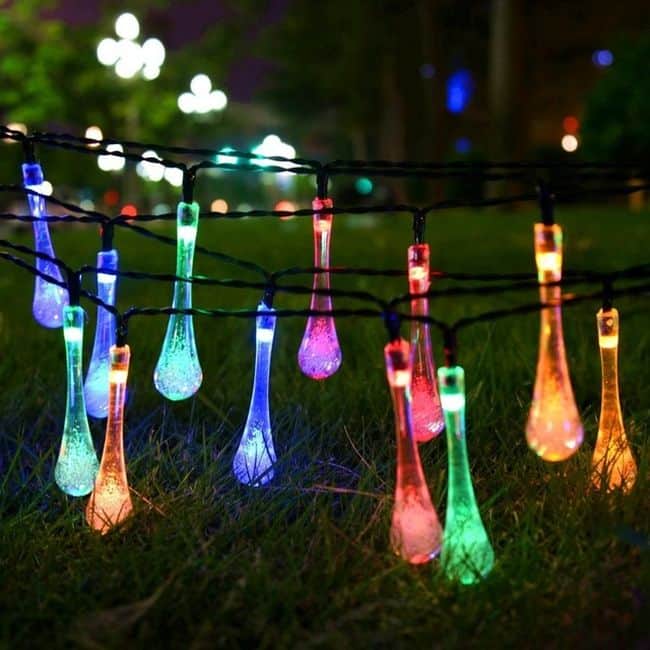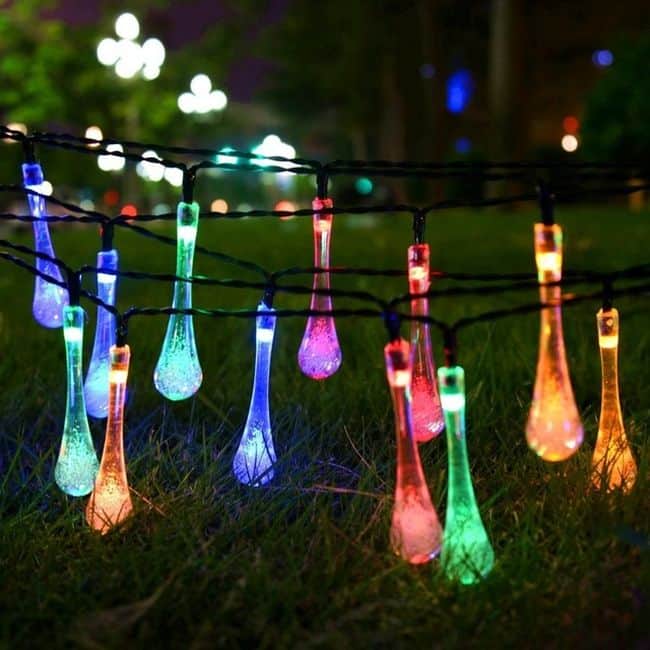 Image Credit: alicdn
Imagine a New Year party garden without lights! Omg…it will be devastating! For a party night of this stature, LED lights are a must for decorating the home and its exteriors. The LED lights seen here can be bought from Amazon or any other online store.
37. Flowers and cards decor on New Year tablescape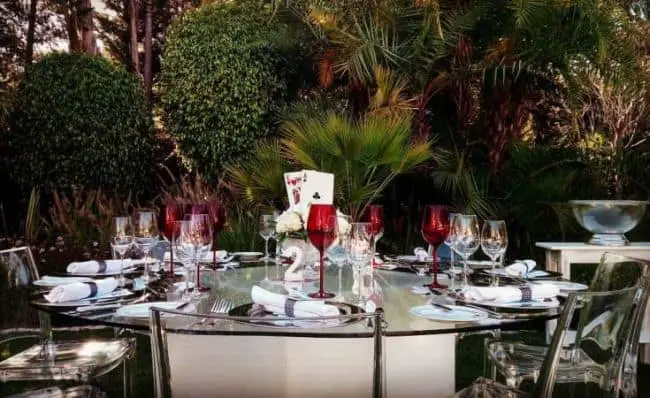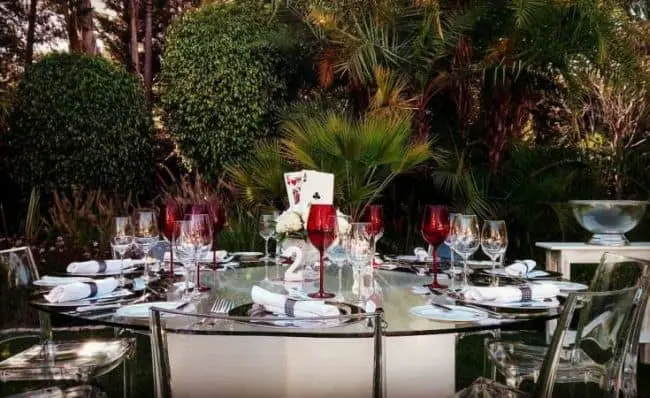 Image Credit: licdn
The glass table looks stunning with its accessories that have teamed effectively with one another to create a very striking decor. The red glasses look chic against the floral arrangement with cards.
38. Hanging chandeliers with flowers on table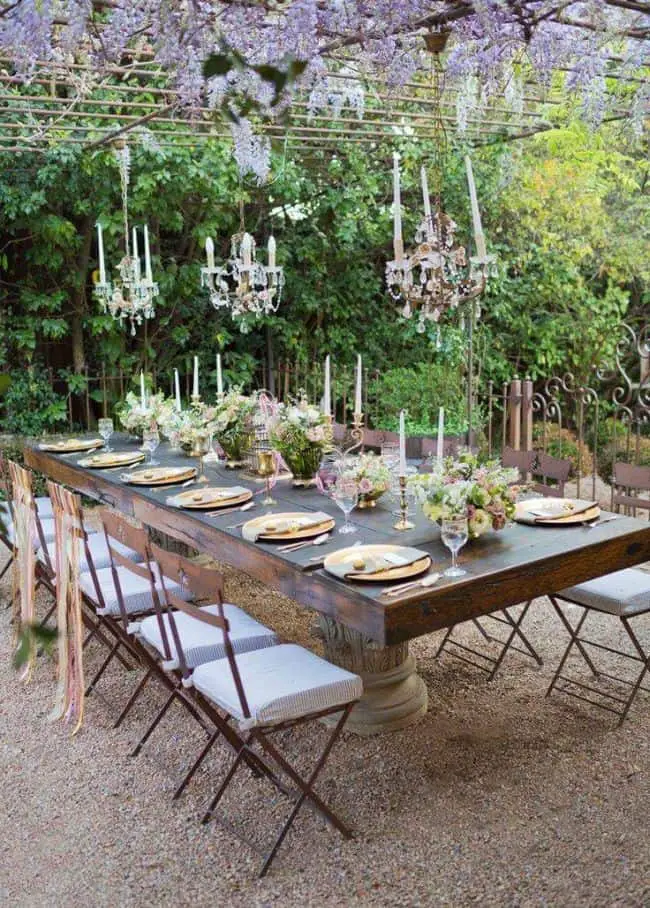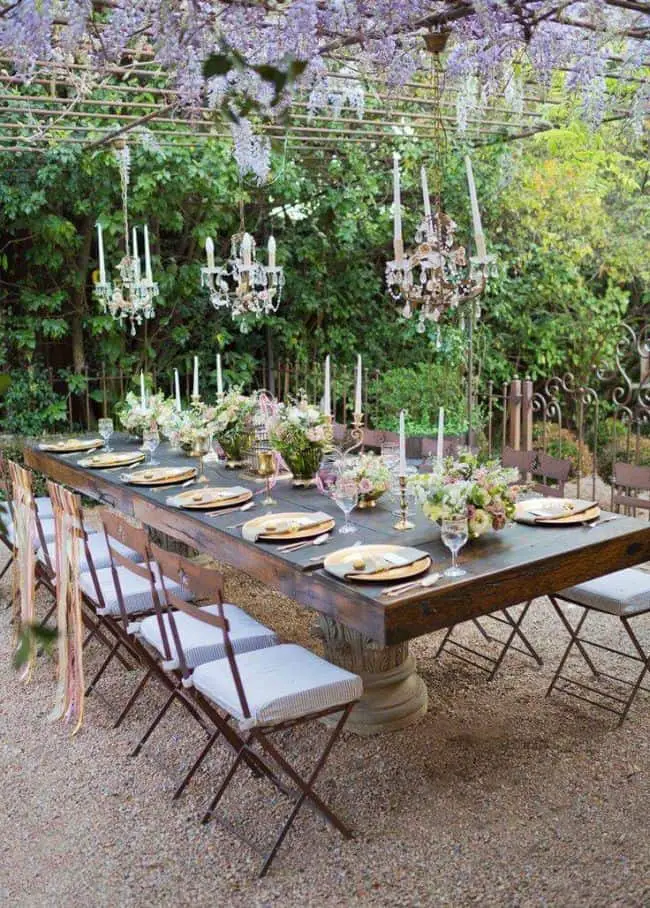 Image Credit: hupehome
This rustic table has been decked up with lots of flowers and candles with matching golden dishware. The top of the tablescape is dressed with metal chandeliers. These hang romantically over the table top to create an intimate experience for all.
39. New Year garden party decor with lampions and lights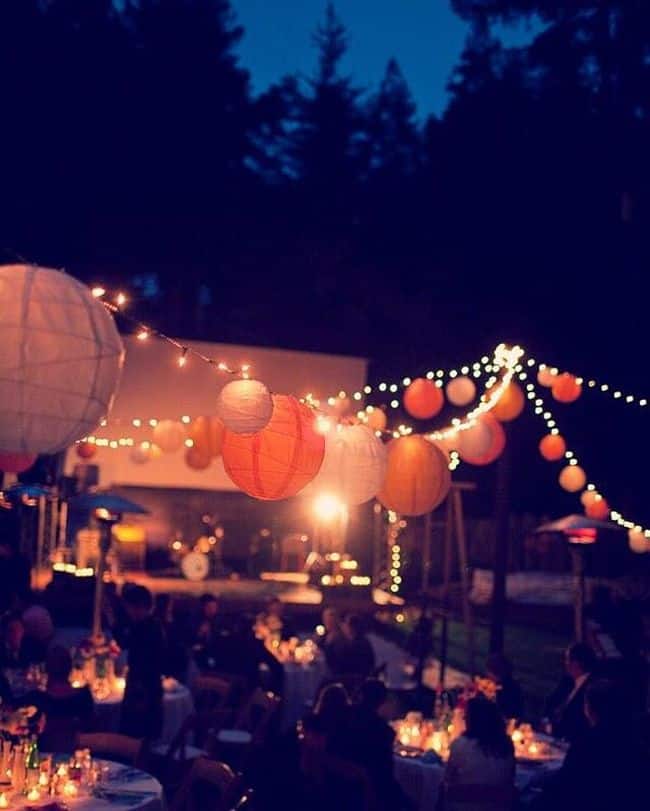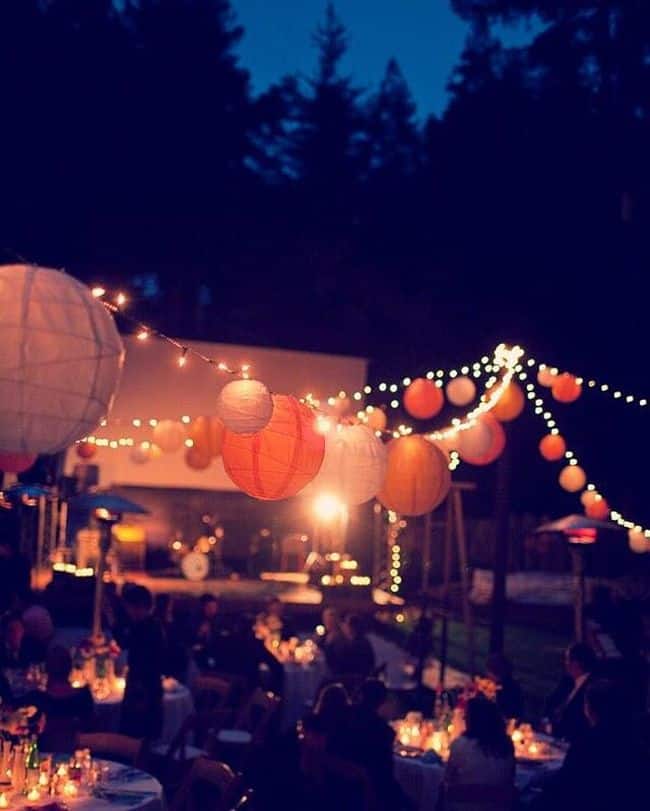 Image Credit: pinterest
Most garden decor ideas 2018 make use of colorful string lights and lampions simply because these two features bring a festive cheer to any party. Above, the tables are all dressed up with warm glittering candles, while the top is decked up with orange and white lampions and string lights.
40. Garden party decor with long table and string lights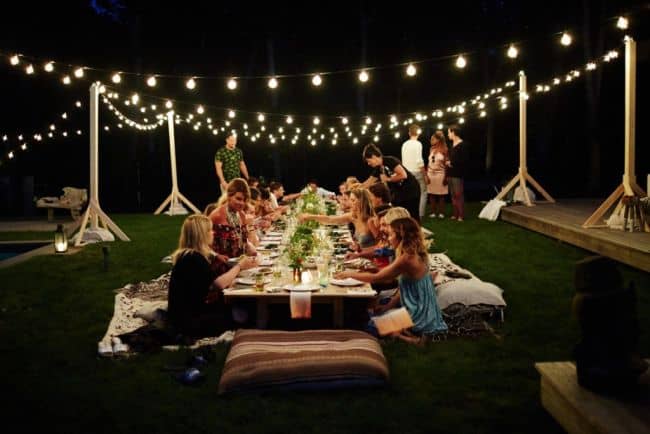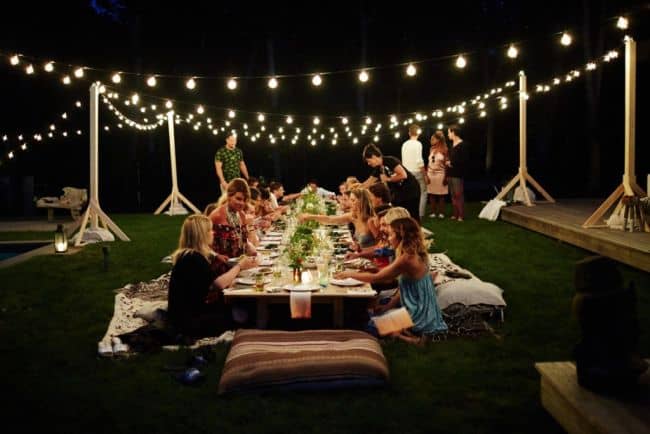 Image Credit: elpasomoves
Use such New Year's Eve party theme ideas that do not pinch your pockets too much. Shown above is a garden party scene where the decorator has placed a long table with low height and has decorated it using greens with a few candles for ambient lighting. The highlight of this garden party is its informal setting and the romantic atmosphere created by the string lights.
Also Read: 31 Colorful Plants that Grow in Winter
41. Tree lighting decor for New Year Eves garden party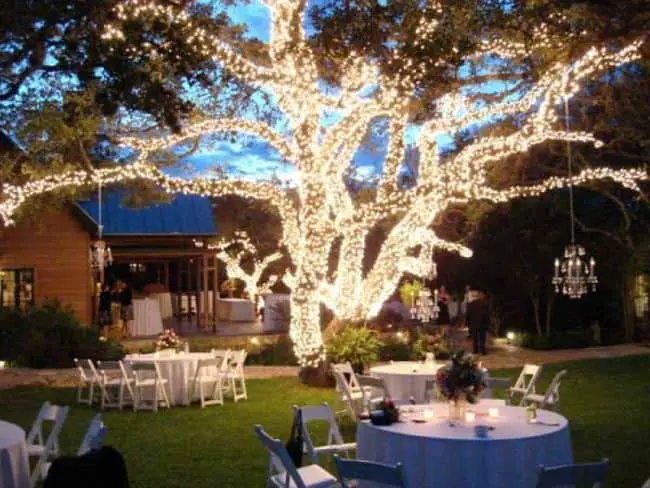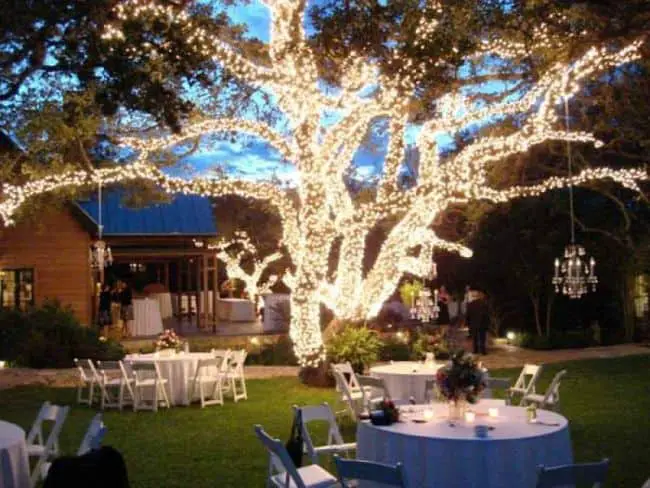 Image Credit: pressdemocrat
All the garden parties scheduled for this year's New Year Eve will incorporate the same elements that most tree decoration ideas are talking about. Yes, its lighting up the trees of your garden with lots of string lights. In the image, the garden's trees and its branches put up a well lit display, thanks to the multiple string lights draped over them. Chandeliers can be sen hanging from the branches.
42. Over the top holispheres decor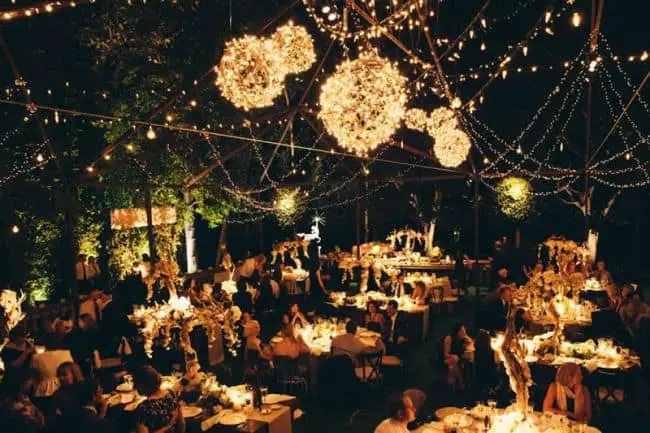 Image Credit: christmasdesigners
Create an atmosphere full of romance and love with this stunning party decor idea shown above. This idea makes use of pretty holispheres hanging from the top that add a soft glow. These are not merely pretty but are easy to be made at home. These create elegance in an understated way.
43. New Year garden party decor with balloons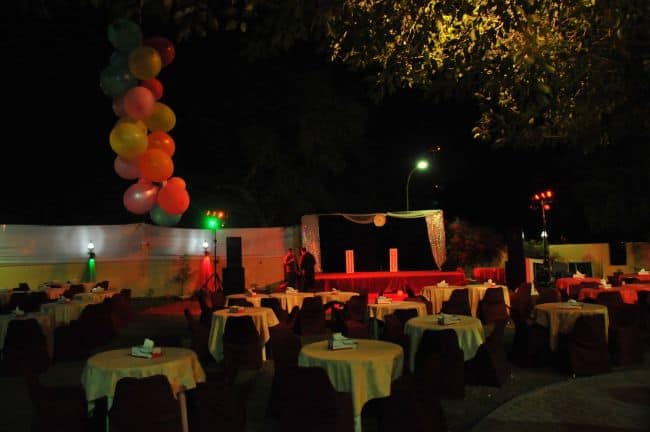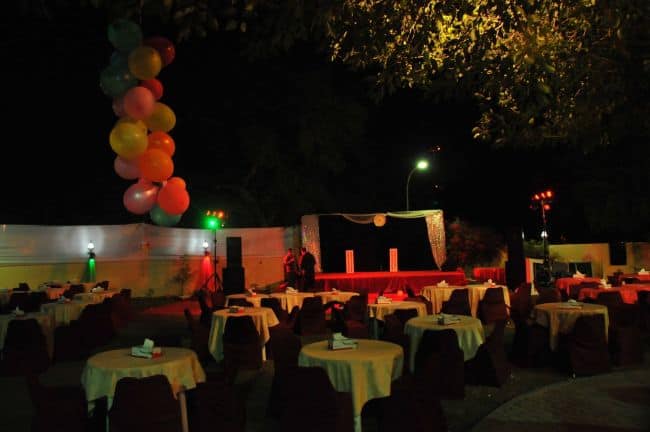 Image Credit: spicyvillageoman
In this garden party, the decorator has used balloons to deck up the top. Balloons look very sweet and are always loved as decor accessories.
44. Adorable string lighting decoration for New Year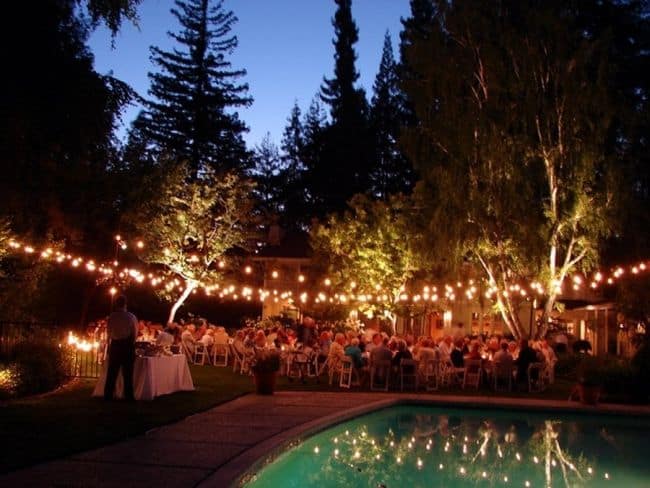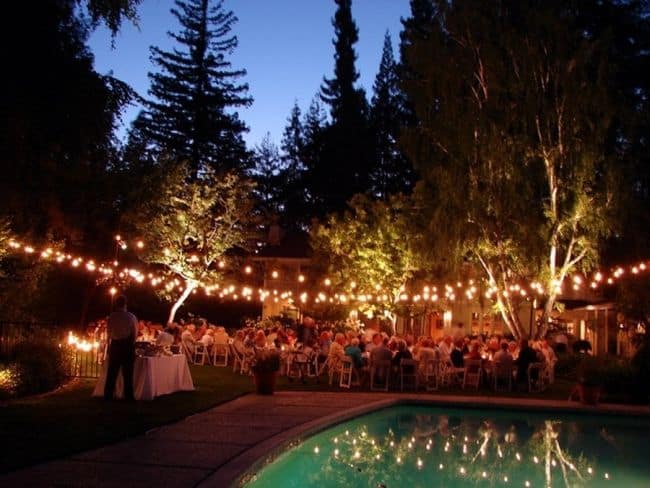 Image Credit: nytexas
The garden next to the swimming pool has been decked up with guest tables and string lights to offer warm lighting to the chilly ambience. The reflection of these lights in the pool's water creates a stunning vista.
45. Lit up mason jar decor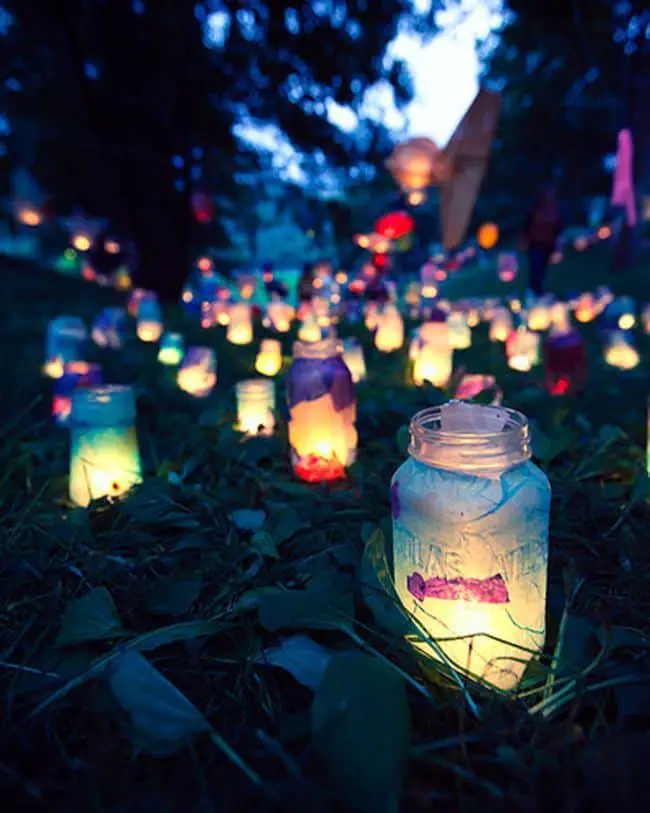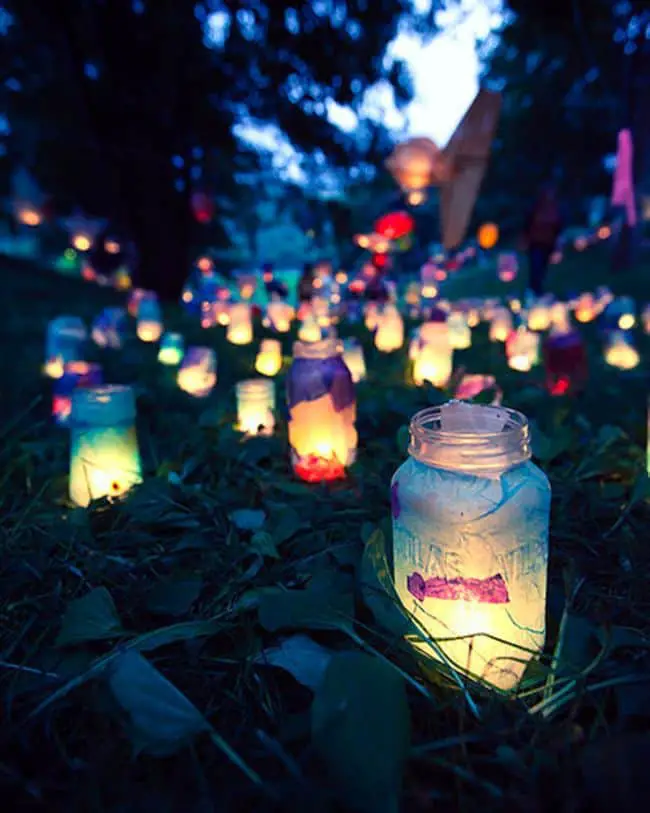 Image Credit: velvetpalette
You don't need to use mason jars as hangers this time. Now, with this awesome idea, you can create a different look for your party garden. Simple, collect mason jars, wrap these in different colored paper, and fill lit up candles in them. Now, place these jars all over your garden periphery. You can create patterns or else scatter these randomly.
46. New Year party tablescape with cages and bouquet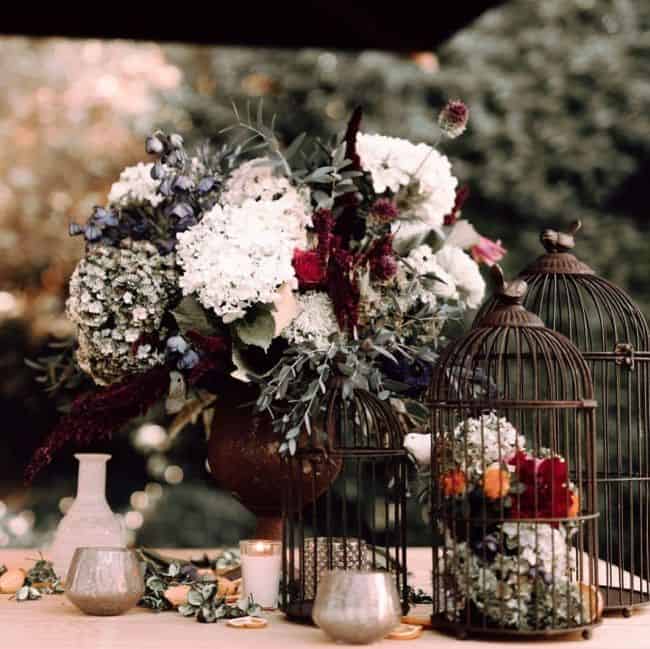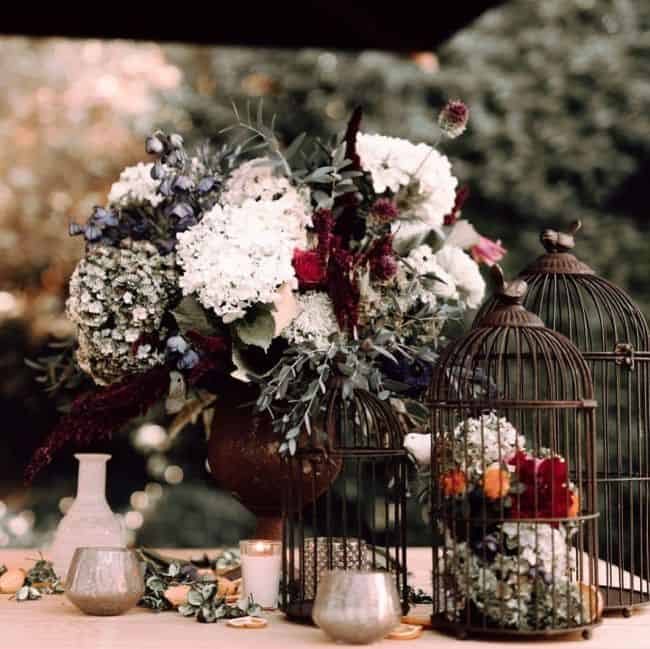 Image Credit: pinterest
The tabelscape shown above is visually interesting and features iron cages and floral bouquets. The cages are filled with smaller floral bouquets and complement the big vase and birdcage arrangement that steal the attention. Overall, a perfect place to romance!
47. Lit up pathway decor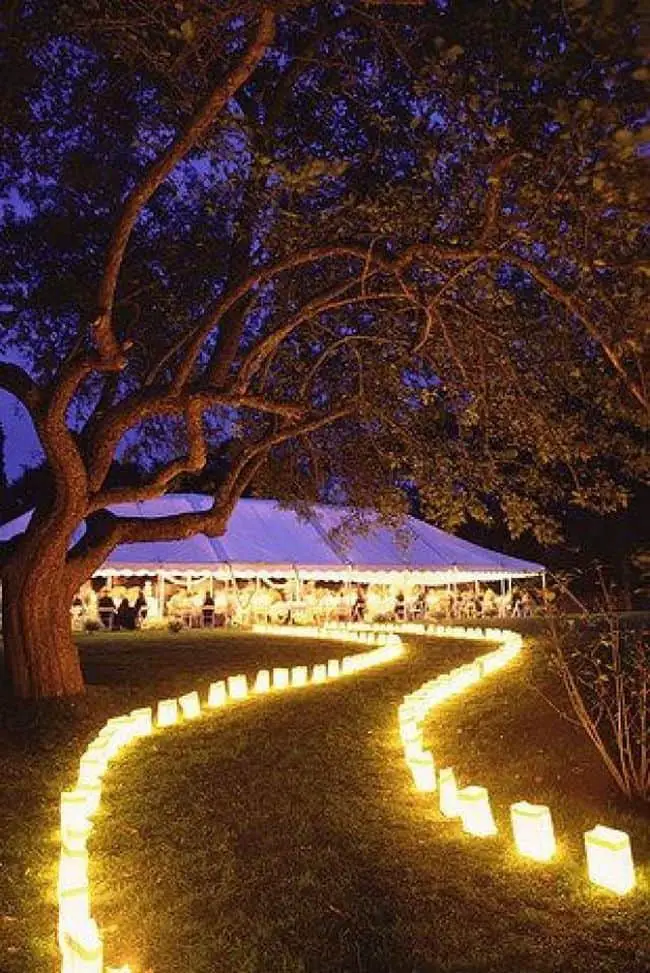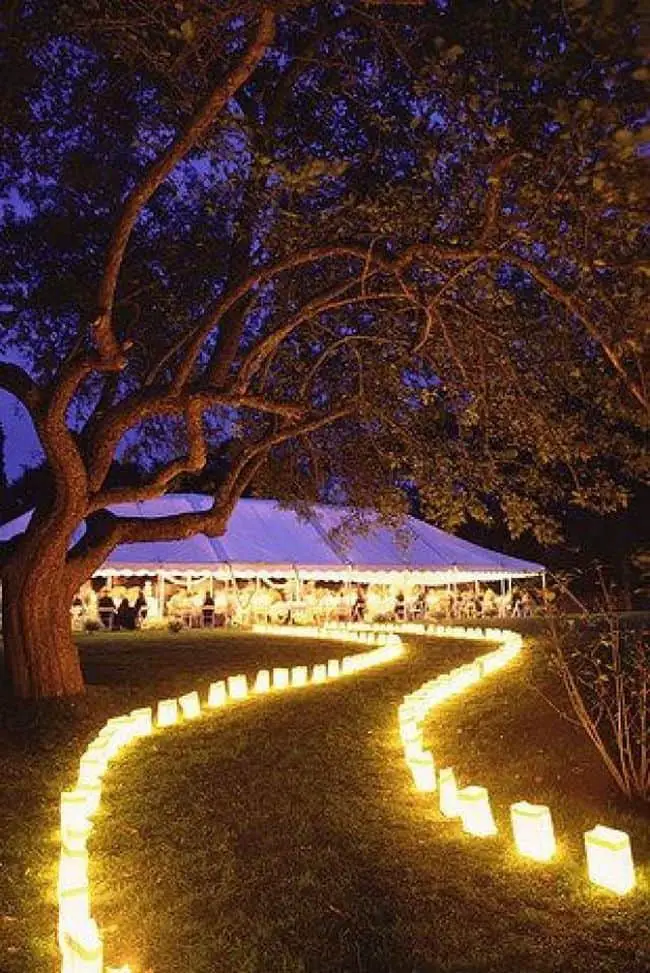 Image Credit: i-w-t
Garden decor ideas of 2018 are all about celebrating New Year with an understated elegance. Seen here is a pathway in a garden hosting a New Year Eves party. The pathway is lit up with a string of lanterns and leads the guests to the canopy seating area.
48. Decorative trees lit up from root to tip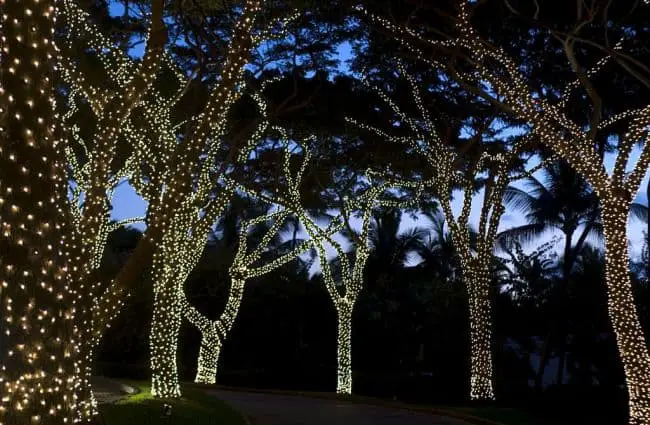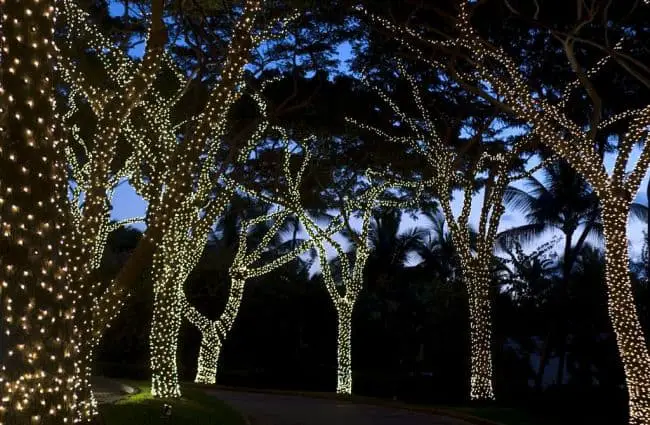 Image Credit: merchantcircle
The garden in the picture is flanked by tall and beautiful trees dressed up with string lights. The decorator has wrapped the lights from roots to tips so as to offer a glimmering effect to the surroundings.
49. Snow covered garden decor with candles and lanterns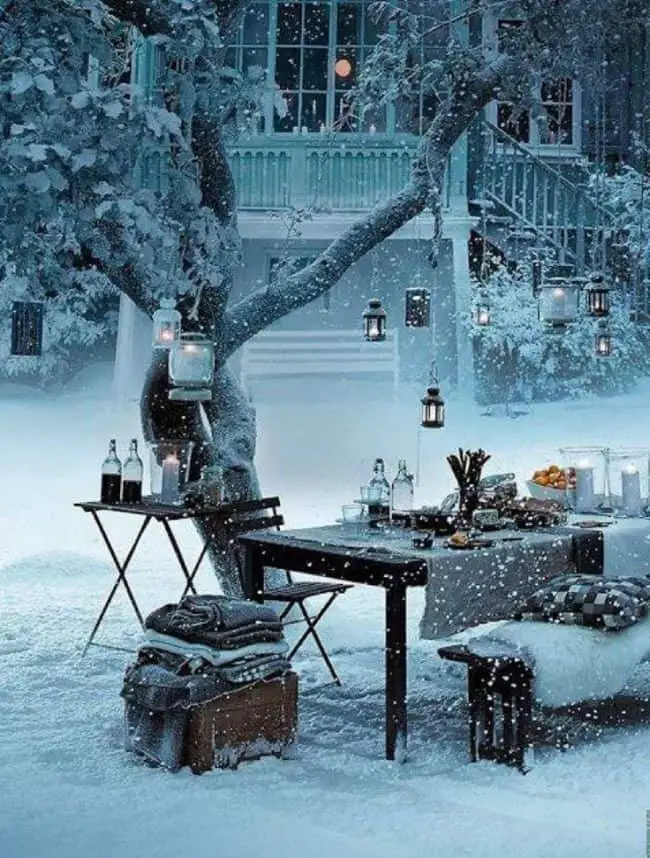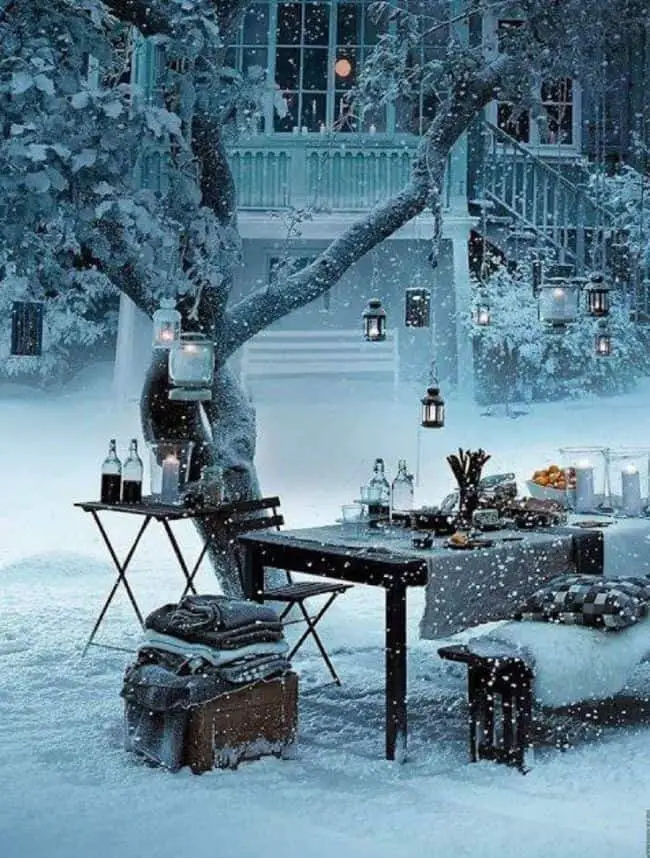 Image Credit: googleusercontent
If you want to host a New Year picnic party right outside on your snow-covered garden, then take the help of your old lanterns. Hang these lanterns on top of your table and match them with white candles. The flickering light will make feasting an intimate and elegant affair.
50. New Year garden party decor with candles on branches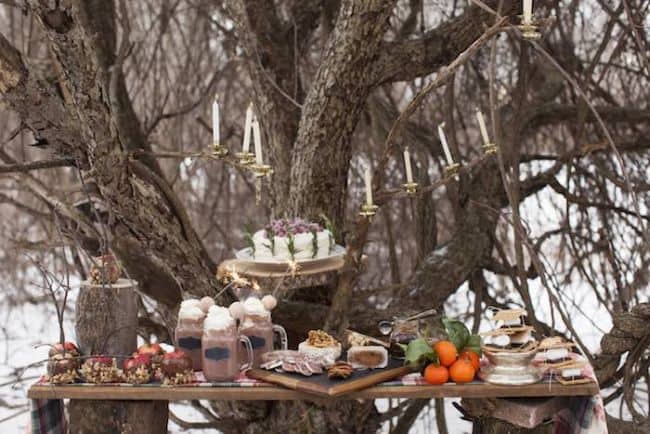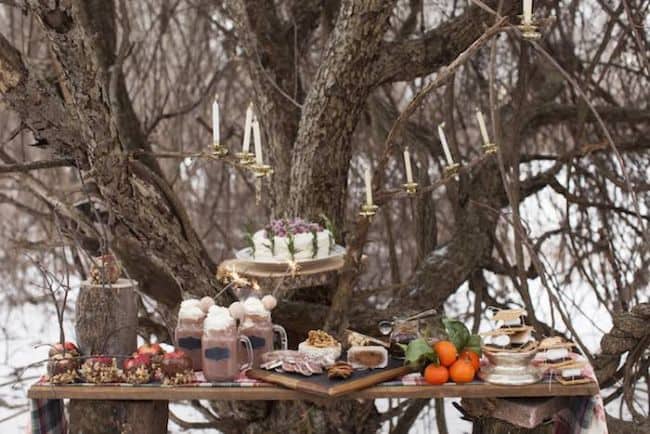 Image Credit: joursacre
There are umpteen New Year's Eve house party ideas for adults, out of which outdoor garden parties are the most popular. Seen here is a tablescape that features all sorts of desserts. Its dressed up with wooden elements while the branches with lit up candles offer a perfect backdrop.
Also Read: 18 Amazing Baby Powder uses in the Garden
51. DIY picnic table for a New Year party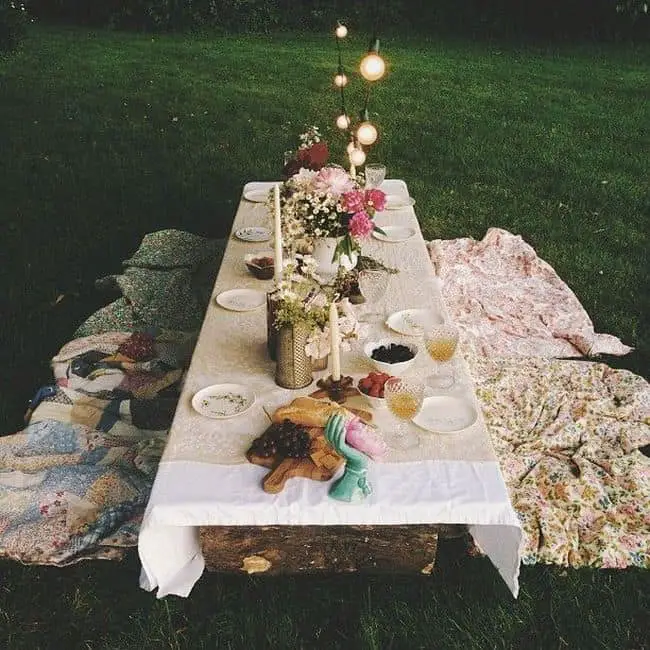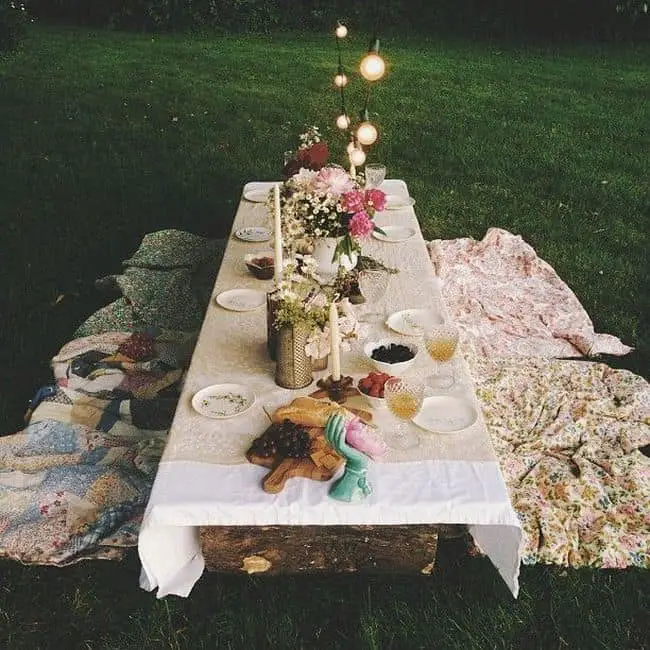 Image Credit: nuntaingradina
This DIY wooden table looks dreamy with a rustic touch in its decorations. The decorations involve using white candles, golden floral vases, fresh seasonal flowers, and bulb lamp. The atmosphere of the tablescape is causal.
Final Thoughts
With these stunning garden decor ideas, we are hundred percent sure that you will host 'never to forget' parties this New Year. All these ideas are creative and can be accomplished without drilling holes in your pockets.
We are sorry that this information was not useful for you.
Tell us how we can improve.