31 Colorful Plants That Grow In Winter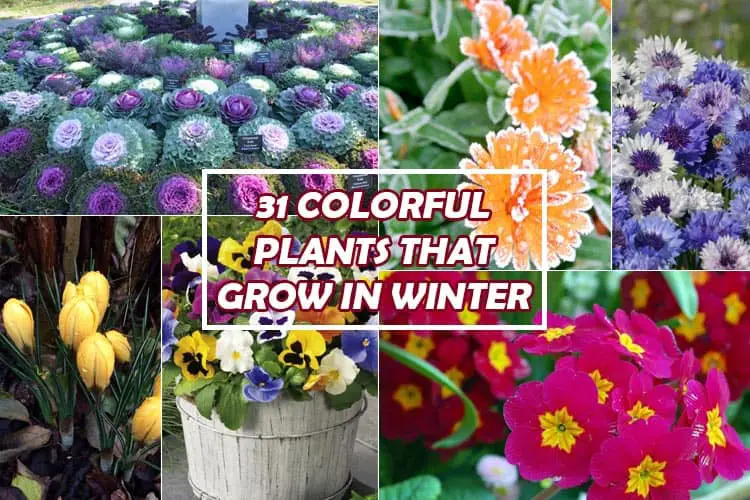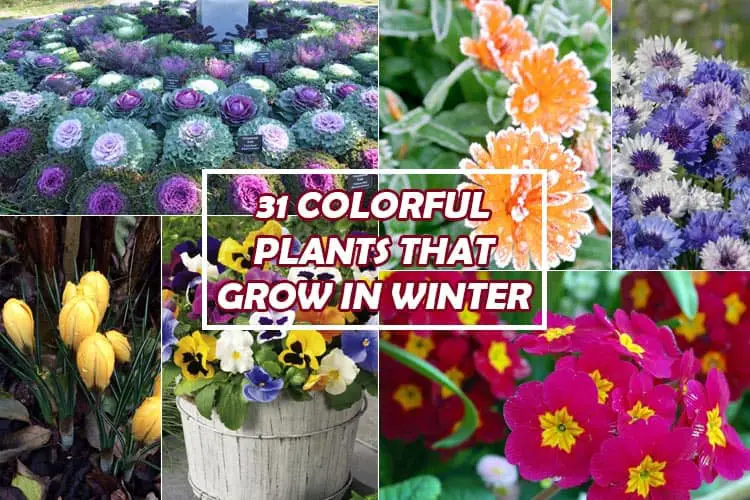 A very good morning to all of you! Today, we are about to showcase a gorgeous collection of 31 colorful plants that grow in winter. Winter gardens will not look dull and grey this year as now we have a wide choice of annuals as well as perennials that bloom stunningly to mesmerize you with their color and fragrance. Gardens in winters are mostly very ugly to look at, but, when you plant these flowering plants, you will definitely brighten up the grey spirits and create lovely looking edges and borders for your greens and flowers.
1. Candytuft or Iberis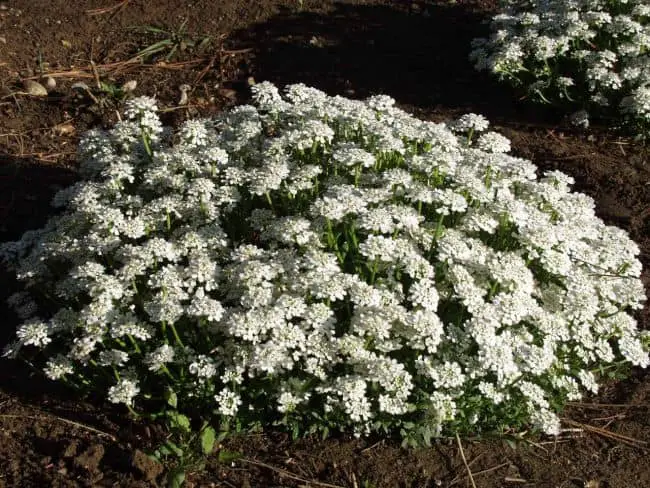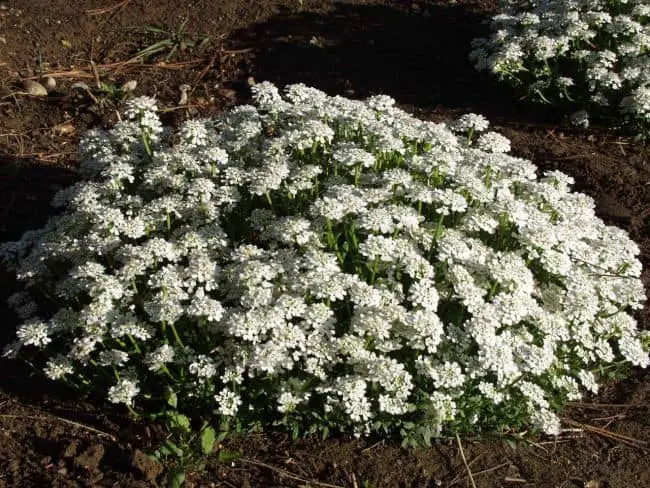 Image Credit: wemakedirtlookgood
If you are looking for beautiful flowers to grow in winter garden of your house, then choose Candytuft which is also popularly called Iberis. The plant of Candytuft grows tall to about 12 inches and produces white colored flowers in clusters. The plant has leaves which are dark greenish in shade and appear to be shining. These flowers can offer a great visual delight when planted around water fountains or on borders. If you want to add style to your grey winter garden, choose the Alexander's White variety that is shown in the image above.
2. Heather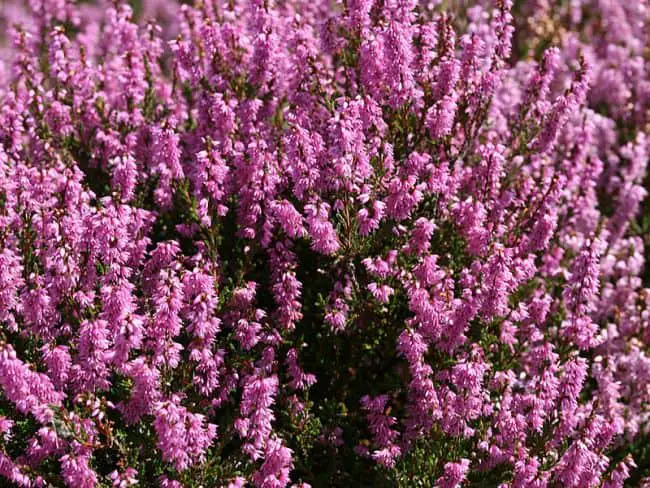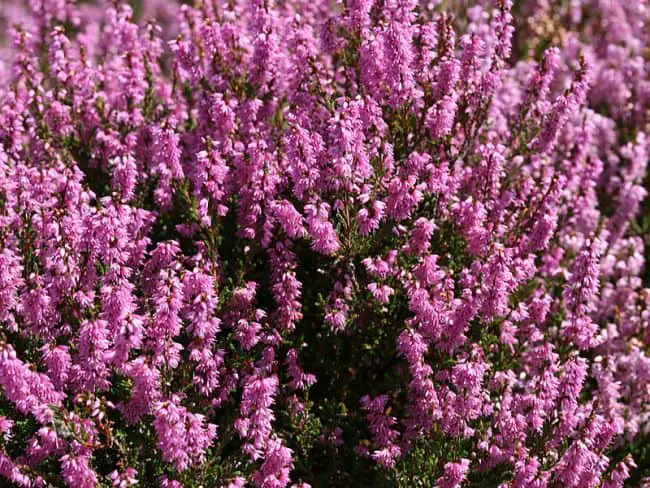 Image Credit: healingherbs
With flowers in white, pink and purple hues, the Heather flowering plant is best suited to add some vibrancy and cheerfulness to any winter garden. It is a plant that can be grown easily in soil as well as pots and containers. The small flowers of heather come in clusters and look very beautiful. It is a kind of a shrub and needs very little care.
3. Snowdrop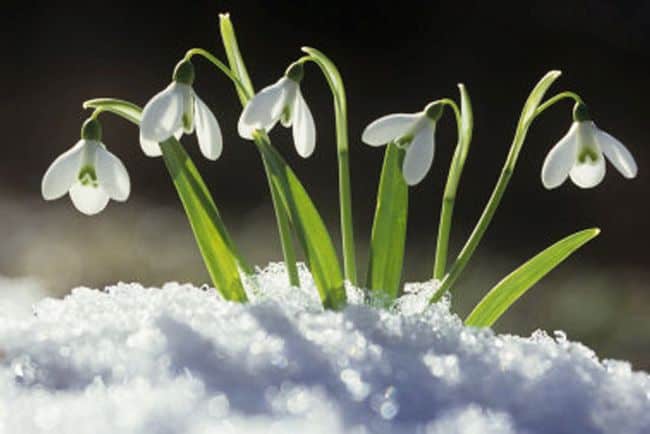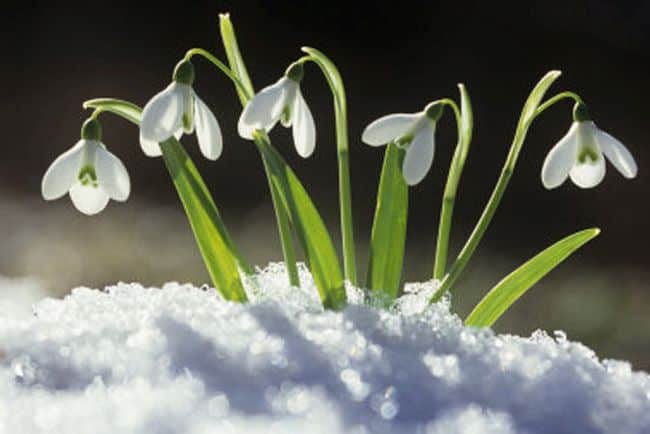 Image Credit: thorpperrow
Known as Galanthus elwesii, Snowdrop is a wonderful addition to your collection of winter flowering perennials in the garden. It is a plant that grows easily from bulbs in winter as it can tolerate chill unlike most others. Snowdrops can come back every year with full blooms and are easy to care. Its in fall that you must plant the snowdrop bulbs so that they grow and bloom when the real chill sets in.
4. Calendula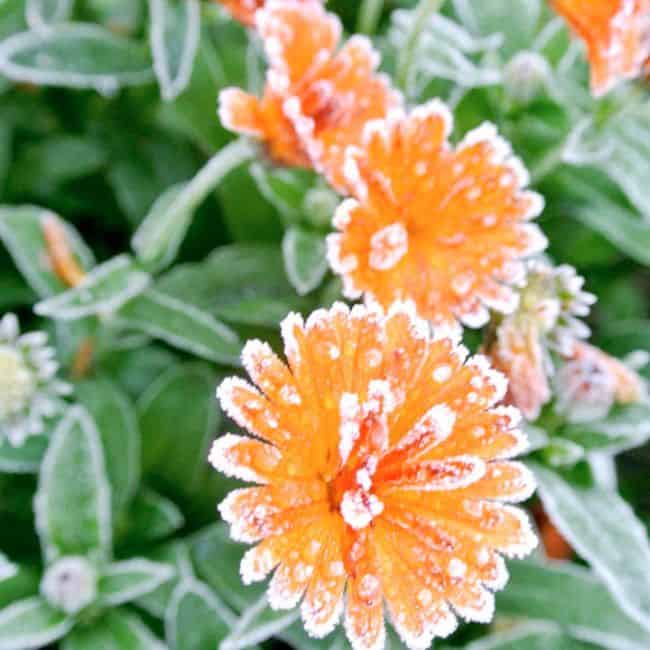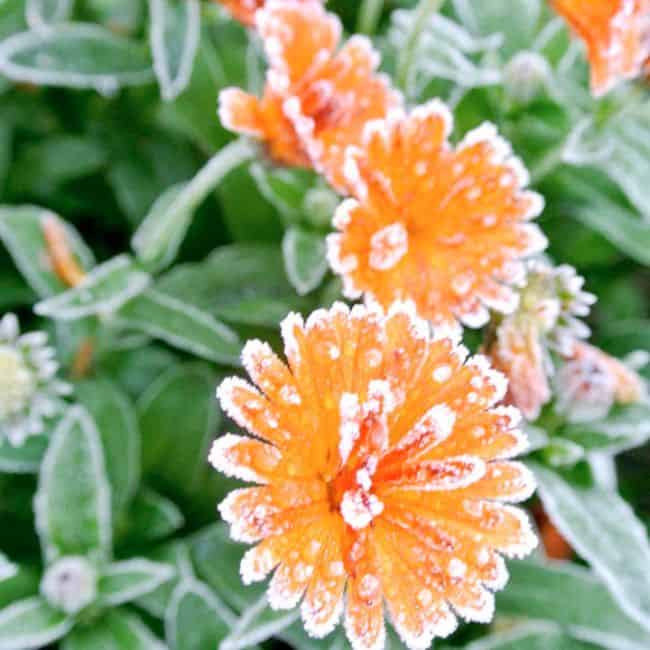 Image Credit: amazonaws
Known as Calendula officinalis, Calendula comes with flowers in bright orange and yellow tones. It looks like Daisy and offers a great kaleidoscope of color to any dull winter garden. Calendulas can grow well in mild winters and can also come with flowers in creamish and apricot tones. Choose sunny spots for growing your Calendulas as these love sunlight. But water them moderately. Choose draining soil for growing these beautiful flowers.
5. Bachelor's Buttons
Image Credit: swallowtailgardenseeds
Winter flowering annuals like Bachelor's Buttons are prefect for winter gardens as these add a dash of vibrancy to the landscape. The plant comes with blooms that are bluish in color with ruffled texture. Most people plant these on the soil bed and choose the variety that produces blooms in pink as well as white. The Bachelor's Button flowers attract birds and bees to your garden and also sow themselves on their own.
6. Nemesia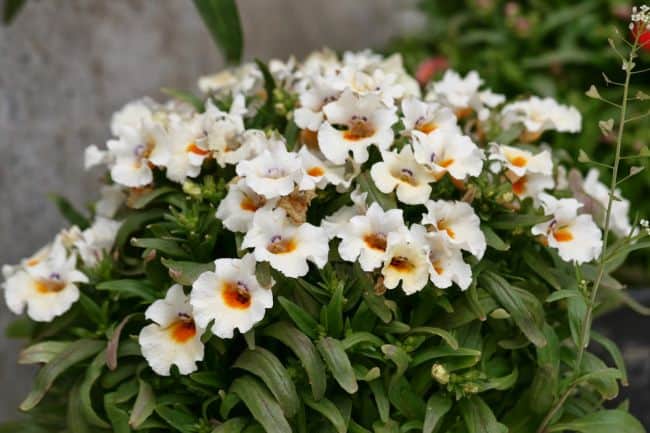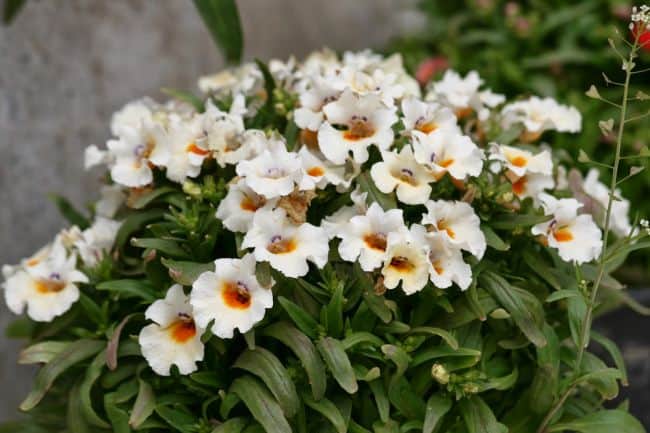 Image Credit: blogspot
Winter flowering annuals like the plant Nemesia grow to about 12 to 18 inches in height and reach almost 12 inches in width. The plant produces blooms in avid colors like red, blue, white, purple and yellow, lending a colorful touch to your garden landscape. Always choose a moist soil for planting your Nemesia. Its easy to care for and maintain.
7. Cyclamen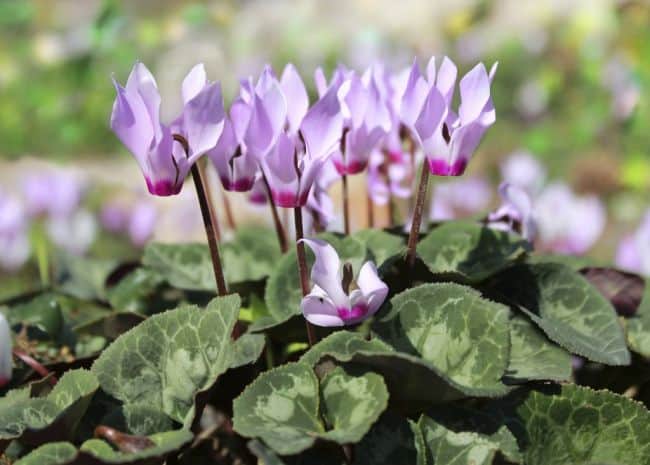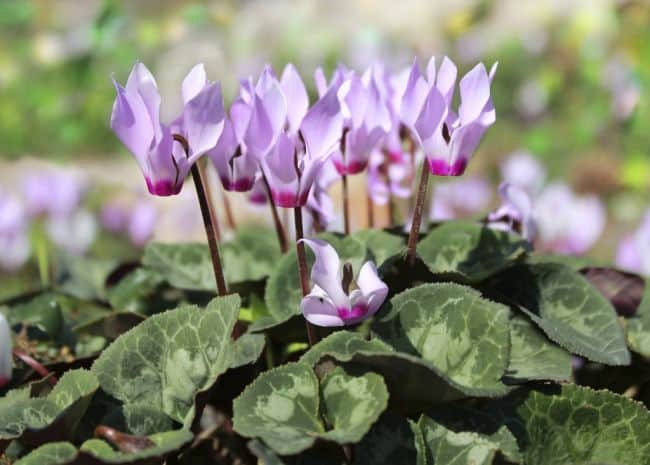 Image Credit: stackpathdns
For a winter staged garden, there can be no better plant than the velvety Cyclamen that produces mesmerizing blooms in various hues of pink, lavender, red and white. The flowers give you an impression of butterflies. To some, they may appear as shooting stars or hearts. These flowers come in large and small sizes. While, the small sized variety is more suited for garden beds, the large flower variety is perfect for pots and containers. Some varieties of these plants sport leaves that resemble hearts and are shaded with silver hues.
8. Dusty Miller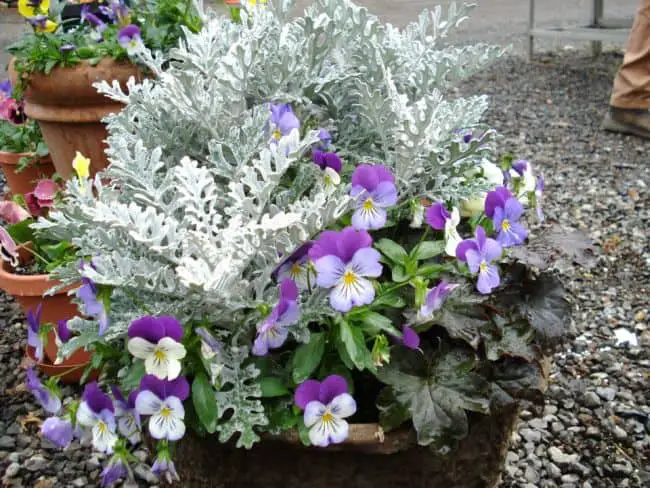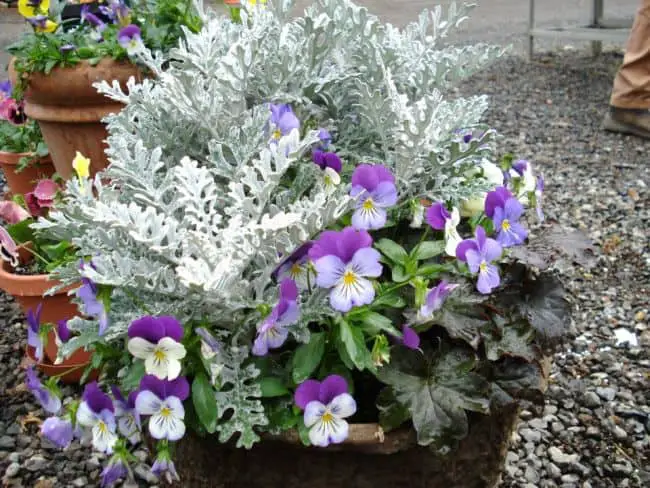 Image Credit: pinterest
If you have lots of containers in your garden, then, you can plant Dusty Miller that will enhance the look of your outdoors in an instant. The plant boasts of foliage that looks as if sprayed with silver ash and flowers dipped in baby pink and white. Reaching 9 inches in height, the plant is drought resistant as well as tolerant to many kind of diseases. Expose this plant to sunlight for at least 6 hours daily for it to grow optimally.
Also Read: 31 Drought Tolerant Plants
9. Snapdragon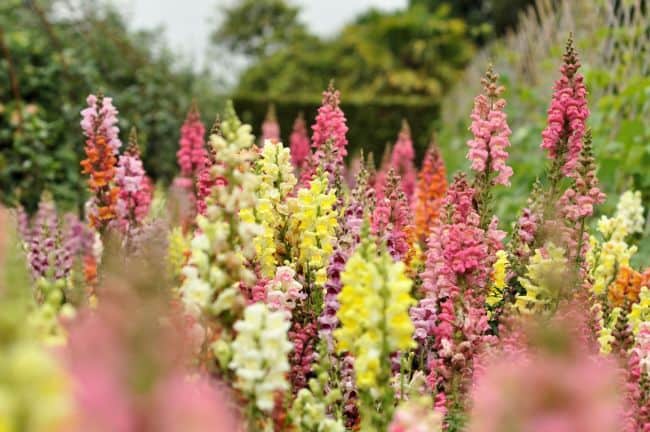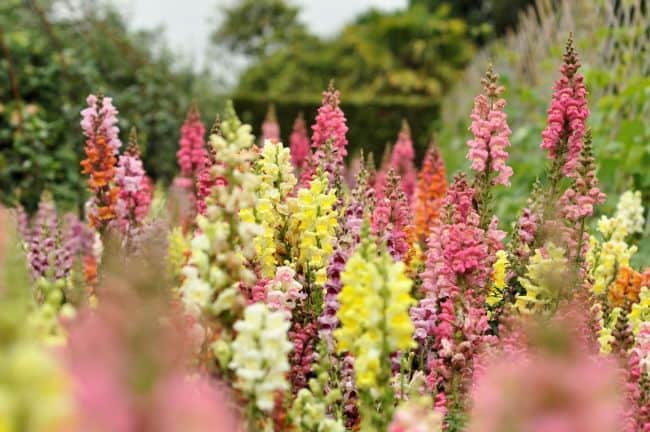 Image Credit: tqn
Among the numerous plants that grow in winter is Snapdragon, a typical blooming plant that is perfect for gardens. It boasts of blooms with petals that appear hinged and are spiky. They resemble a dragon maw and are available in different varieties like dwarf, tall, and intermediate. These flowers need full sunlight and moist soil for growth.
10. English Daisy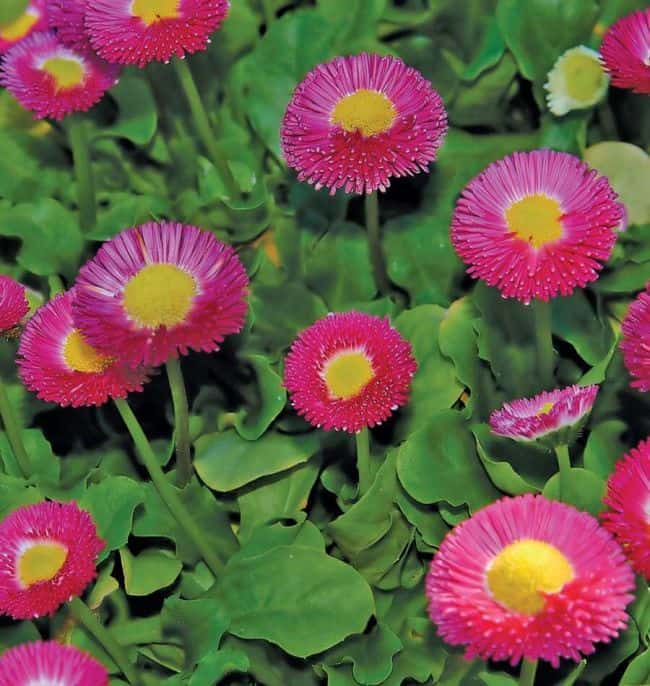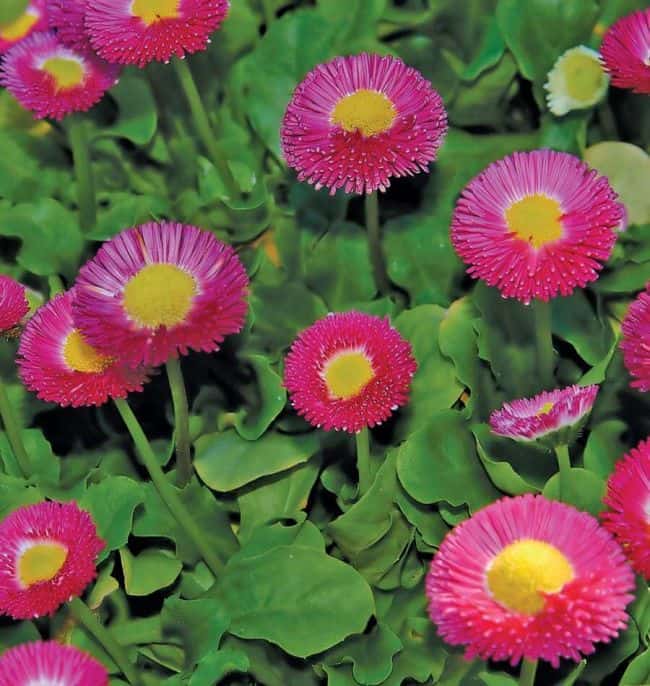 Image Credit: netdna-ssl
The English Daisy or Bellis perennis is an all time favorite plant used on edging. Flowers come in pink, red, white or rose shades, each grown on stems that reach 6 inches in height. The plant's darkish green leaves reach upto 2 inches in height. It needs daily watering as well as shade.
11. Witch hazel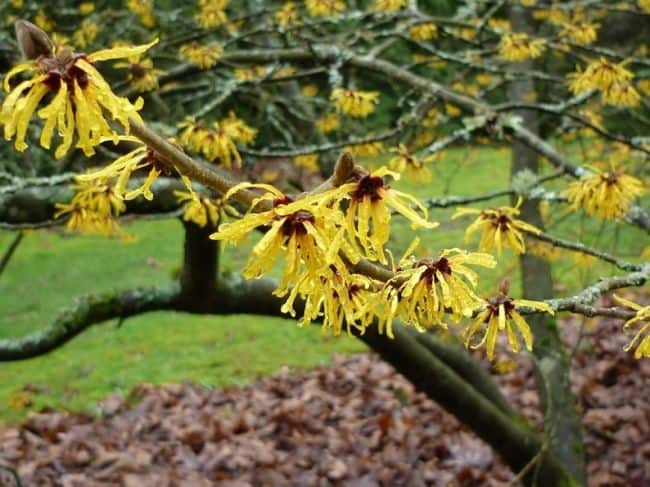 Image Credit: cleevenursery
Hamamelis or Witch Hazel produces clustered blooms in yellow and red with spider like resemblance. It is a shrub variety that can add a lot of color to you winter garden. The shrub can reach 15 feet and is usually planted during fall. It is a very fragrant plant.
12. Hellebore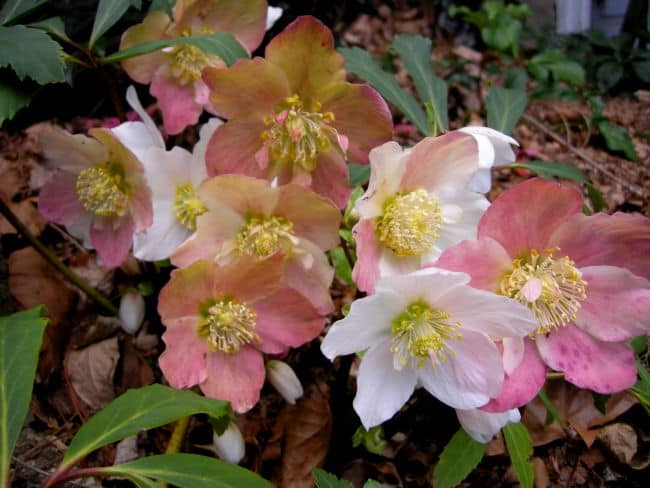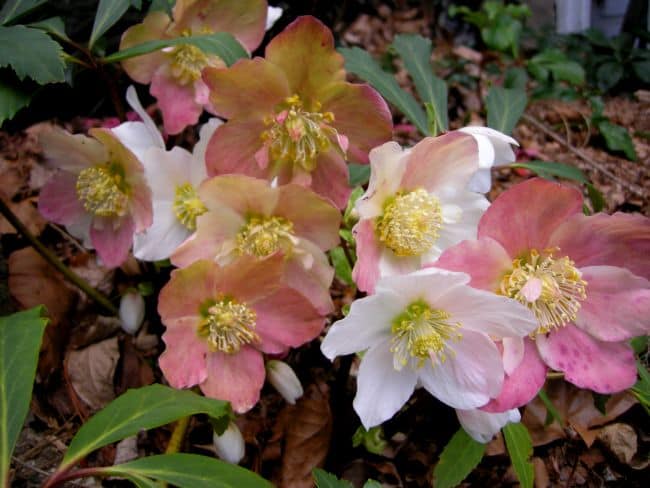 Image Credit: carolynsshadegardensdotcom
The Hellbore is one of the most popular winter flowering perennials that is also known to many as Lenton Rose. It is a flowering plant that blooms in later part of winter and produces differently colored flowers. The drooping blooms are bell shaped and are available in hues of red, pink, white, green and purple. Plant the Hellebore in a well drained organic soil.
13. Erica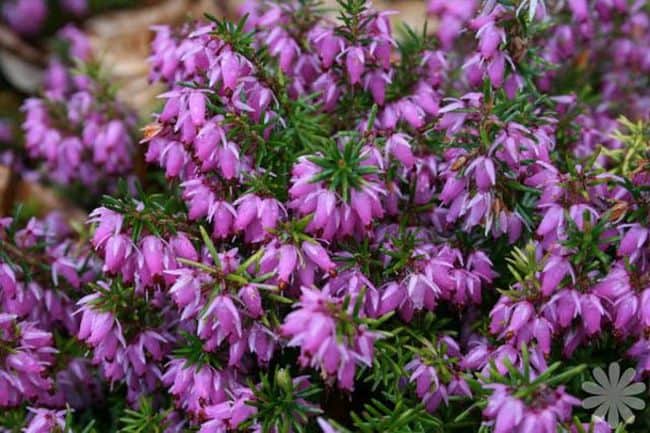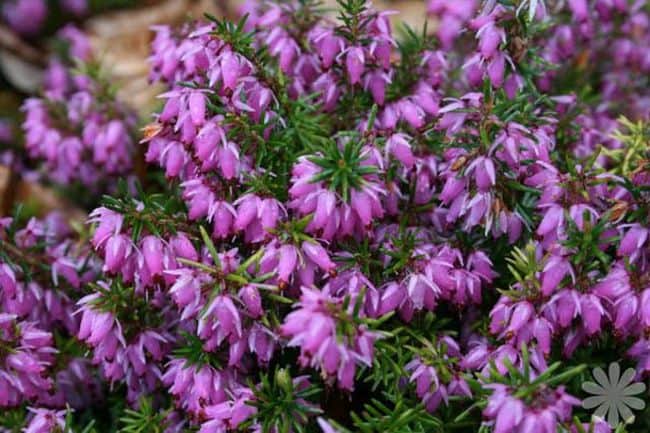 Image Credit: webvanta
Known as Heath, Erica is a perennial with bell or tubular shaped flowers. The plant reaches maximum height of 6 to 10 feet and needs regular watering. It also grows well when it is planted in a well drained soil with high acidic content. The leaves are spiky like needles.
14. Iceland Poppy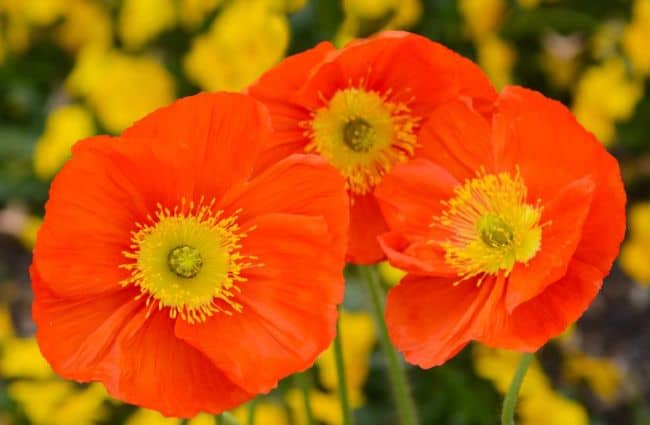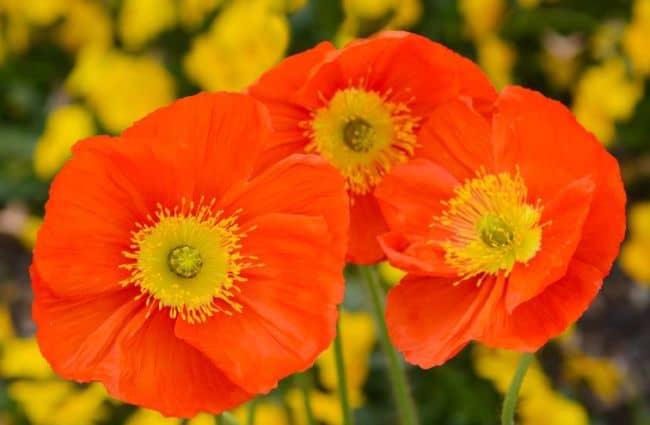 Image Credit: akamaihd
Papaver nudicaule or Iceland Poppy can be planted as companion plants with other chill loving greens. These produce blooms in rose, orange, pink, yellow and cream colors. The Iceland Poppies reach up to 2 feet in height and require moderate watering, but full sunlight.
15. Camellia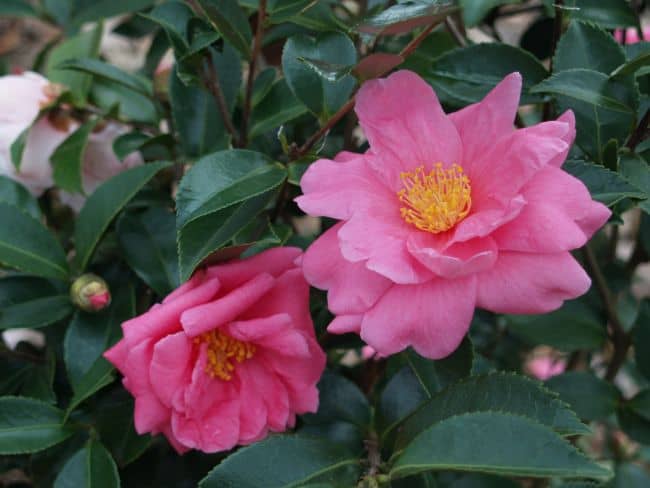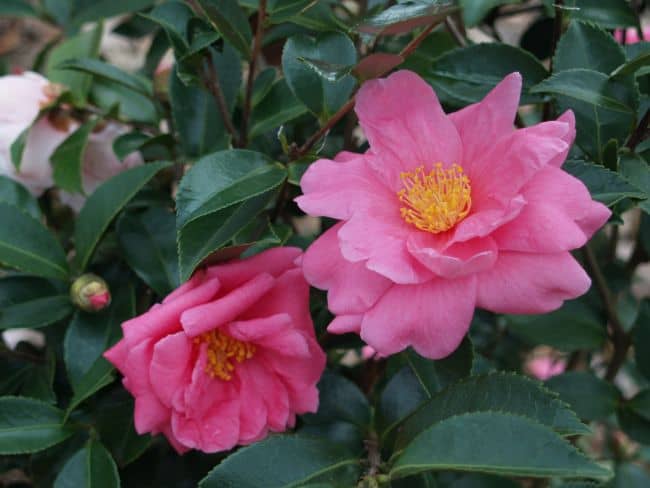 Image Credit: davermfarm
Also known as Japonica, Camellia is a wonderful addition to your winter garden. It produces blooms that look like roses. These blooms appear in hoards specially in the month of January. There are different types of Camellias, each having its own set of needs. The Evergreen variety of Camellia can reach up to 10 feet in height and has thick leaves. It is a long lasting plant.
16. Flowering Stock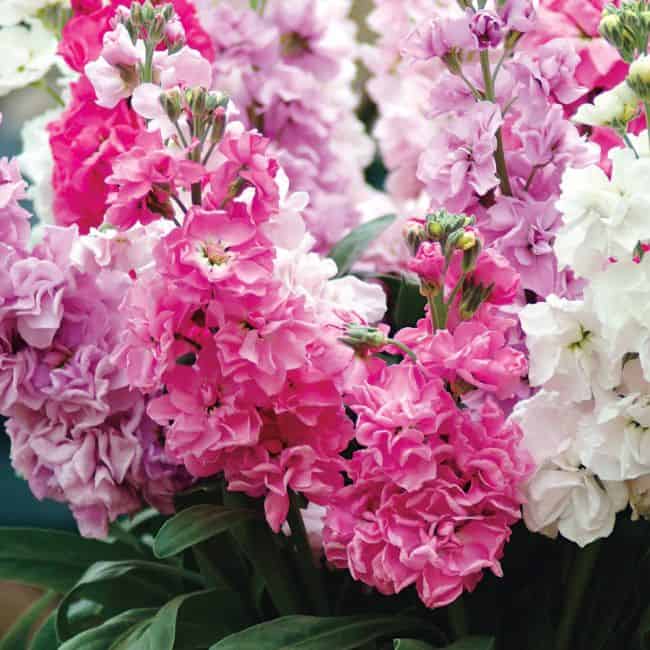 Image Credit: parkseed
The Flowering Stock is a charming winter plant that bears flowers in shades of white, pink, lavender, yellow, purple and red. The blooms are quite aromatic and are spiky in appearance. You can plant these on pathways built in your garden. The plant needs moist soil and full exposure to sunlight with some shading.
Also Read: 18 Brick Garden Edgings Ideas that looks Amazing
17. Brunnera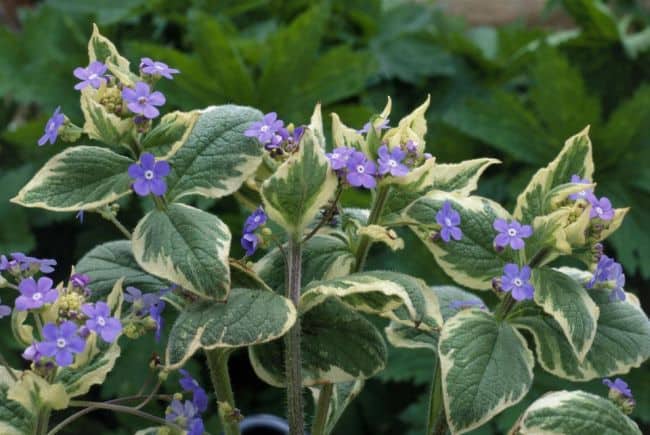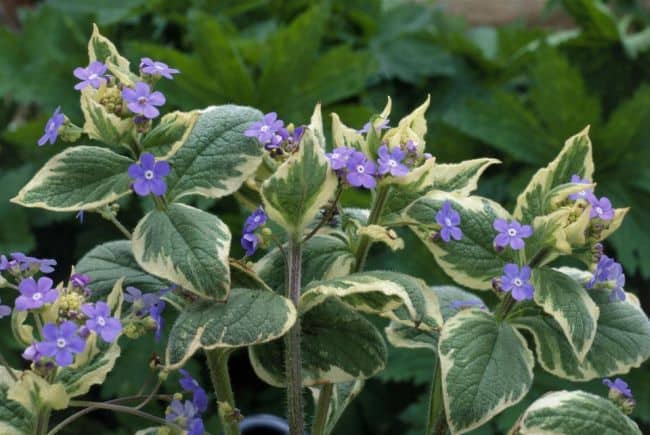 Image Credit: tqn
When searching for unique flowers to grow in winter, you can not forget the charming Brunnera as it is an ever popular perennial. People love this plant because it boasts of ornamental leaves that resemble hearts and look very attractive. The plant bears blooms in blue shade and are pretty small. It likes moist soil. The blooms appear only in springtime.
18. Ornamental Kale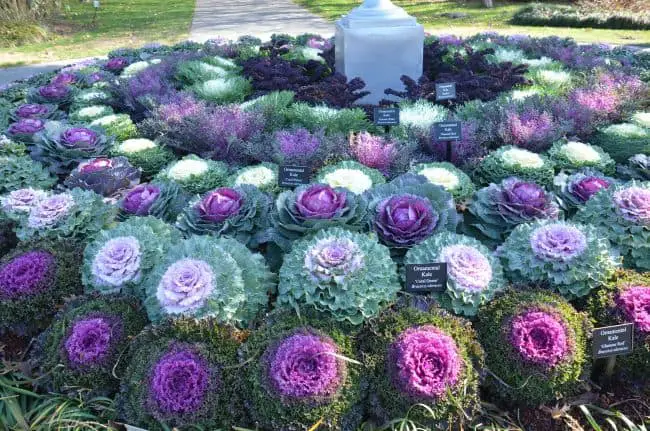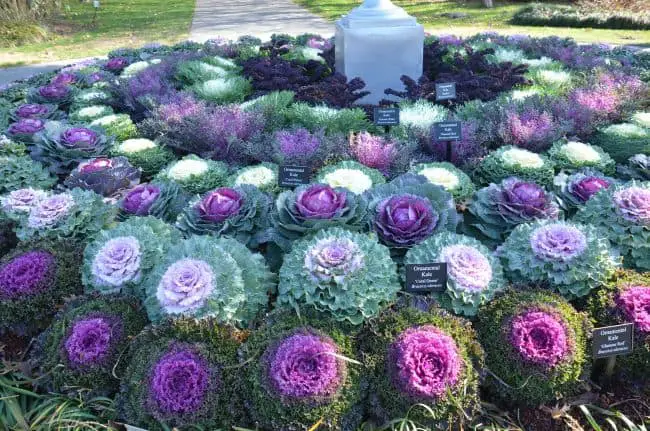 Image Credit: whatgrowsthere
Any winter garden can be staged stylishly with Ornamental Kale that looks stunning with its lavender, white and rose colored leaves. This plant is a close relative of the humble cabbage and looks colorful all throughout winter and spring. These can reach up to 2 feet in height and are perfect to be adorned on pathways or porches.
19. Holly Bush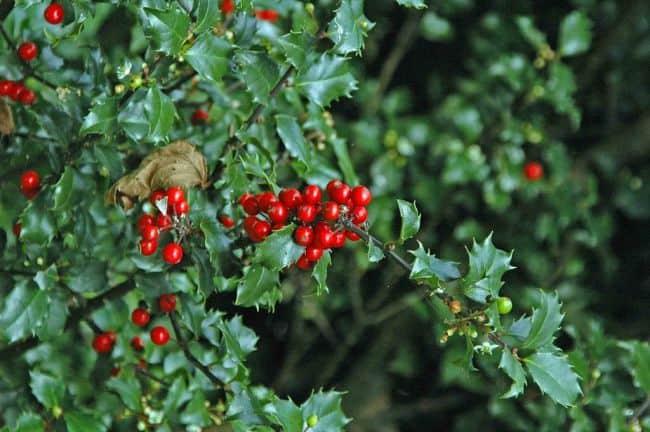 Image Credit: stackpathdns
A perfect addition to your winter garden is the attractive Holly Bush that features evergreen leaves of distinct shape and delicious looking berries. The berries often come in red and provide a great contrast to the green toned leaves.
20. Pansy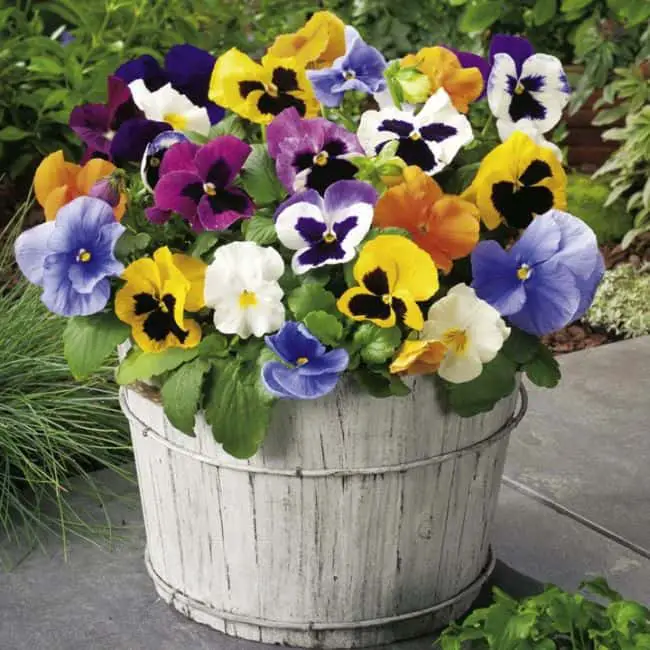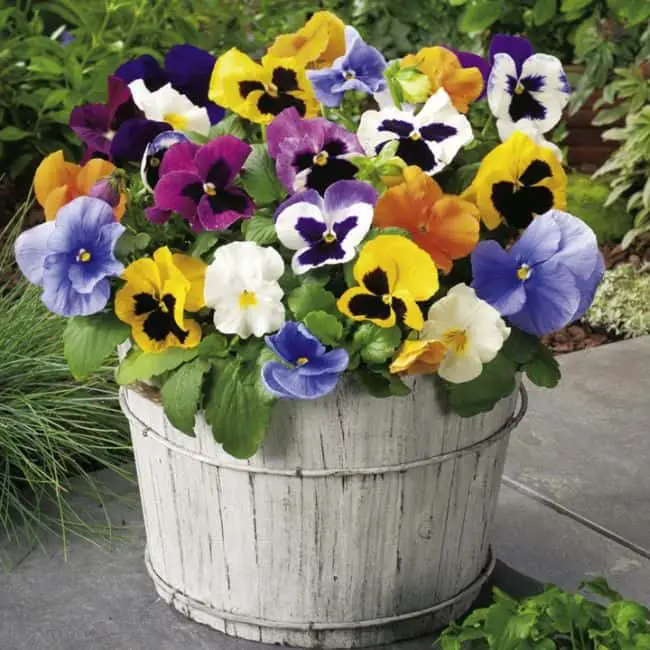 Image Credit: kxcdn
One must choose such plants for winter gardens that help in breaking off the dullness often associated with chill and cold, and offer a bright and cheerful look to the outdoors. One such eye catching flowering plant is the Pansy. Growing up to 10 inches in height, the Pansy produces big sized flowers continuously for a long period of time. The blooms come in plenty of different shades and offer a delightful touch to your winter gardens.
21. Native Serviceberry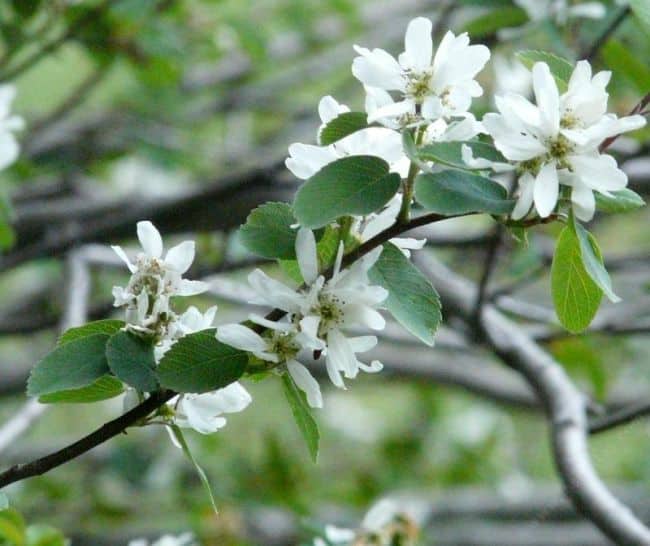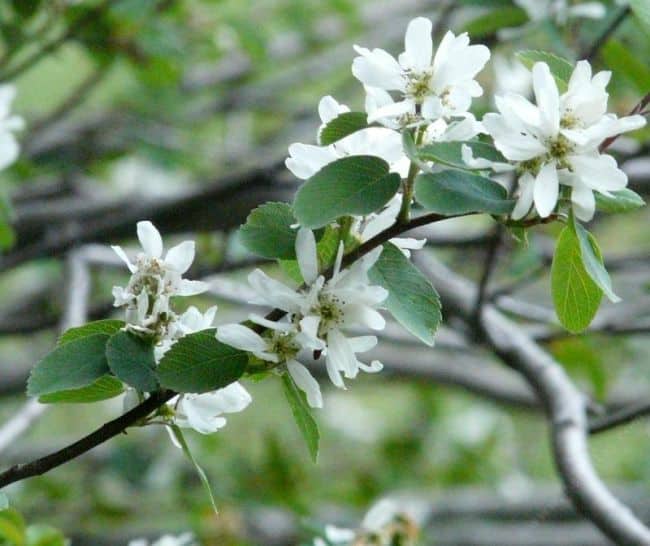 Image Credit: laspilitas
Most winter gardens will feature this stunner of a plant as it looks astonishing with its white blooms in clusters and juicy berries that appear in summer. The branches of this plant get covered in snow during snowfall and look mesmerizing.
22. Sweet Alyssum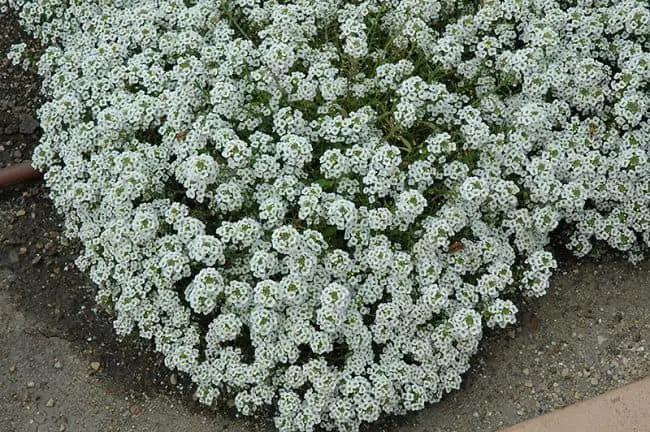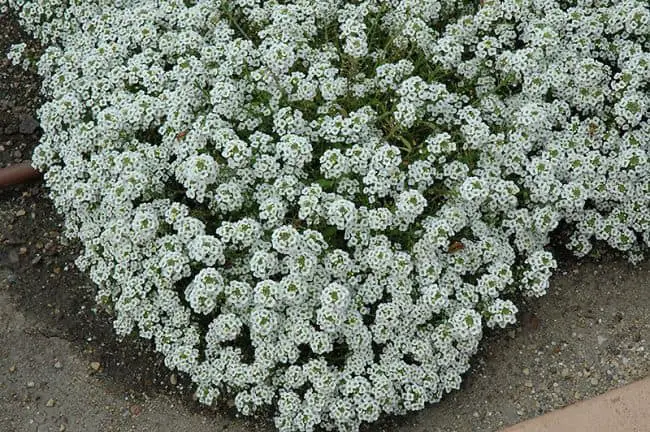 Image Credit: thegrowingplace
If you are on the look out for edges for your plants, then this plant is your best choice as most people prefer to edge their gardens using the Sweet Alyssum. The honey scented flowers that bloom in shades of pink, purple, apricot and white look stunning and eye catching. Its not only edges that work best for these plants. Your rock gardens too can accommodate these cuties easily.
23. English Primrose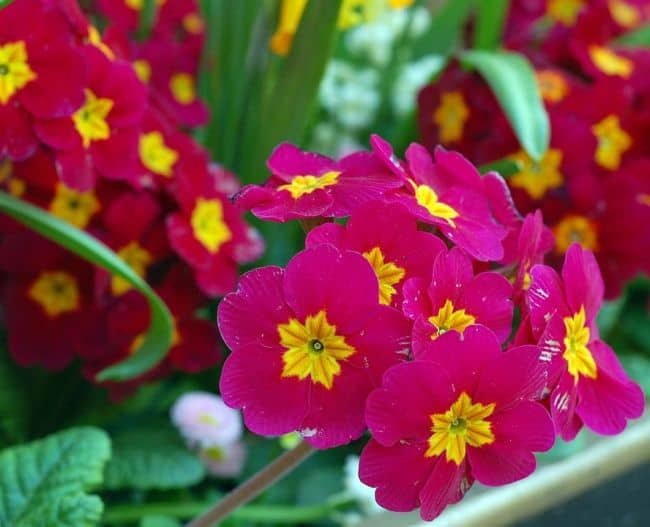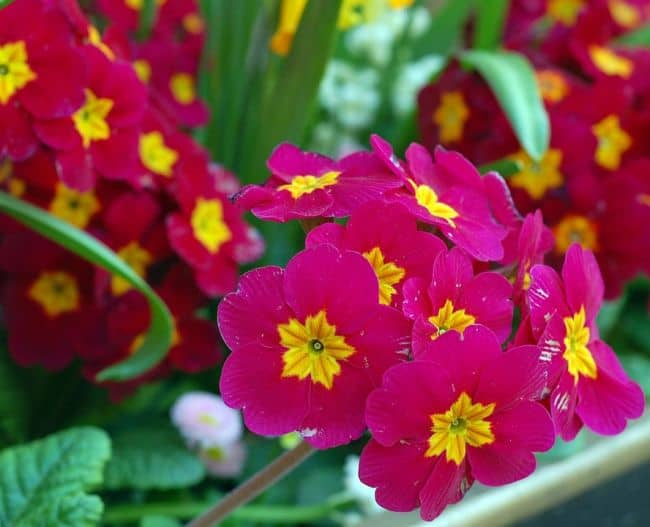 Image Credit: pacificoutdoorliving
There are numerous plants that grow in winter and can help you get that stunning looking garden even when your spirits are dull and grey. One such plant is the English Primrose that blooms beautifully in the chill and cold. The plant produces attractive circular shaped flowers in clusters, though, sometimes you can get lone primroses as well.
24. Daffodils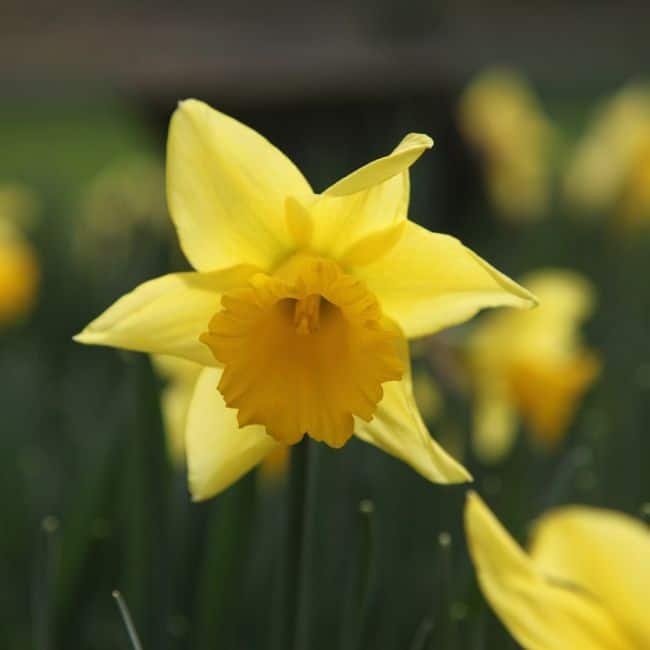 Image Credit: crocdn
Do not think that Daffodils are spring time flowers that cannot bloom in winters. This flower can thrive and bloom even in colder months, specially the variety that is popularly known as Narcissus 'Rijnveld's Early Sensation'. Another variety of Daffodils that grows nicely is the February Gold that blooms in later half of winter.
Also Read: 75 Types of Flowers you can Eat
25. Viola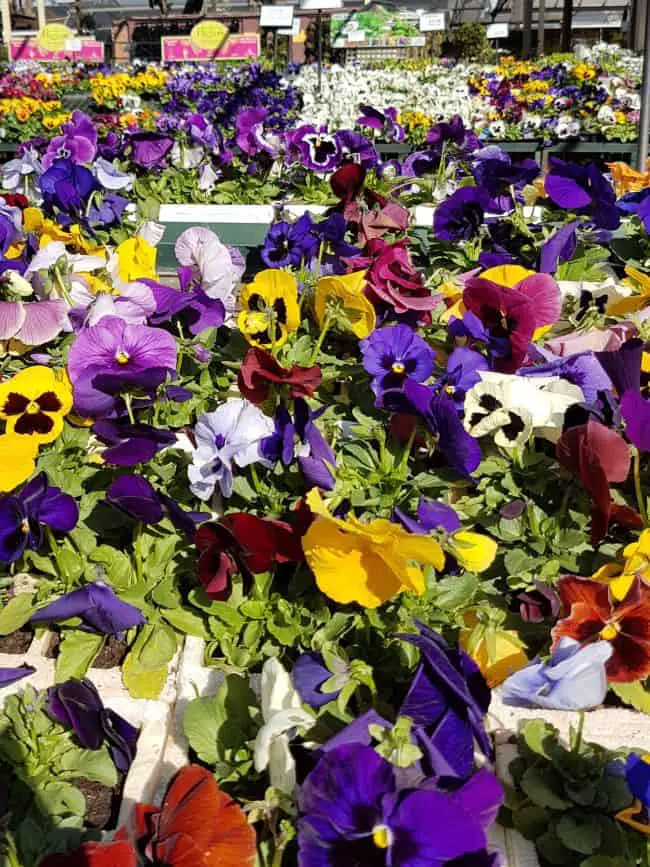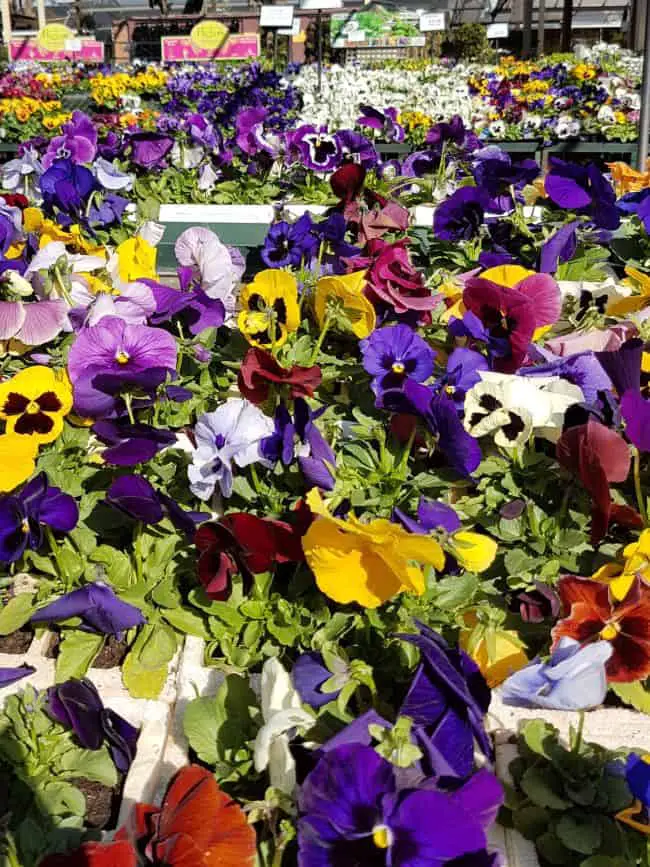 Image Credit: amazonaws
One look at the pretty Violas can help in removing any clutter from a dull brain as the blooms are stunning with shades that are bound to take away your sadness and gloom. The violas also emit a sweet fragrance and are self sowing. These blooms look best when used on edging or on borders. Most winter gardens will feature a variety known as Penny Mickey that looks spectacular.
26. Winter Jasmine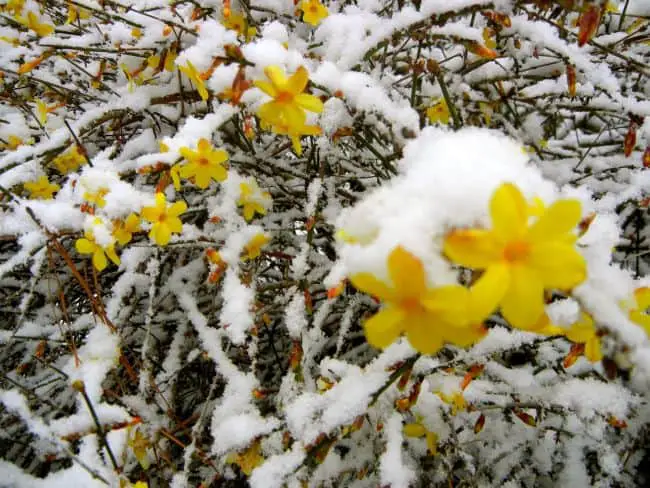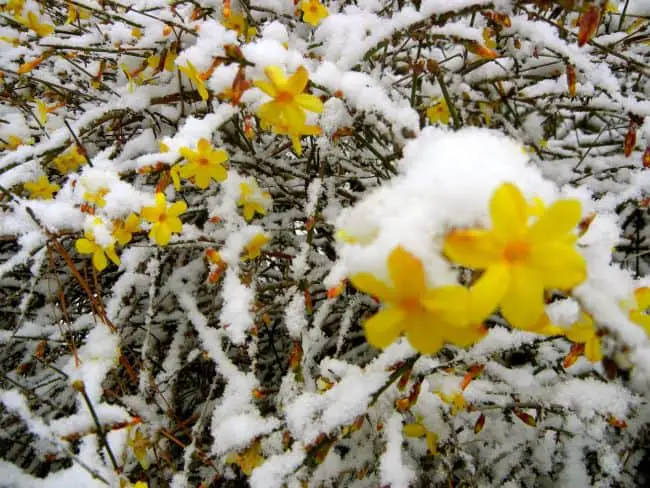 Image Credit: blogspot
Jasminum nudiflorum, or Winter Jasmine is your plant for winter as it looks spectacular over a chilly landscape. It bears blooms in yellow tones in winter and goes on to produce more flowers in early portion of spring. The blooms have no fragrance.
27. Crocus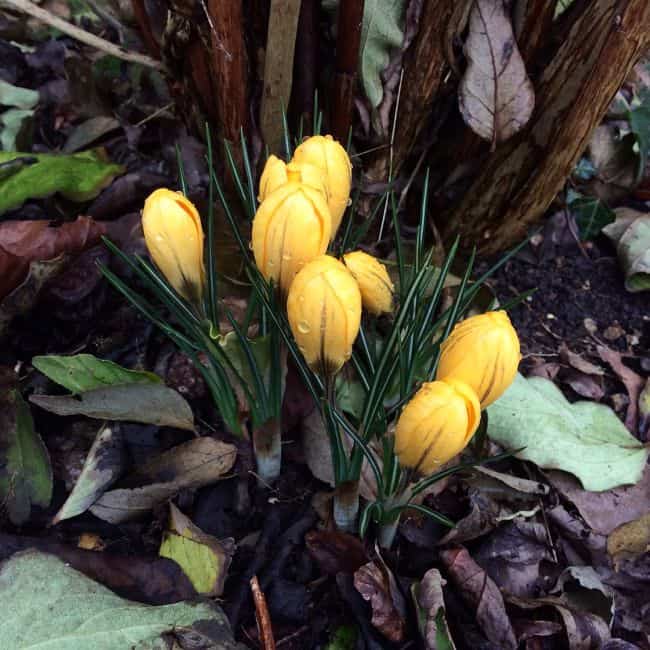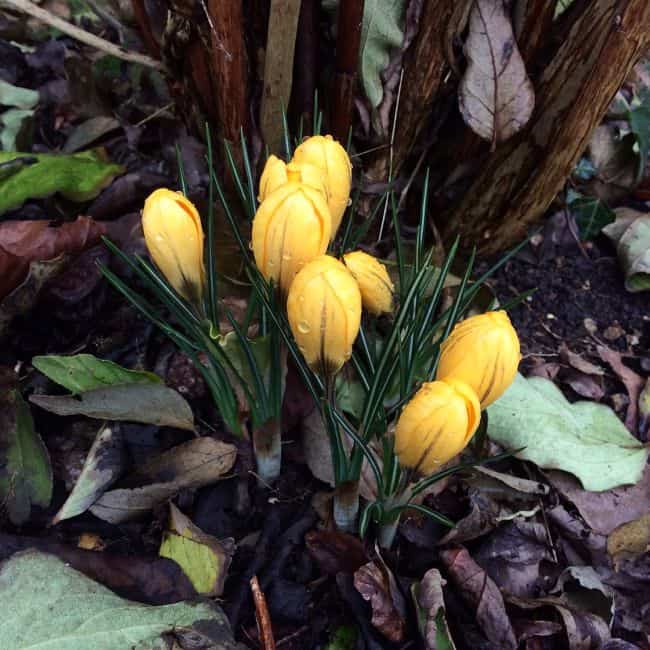 Image Credit: kidsinthegarden
Plants that grow in winter can be used alone or as companions to other flowering perennials or annuals. Crocus is one plant that produces flowers that are shaped in the form of a cup. Its perfect for decking up the edges or borders in your garden.
28. Mahonia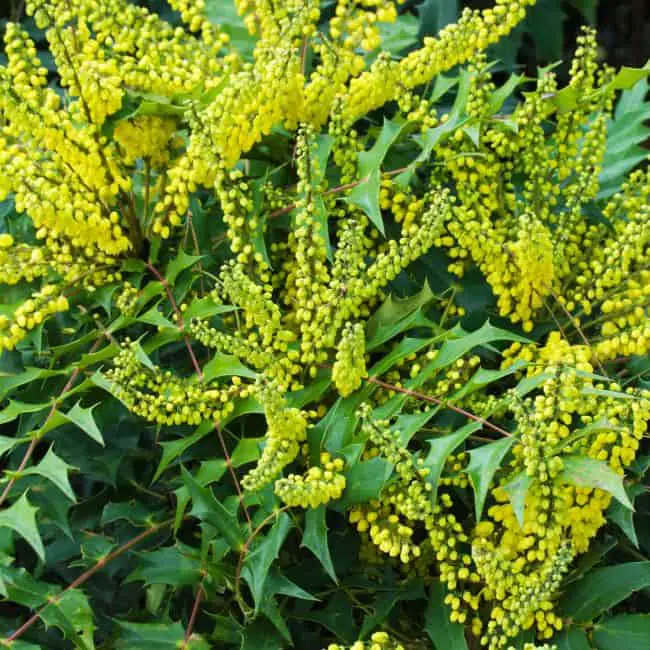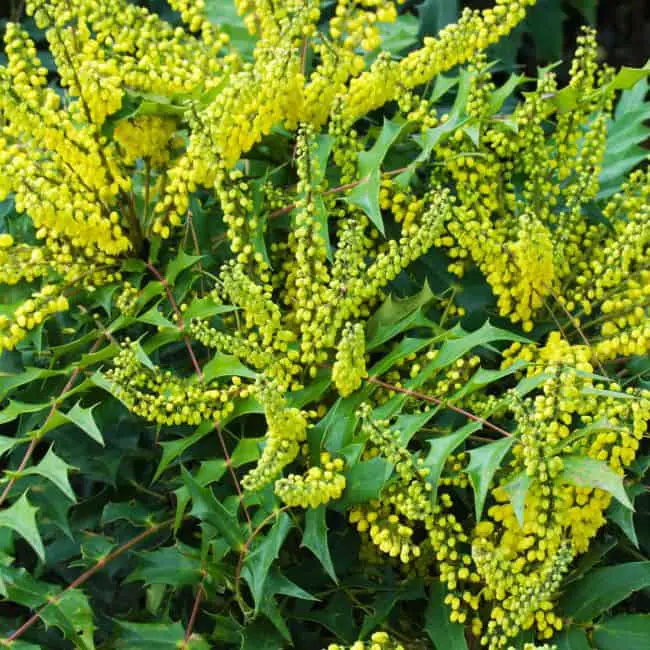 Image Credit: dobbies
With sun kissed blooms in bright yellow tone and green leaves, the Mahonia is an eye grabbing flower that is produced by the evergreen Mahonia shrub, also called Barberry. Its a perfect addition to any winter garden.
29. Cotoneaster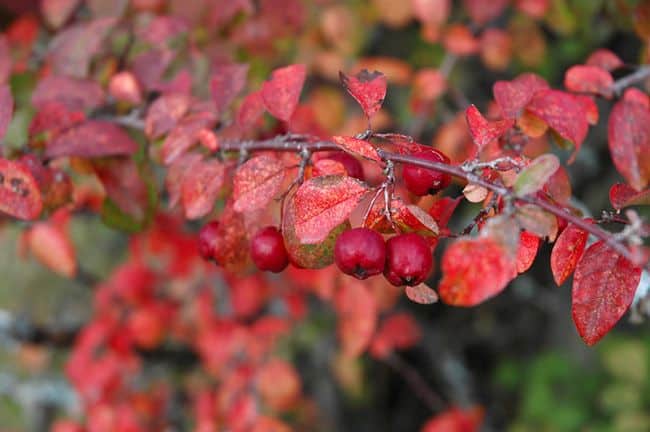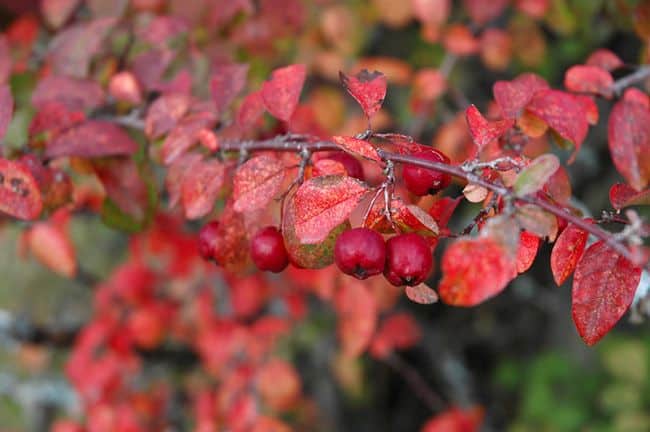 Image Credit: gardensupplyco
An evergreen that produces dense leaves and attractive berries is the Cotoneaster. The plant can be used on the soil bed for its attractive appearance. Winter gardens can benefit a lot from this evergreen that seems to not stop producing berries even in the thick of cold.
30. Dianthus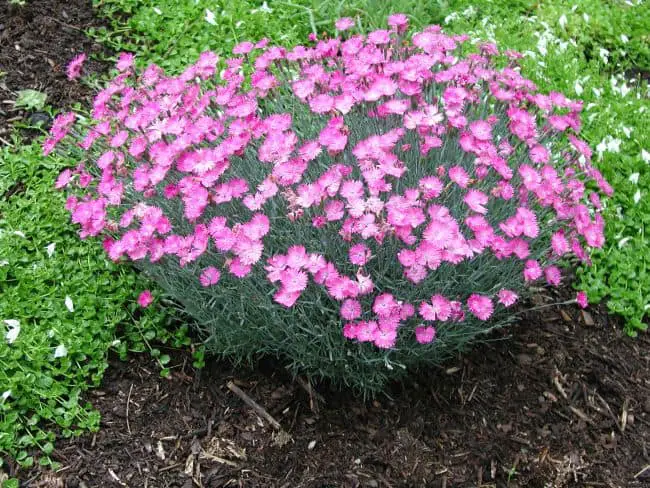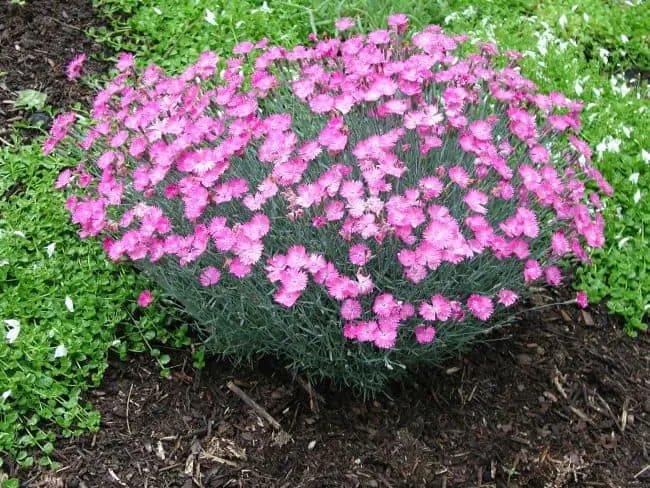 Image Credit: georgeweigel
This annual produces a great display of blooms all throughout winter and reaches up to 10 inches in height. The blooms are aromatic and come in shades of red, pink and white. This plant can be used in pots or in garden beds. Most people plant these flowers on edgings as well as on borders.
Also Read: 25 Stunning Black Flowers for Your Garden
31. Petunia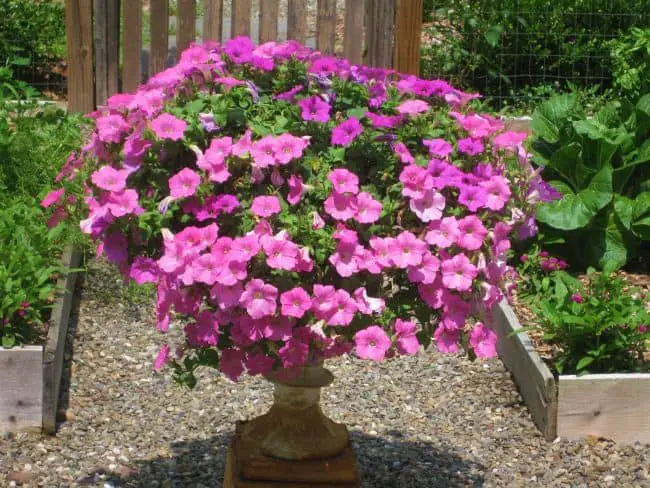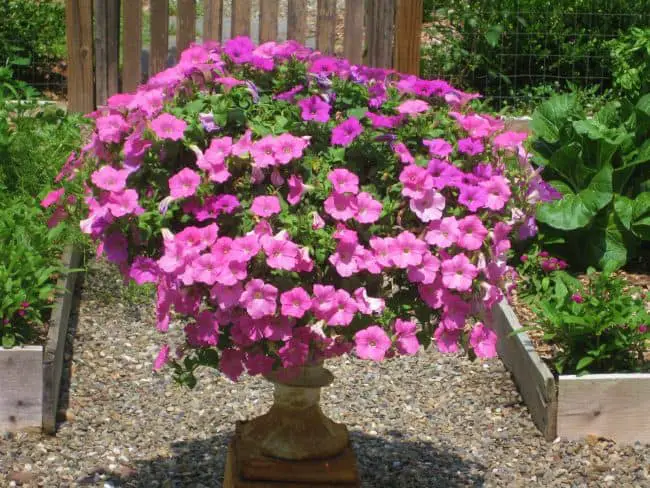 Image Credit: agardenforthehouse
Though, most of you are of the opinion that Petunias are summer loving flowers, the reality is quite the opposite. Petunias are annuals that love the cold and bloom stunningly in numerous shades. You can plant these either in pots, or in garden beds, but, show them full sun and water. Here are the best annual flowers for full sun.
Final Thoughts
There are plenty of plants that grow in winter, each offering a distinct look to your garden. Some bestow your dull gardens with stunning borders and edges, while others lend a snowy feel to the whole outdoors. With these awesome plants and flowers, your garden can no longer look bare and dull.
We are sorry that this information was not useful for you.
Tell us how we can improve.