33 Stunning Apartment Balcony Garden Ideas That You Will Love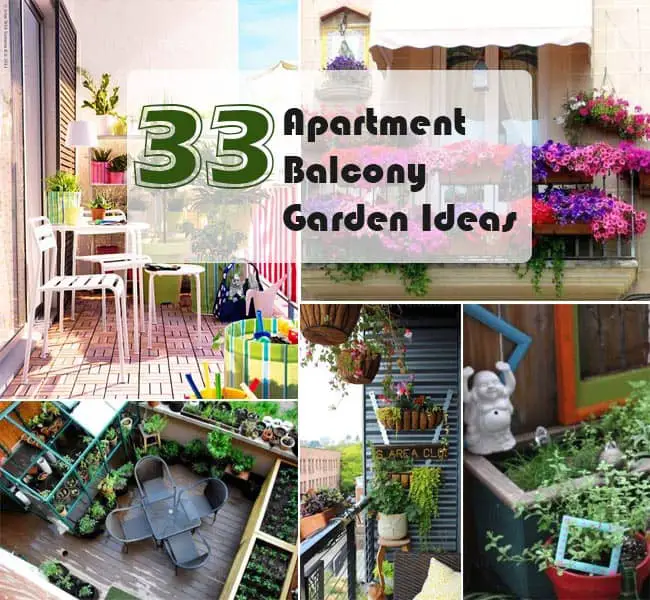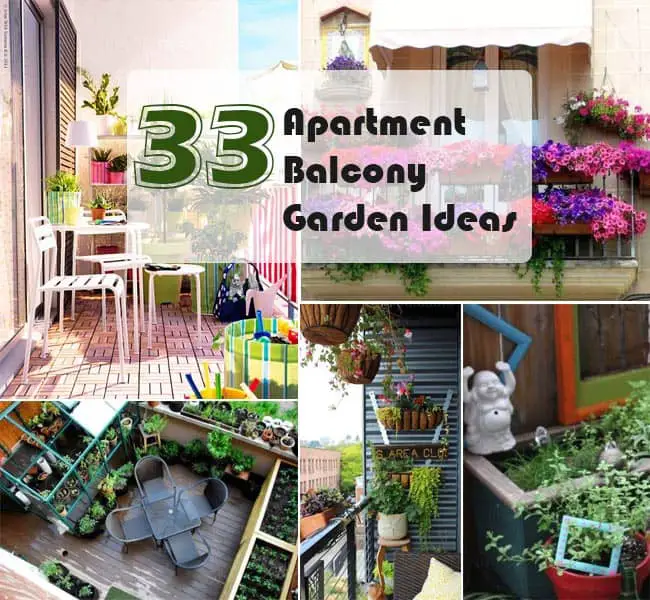 To quote Gertrude Jekyll, "The love of gardening is a seed once sown that never dies". This famous British horticulturist was quite right when she said the above, as gardening is a passion that never dies down. Even if you happen to live in small apartments where gardening seems like a distant dream, you can still build your own mini gardens with some creativity and imagination. So, in order to help you 'lost souls' get stunning green and grassy gardens, we have presented below a gorgeous collection of 33 stunning apartment balcony garden ideas that will inspire you.
1. A bright balcony garden with citrus potted plants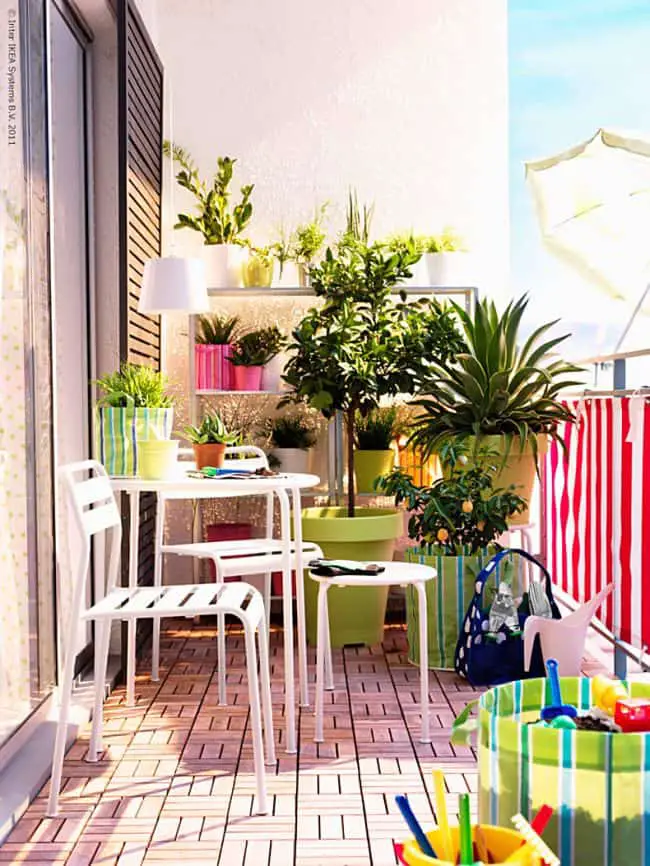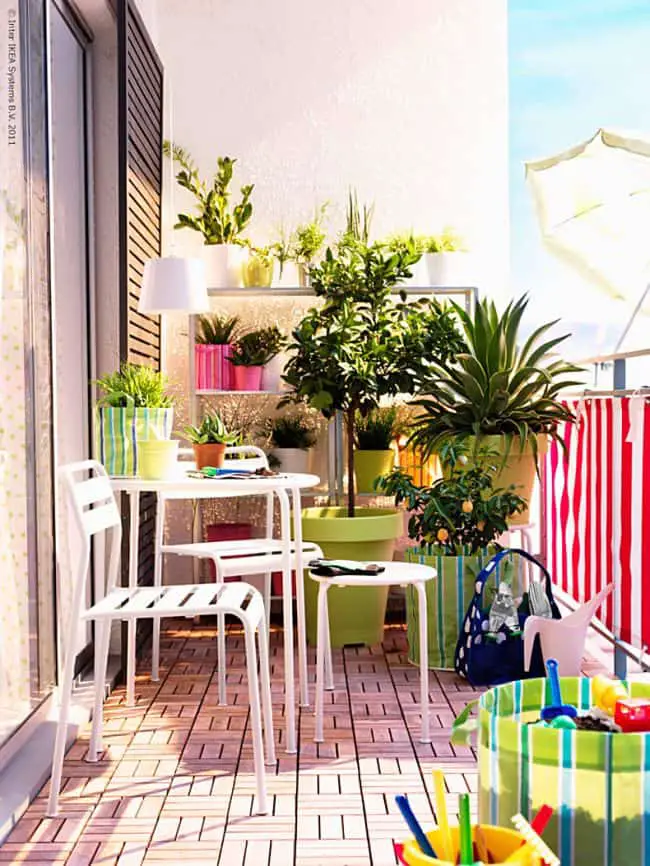 Image Credit: homebnc
One look at this balcony garden and you are sure to get swept off your feet! The design of the balcony looks sun drenched with citrus potted plants that create a bright verdant spot, even in such a small spaced area. For all of you that love to grow lemons and oranges, a balcony such as above is the perfect little spot as it offers abundant sunlight. There are other decor features like a white umbrella, play toys, red and white striped fabric cover, white shelves, white table, chairs and stool that lend it a cheerful look.
2. Small apartment balcony micro park design idea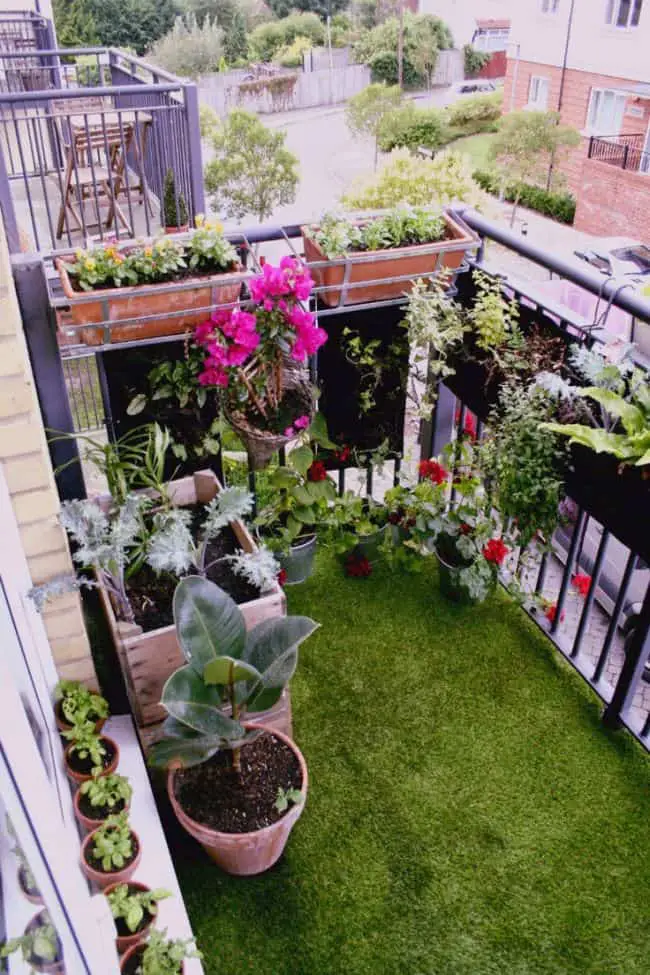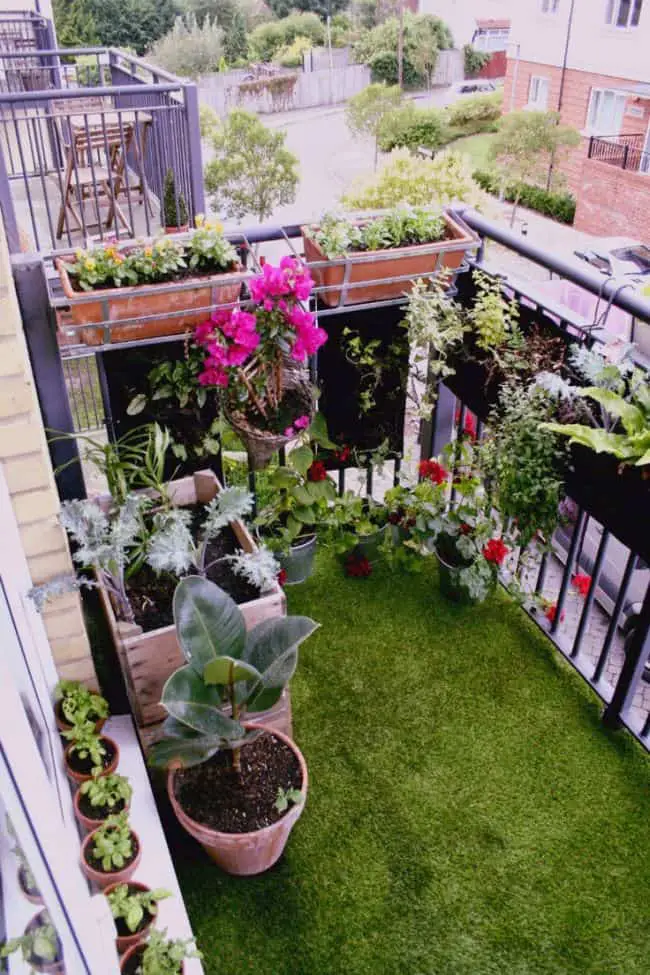 Image Credit: zadn
Small apartment balcony garden ideas that enable you to make full use of your limited space must be adopted. A good example of a fully functional garden design is showcased above that let's you make use of almost every little corner to the best of your abilities. From utilizing the railings of the balcony, to the space below the window, to the flooring, the design incorporates every element that makes this balcony appear like a mini garden. The floor is covered with fake grass and hanging boxes that offer you the freedom to grow additional plants.
3. A hanging mini garden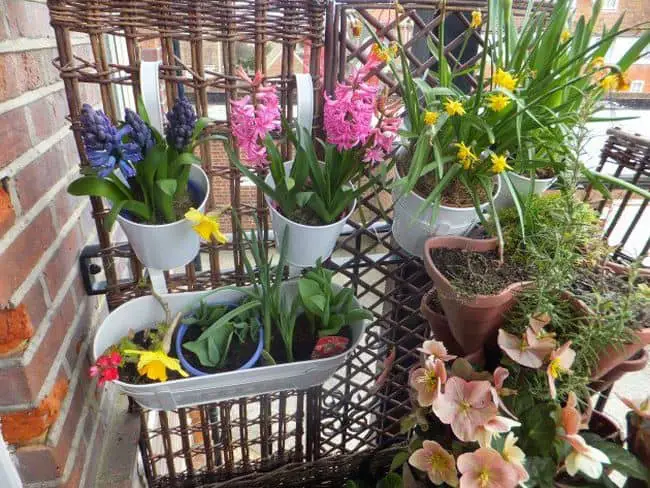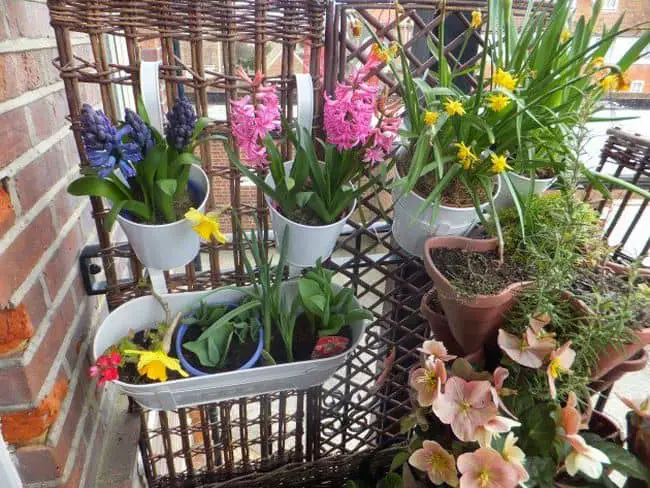 Image Credit: architectureartdesigns
If your small balcony lacks a proper place for growing flowers and greens, you can think of going vertical. Vertical gardening allows you to own beautiful mini gardens without gobbling up the floor space and helps you enjoy the many bounties like fruits, herbs, veggies and flowers. How about trying this idea of having a mini garden as in the above image? The balcony here is quite tiny, but the owner has hung flower pots from the wooden trellis attached to the railing. You can have as many pots as you wish and grow greens to your heart's content!
4. An upcycled balcony garden using old wooden crate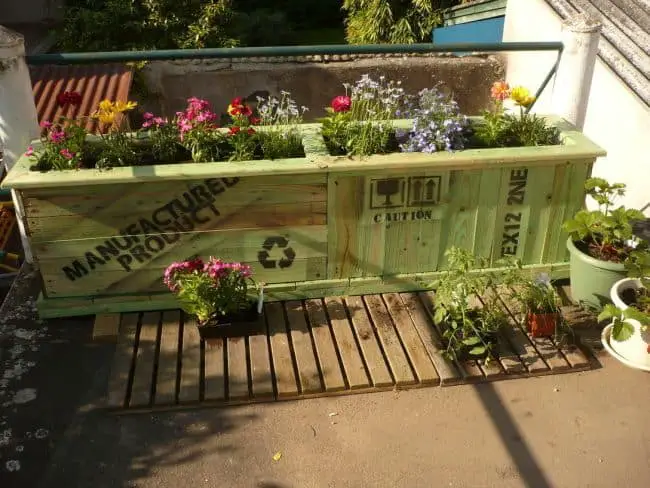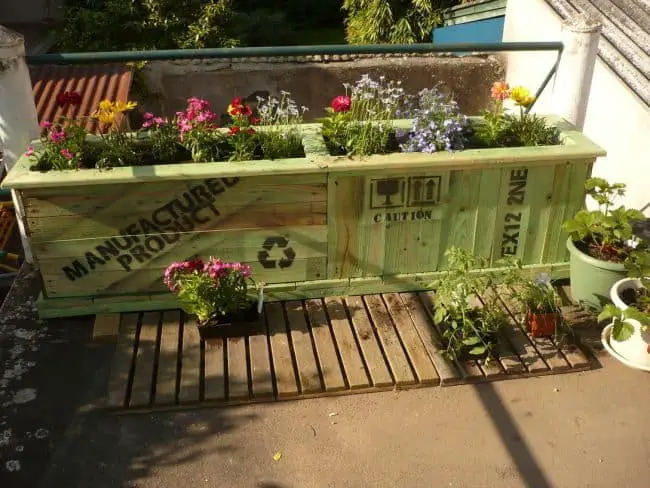 Image Credit: 1001pallets
Using old wooden crates for planting flowers can be a creative and cheap idea. In the image above, the tiny space of the balcony has been modified to accommodate flowers that are grown in crates. The crate has got a good height, which enables you to take care of your plants easily. This is a cool idea for a raised garden bed.
5. Italian themed balcony garden idea with window floral boxes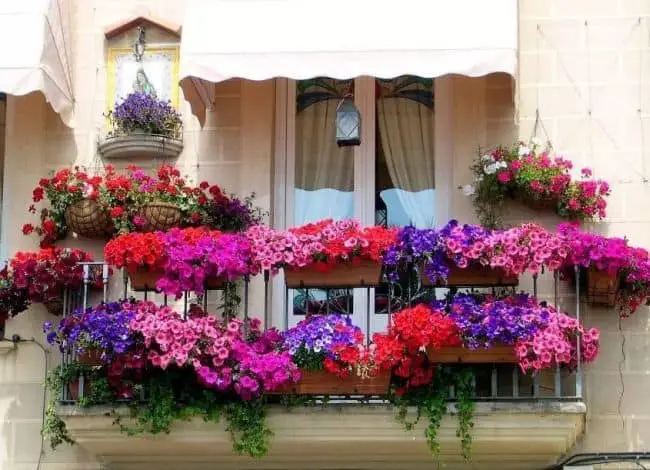 Image Credit: gtimg
We simply love this idea of using the railing of balconies for gardening as it appears not merely exotic, but also solves your gardening worries in a small space. The theme incorporated here is Italian and the whole balcony looks colorfully adorned with window boxes filled with petunias in all shades. The petunias are of course the showstopper in this balcony garden, but, we couldn't miss noticing how appealing the ornamental planter with purple petunias in the background looks!
6. DIY wooden hanging planter idea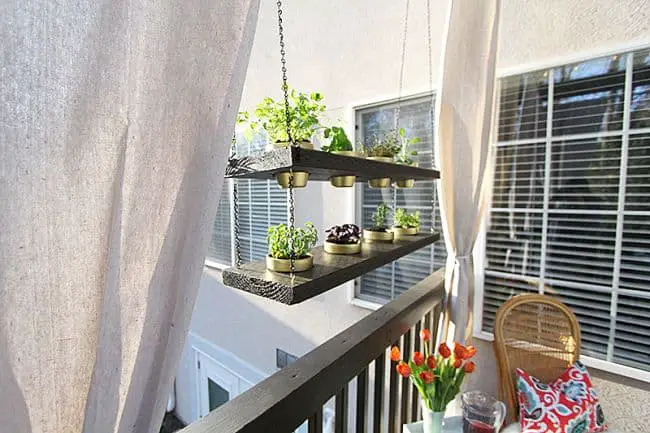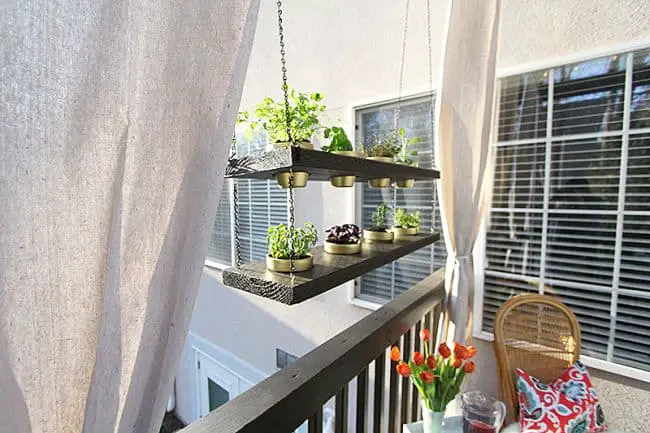 Image Credit: southernhospitalityblog
The bug of 'small space' gardening can only be satisfied when you incorporate fun apartment balcony garden ideas such as the one seen in the picture. The owner has used the concept of a hanging garden wherein he has made use of wooden boards for showcasing planters. The small pots hung from the holes of the wooden boards are terracotta and have been painted in golden metallic shade. The boards too are painted. You can use any type of hooks like eye hook for the boards. The decor also features a curtain that lends the balcony garden some privacy.
7. Vintage themed balcony garden idea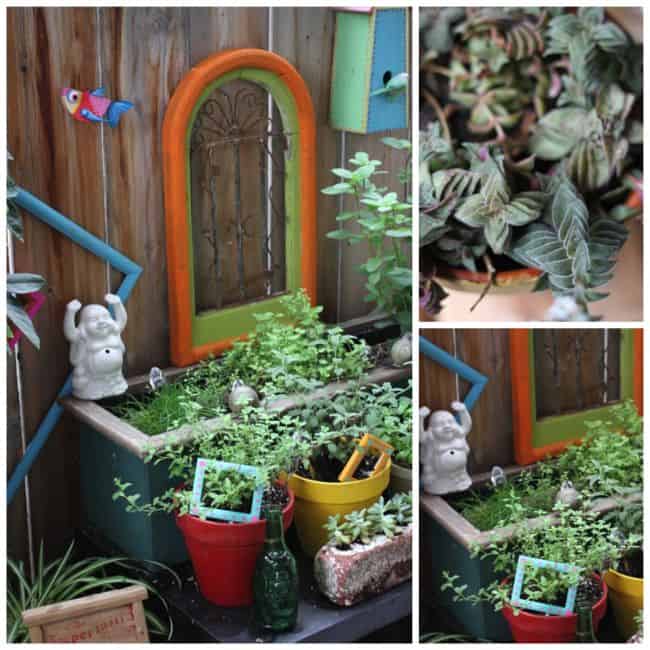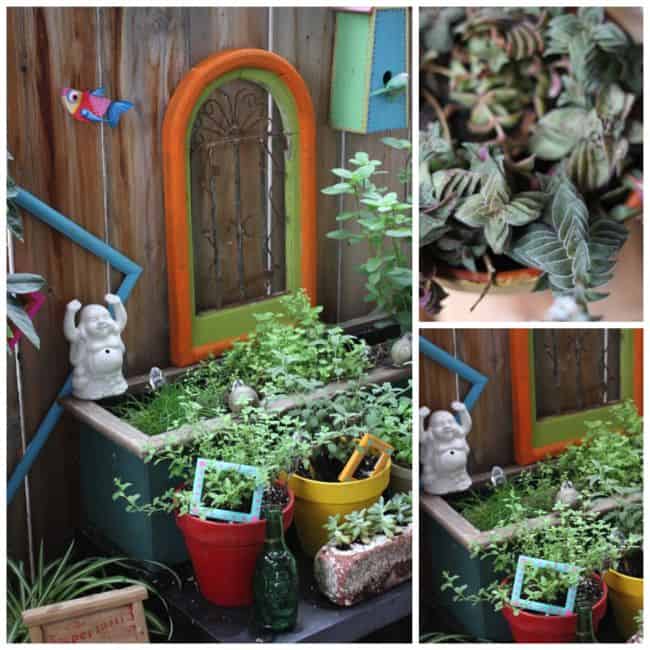 Image Credit: trashycrafter
Its more fun when you decorate your balcony gardens on some theme, like vintage or rustic. In the above image, the garden looks vintage and has made optimal use of the available space. Wood can be seen dominating the decor of this balcony garden in the form of a painted wooden window frame, and crate planter. This planter offers height to your plants and therefore makes it easier for maintaining them. There are colorfully painted pots arranged below the crate. The ceramic Laughing Buddha statue lends a feel of vintage to the whole decor.
8. Small balcony garden idea with hanging planters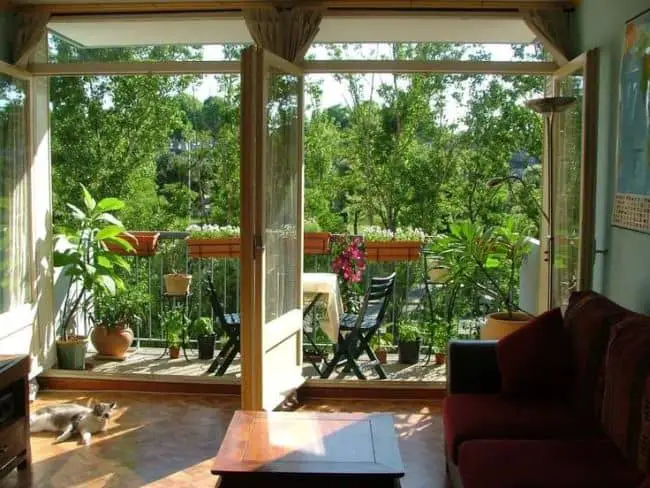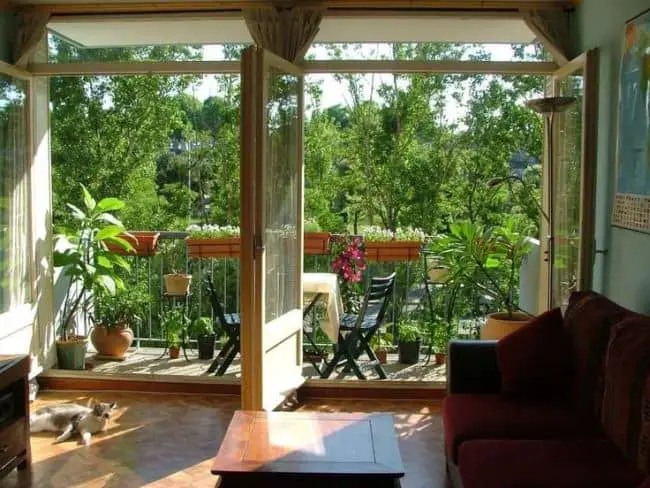 Image Credit: pinimg
Hanging planters or boxes allow you to save on space and grow greens at the same time. Seen above is a charming balcony garden that looks simple, yet, very classy. Instead of hanging window box planters on the outside of the railing, the boxes are attached on the inside. Apart from the window boxes, there are other potted plants seen on the floor space of this wonderful garden. The charm of this garden increase with the inclusion of a sweet little seating area.
Also Read: 18 Brick Garden Edging Ideas
9. Pallet balcony with colorful planters and greens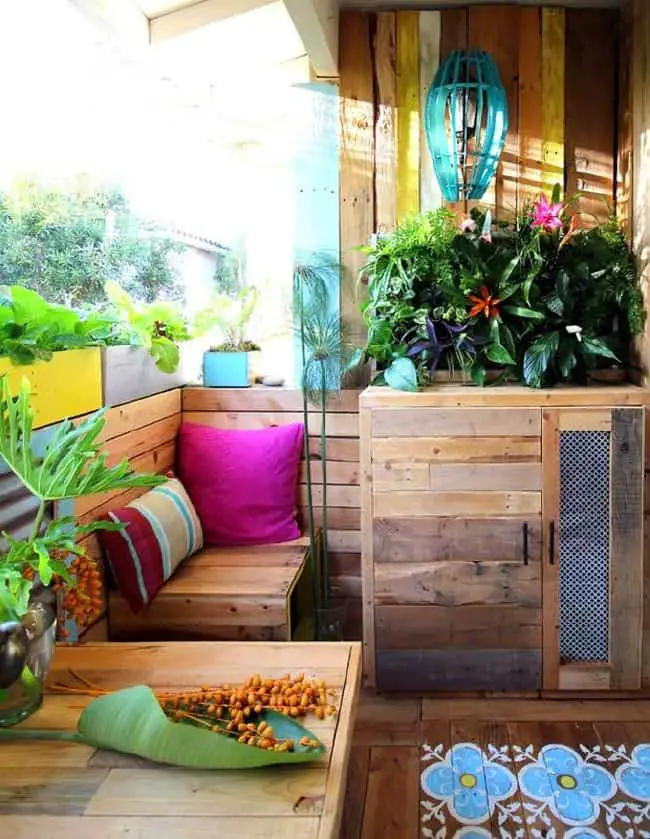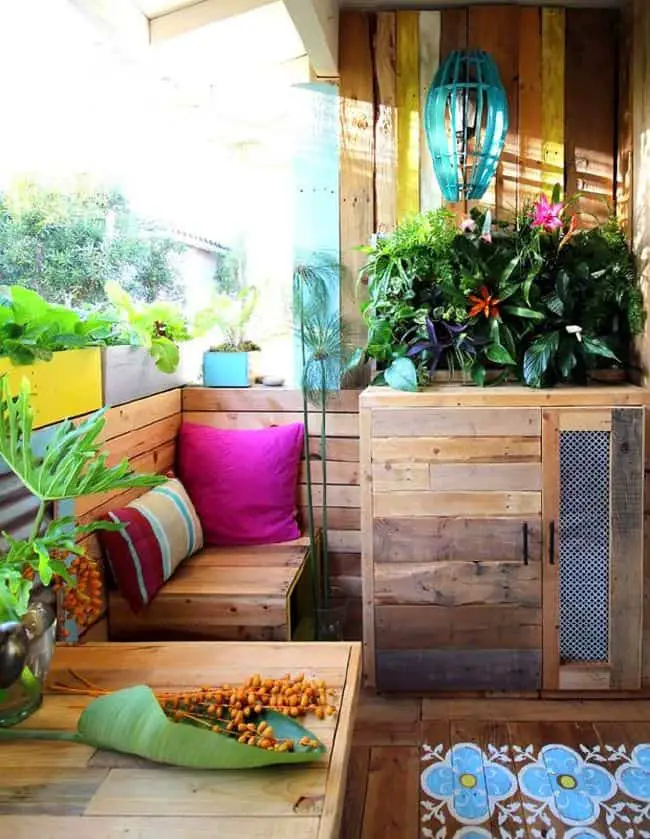 Image Credit: blogspot
Pallet is a wonderful way to bring in natural beauty to your interiors as well as exteriors such as a balcony. The whole theme adopted in the image above is based on pallets such as the balcony walls, the bench, the cabinet as well as the planters. The colorfully painted pallet planters are arranged systematically over the railing and look extremely stylish. The garden exudes a tropical feel, and we surely recommend this design idea!
10. Small apartment balcony garden with metal planters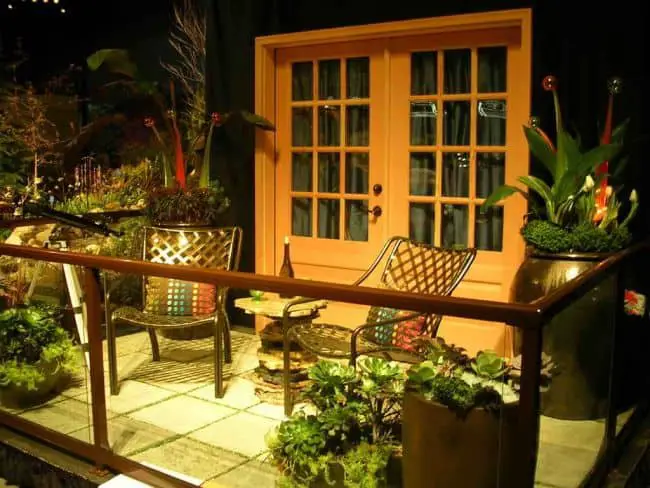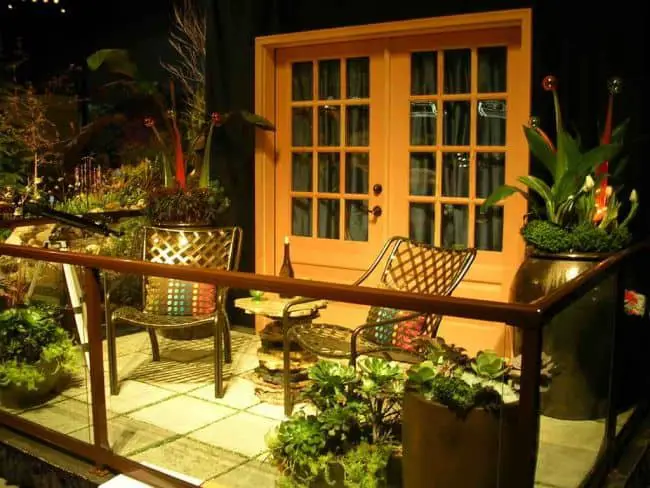 Image Credit: irvanblog
Let's not always stick to one rule when thinking of balcony gardening, and that is planting greens and flowers in pots and window boxes. Instead, try to use statement pots that can become the showstoppers of your garden. Metal gigantic pots with tall plants look extremely chic. In the garden balcony above, the area is well utilized for gardening, with huge metal pots or vases decking up the corners. The furniture chosen matches the metallic tone.
11. Traditional balcony garden design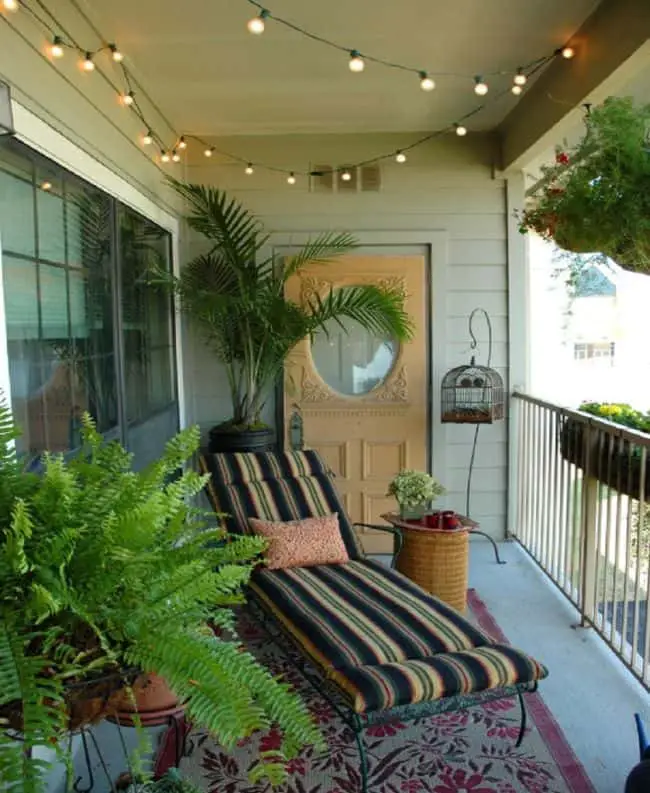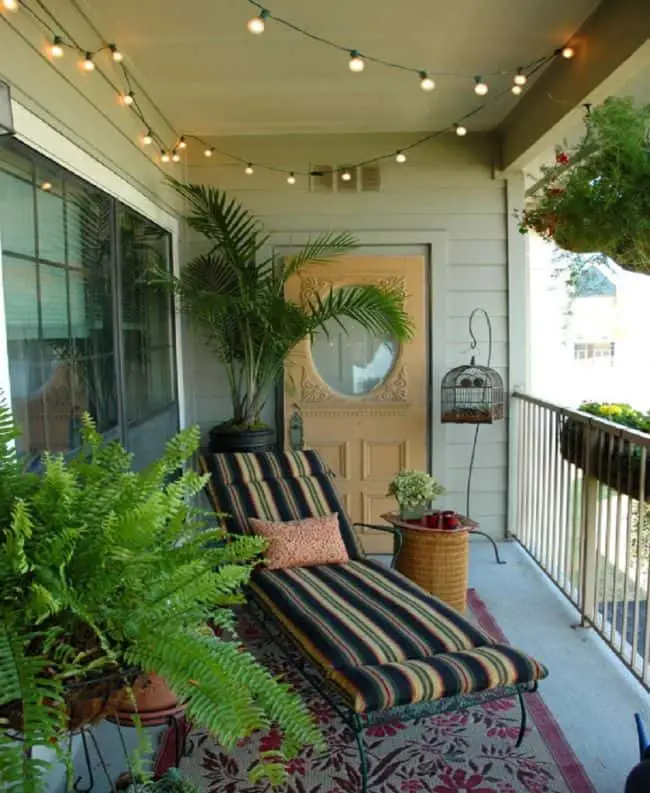 Image Credit: rafael-home-biz
How about chucking the same old balcony garden plants, and give palms a try this time when you garden? This is what is seen in the balcony garden above where the theme chosen is traditional with a palm planter placed behind the sunbathing chair. The elements splashed in this balcony garden remind you of the bygone era. The window boxes are seen attached on the outside of the railing. Other pots are placed in wrought iron holders, making the whole space relaxing.
12. Little Buddha balcony garden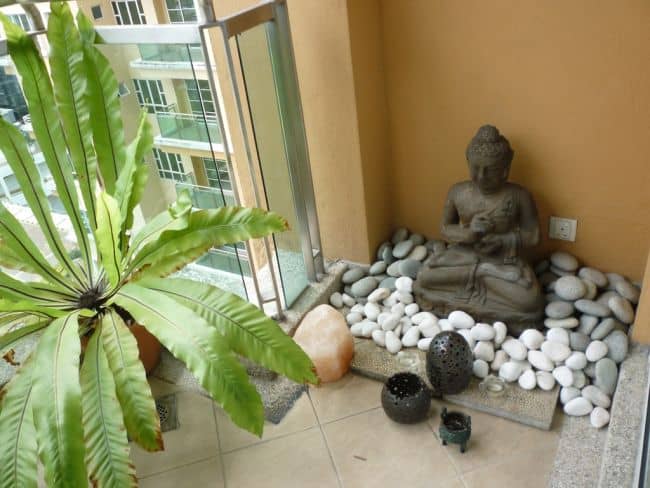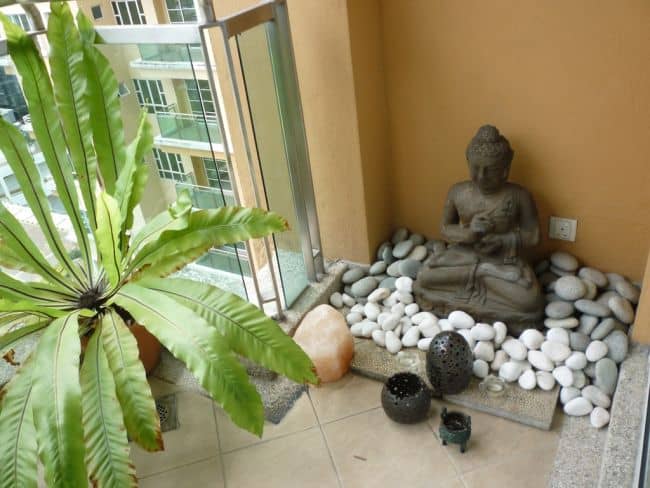 Image Credit: pinimg
If you like Asian themed balcony gardens, then this idea is probably just the one for you. Its simple decor and design makes it perfect for relaxation of the mind. It features a corner decor with a stone Buddha statue placed over gray and white pebbles, and black ornamental lamps along with a potted plant.
13. Balcony garden with hanging and floor potted plants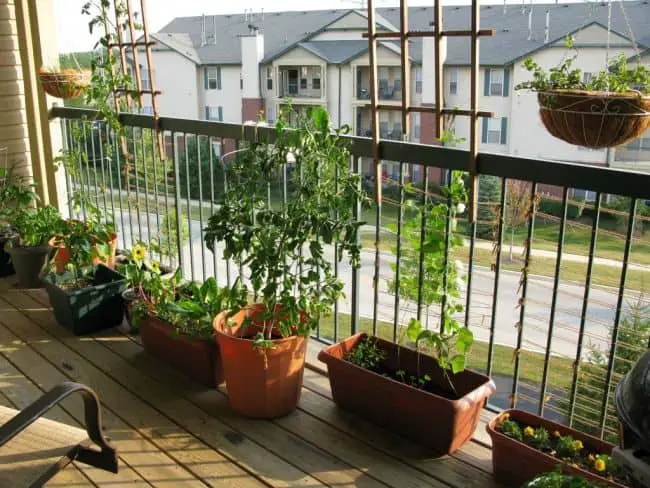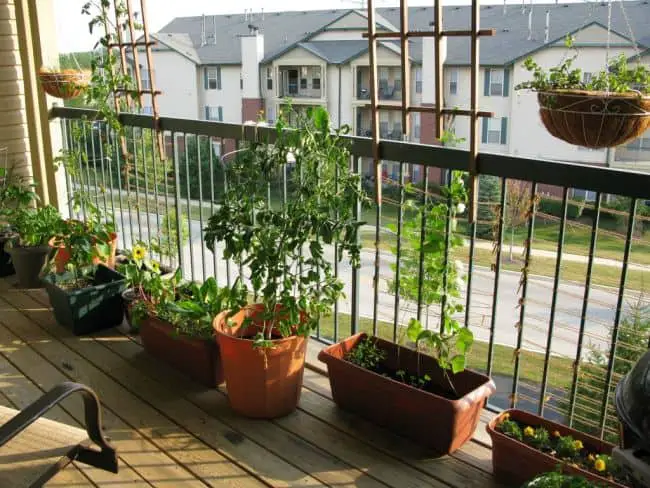 Image Credit: secureidm
In this balcony garden, the concept followed is hanging as well as floor gardening. One can see terracotta pots being hung from the roof while on the floor, there are a number of planters growing various kinds of greens. Two wooden trellises are also seen hung. You can grow vines on these as well.
14. Beautiful Asian inspired balcony garden idea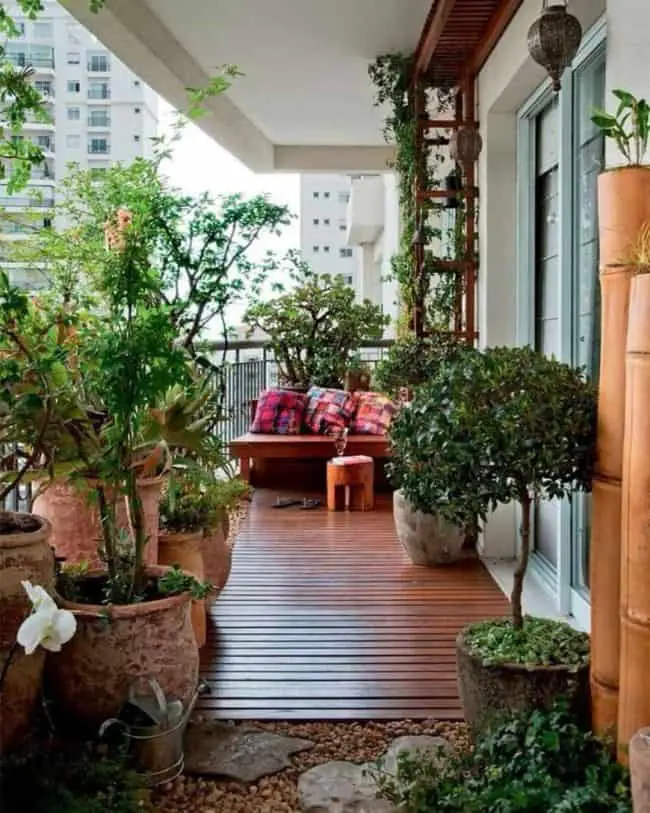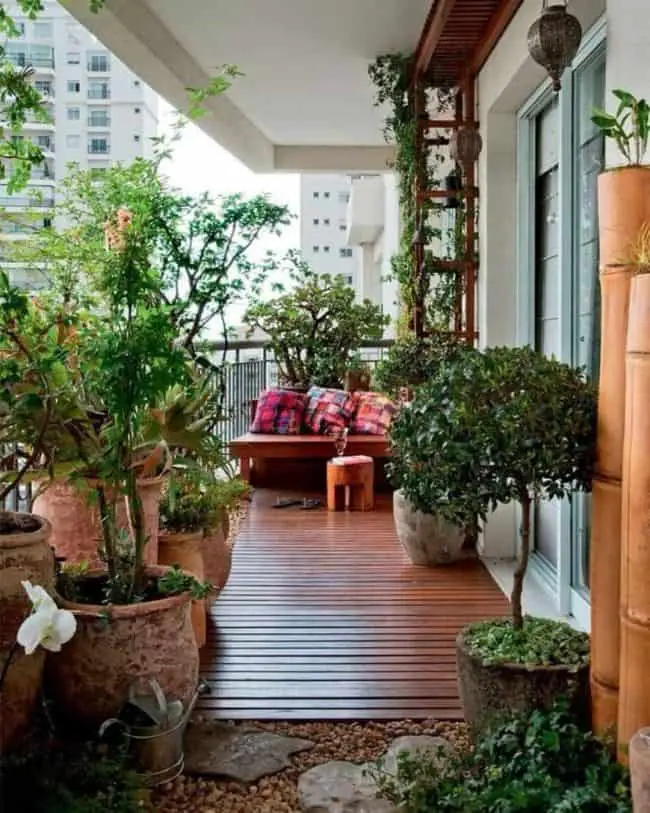 Image Credit: formosauto
The highlights of this charming Asian inspired garden are its bamboo planters, arbor, wood and stone planters and the bold fabric sewn on the colorful pillows. The whole garden is decorated as per Feng Shui and gives a lot of importance to greenery and a calming environment. Vertical gardening is seen utilized in the arbor above the door as well as the bamboo columns at the corner.
15. Apartment balcony garden with a long wooden raised bed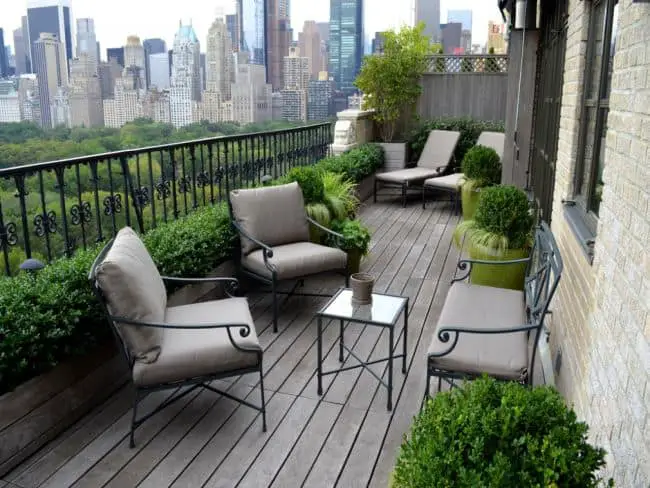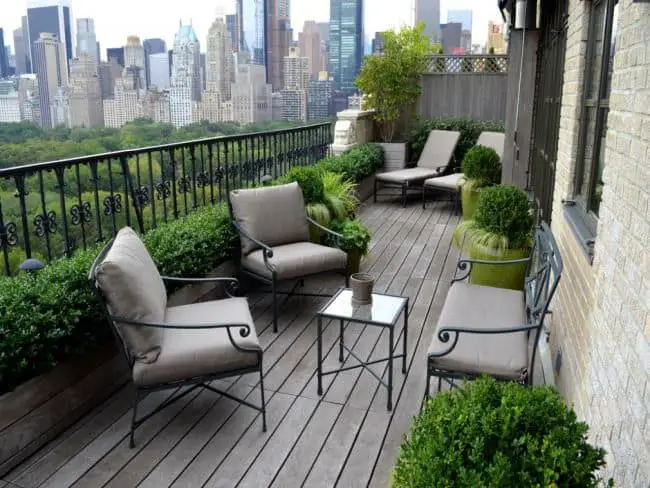 Image Credit: rafael-home-biz
Are you looking for simple balcony garden ideas that you can use without spending a bomb? Well, then try this idea that we have presented in the image above. The whole garden looks serene with a wooden flooring that matches with the long wooden raised bed used for growing plants. The striking element of this garden design is the symmetry achieved with the growing of boxwood shrubs all throughout. It is a simplistic design and is pocket friendly too.
16. Zen inspired balcony garden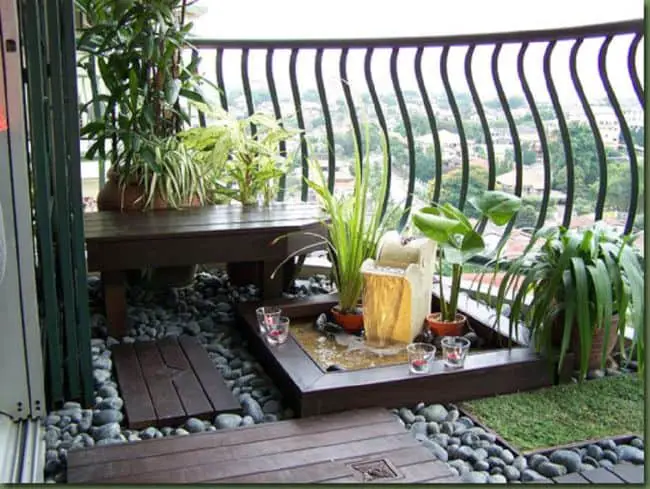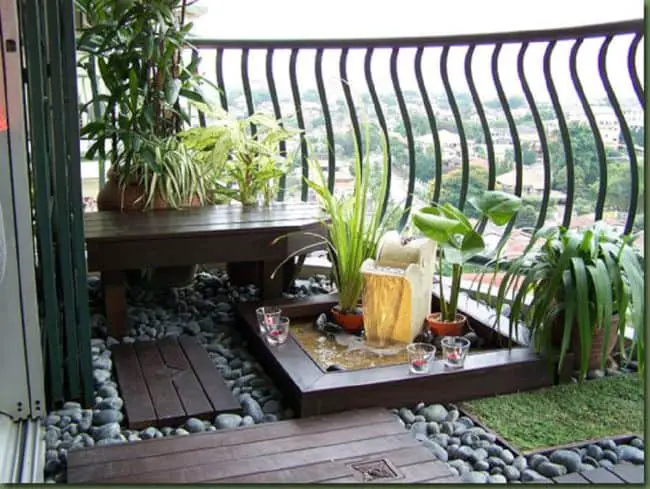 Image Credit: zelenasadyba
Zen inspired design focus on key elements like flowing water, rocks, greens and wood. This design suits such people that like the calm and serene ambiance. If your garden is styled on Zen, then it has to feature all the elements as mentioned. The balcony garden above is soothing and features a small water body comprising of a fountain, and a few potted plants. Apart from these greens, there are a few other terracotta pots placed in the balcony. Its the stress free environment of this garden that anyone would love to cherish forever.
Also Read: How to Grow Oregano at Home
17. A balcony garden idea with lots and lots of potted plants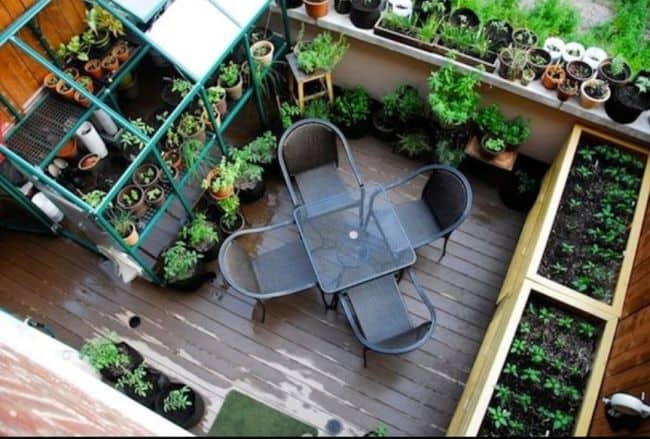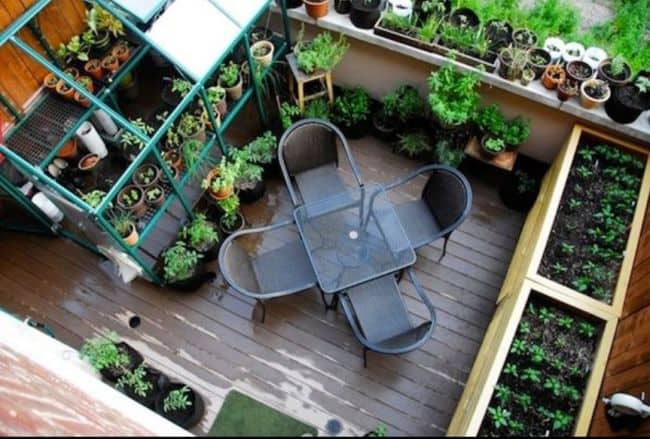 Image Credit: smallroomideas
Many of us that live in small apartments will understand how difficult it is to grow your own flowers, let alone a full fledged garden on the balcony. But, if you are creative enough, you can think of ways and means to grow mini gardens, just by following the rules of vertical gardening. The garden in the image shows how you can make the best possible use of your vertical space by growing plants in boxes and shelves. The horizontal space is less utilized and is kept free for movement. The garden features a lot of potted plants, enough to give you a corner for relaxation.
18. Shaded balcony garden design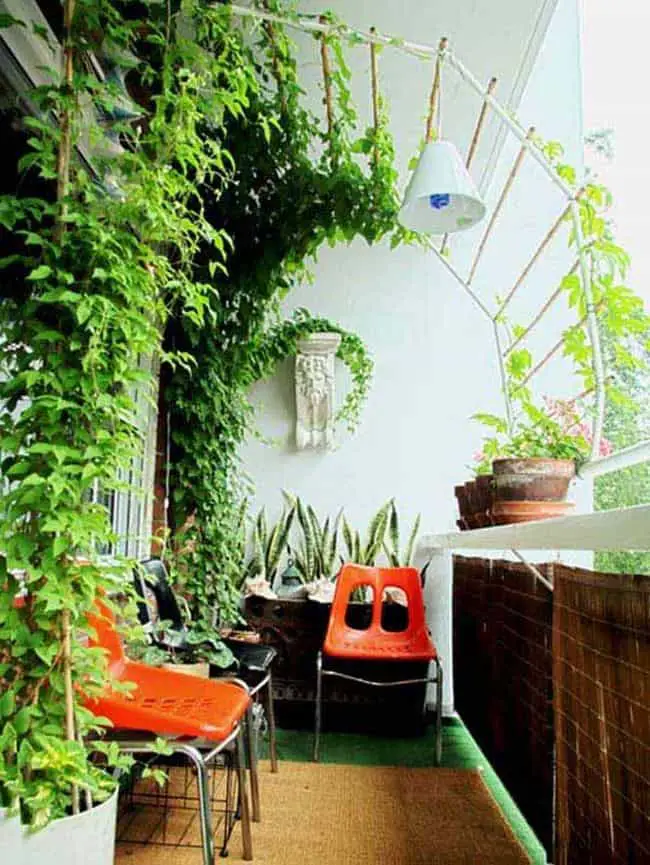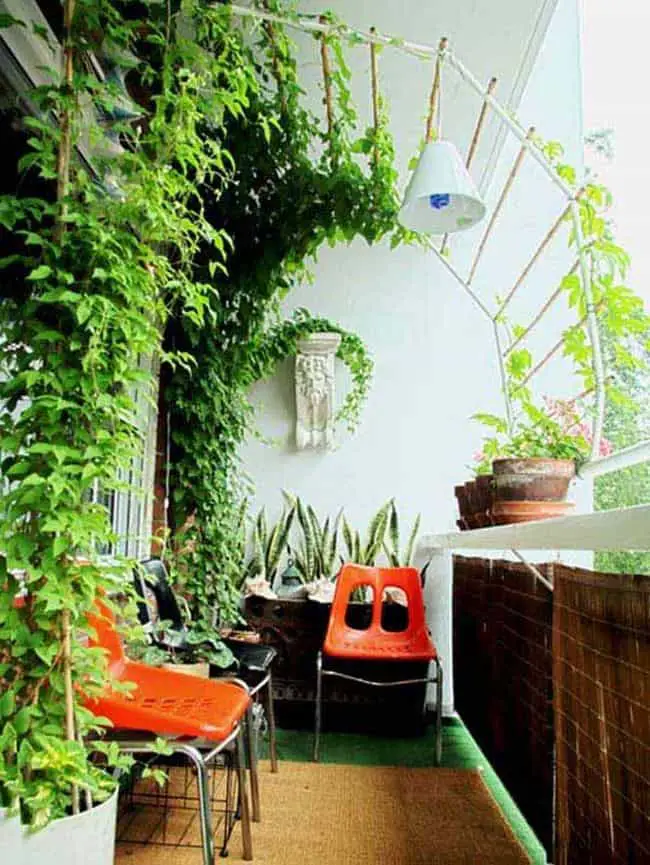 Image Credit: blogspot
With this innovative idea, you can add some shade to your balcony and create a private Eden for yourself. This is a DIY project that has made use of old PVC pipes to be turned into a curvaceous arbor for growing vines. Apart from these creepers, the garden also features other potted plants that enhance the greenery of this balcony.
19. Sweet balcony garden design with ladder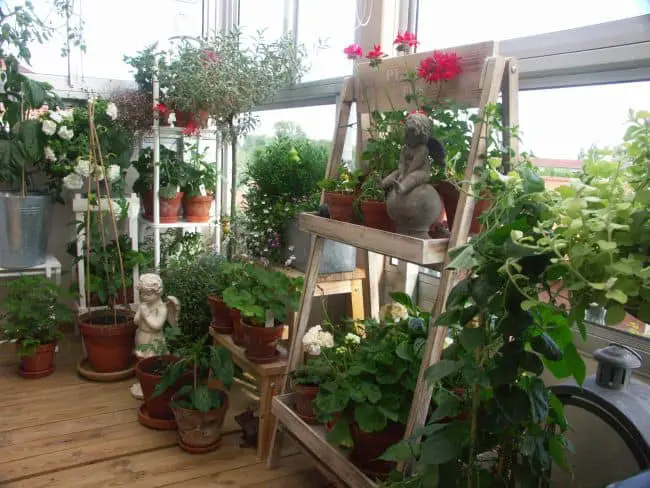 Image Credit: tradgard
For all of you looking to save some money whilst building mini gardens in balconies, this idea to use old ladders will come as a blessing. You can use your old ladders to be transformed into planters. Old stepladders can come to help in this regard. All you have to do is paint them and then arrange potted plants in layers. This will save you a whole lot of space and allow you to create your very own private verdant spot.
20. Balcony garden with statement potted plants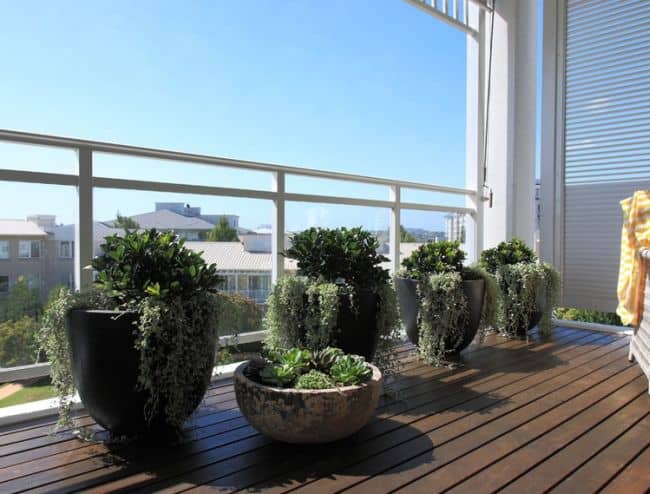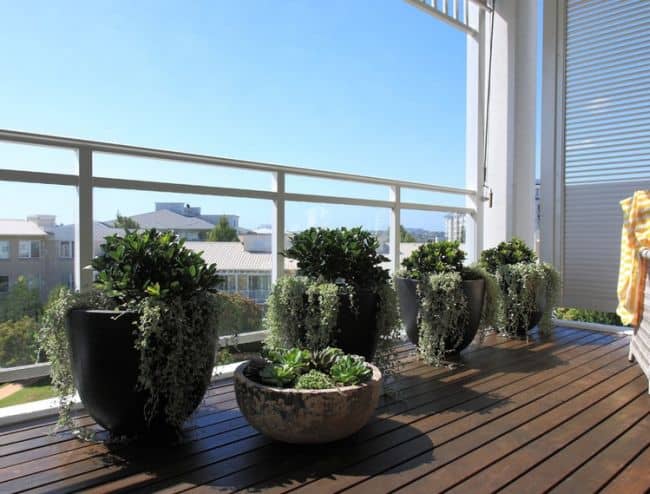 Image Credit: smallroomideas
When it is the minimalist idea playing on your minds, this garden design will definitely come to aid as it features only statement potted plants and no additional frills. A cluttered up garden looks unsightly and therefore, you must place only a few pots of matching texture and shape to lend uniformity. The mantra to maintain your plants well is to keep everything as simple as possible.
21. Pallet planter idea for a small balcony garden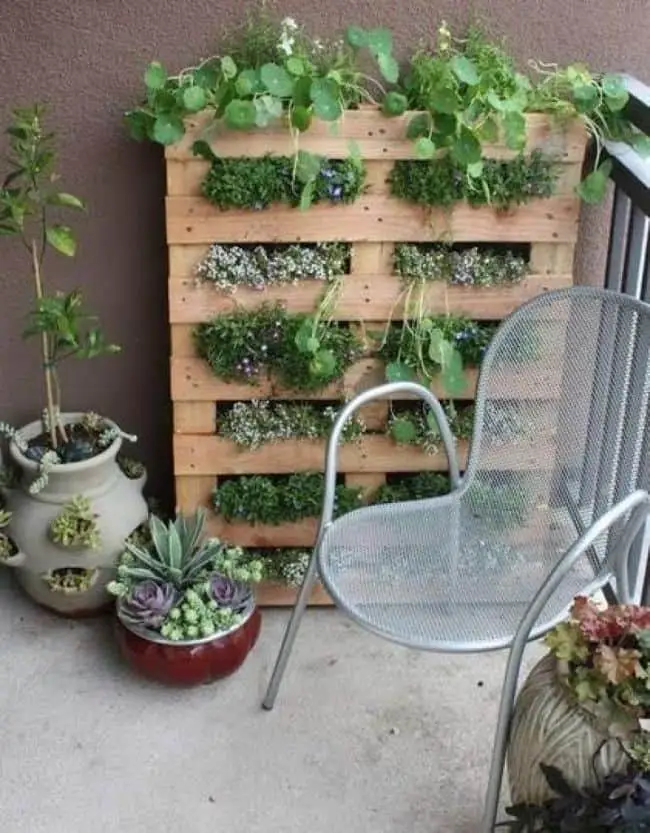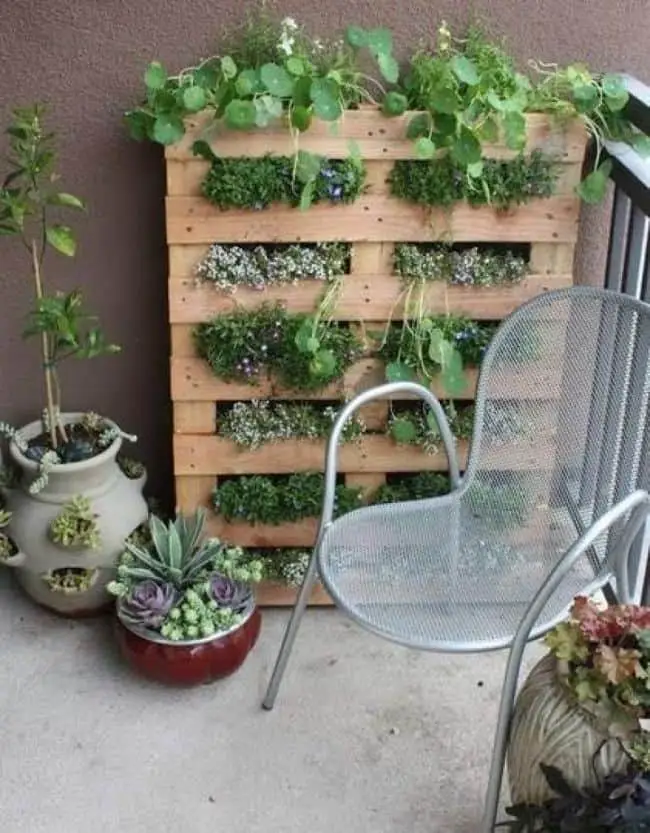 Image Credit: brl
Apartment balcony garden ideas with pallets are becoming increasingly popular day by day as these offer you a scope for gardening at much lesser cost than others. If you want to make use of old wood, then get a few pallets fixed to transform into a pallet holder for growing succulents or other greens.
22. Victorian themed balcony garden with pink roses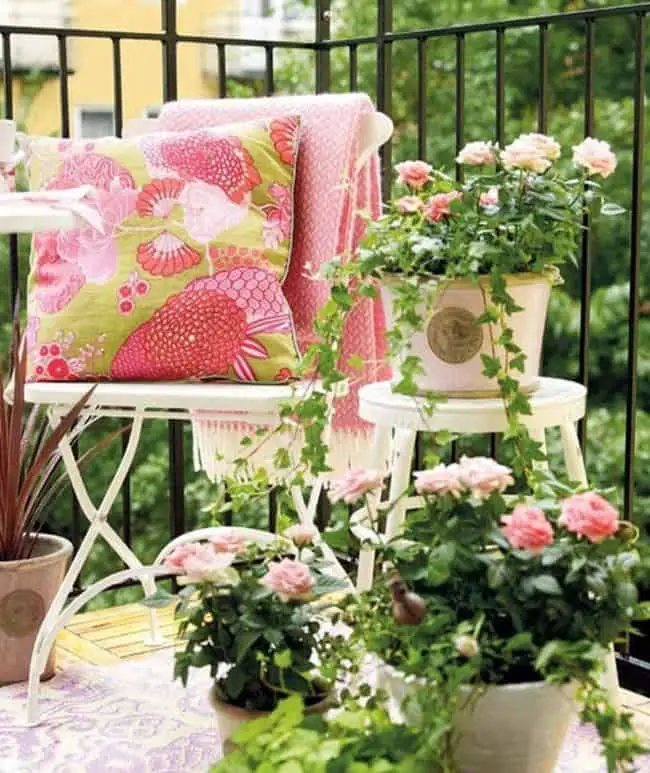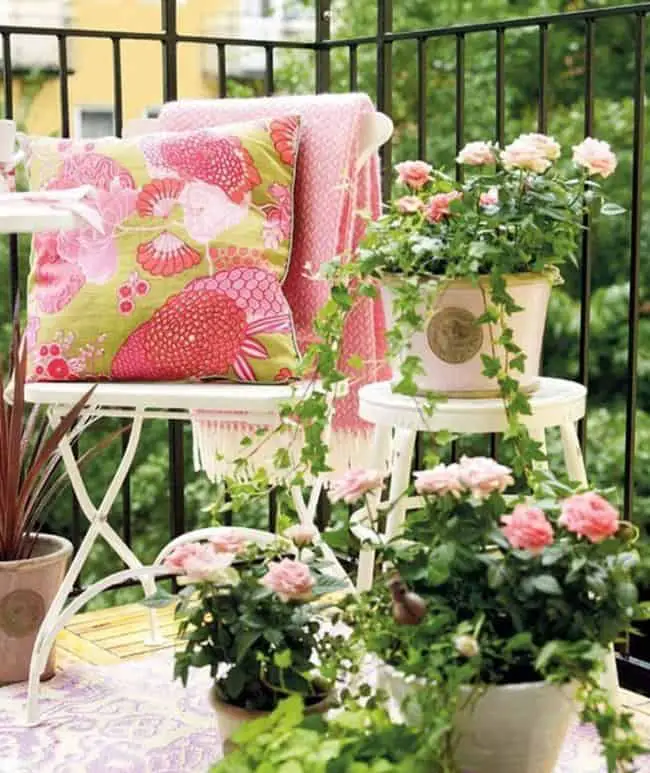 Image Credit: hobstores
This is a Victorian inspired balcony garden where the predominant color used is pink and white, such as in the fabric of the pillows, the table, chairs, stool as well as the pots. The feminine look of this balcony garden makes it appear very romantic. The highlight of this garden has to be the white Victorian styled pots and the pink roses planted in them. The stool in white also features a container with pink roses and adds to the height.
23. A small balcony garden utilizing overhead and wall space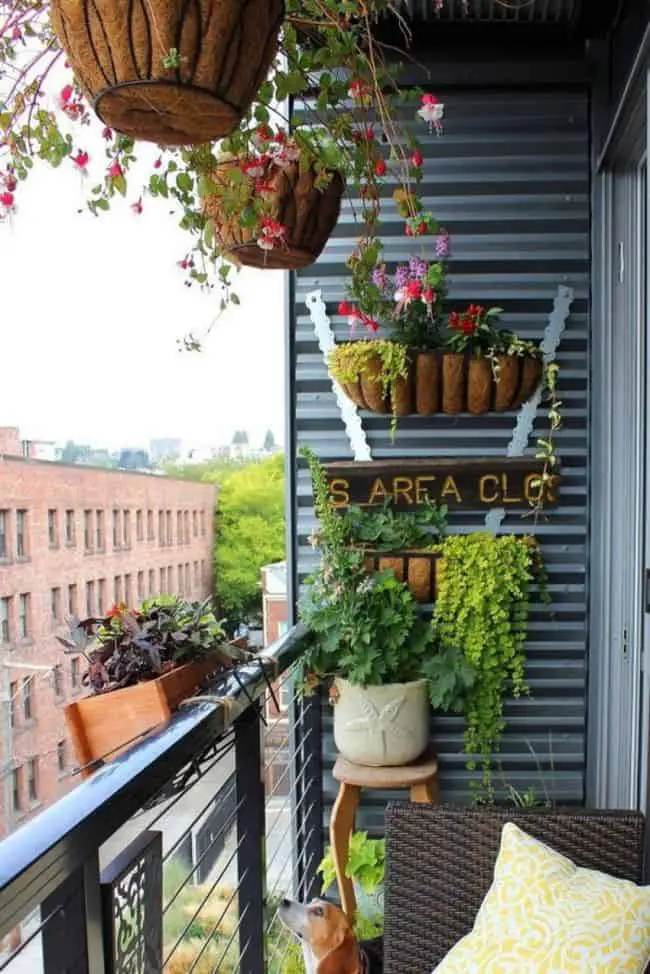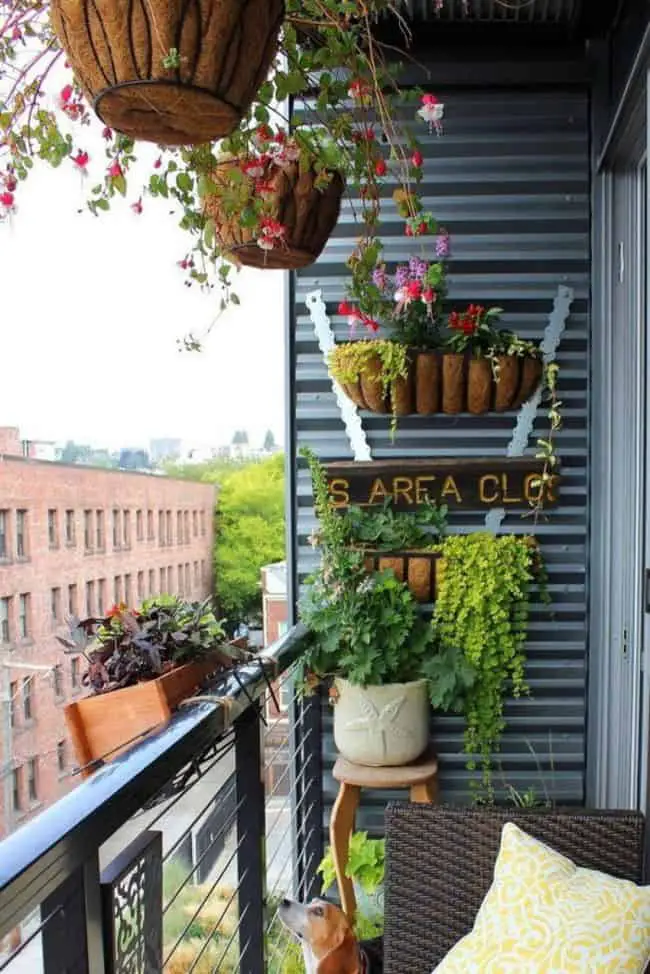 Image Credit: astana-apartments
It's wise to choose only such small apartment balcony garden ideas that offer full functionality. It doesn't matter if you have a small teeny tiny balcony, and yet wish to garden. All you have to do is make use of the underutilized spaces for growing your greens. These include the overhead as well as the walls. The garden above features overhead planters filled with many kinds of flowers and herbs, apart from a showstopper wall that too features flowing greens.
24. Balcony garden idea with beautiful rail planters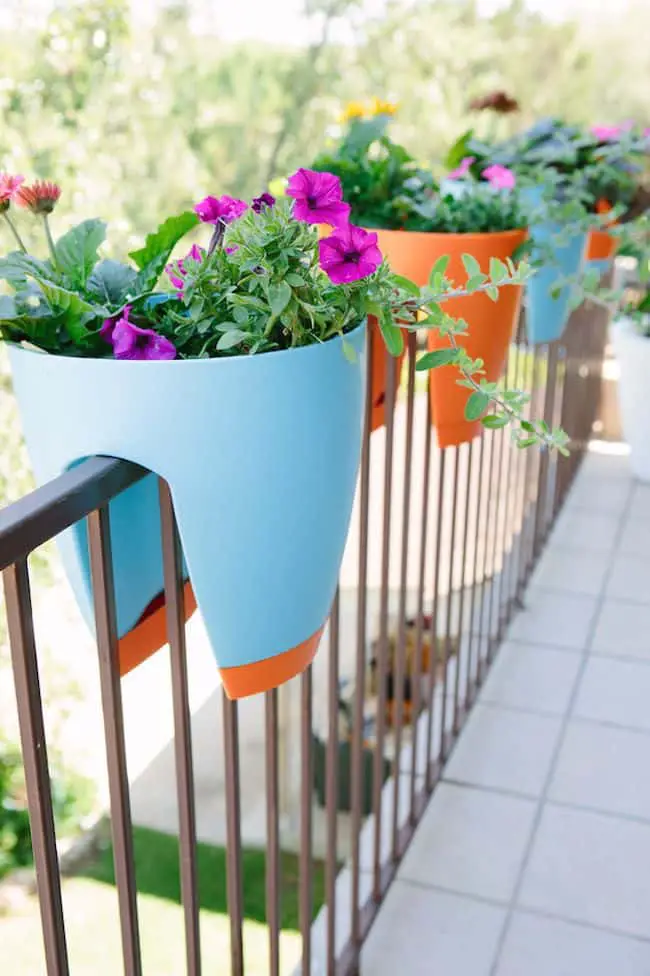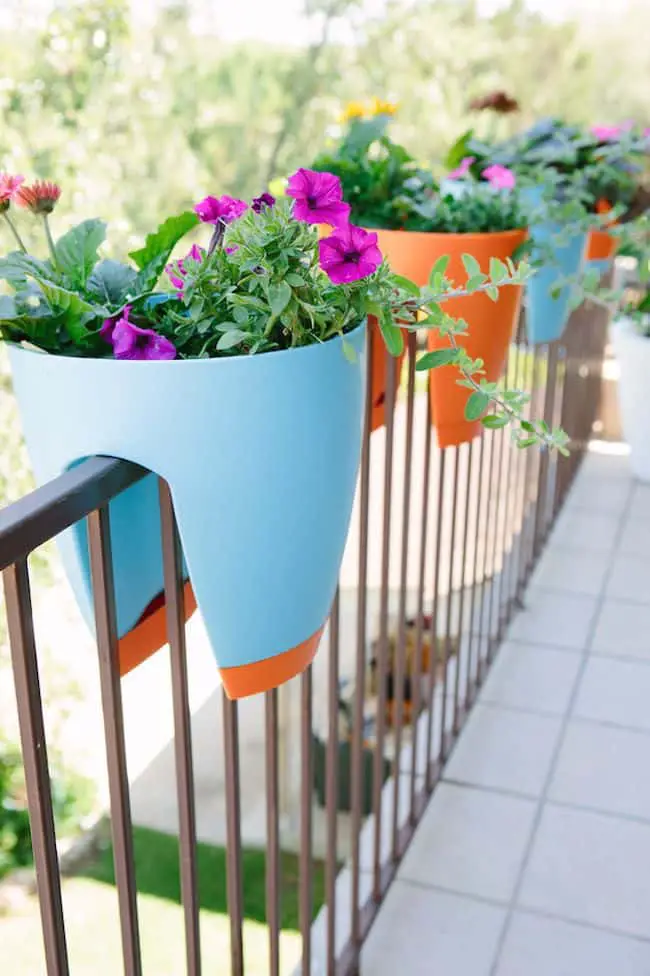 Image Credit: deavita
Balcony garden ideas with adorable rail planters are in vogue as these give you a scope to own your own Edens even when you are cramped for space. The above balcony garden looks chic with these rail planters that have attractive pops of color to induce comfort instantly. These are pretty easy to install and can be used for growing any type of plant or flower. Also, these are portable which means that you can move them at ease wherever you want, whenever you want.
Also Read: 31 Wall Planter Ideas for Small Balcony
25. A corner design for a balcony garden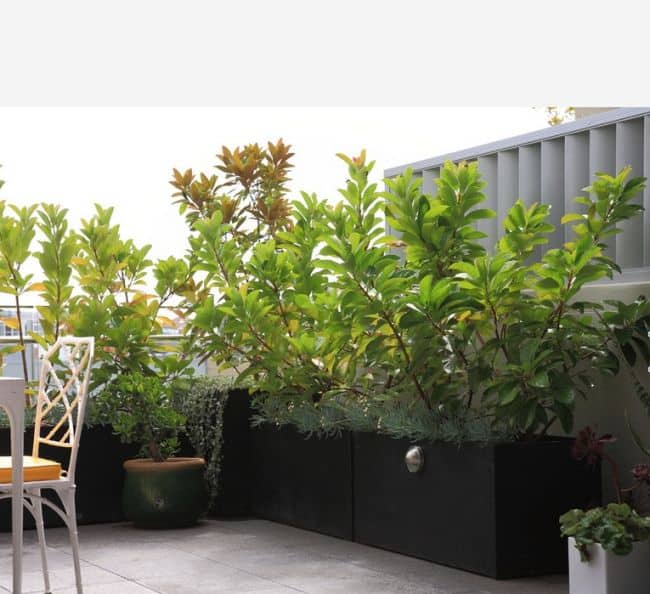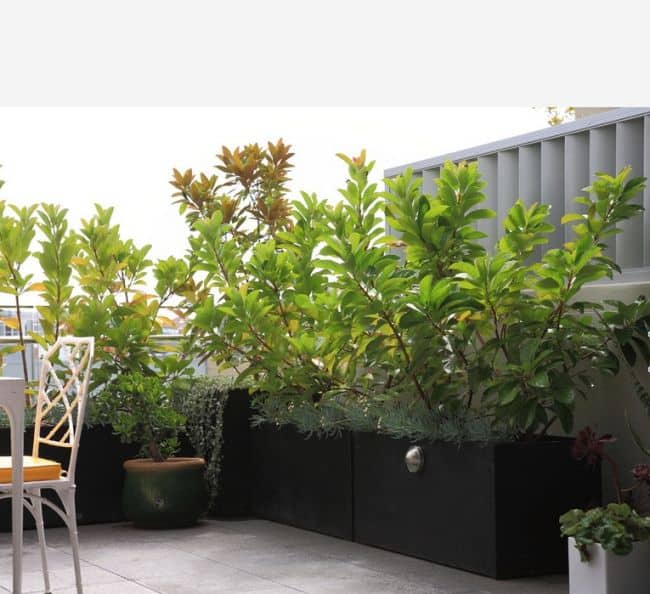 Image Credit: smallroomideas
There is one general rule which you must follow in case you have plans to build a garden in your apartment balcony – Make Use Of All The Corners! Yes, corners play a key role in solving many space issues. If you have less horizontal space in your balcony, then make good use of your corners to plant greens. Too much of plants cramped up together create a cluttered up look, and therefore, you must restrict yourself to planting less. Fill the corners with earth boxes, just like in the picture here. Plant similar looking shrubs in these boxes for an aligned look.
26. Stunning balcony garden with pallets and rail planters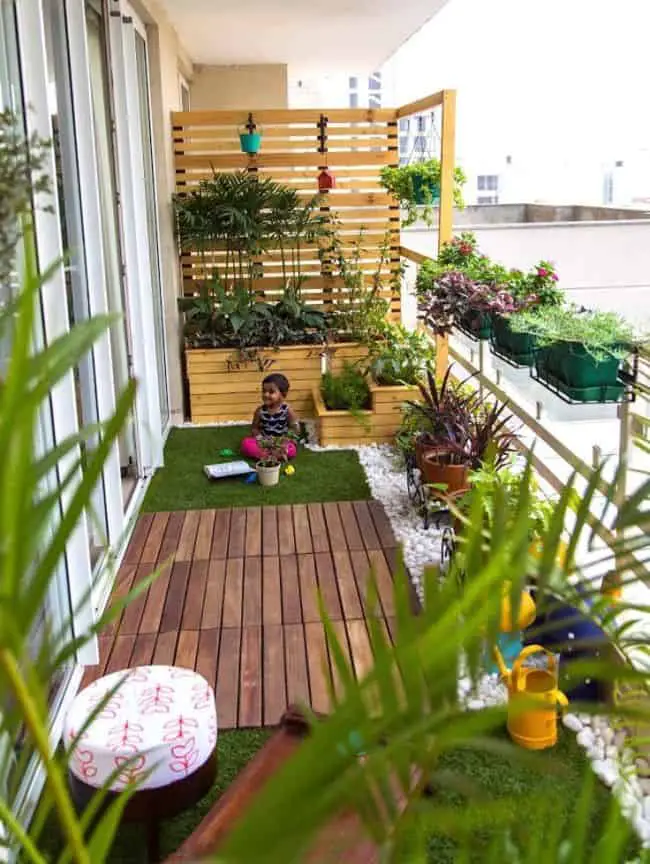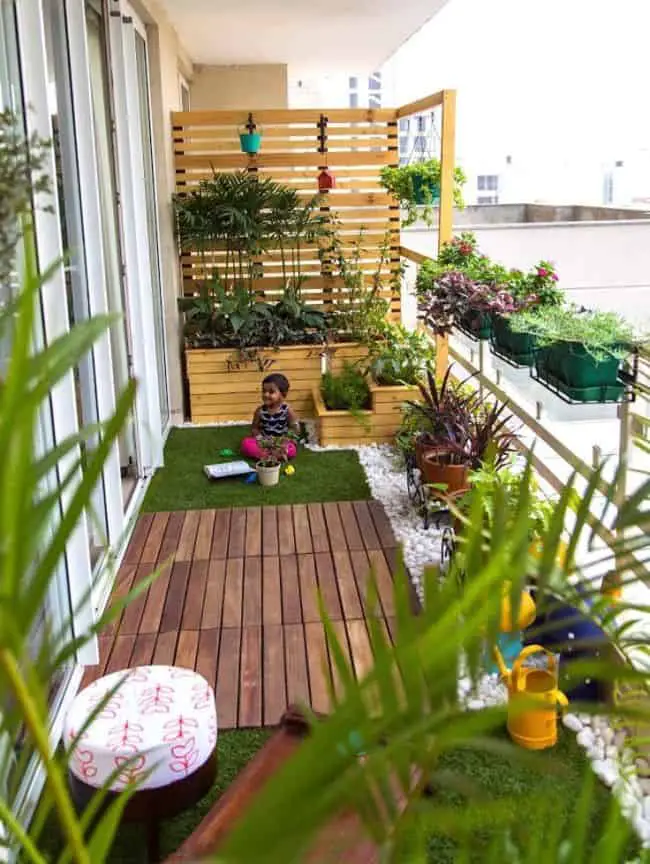 Image Credit: pinimg
Pallets, we all know, are huge in demand as these let you make use of scrap wood to the best of your ability. In the garden here, pallets have featured in a big way. The balcony has a pallet wall that adds to the height and helps in growing lots of plants. Apart from it, there are pallet box planters that lend a touch of symmetry to the whole place. Also, you can spot rail potted plants in this balcony garden. The flooring is covered with moss so as to lend an authentic feel of being in a garden.
27. DIY balcony garden idea with desk and crate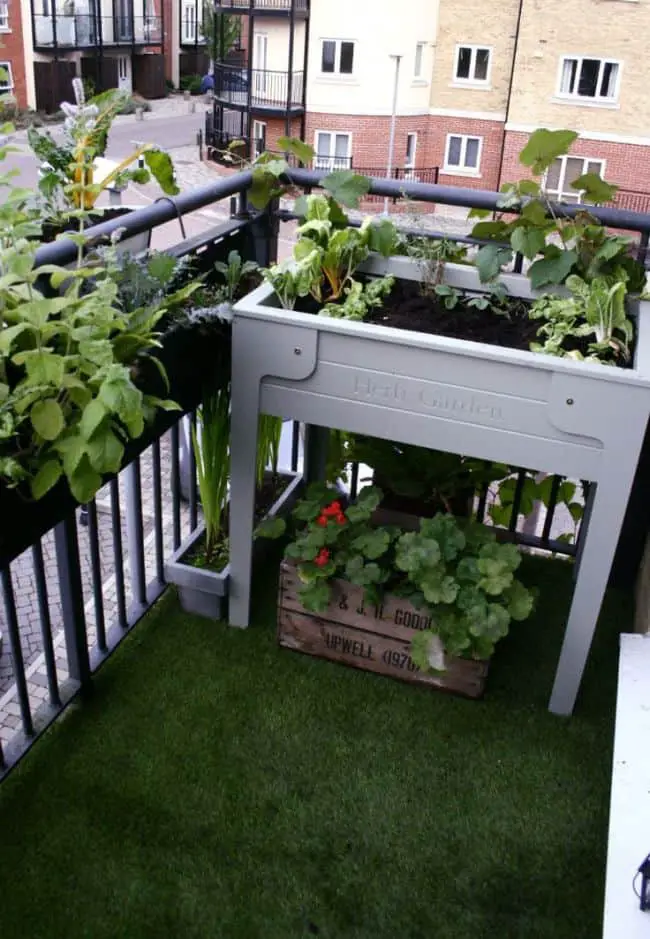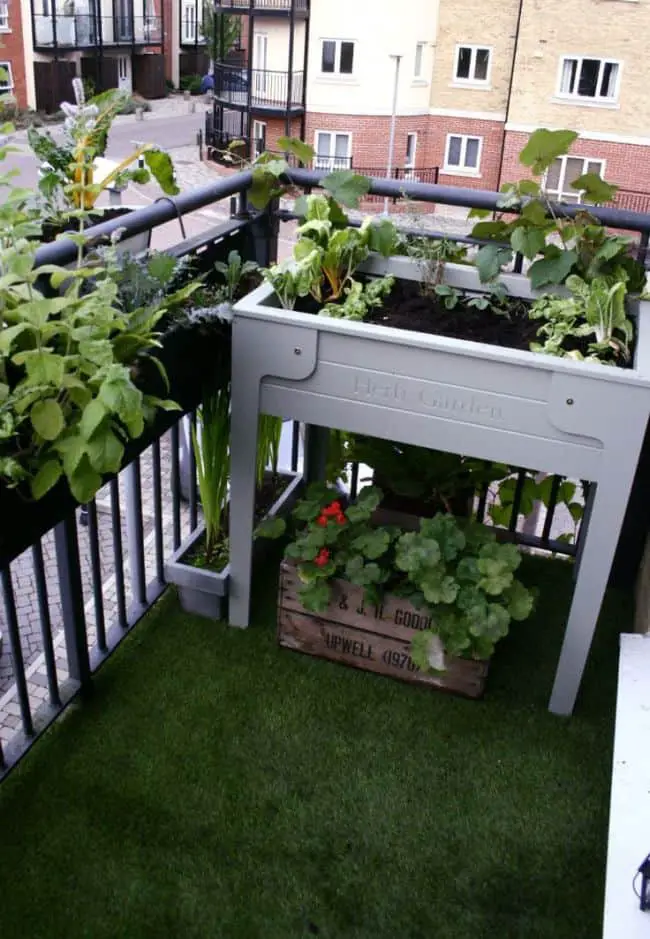 Image Credit: daprinceinfo
DIY is the way to go if you want to garden well in your balconies. The use of old desks and drawers is popular as it allows you to grow your own herbs and flowers without spending too much. In this garden, an old desk has been recycled to be used as a planter for cultivating herbs. Underneath it is seen a crate planter as well.
28. Japanese themed balcony garden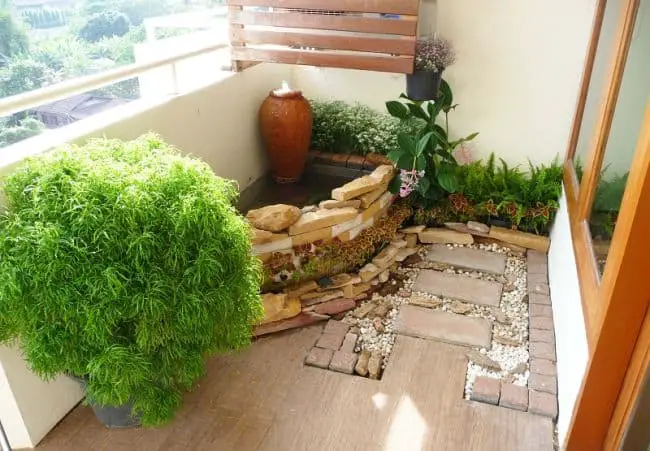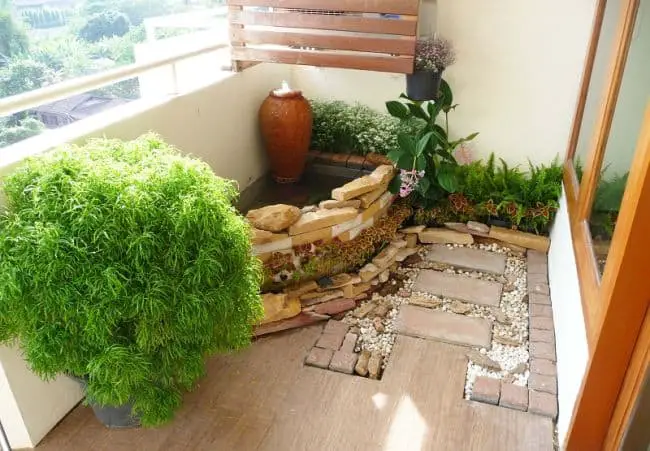 Image Credit: argunbdg
Japanese inspired gardens focus primarily on creating spaces of tranquility and calm sans any bright tones or pops of color and aggressive plants. The garden here is Japanese themed and looks very natural and serene. There is a water feature along with planters filled with evergreens. The design looks asymmetrical and minimal.
29. Adorable small balcony garden with vase plants and flowers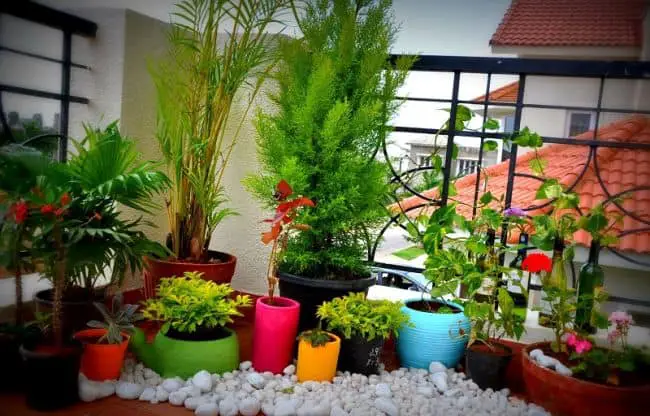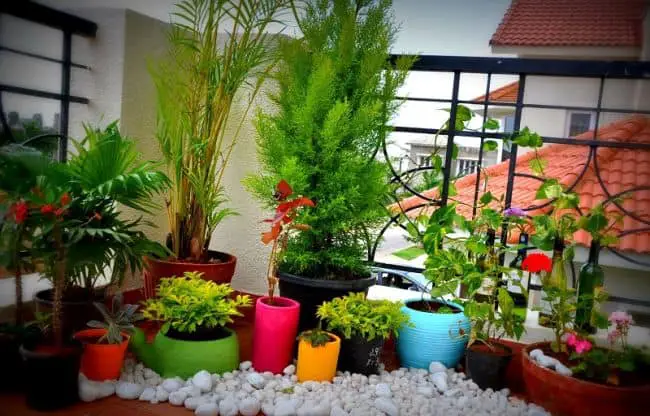 Image Credit: cityuc
All you need for creating a colorfully designed balcony garden are a few colorful pots and vases, and you are pretty good to go! Here too, the garden incorporates similar key elements. It has various kinds of pots that are painted in different colors and each one of these look attractive. You can also spot wine bottles that too have been used as planters. The use of white pebbles in front of the pots lends a natural look to the whole garden area.
30. Refreshing small balcony garden with white chairs and planters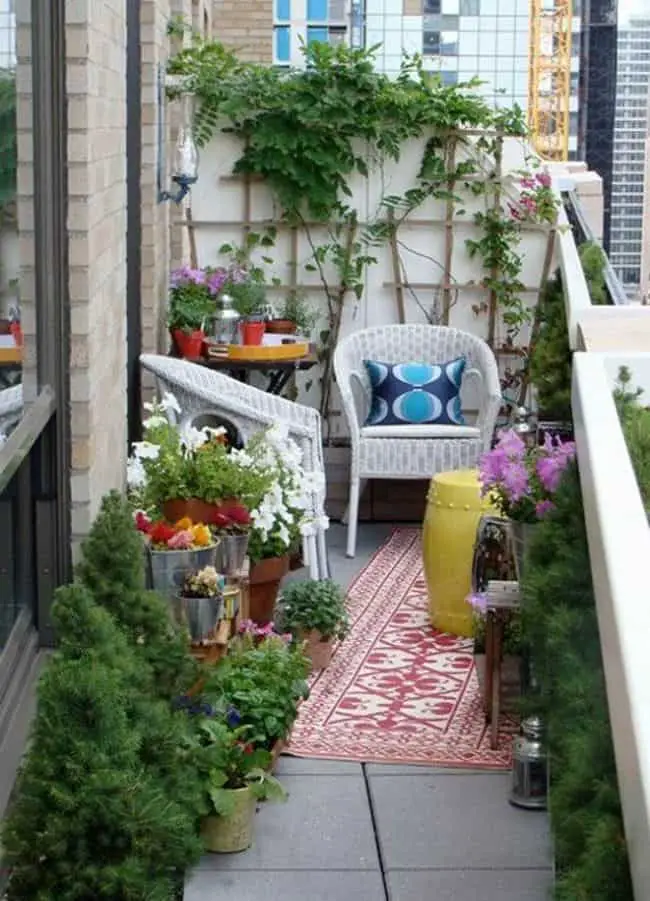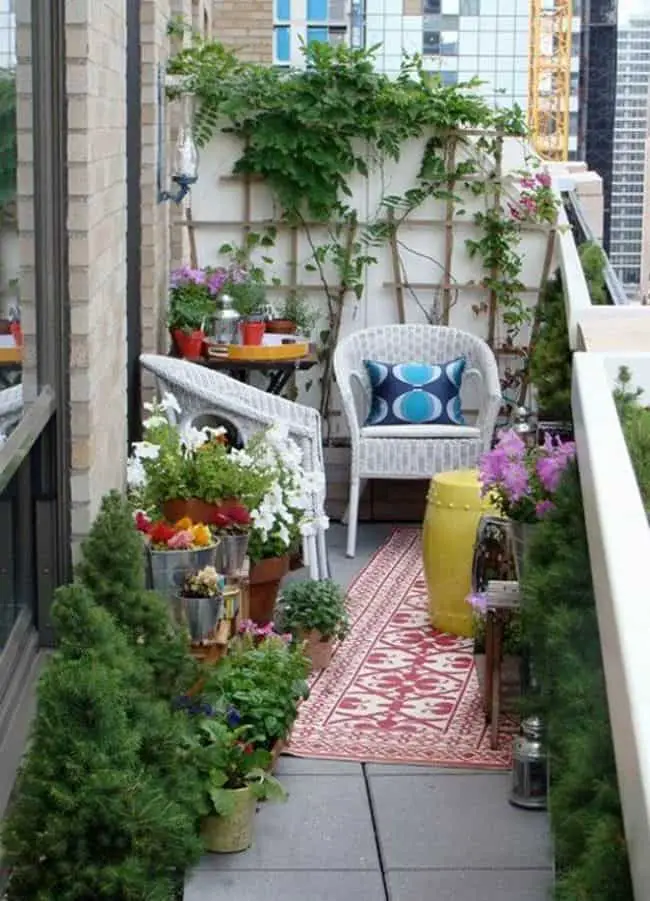 Image Credit: myamazingthings
Here is a magical looking teeny tiny balcony garden featuring white chairs, lots of potted plants arranged on the floor along with a white wall that features vines. The wall has wooden trellises to help the vertical growth of vines. The whole spot looks like a paradise and is simple to build.
31. Sweet balcony garden with an arbor and lots of potted plants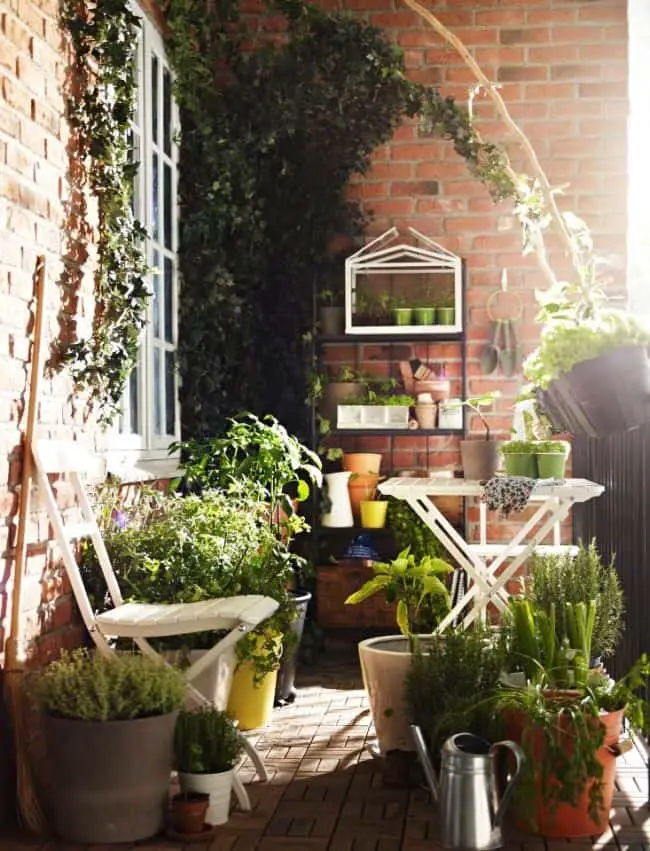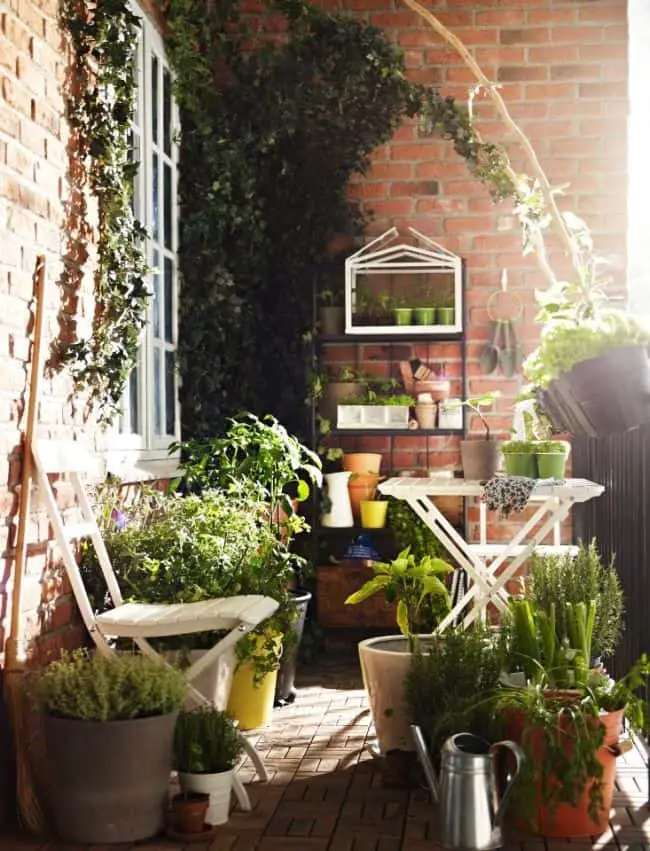 Image Credit: playfulbox
The apartment balcony garden ideas of modern times encourage even apartment dwellers to give gardening a chance. The garden design shown here makes use of almost all the space in the balcony, but, the garden doesn't look cluttered up from any angle. There is an arbor which is put to use for growing vines and creating a living wall. The cabinet too is used for placing planters. A few rail planters too are seen along with tiny pots on the table.
32. Cheap balcony garden idea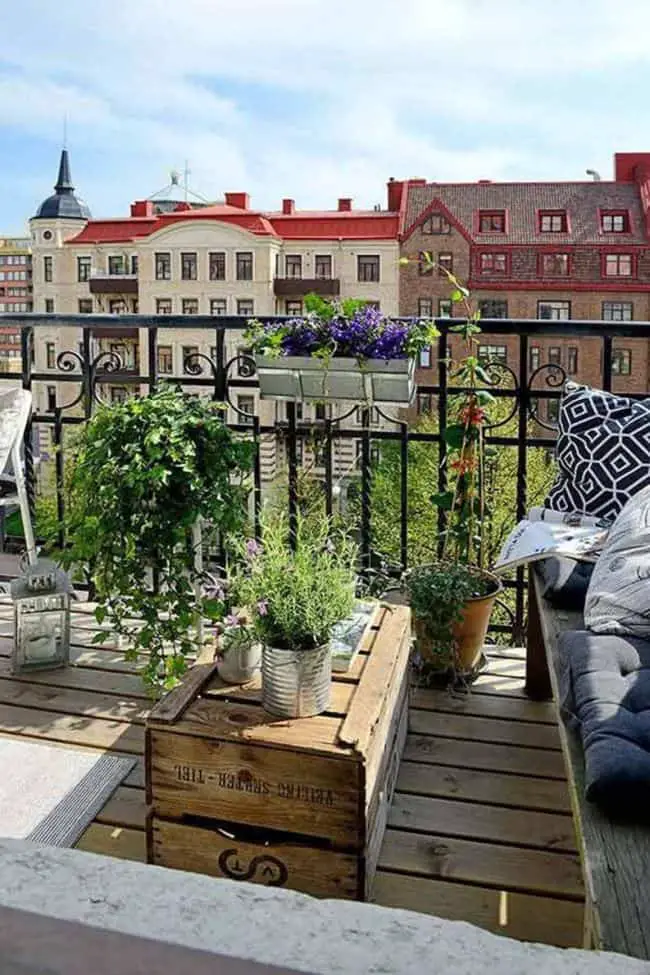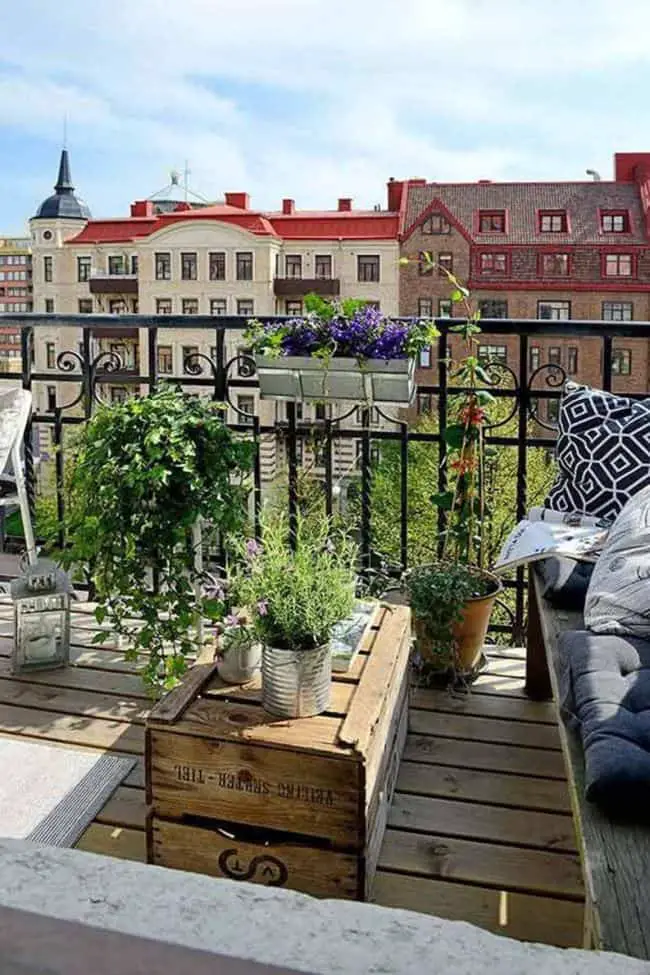 Image Credit: tcmwebcorp
If you are in search of cheaper options to design your balcony garden, then take a look at this awesome garden that will save you loads of money from getting spent. The highlight of this garden is the pallet crate table that's used to hold metal bucket planters. The crate is available at less cost as also the metal bucket planters. You can also make do with old paint containers and up-cycle them to be used as planters.
Also Read: 31 Inspiring Rooftop Garden Ideas
33. Hanging balcony garden with ammunition box planters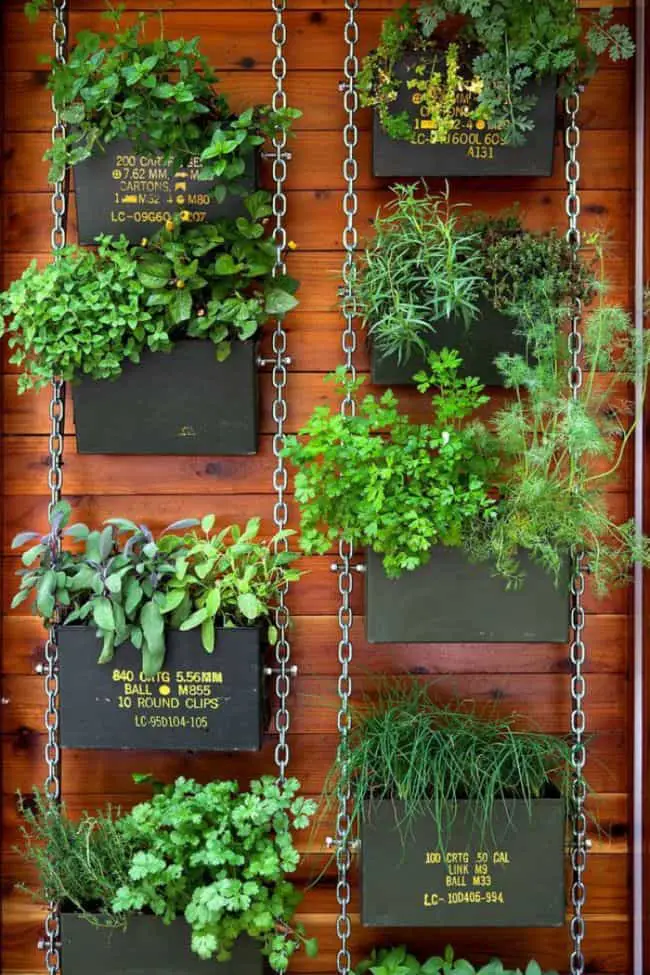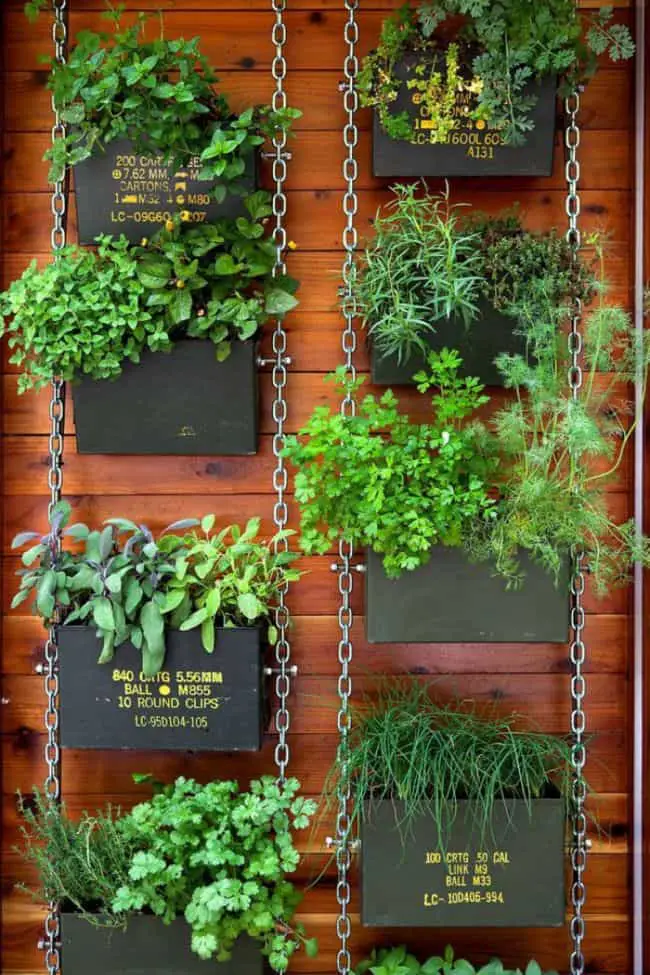 Image Credit: funtime
Who could have ever imagined that an ammo box could become a useful tool for planting? Well, we are about to surprise you as here is a balcony that features a hanging garden with ammunition box planters. These boxes are attached from a wood paneled wall with the help of eye hooks, chains, screws and bolts.
Final Thoughts
Hope the above collection of 33 fabulous apartment balcony garden ideas has been helpful in motivating you all to create your own paradises!
We are sorry that this information was not useful for you.
Tell us how we can improve.